Posh & Original Greek Fashion Brands on Your Wishlist
Athens never counted as a fashion capital but has always been a designer inspiration. Greek culture and imagery produced since antiquity have been an infinite source of creative ideas for the global fashion industry. Heavyweights such as Karl Lagerfeld for Chanel, Dolce & Gabbana, Gucci, and Valentino have tapped into minimalist Ancient Greek and opulent Byzantine heritage. The legendary French couturier Madame Grès created her signature looks based on the fluidity and femininity of the draped Grecian silhouette. London-based Greek designer Mary Katrantzou took this glorious past to the next level with her SS20 couture collection presented back in October 2019 at the imposing ancient Temple of Poseidon on breathtaking Cape Sounion. The ancient Greek cloak, an overlaying fabric artfully wrapped around the body and secured with decorative pins and belts, has been redesigned through the centuries and adored by iconic women. The regal embellishments and fabrics that comprised the wardrobe of Byzantine emperors, military, and religious leaders (still seen on Orthodox priest vestments) have been translated into extraordinary red carpet and runway looks. Local folk embroidery motifs and weaving techniques – especially those developed in the islands are now seen in creations by Greek designers. Although Greek jewelry design has wowed the world, apparel & accessories design had not been that successful across the borders. Yet, a few small-community strongholds of artisanal creativity and craftsmanship have been recently revived, supported by up-and-coming Greek fashion brands who managed to score exports and sales through global e-commerce platforms and social media. It seems that a new generation of fashion insiders in Greece are writing a bright post-recession chapter. Abundant Greek motifs borrowed from sculpture, pottery, local art, and crafts are gradually experiencing a more sophisticated treatment by Greek brands that embrace a noticeable degree of conceptualization, sustainability, and a high-end approach. Let's go through the most promising examples of this new direction.
Zeus+Dione. Inspired by the mythological parents of the ancient Greek goddess of love & beauty Aphrodite, this Greek fashion and lifestyle brand has become popular among fashionistas from all over the world through its online store and prestigious stockists like Apoella and Farfetch.com, as well as brick-and-mortar multi-brand boutiques in Europe, Asia, and the US. Aesthetics tapping into the classic allure of Greek architecture – especially Doric simplicity – are accented with strategically placed artisanal details implemented with traditional and modern techniques. The brand is credited for reviving local craftsmanship while also contributing innovation in the production process. The Greek letter Delta 'Δ' is a predominant feature in its logo, alluding to spirituality, harmony, and creativity. The collection includes ready-to-wear, shoes (timeless Grecian sandals), bags, swimwear, jewelry, and homeware items, often resulting from exclusive collaborations. If you are traveling to Greece and aspire to adopt the Grecian style at its most refined version, this is the brand to check, both online and at its elegant flagship boutique in downtown Athens on the prestigious pedestrian Voukourestiou street. You will fall in love with their apparel crafted from custom textiles that are weaved, dyed, embroidered, and cut by expert artisans. Zeus+Dione's exclusive silk textiles are crafted uniquely for the brand in Soufli, a town in the northeasternmost part of Greece with a long history of producing fine silk. Silk shirts are embroidered in Argos and Metsovo, while dresses and skirts are knitted by the craftswomen in the Cyclades group of islands and Attica. Beyond the production of custom textiles, selected designs are adorned with traditional patterns and intricate motifs handwoven on the island of Crete.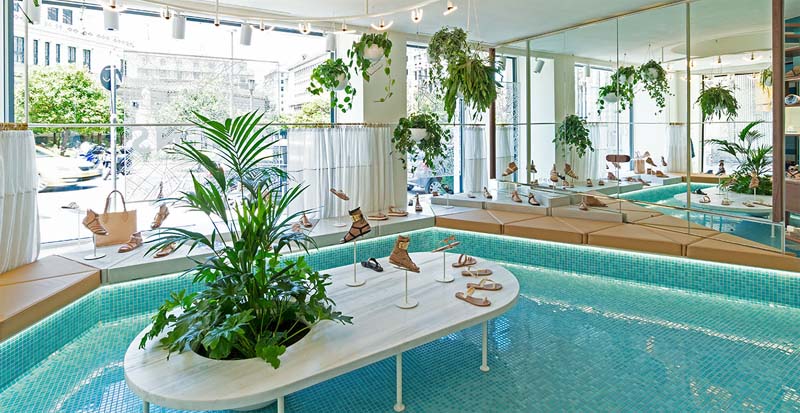 Ancient Greek Sandals. Seen on celebrities such as Angelina Jolie, Michelle Obama, Beyoncé, Halle Berry, Taylor Swift, Chrissy Teigen, Jessica Alba, Jessica Biel, Gigi Hadid, Anne Hathaway, Naomi Watts, Emma Watson, Diane Kruger, Sarah Jessica Parker, Claire Danes, Reese Witherspoon, and many more, these sandals are directly inspired by Greek mythology. They are crafted to perfection by local Greek artisans. The champagne-colored wing-design buckle is a signature detail that refers to the myth of the gifted sandal-maker from the beautiful island of Crete, who made sandals for the Ancient Greek Gods, including Hermes the 'messenger god' who was described to be wearing winged sandals. With stockists across the world, including Net-a-Porter.com, and a flagship boutique in downtown Athens, the brand is known for its hand-made styles, traditional craftsmanship, and minimalist feminine aesthetics. The chemical-free, natural tan leather ages beautifully with time and wear. A variety of techniques are used throughout the collection to decorate the upper parts, such as hot stamps, lacing, cut-outs, printing, braiding, beading, and embossing. Two visionary Greeks are behind the brand. Christina Martini is a BA (Hons) graduate in Footwear Design and Product Development from the prestigious Cordwainers College (2000) and has worked as a shoe designer for Balenciaga (2008-2010) and Louis Vuitton. Co-founder Nikolas Minoglou, born in London and raised in Greece, is an MBA graduate from Babson College (USA), who returned to Athens in 2006 to take over the family's established footwear business, before joining forces with Christina.
ThemisZ. Born in Athens, internationally acclaimed aesthete and designer Themis Zouganeli, who designs for Dior Maison, Swarovski, and her namesake luxury lifestyle brand, has launched a hugely coveted collection of exquisite items inspired by her Greek origins and cosmopolitan upbringing. Her Greek father opened the first legendary disco in Mykonos called "9 Muses" in 1963. Her Polish mother served as a fashion stylist & luxury travel editor for Harper's Bazaar in NYC, where she was voted as one of the best-dressed women in the early 70s. This inspiring mom later infused their entertainment spaces in Athens and Mykonos, with her incredible taste level. Themis, with International Relations studies at Tufts University in Boston, an MBA she finished in London, and a decade-long career in the British media industry, launched her eponymous interior design & decorating business upon her return to Athens, creating bespoke furniture and interior accessories for a discerning clientele in Greece and all over the world. Her ThemisZ collection, with a high-end resortwear line as the latest addition, is another bright step in her creative journey that epitomizes understated, unpretentious glamour, sophisticated nonchalance, and an effortless cosmopolitan spirit. Themis now divides her time between Athens, Mykonos, Gstaad, and London. Her straightforward, meaningful designs involving the finest quality materials, exquisite craftsmanship, clean lines, and refined geometric patterns are selling out from Mykonos to Cannes, and from the Mediterranean to the Caribbean. Her sleek, artisanal made-in-Greece items are coveted within a very upscale, demanding market. Eye-catching kimonos, kaftans, dresses, ensembles, separates, bags, hats, and jewelry as well as the signature Kyklos, Kyma ('circle' and 'wave' in Greek), and Maze motifs are already included in the most discerning personal wardrobes on earth. You are highly recommended to check this brand online, or in-person in one of her flagship stores in Mykonos and Gstaad, or other stockists in Greece and worldwide.
Callista Crafts. Founded and run by women — with Elvira Panagiotopoulou of Di Gaia as Creative Director — this Greek luxury brand was built in 2013 around the idea of updating and redefining the classic tote style. Designs that are not affected by seasonal trends are developed with utmost precision and care by local craftswomen. As a nod to a signature iconic accessory and the concept of a heritage brand, each tote is hand-made using 950 stitches and 356 knots. The highest quality leathers and raw materials are sourced by Italian manufacturers that operate through a reliable and transparent production chain. Each piece is then assembled and put together by hand at the brand's atelier in Athens through a meticulous process that minimizes waste. Bespoke & Repair services that extend each piece's lifetime are offered as part of the services provided by a luxury brand. Part of the vision is a business plan that makes giving back to the community possible. Get to know this 'girl power' brand in their boutique downtown Athens on Voukourestiou street, and other selected stores in Greece, Cyprus, Italy, Switzerland, Thailand, the US (including Bloomingdales and Neiman Marcus), and other countries. Additionally, you will find in the collection a few amazing sandal styles and small leather accessories.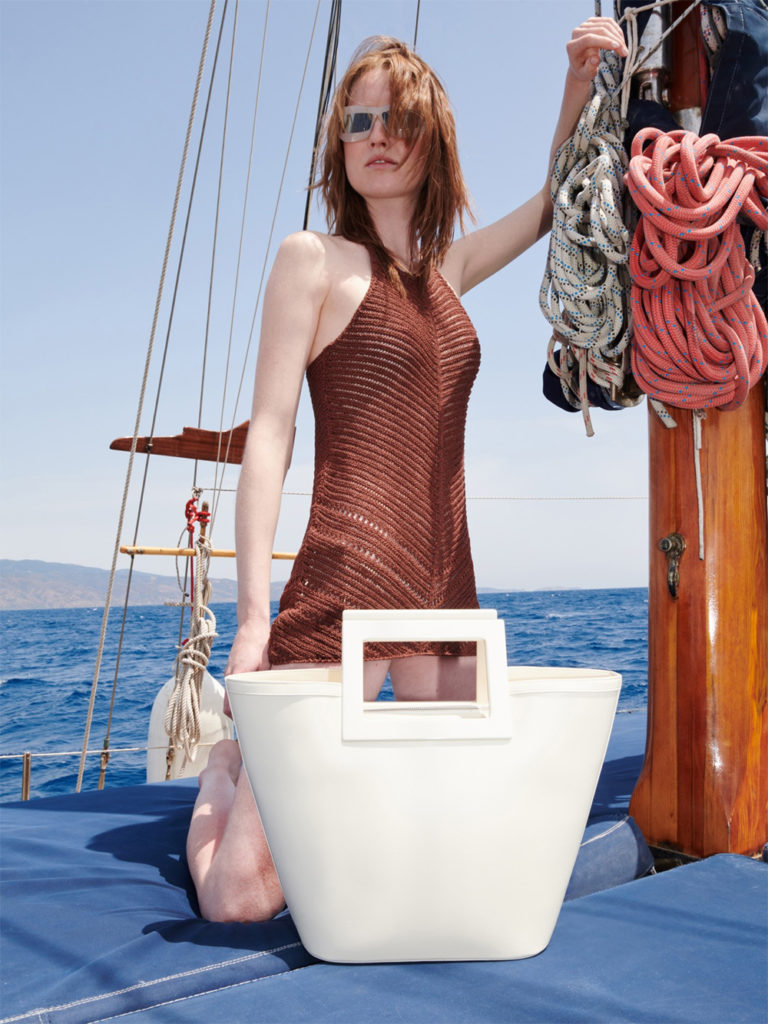 Marina Raphael. A sixth-generation member of the illustrious Swarovski family, is redefining the world of luxury handbags. Her eponymous brand marries heritage with modernity, where artistic inspiration meets artisanal craftsmanship, resulting in creations of unmatched poise and glamour. Notably listed in Forbes Europe's 30 Under 30 in the Arts & Culture category in 2022, Marina's approach to handbags is akin to designing jewelry. Her close relationship with Swarovski crystals illuminates her designs, creating modern heirlooms that are crafted by Italian artisans, weaving elegance and innovation into each piece. The brand stands as a beacon of sustainable luxury, characterized by strong architectural shapes, quality artistry, and an ethos that empowers women and encourages self-expression. The brand's foundation lies in a deep respect for traditional craftsmanship, yet with a visionary focus on a sustainable future, making it a perfect fit for the dynamic and modern audience seeking the extraordinary in everyday accessories.
Parthenis. Founded in 1970 in Athens with its second boutique opening in 1979 on the cosmopolitan island of Mykonos, this minimalist casual chic brand was among the first Greek fashion houses to be acclaimed internationally. The vast exporting activity of the innovative creations in Europe and the USA reached its peak with the opening of boutiques in Brussels and Los Angeles. By the mid-80s, Parthenis had conquered the Greek market, nailing also significant presence abroad. Today, Orsalia Parthenis, the daughter of its visionary founder Dimitris carries on the legacy of the signature, comfortable, effortless silhouettes that hug the body in a magical, carefree way. Inspired by the timelessness of the Grecian silhouette and applying cross-gender design since the 70s, these clothes are matching the fluidity of Greek island architecture, especially in the Cyclades. Flagship stores in Athens and Mykonos, along with boutiques in Patras, the islands of Spetses and Crete, and an expanding wholesale network in Lebanon and the UK, show the magnitude of its aesthetics. They are the luxury bohemian style staples you aspire to wear barefoot or with sandals while walking the sun-kissed, white-washed cobblestone paths of Mykonos.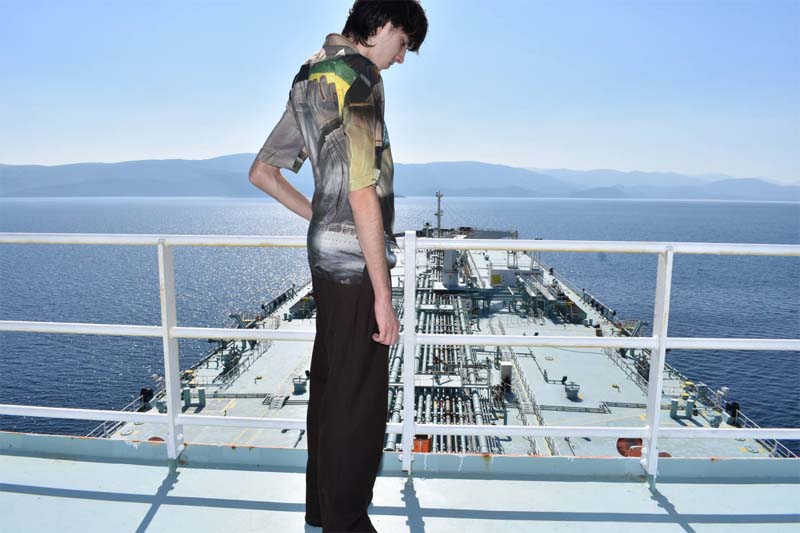 Serapis Maritime. Without a second thought, this is a highly conceptual brand tapping into surrealism, utility, and pure artistic expression. Embracing anonymity and invisibility – probably inspired by Martin Margiela – its designers appear as a collective creating clothes and objects/artworks inspired by the Greek and global maritime tradition. Prints of tankers and other relevant scenes have been coveted among eclectic fashionistas and trend-adopting celebrities, including Bella Hadid. The themes that are reworked to give a highly artistic edge to the result make us assume that members of this astonishingly inventive team might be insiders in the artistic circles and shipping industry, respectively. We marvel at their fashion photoshoots, giving an outlandish touch to the visual realism of a maritime documentary. Cult elements mix with an avant-garde way of thinking. Their brand name, which is that of a Greco-Egyptian god, is written with Greek characters, which might be a nod to the origins of this venture appearing as the product of a maritime corporation. A voyage of a company's tanker ship from Poland to Saudi Arabia through the Suez Canal inspired their first collection, featuring images of the ship's crew and journey transformed into innovative prints in silk paneled garments and accessories. Their limited-edition pieces include those made of 100% premium silk from Soufli, the town in North-Eastern Greece producing one of the finest silks in the world based on traditional weaving techniques that go back to the era of the Byzantine Empire. Highly eclectic retailers such Opening Ceremony and Number3store.com carry the collection.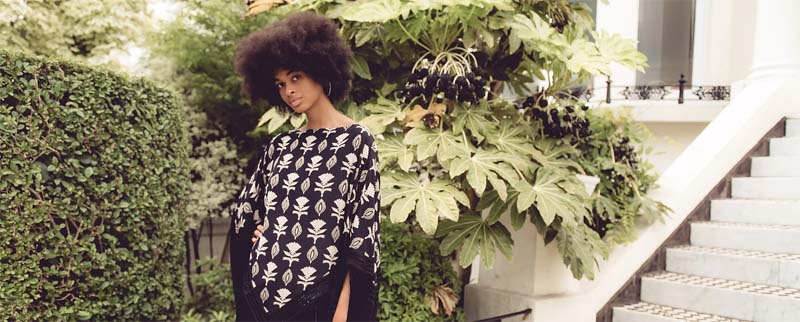 Athena Procopiou. This London-based, Swiss-raised Greek designer with origins from Cyprus has studied Design and Visual Arts at Central Saint Martins before embarking on a successful fashion journey initially with her original printed scarves that soon evolved into her sought-after signature fringed kimonos and a whole line of beachwear, unique for the global market. All her 70s-inspired boho-chic pieces are produced in Italy and crafted from the finest fabrics. The collection includes a coveted ready-to-wear line expanding the brand's scope outside the beach, and around the city. Her worldwide stockists include small eclectic boutiques from Sydney to St. Tropez and retail industry heavyweights from London to Los Angeles. Her creations have been spotted on many in-Vogue celebrities, including Kate Moss, Poppy Delevingne, Kylie Minogue, Jessica Alba, and Anne Hathaway. Check also directly her online store.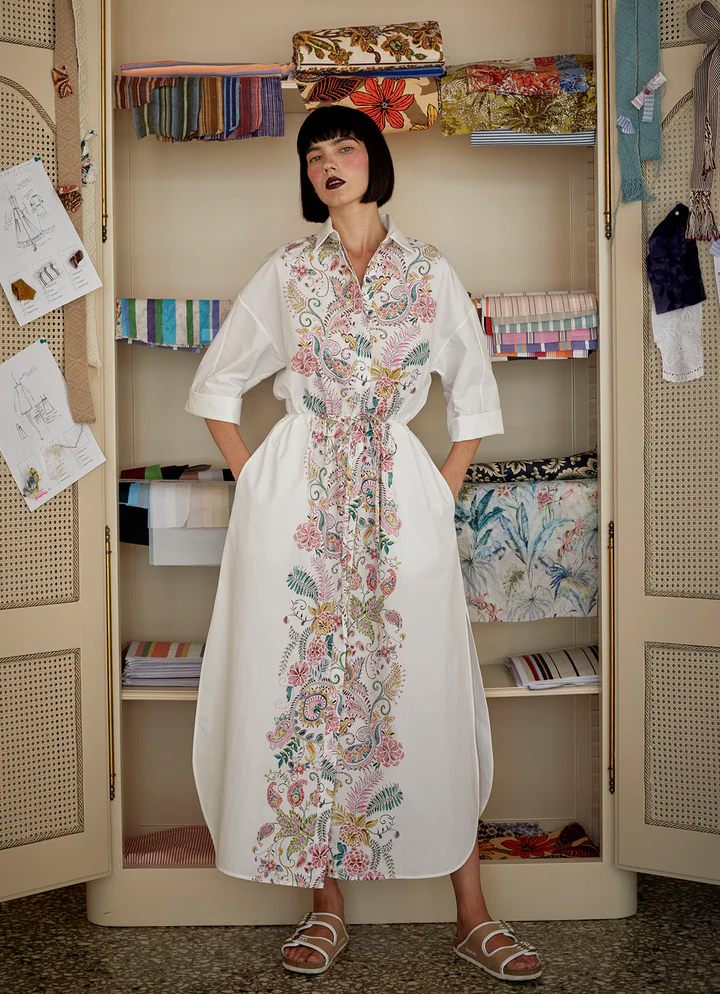 Evi Grintela. A veteran in the glossy magazines – former Chief Editor at L' Officiel Greece and Fashion Director at Vogue Greece – Evi used her in-depth knowledge of the luxury market as the foundation of her fashion brand concept built around the timelessness of the shirtdress silhouette. Borrowed-from-the-men, the shirt is redesigned in many variations to fit a woman's wardrobe. Head-to-toe stripes from shirting fabrics, checks, bold monochromes, and other sophisticated prints, rendered in single-piece looks or ensembles are often matched or juxtaposed to printed accessories (hats, scrunchies, headbands, scarves, and totes) from the same collection, causing a motif clash or feast. Her clean design aesthetics with feminine accents have been appreciated by the buying teams at high-profile global retailers such as MatchesFashion.com, Farfetch.com, Harrods, Bergdorf Goodman, and Le Bon Marche, to name a few.
Sophie Deloudi. If you are looking for sophistication in swimwear and beachwear, this Greek designer – a former importer and retailer of international high-end brands in interior design – is nailing it with a clear focus on shapes and quality. At a reasonable price point, this luxury brand creates geometric, figure-flattering swimsuits, often with elegant cut-outs, and nonchalant minimalist resortwear (dresses, coverups, separates). Made of sustainable fabrics, monochrome and printed swimsuits, especially her ultra-chic single-piece designs, exude an upscale, feminine flair, a sensuality that looks expensive. Even in the boldest hues, these styles are never over-the-top. They are advocating understated luxury and draw attention to the women wearing them proudly on the beach.
Stefania Frangista. With a BA in International Relations from Brown University, this Greek-born Parsons graduate (2006) maintains two swimwear brands – Pink Sands and her namesake collection – supporting local manufacturing and sustainability. All her modern, feminine styles are made in Greece and crafted from eco-friendly, high-performance fabrics, hand-picked from all over the world. They have an excellent feel and fit while they are contributing to an environmentally responsible attitude in the market. The minimalist beachwear collection includes bikinis, one-piece swimsuits, coverups, and a kids line with matching options for moms. Find all seasonal styles and classics on her online store.
Di Gaia. This luxury shoe brand combines Greek heritage with Italian craftsmanship in shapes and styles of graphic allure and sophisticated simplicity. Its Greek founder Elvira Panagiotopoulou was raised in Paris and acquired in-depth knowledge of shoe design through studies at the London College of Fashion, the Cercal school in the Italian luxury shoe district of San Mauro Pascoli, and the Istituto Marangoni in Milan. She further honed her skills while working for Bruno Frisoni, Diego Dolcini, Narciso Rodriguez, Madeleine Vionnet, Dolce & Gabbana, and Balmain on footwear design. All her shoes are hand-made from the finest materials by skilled craftsmen in Florence and Athens. For your Greek vacation, check her incredible espadrilles, sandals, and sexy high heels on her online store and other boutiques.
MAANislandwear. Another Central St. Martins graduate, Marilena Andreadi, creates luxe figure-flattering swimwear and 'islandwear' from premium materials in custom prints, all made in Greece. She often collaborates with artists and textile experts to create unique pieces in minimalist silhouettes. Her most popular single-piece one-shoulder Sabine and the cut-out Delphine styles, made of her signature piqué fabric, are complemented with day-to-evening coverups, dresses, and ensembles.
Stefania Vaidani. Born in Greece and raised in Athens, the Creative Director and Head Designer of this up-and-coming womenswear brand (featured on Forbes back in February 2021 as "a new brand to know"), started building on her reputation right after graduating from Marangoni Fashion School in Milan in 2018. Fashion business insiders already recognize her romantic aesthetics and contemporary take on femininity. Along with CEO Nadia Gkartzonika they have created a US-based contemporary fashion brand with collections being manufactured in Greece. Inspired by the tradition and culture of Italian high fashion, the designer focuses on craftsmanship, architectural volumes, and sculptural silhouettes. It's all about unique details and a "wow" factor that looks fun and effortless and comes at a reasonable price point. Her day-to-evening showstoppers are made of hand-designed sustainable fabrics and decorated with hand-made buttons. Vegan leather, organic cotton, and other recycled fabrics compose 99% of the collections every season. They are certified by OEKO-TEX® as free of harmful chemicals and safe for human use. These organic textiles are grown according to strict guidelines on the use of petroleum-based fertilizers, pesticides, and synthetic products. Full of energy, her impeccably designed and manufactured fashion statements are made to last in your wardrobe and serve you on many occasions, including summer vacations.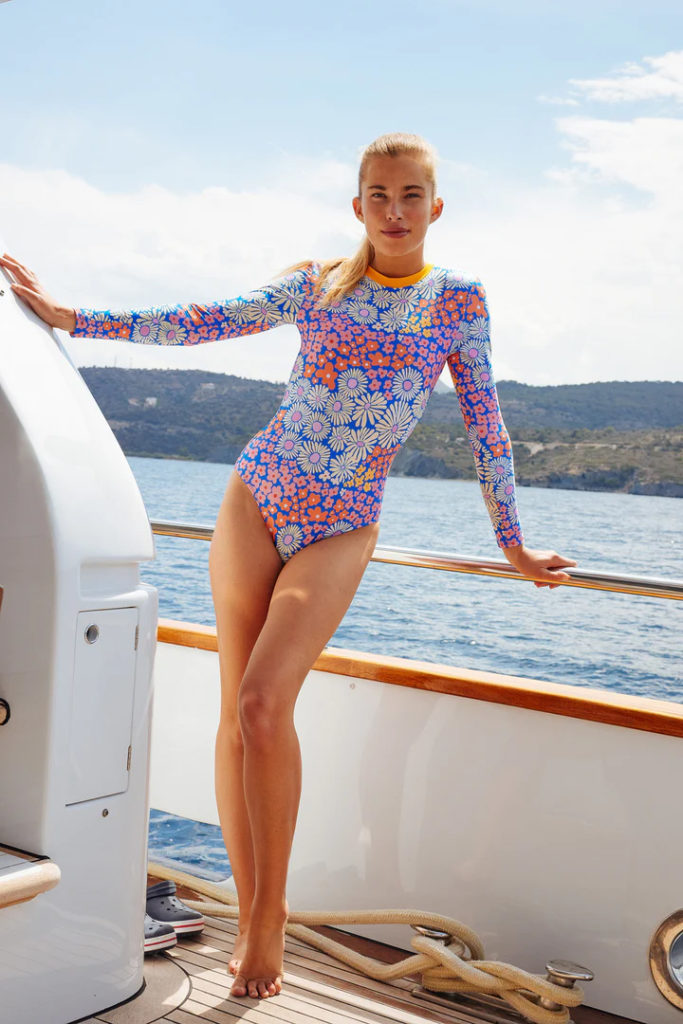 Christina Economou. Born and raised in Greece, the designer of this modern luxury brand started her career in fashion by attending Parsons and Istituto Marangoni in Paris, winning the 2011 International Award at London Graduate Fashion Week. After briefly working for Giambattista Valli and as a correspondent for Greek Vogue in Paris, she returned to Athens to fulfill her dream of launching her own label, which got immediately available in posh premium boutiques worldwide such as ModaOperandi.com and Anthropologie. This success placed her among the Top 5 in the 30 Under 30 Forbes List in Europe for Retail & e-Commerce in 2016. From her atelier in the upscale area of Kolonaki in Athens, she feeds her fashionista clientele with new things to long for; classic forms with a focus on beautiful prints, unconventional cuts, and exquisite silk fabrics produced in the historic silk town of Soufli in Northern Greece. Her vision currently revolves around her collection of resortwear called March.
AnnieP. Since 2013, award-winning Greek designer Annie Papadimitriou is custom-printing in-house all the natural textiles her eye-catching feminine creations are made of in Greece. Her highly editorial looks speak of a globetrotting, confident woman who stands out from the crowd thanks to her eclecticism and strong point of view. Obsessed with the quality of the print and fabric, Annie works day and night to express the joy of life through her whimsical, romantic pieces. Motifs of graphic allure in sophisticated bright color combos are combined with updated classic silhouettes. These are fashion statements to rock on your Greek vacation and other special occasions. With retailers in Greece, Spain, Italy, Germany, and more, it is undoubtedly a brand you need to check in person. Or shop online!
Daphne Valente. This renowned Greek fashion designer, who studied at FIT in NYC and Central Saint Martins in London, and developed her technique of Grecian pleating inspired by Mariano Fortuny, counts 40 years of career and a loyal clientele in Greece and abroad. Her sculpted, minimalist outfits and hand-made, statement jewelry showcase attention to detail and unhinged creativity. She is draping fine pleated fabrics, lovingly, on the body, coming up with 'Fluid sculptures', that are feminine, timeless, and effortless-chic. Her designs are eye-catching, comfortable wardrobe options for special occasions and getaways. Every collection is complemented with sculptural jewelry, pleated scarves, bags, and colorful sandals, all hand-crafted in Greece in traditional and couture-like artisanal techniques. A creative with deep artistic flair, she has designed costumes for theater and exhibited her one-off handicrafts in art galleries. You will find her pleated resort wear collections in exclusive boutiques and resorts, in Greece, Cyprus, Israel, Lebanon, and the US. Her accessories are available in the art shops of the Stavros Niarchos Foundation [SNFCC], Megaron-The Athens Concert Hall, as well as the Benaki and Lalaounis museums. Her latest news includes a flagship store in the heart of the historical center of Athens.
Nidodileda. The bohemian vintage-inspired Greek brand with globetrotting Creative Director Tonia Mitroudi and her twin sister Nadia as Sales Manager working from a dreamy atelier in the posh Northern Athenian suburb of Kifissia is built around the spirit of deep love among siblings, theatrical romanticism, and ethical production. Inspired by her art-collecting mom, her twin sister, her third and older sister who is an architect, and endless stories of incredible women, Tonia created an affordable high-fashion brand. It is named after Leda's Nest, Nido di Leda, as mentioned in Dante's Comedy, the myth of Zeus' secret lover Leda who gave birth to inseparable twin brothers Castor and Pollux turned into stars and lasted an eternity as the Gemini constellation. Her cinematic creations are described as wardrobe treasures destined to pass from generation to generation. She is a genuine aesthete, an eclectic woman who went through advertisement and journalism for glossy magazines before ending up with additional studies in Fashion and Visual Arts at the Istituto Marangoni in Italy and the Istituto Europeo di Design (cinematography, image-making, styling, and more). Freedom and femininity are elements defining her process. Special-occasion dresses, limited-edition pieces, day and evening heirloom items from this charming collection can be found in their online shop, their recently-opened concept store in Kifissia, and all over Greece and the world in hand-picked boutiques that represent the brand's vision.
Ancient Kallos. Two sisters, Stella and Lamprini Stavrou, with Fashion Design and Civil Engineering/Interior Design backgrounds respectively, revived their family atelier with a new resortwear brand inspired by Greece's glorious cultural past. Written in the logo with Greek characters, the word "Kallos" means beauty. Through extensive research in museum and folk archives, surviving local workshops, and historical sources, they discover embroidered motifs, iconography, and design details that are processed and translated into fine-quality garments and accessories. 50% of those are exported in all four corners of the world, while the rest are selling out mostly around the Greek islands, proving their international appeal. It is a refined version of the literal ancient Greek and folk inspiration, one that exudes sophistication and can claim serious fashion credentials. All pieces are made in Greece from cotton, silk, and other blends. The collection includes dresses, coverups (kaftans & sarongs) blouses, separates, handbags, and fun accessories you can proudly wear to any cosmopolitan destination as conversation-starters.
Woera. This stylish Greek brand built around the timelessness and versatility of the boyfriend shirt is the brainchild of influencer and blogger Natalia Georgala who counts in her so far journey a few years of stay in New York and London as well as prestigious collaborations with fashion industry heavyweights such as Calvin Klein, Carolina Herrera, and Tommy Hilfiger. Her collection includes a few classic styles redesigned to fit the feminine silhouette. Rendered in premium shirt fabrics, cotton poplin, and linen in monochromes, checks, and stripes, they tap a significant market niche in an era when the androgynous look is essential to a busy woman's wardrobe. Available through her online store, they can be perfect luxe basics for any setting or vacay destination.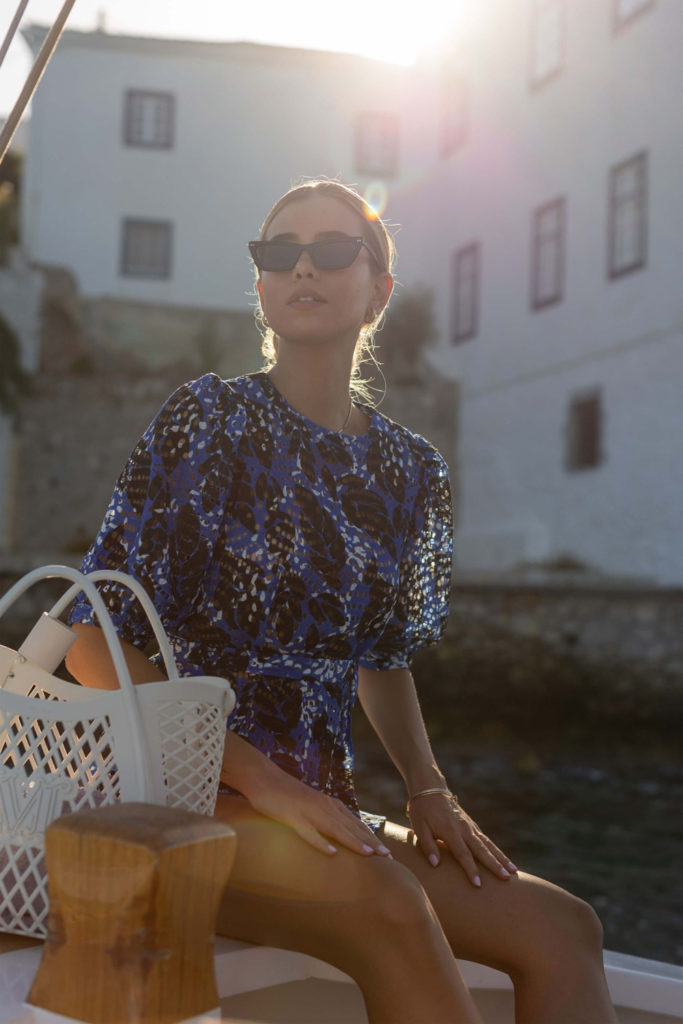 Emmanuela Swimwear. Since 2006 designer Emmanuela Lykou is creating flirty swimwear styles along with beachwear (dresses, blouses, coverups), and lines for girls and boys aged 0-12, and teenagers. Signature details include metallic decorative elements, frills, and custom-made prints. The styles correspond to a laidback and cosmopolitan Mediterranean lifestyle, especially in the summer when everybody is swimming somewhere around the Aegean or the Ionian Sea. Kids can match with their moms by picking the same print. With hand-picked stylish selling points in Greece and Europe, this brand is a very chic option on your way to the beach. Check its flagship boutique in downtown Athens in Kolonaki or their online store.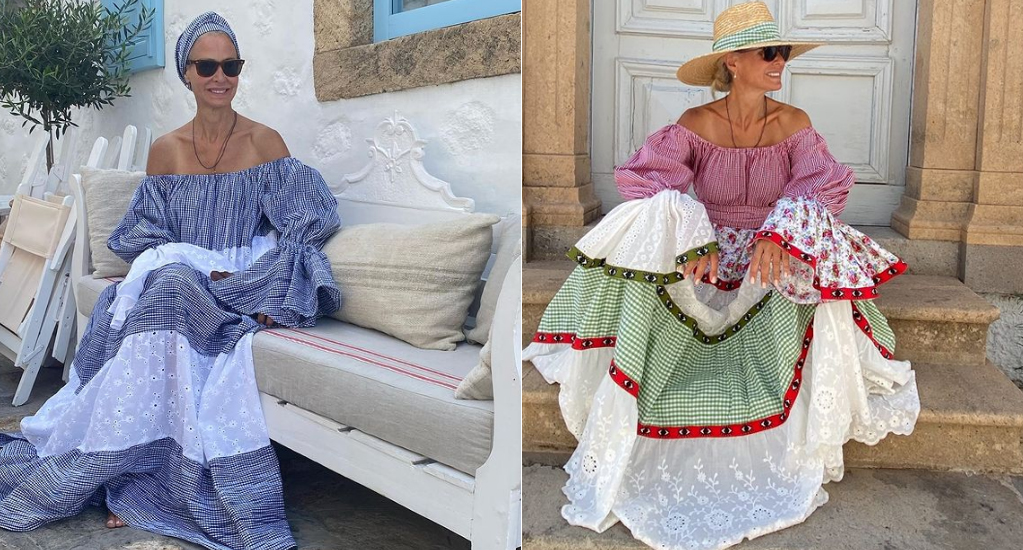 Flora Sardalos. This Greek-Cypriot designer has a knack for discovering patterns and fabrics that complement and enhance women's beauty. She is generous with fabric, often coming up with voluminous, ruffled & flared maxi & midi silhouettes that allow you to move freely and indulge in the spirit of summer vacations. In 2017, she created her first collection of high-end summer dresses in collaboration with an established boutique in Mykonos. Today, her Athens-based fashion brand inspired by the Mediterranean landscape, culture, and history, can be found in selected retailers internationally. Made in Greece from pure EU-sourced cotton, silk, linen, and cashmere, her dreamy, bohemian, prairie-chic creations are simple, imposing, flirty, and luxurious, the right things to wear day and evening while walking on the cobblestone paths of picturesque Greek islands like Patmos, the designer's favorite.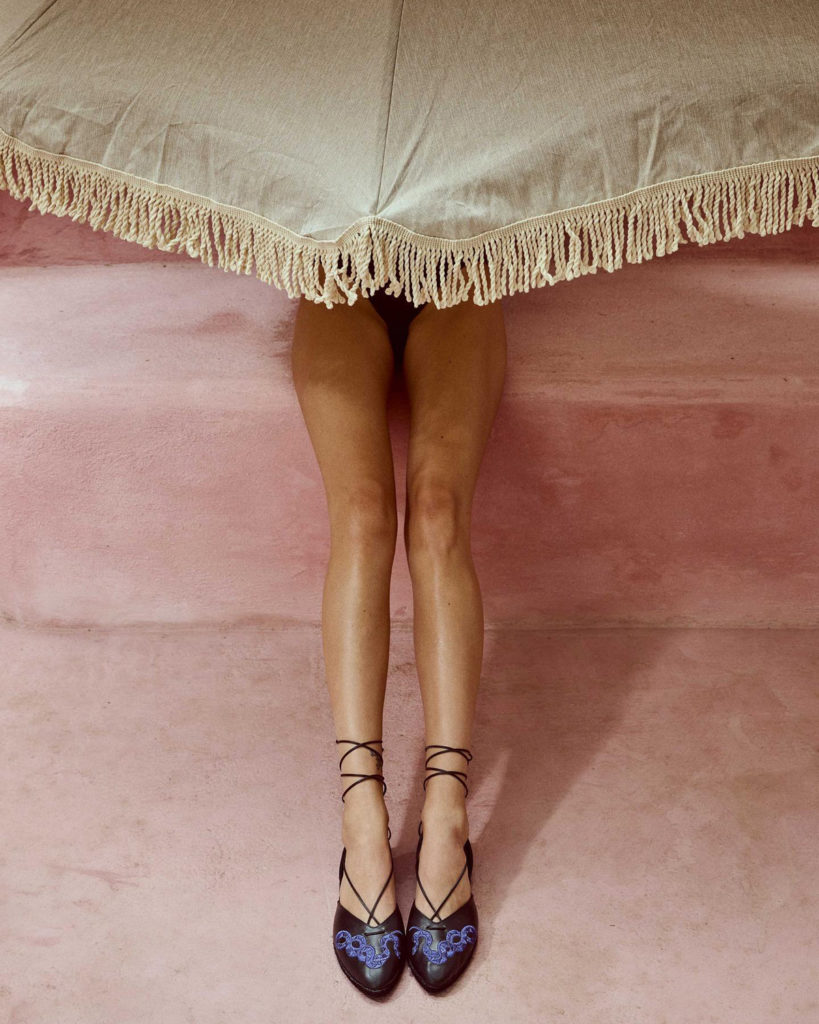 Kyrvan. Founded by 3 friends, Evi & Myrto Kritsotaki and Marianna Kontopodi, with origins from the area of Ierapetra (formerly known as Kyrva) on the Greek island of Crete, this shoe brand translates traditional local craftsmanship into modern cosmopolitan terms. Using original espadrille soles imported from Spain as their base, they create elegant hand-made styles with the help of Cretan artisans. Crafted from the finest cotton and leather and accented with folk-inspired embroidery and weaves, each limited-edition pair takes them 20 different stages and 4 hours to complete. They are packaged in a traditional Cretan hand-made shoulder bag called a "Vourgia", with braided strings and a tassel, made from 100% cotton. It's a luxe and elegant version of the espadrille that lasts way more than a single summer. Similar superb aesthetics you will notice in their photoshoots. Shop online or in various Greek boutiques.
Celia Dragouni. If you are into boho-chic looks and unique, sustainable fashion, this resourceful, all-traveling designer is one to check when in Greece. She studied in the Parisian location of the Parsons School of Design and the Chelsea College of Art in London with degrees in Fashion, Textile Design, and Fine Arts, respectively. Doing extensive research and being drawn to traditional fabrics and techniques across the world, she has set up to upcycle, recycle, and rework all that she discovers into eye-catching statement pieces. Beyond silk, velvet, and cotton, she is expanding to repurpose handwoven and patterned fabrics, use recycled polyester or Lycra, and hand-paint other textiles with her favorite motifs. Her signature kimonos, dresses, and other luxe bohemian pieces have been seen on Dree Louise Hemingway, Lindsay Lohan, Ana Beatriz Barros, Rita Wilson, Arielle Charnas, Valentina Micchetti, and other A-listers. She models most of her creations because they represent her 100%. If you are planning an island wedding, she also creates incredible vintage-inspired bridal gowns. Her pieces can be found in selected retailers in Europe, Asia, and the US, her online boutique, and online stockists such as Yoox.com.
Mitos Swimwear. Translated as 'thread,' the Greek word 'mitos' is related to the mythological adventure of Ariadne who fell in love with the Athenian hero Theseus and gave him secretly a thread that helped him get out of the labyrinth (maze) her father, Cretan King Minos, built to house the half-man-half-bull beast called Minotaur. Threads and specifically artful digital embroidery are applied on a layer of stretchy silk-like tulle lined with the finest UV-protected Italian Lycra in these hand-made lingerie-inspired swimsuits and resortwear pieces. Creative Director Ioanna Tserepa pays tribute to local craftsmanship, history, and tradition through her unique luxury brand. Stockists include boutiques in Europe and Asia, as well as prestigious online stores.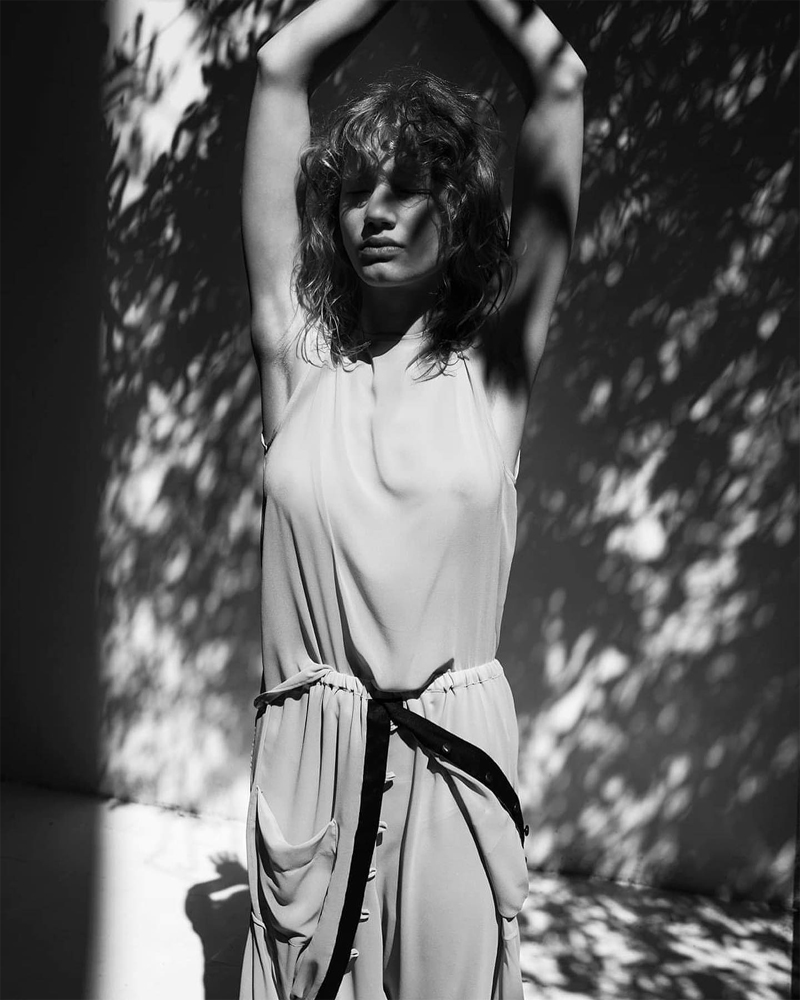 Digitaria. Art lovers and travel adventurers would be thrilled to discover this highly conceptual Greek brand with a global scope and ongoing creative partnerships. Designer Eleftheria Arapoglou mixes diverse cultural inspiration with a knack for meticulous, impactful tailoring, and upscale fashion. Her studies at the University of Creative Arts in the UK led her in 2008 to open her Digitaria space in Soho, London, where her avant-garde collections were combined with exhibits and events by various artists, getting attention from industry pioneers like designer Gareth Pugh. Her creations magically cross gender lines and are the results of endless experimentation with new silhouettes and materials. Her current Athens-based showroom is located in the grungy neighborhood of Exarheia, known for sporadic rioting, but still quite interesting and deeply artistic. Occasional presence in various boutiques, mostly in the Greek islands, attracts high-profile customers, including designers Dolce & Gabbana and a prince from the Royal Qatari family who owns Valentino.
Dassios. His former professional career, including 10 years at the Greek National Opera as an actor and singer, explains the theatrical flair of his ethnic-inspired creations, tapping into the Eastern tradition with a modernist view. Hand-made embroidery, vintage elements, and juxtaposition of unexpected materials are carrying a high-end signature embracing the main principles of luxury; the craftsmanship and the painstaking creative process behind slow fashion. His colorful, embellished denim jackets, along with other artisanal made-in-Greece creations can be found in well over 100 eclectic boutiques in 23 countries, including Italy, France, Switzerland, the UK, and US, Monaco, and of course Greece. One-of-a-kind runway pieces, ready-to-wear collections, handbags, and his first 'fashion love,' namely statement jewelry, are part of a charming, ever-expanding collection you can also buy online.
Roses Are Red. A luxury lingerie and loungewear brand with many pieces that can also be worn outside the home is an excellent treat for people with a romantic attitude. Creative Director Ioanna Tsigarida-Mathiou, who has studied Economics and Marketing, as well as Fashion Design in Paris, founded an ultra-feminine made-in-Greece brand after working in Brussels and the French capital for prestigious companies and designers. All items are made of pure silk, cotton, or wool, with a focus on the quality of execution. Her designs, especially the signature kimono styles, are favorites of stylish women across the world as well as celebrities, including Kim Kardashian. Check her charming boutique in the upscale neighborhood of Kolonaki, downtown Athens.
Savapile. Lisa Sarigiannidou carries on the legacy of her milliner father in the same atelier he opened in Athens in 1960. She took natural straw hat-making to the next level creating a broad range of styles – most of them bespoke – including those similar to the oversize hats by the coveted French brand Jacquemus popularized a few seasons ago (this atelier has been doing them for decades). Her heart-shaped ones and other hand-sewn styles have been featured in high-profile magazines and designer photoshoots. Shopping adventurers will find her in the original workshop hidden in a building alley in the old Athenian neighborhood of Psirri.
Etoile Coral. Inspired by Greek folk and traditional techniques, designer Mara Pentzou creates simple attention-getting clothes meant to be worn on your vacations in Greece. She blends local elements with French nonchalance and the bohemian spirit that comes from her studies in Paris. Her resortwear includes universally flattering silhouettes crafted from silk or cotton and accented with embroidery. It's like the uniform you would love to adopt once you set foot on one of the Greek islands. Many ladies rock her outfits across the Mediterranean. You can find this collection in various boutiques all over the world.