Culinary Tradition, Sleek Cycladic Architecture, and Pottery on the Elegant Greek Island of Sifnos
Sifnos is one of the charming Greek islands in the group of Cyclades in the Aegean. In 2.5 hours from the port of Piraeus or a maximum of 30 minutes from Serifos, the speed ferry will take you to the Port of Kamares on the island of Sifnos with a long heritage of sailing, yachting, and a delicious local kitchen. Hands down, it is a globally recognized culinary destination; the birthplace of Nikolaos Tselementes (1878–1958) author of the quintessential Greek cookbook that is still considered to be the 'Bible' of Greek cooking; a point of reference for restaurants and households. Their main village or town which is not called 'Chora', like in many Greek islands, but Apollonia (named after the ancient temple of Apollo that used to be there), is a super sleek example of Cycladic architecture with locals keeping every wall and detail pristine white and clean. This 'boutique' island is a favorite to a discerning clientele of Greek ship-owners, bohemian jetsetters, and sailors. Artemonas – allegedly named after the local ancient temple of god Apollo's sister Artemis – is the second largest village.
Accommodation in Sifnos
Elies Resorts. With a full-service private beach chunk of the Vathy Bay, a spectacularly decorated 213ft/65m-long pool, a spa center, a gym, a tennis court, an art shop, 2 cocktail bars, a restaurant, this 5-star complex of rooms, suites, and villas (some of them with private pools and open-air lounges, nestled between olive trees and garden blooms is an excellent choice for absolutely relaxing and opulent Greek seaside vacations. Nearby, fish tavernas (casual restaurants) with the freshest and yummiest of local food will further enhance the experience.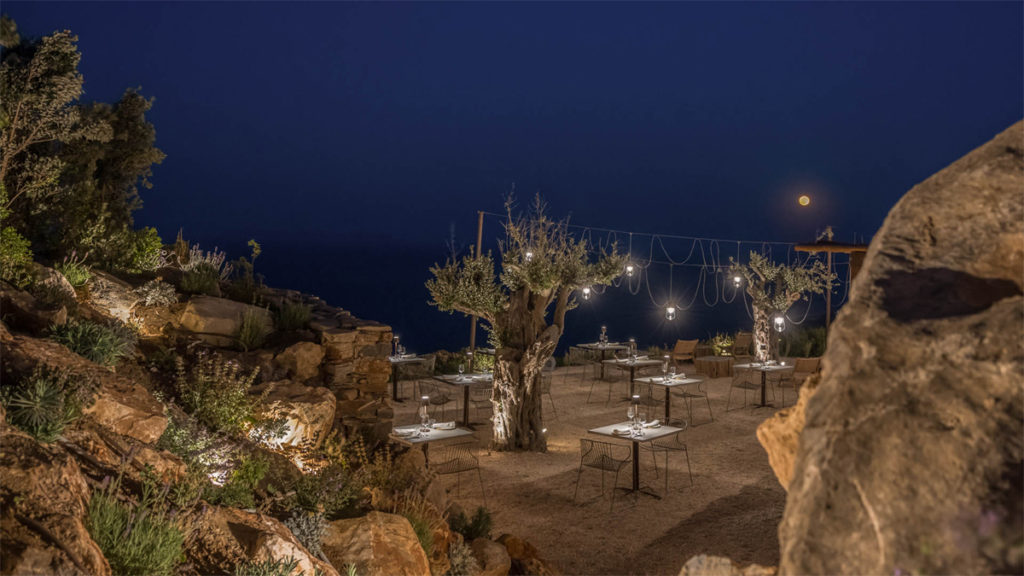 Verina Hotels. Stylish, luxurious (the brainchild of a shipping/yachting family), and applied to 3 different key locations on the island, this hospitality concept offers the best of Cycladic lifestyle. Precious minimalist designer décor, traditional high-end facilities, and exclusive services define the essence of effortless chic. Verina Astra ('astra' is the Greek word for stars) in the stunning hillside panoramic sea-view location of Poulati consists of spacious suites with elegantly furnished private verandas, the main pool, and a farm-to-table Mediterranean restaurant called Bostani. Verina Terra set amidst olive trees at Platys Gialos beach is a boutique hotel comprised of 4 apartments, 4 double rooms, 2 separate suites, and one family apartment. Relax at the pool, get to the fully organized beach, and dine either in one of the amazing restaurants around or at the hotel. Finally, Verina Villa, at the other popular beach of Vathy, is a complex of three 3-level villas with a pool, tennis court, hammam, gym, dining room, water sports equipment, playground, and VIP concierge services. Each villa is a luxe summer home. Verina Hotels serve from their own veggie garden and bakery. Yoga classes and massage are also recommended there.
Selana Suites. Simple with great service and location (amphitheatrically built at the serene bay of Chrysopigi), this sea-view 4-star hotel offers Cycladic-style hospitality with great homemade breakfast and drinks at the infinity pool and lounge.
Patriarca. This is the cutest historic boutique hotel on the island for those enjoying staying a breath away from the buzzy nightlife of the town. Renovated and accented with colorful décor and a small pool, it was built in 1650 and was home to Patriarch Grigorios VII of Constantinople.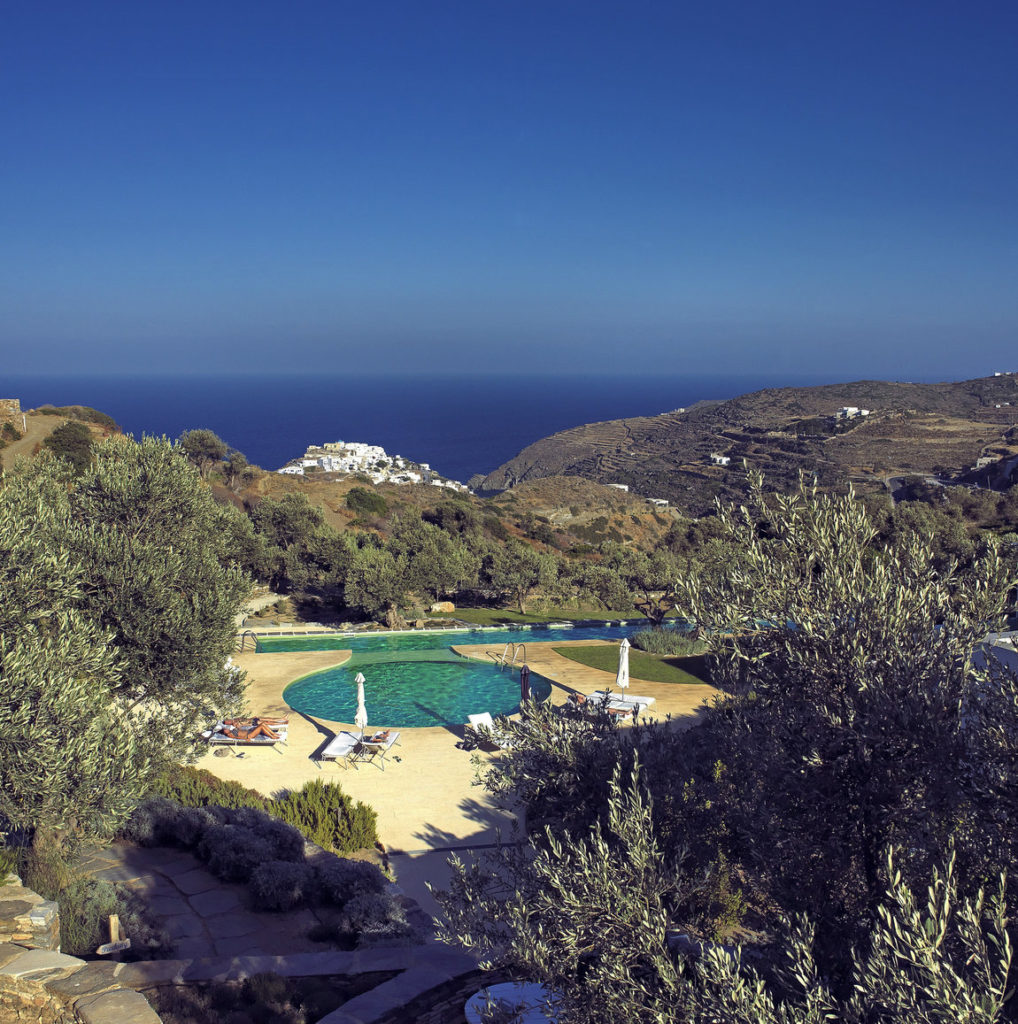 Kamarotí Suites Hotel. Nestled on a natural olive grove overlooking the antique village of Kastro with the blue backdrop of the magnificent Aegean Sea, it consists of small charming guesthouses with a refined, homey feel. In line with local architecture and the modern traveler's quest for comfort, it offers an effortless-chic accommodation option in a sea-view location protected from the winds. Three outdoor swimming pools are surrounded by olive trees and an herb-accented garden offering an authentic version of Greek nature. The owners' Spanish origins are reflected in the tapas menu made with fresh vegetables from their orchard.
Things to Do in Sifnos
The hillside village of Kastro (Greek word for castle) – where you can also find the Archeological Museum – features extensive medieval remains. Ruins of ancient gold, silver, and lead mines, and fortifications from the 3rd millennium to the 6th century BC are visible in various locations, including Kastro. Since antiquity, rich clay deposits on the island have made it a pottery stronghold in the Cyclades. You are highly recommended to check their signature shapes including the 'chimneys' and shop for amazing decorative items and tableware. Check the oldest workshops Atsonios Handmade Ceramics and Apostolidis. In lively Apollonia, the multi-purpose Cycladic Space (open from 9 am till late night) is an entertainment multiplex featuring the Rambagas Café-Bar-Restaurant, and elegant boutiques. For more nightlife, walk along the narrow main pedestrian Apollonia path flanked by stores and bars. Certain bustling and serene beaches are highly recommended for swimming and the most beautiful and emblematic of all is Chryssopigi (Greek word for golden fountain) featuring sparkling golden sand, shade from the seaside trees, and a white chapel-size monastery on its one end. In total there are 360 churches on this island! The biggest and most popular beaches with service are Platys Gialos and Vathi (same beach names you will find repeating in other Greek islands).
Restaurants & Bars in Sifnos
Omega 3. On this foodie island, on the beach of Platys Gialos people – including A-listers such as Tom Hanks and Scarlett Johansson – are excited to secure a molecular seafood meal prepped in a lab-style kitchen by acclaimed Greek chef Giorgos Samoilis. Greek-only limited-edition wine labels are handpicked to complete the spectacular fish bar experience. A spin-off project called Cantina on Seralia beach in Kastro opened in 2020, offering a mix of bohemian attitude and zero-waste, sustainable gastronomic excellence.
Drimoni. In Apollonia gourmet Mediterranean kitchen is served by George Patriarchis; an experienced chef assisted by family members including his confectioner brother. Try the traditional fried Manoura cheese saganaki, the minced meat patty, and pork fillet with figs.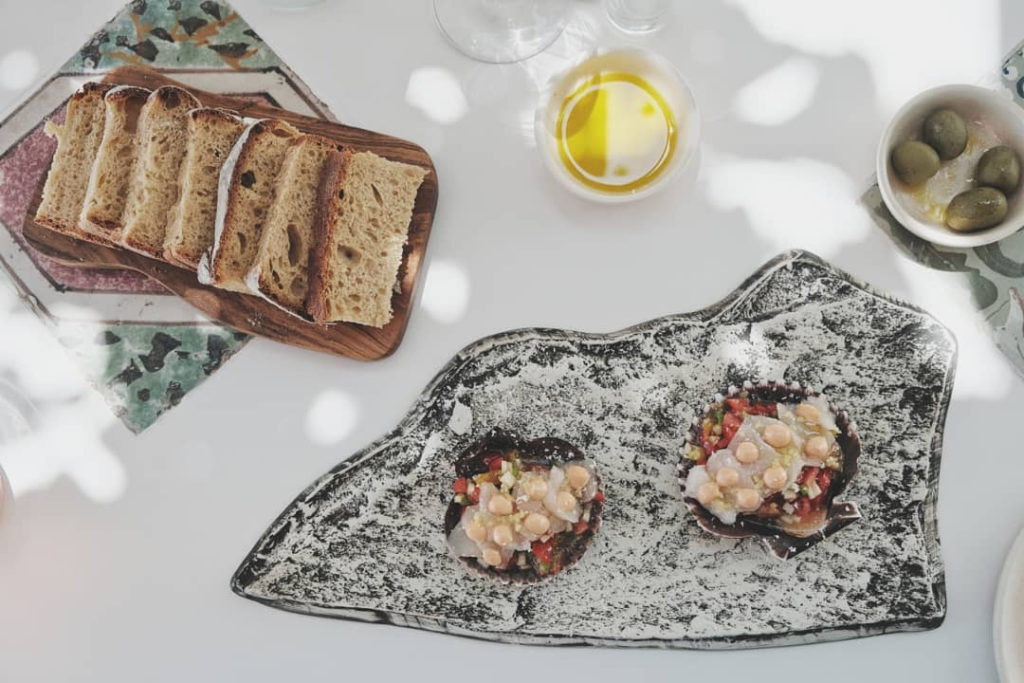 Maiolica. Named after Italian-style tin-glazed Renaissance pottery, this gourmet farm-to-table Mediterranean restaurant in Platys Gialos creates a delicious mix of local and international recipes including their own version of the Greek vine-leaf rolls, chickpea gnocchi, and lamb leg with couscous.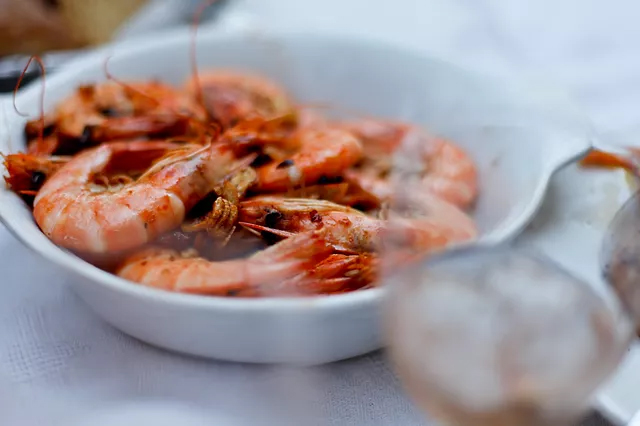 Okyalos. In Apollonia, this traditional taverna serves a great version of the Sifnian classics including grilled chloromanoura cheese with fig, caper salad, 'Revithada' chickpeas cooked for at least 6 hours in a traditional wood oven, and 'Mastelo' roasted lamb.
Kelari. Serving yummy meat-centered local recipes since 1988 in the quiet area of Kato Petali, this family-run taverna (casual Greek restaurant) is also memorable for its outdoor vine-covered pergolas and museum-worthy interiors featuring old pottery and olive-oil processing machines.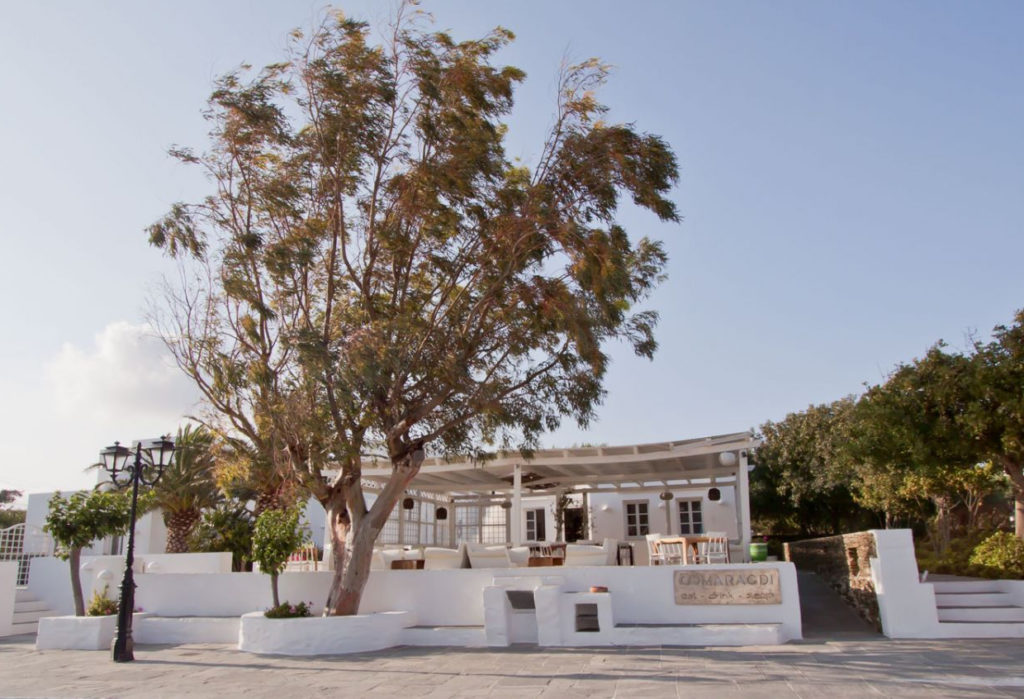 Smaragdi. Located in the village of Artemonas inside a cute family-run hotel, it is a great place for homemade brunch and other meals.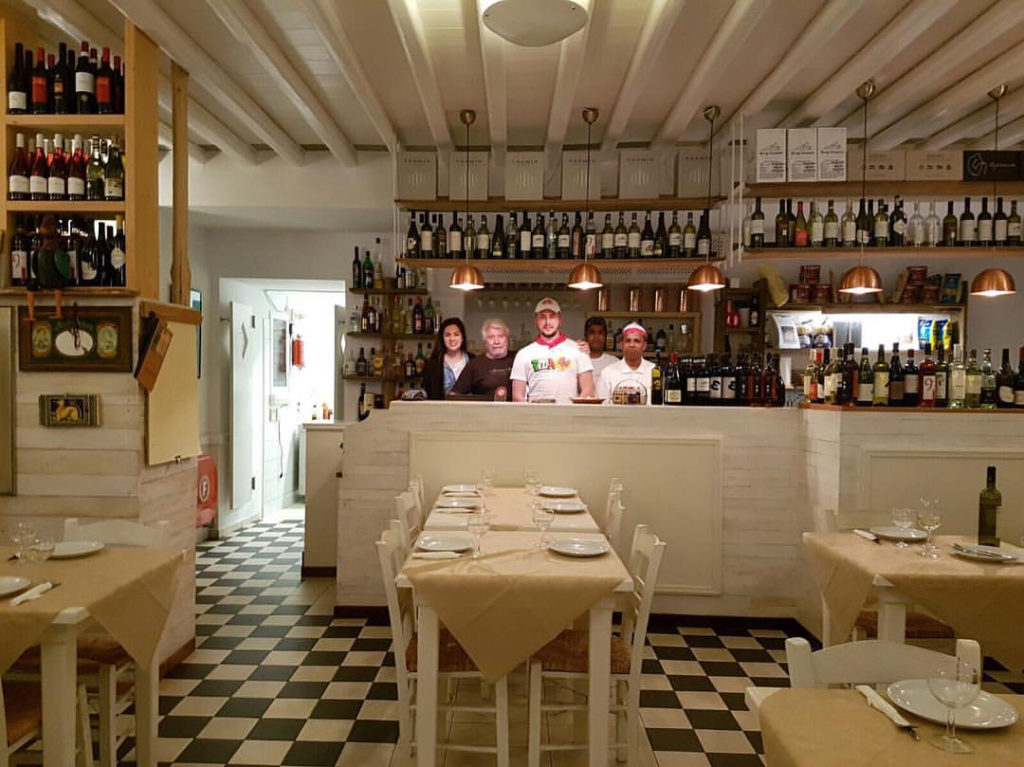 Mamma Mia. Starting in Apollonia in 1988 and expanding to Platys Gialos beach, this is the oldest authentically Italian trattoria on the island. Some of the regular visitors call this place 'The Italian'.
Theodorou's Sweet Shop. For to-die-for 'amygdalota' (almond-flavored cookies), 'bourekia' (flakey pastry treats with honey, cheese, and spices), and other desserts, this is the right spot since 1933.
Drakakis. Like in Serifos, you can drink your strong & sweet 'rakomelo' accompanied by a variety of meze (the Greek word for bites) options here in Apollonia at a traditional café that opened in 1887.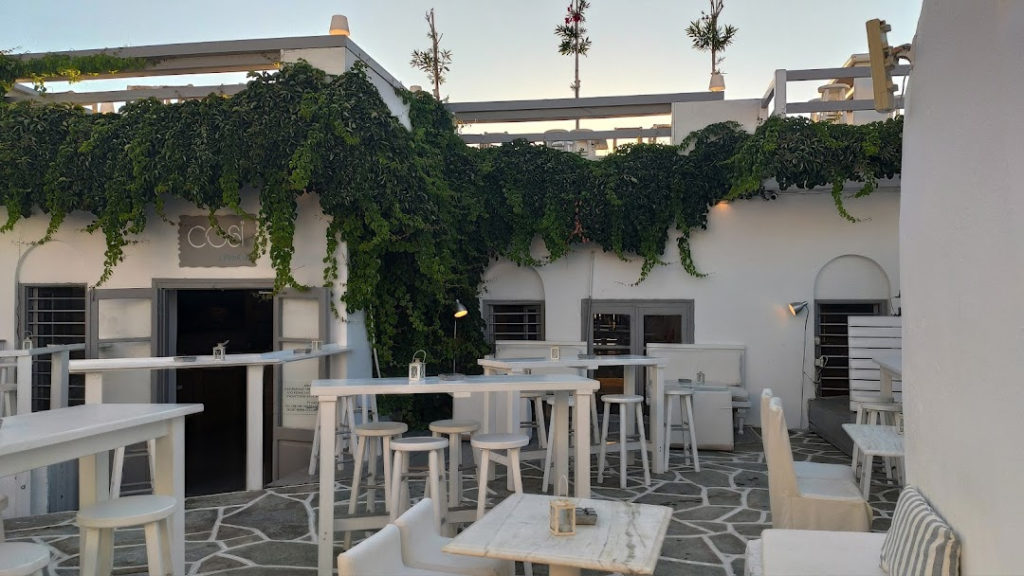 Botzi 93. A classic late-drinks spot in Apollonia for a night out. All around you might find many more bars for cocktails, seasonally changing names, and décor.
Argo. Similarly charming night-out spot for cocktails and music in Apollonia.