Where to Find your Favorite Luxury Beauty Brands in Greece
Greece might be home to 7,500 species of plants, 850 of those to be found nowhere else in the world, and many being used in formulas for Greek cosmetics by companies like Apivita and Korres, yet, probably the only luxury beauty brand created by a Greek, is based in London, the celebrity-coveted runway-worthy Rodial founded by the ultra-stylish Maria Hatzistefanis. Her Snake Serum O2 and Dragon's Blood Sculpting Gel have revolutionized the skincare market in 35 countries with 2,000 luxury department stores and points of sale, bringing high-tech solutions to the forefront. Still, when in Greece, you can order her hero products from her online store. You can also find many other global luxury beauty brands at Greek department stores, boutiques, and online shops covering Athens, the islands, and other locations, especially vacation destinations. Upscale beauty brands like Dior, Tom Ford Beauty, Clarins, Shiseido, Guerlain, Sensai, La Mer, Lancôme, YSL Beauty, Armani Beauty, and Biotherm can be found in most of the stores we include in this article. Nars, a makeup favorite among fashionistas, is sold exclusively at the Sephora stores in Greece and the online shop. Let's go through the various beauty shopping options during your Greek getaway!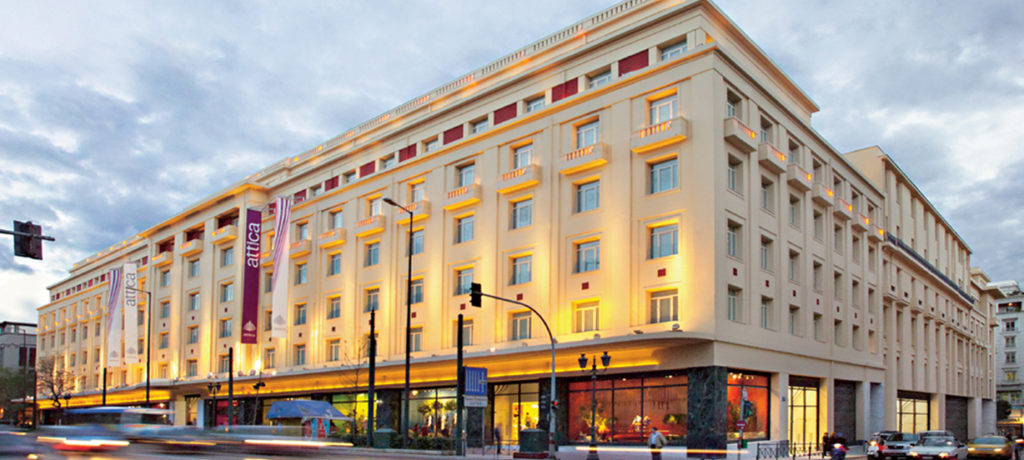 Beauty Department Stores
They are the equivalent of Harrods or Bloomingdales, usually maintaining a beauty floor with a nice variety of such beauty brands. Quite often, you'll find offers and additional services. Online, their store locators can be helpful, but sometimes you might need to Google translate and come up with a mix of Greek and English results; still, the map will always help you locate the spot. Some of these locators might ask you to add a zip code to facilitate search, and in this case, you can submit that of your hotel or other convenient location. Shopping from physical stores is highly recommended if you stay in Greece for a few days, and you need a product right away.
Sephora. This proud member of the LVMH Group, and probably your favorite French multinational chain of beauty stores, has over 30 locations all over Greece that carry most of your favorite products. Their website needs to be Google translated.
Hondos Center. This is a Greek chain of 74 beauty stores covering the most popular global luxury beauty brands and often combined with floors for fashion, home décor, etc. Their website is accurately translated into English; no need to Google translate.
Gallerie de Beaute. Another Greek chain with 43 beauty stores and your favorite luxury cosmetics can be added to your list. Their website needs to be Google translated.
Attica Department Store. In Athens, this high-end department store with a luxurious beauty floor can be found in the City Link iconic neoclassical-style landmark building near Syntagma square and inside the most lavish shopping mall in Greece, the Golden Hall in the Northern suburb of Maroussi. Their website is also translated in English; no need to Google translate.
Brands with a Store Locator for Greece
There are very few luxury beauty brands that maintain store locators for Greece, yet that's not of your concern since you can literally find all of them in the beauty stores we mentioned above. Still, if you want to focus on the brands that took this extra mile for you, here is probably all we have from our research.
La Prairie. Founded in 1931 as a beauty clinic on the Swiss Riviera, this luxury beauty brand rejuvenates the global elite for almost a century now. From Dr. Paul Neihans' intro to Cellular Therapy to the caviar-based formulas it is known for since the 80s, this brand is synonymous with opulence and innovation. The store locator gives you the right addresses for a luxury brand you will easily find in Greece.
Chanel. We all love all things Chanel, including beauty products. Carrying with them the emblematic allure of a couturier who changed the world of fashion with her novelties, these skincare & makeup stunners can be found in many of the physical stores we mentioned above, as you will see from their official store locator. Get the latest Le Rouse, Le Vernis, Le Masque, and more to carry on the flirty, seductive legacy of Mademoiselle Coco Chanel, while in Greece!
Clinique. Advocating the right to have a #happyskin cared with iconic products free of parabens, phthalates, and other chemicals, this great American beauty brand, a subsidiary of Estée Lauder, has a nice store locator for Greece you might only need to Google translate. Get your favorite Moisture Surge products, sunscreens, and more from one of the locations.
Estée Lauder. Named after its legendary founder – an icon of female empowerment and entrepreneurial spirit, this NY-based global luxury beauty brand is still the secret weapon of timeless elegance and agelessness across the world. You can get your cherished Advanced Night Repair serum, Revitalizing Cream, and other miraculous products from various stores in Greece. Just Google translate its easy-to-use store locator.
MAC Cosmetics. The NY-based, originally Canadian professional-level makeup brand with over 500 boutiques all over the world has standalone stores and other points of sale in Greece, as well as a great store locator you just need to Google translate. On location, professional makeup artists will guide you through the use of your beloved lipsticks, Prep + Prime products, and other makeover assets!
Although more accessible and within the dermatological skincare spectrum, brands such as La Roche-Posay named after the French town where soothing, antioxidant Thermal Spring Water is sourced, and Vichy with a similar commitment to the treatment of the sensitive skin, are also available in Greece as top choices among a discerning clientele, including travelers. Clients of a similar well-versed profile are also into the Aveda cruelty-free, eco-conscious, professional haircare and skincare made of vegan, naturally derived ingredients. It has a store locator as well.
Professional Hair Care Products
Year-round, Greece is overall sunny, which makes the use of sun hair care products a necessity. You definitely need them before and after exposure to the sun. Thankfully, Greece is packed with hair salons, most of them selling shampoos, serums, conditioners, masks, and more from megabrands and smaller brands in this high-end category. Indicatively, we are adding here some hair salon locators. You can even call them and ask if they have or can bring for you the home hair care product you need.
L'Oreal Professionnel. From Paris with love, this brand brings a wide range of top-quality 'Serie Expert' products specialized in each need and hair type. Check its store locator in Greece, which you can Google translate as well.
Redken. The fabulous products of this coveted NY-based global professional brand can be ordered from the Greek website Ariane.gr with a next-day weekday delivery in Greece (if you order before 4 pm) or from one of the hair salons we are mentioning in our related article.
Kerastase. The enormously successful luxury hair care line is also available in many Greek hair salons. Since the 60s, as part of the L'Oreal Professional Products Division, they have created countless solutions, including hair protection from the sun. Check its store locator.
Shu Uemura hair care products bringing holistic Japanese philosophy to the table can also be ordered from Ariane.gr with next-day delivery or found in some hair salons.
Online Luxury Beauty Stores
Some online stores in Greece offer faster delivery than others; still, for easy-to-access brands, physical stores provide instant customer satisfaction. If you stay longer than 1-2 weeks in Greece, you can try online too. Department stores and brands are now added to a small list of purely online stores delivering luxury beauty products across the country.
Sephora has a wonderful online shop for Greece delivering in 1-2 days under normal circumstances. Just Google translate it.
Notos, which is also a physical department store and part of a group that brings many major global luxury brands to Greece, also has an online store with delivery in 2-7 days. Google translate it too.
Hondos Center with equal variety delivers online orders in 1-3 working days all over Athens and mainland Greece, and 3-4 working days to the islands and other remote areas across Greece.
Attica Department Store is equally rich in online offerings delivering in 1-3 working days to Athens and big cities and 3-7 days to the rest of the locations. You also need to Google translate it.
Clinique has its own online store for Greece in case you want to focus on the brand. On average, it delivers in 1-3 working days except from remote locations (1-7 working days).
Estee Lauder has its own online store for Greece as well. It takes them 1-2 working days to ship. Orders to Athens and mainland Greece are delivered the next working day from the date of shipment. It takes 1-3 days from the dispatch to the islands, and 1-5 days to remote areas.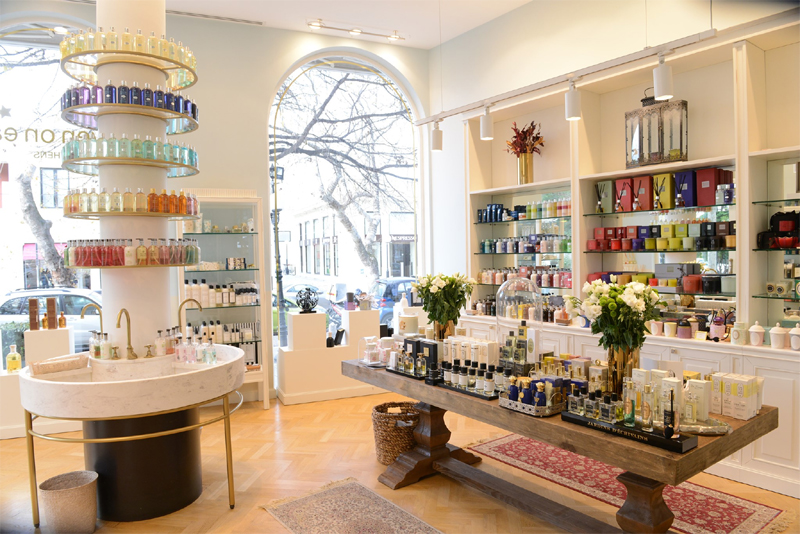 Harder-to-Find Luxury Beauty Brands
There are, of course, brands that are not available yet in Greek stores, and some of them – like Charlotte Tilbury – you can order from Net-a-Porter with relatively fast delivery times (2-4 business days for Express). Also, if your Athens itinerary includes a shopping & dining day in the posh and verdant northern suburb of Kifissia, Heaven on Earth is a cute beauty store bringing currently coveted brands such as Omorovicza, Dr. Barbara Sturm, Oribe, Soleil Toujours, and Balmain Paris, along with luxurious candles and perfumes.