Spiritual Luxury as Experienced by a Global Elite of Aesthetes in the Sacred Greek Island of Patmos
Patmos is regarded to be a sacred island in many ways. Although we have very few references to this volcanic island's antiquity, an ancient Greek myth attributes its creation to the goddess Artemis, who resurfaced it from the sea's depths with the mediation of god Apollo and the divine intervention of Zeus. Most importantly, this place is holy for Christianity as the location where John the Apostle received a vision from Jesus that led him to write the Book of Revelation in the Cave of Apocalypse in 95 AD. This biblical cave, along with a series of monasteries dedicated to Saint John, attracts many visitors every year. Both a place of spiritual pilgrimage and a destination for aesthetes, it exudes majestic elegance and monastic simplicity at the same time. Around mid-to-late August, it becomes the meeting point for the editorial elite, including Hamish Bowles, Editor-in-Chief of The World of Interiors and Global Editor-at-Large for Vogue. Top models, creatives, artists, intellectuals, and zen luxury connoisseurs become satellites to this small eclectic group which takes the extra mile to reach the northernmost island in the Dodecanese complex in southeastern Aegean. Because make no mistake… Patmos is neither an easy destination nor a high-caliber fun, upbeat place. It screams authenticity in a serene and discreet way. Those willing to indulge in its calm, meditative, awe-inspiring aura are recommended to first fly to Samos, Kos, Leros, or Kalymnos, and then ferry from one of these islands (preferably Kos, which has an international airport) to Patmos (Blue Star Ferries and Dodekanisos Seaways catamarans get there in 2.5 to 3.5 hours). Compared to traveling at least 7 hours with a ferry from the port of Piraeus, this is undeniably the most efficient way.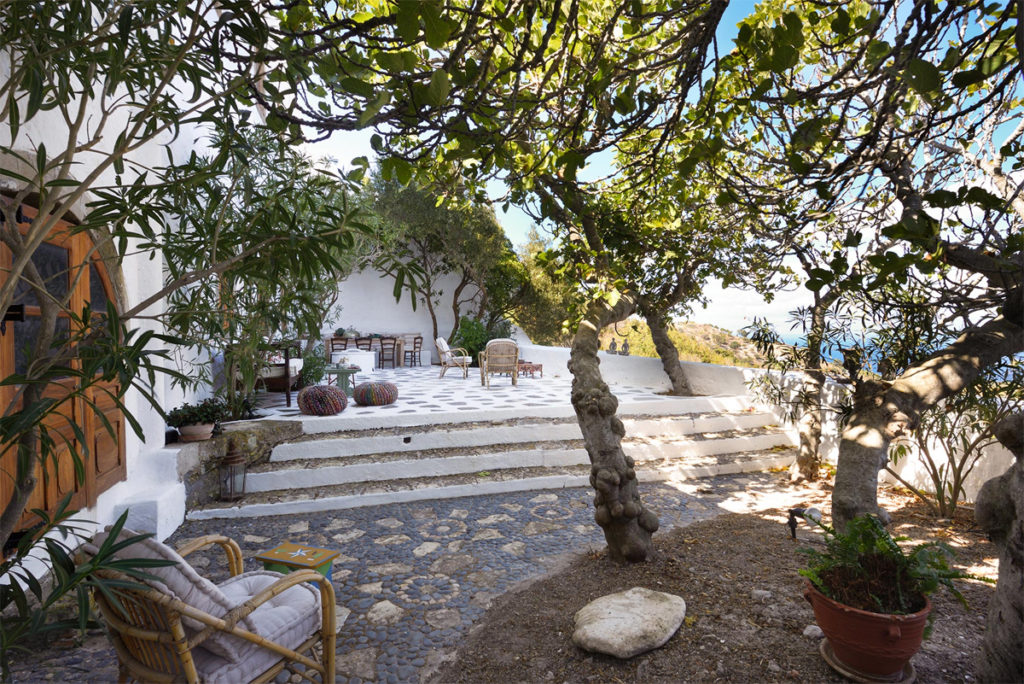 Why Patmos is a Unique Greek Island
Although the island has been part of the Byzantine and Ottoman Empire respectively, and later gone through Venetian, Russian, Italian, and German occupation (liberated as late as 1948), it maintains its distinctive, original flair, with tranquility, spirituality, and sophistication as its core elements. The natural and human-made beauty of this island has been recognized repeatedly and globally. Its beaches, architecture, and landscape feel totally unique. The historic center of its Chora (main town), the Monastery of Saint John the Theologian, and the Cave of the Apocalypse were declared World Heritage Sites by UNESCO in 1999. Its religious character mixes well with its maritime heritage as well as the exclusive vibes of a far-flung destination. A population of less than 3,000 permanent inhabitants is joined, during the summer, by a global community of discerning visitors – some of them inevitably turning into regulars through the years. People who love sailing are among them, making Patmos always part of their island-hoping itinerary.
The Birth of a Chic Microcosm in Chora, Patmos
Chora (one of the most expensive real estate locations in Europe) has been attracting celebrities and a "cultural elite" since the 60s when London-based Alexandria-born Greek interior designer John Stefanidis and his friend, the British artist Teddy Millington-Drake were inviting Jacqueline Kennedy Onassis and other aesthetes. They bought and decorated an old house in Chora, then John refurbished many more on the island, working for international clients. This body of work was proudly included in the portfolio of Stefanidis' high-profile practice in Chelsea. Royals, wealthy families, luxury hospitality businesses, and important institutions belong to a global clientele that trusts his incredibly unique taste level and artistic sensibility. In his circle of friends who visited him in Patmos, we will indicatively mention Verde Visconti, Miu Miu & Prada VIP Communications Director for many years, and a model captured by photographer Richard Avedon for the iconic black-and-white magazine Egoïste and Audemars Piguet campaign. She is the great-grand-niece of famous mid-20th-century film director Luchino Visconti of aristocratic origins. To really get a glimpse of this super elegant group of sunbathers and travelers visiting Stefanidis, add Loulou de la Falaise (summer of 1972), who was Yves Saint Laurent's muse and jewelry/accessories designer, and Katell le Bourhis, the author/fashion historian who started working under Diana Vreeland as associate curator for special projects at the Metropolitan Museum of Art's Costume Institute in 1981. John Stefanidis also advised the late Prince Sadruddin Agha Khan when he built his home in Chora. The prince, who established a fund for the donkeys used on the island as uphill transportation means, had invited notable guests through the decades. Architect Katerina Tsigarida has also delved into this elegant "microcosm," absorbing wisdom from Nicolas Fegaros, who worked in the Monastery's restoration, and in her turn, refurbished 15th-19th century homes, mainly in Chora.
High-Profile Visitors in Patmos
People who are wealthy, discerning, and discreet, as well as others who are deeply artistic and spiritual, have been lucky enough to partake in the mystique of the island. They reached and discovered the island either as yachting globetrotters or as guests of villa-owning friends, or even as word-of-mouth recipients in highly exclusive circles. It slowly happened before the Internet, and the news now spreads faster via social media. In Chora, half of the 500 mansions – some beautifully restored following the local style redefined by John Stefanidis – are owned by foreigners willing to respect the privacy and modesty of this intimate, historically-embedded world. David Bowie first visited the island in 1985 as a guest of the fourth Aga Khan and got so mesmerized that he continued to visit every summer, the first 10 days of July, for the next decade or so. Prince Michael of Greece is a regular, while the then Prince Charles (now King of England) visited the island in the mid-90s. Jean-Paul Gaultier fell in love with Petra hotel, while Giorgio Armani and Valentino Garavani have discovered the island's beauty too. Peter Speliopoulos, Vice President of Design for Donna Karan New York and a multidisciplinary artist trained in ceramics in Greece, lives today between New York and Patmos in the house he restored in the early noughties. Leonardo di Caprio, Kate Moss, Naomi Campbell, Juliette Binoche, Eric Clapton, Bono, Tom Hanks, Richard Gere, and Jennifer Connelly have been among the island's A-list visitors. Most importantly, Julia Roberts owns a 2-story traditional stone house with majestic vistas of the St. John Monastery and the sea. Financiers, artists, and intellectuals from across the globe enjoy their serene summers on this land, respecting its unique, holly spirit. They swim in crystal clear blue waters, drink their iced coffee on their private centuries-old terraces, and enjoy Wi-Fi connection installed on the island by Nicholas Negroponte of MIT's Media Lab as early as 2006.
Accommodation in Patmos
The Petra. This 11-room family-run 5-star boutique hotel located 70 m/200 ft from the Grikos bay is the brainchild of Petra and Kostas Stergiou. They first visited the island 40 years ago and envisioned offering their guests understated luxury and authenticity. Inspired by local interior design and architecture, its ultra-chic rooms have modern amenities. Enjoy the sea-view swimming pool terrace and "mama's food" made with local ingredients.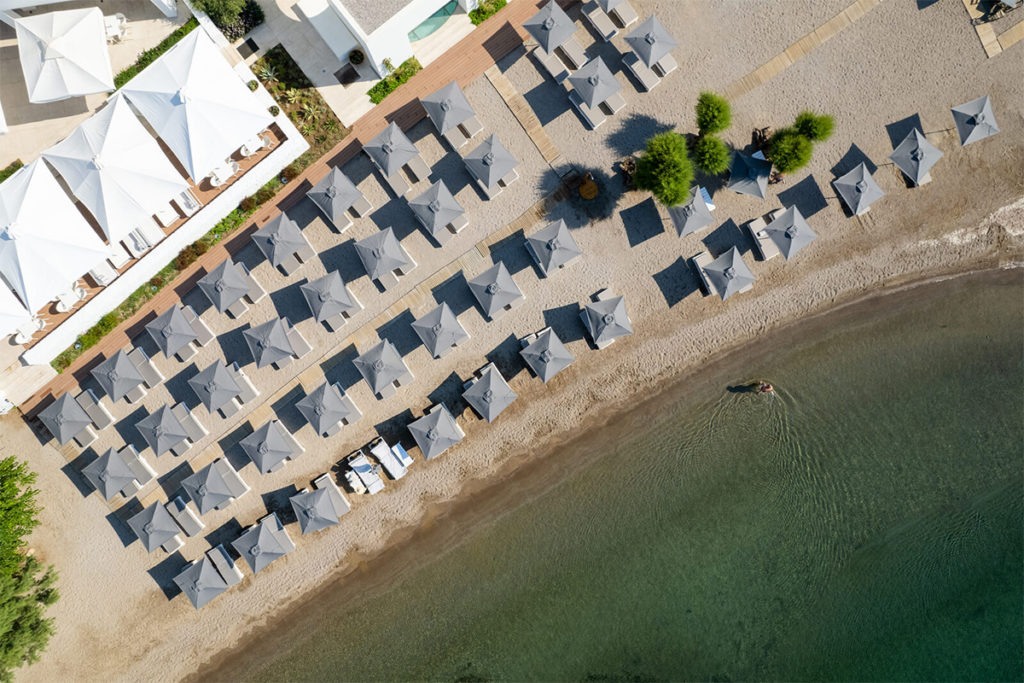 Patmos Aktis. This beachfront 5-star resort on Grikos bay translates contemporary minimalism into local terms through white-washed stone walls and paved paths. Decorated with stylish traditional accents and modern furnishings, all 56 sea-view rooms and suites are exceptionally spacious. The Italian Cielo e Mare serves yummy & fabulous creative Mediterranean gourmet, and the all-time-favorite Plefsis taverna treats you with homemade Greek cuisine classics, both with a sunset view. The hotel has a main outdoor and indoor pool and, for luxury lovers, a couple of private-pool suites. At Anasa Spa, the only 5-star Wellness Center on the island, enjoy holistic treatments by the award-winning British brand Ila, as well as the sauna, steam power, nail salon, and fitness room. Guests and visitors can also access the full-service beach and reserve umbrellas and sunbeds.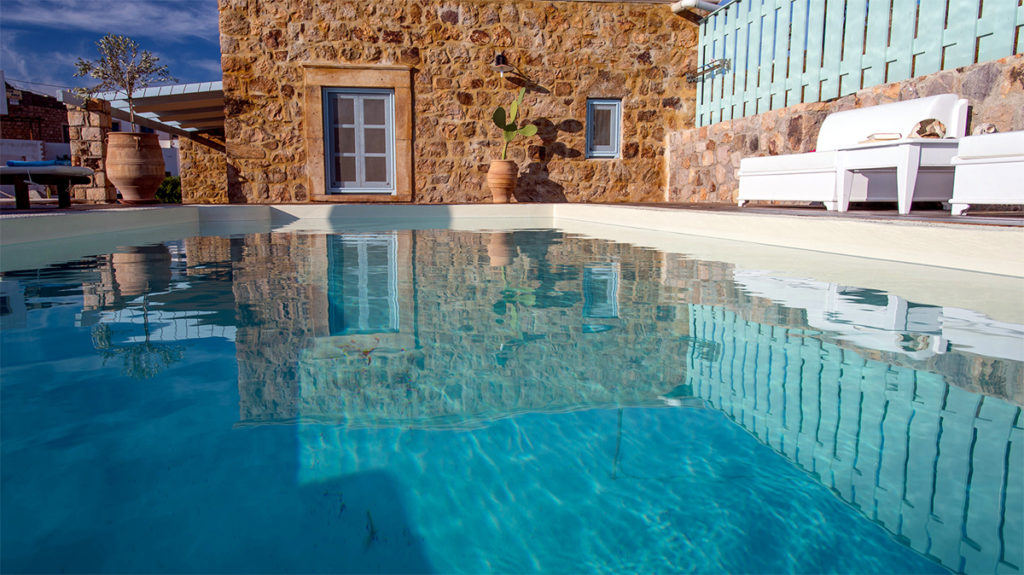 Theologos Houses. Amphitheatrically located in the bay of Grikos and Petra, these traditional-style luxury houses and apartments have elegant decor, large sea-view balconies, and modern amenities. Some of the villas have private pools.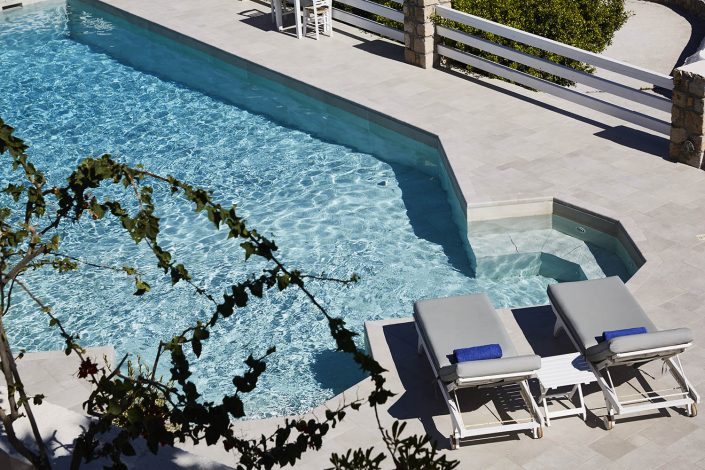 9 Muses. This recently renovated hotel in Sapsila, next to Grikos bay, features 13 independent apartments inspired by local architecture and equipped with modern amenities. Guests can also swim in the outdoor freshwater pool and have a meal or cocktails at the hotel's pool bar & restaurant.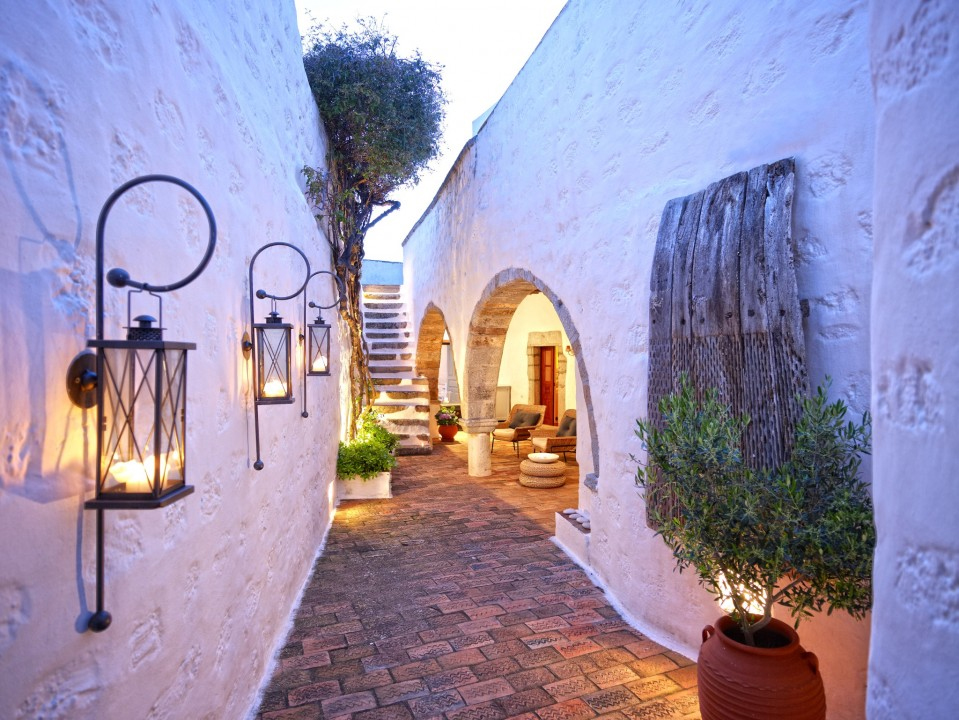 Archontariki. Built 400 years ago, then known as the Gazi mansion, this small boutique hotel (5 rooms), uniquely located in Chora, is a typical example of Aegean architecture with large stone arches, thick walls, and ceramic floors.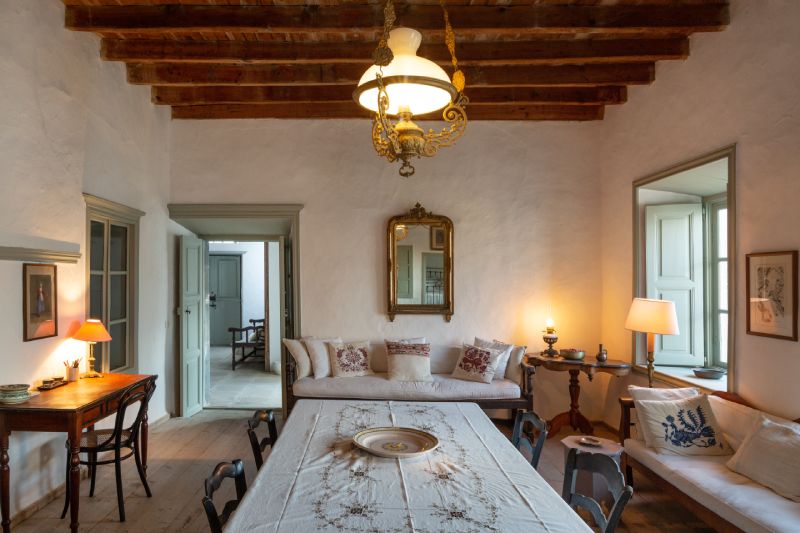 Patmos360. It is a portfolio of three magnificent mansions restored by architect Katerina Tsigarida in Chora, providing you with top-notch luxury services and authentic lifestyle suggestions. Built in the 18th century, Stefania Mansion is one of the most prominent properties in Chora, with a delightful sunset view. The original well in the middle of the kitchen has been preserved and remains the main water supply reservoir for the estate. Its secluded garden/dining area and antique-filled interiors showcase the owners' exquisite sense of style. The 3-bedroom Forno Mansion has an amphitheatric view too. Its original masonry oven dating from the early 1800s, spacious master bedroom, and central location are strong points. Adjoined to Forno I Mansion but still autonomous, Forno II Mansion can provide additional accommodation to 4 more guests without compromising privacy. Panoramic-view verandas are among the astonishing assets of this complex.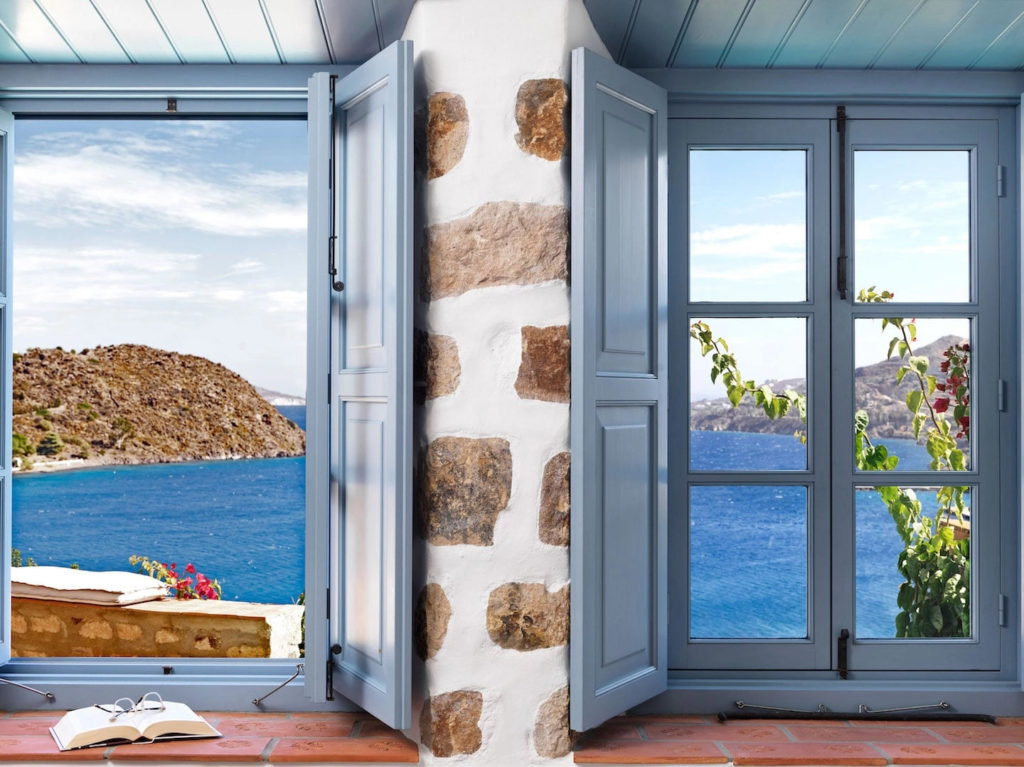 Patmos Eye Villas. These 4 elegant traditional-style luxury villas in Skala offer stunning panoramic views of the sea and Chora. Pick your breakfast time between 9 am and 12 pm. A basket of homemade treats, including fresh bread, marmalades, and their famous orange cake, will be placed outside your door. The 3 villas (the 4th is a suite) have a private hammam with aromatherapy and a pool spa with hydromassage each. In-house massage treatment is also an option.

Once Upon a Villa. Experienced in luxury hospitality, this Athens-based villa rental & concierge service has a spectacular portfolio of hand-picked villas in Patmos and all over Greece. Superb aesthetics and a holistic approach are offered in new and historical properties in Chora and other areas.
Housination. This exclusive villa rental agency features in its portfolio the most breathtaking mansions in Chora and villas in other locations. Its founder, Mikela Varagis, from a well-established furniture design family, with an architect father and a hotelier mother, has created a full-service experience based on two decades of high-end real estate expertise and an exclusive network of commercial partners.
Sofouliou Villa. One of the oldest houses in Patmos, this recently restored historical edifice built in 1522 offers its guests the abundant luxuries of an all-inclusive retreat while creating a secluded haven in the heart of the vibrant Chora. Located just 100 meters from it, this is the first ever house that the Monastery of St John the Theologian issued a permit for, allowing a family of Cretan immigrants, the original owners, to build it. It has a fabulous terrace with spectacular views of the mountains and sea, 4 bedrooms (for 8 guests), bathrooms, and modern amenities. Air conditioning and an indoor fireplace allow for year-round use.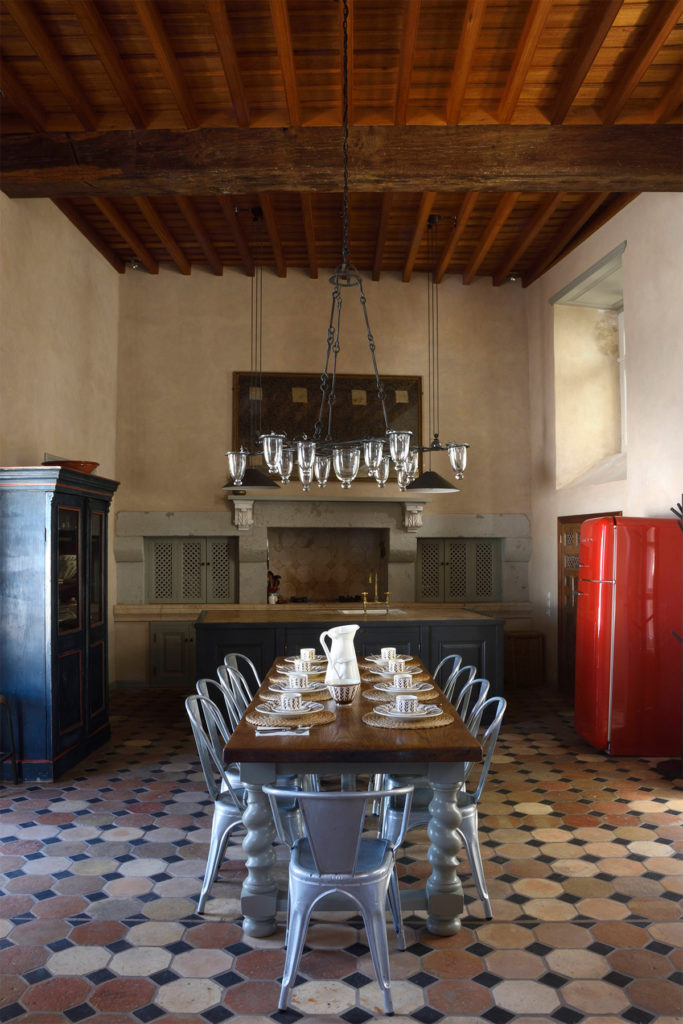 Sightseeing in Patmos
Locals love to say that there are 365 chapels/churches on the island, one for each day of the year. Although not verified (the estimated number varies), this approximation confirms the religious character of this destination. It gives a spiritual aspect to your Greek getaway, yet keep in mind that the island is multi-faceted, offering a variety of cultural attractions as well as pure leisure. You will be happy to take the tour and absorb its incomparable energy through tangible traces of humanity's journey to wisdom.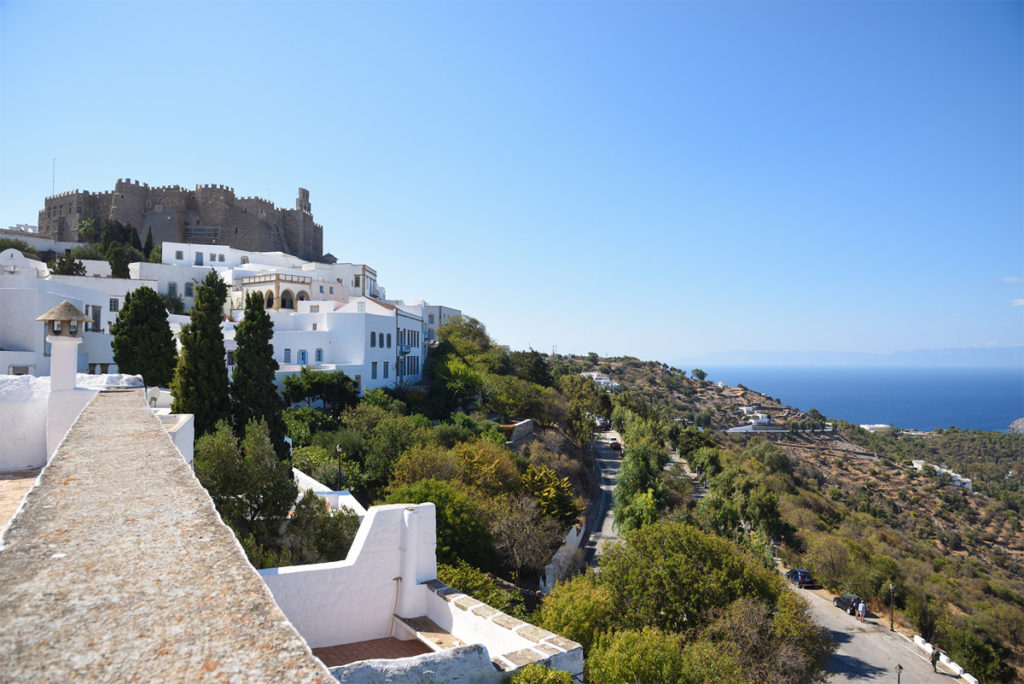 The Monastery of Saint John the Theologian. Alternatively known as the Greek Orthodox Monastery of Saint John the Divine, it was founded by soldier-priest John Christodoulos in 1088 as decreed by Byzantine Emperor Alexios I Komnenos. Crowning Chora, this hilltop polygonal castle was protected from attacks by pirates and Seljuk Turks through heavy fortification walls. This fortress-monastery featuring 99 cells and 10 chapels has a collection of 1,200 rare hand-written manuscripts, plus Byzantine icons, artworks, and historical liturgical objects. The Monastery's Ecclesiastical Museum has on display precious items, including a work attributed to El Greco and gifts from Catherine the Great. It is, though, very hard to get permission to visit the monastery's Library (essentially, only scholars do), which is second in significance only to the collection on Mount Athos. It maintains thousands of rare documents of historical, cultural, and religious value.
The Cave of the Apocalypse. Located halfway from Skala to Chora on an uphill path, the Cave is an important Greek Orthodox religious monument. The chapel of St. Anne was incorporated and built to enclose the natural cave in the early 17th century. It soon evolved into a monastic complex that operated for many years and includes the chapels of St. Nicholas and St. Artemios.
The settlement of Chora. The best-preserved Byzantine settlement of the Aegean has been expanding around St. John's Monastery since the 11th century with no interruption and today stands uphill in full glory, constantly getting renovated by Greeks and foreigners alike. Thanks to its spiritual/religious magnitude, it enjoyed some autonomy and privileges under the Ottoman rule, which allowed local merchants and captains to profit from the trade of grain, cotton, and other commodities in the 16th through the 19th centuries. Their majestic white-washed mansions are decorated with furniture and antiques from Alexandria, Odessa, Venice, and other cities they were trading with. Local decorative items and Byzantine-style interior design, along with eclectic elements, lead to a variety of interiors, from monastic minimalism to cosmopolitan maximalism. Thick walls, high ceilings, chunky stone accents, arches, and terraces are the norm. It is an adventurous maze of narrow paths and small plazas. The meeting point for Chora's inhabitants and visitors is St. Levia Square, with cafés, little restaurants, stylish boutiques, and bars. From the port of Skala, you can walk for more than 40 minutes to Chora, or else drive most of the distance through the island's main road, park your car outside the walls of the Monastery, and then walk up the stairs.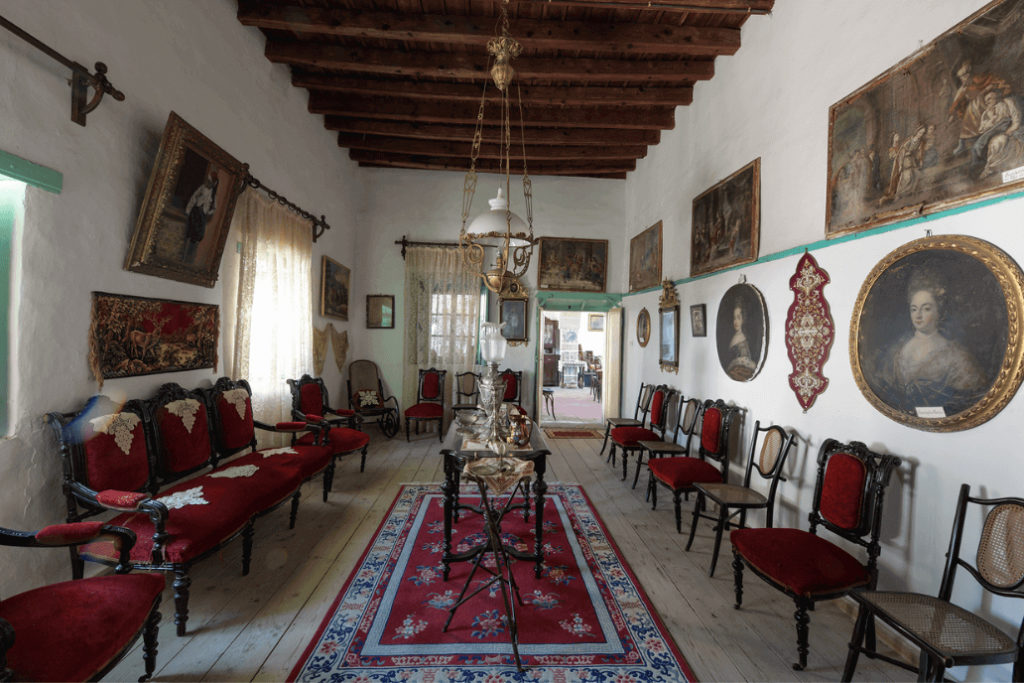 Simantiris Mansion. Built in 1625 and perfectly maintained by the last descendant of the Simantiris family, one of the oldest mansions in Chora operates on its upper floor as a Folklore Museum. The interiors have been the subject of a dissertation by architecture students in the past, and its original items narrate the family's diaspora from Smyrna to Patmos, Odessa, and the USA. On display, you will find a foot-driven dentist wheel probably from the beginning of the 20th century when Theologos Simantiris studied and worked as a dentist in the USA, and later in Patmos, followed in the profession by the next generations.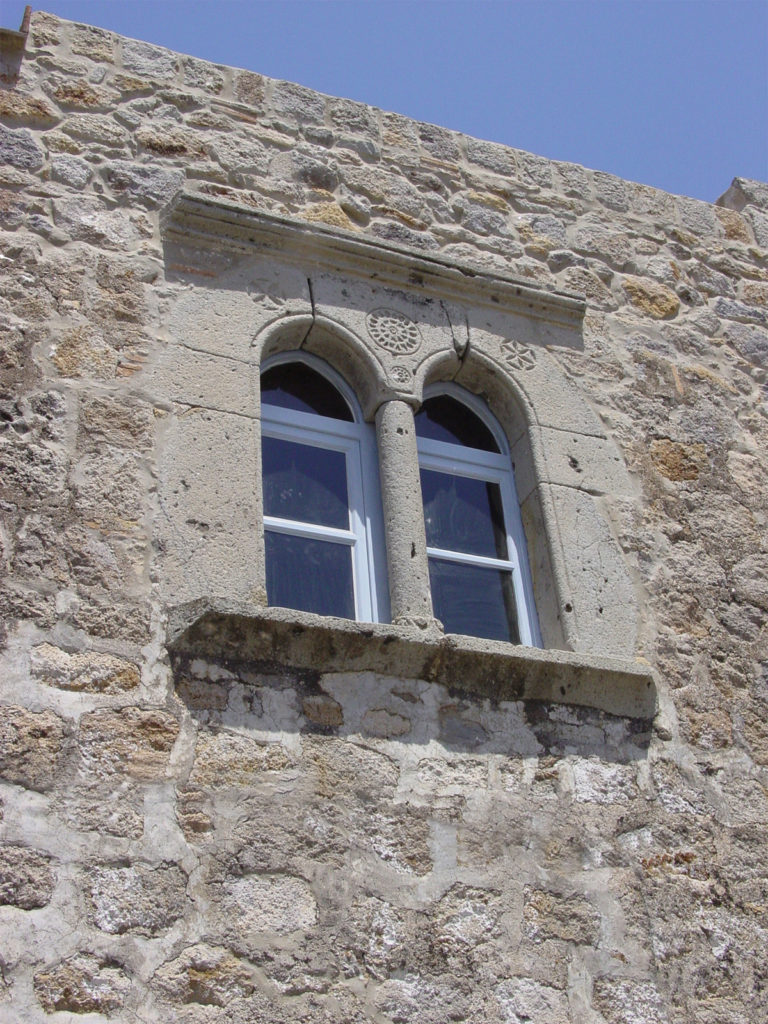 Nikolaidis Mansion. Built in the 17th and 18th centuries in Chora, it is a typical example of Patmian urban architecture. It currently hosts a permanent exhibition of archaeological finds and photographic archives that offer valuable insights into the island's history from Prehistoric to modern times.
Windmills of Patmos. To the east of St. John's Monastery, looking up from the port of Skala, you will see the three Windmills of Chora, two from 1588 and one from 1863. With industrial milling, they all fell into disuse in the late 1950s. They were restored in 2009 by financier and sailing fan Charles Pictet, the Stavros Niarchos Foundation, and other benefactors, using wind energy again for the benefit of the locals. Today, the first windmill is a museum on their history & traditional techniques, grinding flour the old way for bakers and visitors, while the second generates electricity.
Port of Skala. The island's main harbor didn't develop and wasn't built until the late 19th century, as most people inhabited Chora to stay safe from pirates and other attacks. It became an important commercial center during the Italian rule (1912-1943) when still surviving administrative buildings (the Italian garrison quarters, the Post Office, and the Customs Office) were built. This complex, known as the "Italian Building," along with several elegant neoclassical buildings grace today's port of Skala, where all ferries come and go, restaurants and shops welcome the day-trippers, and supplies from other places arrive. It's less charming than Chora, but definitely a central location with lots of activity and proximity to other beaches. Skala is the Greek word for "stairway," the one that leads to Chora.
Beaches in Patmos
Patmos is a small, elongated island (13.1 sq. miles/34 sq. km), so distances are not very long. It's pretty easy to explore it through the main road, although you might need to deviate to dirt roads and unpaved paths when visiting remote beaches. Most of them are a mix of rocky and sandy, mostly on the pebbly end of the spectrum.
Lambi. Located in the northern part of Patmos, 5.9 miles / 9.5 km from Skala, this picturesque beach is organized with umbrellas, sunbeds, and a great fish taverna. It is also known for its colorful, painterly natural pebbles, which you are not allowed to pick and carry home.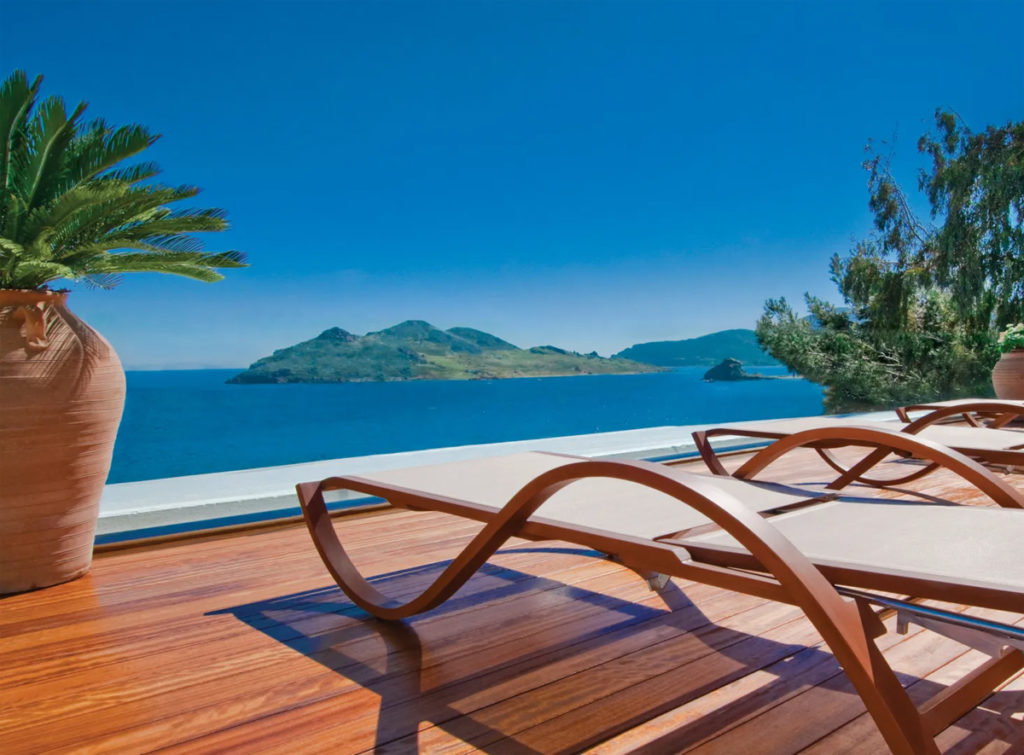 Grikos bay. Located 2.8 miles / 4.5 km south of Skala, this seaside village features many well-designed accommodation options and a sandy beach protected from the winds by the small island of Tragonissi. On this bay, you are recommended to have lunch or dinner at Flisvos restaurant, run by the same family since 1959 and serving, among other organic-ingredient dishes, the legendary chickpea stew, a recipe that remains a secret.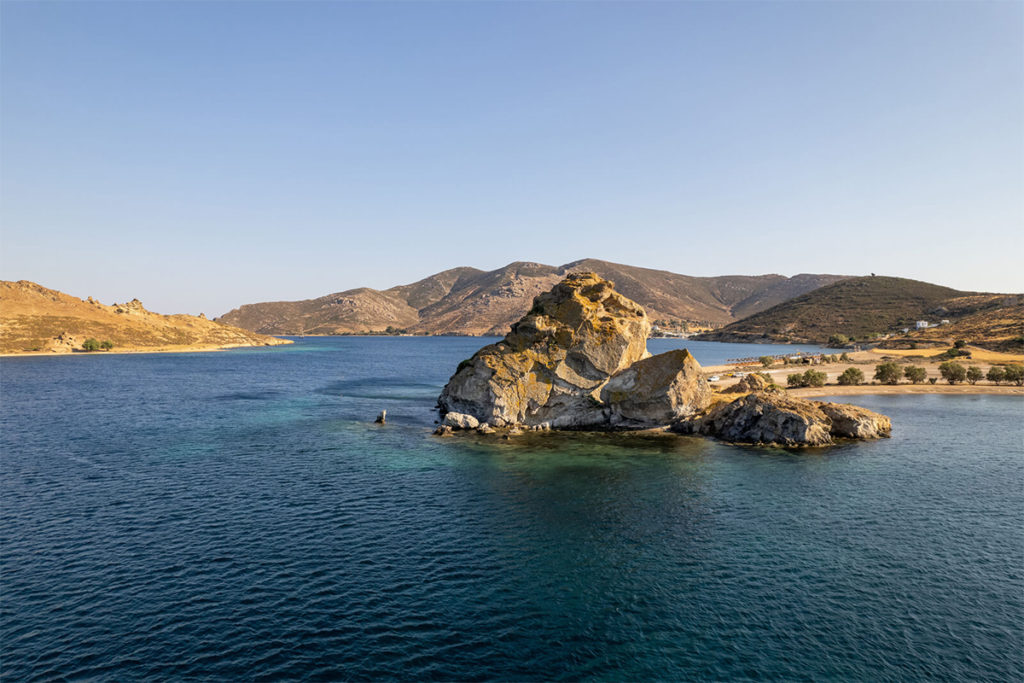 Petra. For swimming, the best part of Grikos bay is its southern extension called Petra. It is organized with umbrellas, sunbeds, and a beach bar, plus it features an impressive volcanic formation known as the Kallikatsou Rock on one end. Petra is the Greek word for "rock," and this particular one is the result of volcanic activity four million years ago. "Kallikatsou" is the popular name of a black cormorant type of seabird building nests on that rock and other locations across the Mediterranean. This rock has been a place of worship at least since 1,100 BC (Late Bronze Age), with related human-made ceremonial elements (cisterns, caves, votive ceramics, tools, etc.) discovered by archaeologist Pavlos Triantafyllidis there and nearby. It was probably dedicated to the goddess Venus (Aphrodite) until the Christian times when this ancient outdoor sanctuary was turned into a hermitage for monks (7th to 14th century AD). From that era, we see some carved steps, natural rainwater "reservoirs," and artificial recesses for the placement of candles.
Kampos. Located 5.6 miles / 9 km north of Chora, this is the most popular beach on the island, slightly pebbly and primarily sandy, protected from the winds, and organized with sunbeds, umbrellas, water sports facilities, tavernas, and bars. For many years, George's Place has been known for its delicious pies, and for this season, this "classic" joins the Sea n' Sun team from a new location on the same beach. Don't also forget to try Àtmos, a very sophisticated beach bar with yummy snacks and other creative dishes.
Agriolivado. Located 2.1 miles / 3.4 km north of Skala, it is a sandy & pebbly beach, organized with sunbeds, umbrellas, water sports, a taverna, and a beach bar.
Livadi Geranou. 5.1 miles / 8.3 km north of Skala, you will find this picturesque sandy beach sprinkled with tiny pebbles, framed with tamarisks that offer shade, and protected from the winds by the St. George islet across (which has its own little sandy beach). It has a small taverna, no sunbeds, yet is reachable through the main road.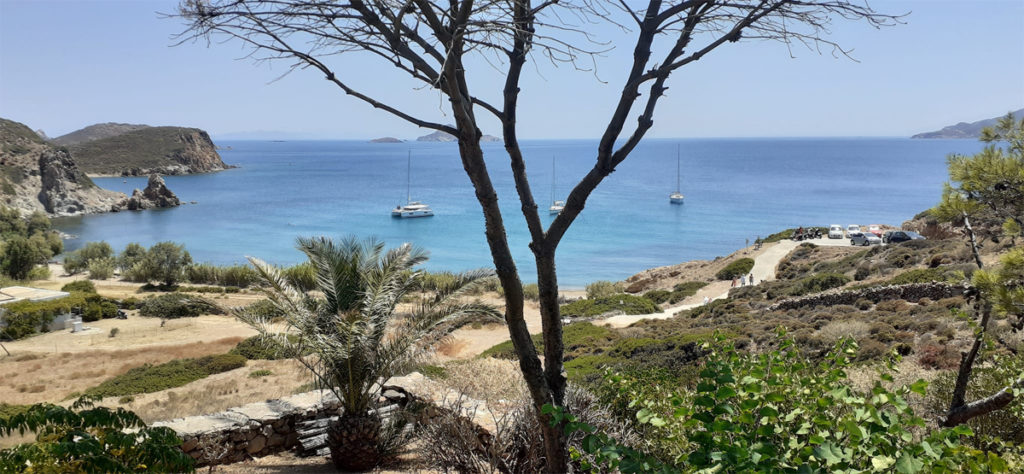 Vagia. 3.8 miles / 6.1 km north of Skala, you can stop by café Vagia for a signature chocolate cake or another yummy dessert. Lush vegetation and colorful flowers will surround you while enjoying the view of a pebbly, tamarisk-framed beach with allegedly the coldest waters on the island.
Psili Ammos. We kept this sandy beach as our final suggestion because it is unanimously regarded to be the most beautiful, yet to reach it, you need a 16-minute drive to the south of Skala and then a 30-minute hike from the Diakofti location while meeting with goats ready to socialize with you! The good news is that you can also get there by water taxi in high season or on your boat. The area is a natural preserve with dunes and has a taverna.
For more swimming and beautiful beaches, day cruises from Skala to the nearby small islands of Lipsi (700 inhabitants), Arki (40 inhabitants), and Marathi (5 inhabitants) are organized by various local tourist agencies. Many more surprises await you there, such as the Tiganakia beach with turquoise waters in the Arki complex of islets.
Shopping in Patmos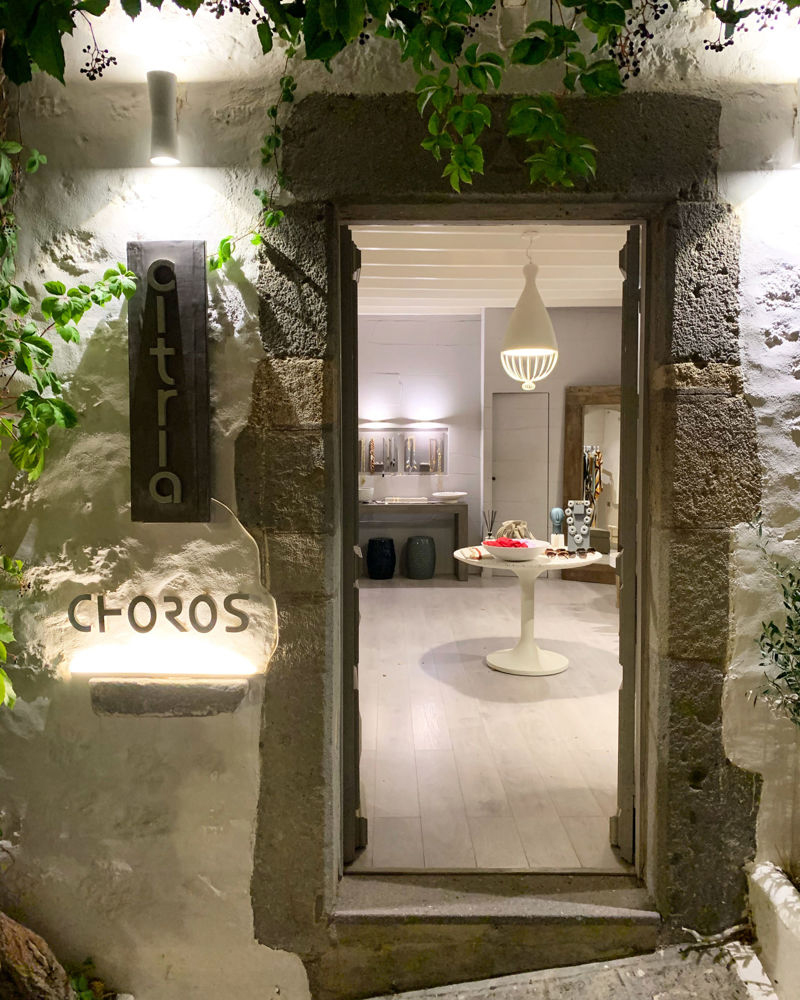 Citria. This Greek Design Concept Store has 3 high-end boutiques on the island. Founded in 2012 by Smaragda Vazeou, a costume designer, stylist, and scenography setter, it is known to a discerning global clientele for designer investment pieces made in Greece of well-researched sustainable materials. Under her trained eye, you can get consulted on shopping a great multi-brand collection of clothing, jewelry, accessories, and home and body products. Citria Choros has been hosted since 2018 in one of the most exquisite, traditional buildings in the center of St. Levia square in Chora. Citria Multispace is in a recently renovated late 1700s architectural gem of a building in Skala that has served as a post office and has a residential upper floor for its owner. Last but not least, Citria Resort, in a high-ceiling white space in Skala, focuses on modern resort collections.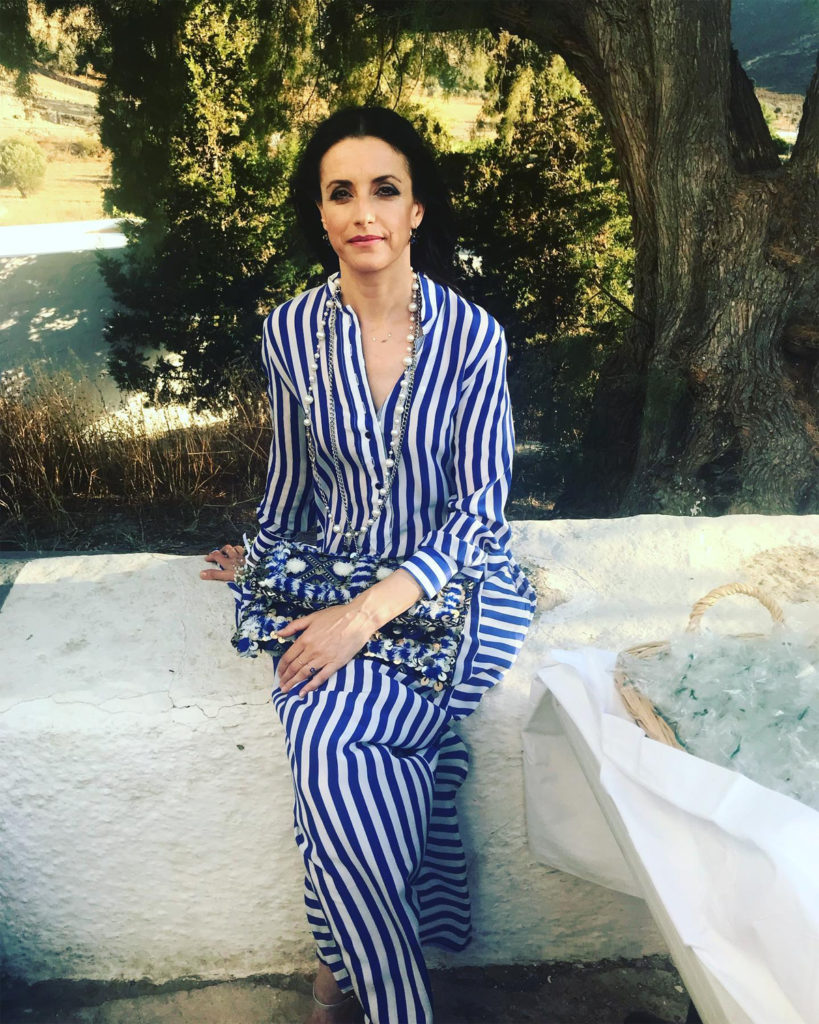 Zafiria Boutique. Trained jeweler Zafiria with theatrical studies founded in 2001 in Chora along with her sister Nektaria one of the most eclectic and sophisticated boutiques on the island, including in its collection hand-made accessories, exclusive Greek designer items, and hand-picked international resortwear stand-outs. It's also located in St. Levia square.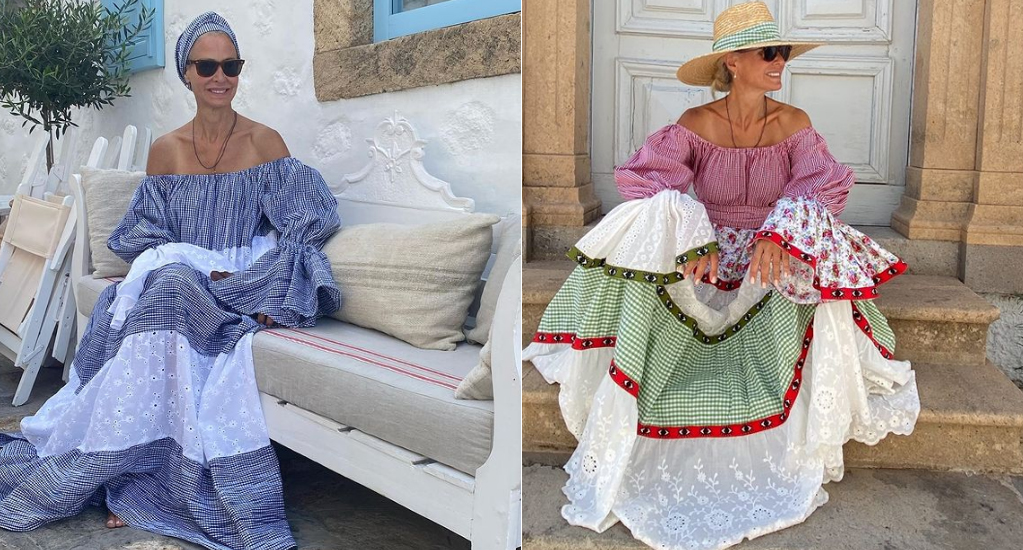 Flora Sardalos. With a flagship store in St. Levia square in Chora and an Athens-based showroom, this Greek-Cypriot designer is definitely up and coming. Her fashion brand, inspired by the Mediterranean landscape, culture, and history, can also be found in selected retailers, including Net-a-Porter.com and LuisaViaRoma.com. She has a knack for discovering patterns and fabrics that complement and enhance women's beauty. She is generous with fabric, often coming up with voluminous, ruffled & flared maxi & midi silhouettes that allow you to move freely and indulge in the spirit of summer vacations. Made in Greece from pure EU-sourced cotton, silk, linen, and cashmere, her dreamy, bohemian, prairie-chic creations are simple, imposing, flirty, and luxurious, the right things to wear day and evening while walking on the cobblestone paths.
Kapopoulos Fine Arts. With galleries in many Greek locations, this art space they opened in Chora in 2015 aligns with the island's aesthetics and vibes. Check its intriguing collection of new talents and well-established Greek artists always in dialogue with the world.
Andreas Kalatzis' gallery. This painter and Byzantine icon artist has turned his 1740s home/ workshop in Chora into an open art space where imagination, colors, and ideas rule. Be sure to check an imaginative mix of art & crafts created by artists who live on the island or have been inspired by it.
Restaurants & Bars in Patmos
In high season, many of the restaurants and bars we recommend are quite busy and competitive, so you might need to make a reservation, even for cocktails for a table in one of the most popular spots, especially in Chora. Officially bars nearby close at 2 am, when monks in the Monastery start the prayers of the day. Yet some bars continue their parties indoors.
Benetos. Described as an elegant restaurant on a farm by the sea, it serves a modern approach to classic Mediterranean cooking while including some Asian-influenced dishes. It was founded in 1997 by Benetos and Susan Matthaiou in the area of Sapsila outside Skala and has been known for its eclectic menu, which is the result of extensive traveling and sampling unique regional dishes throughout Europe and the United States. A dreamy dinner can be enjoyed on one of its 14 tables on a terrace overlooking the Aegean. They use the freshest ingredients, including local fish, and fresh vegetables and herbs from their organic garden. Homemade bread and desserts are their specialties. Chef Benetos Matthaiou previously had stints at restaurants of acclaimed chefs, including Michael Schwartz and Andrea Curto-Randazzo in Miami. An outdoor bar in the garden serving creative cocktails and Mediterranean tapas is the restaurant's recent addition.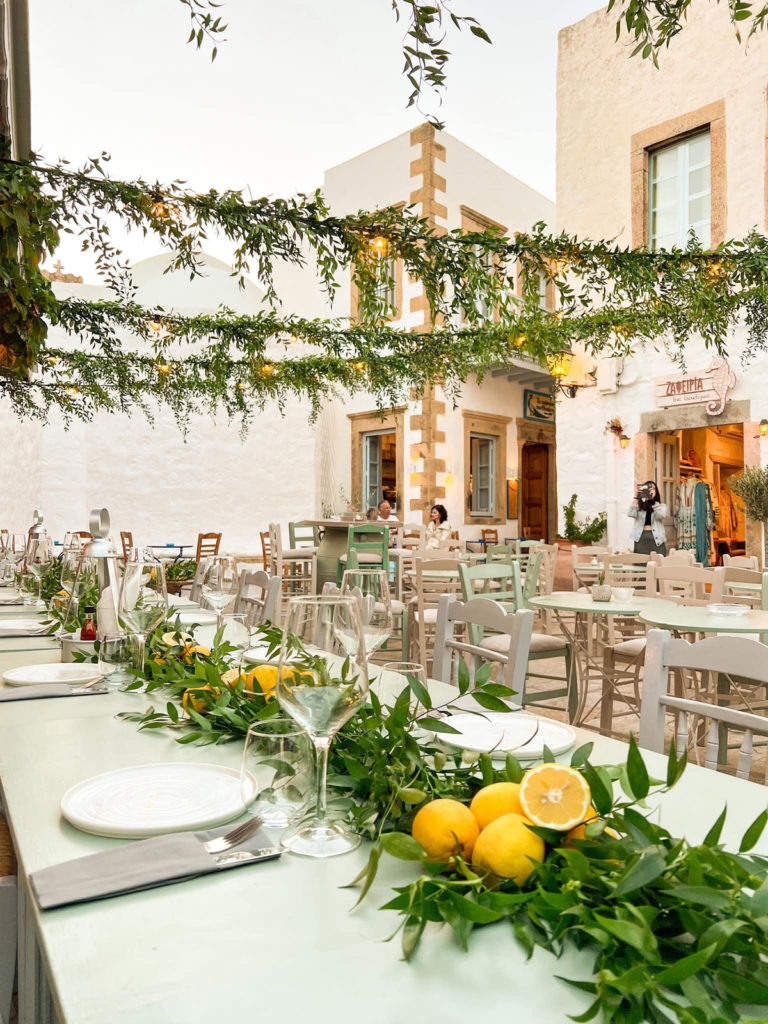 Vaggelis Restaurant. Since 1970, this legendary traditional eatery in St. Levia Square in Chora has been serving Greek cuisine that has gradually become more creative. Their meat dishes are almost iconic. Reservations should be made well in advance.
Giagkos Pantheon. This is one of the most coveted restaurants in Chora, serving top-quality Greek mezze options in the most magical space clad with memorabilia and family heirlooms in its interiors while offering equally authentic vibes in its outdoor space. The owners are descendants of the important Simantiris family of Patmos, already mentioned in our reference of the Simantiris mansion. Along with little plates, you might experience the freshness of their seafood, every dish made in a simple yet hard-to-replicate way according to traditional Greek recipes. Make sure you book in advance for it.
Loza. With a stunning panoramic sea view, near St. John's monastery in Chora, this Mediterranean restaurant is known for delicious creative dishes made with local organic ingredients.
To Kyma. In a spectacular cave-like waterfront terrace in the area of Aspri beach east of Skala, this seafood restaurant, both laid-back and high-end, is another must-do dining option. Kyma is the Greek word for "sea wave," which reflects its seaside position.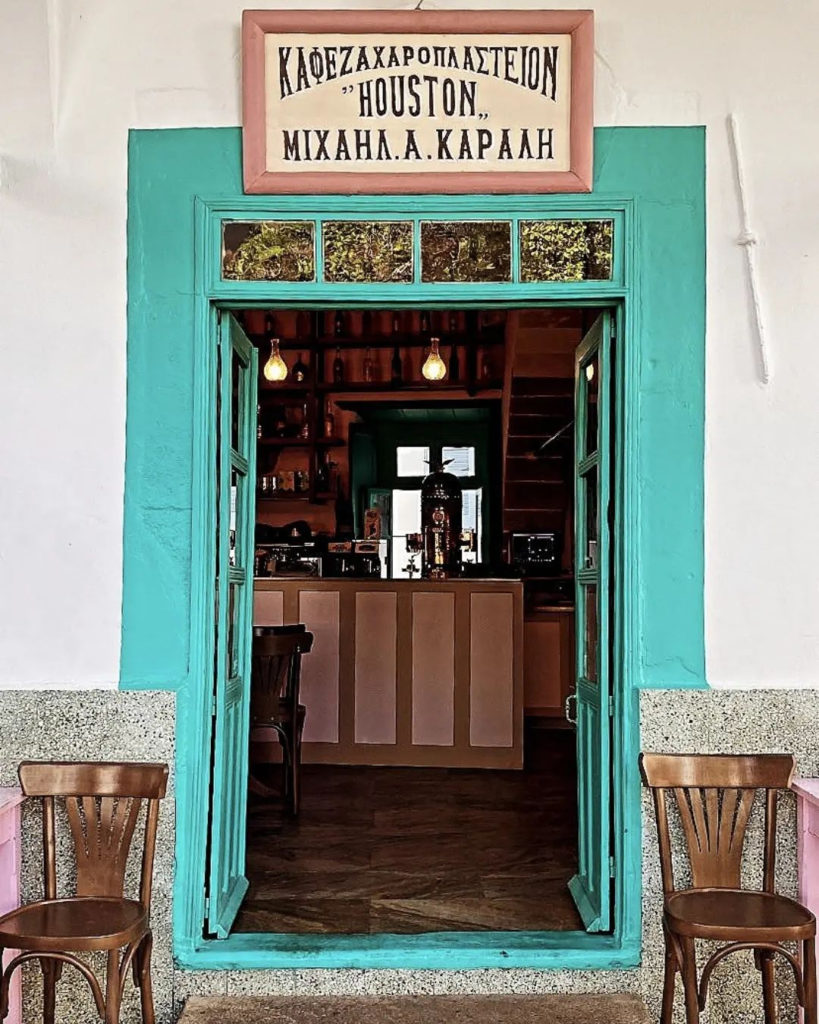 Houston. As written on the shop sign, "Coffee and Pastry shop Houston" was, throughout the 20th century, the most popular meeting place of the local community of Patmos. It first opened in Skala towards the end of the 19th century as the first coffee shop on the island. The founder Andreas Karalis was an immigrant in Houston, Texas, hence the name of the place. His son, Michael, and daughters, Stamatia, Katina, and Kleanthi, made it extremely popular among the island's visitors, including celebrities, especially since the 50s. Today, Yiannis Kavouras, a member of the same family, with his friend Alexis Agrios continue its legacy, serving fantastic coffee, desserts, cocktails, and meze dishes accompanied by Greek ouzo and tsipouro.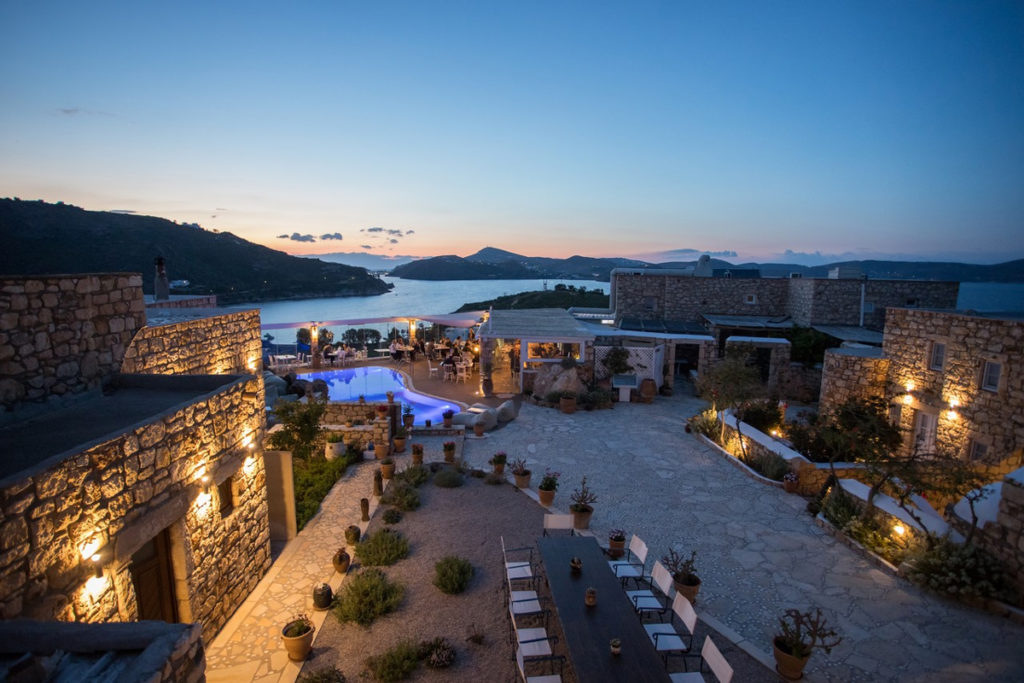 Pleiades. At the top of the hill in the Sapsila area near Skala, this panoramic-view sunset restaurant & accommodation option is built with stone and timber according to local architecture. It serves Mediterranean-inspired gourmet brunch, lunch, dinner, and cocktails by the pool. The menu is exquisitely materialized and served in an impressive way.
Votris. This restaurant on the yacht marina in Skala is actively promoting the concept of healthy "slow food" while cooking deliciously with local, organic ingredients.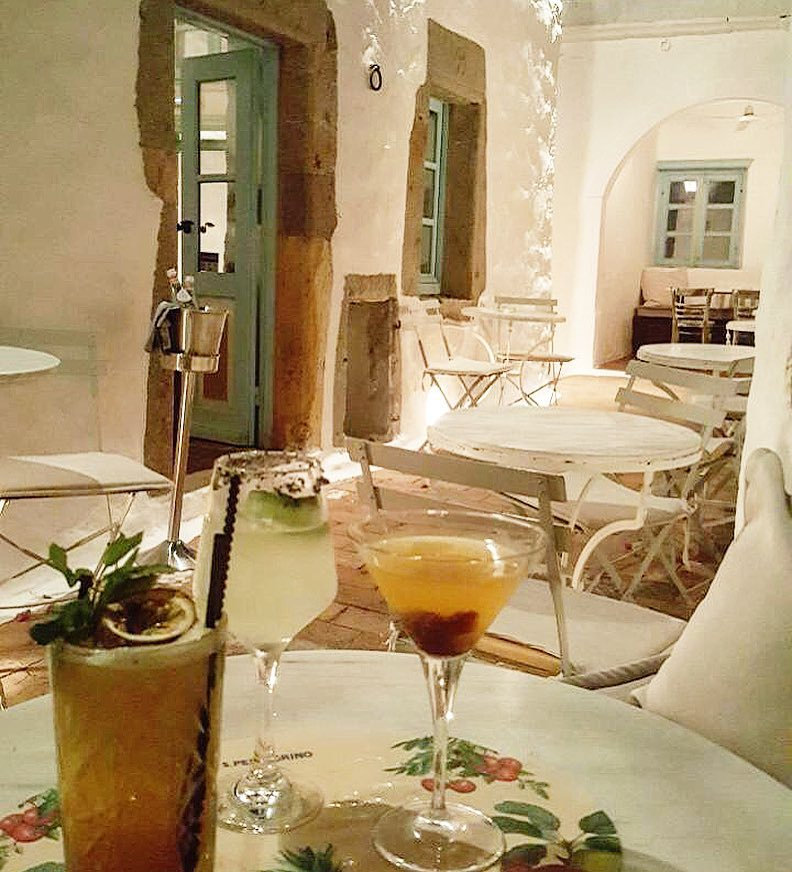 Astivi. Known as an iconic bar in Chora, it ranks among the top choices on the island for its incredible night-out ambiance. Built in 1673, it features a wonderful bougainvillea-adorned terrace where you can enjoy dinner or cocktails, especially watermelon daiquiris.
Stoa Theo's Bar. In its cinematic outdoor space on St. Levia Square in Chora, mixology reigns supreme as a form of art, with signature cocktails elevating your night-out experience. You need to make a reservation.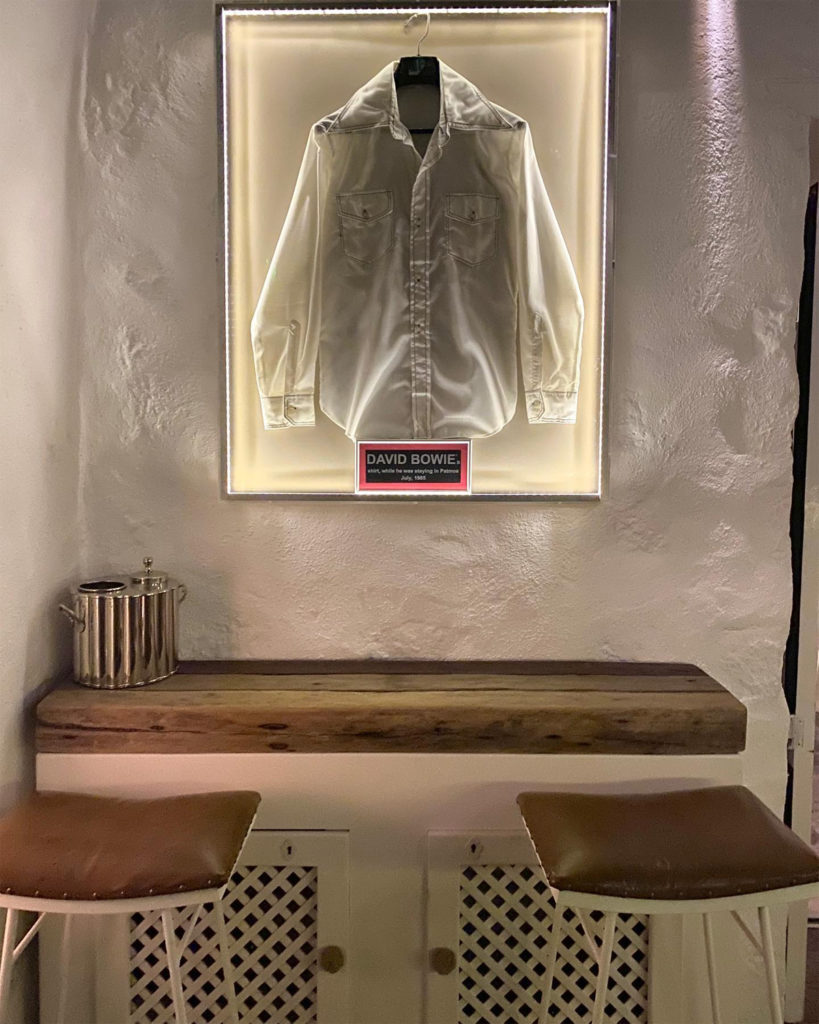 Thalami Bar. This is the other "hot ticket" for cocktails in Chora. There you will find David Bowie's little corner where a shirt Bowie was wearing while he was staying in Patmos in July 1985 is on display in a glass-protected frame.
Art Café. Located in Skala with a great view of the port and the monastery from its terrace, this café-bar serves coffee and cocktails.
Ginger. This artsy gastro pub & bar in Skala is known for its cocktails and upbeat evening atmosphere with parties and guest DJ sets.
Food and Pastry Specialties in Patmos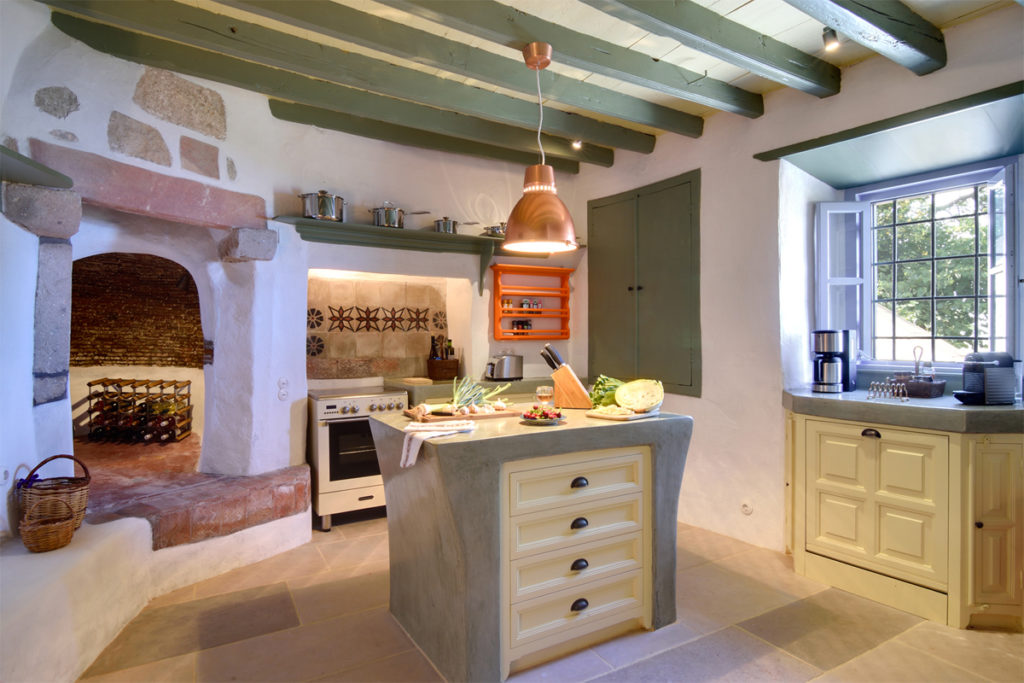 Like some other Greek islands (Sifnos, Crete, etc.), Patmos is praised for its local delicacies and recipes. First and foremost, it is known for its sweet cheese pie, the "Patmian tiropita," made with three different types of cheese, cinnamon, and a little sugar. You are encouraged to try a great version of it at the Christodoulos traditional pastry shop in Skala. To the list of local desserts, add the "achladakia" (pear-shaped almond marzipans) and the "poungia" (fried dough pouches filled with honey, almonds, and nutmeg). Their food specialties include fried eggplants baked in the oven with chickpeas, casserole zucchini flowers stuffed with feta or rice, stiforadika (local greens), squid stuffed with rice, raisins, and pine nuts, octopus stew with tomatoes, stuffed rabbit, fish marinated with garlic and rosemary, goat roasted in lemon, and goat "kapama" with tomato and pasta. Bon appétit! Or in Greek… "Kali oreksi!"