Wind Surfing, Fun Dining, and Upbeat Nightlife on the Popular Greek Island of Paros
A 40-minute flight away from Athens Airport or a 40min to 1h 15min ferry ride from Mykonos will get you to the island of Paros, well-known to windsurfers finding adequate wind in the narrow straight with another Cycladic island called Naxos and the islet of Antiparos where Tom Hanks owns and visits a summer villa. As the main producer of the finest quality all-white Parian marble in antiquity, it has a long history seen through ancient Greek masterpieces and the quarries at Marathi producing tiny amounts used only by the state for conservation purposes.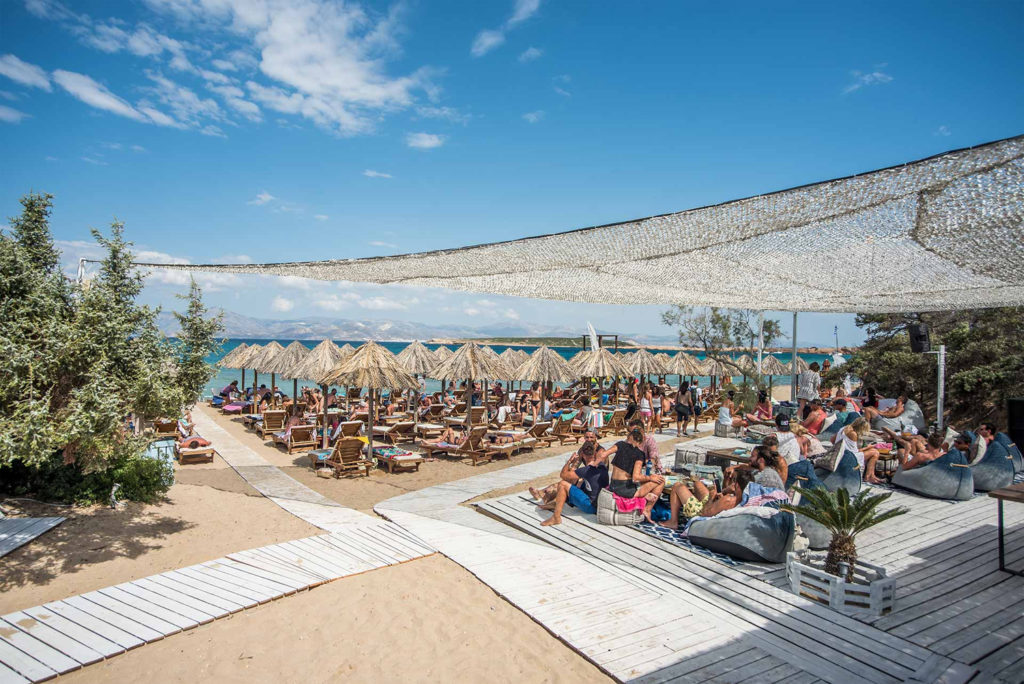 Accommodation in Paros
Paros is a very touristy island with varied profiles of visitors so you really need to plan ahead and go through the best options. Fortunately, you will be able to find some luxury resorts with a great sea view there including:
Avant Mar. This exquisite 5-star boutique hotel, designed in a slightly modernized Cycladic style, offers guests an authentic taste of Paros through its 38 beautifully curated rooms and suites, with seven featuring plunge pools and the standout Avant Mar Premium Suite boasting its own exclusive pool. Interiors are inspired by the island's natural charm, featuring light hues, white marble highlights, and abundant sunlight. Perfectly situated on Piperi Beach, the hotel serves as a gateway to the vibrant town of Naoussa, just a five-minute walk away. Here, guests can embark on the ultimate island vacation, enjoying the hotel's luxurious pool, artfully crafted beverages, and complimentary sun loungers on the beach. In Summer 2023, Avant Mar proudly welcomed Matsuhisa Paros, bringing Nobu-style dining to the island. Set in a serene garden by the ocean, this dining venue offers an enchanting open-kitchen concept and entertaining DJ sets each evening. Those seeking rejuvenation will find solace in the hotel's Wellness Area. Managed by Orloff Spa experts and featuring treatments with upscale Cinq Mondes products, it promises unparalleled relaxation. Guests can also indulge in Greek-inspired delicacies at Figs, the hotel's pastry shop. Additionally, the Nikos Koulis jewelry boutique located within the hotel offers an ultra-elegant shopping experience for those with a penchant for luxury.
Parīlio. Designed by the Athens-based Interior Design Laboratorium and led by Kalia & Antonis Eliopoulos, behind the acclaimed hotels Vedema, Mystique, and Istoria in Santorini, this luxury accommodation hotspot is informed in its entirety by this north-western corner of the island, its landscape, history, and mythology. It is by far the newest, most opulent, and elegant hotel on the island. This minimalist all-suite property presents an authentic and organic Greek experience curated to fit modern needs. Zen and design-savvy, authentic and contemporary, it appeals to an aesthetically discerning clientele. Its most eye-catching outdoor design element is the imposing cross-shaped pool highlighted by two impressive rocks, loungers, and the utterly relaxing natural surroundings. For those looking to fully embrace the slow-paced Cycladic way of living, the on-site Elios Spa is highly recommended. Plus, its Mr. E restaurant welcomes you to try the island's famed gastronomic heritage through seasonal Greek and Mediterranean cuisine.
Summer Senses. Two free-form swimming pools, 100 rooms & suites (some with private pools), a spa, a gym, a pool bar, a lounge bar, the main restaurant, and the gourmet restaurant Galazia Hytra in collaboration with the Michelin-star Hytra restaurant in Athens are all offered by this sizeable resort in the island's most visited beach, Punda, a longer drive from Naoussa.
White Dunes. Minimalists will enjoy their stay in this all-white hotel with a swimming pool, bar, restaurant, and other services by the beautiful beach of Santa Maria.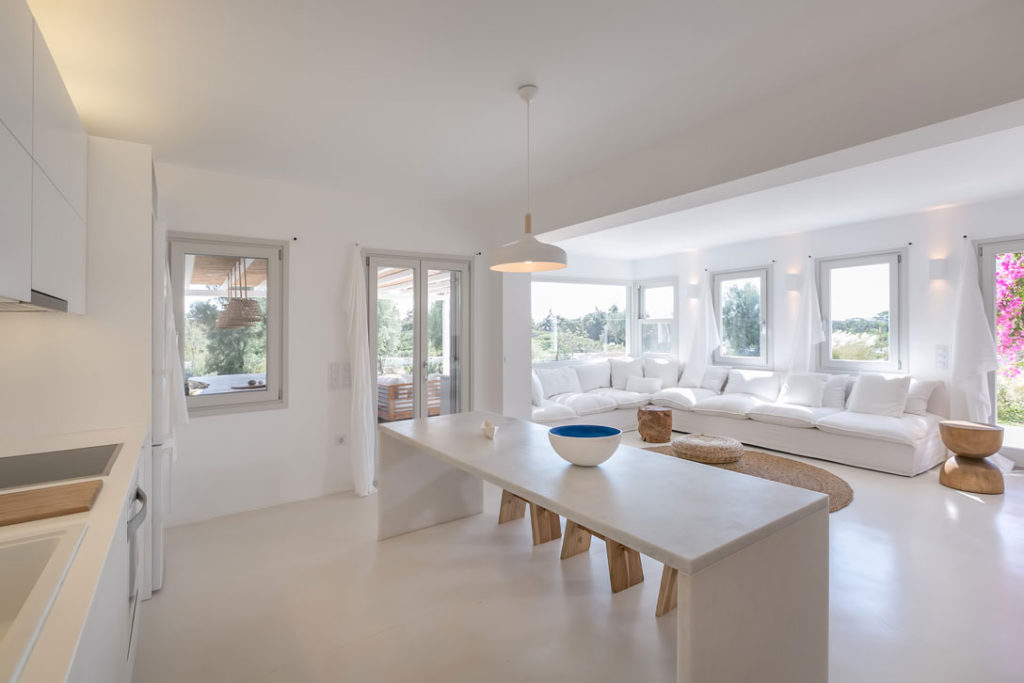 SevenSantaMaria: Nestled next to the renowned larger Santa Maria beach, this gem of a hotel can be found on the pristine shores of Little Santa Maria. Perfectly positioned near one of Paros' most stunning beaches, the chic boutique hotel promises a serene getaway. With a collection of six rooms and an individual house, it offers a range of rejuvenating treatments tailored to your needs, ensuring holistic wellness. Discover this hidden treasure on a quaint sandy stretch, just a stone's throw from Naoussa.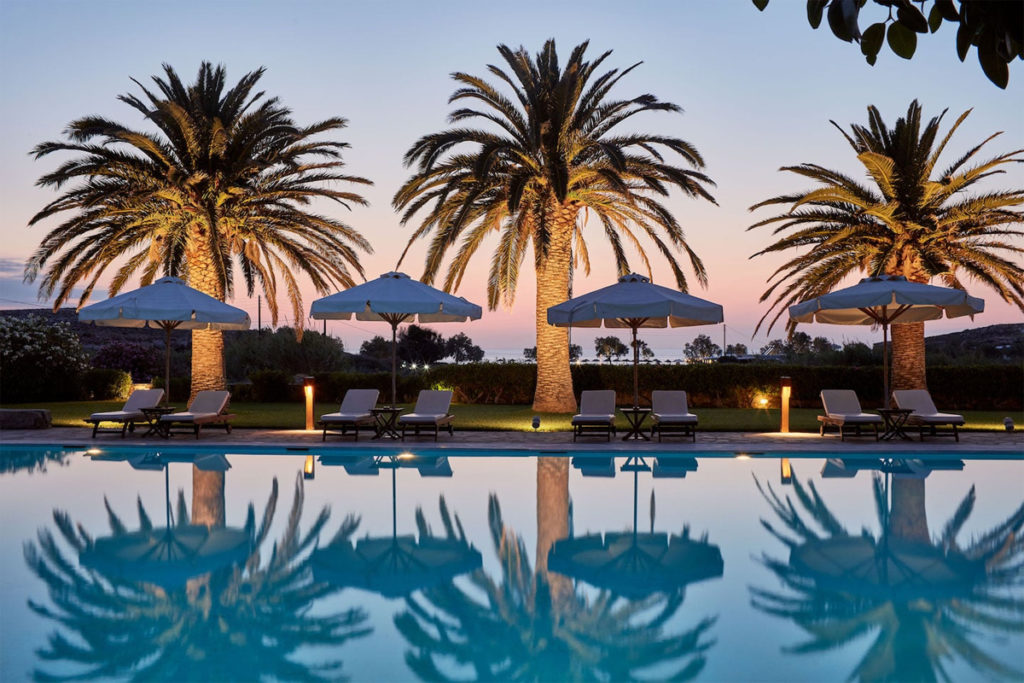 Yria Hotel. Probably the most stylish and luxurious of all, this eco-friendly boutique hotel by the picturesque bay of Parasporos on the west coast of the island, extends into 5.4 acres /22,000 sq. m of vineyards and gardens as all-white architectural entities inspired by the traditional Cycladic villages. Yria (after Paros' ancient name) includes roomy suites (option for private pool or residence), a pool bar, a gym, an open-air spa with Jacuzzi, a Greek-designer boutique, and the alfresco Mediterranean cuisine gourmet restaurant Nefeli by multi-awarded seafood chef Lefteris Lazarou.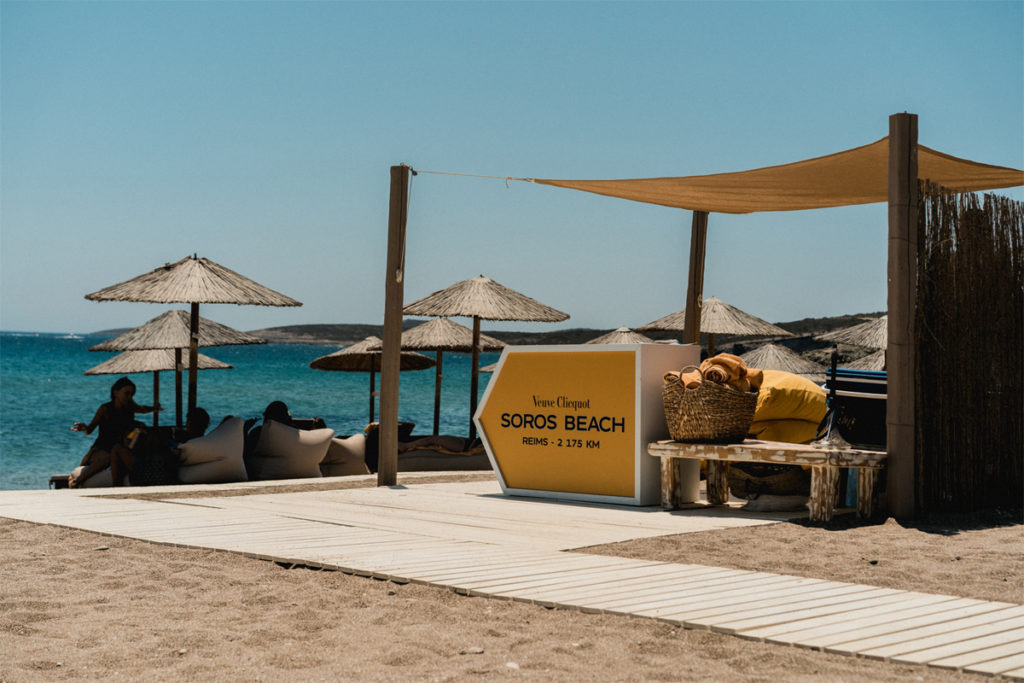 Things to Do in Paros
The most beautiful fishermen's port on the island is Naoussa with cute coffee shops, bars, restaurants, and a Venetian castle. It is ideal for brunch, lunch, dinner, and drinks. Most of the places are very carefully curated and you are highly encouraged to opt for the freshest seafood. In the island's capital Parikia, make sure to check the byzantine church Panagia Ekatontapiliani (translates as a church with 100 doors dedicated to Virgin Mary). Swimmers and fans of water sports will enjoy the organized Golden Beach, Santa Maria (main and small) beach with a bar, Parasporos, Monastiri, and Punda for kite surfers & party animals. Beach-wise, Paros' services are not at all at the Mykonos level of luxury and this is why you are recommended to also visit natural sandy beaches without any serious infrastructure such as Logaras, Lageri, and Piperi. Kolymbithres is a geologically interesting beach to check. Don't skip a day trip (or longer) to Antiparos island to swim on the beaches of Psaraliki (organized), Soros (organized), Glifa, Livadia, and Agios Georgios. The regular ferries take you there in 7 minutes and there is even an extra option for a boat ride to the nearby islet of Despotiko. Make sure you have one of your meals at the Anargyros restaurant which is Greek culinary magic and at Pizza Lollo's, which serves Roman pinsa (flat-bread pita-style slim pizza) and the yummiest fresh pasta. If you stay the night at The Rooster (in itself a reason to visit Antiparos) or Kouros Village you will be able to stroll around this cute town with pedestrian cobblestone paths, little shops, and bars that stay open until late. In the daytime, feel free to experience the concept of Beach House Antiparos in the island's most sheltered from the northern winds beach called Apantima, featuring a restaurant bar, 9 sea-view suites, wellness, and concierge services. Also, visit the Antiparos Cave with stalactites and stalagmites; one of the most important and beautiful in Europe.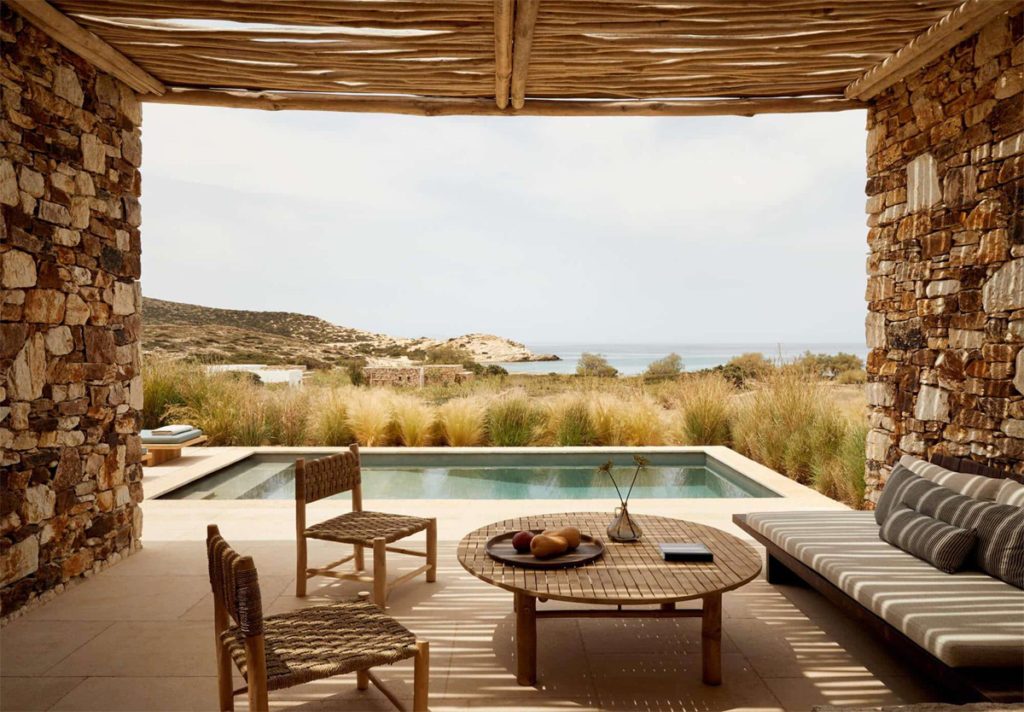 Restaurants & Bars in Paros
Henri G. This ultra-chic dining venue is nestled within a distinctive neoclassical mansion dating back to 1890, situated at the heart of Parikia's historic Market Street. From its secluded rooftop, patrons can savor refined meals, absorbing the ambiance of the age-old market and gazing upon the "Aghia Triada" church's dome. The rooftop bar at Henri G, along with its cocktail offerings, ensures a memorable evening. Chef Henri Emmanuel Guibert, with his Greek and French heritage, crafts a sophisticated blend of Mediterranean dishes infused with subtle French influences, all while prioritizing locally-sourced ingredients from Paros.
Barbarossa. Since 1987 this upbeat seafood restaurant which gradually adopts a gourmet approach to the Greek kitchen dominates the Venetian port of Naoussa. The latest addition to this culinary spot is their sushi bar. Late night dining there often turns into a Greek party with people dancing right on the harbor.
Sigi Ikthios. In around the same location (Naoussa port) you will also find this nice Mediterranean restaurant with the adjacent Salty Bar for post-dinner cocktails.
Siparos. Nestled on Xifara beach in Naoussa, this distinguished dining destination that brings to life the essence of Paros through inventive culinary creations. The chic eatery offers a fusion of traditional Mediterranean tastes, crafted using fresh local produce, with a dash of contemporary flair. Guests can relish in dishes that are inspired reinterpretations of classic recipes from Paros, skillfully blending authenticity with innovation.
Luaz. This stylish restaurant is located in a picturesque area often referred to as Paros' Little Venice, specifically in Naoussa. The culinary journey here emphasizes Mediterranean-Aegean ingredients with a dedication to local Paros herbs, pristine olive oil from the Peloponnese, and choice meats from renowned farms in the USA and New Zealand. These select ingredients are transformed in their Josper oven, resulting in contemporary dishes with standout flavors. Relish the ocean's bounty, freshly procured from local fishermen. Indulge in a captivating seaside dining experience against the backdrop of Paros' gleaming azure waters.
Statheros. A family-run restaurant in Naoussa you are also recommended to try if you want to indulge in a delightful version of traditional local recipes.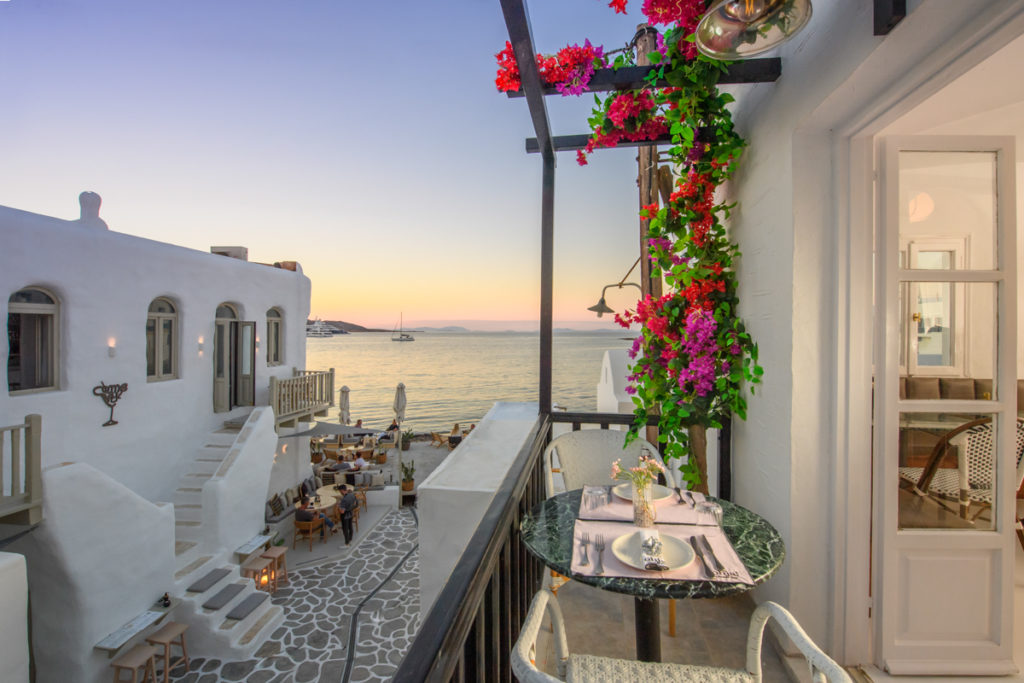 Ohja! Oyster & Cocktail Bar. This new entry for 2021 offers an incredible fine-dining experience in an eclectic waterfront space inside a renovated old stone building in Naoussa. Chef Nikolaos Pylarinos, inspired by Greek and French cuisine, has created an exciting seafood menu based on the finest ingredients. Mixologist Jason Manolis Papadakis pairs these culinary marine treasures with mesmerizing cocktails.
Les Amis. For a gourmet twist on classic Mediterranean recipes and a focus on great wine pairings in a refined Cycladic culinary spot in the Punta port area, try this hidden gem.
To Balcony tou Aki. Simple ultra-fresh seafood is served in a dreamy seaside location at a restaurant that has been operating since 1964 and has been awarded by local culinary media over the last two years.
Sommaripa Consolato. This is a cute all-day café that turns into a recommended aperitivo-cocktail bar for drinks after dinner in picturesque Naoussa.
Agosta. The night is long in Naoussa and this waterfront bar is another special option for either sunset drinks or cocktails and dance music till the late hours.
Santé. For special cocktails, often mixed with fresh exotic fruits and accompanied by summertime music, try this little bar on a cobblestone path in Naoussa, founded in the 90s.