Neoclassical Landmark Buildings, Boutique Hotels, and Culture on the Busy Greek Island of Syros
With fast ferries getting you there from Piraeus port in 2-4 hours as well as available direct flights from Athens Airport, Syros is a Cycladic island you must visit. Not as straightforward cosmopolitan as others in the group – but still very unique in terms of culture and attractions, it's keeping busy throughout the year as the capital of Cyclades. Known for its musical heritage, the island offers you the opportunity attend an array of festivals and other cultural events. Plus you will have the chance to see impressive examples of neoclassical architecture reflecting a past filled with creativity and grandeur.
Accommodation in Syros
Aristide. Housed in a newly restored mansion in the historical center of Ermoupolis, in the aristocratic Vaporia (Greek for "Boats") neighborhood, once a residential one for shipowners and industrialists, this boutique hotel combines old-world elegance and contemporary design. With its dramatic marble staircase and Doric columns, the building is an architectural gem showcasing Greek Neoclassical and Art Deco styles. From common to private areas, guests can enjoy the spaciousness of a grand home together with celebrated interior design pieces and a private art collection. It provides you with a selection of 9 incredible suites, an art gallery, an artists' residence & workshop, and two bars. Almost all suites have high ceilings, sea views, balconies or terraces, and private plunge pools or stone bathtubs. Already, the hotel's breakfast was praised for focusing on local and organic ingredients. The addition in 2022 of its own vegetable and fruit garden gives you the opportunity to enjoy an excitingly creative seasonal menu inspired by local recipes. All coffees are made to order by the barista. In addition to established breakfast staples, the menu includes dishes such as Tirititim eggs, San Michali saganaki and caper preserve, or zucchini tart with yogurt. Another new development is the opening of its rooftop restaurant treating you with contemporary Cycladic cuisine. Panoramic views over the Aegean Sea and 'the most comfortable chair in the world' (Honoré's vintage Croisette armchair) make for an unusually relaxed fine dining experience. You can drink a cocktail in the shade of trees or on the sea-view rooftop. The beach is an 8-minute walk away, making it a convenient choice for luxury travelers.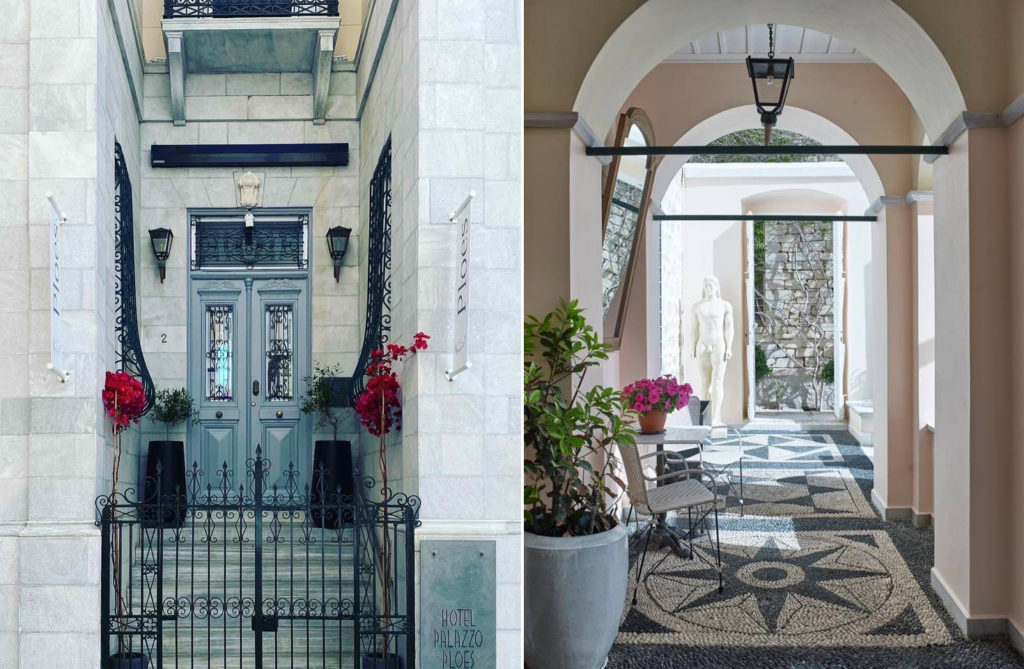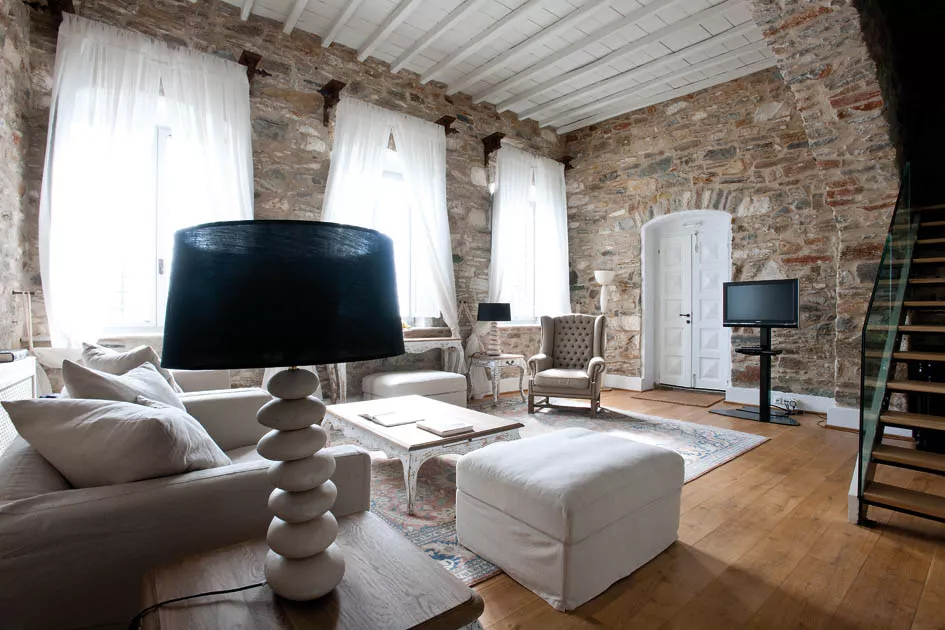 Hotel Ploes. In a 150-year-old two-wing neoclassical mansion in Ermoupolis, renovated at the end of the 20th century, you will find one luxe suite with a private spa, 8 rooms, and various others majestic spaces decorated with art and antiques. The café-bar 'Plous' at the hotel's front yard has an amazing Aegean sea view. Plus you will have direct access to swimming. Handmade rugs, genuine Venetian chandeliers, marble bathrooms, fine chinaware, and classic furniture are a visual treat for the guests.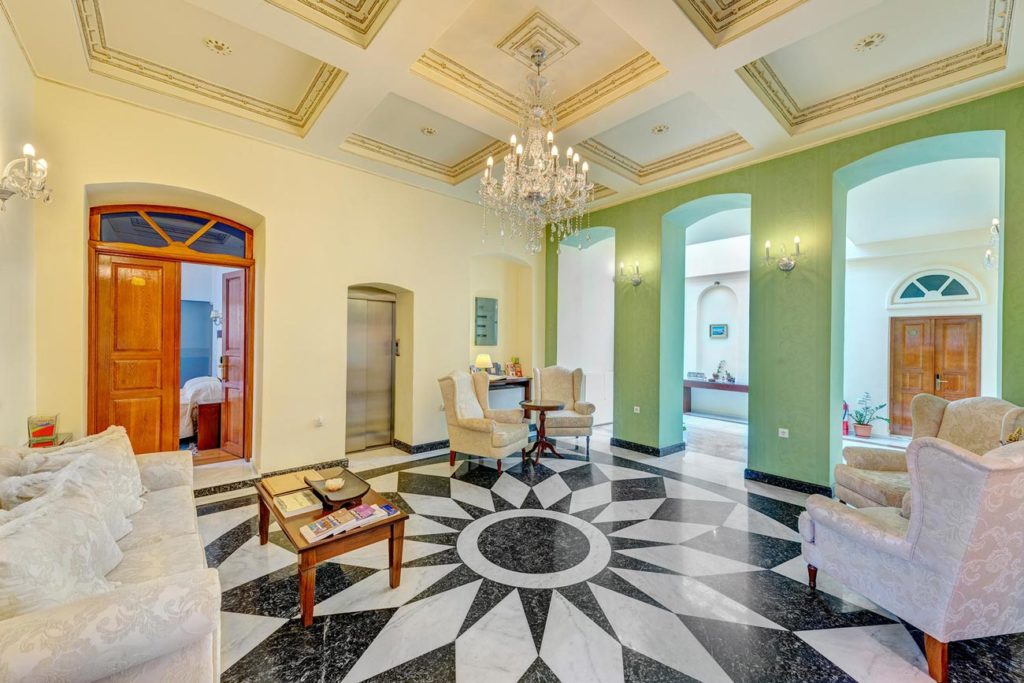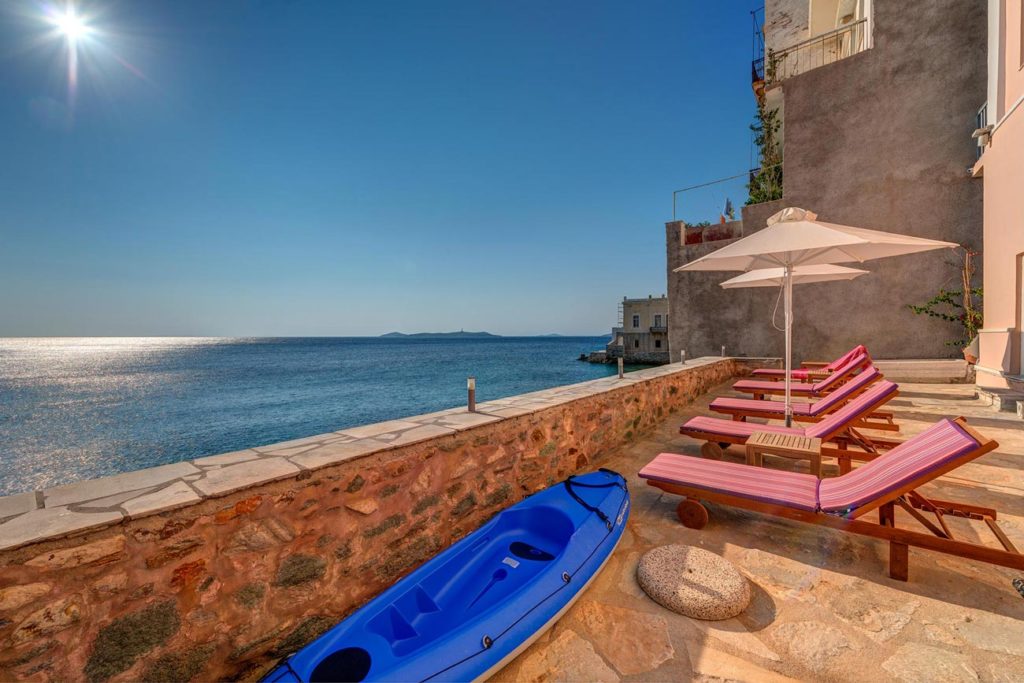 Apollonion Palace. In a historic 19th century building in Ermoupolis that was renovated in 2009, this 5-star hotel offers spectacular sea view, elegantly decorated classical spaces, an open-air bar, and roomy suites, including the Presidential.
Benois. Located at the seaside resort of Galissas, near a sandy organized beach fringed with trees and flanked with restaurants and shops, this boutique hotel is inspired by the surrounding nature and its raw materials. Serving breakfast with local products is definitely a plus, as it is the swimming pool with a bar, sunbeds, and an outdoor gym.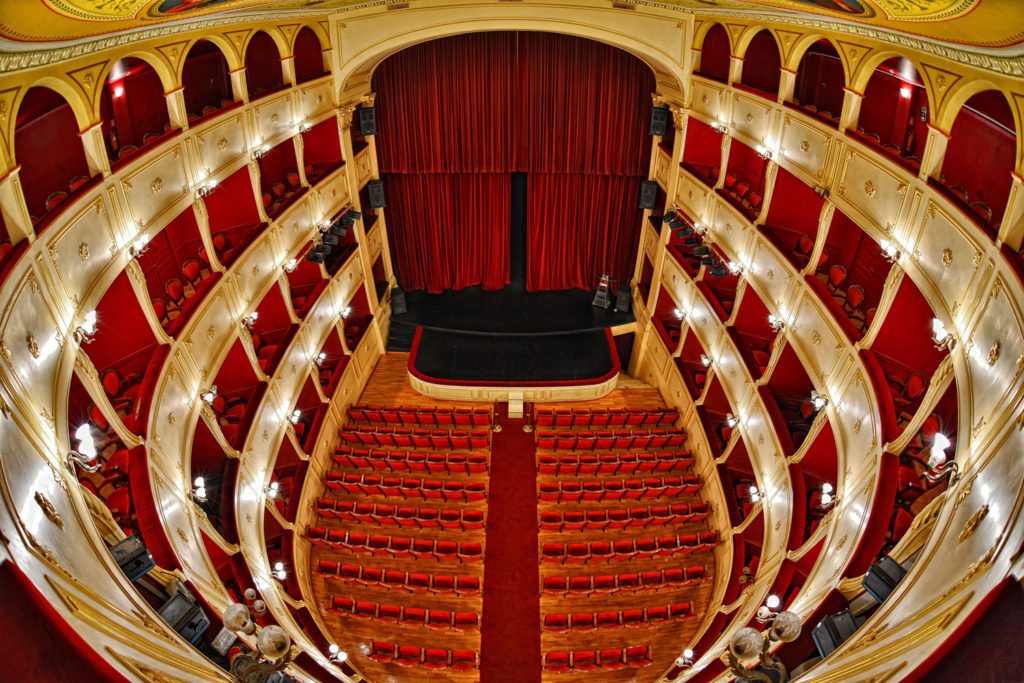 Things to do in Syros
Ermoupolis, which translates as 'City of Hermes', is the port and capital of the island and of the Cycladic group. Graced with 19th-century neoclassical-style mansions, it features beautiful landmark buildings such as the City Hall (designed by German architect Ernst Ziller) and the Apollo Theater by Italian architect Pietro Campo (a miniature version of the La Scala in Milano) where you can watch performances. Upon entering the harbor you will also notice the Neorion shipyard which is still in operation for repairs and refittings. Archeological sites include the settlement of Kastri that dates back to the Early Bronze Age of the Cycladic Civilization, around 5,000 years ago. Syros has many Greek Orthodox churches – among those the one called Koimisi tis Theotokou (The Dormition of the Virgin Mary) with an El Greco masterpiece in it – as well as catholic churches and villages (due to the Venetian rule in the Middle Ages); points of reference for the Catholic Church in Greece. Among other high-profile institutions on the island, you will find many European consulates.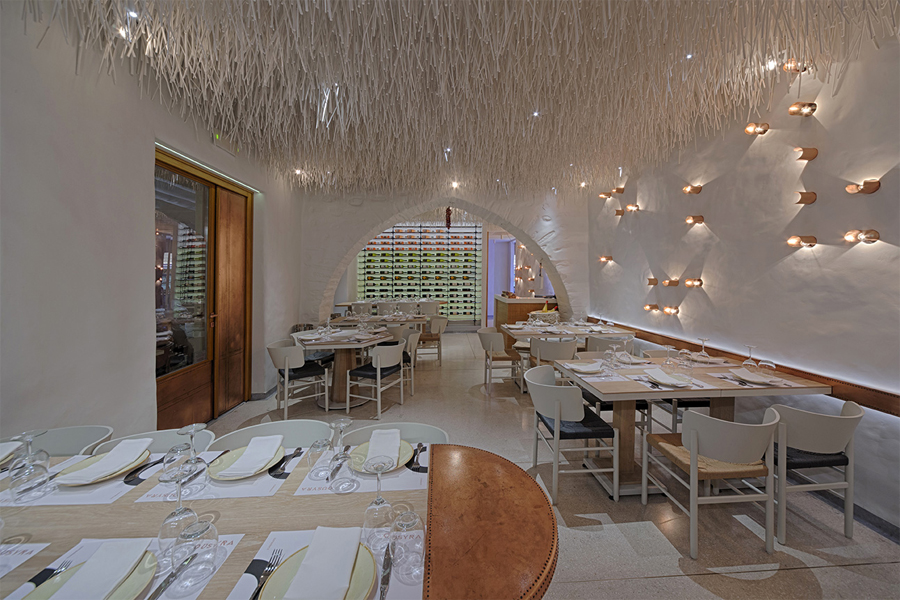 Restaurants & Bars in Syros
Nightlife comes down to casual restaurants, bars, the Casino, and Ano Syros which is a hilltop medieval neighborhood northwest of Ermoupolis, built also by the Venetians and filled today with mezedopoleia (casual restaurants serving Greek mezze snacks) often accompanied with live local 'rebetiko' music by small bands. Among other delicacies try local types of cheese, 'chalvadopita' cake, and 'loukoumi' marshmallows. For traditional Greek desserts and a great view there, stop by the Apanochoritissa café hidden in a maze of small streets. The seafood, beachfront restaurant you are highly recommended not to miss is Iliovasilema by chef Kostas Bougiouris with a clear focus on modern Greek cuisine and Cycladic origins. Another great culinary option is Allou Yialou on Kini beach. In Ermoupolis try Ousyra by chef Costas Tsingas, a professional cook and journalist, for an Italian-focused Mediterranean menu that includes pizza and pasta served in an ultra-chic, well-designed space. For a romantic night nearby, add to your to-dos Mazi, nestled in a scenic cobblestone alleyway bordering the Miaoulis Square, the cultural hub of Syros. Its enchanting garden is the perfect setting for fine dining and cocktails. The farm-to-table menu is a mix of Greek tradition and global gastronomic trends. An equally creative approach can be seen at Django where gelato and sorbet flavors are handmade with secret recipes and the freshest ingredients (a second one opens in Athens).