The Next Generation of Greek Fine Jewelry Designers
A brief visit to the National Archaeological Museum, where famous 19th c. amateur archaeologist Heinrich Schliemann's solid gold artful finds from Mycenae (16th c. BC) are on display, will be indicative of the Greek heritage in jewelry making. Goldsmiths with simple tools created elaborate pieces that showcase extraordinary sophistication and craftsmanship. From headdresses and masks to necklaces, rings, and bracelets, these intricately engraved Bronze Age treasures comprise one of the largest gold finds in the history of Europe. Greek artisans produced equally stunning jewelry during the Classical Age (5th-4th centuries BC), the Hellenistic period (323-31 BC), and the Byzantine Empire (4th-mid 15th c. AD). In modern Greece, especially after WWII, a revival of fine jewelry-making happens. Several of the pioneering families (Lalaounis, Zolotas, Vourakis, Fanourakis) are still in the business, designing and crafting marvelous items, most of them inspired, one way or another, by the various phases of the Greek style and civilization. Downtown Athens is sprinkled with jewelry stores and showrooms, some of them affordable and touristy, but luxury lovers will mostly be drawn to the boutiques prominent Greek jewelers have at prestigious addresses at the heart of the city. If one area of Design is where Greeks excel at and create trends for this is Haute Joaillerie! In this article, we go through young talents in Greek fine jewelry design, who are making a name for themselves, blending new ideas and prestigious international studies with the Greek heritage. The new generation of Greek fine jewelry designers is already winning global recognition.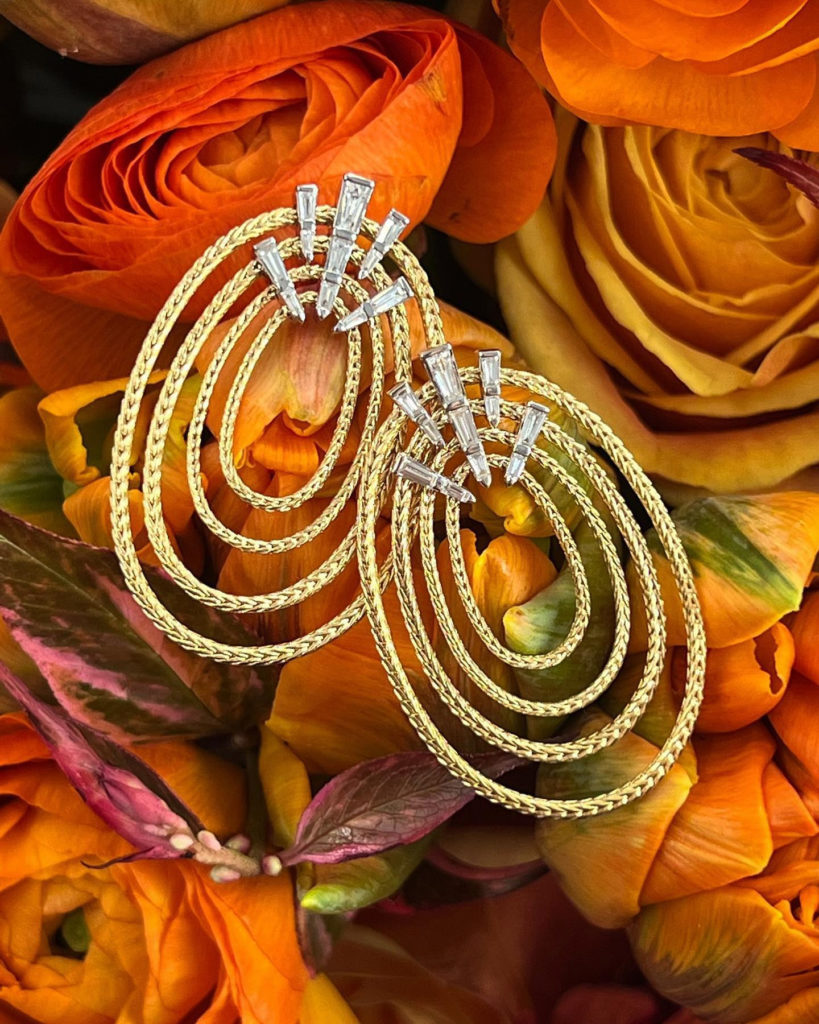 Nikos Koulis. Multi-awarded and a favorite among Hollywood's A-listers, this brilliant young designer coming from an established family of jewelers and educated at the Gemological Institute of America, launched his brand in 2006. His flagship boutique in the fashionable district of Kolonaki in Athens (another one in Mykonos and one in Paros, and several selling points in Europe, Asia, and the US) is a real heaven of minimalist interiors with extraordinary modern pieces of jewelry on display. With a knack for design, traditional goldsmith techniques, and innovation, he makes emeralds, diamonds, sapphires, rubies, and precious metals feel fun and refreshing. His austere emblematic logo sets the tone for something cool, elegant, and unconventional. Elements in black and clear enamel are signature ones – patented by himself – that are still evolving in a magical way. He loves art deco, geometry, and sharp, clean lines. Nikos Koulis has earned various accolades including the prestigious GEM Award for Jewelry Design at the Jewelers of America Gem Awards in January 2020 in NYC. His wide range of styles has been spotted on Reese Witherspoon, Naomi Watts, Gwyneth Paltrow, Scarlett Johansson, Nicole Kidman, Meghan Markle, Jennifer Lopez, Jane Fonda, Michelle Obama, Jennifer Lawrence, Salma Hayek, Oprah Winfrey, Queen Rania of Jordan, Brooke Shields, Rihanna, and the list goes on! At President Joe Biden's Inauguration, the young poet Amanda Gorman while reading her poem "The Hill We Climb" was wearing spectacular hoop earrings from the designer's Energy Collection, a gift to her by Oprah Winfrey.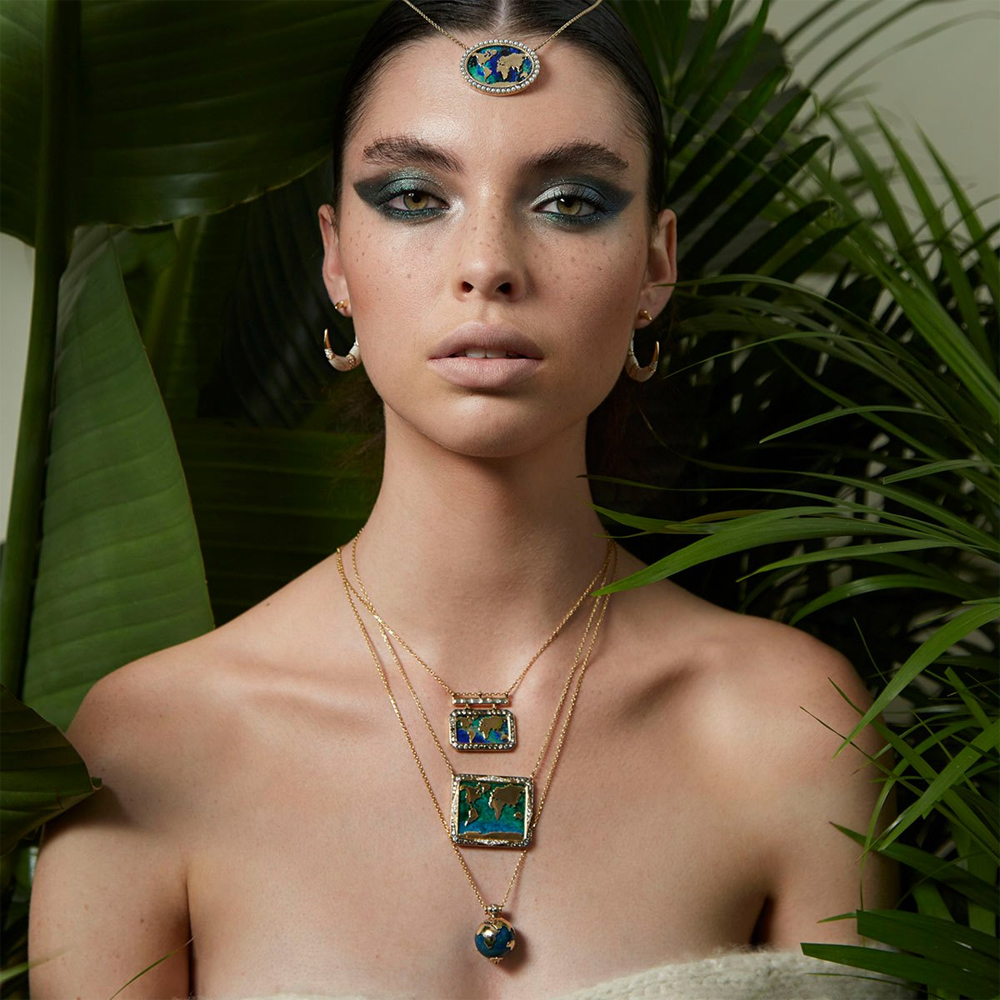 Venyx. This story-telling fine jewelry brand is all about the freedom to create and explore. Delicate and strong, each piece of jewelry transcends time and space. Designer Eugenie Niarchos is inspired by her extensive traveling as well as different eras, like the 50s. Her collections are a precious and intricate mix of nostalgia and futurism. Her design process feels like discovering a new universe each time. The brand name itself is a hybrid of the words Venus (the planet) and Onyx (the stone). Sophisticated eccentricity stands at the core of this collection, sometimes leaning towards science fiction and at other times towards retro imagery and the designer's love of nature. Eugenie started her fashion career with major collaborations in the jewelry market, including Repossi and later a capsule collection she created with Vanessa Seward for Azzaro. She knows fine jewelry gemstones inside out through her training at the Gemological Institute of America and her experience at Christie's Fine Jewelry Department in New York. Her innovative designs are breaking the mold while at the same time showing appreciation for glorious creations of the past. Clean and uncluttered, the new designs redefine old ones. Check them out online, at selected stores worldwide.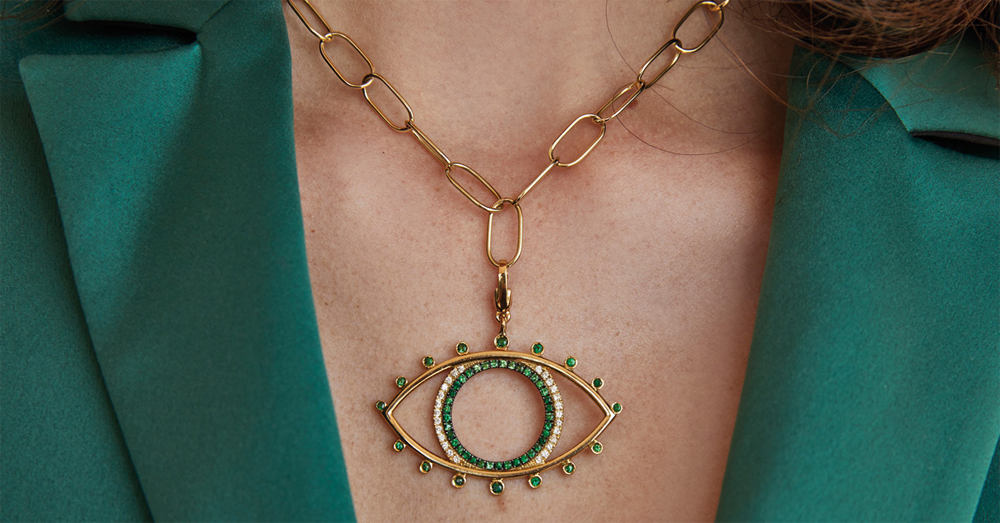 Marianna Lemos. Another talented globetrotter fuses in her beautiful and meaningful designs her Greek roots with inspiration from other cultures, societies, and landscapes. This fine jewelry brand was born in 2015, with the first design being a minimalist evil-eye bangle crafted from the finest materials. Like this piece that she conceived as an item projecting and receiving positive energy, impressive styles in the collection symbolize good luck, protection, strength, and love. Each piece is imagined to be an extension of the wearer, related to one's milestones in life. The designer nurtures deep admiration for strong women in her family and the world. She studies ancient mythology and translates such stories into pieces of wearable art. Her Helios necklaces and Avra bracelets are coveted and special, while bespoke, personalized items raise the bar even more. They are all hand-made in the designer's studio in Athens, where master jewelers share a commitment to quality and passion for creativity. They are effortless-chic and sexy, a spirit of youth evoked through masterful details. As Vice President of the highly influential Elpida Association of Friends of Children with Cancer, the designer works tirelessly with patrons and personalities, raising funds to support the cause and bringing hope for the future. Check out a collection seen on royals, A-listers, and elegant women across the world online and at selected boutiques.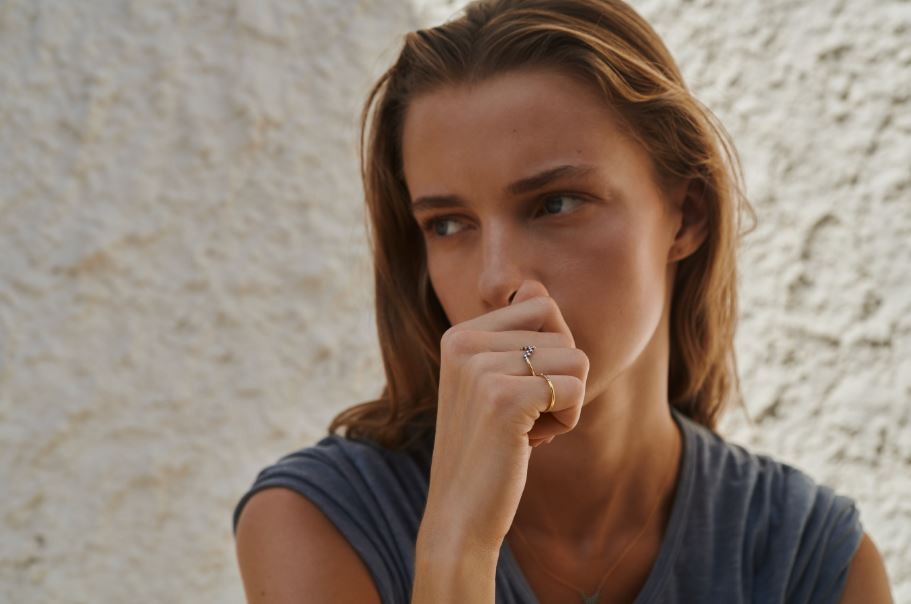 Yannis Sergakis. Minimalism and discreet luxury are the main characteristics of a fine jewelry brand featuring diamonds meant to be worn every day. A lifelong Athenian who spent his childhood in the showroom of his diamond trader uncles and studied at the Gemological Institute of America creates intriguingly simple and wearable jewelry with a perfectionist spirit. Miniscule diamonds in various eye-catching and delicate arrangements are combined with 18K yellow gold and finished in the brand's signature black rhodium plating. The designer is a buy-less and slow-fashion advocate employing traditional techniques to create contemporary pieces of increasing popularity on a global scale. Local craftsmanship and heritage inspire a creative process that celebrates time and dedication. There is a substantial amount of contemplation behind each creation. The house's signature Charnières are items of great beauty that act as "skin candies," the perfect highlights that never overshadow the wearer. Elegant and ethereal, the collection's treasures draw energy from random beautiful moments in the designer's life; a book, a stroll, a sweet night, conversations with friends, laughs, and the sparkle of Cycladic wine. They capture emotions in a timeless and abstract way. Using recycled gold and ethically sourced diamonds, the designer continues to add new pieces to his collection getting attention worldwide from prestigious retail spaces like Le Bon Marché and La Samaritaine in Paris. Founded in 2014, the brand maintains a boutique on Valaoritou street in Athens, and one in Paros, boasting custom-made interior design of superb taste. Its online shop has been more than once curated by French Art Director Franck Durand, who teamed up with equally acclaimed fashion photographer Jonas Unger for the Winter 2021, Summer 2022, and Winter 2022 campaign.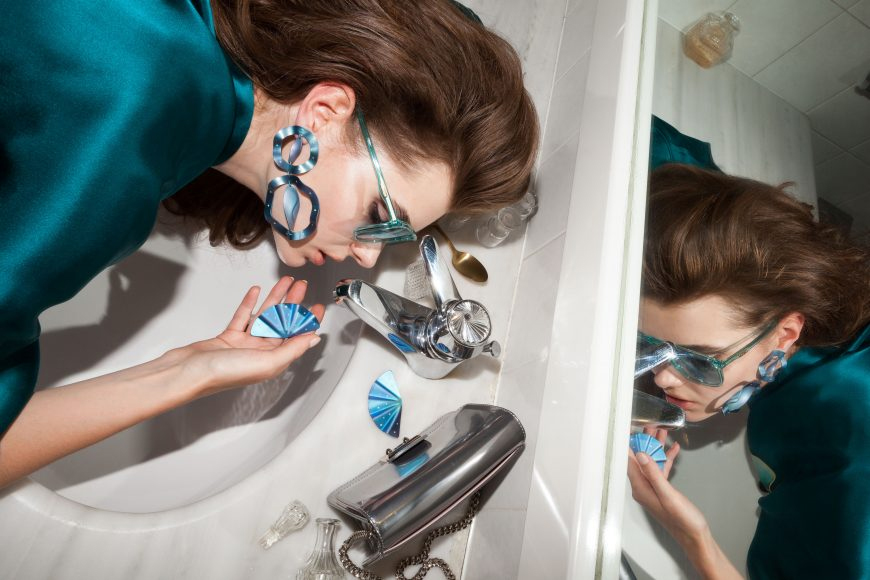 Anastasia Kessaris. The daughter of Costas Kessaris, who is one of the most established Athenian jewelers, specializes in imaginative creations appealing to the heart. She presents herself as a hopeless romantic in a constant quest for love, affection, beautiful things, authentic moments, and invigorating challenges. Creations like titanium fine jewelry, diamonds cut in custom shapes like numbers, nano-ceramic painted 18k gold elements, and colorful enameled pieces adorned with gemstones show her innovative and playful approach. She designs spectacular bespoke pieces in consultation with her private clients and dispatches her lifelong experience and knowledge generously. Her posts on Instagram are jewelry heaven! Her statement titanium earrings in styles like the Geisha, Tropicalia, and Disco Clique have been spotted on elegant fashionistas from all over the world. They come in vibrant colors and countless iterations as the designer delves into her fantasy universe and cultural references with utmost confidence. The Anastasia Kessaris "on bare skin" collection is full of technical and visual surprises. It is created by an architect destined to channel her craftsmanship into the art of jewelry. As the designer phrases it: "I create what makes me happy to look at, wear, and style." These magnificent pieces at a wide price range are available online worldwide and at the Kessaris boutiques in Greece. Other points of sale include @threadsstyling, @londonjewelers, and @sylviesaliba.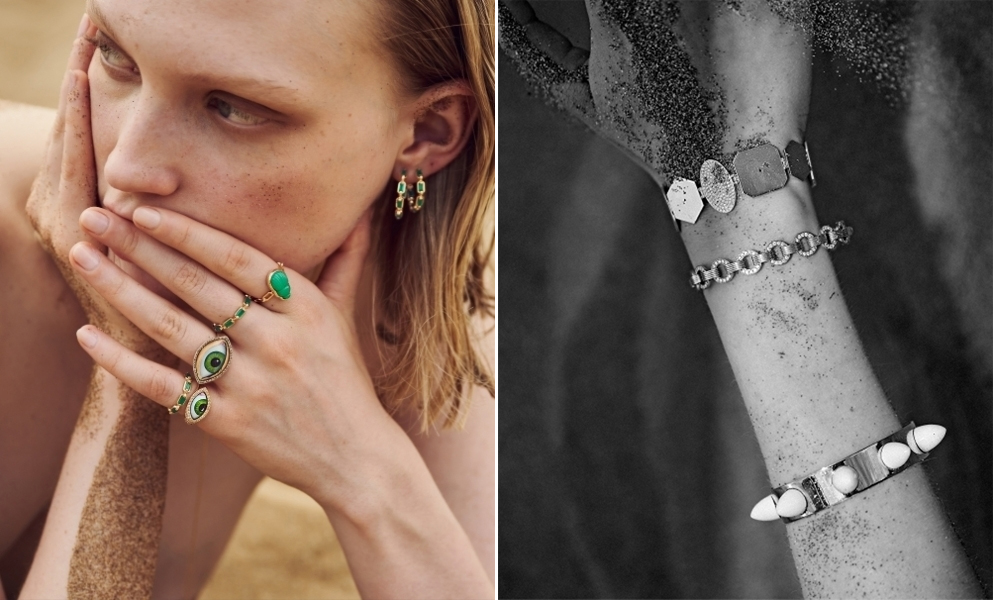 Lito. Described as 'Cabinet de Curiosités', her atelier-boutique in Kolonaki, Athens, is an aesthetic representation of her sculpture studies at the Ecole Nationale des Beaux-Arts de Paris and technical drawing ones at the Ecole de la Chambre Syndicale de la Bijouterie, Joaillerie et Orfevrerie. Since 1999 this space has showcased neo-romantic and modern jewelry pieces inspired by her travels to unexpected destinations – from India to Japan, Egypt, and Russia. Some of her creations have been featured on models at the fashion shows of Kenzo and Jean Paul Gaultier couture and RTW. Her work is also included in Olivier Dupon's book by Thames & Hudson Ltd titled The New Jewellers – an anthology of rising talent in the field of jewelry creation across the globe. Net-a-porter.com, Luisa via Roma in Florence, and Boutique1 in London are among her stockists. Her 'evil eye' pieces and scarabs are coveted among fashionistas.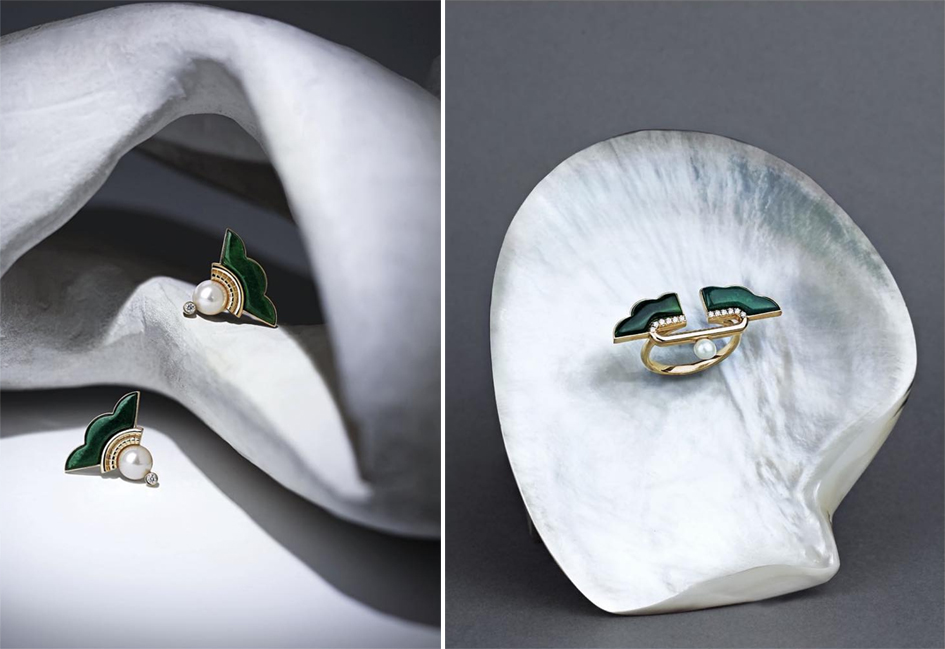 Ioanna Souflia. She studied Law and Silversmithing in Athens as well as Jewelry Design at Central Saint Martins in London and graduated with Honors. These disparate elements in her education reflect on her work, which is full of intriguing contrasts. Inspired by sculpture, Art Deco, Minimalism, Futurism, and the softness of organic beauty, she creates objects that are sophisticated conversation starters. Since her London Fashion Week debut for SS15, her maximalist-minimalist jewelry has been exhibited at the Goldsmith Centre in London and featured in fashion and design magazines worldwide. Conveying emotions and abstractly revealing her Greek roots, her designs offer a modern take on luxury. Many fashion editors have included her in their designers-to-watch list. No wonder why she sells her eye-catching pieces through high-profile stockists. Items from all of her collections so far are available to shop online. She started with her signature Symbiosis collection in which Greek marble from Thasos island, gold, and grey and black diamonds playfully co-exist in fashion-forward shapes that stimulate the senses. In her Adoucissement collection, grey Bardiglio Imperiale marble is set with 14K rose gold and diamonds. Equally eye-catching is her Blueprints collection referencing urban architecture and metropolitan skies translated in triangular midnight blue sapphires, 18K rose gold, and diamonds. One of her most popular, the Atelier collection, comprises collectibles for the modern woman. Inspired by Constantin Brancusi's "Timidity" and "Young Bird," it features custom-cut Chrysoprase and Chromium Chalcedony, diamonds, and graphic yellow gold shapes constituting wearable sculptures. Her mission is to make the wearer absorb her unique taste level and feel special.
Katerina Marmagioli. This Greek-born Brussels-based fine jewelry designer has a diverse background evident in her unconventionally beautiful, rule-breaking, asymmetric forms. Over the last 15 years, she has lived in Russia, the Pacific islands, the Middle and the Far East, the Indian Peninsula, and the Caribbean, places she drew inspiration and cultural references from. She learned Tahitian Pearl classification at the Cook Island Pearl Authority in Rarotonga, Cook Islands, where pearls grow in shallow, warm waters. She also studied the gemological aspects of pearls at the Gemological Institute of America and Jewelry Design at Central Saint Martins in London. She finally qualified as a Diamond Grader at HRD in Antwerp, Belgium, where she picks her diamonds from. Rare materials – including pearls she chooses herself in the Pacific and Hong Kong – are her obsession, incorporating them in bold jewelry that manifests character, confidence, and strength. She sources colored gemstones in Idar Oberstein, Germany; this globetrotter never stops looking for something special and unusual. All creations in the collection defy categorization and stereotypes. Her mission is to establish harmony between disparate elements and best express the wearer's personality through one-of-a-kind combinations. Her precious pieces are available online as well as through prestigious stockists worldwide like Moda Operandi.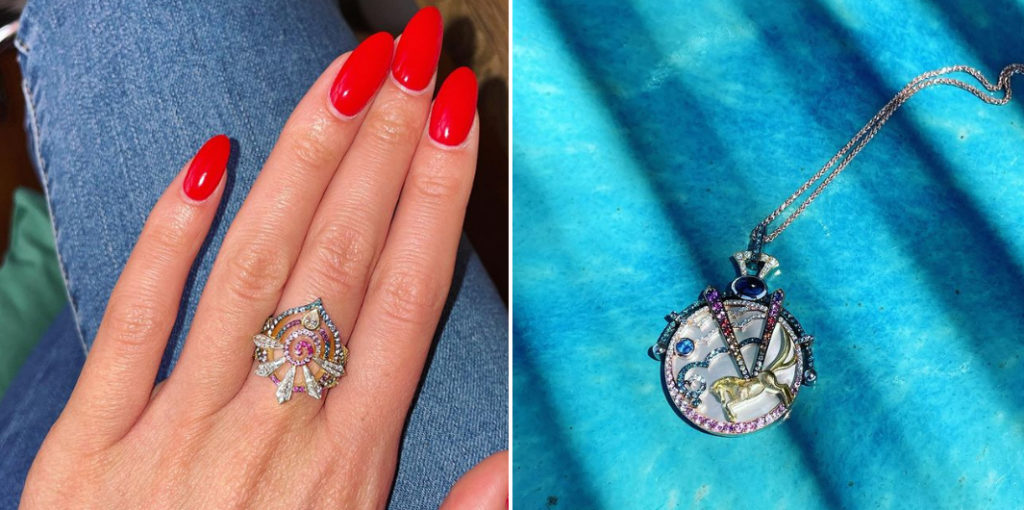 Elé Karela. With Jewelry Design studies at Central Saint Martins in London, this globetrotting Greek fine jewelry designer is praised among circles who really know "how to spend it." Her intricate designs and painterly sketches reveal a deeply artistic soul absorbing visual references from an array of different sources. Prevalent Art Deco elements and eternal myths are translated into modern terms redefining "more is more" in unforeseen levels of coolness. Somehow through geometry, poetry, love of nature, and extreme attention to detail, she finds the balance between old-school regal looks and modern-day fashionista obsessions. Trendsetters like Rita Ora, Charlize Theron, Kim Kardashian, and Bella Hadid have incorporated her talismanic, story-telling, heirloom-worthy pieces into their jewelry wardrobes. Elé designs since 2008 and posts her contemporary masterpieces on Instagram since 2013. Clusters of multicolor gemstones like pavé sapphires and diamonds offer an otherwordly version of sparkle to each one of the intriguingly composed pieces. Each item requires a high level of craftsmanship and precision, as most pieces are as ornate as jewelry from past eras. These magnificent examples of jewelry-making that feel young and vibrant are often selling out at prestigious online boutiques like Madlords.com, while at the same time the designer focuses on bespoke creations.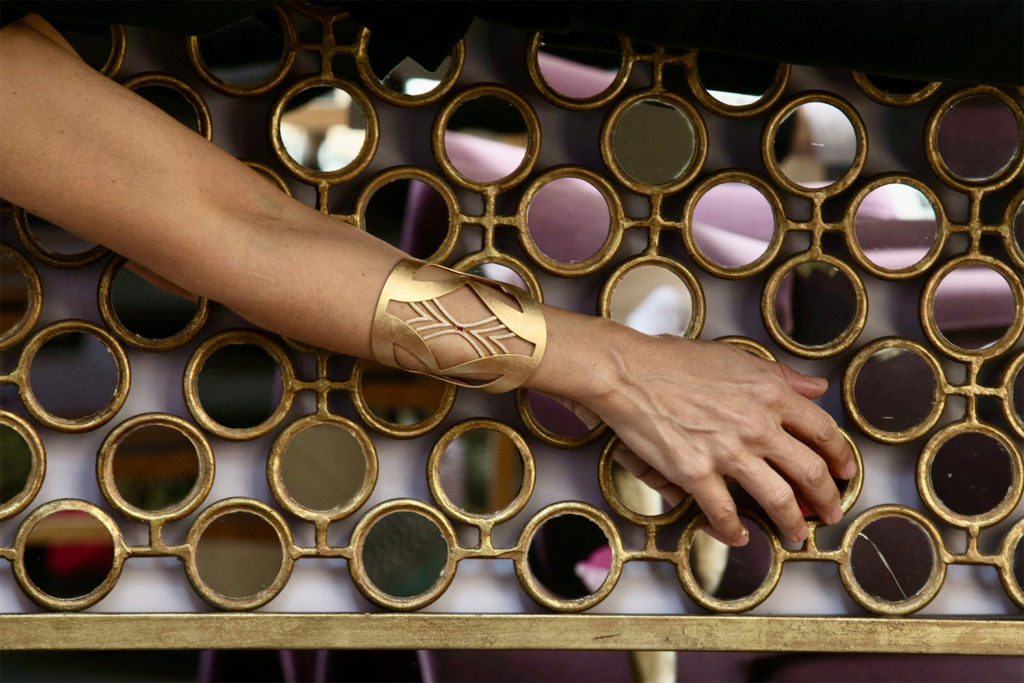 Elena Syraka. She studied fashion and jewelry design in Athens and Paris, as well as gemology and other civilizations along the way. Over the last 15 years, Elena creates her own artistic narrative and autonomous reinterpretation of cultural imagery that transcends time. Her ideas and unique forms have an element of universality appreciated by art and design connoisseurs. Using 18K gold and some unconventional combinations of materials, including rare semi-precious stones mixed with diamonds, rubies, sapphires, and even leather, she comes up with exquisitely dramatic shapes and museum-quality art jewelry. Her mesmerizing story-telling ability is evident through creations for film and theater productions, art exhibitions at important museums and art galleries worldwide, and collaborations with renowned fashion designers and international brands. Inspired by its permanent collection, the designer presented in 2007 at the Museum of Cycladic Art in Athens the Idols collection, a turning point in her design philosophy that refreshed her focus on Greek heritage. Delving into the richness of Eastern Mediterranean history and culture, she has created timeless treasures; a contemporary approach to peoples' roots. A great example was her Nour collection inspired by Islamic Art at the Benaki Museum in Athens, later exhibited in Cairo, New York, and Doha. In 2018, her Greek-inspired Labyrinth collection reintroduced her audience to the symbolism and magnetism of civilizations like the Minoan in Grete and the Mycenean in the Peloponnese that flourished thousands of years ago. Through incredible abstractions and curation, the designer touches base with her origins and redefines them in modern luxury terms. She usually creates a limited number of pieces for each thematic universe; everything crafted meticulously by hand after extensive research. Her offerings are true collectibles available at her online boutique and other exclusive stockists.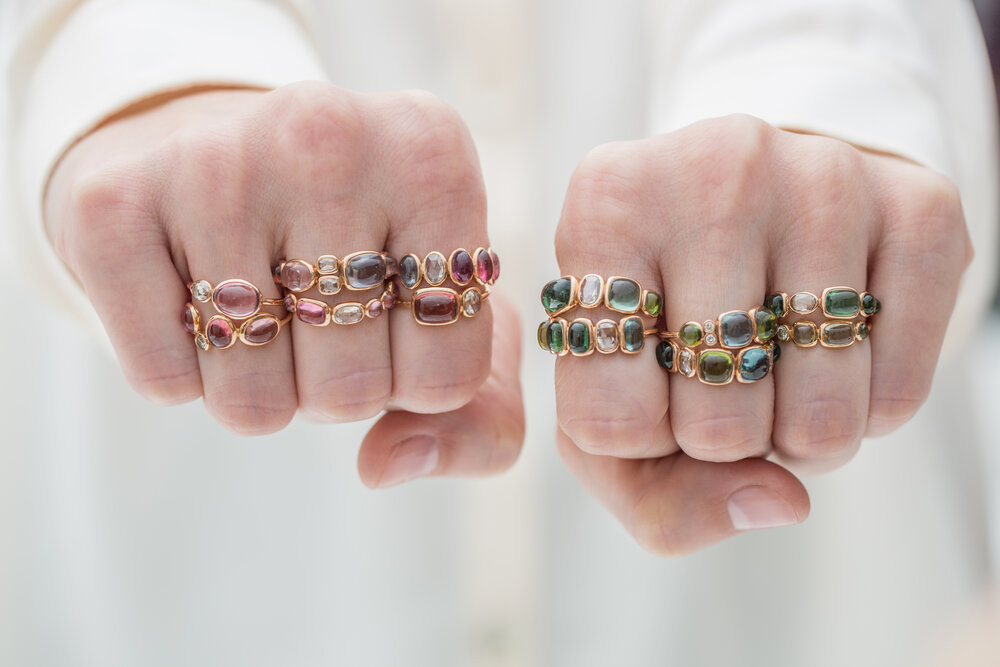 Myrto Anastasopoulou. She originally trained in theater design and later specialized in art therapy, studies that enable her to translate imagery in a symbolic way related to characters in a narrative. An accidental class in wax carving in 2009 led her to translate her emotional richness and insight into jewels. Deeply artistic, as a designer and maker, she infuses her creations with freedom, fluidity, and a personal, allegoric touch. The Greek light, seascape, and spirit are part of her roots and creative sensibility. Inspiration often comes from the raw materials themselves and her model-making techniques. Her nature-themed debut collection was hand-carved on wax in bold, dramatic shapes, set in sterling silver, and finished to a high luster. In 2017, she embarked on a magical fine jewelry journey through her Alis collection that allowed her to work with 18k gold and play with the extraordinary variety of tourmaline and sapphire shades. Her knack for color is evident in most collections ever since, as she keeps on adding precious and semi-precious gemstones to her palette. Cabochon stones in eye-catching arrangements look like perfect droplets of water that sparkle in all the colors of the rainbow, creating a dreamy effect. Rose-cut diamonds and other faceted gemstones capture the excitement of the moment. Both a minimalist and a maximalist, she materializes simplicity with the same ease she epitomizes complexity. Her Midnight Moon collection features curvaceously sculptural pieces inspired by imposing forms echoing natural ones. Polished surfaces and impeccably shaped gems give a contemporary twist to her bright and elusive universe. Even those items in dark hues urge us to celebrate life. Meticulously and organically designed to achieve effortless perfection, her pieces are reflections of joy and passion. They are available at i-D Concept Stores in Athens and via other stockists.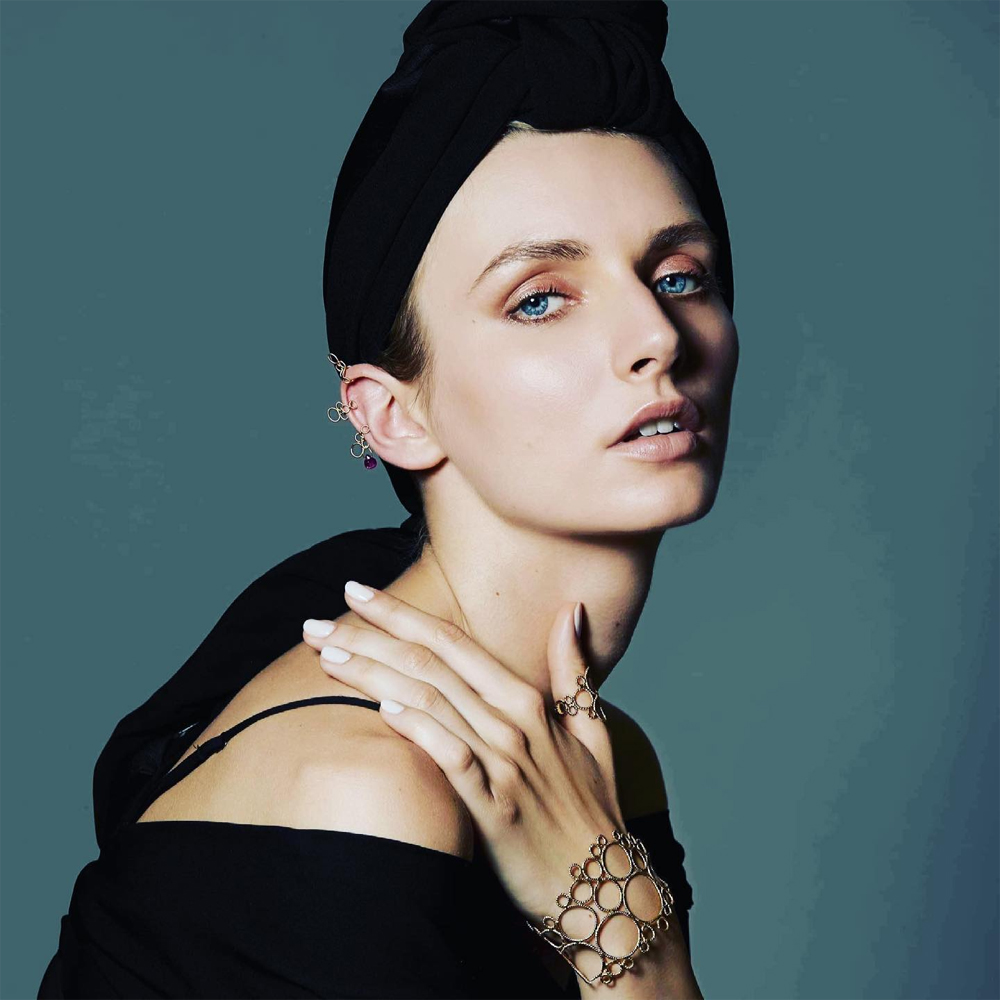 Christina Soubli. Born into a family of traditional jewelers and based in Athens, her mission after her studies at Central Saint Martins was to revive centuries-old techniques giving them a contemporary, unconventional spin. She loves classical forms and precious materials and has experimented a lot in her creative journey. The multi-awarded designer has exhibited her work in some of the most prestigious galleries and stores worldwide. Over the last years, she explores the art of filigree dating back to 1000 B.C., when Phoenician, Etruscan and Greek goldsmiths hand-crafted jewelry by twisting together fine threads of precious metal. Her first filigree collection was named Dentelles as the shapes and patterns resembled a delicate lace cloth. She keeps on perfecting her designs, playing with geometrical shapes and gemstones, and celebrating inner beauty and femininity. Her timeless creations are available to shop online.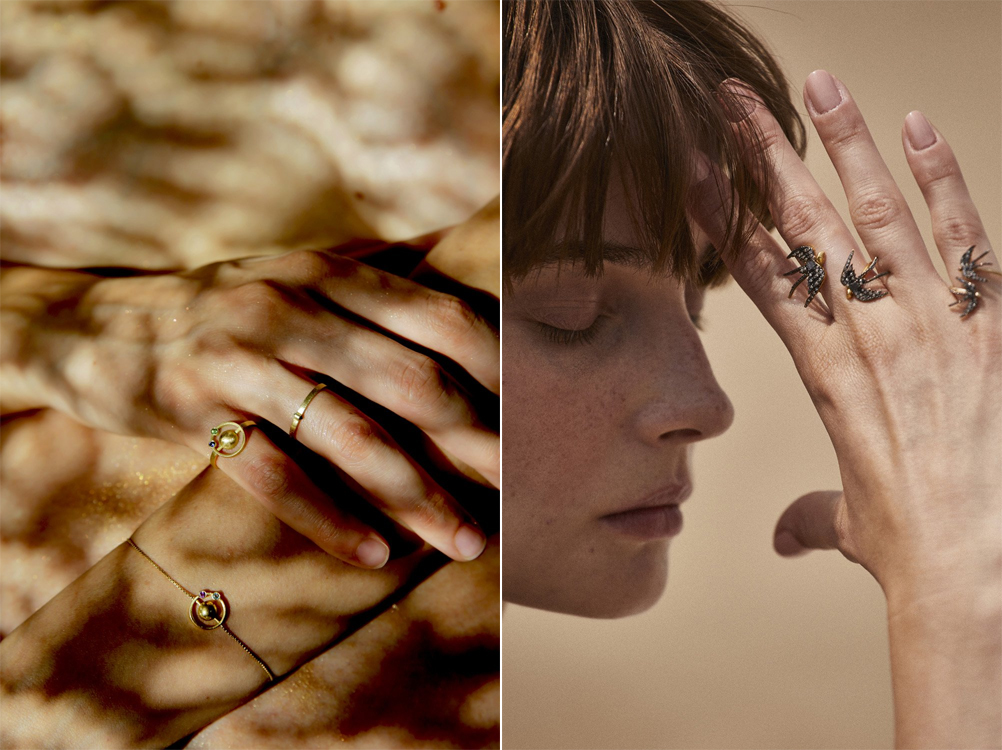 Pari. Born in Greece, Pari Sofianou is definitely a dreamer who studied scenography at Central Saint Martins and soon after met with her most important mentor, ethical jewelry designer Pipa Small. She is now focusing on cosmic-mechanic jewelry, which means items inspired by the cosmos and its mechanics. She is drawn to astronomy and mythology, the mysteries surrounding the world. Her interest in constellations and the galaxies started when she came across some ancient maps with the first names the Greeks assigned to stars and the myths they created for them. In her Uranos (sky in Greek) collection, she explores the solar system with impeccably designed kinetic jewelry, meaning pieces that have some motion. She used gold, precious, and semi-precious stones, yet in her Titans collection, she became edgier, combining silver, gold, and enameled colors. Her dramatic and delicate Swallows collection with an oxidized effect and diamonds symbolizes cosmic love. Her imagination flies to all corners of the universe with creations that feel young and timeless. Spectacular items are available at her e-shop.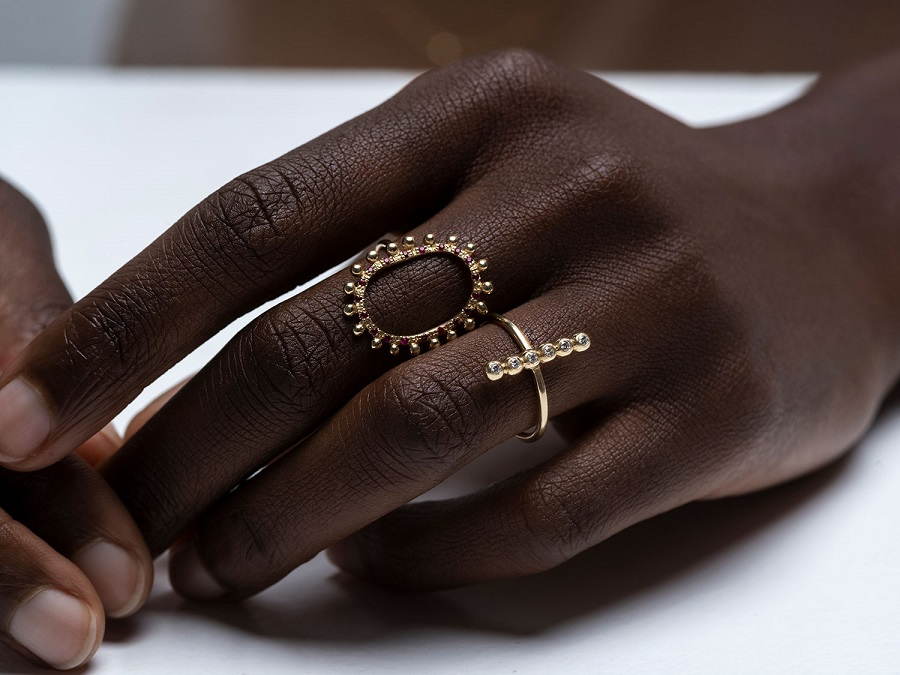 Danai Giannelli. She swapped her decade-long successful career in Marketing for a fascinating journey in jewelry making. This Athens-based, almost self-taught jewelry designer has a knack for timeless simplicity and understated luxury. Her minimalist creations have already graced the pages of Vogue Greece, British Vogue magazine, and Vogue Talents in Vogue Italia. They are hand-crafted by experienced local jewelers in the lost-wax casting technique. An art and aesthetics aficionado, she finds inspiration in past eras, symbols, natural shapes, and her family heirlooms. Gold, silver, and hand-picked gemstones are put together in delicate but strong items accented discreetly with colors or natural light. Some of her pieces have been exhibited at the Museum of Arts and Design in New York and are often available at the Museum of Cycladic Art in Athens. With a keen eye for details, she celebrates the beauty, purity, and truth that come with imperfections and asymmetry. Shop the fine jewelry collection at her e-shop or from other stockists worldwide.