Optic White Rock Formations, Unique Beaches, and Luxury Hotels on the Volcanic Greek Island of Milos
In a maximum of 4 hours from the port of Piraeus or 40 minutes from Sifnos the speed ferry will get you to the Port of Adamas or Adamantas in the volcanic and hilly island of Milos known across the world for local ancient Greek sculpture masterpieces such as the Venus of Milos (now at the Louvre) and the Asclepius of Milos (now at the British Museum). Like in Santorini, volcanic formations create several isles (including the dreamy uninhabited white rock Polyaigos) around the main island. It's a fantastic place to sail from isle to isle and between remotely located beaches. You can charter a group or private sailing day trip once you reach Adamas. The town or main village is called Plaka, followed by Kastro (the Greek word for castle). Milos was in antiquity an important source of obsidian that was back then used instead of metals. Today it is a major exporter of in-demand natural clay Bentonite.
Accommodation in Milos
Milos Cove. Inspired by the island's caves and conceived as the manmade version of shelter this 5-star hotel (opened in 2018) overlooking Agkali beach near Pollonia offers a holistic experience. All minimalist luxury suites and villas have a private infinity pool, breathtaking sea view, and access to a private beach. TV cabinets and closets are hidden as a zen spin to the décor. Breakfast, al fresco lunch, and dinner based on a gourmet mix of authentic local and Italian recipes, coffee, and cocktails are served at the hotel's sea-view Pathos restaurant and bar (make sure you don't skip desserts). There are also 5 private dining balconies for an air of exclusivity. Relax by the full-service Pnoe pool bar or at the Obsidian spa where modern treatments with Labiomer and Voya products are inspired by ancient rituals. The experience is complemented with water tubs, heated indoor aqua baths, an outdoor pool, and a fitness center.
Hotel Milos Resort. This recently renovated 3-star resort in the area of Achivadolimni (Greek word for 'seashell lake') is located 150m from the famous beach. Cycladic décor with wood and stone spans its simple rooms with private verandahs and suites with private pools.
Artemis Seaside Resort. On the beach of Paliochori, the minimalist all-white suites in this resort are equipped with private sea-view verandahs. The full-service sea-view pool bar serves snacks and cocktails and the same applies to the hotel's beach bar, again with sunbeds, umbrellas, and music (gets more upbeat as the day progresses). Try there the famous ouzo sorbet and fresh fruit juices. Get a massage at the spa or on the beach.
Breeze Boutique Hotel. This 4-star hillside hotel in Pollonia with panoramic sea and sunset views features an infinity pool that is enhanced with magnesium, which offers a sense of euphoria, a brand new spa, garden terraces with local plants and herbs, and 7 different categories of minimalist rooms, including suites with private pools.
Arco Solium Suites. This sophisticated boutique hotel opened at the port of Adamas in 2019 offering spacious minimalist suites bathed in natural light. Comfy upscale amenities, organic décor, modern en-suite bathrooms, and a wonderful garden and terrace for your breakfast might make up for the absence of a pool.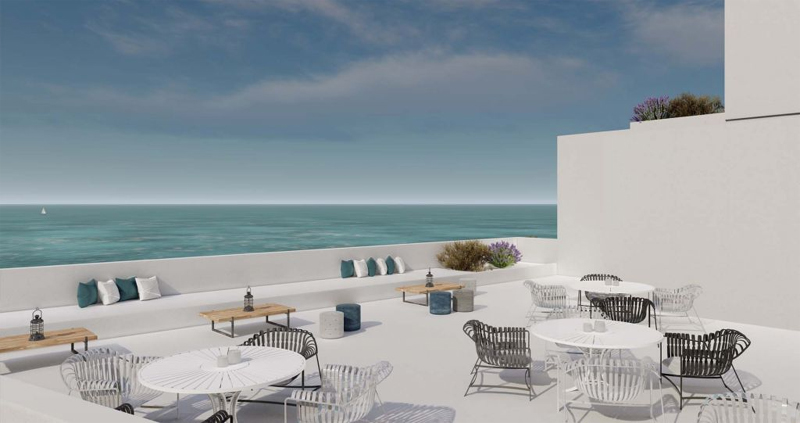 Domes White Coast Milos. This sea & sunset-view adults-only resort opened back in Summer 2021 and consists of 16 ultra-modern Cycladic-inspired luxury suites with private infinity pools. The private white shoreline that looks equally lunar to that of Sarakiniko is a nature preserve. From the signature custom room fragrance and designer furniture to the local organic ingredient breakfast, every detail of your stay has been meticulously prepared. Gourmet dining options and an extensive bar menu are available.
Golden Milos Beach. On the sandy beach of Provata, this sea-view hotel offers simple spacious rooms and an outdoor lounge with 2 pools and a jacuzzi.
Things to Do in Milos
Mining Museum. Due to its volcanic nature, the island has a rich mining history, areas with hot springs, and incredible rocky formations poking upwards from the water. The richness and variety of local minerals are discussed and showcased in this unique museum that also organizes various tours to the island's natural geological park.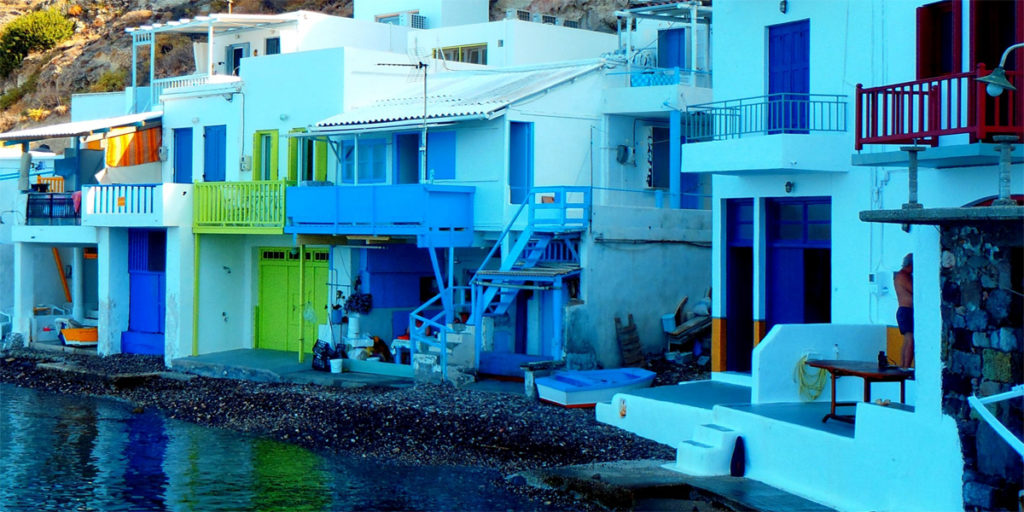 Syrmata. During eruptions lava froth that remained on the surface and cooled without pressure from overlying rocks became pumice; a porous material that was subsequently dug by the locals as storage areas and even catacombs. You will find some colorful fishermen's pumice-dag dwellings in the picturesque area of Klima and a few other places.
Catacombs. Dating from the 1st-5th century AD, they are among the 3 most important ones of the 74 discovered worldwide — probably older than those in Rome. This underground maze at the village of Trypiti served as a mass burial place for early Christians on the island. You are highly recommended to visit especially if you are a 'Tomb Raider' fan!
Phylakopi. Regarded to be one of the most important Bronze Age settlements in the Aegean (3rd millennium to 12th century BC), it survives today in very few ruins and of course artifacts from the excavations that are exhibited in the Archeological Museum of Milos.
Kostantakis Winery. For wine tasting head to the only winery on the island, built in a cave in the village of Pollonia and producing annually only 10.000 bottles; An interesting blend of local varieties includes Assyrtiko, Monemvasia, Roditis, Savatiano, Malagousia, Mavrotragano, Mandilaria, Mavro Aidani, and Moscato (Muscat). Wine is stored in an underground labyrinth which provides the needed humidity and steady, cool temperature.
Beaches in Milos
With over 70 magnificent natural beaches there, our impossible task is to pick for you the best.
Firiplaka. Accented with a standing rock pocking from the water surface and framed by volcanic cliffs, this highly popular lengthy white-grey sandy beach – where one of the two Milos craters is located, is accessible by car and offers you casual beach service on sunbeds if you arrive early.
Sarakiniko. The most photographed of all, this 'moonscape' white volcanic stone beach offers a nearly lunar experience at the seaside. Arrive early and explore rocky formations, caves, and Instagrammable settings of graphic excellence.
Papafragas. This hard-to-reach (steep stairs from the parking lot) small pool-like sandy beach with coves and caves is made for adventurers. Narrow high-cliff canals with tiny segments of sand are naturally formed for daring swimmers. You can combine it with a visit to the archeological site of Fylakopi.
Alogomantra (Greek word for horse fence). White rocks with a cave-like shade-producing natural fence in the middle of two remote beaches with white sand and turquoise waters are a place of tranquility, when not windy.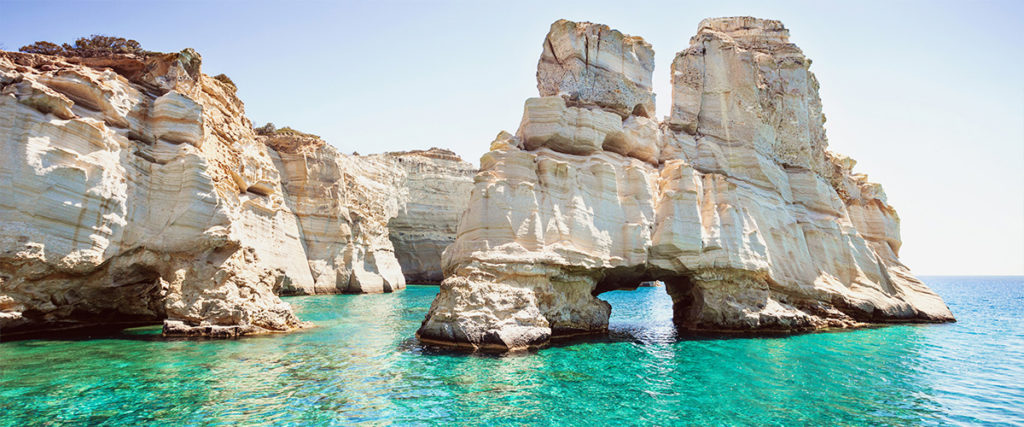 Kleftiko. If you don't take one of the sailing-boat rides from the port of Adamas to visit these extraordinary standing white rocks, swim around them, and probably try guided snorkeling in the surrounding caves (some with bioluminescent organisms), then you missed half the Milos experience. The day trip – private or small-group – will take you to the all-white 'Capri of Greece' and allegedly a pirate hideaway in the past. Other secluded or semi-secluded beaches you are recommended to visit with a boat include Gerontas, Tsigrado, and Triades.
Paleochori. Protected from the wind, this lengthy fully organized thick-sand beach with thermal springs is framed with eye-catching red, yellow, and green volcanic rocks.
Agia Kyriaki. Another beautiful long sand and white pebble beach is organized with sunbeds, restaurant-bars, and a water sports facility.
Thiorichia or Paliorema. Not the most beautiful of all but definitely photographable due to the abandoned sulfur mines.
Restaurants & Bars in Milos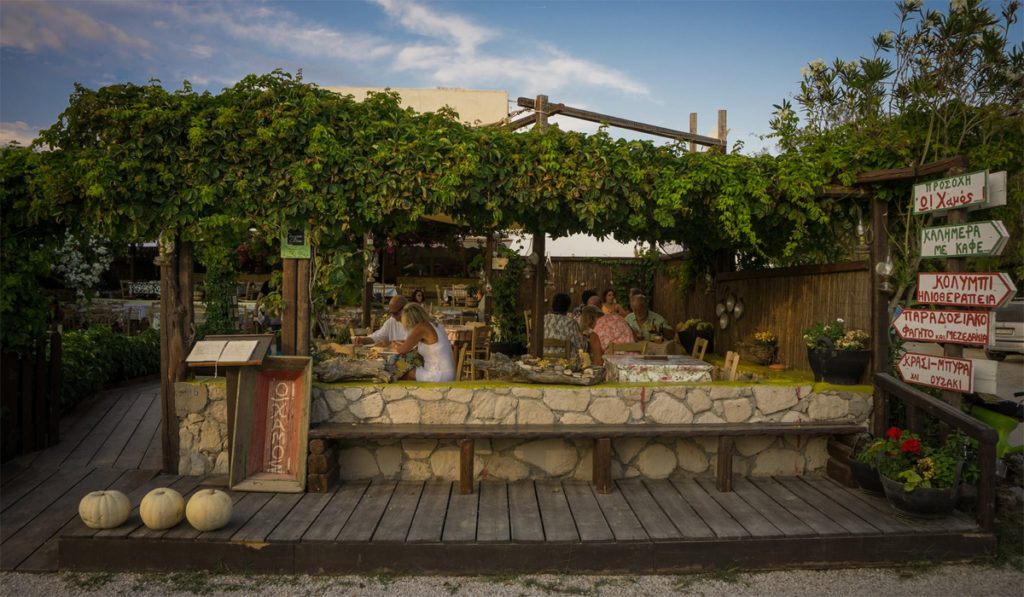 O! Hamos. Near the port of Adamas you will find the most popular and yummiest taverna (the Greek word for casual restaurant) on the island. No reservations are taken, so you just line up for a table on a first-come, first-served basis. We assure you it is worth the wait. Try the young goat roasted in parchment paper, the rooster, and the 'Pitarakia' (small half-moon-shaped pastries with cheese). Everything they cook comes from their farm and traditional cheese-making facility.
Barriello. This famous farm-to-table Greek restaurant in a panoramic sunset-view verandah in the village of Trypiti produces most of the ingredients in its gourmet recipes including veggies, eggs, and meat. Try the pork cheeks with chorizo jam, the fish fillet in fricassee sauce, the veggie risotto, and anything on the menu!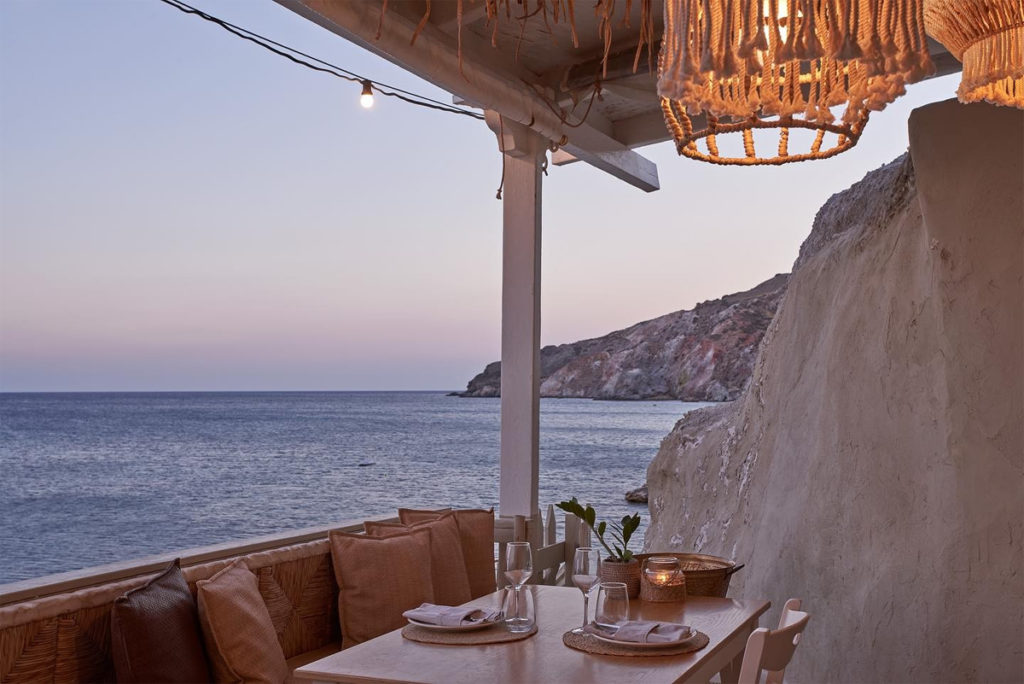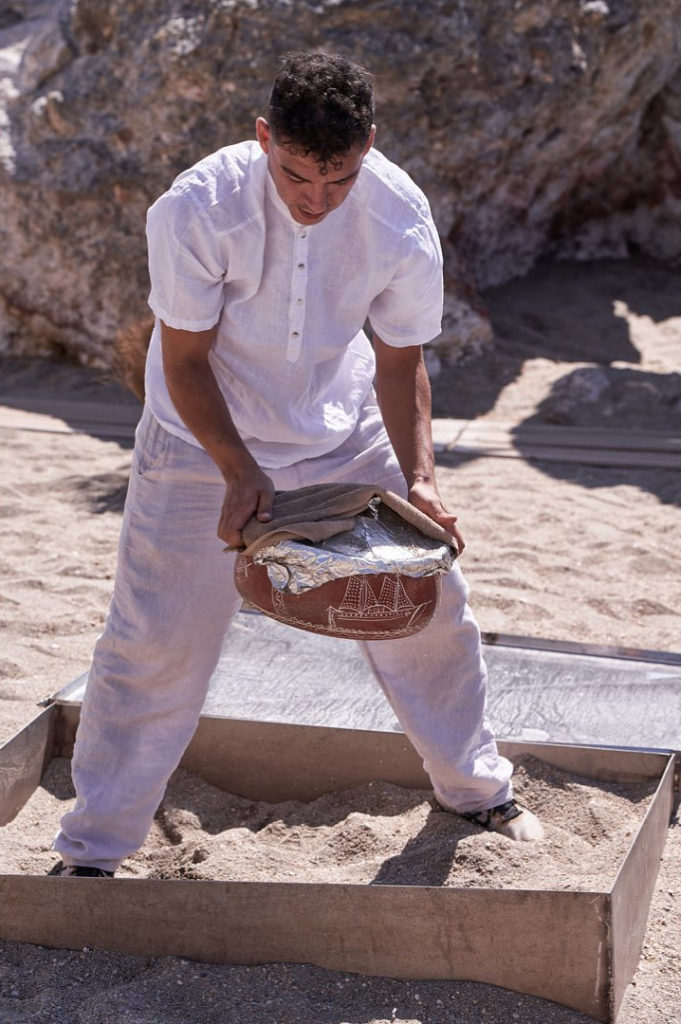 Sirocco. On the geothermal spring beach location of Paleochori, this newly renovated and organized beachfront restaurant (with sunbeds, spa services, and even shisha) is serving volcanic food such as lamb and veggies slow-cooked in volcanic sand pits in a process you are encouraged to watch.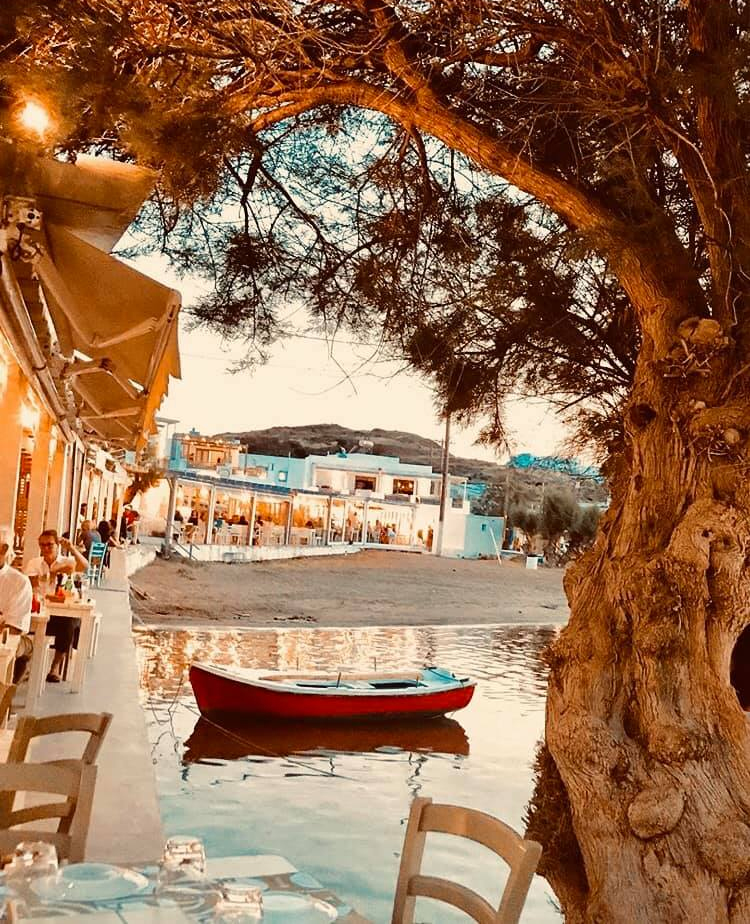 Gialos (Greek word for sea shore). A group of food-loving friends opened this sea-front restaurant in the picturesque village of Pollonia in 2007. Simple, elegant, and discreet — Giorgio Armani has dined there too — it serves a delicious mix of history and modernity, with stand-out specialties such as sea bream carpaccio with olive oil/ fresh pepper, open lasagna with vegetables/prawns, and fresh fish/seafood straight from the local fishermen some of it presented in excellent crudos. Traditional spoon sweets (fruit preserves) and a liqueur made of cherries are the perfect finale.
Nostos Seafood Experience. On the Port of Adamas, this idyllic sea-front seafood restaurant — first opened in the summer of 2020 — serves Greek classics with a modern twist and other Mediterranean-cuisine references. The word nostos, according to Homer's Odyssey, means returning home from a long journey. It has also its origins in the words nostimos (which means yummy) and nostalgia. The founders aspire to offer this nostalgic element by promoting pure local flavors combined with Greek wines.
Medusa. In the small sunset-view fishing village Mandrakia, this waterfront mostly-sea food taverna serves 'Sxizakia' bread slices with tomato paste on top, spectacular sundried grilled octopus, local cheese, and fresh fish meze with strong 'Raki' liquor shots.
Astakas. In the picturesque, protected from the wind and heatwaves, dag-in-pumice fishermen lodge location Klima where the famous ancient statue of Poseidon was found, this sunset-view casual restaurant serves freshest seafood and veggies from their nearby farm.
Alevromilos. Chef Vassilis Papikinos in this simple taverna in Parasporos serves the most creative twists on local recipes including their garlic lasagna, casserole chickpeas, and local Manoura cheese with eggs.
Enalion. A more traditional taverna with great flavors. Try the local sundried tomato paste, the 'Koufeto' of Milos (pumpkin, almond, and honey spoon sweet), and local goat cheese varieties.
At traditional bakeries and on your way to the beach, look for 'Rafiolia' (fried dough with honey and orange) and watermelon pie.