Best Architecture Firms in Greece for Private Clients, Hospitality Entrepreneurs, and Real Estate Investors
Are you among the luxury lifestyle connoisseurs aspiring to build in Greece? Creating a home, a hotel, a restaurant, or other architectural structure in a country that is architects' must-visit destination is, above all else, a one-of-a-kind cultural experience. Ancient Greek architecture is visible in the Minoan palaces' ruins in Crete (c. 3500 BC – c. 1100 BC), the massive Cyclopean stone walls in Mycenae, Peloponnese (c. 1425 – 1190 BC), and ancient temples across Greece, especially those from the Classical Age (5th BC), like the Parthenon in Acropolis, Athens, credited to legendary architects Ictinus and Callicrates. This monument, built under the supervision of famous artist Phidias, marks the zenith of the Doric order (a majestic, minimalist architectural style). Other more decorative and intricate ancient Greek architectural styles are the Ionic and Corinthian orders. Neoclassical architecture revived in the 18th and early 19th century, the grandeur, geometry, and timelessness of classical architecture across Europe, a worldwide reference until today. Architect Costas Kitsikis (1893-1969) left some remarkably eclectic examples of the neoclassical style mixed with Art Deco elements. German architect Ernst Ziller (1837–1923) was even more loyal to the original neoclassical style creating magnificent landmark buildings in the late 19th and early 20th centuries in Athens, Patras, and other Greek cities, most of them incredibly renovated in our days.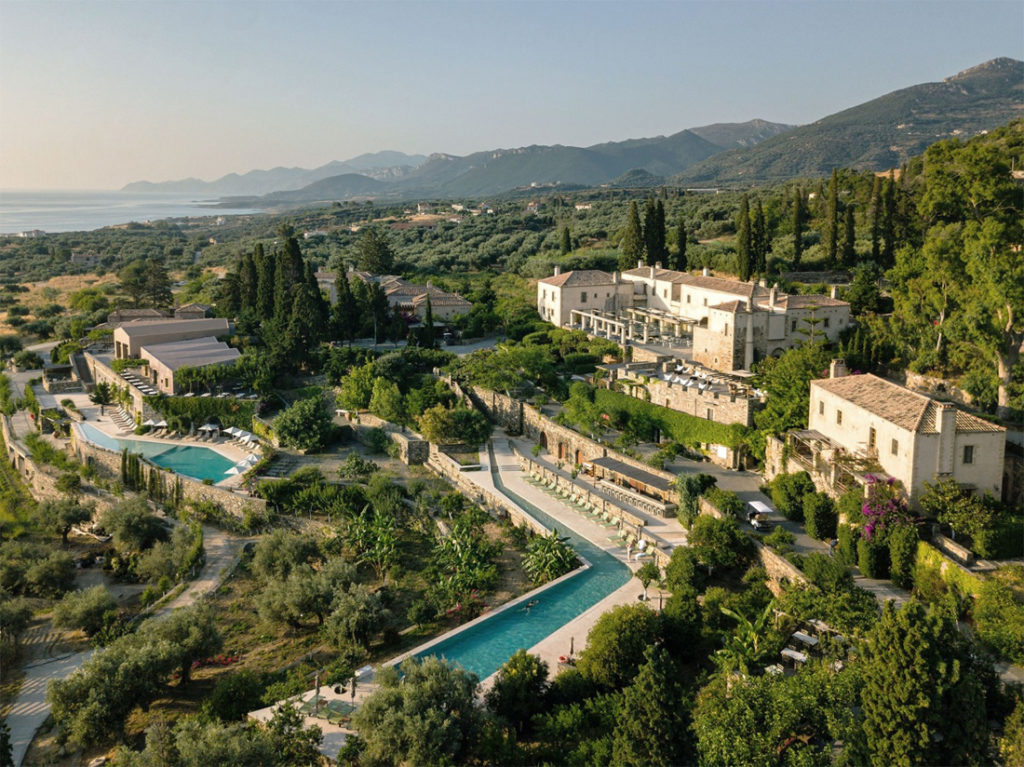 Greek Architectural Heritage
In medieval Greece, Roman architecture gradually evolved into the distinctive Byzantine style (330 AD – 1453 AD) that features imposing domes and intricate mosaics surviving in churches from that era. The Ottomans, Venetians, and Genoese, who ruled smaller or larger parts of Greece, left their own traces through the centuries, including some stunning castles and fortresses. Early Modern Greece (since 1828) had rich architectural history too. Stamati Bulgari (1774-1842), the first urban planner of modern Greece, Panagis Kalkos (1818–1878), one of the first Greek architects of the modern Greek state, highly influential Dimitris Pikionis (1887–1968), and Ioannis Despotopoulos (1903–1992), a representative of the Bauhaus movement in Greece are included in the long list of visionary Greek architects. Modern architecture introduced in Athens by great Greek modernists like Kyriakos Panagiotakos (1902 – 1982), Thucydides Valentis (1908-1982), Nicos Valsamakis (born in 1924), and Takis Zenetos (1926-1977), flourished during 1930-1940 and 1950-1975, influenced by Le Corbusier and other European modernist architects. Yet, in upscale elitist neighborhoods like Kolonaki, architects such as Emmanuel Vourekas (1907-1993) and Konstantinos Kapsambelis (1905-1993) stayed true to pre-war "simplified classicism." Most new buildings at that time took the form of condominiums, apartment buildings with balconies known as "poly-katoikies" or "multi-residences." Hence, the mind-blowing mix of structures we see in Athens today!
The Present and Future of Greek Architecture
These old buildings are getting refurbished lately to become boutique hotels or luxury apartment blocks. Across Greece, tradition is reshaped, and architecture is reinvented, as diverse local styles from the Greek mainland, the islands, and the world are mixed in imaginative ways. In the Cyclades, for example, unique whitewashed cubist architecture remains relevant and a source of inspiration. This country has countless local styles defined by locally available natural resources (different types of marbles and stone) and varied cultural roots. Like in the past, established and up-and-coming Greek architects, educated in Greece and abroad, look up to their predecessors and their origins for references. They also team up with pioneers worldwide, as the cultural revival and vibrant tourism industry attract foreign architects to work on Greek projects over the last years, making this country, as quite often, of course, a fascinating landscape and scene for architecture aficionados, professionals, and clients.
Meet the Pioneers of Greek Architecture
Omniview. Founded in 2013 by sibling architects Dimitri and John Tsigos and property entrepreneur Miltos Kambourides, this Athens-based firm offers a new breed of architectural practice that is up for its clients' most challenging visions. The company's flagship project was One Kleomenous, a revolutionary new living space concept that was created to showcase the team's development capabilities such as pioneering design, advanced construction techniques, and cutting-edge technologies. The 11-floor single-owner home, with a hard-to-miss facade covered with topographic-map-looking layered CNC-cut travertine marble, color-matches the rocks of the Lycabettus hill it is perched on. This marble is also seen in many 70s-style modernist condo developments in the area. With uninterrupted views of Athens and the shores of Piraeus, it is a building that exemplifies the firm's specialty, bespoke computer-aided luxury design and boundary-pushing architecture that mixes harmoniously with the landscape. The architects gave birth to organic forms that best emulate a location on the edge of a densely built part of Athens. A perfectionist, holistic spirit runs through every project from landscape and building design to interiors, furniture, object design, concept development, and real estate consulting. An array of marvelous avant-garde constructions cover the areas of hospitality, urban architecture and interior design, villa and Cycladic residential design, retail and workspace design, and other one-of-a-kind undertakings.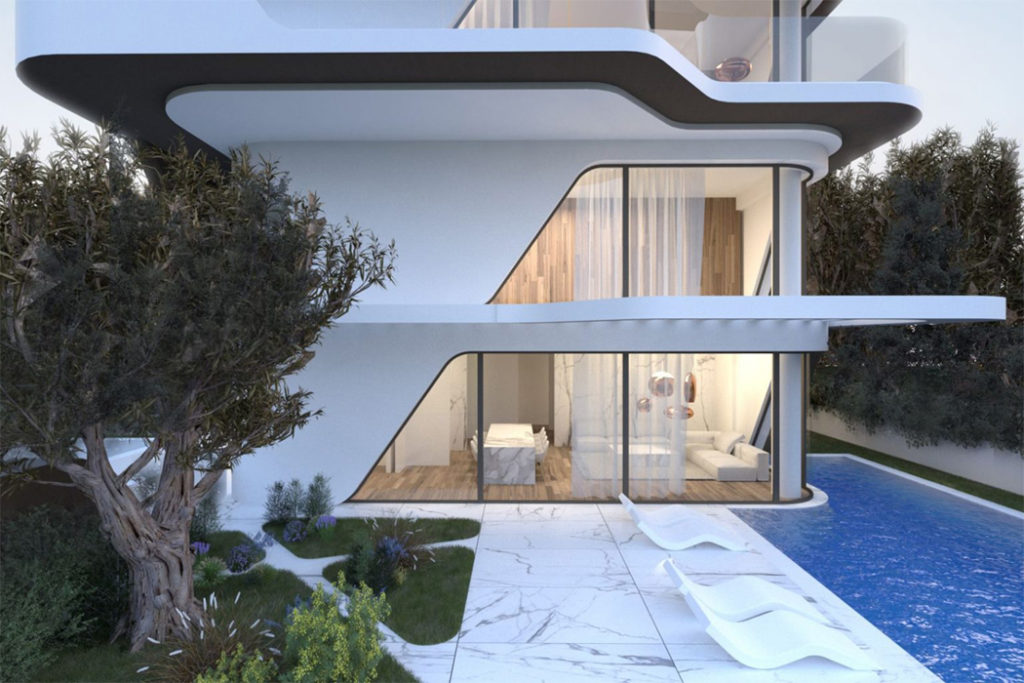 KKMK Architects. This boutique architectural practice was founded in 2019 by two exceptionally talented architects with former experience and the best of education. Marina Karamali graduated from The Bartlett School of Architecture UCL with a BSc in Architecture. She also attended a course on Filmmaking at Central St. Martins. She then attended a Master's degree course in Architecture and Digital Media at the University of Westminster, where she graduated with a distinction. Between 2014 and 2017, Marina was an architect at Omniview, where among other projects, she was involved in the construction of the 'One Kleomenous' project as a supervision architect. The firm's co-founder Katerina Karagianni worked on the same project as the architectural department manager from 2013 to 2016. She graduated from the National Technical University of Athens in 2007 with a Diploma in Architecture and continued her studies at the Institute for Advanced Architecture of Catalonia, from where she graduated in 2009 with a Master's Degree in Architecture & Urbanism. Their design and construction procedures are based on cutting-edge technology that enhances the traditional means of construction. With a knack for digital technologies such as 3D printing, CNC-milling, and laser-cutting, they create contemporary architectural designs that evolve through computational techniques. They adopt nature's geometries and structural systems and translate them into innovative constructions. From landscape and building architecture to interior design, set design, temporary installations, and product design, avant-garde solutions come in response to each assignment's unique ground. Among their most impressive projects, we count the Amoeba house study on Antiparos island, the Ogee Apartments on the Athenian Riviera, and the White Pebbles Suites on Milos island. They describe their contemporary Cycladic architecture curvy designs as "smooth and sexy." Details, of course, matter most, as seen in the Possi water-jet laser-cut marble mosaic they created recently for an apartment using algorithmic design.
Divercity Architects. This architecture and interior design studio with offices in London (RIBA Chartered Practice) and Athens boasts an international portfolio of award-winning designs published worldwide. From Mykonos to St Moritz, the Argentine Pampas, and Algarve, every project is a journey into new landscapes and lifestyles that inform modern ideas mixed with local heritage and craftsmanship. Nikolas Travasaros, the founding partner and Director in the London office, studied architecture in Athens (1999) and received a Master of Architecture from the Bartlett School of Architecture, UCL (2000). His architect brother Dimitris Travasaros is Partner and Director at Divercity Architects in Athens. One Athens is among their most intricate residential projects, an exclusive development in a prime location comprised of 26 apartments, duplexes, penthouses, and townhouses. They come with 5-star facilities, including a concierge, private gym, indoor pool, playroom, screening room, and a stunning roof garden with sweeping city views. The building was originally designed in 1957 as the headquarters of the visionary Greek architect and urban planner Constantinos Doxiadis (1913–1975). It was abandoned for over 20 years and recently renovated, paying homage to its open-plan, minimalist legacy. In the area of hospitality, the architects' ingenuity and practical attitude come down to the lately completed Xenodocheio Milos, which is the first gastronomy boutique hotel of the globally renowned Milos restaurants, the 5-star Kinsterna hotel inside a 17th-century estate in Peloponnese, and the equally luxurious Grace hotel in Santorini with jaw-dropping caldera views.
K-Studio. Sibling co-founders Dimitris and Konstantinos Karampatakis, both with a BSc + Diploma in Architecture, RIBA I+II from The Bartlett, UCL, lead a team of experts maintaining a contextual approach that produces unique and immersive experiences through Architecture, Interior and Hardscape Design. They have been awarded for spaces that offer a holistic universe defined by the available spatial qualities. Larger-scale projects are treated as collections of smaller studies, and that way, such expansive systems are developed with greater clarity, definition, and attention to detail. This Athens-based creative studio of architects and interior designers appreciates Greece's incredible natural beauty and resources. To them, this country's cultural identity is established upon making good, economical use of local skills, materials, and agriculture to provide nourishing hospitality to all visitors. They make minimum interventions on each site with minimum waste involved and offer comfort that feels naturally luxurious and contemporary. Their spaces, thanks to extensive research and rich academic background, revolve around the idea of leisure and hospitality, including private holiday homes, restaurants, bars, hotels, as well as large-scale projects such as a marina on the Turkish coast and the refurbishment of Mykonos Airport. In Greece, their style is best represented in their work for Dexamenes hotel in Peloponnese, Casa Cook hotel in Crete, Kalesma hotel, Scorpios beach club, Alemagou and Noema restaurants in Mykonos. Their portfolio also features international projects in destinations as varied as Israel, Qatar, Panama, and Kuala Lumpur. The studio's multi-faceted output is frequently the result of collaborations with other highly experienced and knowledgeable teams.
Kois Associated Architects. This innovative and pioneering Athens-based practice was founded in 2007 by multi-awarded and published architect Stelios Kois who has been engaged in an array of prestigious projects in Greece, Italy, Germany, Denmark, Taiwan, Jordan, France, Mexico, the UK, and the US. Born in Ouranoupolis, Halkidiki, a breath away from monastic Mount Athos in Greece, he is known for a pure, minimalist style in a boundary-pushing dialogue with the environment. He owes his experimental spirit to studies at the Universita Degli Studi di Roma and the opportunity he had as an awarded student to visit Osaka and research Japanese tradition related to the balance of elements in the surrounding world. Light and shadow have always been defining factors in his work. Contrast and diversity too. He returned to Italy to acquire experience as Creative Director at other firms and continued with more studies and collaborations in Athens before setting up his own multidisciplinary team of architects, engineers, graphic artists, and town planners coming from different cultural backgrounds. The company portfolio spans an array of related fields, from residential, retail, hospitality, and urban planning projects to interiors, furniture, and product design. It's a laboratory of ideas and solutions characterized by structural perfectionism, serenity, and Doric simplicity, best represented in the Mirage project. This island residence camouflaged under a rimless infinity pool recreating a well-known optical phenomenon was among the 2016 American Architecture Prize recipients. The team is also credited for the recently completed Delta restaurant at the Stavros Niarchos Foundation Cultural Center, the Gagosian gallery, and the Ileana Makri jewelry boutique in Athens, the Alchemist boutique in Mykonos, landmark building redesigns, private homes, and more.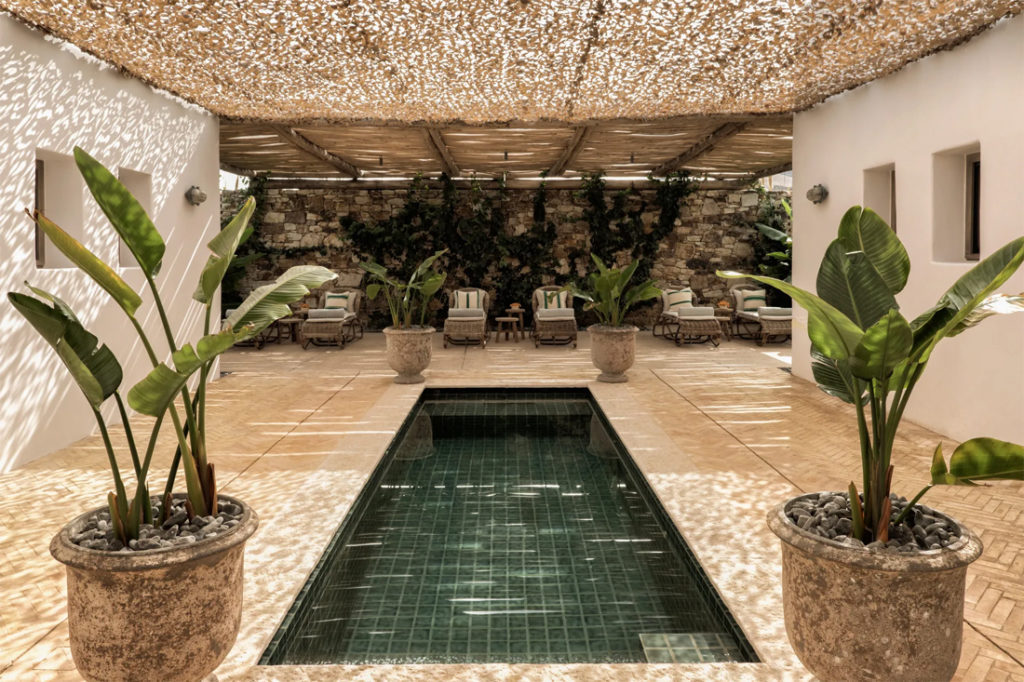 Vois Architects. Founded in Athens in 2006 by Katerina Vordoni and Fania Sinaniotou, this practice consists of a team of young architects with lots of talent and fresh ideas. The two met at high school and later through various career milestones. Fania graduated with a BA in Architecture from the University of East London in 2001 and Katerina from the Bartlett School of Architecture, UCL, with a BSc in Architecture the same year. Then they worked together at Sasaki Associates in Boston, US. After stints at ISV architects and Studio A66 in Athens, respectively, Fania studied and took an MA in Architecture from the Royal College of Art, and Katerina got a Diploma degree from the Architectural Association. They reunited in 2004 as members of architectural Group RUA, and in 2006 they co-founded Vois Architects. This office is active in Greece and abroad, with a clear focus on private projects, from residences and multiplexes to hotels, office spaces, and stores. Their architecture is inspired by simple habits, images, objects, and moments. Projects like The Rooster hotel in Antiparos island, the ARCH art gallery & organization in Athens, and the restoration of the historical Poseidonion hotel in Spetses island show their supreme taste level and range of styles.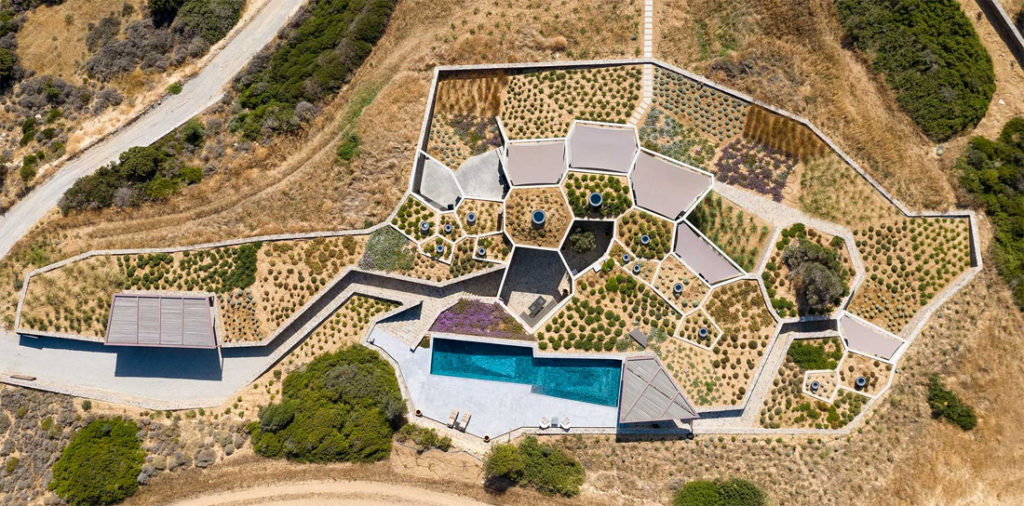 DECA Architecture. Founded by Alexandros Vaitsos and Carlos Loperena, this team is large enough to engage with projects of any size while maintaining a personalized approach. Born in Lima, Peru, Alexandros Vaitsos, who has lived in France, Greece, the UK, and the US, studied at Harvard University (Bachelor of Arts in Visual and Environmental Studies). Carlos Loperena from Mexico also lived in different countries (Japan, Italy, Greece, and the US) and studied Industrial Design at the University of Kansas. They both did their Master's in Architecture at the University of California, Berkeley, and co-founded DECA Architecture in 2001. Their internationally multi-awarded projects cover Greece and Europe. Our favorites from their portfolio are the spa at Euphoria Retreat hotel (Europe's leading spa destination) in the area of Mystras, the Voronoi's Corrals (a sustainable architecture & agriculture project in Milos island, and Periscope hotel in Athens refurbished to highlight its urban location's peculiarities. In their work, science is mixed with aesthetics in the most exciting ways.
apk Architects. Co-founded in 2010 by two ultra-talented women with diverse academic backgrounds and corporate experience, this architectural practice has developed into a dynamic platform of young architects with an extensive portfolio of built projects of different scales in the academic, housing, commercial, and hospitality fields. Their philosophy reflects the need for modernity through a thoroughly pragmatic approach. Every project is an opportunity for innovation and exploration of new boundaries. Morphological simplicity and attention to detail & materiality are vital ingredients of the design outcome. Covering all stages, from preliminary design to construction, they create unique spatial experiences with deep respect for the human factor and the natural environment. Alexia Anastasopoulou got her BSc Degree in Architecture from the Bartlett School of Architecture (UCL) in 2004. She then embarked on a career that included stints at Pierro Lissoni Architects in Milan and A.N. Tombazis in Athens before returning to the UK to land a Diploma in Architecture with distinction from Brighton University and join Zaha Hadid Architects in London for two years. She was part of the team working for the Aquatics Center for the London Olympics, the Opera House and Cultural Centre in Dubai, and the Conference Palace in Tripoli. Her contribution has been acknowledged in Zaha Hadid's 'Complete Works 1979-2009'. Co-founder Maria Kyriazi studied Architecture in Athens, and together the creative duo has produced work published in a wide range of design magazines. Renovated outdoor spaces at Daios Cove beach resort in Crete, as well as several residential buildings and private villas, showcase their distinctive style characterized by clean lines and warm details.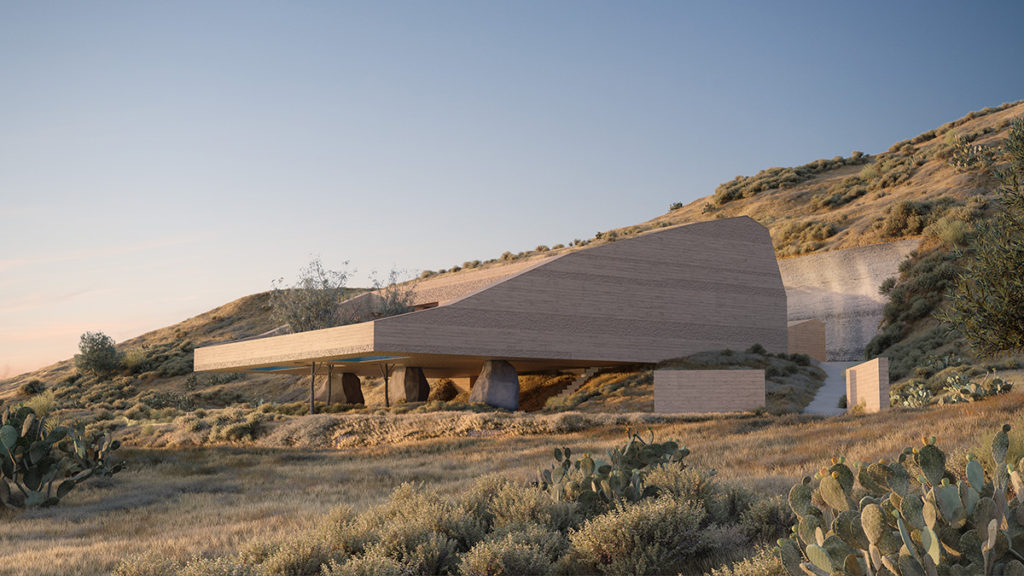 Kapsimalis Architects. Based in Santorini, this architectural office is your expert on the island. Established in 2012 by Alexandros and Marianna Kapsimalis, this office is credited and published internationally for various local projects of different scales and types, from private houses, retail, and cultural spaces to hotel complexes. The two, who have studied in Greece and abroad (Athens, Zurich, Glasgow), are deeply interested in sustainability and the natural environment surrounding their buildings. They process long-established traditions, deeply-rooted aesthetics, pre-existing memories, indigenous construction techniques and materials to create indoor and outdoor spaces that respond to modern needs. Their work stands between the past and the future. Most of their projects in Santorini show their deep awareness of the local Cycladic island style and their ability to push the boundaries in a balanced, responsible way. Eye-catching details make even rustic materials feel extremely contemporary. Arches and cave-like constructions, along with organic forms, are part of their creative universe. Raw elements magically coincide with sleek, minimalist ones.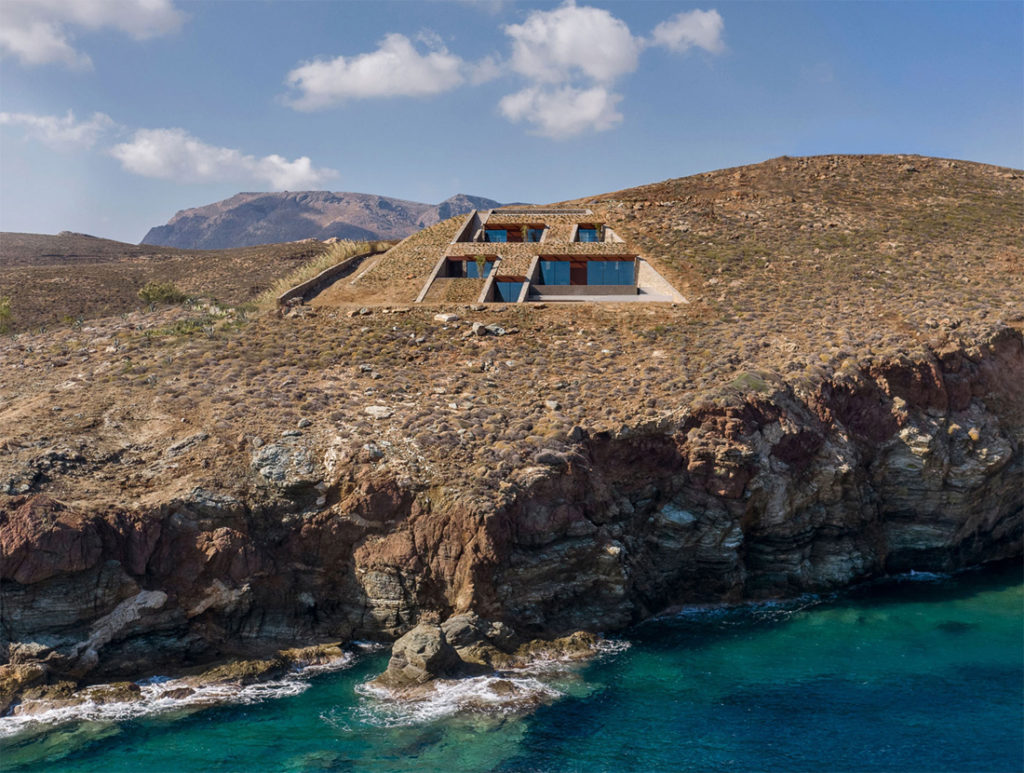 MOLD Architects. Founded in 2011 by Iliana Kerestetzi (M.Sc in Advanced Architectural Design, Columbia University, NY 2009), they integrate, as a practice, research, architecture, landscape, advanced computational, parametric, graphic, architectural & interior design, construction, and visual arts. The team's multi-awarded portfolio features some spectacular residences. Their most emblematic of all so far is the nCAVED House, a vacation residence integrated into the hilly setting of a rocky cove on Serifos island. The studio has been nominated for 3 "Rural House" awards from the influential Dezeen magazine. Their most illustrious project was shortlisted at the "Best International Houses Design" selection of the Venice Biennale for 2021.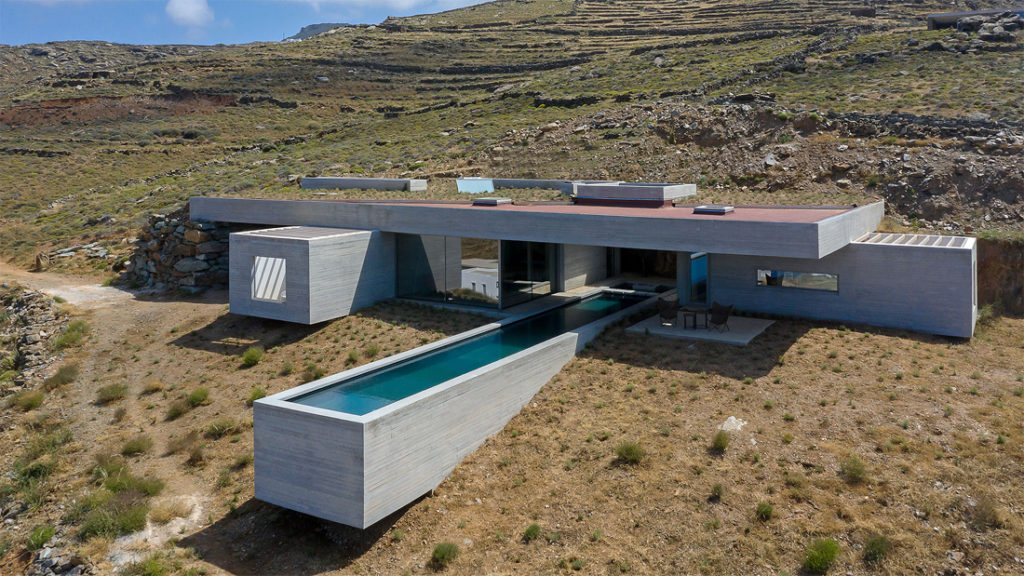 Aristides Dallas Architects. Based in Athens and Tinos island since 2014, this practice aims at setting new standards and updating the aesthetic vocabulary for Greek architecture. With contemporary techniques and know-how, a construction in the Greek landscape is not conventional anymore, but it acquires rigidity, orientation, and substance. Having an entire network of professional experts – engineers, material scientists, interior designers, stylists, and artists, this team has created impressive one-of-a-kind projects, including the hugely published Lap Pool House in Tinos. He is mentioned editorially as a "promising architect," undoubtedly one to watch.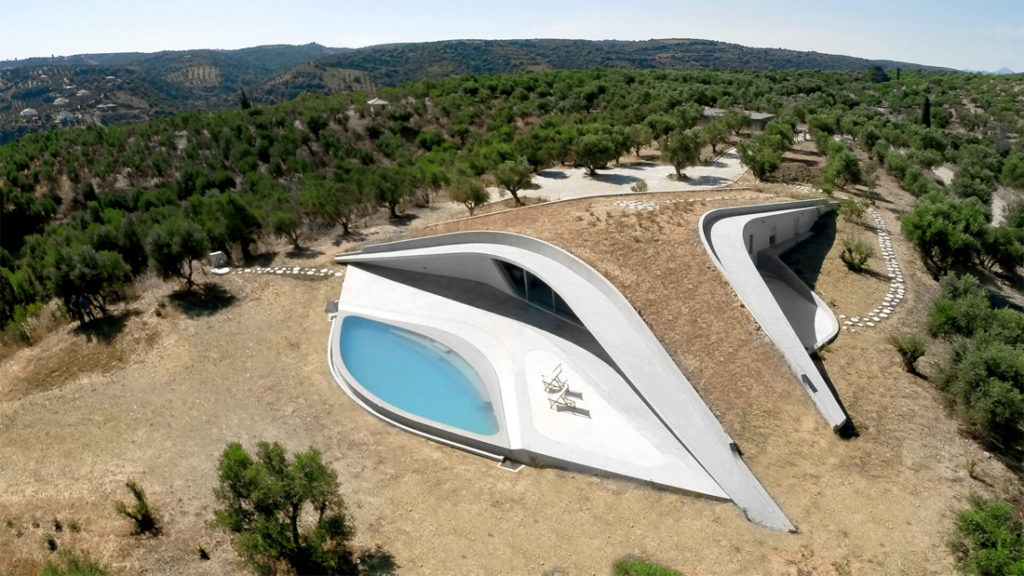 LASSA Architects. Based in London, this practice was co-founded in 2009 by French-Greek Theo Sarantoglou Lalis and Dora Sweijd to operate at the intersection between art, technology, and social science. Their avant-garde creations come down to a recalibrated human experience in each space and a complete rethinking of building procedures. They recognize technology's pivotal role in the way they collaborate, design, and fabricate architecture. Current work includes commissions from the public and private sectors in Europe, the Middle East, and Asia. The team has developed expertise in 18 countries in the delivery of projects of great sophistication and efficiency. Besides being involved in academic research through their studio, Diploma 17, at the Architecture Association, and through workshops and lectures worldwide, they have held teaching positions at Harvard, Columbia, the Bartlett, Westminster University, Lund University, and Gothenborg University. In 2010, LASSA was awarded a REA European research grant for COELUX, an advanced lighting system, in partnership with world-leading specialists as well as research institutions throughout Europe and Switzerland. LASSA was a finalist for several international awards, combining bespoke design with innovative constructive strategies that require state-of-the-art digital design and manufacturing processes. They use unconventional geometry as a means of integrating multiple design objectives into one form. Two of their most impressive private residences built in Greece are Villa Ypsilon and KHI House in Peloponnese.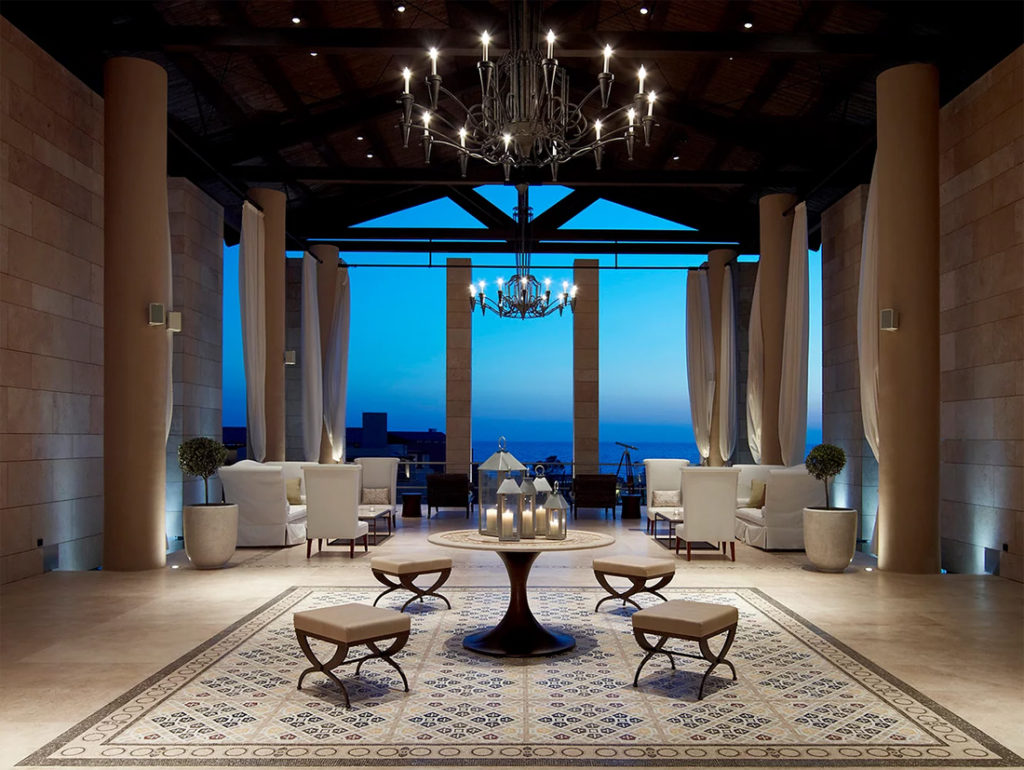 Aeter Architects. The evolution of the architectural practice of Charry C. Bougadellis, established in Athens in 1984, is one of the largest architectural companies in Greece. They have been awarded and published for projects of all scales and phases of design, including some of the most prestigious projects for the 2004 Olympic Games in Athens. World Architecture magazine has ranked it amongst the top 300 architectural firms in the world for several consecutive years. Their prestigious milestones in hospitality include the renovation of the Hilton Athens in 2003 (currently being renovated again under the upscale Conrad brand), the redevelopment of the Four Seasons Athens Astir Resort, and the creation of the Bay Clubhouse (the first one to be earth-sheltered), the Westin, and the Romanos resort at Costa Navarino. Their rich portfolio features several luxury private residences and 16 apartments at One Athens complex, formerly used as the headquarters of pioneer Greek architect Constantinos Doxiadis.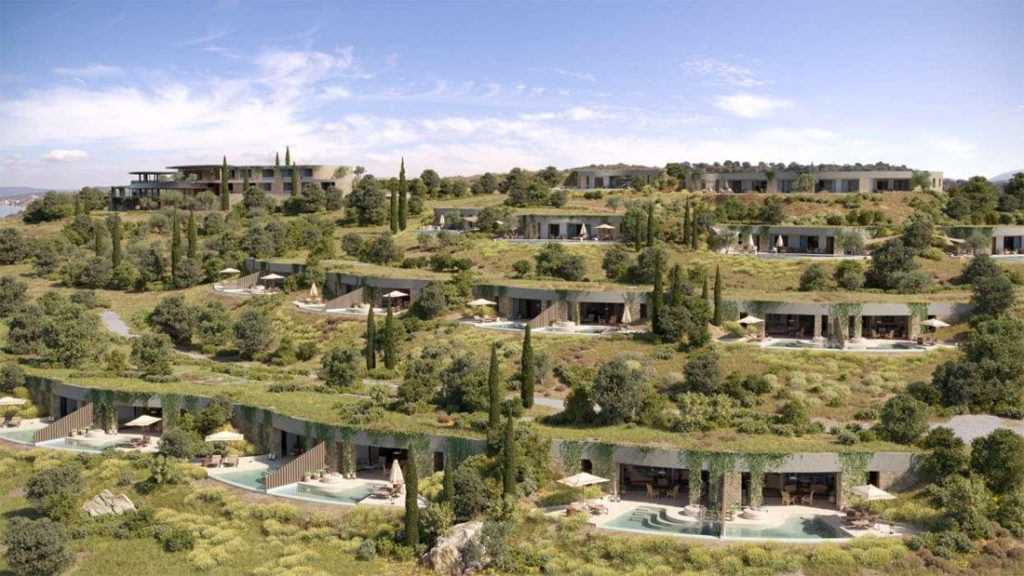 Tombazis & Associate Architects. Founded in 1963 in Athens, this practice is well-established, a veteran in the field with undertakings in Greece, Portugal, the Netherlands, Bulgaria, Romania, Ukraine, Cyprus, Dubai, Abu Dhabi, Oman, and China. It focuses on sustainability, bioclimatic design, and low-energy construction; they were the first to create "solar houses" in Greece back in the 70s! Their services cover design, supervision, architectural & urban planning, interior and furniture design for buildings of almost any type and scale. Hospitality and residential projects they have completed include the Navarino Dunes Resort & Golf Club, the beachfront Navarino Residences, and many other luxurious private homes.
ISV Architects. Based in Athens and London, this architectural practice is led by three senior partners: Babis Ioannou, Tasos Sotiropoulos, and Alexander Van Gilder. Starting back in 1977, with complex building projects in Greece and abroad, it is known for its simple and restrained design language, transcribing a modern architectural vocabulary into the ever-changing scene of the 21st century. Its portfolio includes international projects ranging from large-scale residential complexes, hotels, and office buildings to small-scale interior design projects. This firm employs a 60-people-strong staff, including architects, construction managers, interior designers, and CGI artists. For four decades, ISV Architects has produced an architecture that pursuits the joy of life. Among other projects, you are encouraged to check the country houses they have created in Costa Navarino, Peloponnese, and the islands of Paros, Antiparos, Mykonos, and Kea.
Elastic Architects. Founded in 1996 by principals Ria Vogiatzi and Alexandros Xenos, it is an award-winning global firm of diverse and talented architects and designers based in Athens with offices in London, Toronto, Dubai, and Cyprus. It has provided international clients, such as Aman Resorts, Janu by Aman, One & Only, Marriott, Accor, Brown Hotels, Coco-Mat, and Banyan Tree, with architectural, interior, and hardscape design services. Elastic Architects and Designers specialize in high-end international and domestic hospitality design for hotels, large-scale mixed-use projects, and private residences.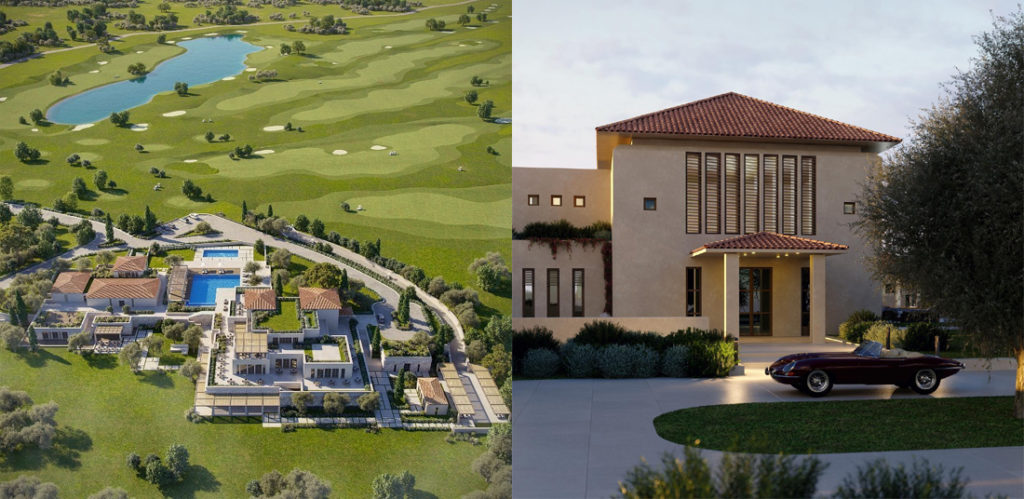 Arch Group. With over 20 years of experience, multi-awarded co-founders and chief architects Maria and Theodore Giasemakis have worked on an array of prestigious residential and hospitality projects, including Hotel Grand Resort Lagonissi in the Athens Riviera, Elounda Beach Hotel villas in Crete, Nikki Beach Resort & Spa in Porto Heli, Ikones Seafront Luxury Suites in Crete, and lately the Kilada Country Club & villas in Peloponnese.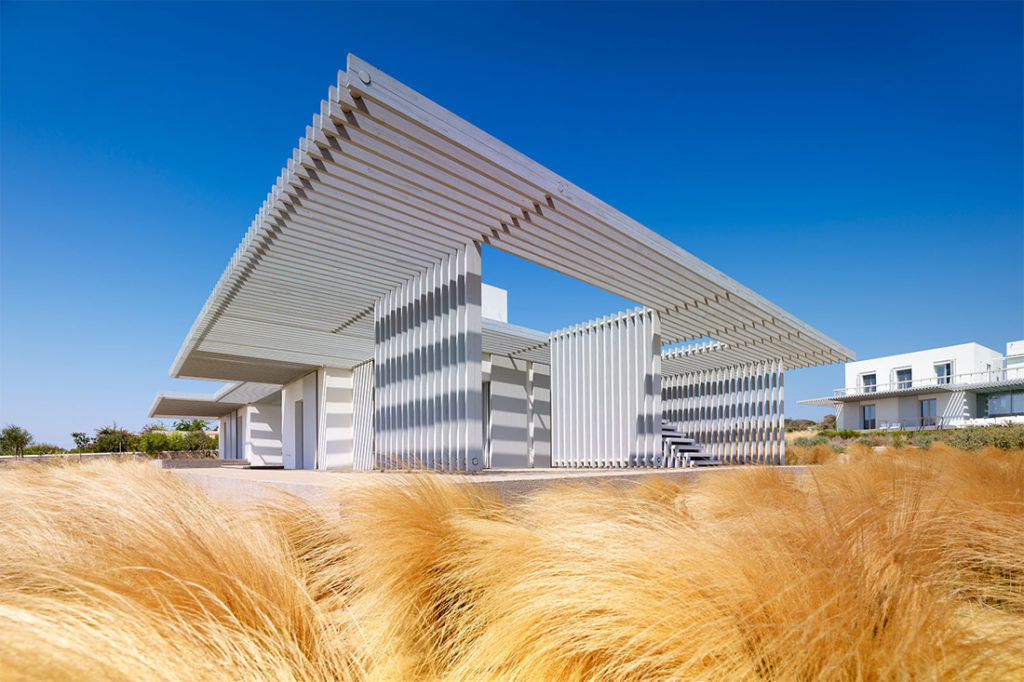 Buerger Katsota Architects. Founded in 2005 by Stephan Buerger and Demetra Katsota, this collaborative architectural practice, based in Athens and Vienna, operates within the field of architecture, urbanism, place-making, and research, delivering projects from master planning to urban design, housing to private residences, interiors, exhibitions, and publications. Both Stephan and Demetra received a Diploma of Architecture from the Architectural Association and a Master of Architecture from Harvard University Graduate School of Design. They have working and teaching experience across the world. Subtle yet innovative visions for new realities are conceived and implemented through a direct, poetic, and pragmatic approach.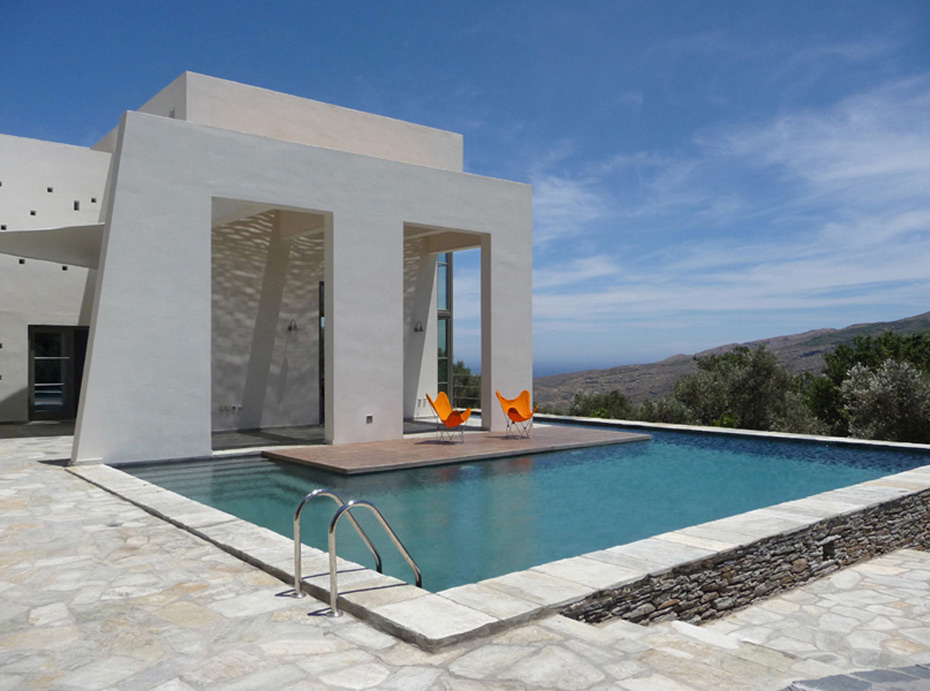 KLAB architecture. It stands for kinetic lab of architecture, was founded in 2001 by Konstantinos Labrinopoulos, and operates as an international group of highly qualified and motivated architects seeking opportunities to create unique and intriguing urban events. This multicultural team is qualified to deal with a wide range of projects, from large planning schemes to completing detailed technical drawings for specialized solutions. Inspired by the interconnection and juxtaposition of everyday things in life, it combines ephemeral with timeless, classic with modern, natural with artificial elements through conventional and experimental materials. Visionary experts in this practice aspire to create as artists yet implement as scientists. Originality in design is their major drive. Thanks to ongoing research, they have come up with high-quality, innovative, and functional solutions custom-designed for each client. Based in Athens and Fitzrovia, London, these guys love to push the boundaries and evolve. We love their work for Hotel Andronikos in Mykonos and Santorini, and private residences in Greece.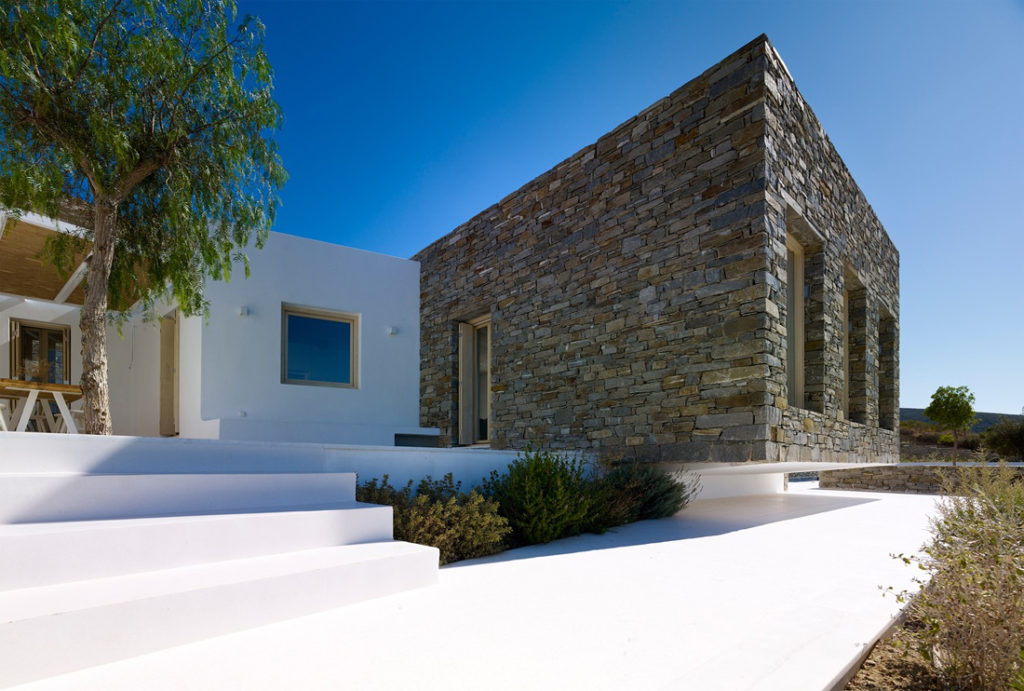 G & A Evripiotis. This practice was founded in the 80s by Georges Evripiotis (dplg, France) and expanded in 2010 when Angeliki Evripioti joined upon her graduation from GSD, Harvard University. Their work integrates architecture, urban design, landscape architecture, research and has been presented in several international exhibitions and architectural publications. Based in Paros, Syros, and Mykonos islands, Georges, Angeliki, and their team undertake every project – especially residential ones – as unique from conception to realization.
GNB Architects. With great expertise in contemporary Cycladic architecture, as well as the urban life and landscape of Athens, this multidisciplinary architecture studio, based in Athens since 2014, is a group of young and ambitious architects, designers, and engineers. Their portfolio includes hotel complexes, private residences, apartments, and landscape projects. Focusing on the special handling of landscapes and tradition, projects like Hâbitat All Suite Hotel and Lyo Boutique Hotel in Mykonos, as well as villas in Kea, Paros, and other Greek islands, show their knack for architectural integration and spatial optimization.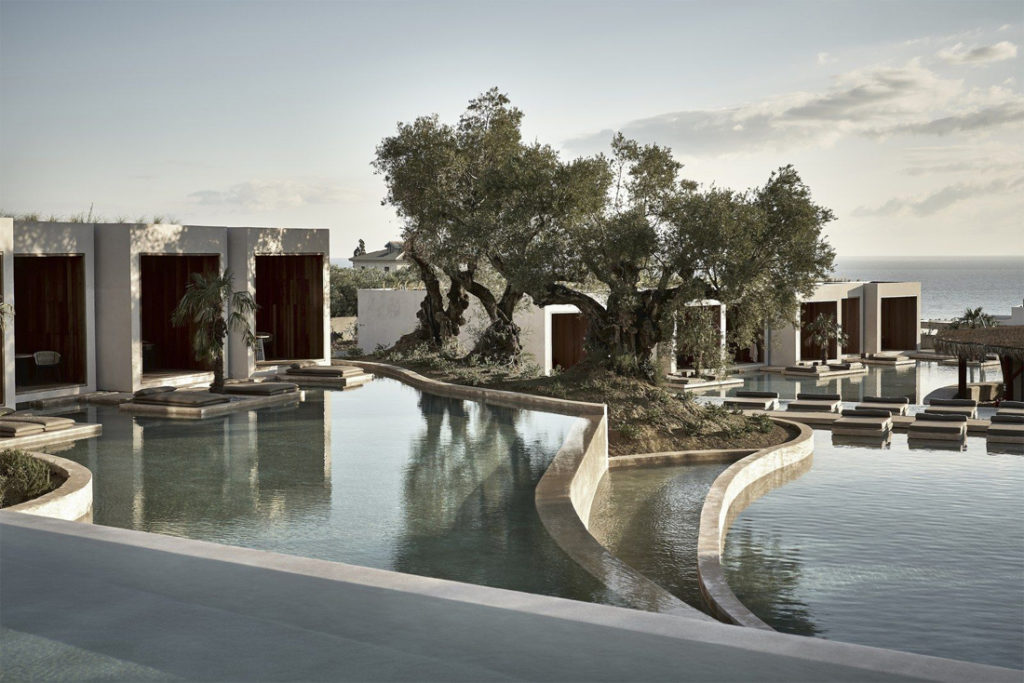 Block722 Architects. This Athens-based practice founded by Sotiris Tsergas and Katja Margaritoglou is known for some eye-catching residential and hospitality projects, including the 128-room adults-only Casa Cook retreat in Samos island, the Olea All Suite Hotel and Contessina Hotel in Zakynthos island, Villa Apollon in Lefkada island, and other private residences that blend seamlessly with the local culture and environment.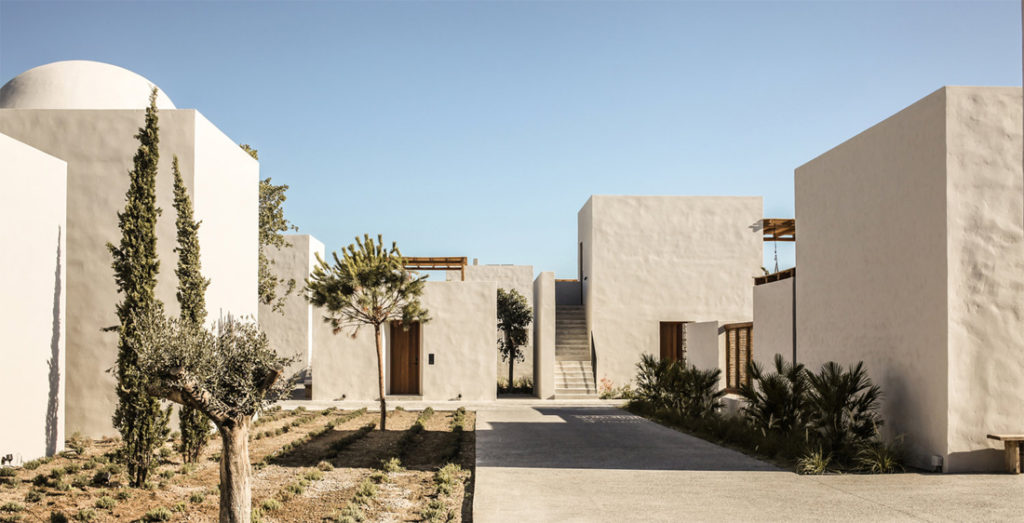 Mastrominas Architecture. Ilias Mastrominas, lead architect, CEO, and founder, studied architecture at the Polytechnic School of Milan and the University of Thessaloniki. The practice was initially established in 1984 on the island of Kos, and today it operates both from Kos and Athens. Designer of renowned large-scale resorts, boutique hotels, luxurious private residences, and office buildings, the studio has over 35 years of experience in hospitality projects. The team's aesthetic perfectionism is summed up in the awarded projects Caravia Beach Junior Suites & Restaurant and oku Kos (former Casa Cook Kos), for which it is the only Greek studio to have been a recipient of the Prix Versailles and laureate European winner 2018. Its innovative and exclusive architecture is based on the re-interpretation of traditional Greek architecture via a modern vocabulary. Its construction sector is run by two other companies AVAX GP and IPODOMI SA. They have collaborated in hotel design projects with ISV architects and in real estate as partners with ISV+M.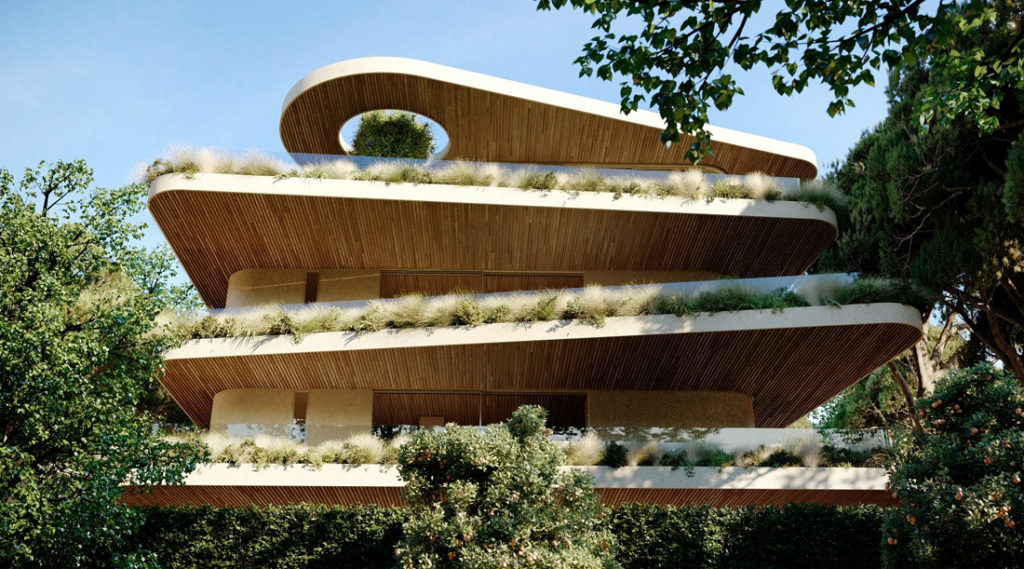 Kordas Architects. Founded in 2006 in Athens by architect Aristides Kordas, this firm offers high-quality architectural services covering a wide range of building typologies. Since its establishment, Kordas Architects has successfully assumed and completed various projects in Greece and abroad, resulting in its development into a large, well-organized network of design professionals. There are some great modern architecture residences in their portfolio.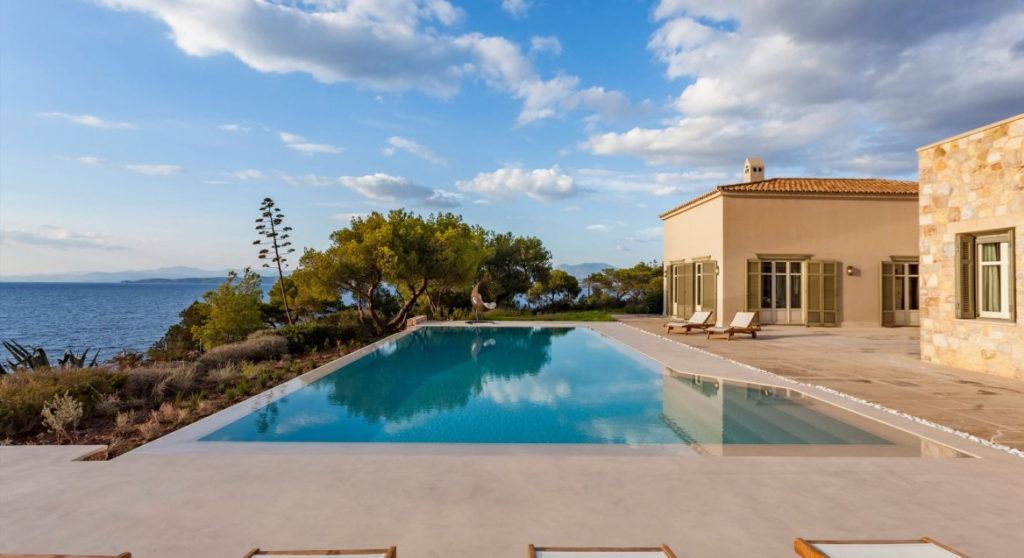 Kokorelia Architects. With offices in London and Athens, this multidisciplinary architectural practice was founded in 1983 by Eleni Nikoloudaki- Kokorelia. The team is engaged in a broad selection of innovative and environmentally responsible projects from large-scale buildings to small-scale installations, as well as refurbishments and renovations of residences, offices, and commercial buildings. With a strong record of being involved in the construction process, they are credited for their creative work for The Intermission art space in Piraeus, the Minas Jewellery Shop in London, and many exquisite private homes.
Kokkinou Kourkoulas Architects & Associates. Founding partners Maria Kokkinou and Andreas Kourkoulas, with long experience, graduate and postgraduate studies in Athens and London, are known for an array of elegant spaces, including the Skinopi Lodge Villas in Milos island, Moxy Hotel in Athens, several luxury private residences, and stunning interiors for Scala Vinoteca, Zurbaran, Vassilenas, and Ombra restaurants in Athens.
Tsolka Architects. Founded by Nikos and Marialena Tsolka, this creative architecture & construction practice based in Vouliagmeni, Athens, consists of a team of architects, interior designers, civil engineers working across the fields of architecture, interior design, construction, and real estate development. Their forte is building virtuoso compositions of line and form rooted in the classical tradition of modernism and embracing the dynamism and fluidity of contemporary techniques. Their artistic sensibility and conceptualization of each building as one piece of a larger urban and natural puzzle are refreshing. Bespoke solutions meet the highest environmental standards and utilize emerging smart technologies to ensure efficient energy use and low emissions. Their portfolio narrows down to luxury residences in the Athens Riviera, so if you are interested in an ultra-modern apartment or house on this charming coastal part of the Greek capital, these are the experts!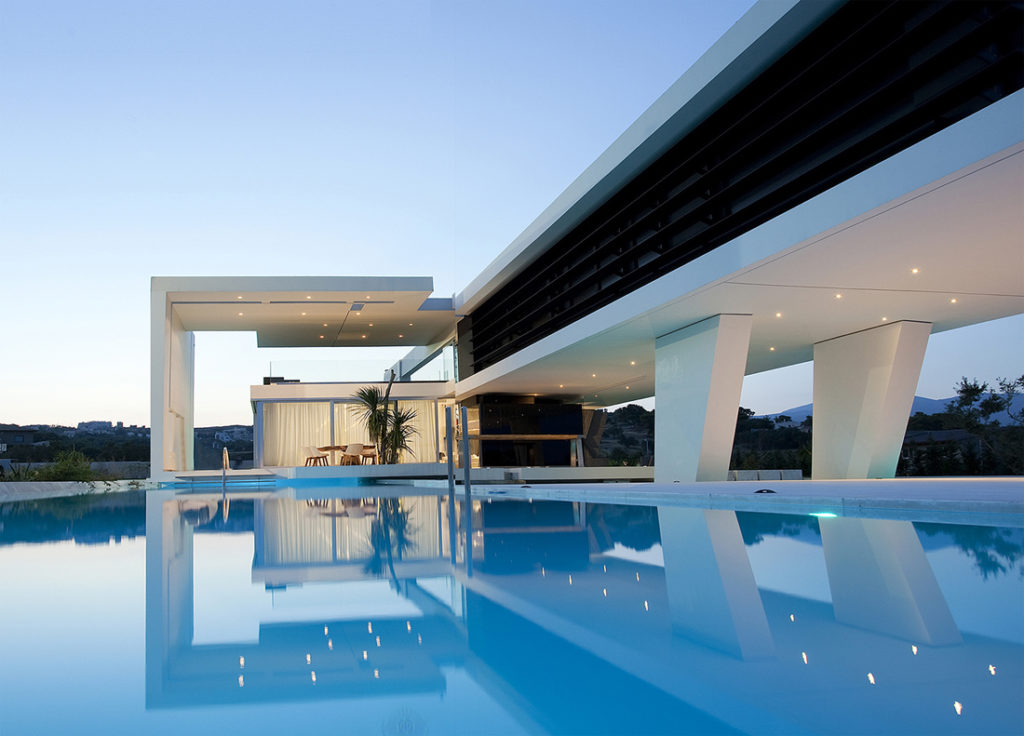 314 Architecture Studio. Known for futuristic residential concepts, Pavlos Chatziangelidis founded his architecture studio in 2004. He studied civil engineering in Athens and architecture engineering in Thessaly, Greece, and he holds a Master's degree in Design. The name 314 is inspired by the mathematic symbol π = 3,14 used to count the area of the circle and its philosophical dimension. The basic characteristic of his approach, besides the ecological, social, and programmatic ones, is the creation of a shell that urges the user to experience an abstraction. His H3 house in Athens is a representative work included among the "20 most popular projects" on 'Archdaily' in 2013. Since then, he has continued to produce designs that trigger the imagination.