Private Pools, Exclusive Spas, Romantic Dinners, and Sunsets in Santorini
A 45-minute flight from Athens and a 35-minute speedboat ride from Ios, Santorini is a spectacular setting where white-washed houses stand against a colorful-cliff backdrop. This world-famous Southernmost Cycladic island is the largest in an island group that was formed in antiquity after many volcanic eruptions as a collapsed caldera. With more than 15,000 residents and over 2 million visitors per year, this cosmopolitan tourist destination is included on many traveler bucket lists. Partly the victim and the beneficiary of mass tourism, Santorini tries to balance between high-end amenities and traditional infrastructure, in some cases seeming that those aesthetics have stuck to the not-so-stylish 80s. Still, the uniqueness of the natural setting makes up for it, especially these dreamy sunsets in caldera-viewing Oia, Imerovigli, and Firostefani that are hugely adored by Asians and not only. A pre-wedding, wedding, and honeymoon destination, Santorini carries with it the stamp of a must-visit place. We are navigating this reality by suggesting to you only the most exclusive places, and the signature ones. If you really want to experience luxury, you are recommended to invest a little extra in a nice hotel and gourmet dining options. You are encouraged to try some luxurious 'hyposkapha' which are cave-style rooms created after digging in the abundant pumice with insulating properties.
Accommodation in Santorini
Nobu Hotel Santorini. One of the most anticipated openings back in Summer 2022, this boutique hotel is the Japanese culinary brand's first hotel and restaurant in Greece. Located on the island's captivating northeast coast, it houses a signature Nobu restaurant, full-service spa, fitness facility, dual-level infinity pool, and five luxurious pool villas. It offers panoramic views of the caldera and the Aegean Sea from its unique clifftop spot in Imerovigli. Just a 10-minute drive to Oia and 20 minutes from the airport, the hotel is well-positioned along the Oia-Fira hiking trail. Helmed by world-renowned Chef Nobu Matsuhisa, Robert De Niro, and Meir Teper, the Nobu Hotel concept is a curated experience, with every property carrying the uniqueness of its locale.
Grace. Top-choice cliff-edged resort (Auberge Resorts Collection) with the best swimming pools and modern Cycladic décor; its caldera-view suites in Imerovigli are getting fully booked fast.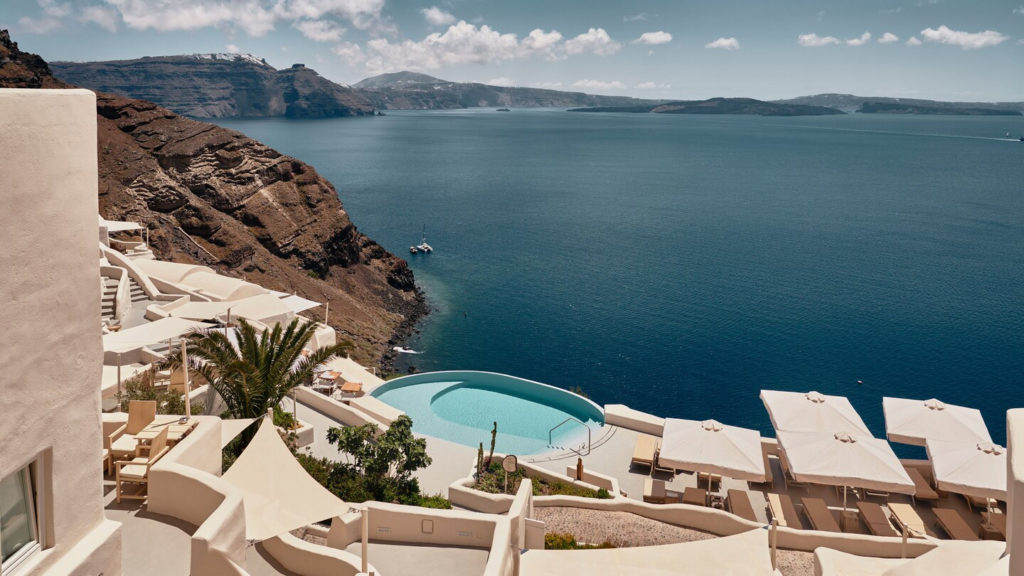 Mystique. Carved into the caldera cliffs of Oia, 41 Cycladic-style luxe suites and villas (Marriott's Luxury Collection) are complemented with sea view pools, a spa, a gym, and fab restaurants; one of them at a century-old mansion. Discover the hotel's gourmet restaurant "Lure" by acclaimed chef Olivier Campanha, a modern oasis inspired by the Mediterranean sea, highlighting the rich local epicurean heritage.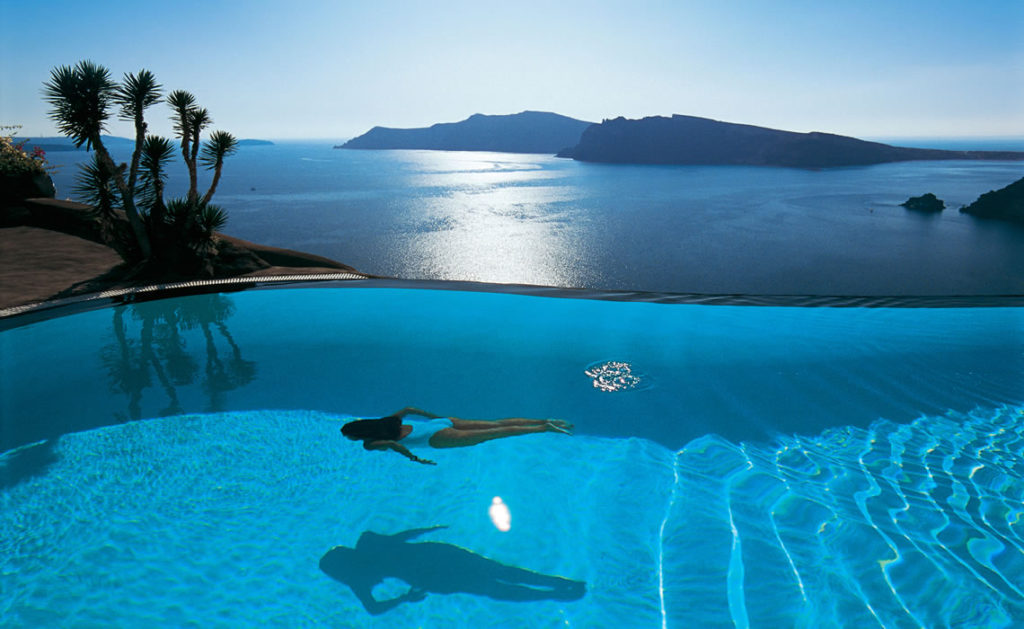 Perivolas. A short walk from sunset-central Oia, in a caldera-view cliff where 300-year-old fishermen's caves were restored, 20 unique suites are complemented with a wine-cellar restaurant, a gym, and pools.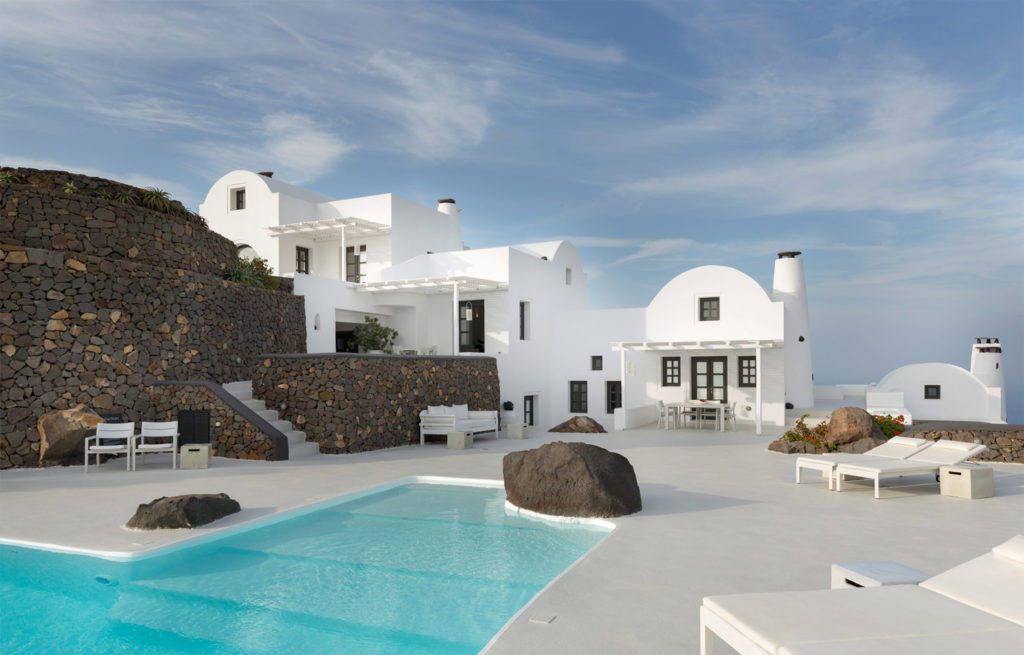 Aenaon Villas. Cycladic minimalist caldera-view luxe villas in Imerovigli — with Charissa probably being the most exquisite of all — plus an infinity pool offer privacy in an ultra-stylish setting.
Vedema. This Marriott resort in the medieval village Megalohori – based on a 400-year-old wine cellar and a 100-year-old mansion — houses 59 spacious suites & villas with their own terraces and some with private pools; plus the cave restaurant Alati and the poolside one Pergola (all menus by renowned French chef Olivier Campanha).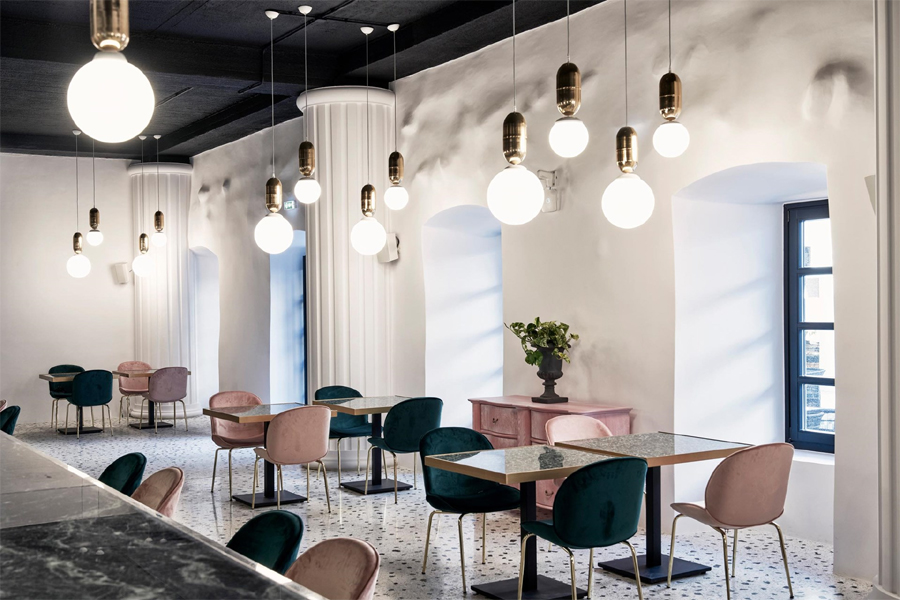 Katikies. Enjoy the sunset in Oia from your Cycladic-style suite, the pool, the Seltz Champagne Bar & Restaurant by Fleur de Miraval (a rosé champagne house co-founded by Brad Pitt), or one of the sea-view restaurants. Experience the holistic approach spa. The Katikies Collection includes more locations and luxury hotels including the highly-recommended, 5-star Katikies Garden. Nestled in the historic town of Fira, Katikies Garden is an enchanting holiday retreat with a bespoke collection of 40 suites, and beguiling wellness & leisure offerings. A converted monastery, the historic building stuns its guests like no other, offering an intimate sanctuary of sophisticated yet pared-back spaces. Plus, it gives you the opportunity to sail aboard the hotel's private yacht with its experienced crew and discover hidden "gems."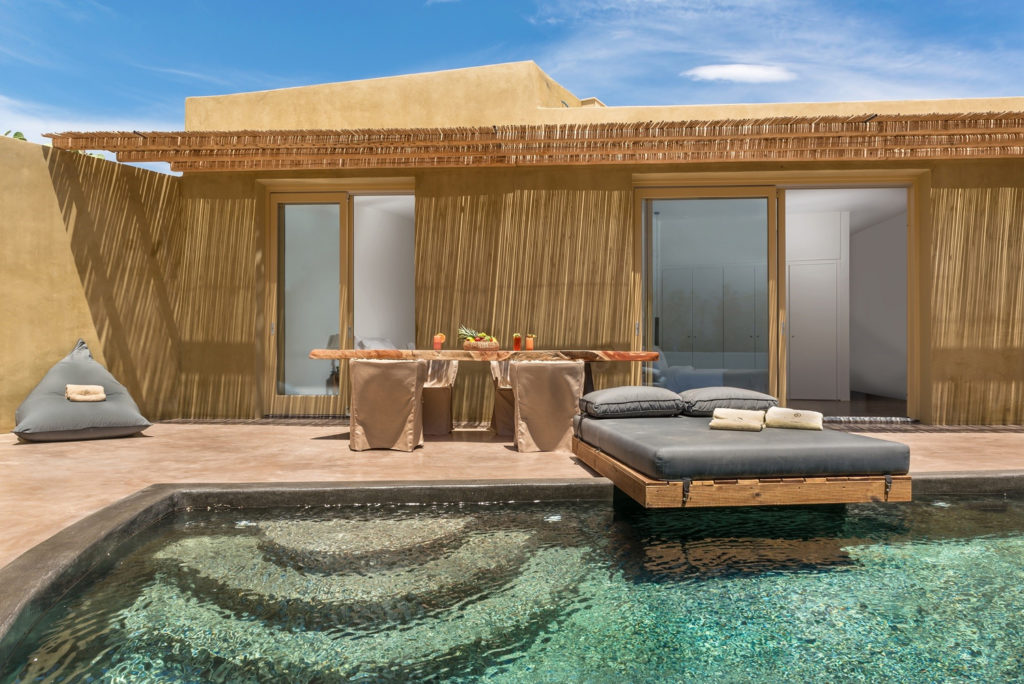 Andronis Concept. At caldera-view Imerovigli, 28 pool suites and villas offer 5-star wellness-focused service including the gourmet restaurant Throubi and a spa. Wood and other raw materials are Zen decorative touches. The Andronis group includes some other locations on the island of which we equally recommend the Andronis Boutique Hotel, the Andronis Arcadia, and the Andronis Luxury Suites in Oia.
Rocabella Santorini. Perfect caldera-view location in Imerovigli and luxe amenities for 42 rooms and suites are combined with dining and wellness options. Indulge into the luxury and sophistication of a top-rated two-bedroom suite featuring spacious comfort and style in harmony with the outstanding excellence of Cycladic décor and cherish moments of bliss in an expansive veranda with a private Jacuzzi overlooking the volcanic cliff of caldera. Or opt for smaller suites with mini plunge pools. Inspired by a rare local natural phenomenon, the hotel's Anedosa Spa by Ariadne Athens offers a unique beauty & wellness experience.
Cavo Tagoo Santorini. Not as luxurious and fancy as its sister hotel in Mykonos, it nevertheless has elegant suites with private pools, a chic pool bar, and a spectacular caldera view in Imerovigli. For 2021 the hotel welcomes one of Greece's most influential chefs, Ari Vezené, and his eponymous bistro, widely considered as an Athenian locals' favorite for over a decade. Enjoy flavors fueled by the aromas of an open fire grill, the traditions of a Greek taverna, and the elegance of a French bistro.
The Vasilicos. Formerly the private sanctuary of a passionate art collector, it consists of a constellation of yposkafa, the cave-like structures typical of caldera architecture. Furnished with unique pieces, either commissioned or handpicked from the family's private collection, the 7 beautifully pared-down suites offer the ambiance of an eclectic, highly private den. This historic carefree summer house was transformed into a unique boutique hotel that combines luxury accommodation amenities with a homey feel. The hotel's name is inspired by the owner's name and the Greek word for his favorite herb, basil. Echoing the word "basilica," it also alludes to the monastery nearby. Guests can enjoy VIP treatment at the hotel's sister winery Vassaltis. Wine tasting and private dining are a must in this hotel. In-house chef Yannis Kourtesis preps for you a caldera-view candlelight bespoke dinner based on seasonal local produce and the day's market. Aesthetics are extremely refined in this property featuring handmade ceramics, custom beach towels and blankets, and soaps handmade with olive oil. It's all in the details and the air of exclusivity! 4 suites are equipped with private plunge pools, and the other 3 have direct access to the heated main pool, which is one of the largest on the caldera.
Noūs. Located in Messaria, this relatively new 5-star luxury resort hotel (opened in Summer 2022), part of the Yes! Hotels group owned by world-renowned art collector and entrepreneur Dakis Ioannou, features world-class interior design and outdoor landscaping. Its unique style and services combine local tradition with contemporary elements. It offers a contextual experience and a concept that goes beyond the current 5-star-luxury perceptions, infusing it with the notion of abundance in terms of space and time. It is ultra-chic, unpretentious, and eclectic embracing culture in the most sophisticated and authentic way. Stylish rooms, bungalows, and suites are complemented with incredibly elegant facilities including an outdoor pool lounge, two restaurants with recipes based on top-quality local fresh ingredients and the simplicity of the Greek cuisine, a vitamin bar for clean eating, an indoor pool, and a fully organized spa/wellness center.
Istoria. On the black volcanic Perivolos beach, this stylish 12-suite retreat appears as a unique blend of classic and contemporary aesthetics meeting all the needs of sophisticated travelers with an experience that is authentically Greek. The suites are complemented with verdant terraces, and, in most cases, private outdoor hot tubs or pools. An impressively large pool, decorated with a spectacular green artisan tile work, ensconced within protective walls and bounded by loungers is enhanced by a statement sunken pool bar. Open to the elements beneath canvas sails with stylishly rustic wooden tables and chairs set on the black sand, Istoria's Mr. E Restaurant, led by new acclaimed chef Yiannis Kioroglou, is home to Greek gastronomy reimagined. Offering a unique culinary journey that is influenced by Santorini's epicurean heritage and its abundance of fresh seafood, the cuisine pays tribute to traditional recipes and local produce. Holistic treatments based on regionally-derived organic ingredients are offered at the hotel's Elios spa.
Kapari Natural Resort. It is a recently restored 300-year-old complex of caves and traditional residences in Imerovigli with 5-star elegant amenities & facilities and a caldera view.
Cosmopolitan Suites. This modern Cycladic caldera-view 4-star boutique hotel at the capital Fira offers easy access to nightlife.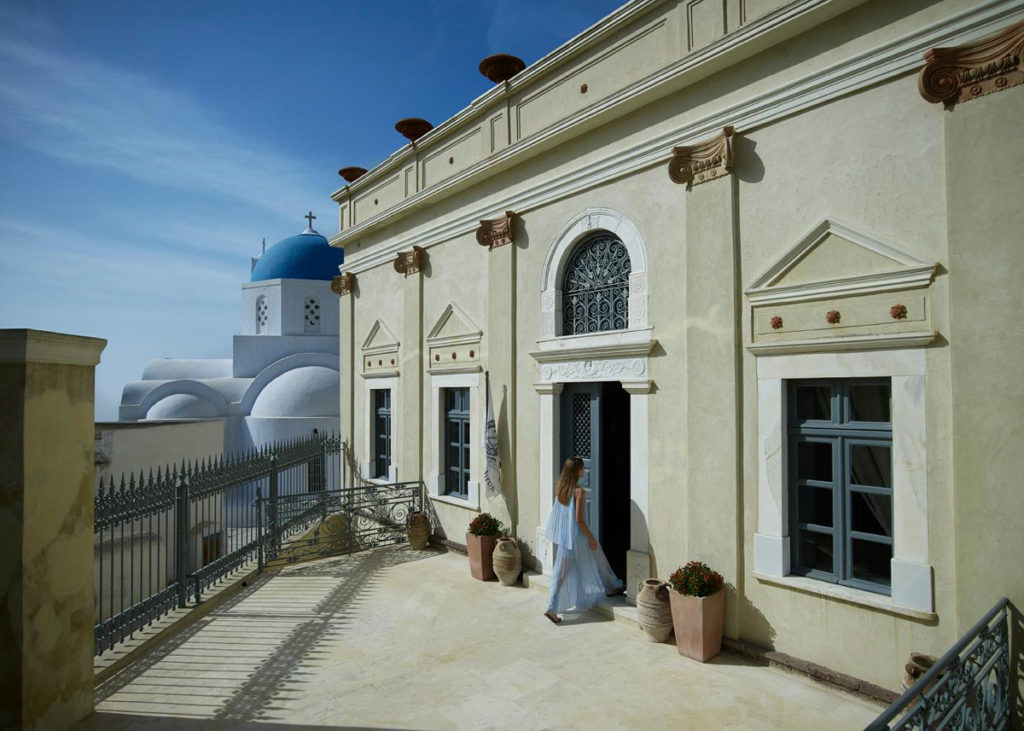 Zannos Melathron. A renovated 19th-century mansion and 18th-century villa, located in the medieval village Pyrgos, have charming rooms decorated with Renaissance-inspired murals; plus a distant-sea-view pool & restaurant. This Relais & Châteaux listed hotel takes us back to old-school luxury.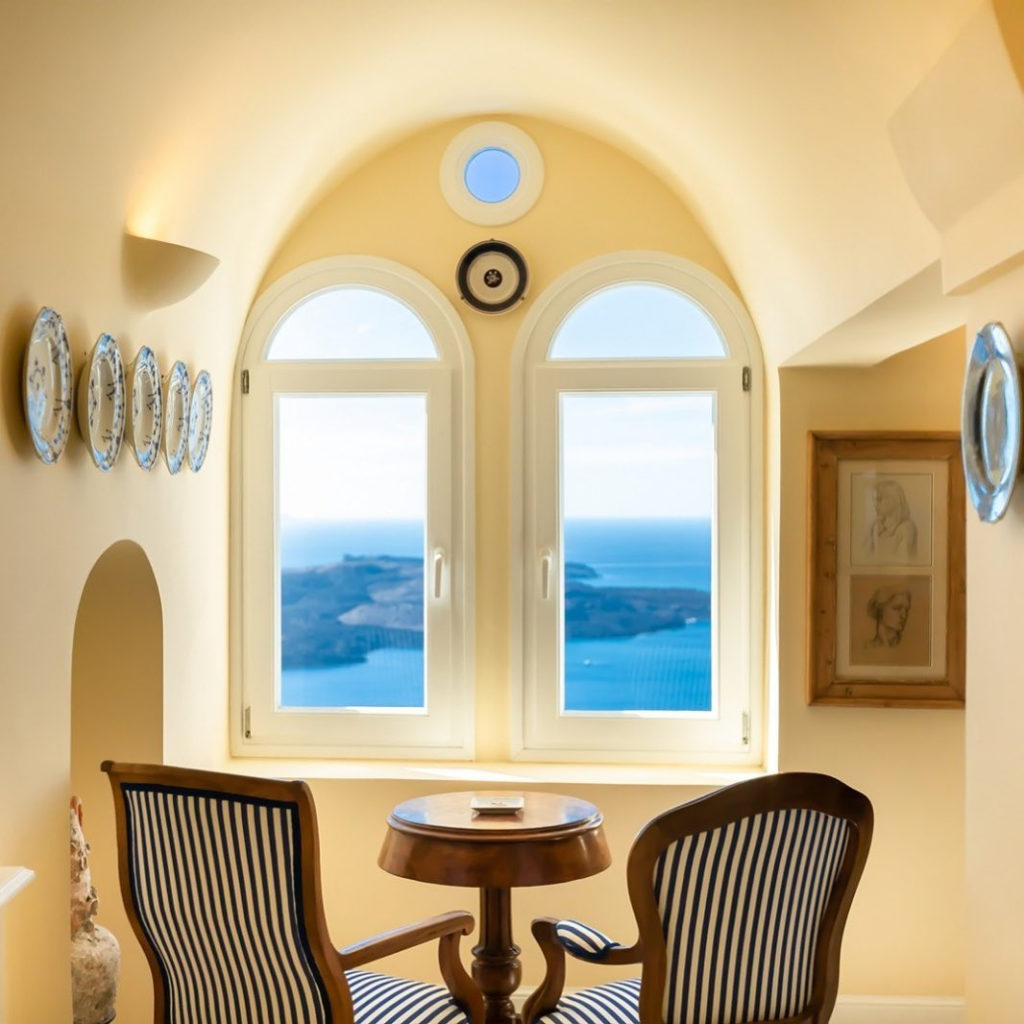 Tsitouras Collection. This renovated mansion built in 1780 in Firostefani is filled with antiques and works of art collected by wealthy lawyer Dimitris Tsitouras. It features a caldera-view pool, and one of the 5 suites was designed as an homage to his friend Rudolf Nureyev.
Erosantorini. An exclusive-use estate on 2 glorious cliff-top acres—offers a bespoke retreat for up to 10 adults and 4 children, with seamless, anticipatory service provided by a dedicated on-site team. The best of Greek gastronomy is made-to-order and prepared with the freshest homegrown ingredients. An array of activities, on-site and off, are curated to suit your mood and preferences. This place represents the best of all worlds for a discerning and fortunate few, combining the most desirable elements of a luxury resort, an exclusive private villa, and the welcoming home of a beloved friend. Located 1,000 feet above sea level, it offers panoramic views of Santorini's iconic villages, caldera, and dazzling sunsets in complete privacy. The graceful Cycladic cubist buildings and outdoor living spaces are laid out on 3 levels, all conceived by Athens-based x2 Architecture and decorated by acclaimed Italian designer Paola Navone. Among other options, you can check the caldera on board a private yacht accompanied by the estate's chef creating a bespoke menu.
Things to Do in Santorini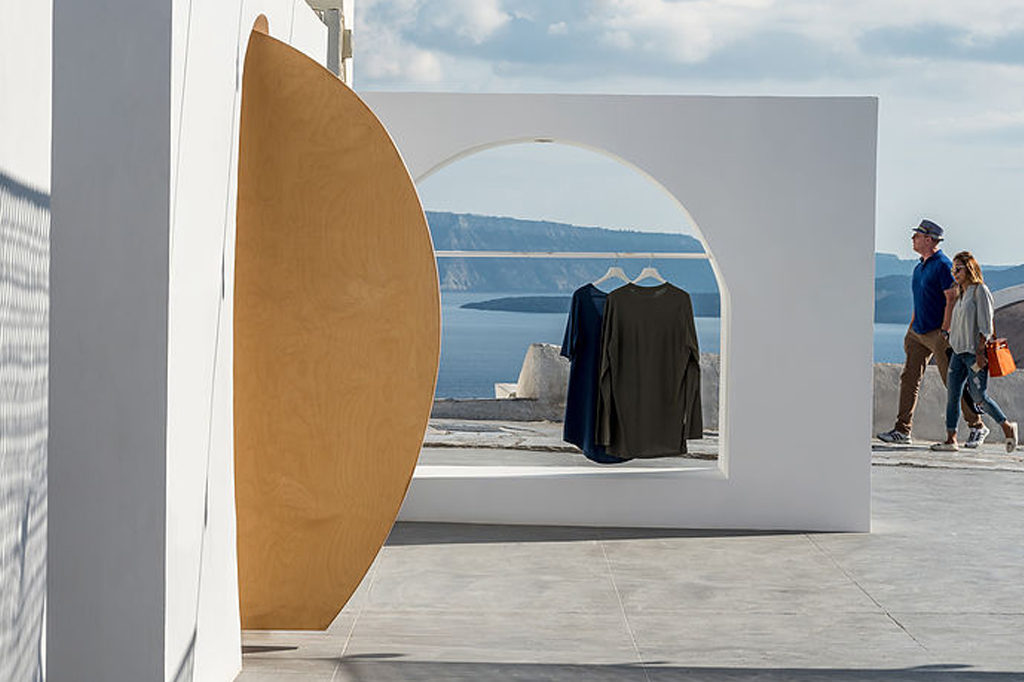 Smaller islands like inhabited Therasia (check Perivolas Hideaway) and uninhabited Nea Kameni (near the dormant active volcano), Palaia Kameni (swim in its volcanic hot springs), and Aspronisi (that translates as White Island), can be the stops in a boat tour to the caldera. 3,600 years ago at the height of the Minoan civilization (ancient civilization in Crete), Santorini which was culturally and commercially connected to Crete, became the site of one of the largest volcanic eruptions in recorded history that also caused a tsunami toward Crete. An extraordinary Minoan town called Akrotiri (first excavated in the late 60s) dating back to 3000-1630 BC has been amazingly preserved with its masterful multicolor frescoes under solidified volcanic ash and can now be visited in some of its spaces, as part of your recommended sightseeing along with the Museum of Prehistoric Thera (another name for Santorini). The East coast has no cool view of the caldera and hence it's less exclusive; its black-sand beaches, such as Perivolos, Perissa, and Kamari, being massively visited and filled with buzzy beach bars and restaurants. Monolithos is the only less crowded black beach. Famous Red Beach is unique but often packed, Eros beach has an amazing bar and sunbeds, and all-natural White Beach is quiet and spectacular. In the busy capital Fira, Odos Ipapantis dubbed 'Gold Street' is known for its jewelry shops; for Greek-inspired fine jewelry visit Poniros and Ilias Lalaounis. Shopping is a great pleasure at the Speira Santorini Concept Store.
Wine Tasting in Santorini
Volcanic (although arid) land and its mineral-laden soil are an ideal setting for local vineyards that organize excellent wine tasting sessions & tours – try the indigenous grape variety called Assyrtiko (white wine type) and the barrel-aged intensely sweet Vinsanto dessert wine.

Vassaltis Vineyards. The latest addition to the local wine scene produces among the best Assyrtiko wines.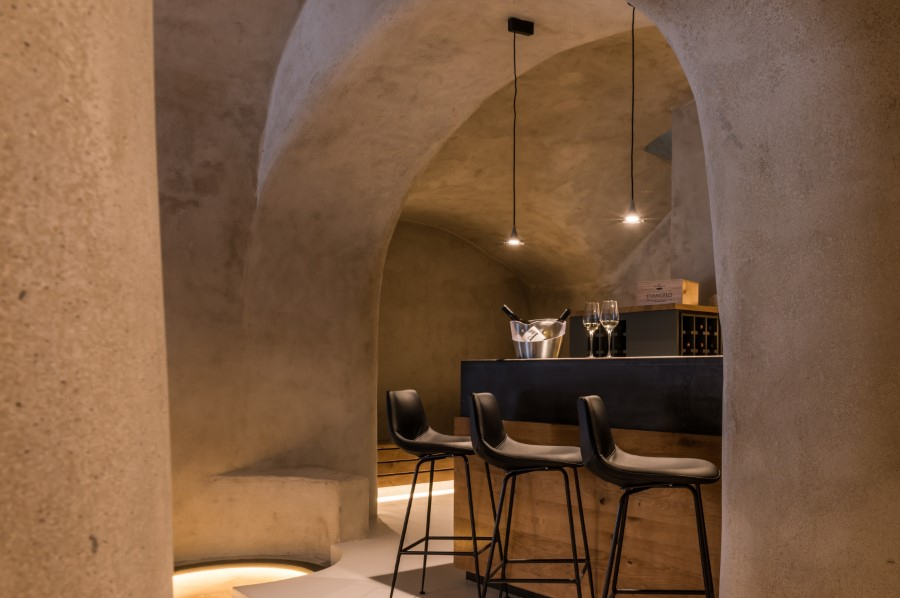 Volcanic Slopes. Its story as a winery and as a 'cavana' (traditional wine-making space) goes back to the 18th century. Try their 'Pure' Assyrtiko and labels from other producers.
Venetsanos Winery. Dating back to 1947, it is the first industrial winery on the island. Taste their own Assyrtiko, Rosé, and red wines on their sunset terrace.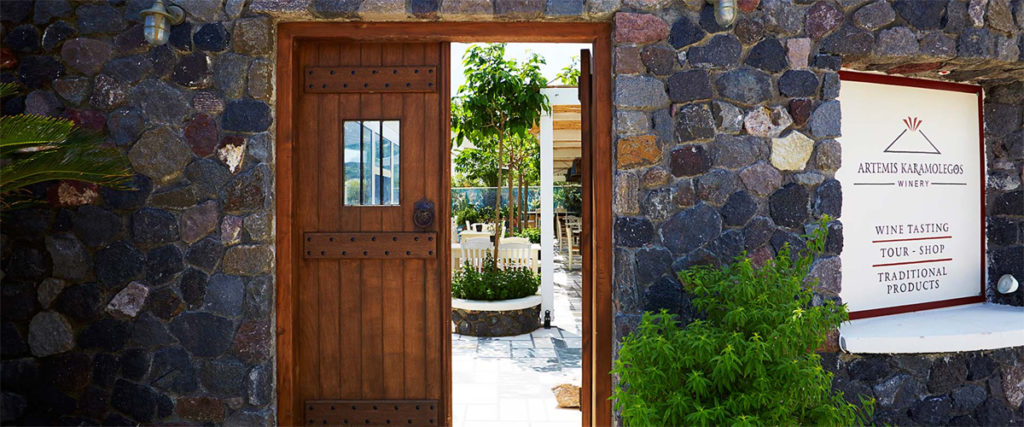 Artemis Karamolegos. The 3rd largest winery on the island producing 11 different wines is complemented by a farm-to-table Greek restaurant.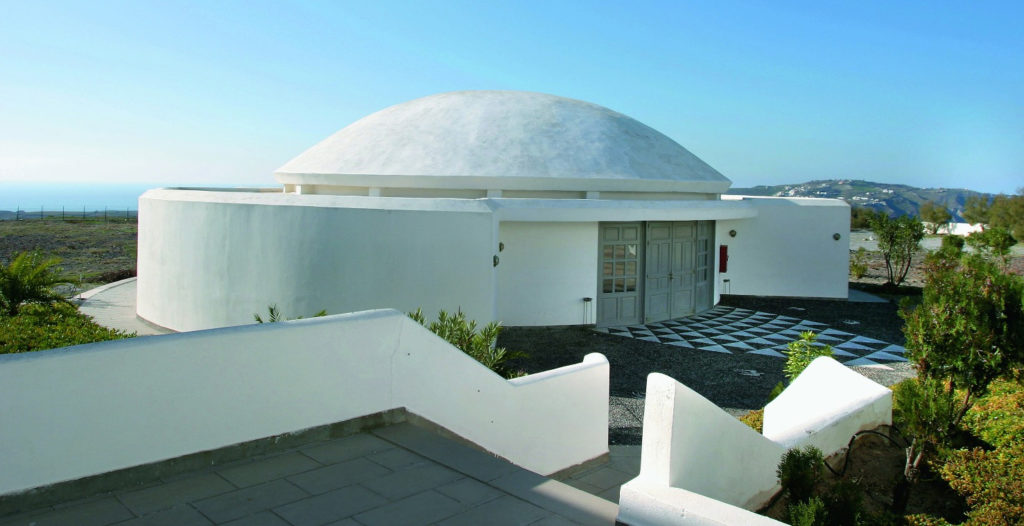 Boutari Santorini. One of the most awarded Greek winemakers organizes food & wine private and semi-private tours, plus tasting at their restaurant.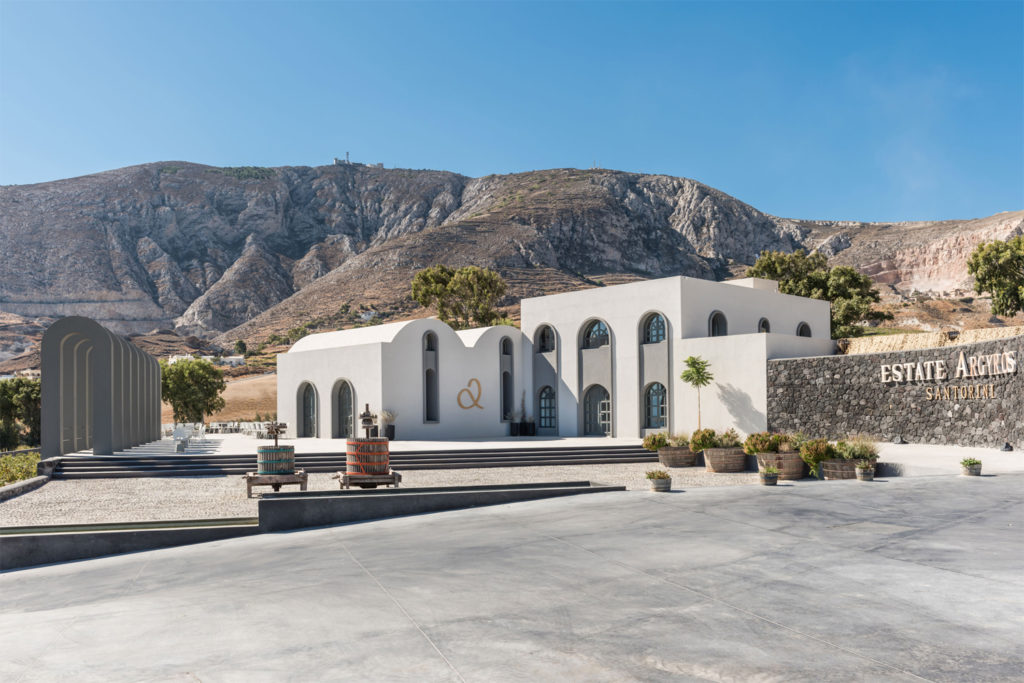 Estate Argyros. Established in 1903, these 70-year-old (on average) vineyards produce outstanding indigenous varieties and offer you a stylish wine-tasting culinary experience or an exclusive custom tour.
Check more about the finest Greek wines HERE
Restaurants & Bars in Santorini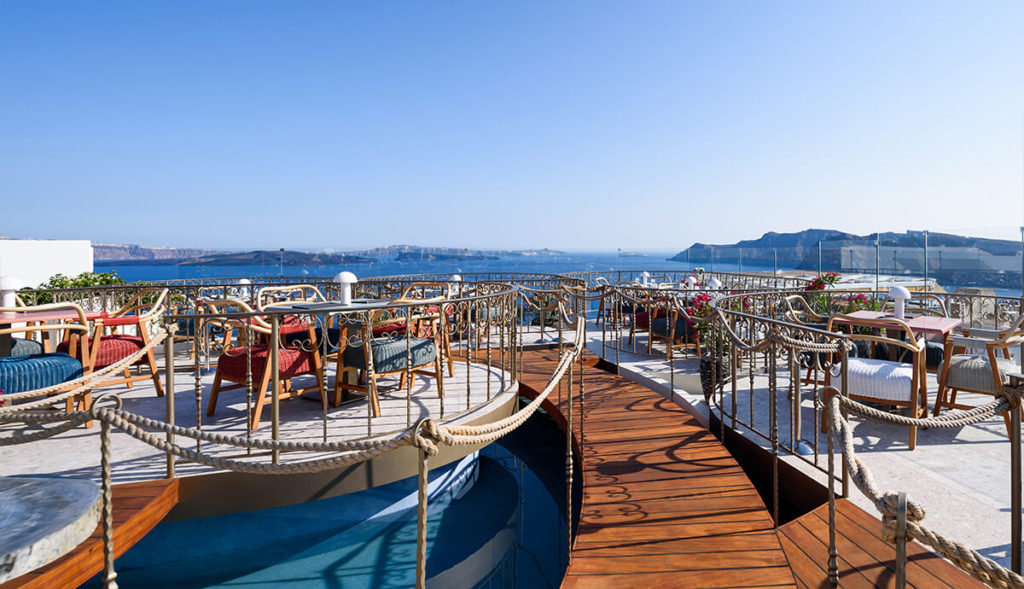 Naos. One of the finest dining experiences is taking place in Oia, in a superbly renovated majestic mansion (captain's house) of Aegean architecture built in 1845. Purity of flavors and respect for the exceptional local ingredients are at the core of our gastronomic identity. Multi-awarded executive chef Theodoros Kakoulis' philosophy is about creating authentic dishes inspired by the Greek and Mediterranean culinary heritage. Boasting a career stint at the 3-Michelin starred restaurant "Maaemo" in Norway, he has cooperated with some of Greece's emblematic restaurants contributing to their success and recognition. At Naos, the best Greek products, the freshest local fish, and some of the world's rarest gastronomic treasures are delicately treated to compose an intriguing menu with a creative spin on traditional recipes. The captivating view of the terrace and cocktail bar make a lively and radiant setting that embraces this sensorial journey through flavors and aromas.
Seaside Santorini. This is your chance to enjoy Mediterranean gourmet seafood in a stylish beach-front restaurant, bar, and lounge in Perivolos. The experience includes a full-service beach and a fashion boutique. In the kitchen, Mediterranean flavors elegantly blend with the creative funky culinary "remixes" and the personal style of chefs Tassos Bacharidis and his business partner Maria Christofidou.
Ambrosia. This upscale & posh caldera-view Mediterranean gourmet restaurant in Oia is world-famous. Enjoy your candlelight dinner on the panorama terrace overlooking the caldera or dine in one of its two antique-filled indoor spaces.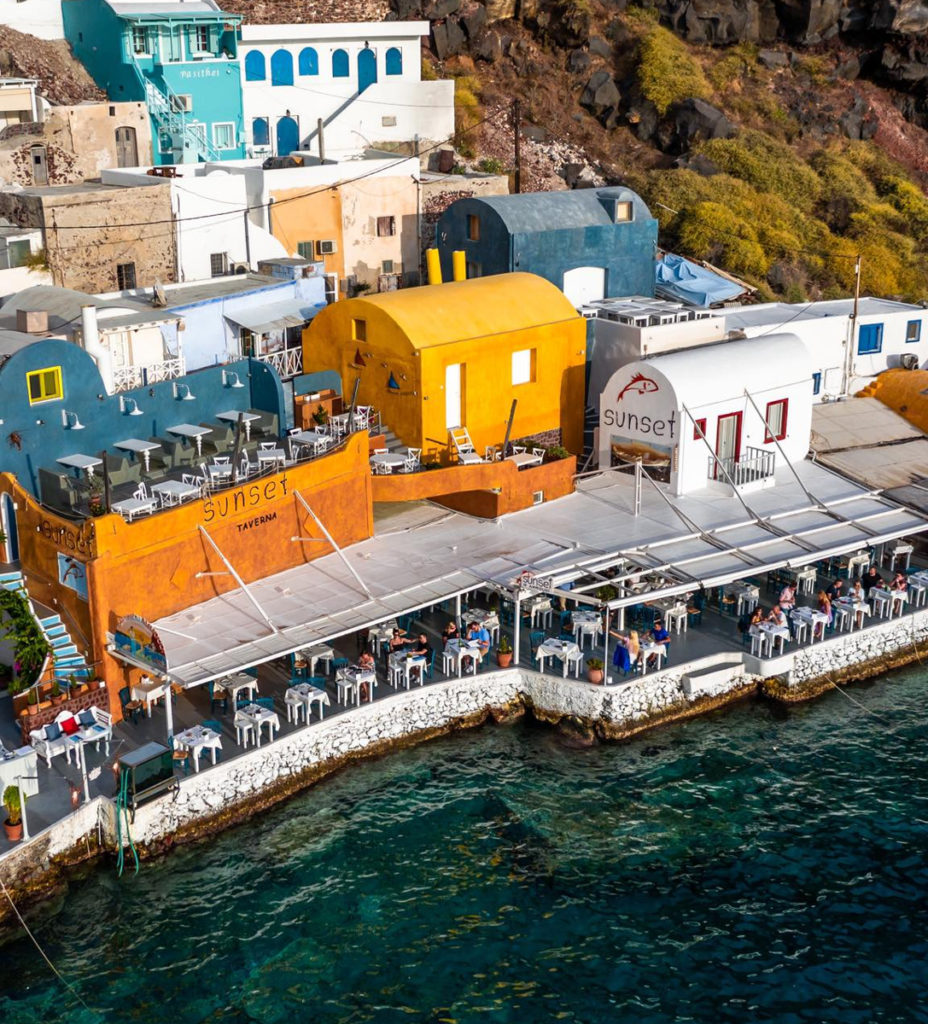 Sunset by Paraskevas. This simple 30-year-old restaurant at the port of Ammoudi has a top-secret recipe for lobster pasta and the freshest seafood picked by a former fisherman. Paraskevas and wife Margarita in the kitchen make sure your effortless, idyllic lunch or dinner is pure delight.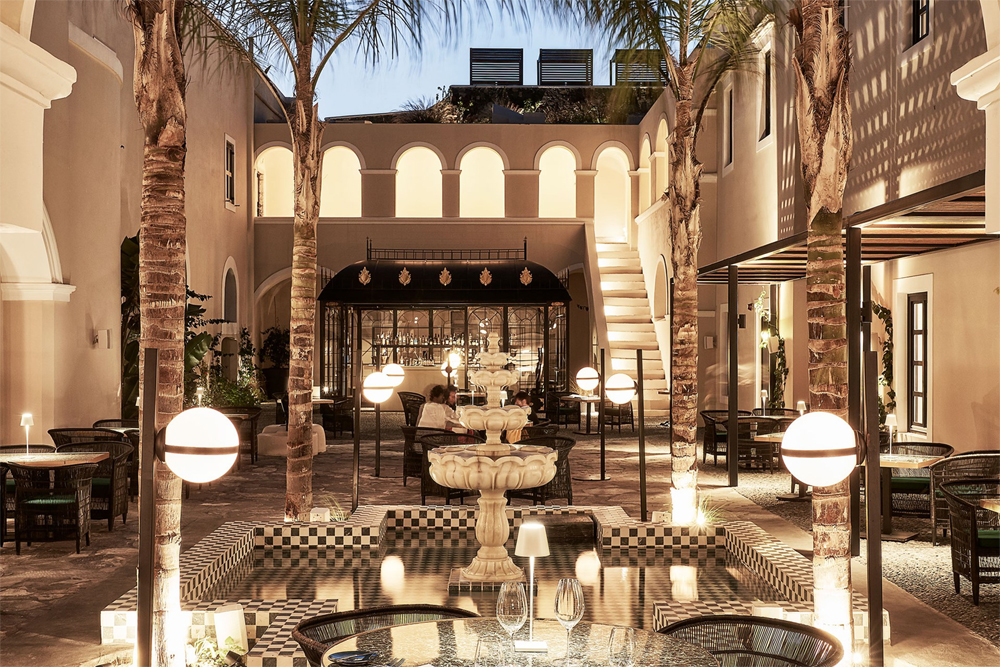 Selene. Inside Katikies Garden Resort, at a historic building formerly housing a Catholic monastery in Fira, it serves inventive Greek gourmet and Greek wine pairings. Giorgos Hatzigiannakis and his Selene Restaurant are names connected, like no other, with the rediscovery and promotion of the culinary treasures of Santorini. Back in summer 2021, the restaurant announced its new collaboration with Michelin-star Corfiot-Italian chef Ettore Botrini who transforms the local fine ingredients into contemporary dishes, evolving the gastronomic scene of the island. In the passage of the Selene restaurant to its new era — on its 35th-year milestone — "I meet with the man I always admired to take and continue, his vision, with respect to his course and work," Mr. Botrini remarked. At about the same time, Yiannis Karakasis MW (Master of Wine), one of the approximately 400 Masters of Wine in the world, took charge of the restaurant's wine section, placing emphasis on the Santorinian vineyard. Sounds like a match made in heaven!
Aktaion. Operating since 1922 under 3 generations of the same family and with the current owner filling the cute traditional space with his own artworks, this historic restaurant serves still the same delicious dishes. Santorinian dishes like fava, korkosela (eggs with fresh tomato and green bell pepper), Santorinian salad with codfish, octopus with fava and sweet capers, the historic Santorini tomato balls, chloro cheese of Santorini, skordomakarona (pasta with garlic), and moussaka in the oven, and a range of options with meat and seafood plus various daily specials, and wines from the island's historic vineyards accompany in the most tasteful way the view to the world-acclaimed caldera of Santorini.
Along with premium-level luxury accommodation, we must say that the Andronis group has done a magnificent job with its restaurants in its hotels in Oia. If upscale dining is your thing, try Lauda in the Andronis Boutique Hotel, built on a rock in 1971, as the village's first restaurant, today a gourmet destination with a menu developed by 3-Michelin-star chef Emmanuel Renaut. Also, in the summer of 2023, Santorini welcomes its first ever Beefbar at the iconic Andronis Arcadia, offering an exciting culinary voyage that blends elegance, excellence, and simplicity. The unique dining experience, crafted by Chef George Kyrtsallidis and designed by Cédric Capron and Virgil Donat, is based on three pillars: globally inspired street food, high-quality meat cuts sourced from Australia, Japan, and the United States, and iconic dishes from sides to desserts. In the same hotel, try Pacman for sushi with a spectacular view. Finally, don't miss Lycabettus in the Andronis Luxury Suites in one of the most romantic terraces of Oia.
Marykay's or Hassapiko bar. This former butcher's shop in Oia turned into a cute 24-hour spot for drinks & snacks indoors, but especially outside on the pedestrian street, is the meeting point of a global clientele since 1991. Τhe DJ in this cult spot plays funk, jazz, disco, house, latin, rock, and more, adjusting to preferences.
Tango. This established caldera-view champagne & cocktail bar at Fira has the most majestic cliff-side terraces. Minimalist lines, sophisticated décor, smart touches, and acclaimed guest DJs create an irresistible atmosphere, hence it is getting packed after midnight.