Fine Arts, Maritime Heritage, and Sustainable Transportation on the Cosmopolitan Greek Island of Hydra
Hydra is one of the Saronic Gulf islands which are the nearest to Athens. It is elegant and authentic, the most stylish version of a Greek island. Get ready for a quick boat ride to Hydra with a crescent-shaped port that is even more amphitheatric, surrounded by old stone mansions built by wealthy naval war leaders and ship owners through the last centuries. This cosmopolitan and artistic island has been a maritime stronghold, a cultural center, and in recent decades a discreet haven for the rich & sophisticated. The strict no-car/motorbike policy – only donkeys, mules, horses, and water taxis are allowed for transportation – will encourage you to walk all these short distances and exercise, which is also a very attractive concept to those focusing on wellness. Art connoisseurs such as billionaire art collector Dakis Joannou and singer/songwriter Leonard Cohen have shared publicly their affinity for the island. In the 60s and the 70s, it was visited by icons such as Sophia Loren, Richard Burton, Mick Jagger, Keith Richards, Pink Floyd, Joan Collins, Brigitte Bardot, John Lennon, and Jackie O. Elizabeth Taylor owned a home there until her death. Famous conceptual photographer Juergen Teller is a regular along with an eclectic list of elite foreign visitors. Kate Moss loves it too.
Accommodation in Hydra
Bratsera Hotel. This is our favorite choice in Hydra and coveted among A-listers too. Bratsera means the mother ship where Greek sponge divers relaxed after solitary hours in the sea. It is a serene boutique hotel inside an 1860s renovated sponge factory. Today, this building, with the only hotel swimming pool on the island due to limited water reserves, features many luxury amenities. Rooms and suites are decorated in the traditional island-chic style.
Leto Hotel. Without a pool but with the authentic aura of a 50-year-old 5-star hotel hidden in a picturesque alley near the port, it emphasizes Greek hospitality in roomy spaces accented with neoclassical and traditional island-style furniture. The homemade hotel breakfast is yummy with local desserts and pies, served in a beautiful space decorated on the walls with artisanal crochet creations.
Four Seasons Hydra. Right on the beach of Plakes near Vlychos, you will also find this elegantly renovated estate comprised only of suites plus one villa. It offers cruises with its own wooden sailing boat and also shuttle boat rides from the port, as walking to the hotel might take you 45 minutes, which you are recommended to do when you have enough time to enjoy the surrounding nature and the sea view. This boutique resort is also known for excellent service on its beach with sunbeds, umbrellas, changing rooms, a restaurant, and a bar. It is the perfect place to unwind and embrace beach culture in a laidback yet luxurious form.
Orloff Hotel. 6 rooms and 2 suites in a house built in 1796 by a Russian noble sent by Catherine II to assist the Greek war of independence against the Turkish rulers comprise the first boutique hotel on the island that opened its doors in 1986. Renovations with respect to the traditional island style have turned it into a highly recommended option.
Cotommatae 1810 Guest House. One of the most important mansions at the port of Hydra has been lately restored as a special type of boutique hotel. It belongs to the Historic Hotels of Europe, dating back to the early 19th century. Exceptional architectural elements such as the masterful ceilings of the hall and of the drawing room, the wooden walls, and the chestnut tree wooden roofs have been preserved. Beautiful outdoor spaces include a garden, courtyards, and verandas. It has 5 suites, each very special in terms of the interiors.
Hydrea. Originally built in 1803, this beautiful archontiko (the Greek word for 'mansion') was restored to all its former glory in 2010 and since then guests are invited to enjoy the exclusivity of staying in one of the island's stately, historical homes. The sea-view building has a handful of suites, masterfully renovated and some overlooking the port. Hydrea invites its guests to its official partner restaurant, Castello, to taste delicious Mediterranean dishes from breakfast to gourmet lunch or dinner. It is in a fully renovated 18th-century fort-like building in the neighborhood of Kamini, with a breathtaking sea view from its romantic terraces and a sunbed-equipped beach lounge. Hydra Hotel is another partnering boutique hotel of similar allure with modernized, minimalist interiors.
Restaurants/Bars & Beaches in Hydra
If you are daring enough to swim in springtime, take a dip in the water from the iconic rocks of Spilia, Avlaki, and Hydronetta (not exactly beaches); the last one is also suggested for its famous sunset-cocktail Hydronetta bar that is literally hanging from the cliff. Regarding other beaches, you can walk to Kamini and Mandraki with a resort & beach services (sushi is an option!) or take one of the many water taxis to the beaches of Saint Nicholas, Vlychos, and Bisti.
Omilos restaurant. For cocktails and a cosmopolitan dinner, try the exact building of the internationally known legendary nightclub Lagoudera – that has seen Brigitte Bardot, Aristotle Onassis, Jackie Kennedy, The Rolling Stones, Elizabeth Taylor, John Lennon, and more VIPs dancing or flirting in the 70s. It's renamed, yet it is still a magical place.
Téchnē restaurant. Gourmet is served by young yet experienced chef Yannis Michalopoulos who is lately receiving great reviews for his farm-to-table modern Greek kitchen offerings.
Sunset restaurant. Another one at the port with a great view, it has been awarded 2nd place globally among 'restaurants with a view' by ABC News. Since 2021, the restaurant's Executive Chef, George Gkoridis, has been honoring Sunset's core cuisine, which focuses on fresh fish and seafood. He has introduced "rawism" dishes that are in line with current culinary trends. Drawing inspiration from Peruvian, Japanese, and Mediterranean cuisines, the revamped menu showcases raw food dishes like ceviche, sashimi, and tartar. You will most probably appreciate the clean, crisp sea flavors, as well as the sustainably sourced and organic ingredients used. Top picks include the infamous Seabass Ceviche, Octopus Carpaccio, and Seafood Arancini.
Mikra Agglia. This comfy & stylish restaurant near the port waterfront provides a multi-sensory experience for guests with its delicious brunch, lunch, and dinner menus. The restaurant prides itself on using premium ingredients sourced from local suppliers and creating a dining atmosphere that translates local culture into a modern culinary experience. Set in a sophisticated space with rustic undertones, it offers elegant details such as a bar, an open kitchen, a glass-wall wine cellar, and a mini boutique selling artisanal products from homeware to hand-woven purses and colorful fans. The menu features inventive variations of classic Greek dishes and other mouth-watering options inspired by Mediterranean cuisine. It consists of indoor and outdoor spaces, including a protected backyard.
Kodylenia's Taverna. Nestled along the waterfront in Kamini, this traditional restaurant boasts a stunning terrace that can accommodate up to 120 guests. The ideal spot to witness breathtaking sunsets, the taverna offers a mesmerizing natural backdrop. Below, a picturesque fishing harbor filled with wooden boats and local fishermen adds to the charm. Open from March through October, Kodylenia's Taverna is easily accessible by a 15-minute walk, traditional boats, or high-speed water taxis from the port. For first-timers on the island this is a hidden gem, while for locals, it is one of the best casual restaurants with impeccable service, especially when not too busy.
Sightseeing in Hydra
Lazaros Koundouriotis Historical Mansion & Museum. Take a glimpse of the grandeur of the famous local captains' mansions from a visit to this home-turned-museum, where you can be guided to the affluent 19th-century island lifestyle.
Tetsis Home & Studio on Hydra. This enchanting island residence is a space where parts of the life and work of painter and academic Panagiotis Tetsis (Hydra island, 1925 – Athens, 2016) unfold before your eyes. Step into the beautifully preserved 19th- and early-20th-century home of his grandparents, which also served as the workshop for the family's traditional candle manufactory and grocery shop-tavern, now on view as well. Tetsis, a prominent figure in Greek Post-Impressionism and Expressionism, transformed the upper floor sitting room into a studio, creating a haven of artistic inspiration. Tetsis grew up on the island, and this house is linked to his first attempts at painting and art in general. As you wander through the space, you'll marvel at Tetsis' masterful works of art, including portraits of friends and family that he painted in his later years. The establishment of the "Armos" art group by Tetsis and fellow artists in 1949 signaled Hydra's emergence as a hub of creative inspiration. Don't miss the chance to immerse yourself in the world of this remarkable artist. The Tetsis Home & Atelier has been donated to the Historical and Ethnological Society of Greece and operates under the management of the Lazaros Kontouriotis Mansion from where you can get tickets too.
Museum of Hydra. You should also check this one located in a majestic stone building right on the port. It houses many items donated by the descendants of the families who dominated the island's social structure in the 1800s and were instrumental in launching the Greek War of Independence. The museum has a distinctive nautical theme which reflects the strategic importance that Hydra held during that time as a safe harbor from which to launch the Greek fleet.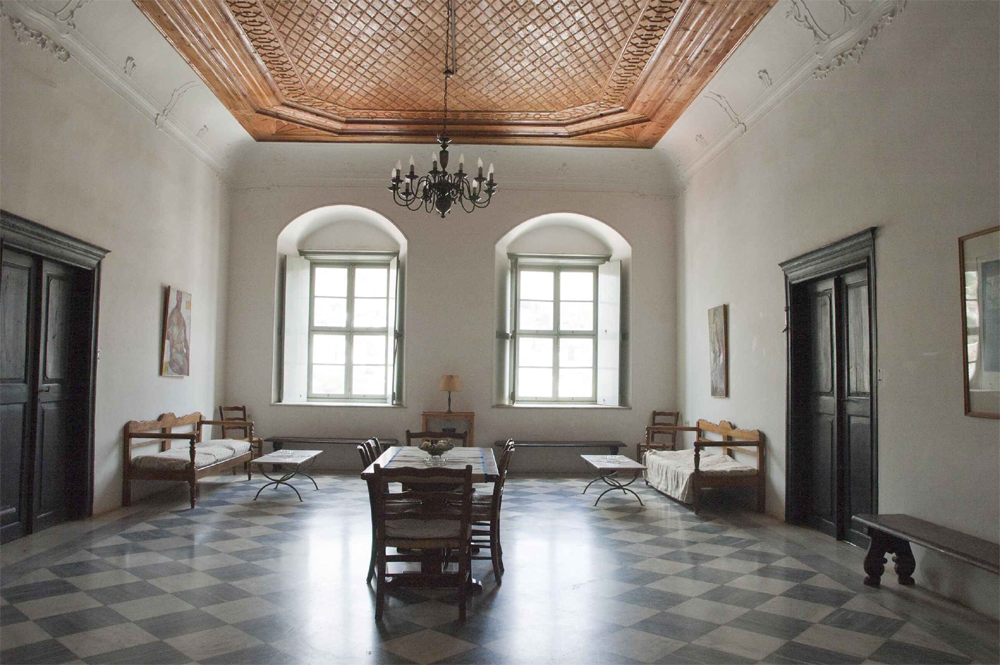 School of Fine Arts. The Tombasis family Mansion has been an art education institution since 1936 that exhibits paintings of historical ships and events. Modernist Marc Chagall lived and taught there for a while. Although only students are allowed in, visitors can take a look when the school is open.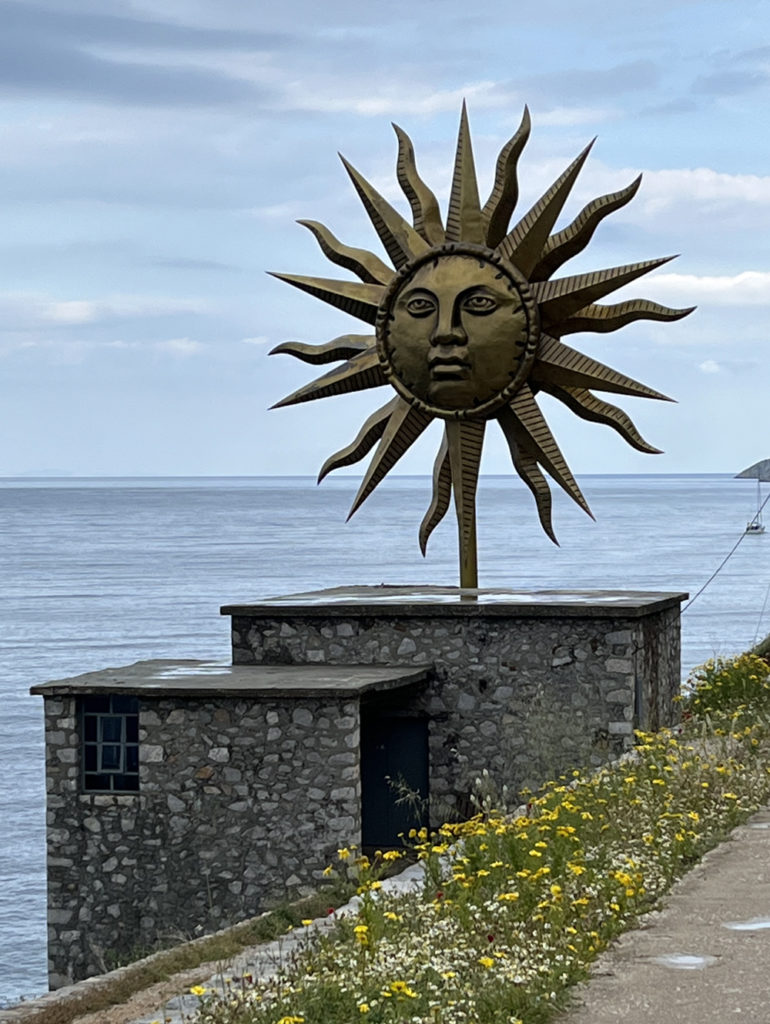 Hydra Slaughterhouse. This Project Space, in a building renovated in ways that reflect its past and present use, is part of the DESTE Foundation's program of contemporary art exhibitions and events and holds every spring/summer season a project by one or more guest artists. Art-collecting industrialist Dakis Joannou, the founder of DESTE, along with curators, has been behind incredible initiatives and big-name art projects, including an exhibition by his close friend Jeff Koons that took place in the summer of 2022 attracting international A-listers and art connoisseurs. The location – right on the edge of a rock – and the raw nature of this stone-wall premise have already been proven an ideal setting for creativity since 2009.
Prophet Elias Monastery. Finally, hikers should definitely walk up Mount Eros ending up for chilled water and a loukoumi dessert at a monastery graced by a breathtaking view of the port.