Hillside Villages, Archeological Attractions, and Yummy Food on the Fertile Greek Island of Naxos
With the ancient Greek giant door (in Greek 'Portara', dating 530 BC) on a path-connected islet at the entrance of its main port, the largest and most fertile Cycladic island is a tourist destination of gastronomic and archaeological interest. In a little more than 3 hours from the port of Piraeus or 25-45 minutes from Paros, the fastest ferry will get you to Naxos. Beyond its many crowded and serene beaches, you will have to visit its many mountainous traditional villages that keep the Naxian culture and history alive and vibrant. Just rent a car and drive from place to place, and if you are into sports, do some hiking.
Accommodation in Naxos
Naxian Utopia. Extremely well-designed in organic minimalist forms, this boutique resort's hillside private-pool suites and villas with luxury amenities (Jacuzzi, hammam, and/or other extras), plus a spa by internationally acclaimed Greek brand Apivita, is the most stylish summer retreat in the island.
Nissaki Beach Hotel. It is hard to find a 5-star beach hotel like this in Naxos, which means that it is coveted. Near the town and Agios Georgios beach, colorful sea-view suites are complemented with hotel amenities such as a swimming pool with a hydromassage area, a bar, and a farm-to-table restaurant.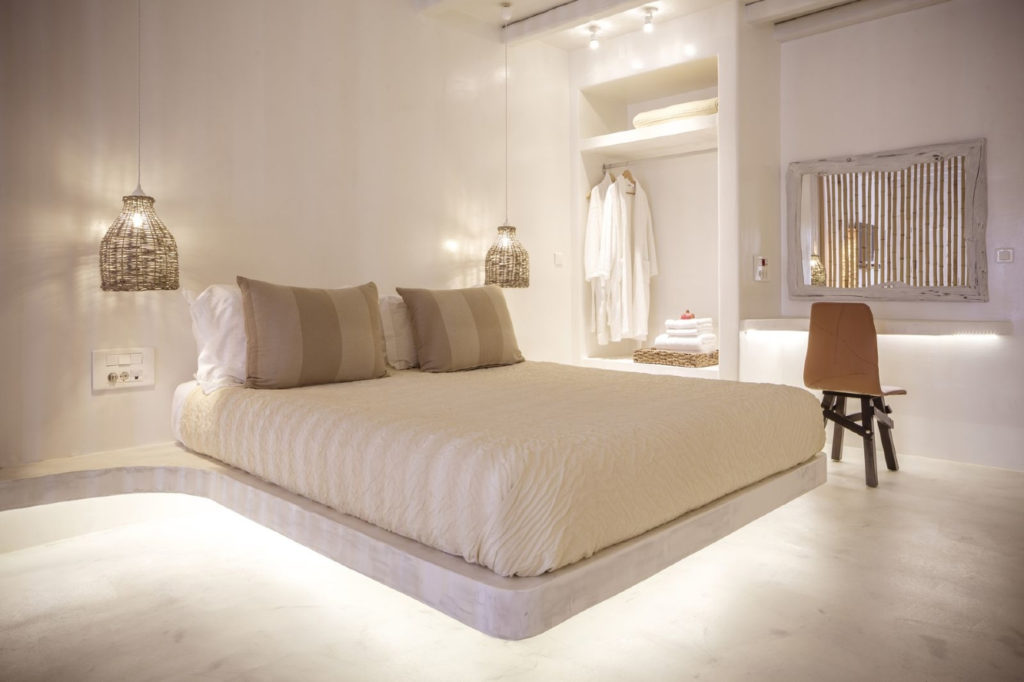 Naxian Collection. Raw-material minimalist suites and villas, an organic vegetable garden, a wine cellar, private or semi-private pools, and a famous farm-to-table restaurant visited by the legendary chef Anthony Bourdain and other great foodies, are the treasures of this boutique hotel.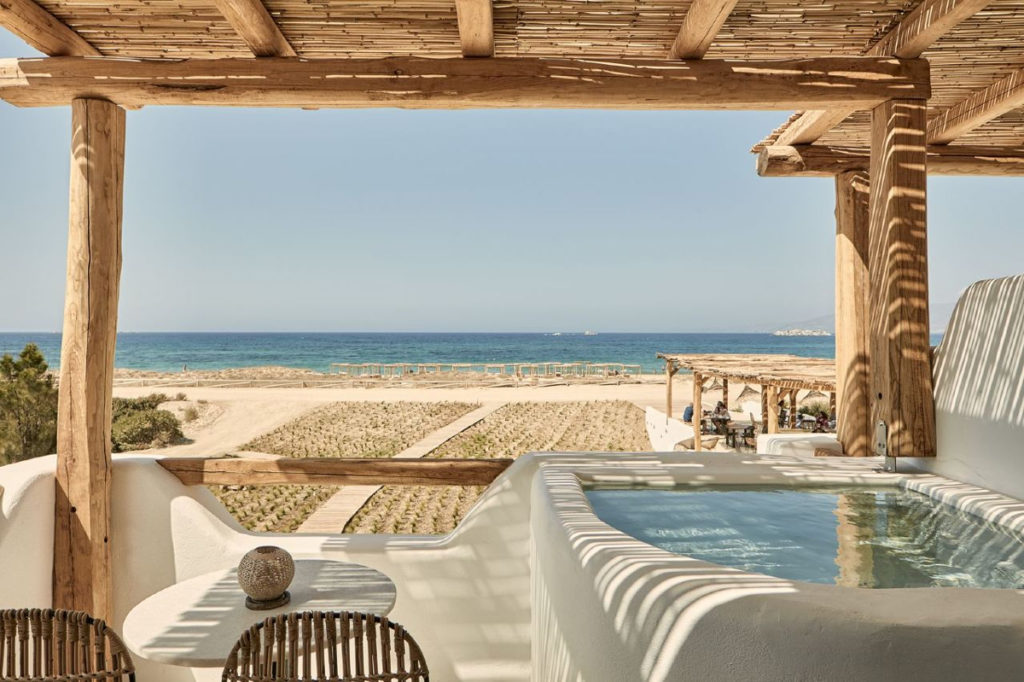 Naxian on the Beach. Naxian Collection's sister hotel is a seaside complex with the same approach plus a beach club on the popular sandy paradise Plaka.
Kavos Naxos. Just above the spectacular sandy beach of Agios Prokopios simply decorated sea view villas and suites, a pool with a bar, and a famous local kitchen restaurant equal vacay bliss.
Things to Do in Naxos
Hillside villages Melanes, Filoti, and Apeiranthos (the last one with marble houses and many small museums) are among the oldest settlements on the island. Check the three ginormous unfinished Naxian marble Kouros statues (7th-6th century BC), one resting in a quarry near village Apollonas and the others outside Melanes. In the picturesque village of Chalki indulge in the local Kitron liqueur tasting experience at the traditional Vallindras Distillery. Enjoy the sunset from the Castle of Naxos, the best-preserved Venetian fortification in Greece. And make an effort to visit the Temple of Demeter or Temple of Sangri (village) from 6th century BC made of finest quality Naxian marble in one of the earliest examples of Ionic order (style). Swim at the bustling long sandy beaches mainly on the west coastline of the island including Agios Georgios (St George), Agios Prokopios, Agia Anna (check Island beach bar also for a night out, and Banana beach bar, and Plaka (check Tortuga beach bar). For a quiet romantic sunset, Mikri Vigla beaches are highly recommended.
Restaurants in Naxos
Axiotissa. It feels like being in the middle of nowhere in a Greek movie setting with the yummiest food on earth. Naxos is known for the finest meats, vegetables, and cheeses (Arseniko, Xinomyzithra, and Kopanisti) which are exactly among the things you are able to try in this jaw-dropping traditional eatery, coming directly from their farm next door. Every single dish from the extra-long menu (seafood, vegan, and meat) is executed to perfection based on traditional recipes.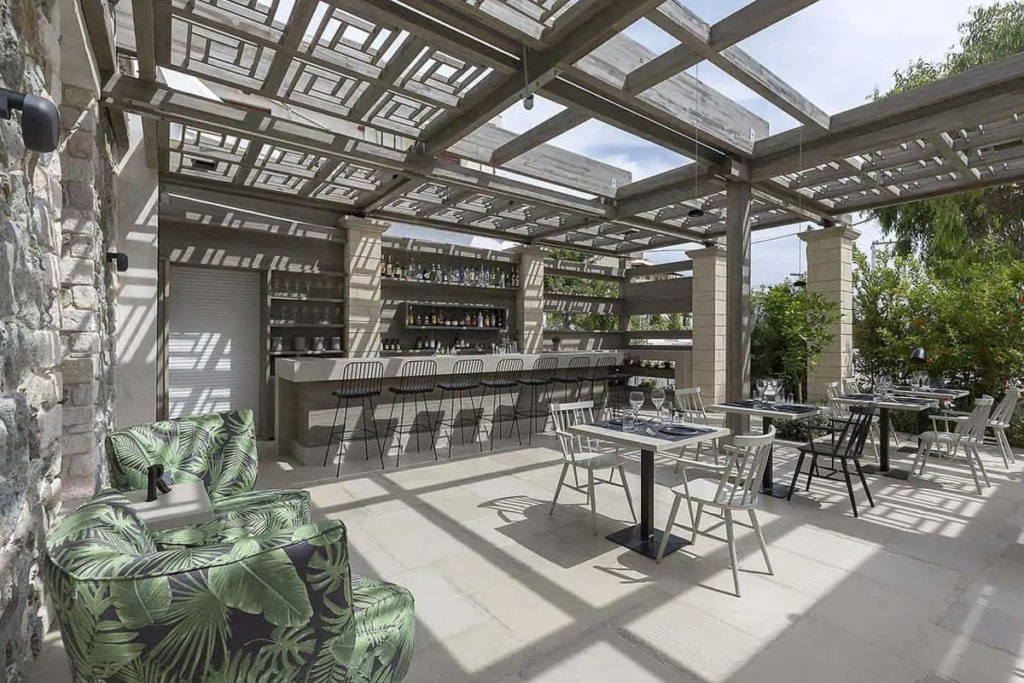 Barozzi. This farm-to-table restaurant in Naxos town is among the few or even the only one on the island offering a fine-dining experience inspired by Naxian cuisine and made with local ingredients. Acclaimed Greek chef Gikas Xenakis has designed a menu (executed to perfection by chef Kostas Votanos) that has been awarded the Aegean Cuisine certificate and constantly receives distinctions. Established in 2017 in a 1930s building renovated by Aliberti Projects with GFRA architecture, it is an upscale option for gourmet lovers. At the bar, Christos Houseas, one of the most imaginative Greek mixologists, creates signature cocktails exuding the essence of Cyclades.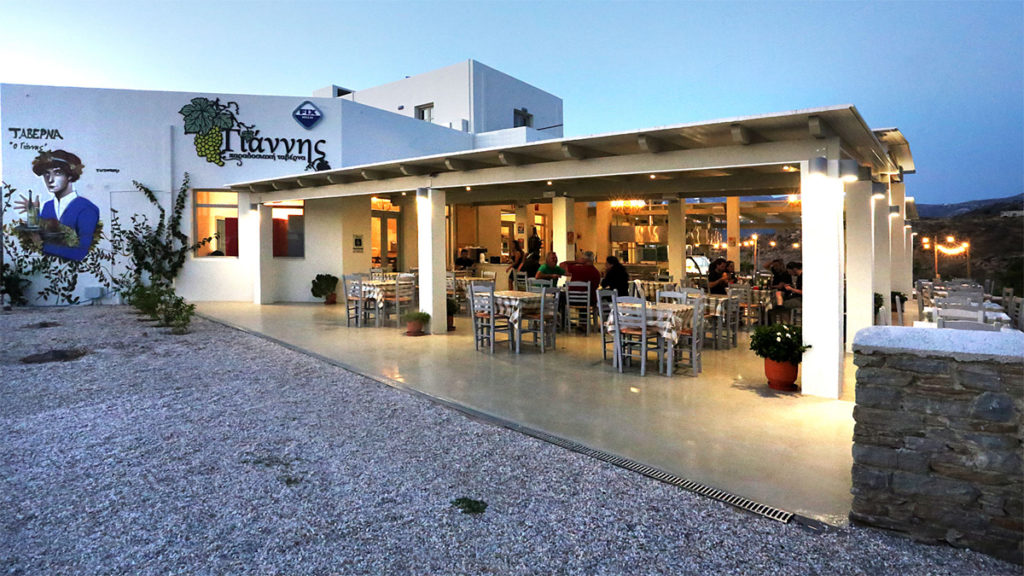 Yannis Tavern. A little outside its initial location in the village Chalki, this restaurant is known for delicious Naxian food with all the classics of this island cuisine. Meat comes from mountainous areas of Naxos while veggies and wine from their own gardens and vineyard. Raki (Greek liquor) is also among its products.
Lefteris. Located in the marble-made mountain village of Apeiranthos, this is a no-frills culinary gem serving the Naxian essentials such as masterfully grilled finest meats, pitas, cheeses, and Greek desserts.