Fusing Greek Heritage and Modernity: A Conversation with the Masterminds Behind Alouminadiko Koffee in Zakynthos
In the heart of Zakynthos, there lies a unique coffee shop that not only captures the essence of traditional Greek coffee culture but also effortlessly combines it with contemporary design aesthetics. "Alouminadiko Koffee" is a testament to the fusion of heritage, passion, and modern-day artistry. Today, we are privileged to sit down with the masterminds behind this fascinating establishment. The owner, Panagiotis Zafiropoulos, with his family's deep-rooted history in aluminum fabrication, and Kyriaki Kasabalis, a native of Zakynthos and co-founder (along with her husband Darius) of London-based, multidisciplinary design studio, Kasawoo, come together to share the story, influences, and aspirations that shaped Alouminadiko Koffee. From the intriguing tale behind its name to the Wes Anderson-inspired interiors, and the vibrant coffee culture of Greece, our conversation promises a deep dive into the world of Alouminadiko. So, whether you are a design enthusiast, a coffee lover, or simply curious about the magic that happens when tradition meets innovation, join us on this enriching journey of stories, memories, and inspirations.
Panagiotis, could you share with us the story behind the name "Alouminadiko Koffee" and its relation to your family's heritage of aluminum fabrication?
The story behind the name of our coffee shop goes many years back. My father used to be a metalworker, and when I was a little boy, I used to help him in his workshop. That way, I learned the craft from him and then further advanced my skills by studying aluminum making in Italy. It was there that my love for coffee, and specifically espresso, was born. In the end, I combined my love for craftsmanship with my love for artisan coffee and named our shop 'Alouminadiko Koffee.'
Kyriaki, being originally from Zakynthos, how did your roots influence the design and atmosphere of the coffee shop?
Under the pressures of fast tourism, Zakynthos has rapidly transformed since I was a child. Every summer, new shops, bars, and restaurants with extravagant decorations and loud signage would pop up along the high streets in anticipation of seasonal tourism. As a child, I recall feeling dazzled by those storefronts, both loving and hating what I saw.
As a reaction to these trends, for Alouminadiko, we wanted to design a contemporary space that was more sensitive to the local context and landscape. Instead of tearing things down, we worked with the existing conditions to devise innovative ways to expand the existing coffee shop. Key to our design approach was also our desire to leverage the owner's metalworking skills and showcase the local craft. The color palette drew inspiration from the island's natural environment, utilizing olive green and cypress green to achieve an earthy yet dynamic ambiance.
Can you and Darius elaborate on how you collaborated to blend traditional Greek coffee house elements with modern design in this project?
Traditional coffee houses have long been integral to social life on the island, and it was important for us to re-imagine this tradition alongside Panagiotis for a new generation. Our key preoccupation was to create a space that was welcoming and allowed for different types of social interaction among users. In order to do so, three floating canopies in the shape of 'O's were strategically attached to the existing building. These canopies provide essential shade during the hot summer months and allow the site to function more like a small urban plaza rather than an enclosed commercial space. The street-facing canopy remains open, connecting users to nature, while the side canopy features a glass skylight, creating an enclosed shelter with ample natural light for the rainy and cool winter months. Additionally, a unique umbrella-like canopy covered in sheer canvas was designed and placed at the front. Each canopy provides varying levels of shade and spatial conditions, along with new native plants, creating a microclimate within the coffee shop's premises. In addition, crucial to our approach was designing and fabricating different types of seating arrangements, from square tables to bar counters, to facilitate different degrees of conversation among users.
Panagiotis, how does Alouminadiko Koffee aim to change the perception of traditional Greek coffee houses for a new generation? How were they perceived in the past? Can you explain a bit more about the coffee culture in Greece?
In Greece, coffee is really a way of life. Coffee is one of the few affordable leisure activities for many across the country. Alouminadiko Koffee is forward-thinking in terms of both design aesthetics and coffee varieties offered. We like to try and discover new flavors alongside our customers while always staying true to the social aspect of coffee drinking in Greece. Alouminadiko Koffee is a place where people go to meet their old friends and make new ones, and share their news. It is a place you can visit by yourself without needing any company because when you are here with us, you are part of our community.
Kyriaki, the Wes Anderson aesthetic is a significant part of Alouminadiko's design. How did you incorporate this style while staying true to the shop's Greek roots?
We are definitely fond of Wes Anderson and are happy to hear you think there are similarities in our design approaches. For us, each project is both a rational exercise in space planning and an opportunity to create spaces that user-communities can love and appropriate. The use of symmetry and the play with foreground and background are definitely principles we are intrigued by and strive to apply in our designs. The placement of everything we design is deliberate, but our intention is to create a framework for different activities to unfold over time. For Alouminadiko, we worked closely with Panagiotis to design and fabricate custom furniture that would anchor the space and encourage different types of interactions among users.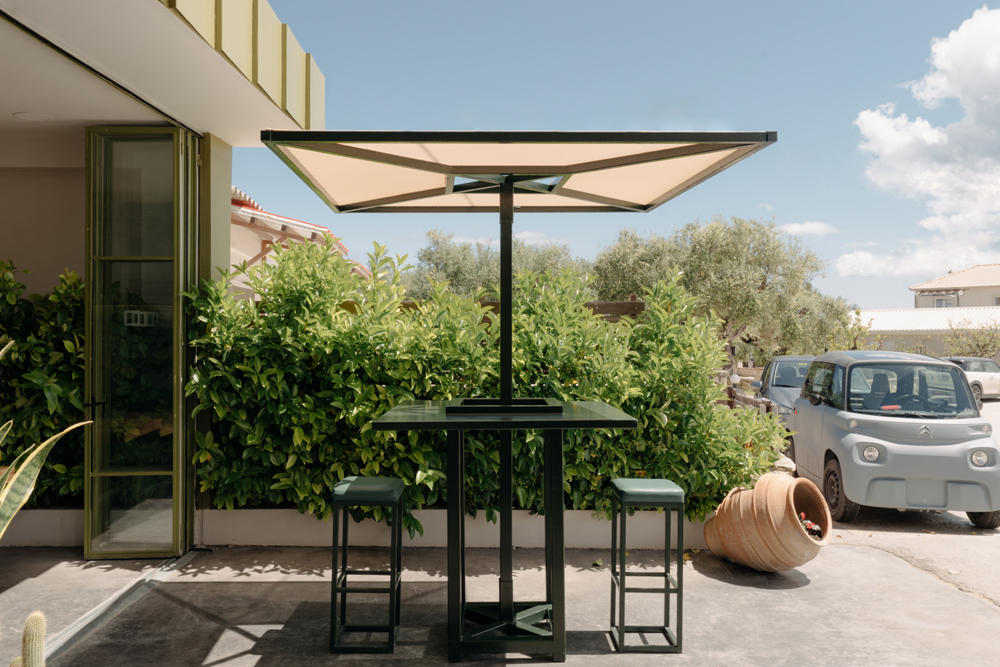 As the co-founder of Kasawoo, how did the challenge of expanding the capacity of the existing coffee shop stimulate your creativity, Kyriaki?
As a design practice, we think a lot about spatial resilience and how spaces can be appropriated over time by different users. Unlike many local businesses that operate seasonally, Alouminadiko aspired to serve both locals and tourists throughout the year. Our challenge was to create a flexible space that could adapt to weather changes and customer patterns. Building upon the owner's metalworking skills, we deployed a series of custom aluminum bi-fold doors that could easily open and close as needed. Alouminadiko prompted me to think about the longevity of our design decisions and the value of using robust yet adaptable structures that are made of simple yet beautiful materials.
Kyriaki, how does Zakynthos inspire your work in general, and more specifically in this project?
Zakynthos is an island of great natural beauty, but suffers from overtourism and the development that comes along with it. Lately, I have been thinking a lot about a more resource-conscious approach to design that goes beyond just sourcing sustainable materials whenever possible. It is about interrogating the design brief and providing thoughtful design solutions that meet our client's needs in a resource-conscious manner. As a design practice, we ask ourselves, can we do More with Less? In the case of Alouminadiko, that meant minimizing unnecessary demotion and construction waste, repurposing existing spaces, and leveraging local craftsmanship to minimize our carbon footprint and create spaces that were both culturally appropriate and environmentally sensitive.
Could both of you share your favorite aspects of the redesigned coffee shop and why they stand out to you?
Working with aluminum as our primary material allowed us to be playful and explore different ways it could be applied throughout the space. The canopies were adorned with angled aluminum panels that captured sunlight, introducing an elegant texture to the fascia, while tables, stools, bar counters, and shelves were handcrafted on-site. After completion, we found out that many of the local craftsmen involved in this project have actually become loyal patrons of the coffee shop! The integration of nature is also an aspect of the redesign we are fond of. We love how the skylights afford the users a glimpse of the sky while providing much-needed shade and how the large square table with perimeter seating incorporates local plants in the center.
Panagiotis, what was the reason behind your decision to create a little coffee shop of such sophisticated aesthetics at this moment in time and on this island as it has evolved through the years? Why was it the right moment and place to do that?
Having previously established two successful coffee shops in the center of Zakynthos during the beginning of Covid, I felt the need to return to my village and do something for the local community. I wanted to create a place to bring together old and young people of the village both during the winter and summer. Winter months on the island are mostly sunny, with the exception of the occasional rainy days, creating a need for a flexible space. Kasawoo could not have designed a better space for what I was after. The skylight in the interior space makes you feel like you are sitting outside surrounded by local flowers. Our village and island are rapidly developing, and we didn't want to be left behind.
What would you both suggest as must-see places, best-kept secrets, or activities for tourists with a sophisticated, eclectic aesthetic visiting Zakynthos?
Funny you asked. Our experience of working on Alouminadiko, along with my maternal roots in the island, has inspired me to dig deep into my heritage. Building upon ongoing discussions on sustainability and eco-tourism, my partner and I have decided to build a cabin on a small piece of ancestral farmland in the village of Vanato. My grandmother grew up there before the war, and the house is still standing as a piece of relic to the past. The piece of land has an active vineyard where raisins are being produced. We envisioned this cabin will be available for rent for eco-minded tourists and cultural adventurers to truly experience an ultra-local, low-carbon, off-the-grid, back-to-the-basics living experience without the sacrifice of style and comfort. The cabin will be compact in size but packed with sustainable features. Stay tuned as the cabin is scheduled to be completed right on time for the summer of 2024.
Kyriaki, can you share your favorite local dishes that travelers shouldn't miss when visiting Zakynthos?
My all-time favorite dish in Zakynthos is stifado- a local stew that my mother would make on Sundays. My business partner and husband Darius' favorite dessert is futura- often sold roadside made from fried semolina and sugar.
Panagiotis, what time of year would you suggest is best for visiting Zakynthos and why?
Zakynthos is known for its unique beaches, such as the Navagio beach, the abundant green vegetation, and the good food. An excellent time to visit the island would be at the beginning of June or the end of September.