Most Relaxing Luxury Spas in Athens
Along with theater, democracy, geometry, philosophy, cartography, the Marathon, and the Olympic Games, where enviably toned bodies such as those immortalized in Ancient Greek naked statues were competing in various sports, Greece, and most specifically Sparta, more or less gave birth to the concept of the spa. In those simple communal baths, water – since 6th c. BC was used icy cold – was heated either with burning coal fires or with hot rocks thrown into the water of an elongated pool. Romans took it later to the next level. Modern Athenians might not be as spa-savvy as their far-flung predecessors – they prefer to swim – yet they are gradually catching up with it. As expected, luxury hotels include among their amenities spa centers as an extra form of recreation for their discerning guests. Spa centers and fitness facilities, designed to perfection and staffed with experts from the beauty industry, are an essential part of upscale accommodation. Some of them are organized, on behalf of the hotels, by specialists and their companies. Beyond these, there are a few independent spaces similarly created by well-trained certified experts. Online reservations are gradually becoming a mainstream option, but you can also call and book an appointment or a session at a certain spa facility. Stick to the best ones to avoid tourist traps, of course.
Alluding to Roman bath grandeur, the multi-awarded opulent GB Spa in the basement of the most important neoclassical-style heritage hotel in Athens offers a wide spectrum of therapies based on premium spa products and techniques. Accompanied by unique healthy flavors from the Atrium Spa Menu, this experience equals the royal treatment. Spa highlights you are recommended to indulge in are ayurvedic treatments, massage, waxing, body wrap & scrub, manicure, pedicure, and foot bath. The facility is complemented by a steam room, a hair salon (offering also makeup services), an indoor pool, and a Couple's Suite.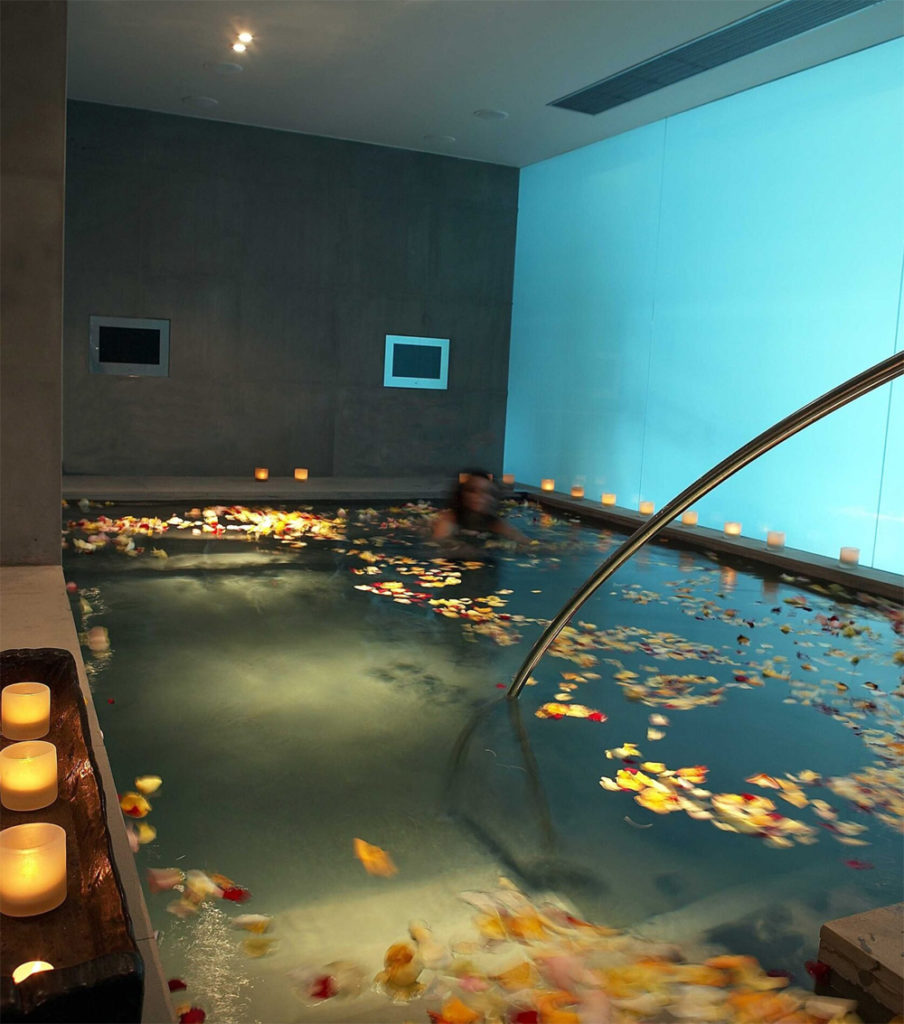 This spa group has opened two marvelous spaces that follow the latest trends in terms of treatments to secure your complete rejuvenation. The first one is at the Life Gallery Hotel and the second one at the Theoxenia Palace Hotel; these two being located a 30-45 minute drive from downtown are rather luxurious and entertaining to those craving the serenity of the hillside Northern suburbs. The Ananea Wellness Spa at Life Gallery includes a state-of-the-art wet area, jacuzzi, sauna, and steam room, as well as a range of treatments carried out by professional and experienced therapists. The spa at Theoxenia has a large heated indoor pool, a 6-seat hammam, a jacuzzi by the pool, a 6-seat sauna, and 2 treatment rooms for facials with Valmont products and therapies designed by French spa brand Cinq Mondes.
As part of a fitness and wellness group that was launched in 1980 in Chelsea, London, setting the trends for ambiance and gorgeousness at gyms, this luxury spa is located in Athens on the same floor as the gym and a 25m/82 feet indoor swimming pool, near Syntagma square. Following the high standards of this European health club group, this fully-equipped spa attracts the elite of Athens as well as guests from selected luxury hotels around it. Naturally, international VIPs residing in the hotels visit the spa and the gym for moments of relaxation. Services on the menu include body treatments, facials, massage, hair removal, and nail spa.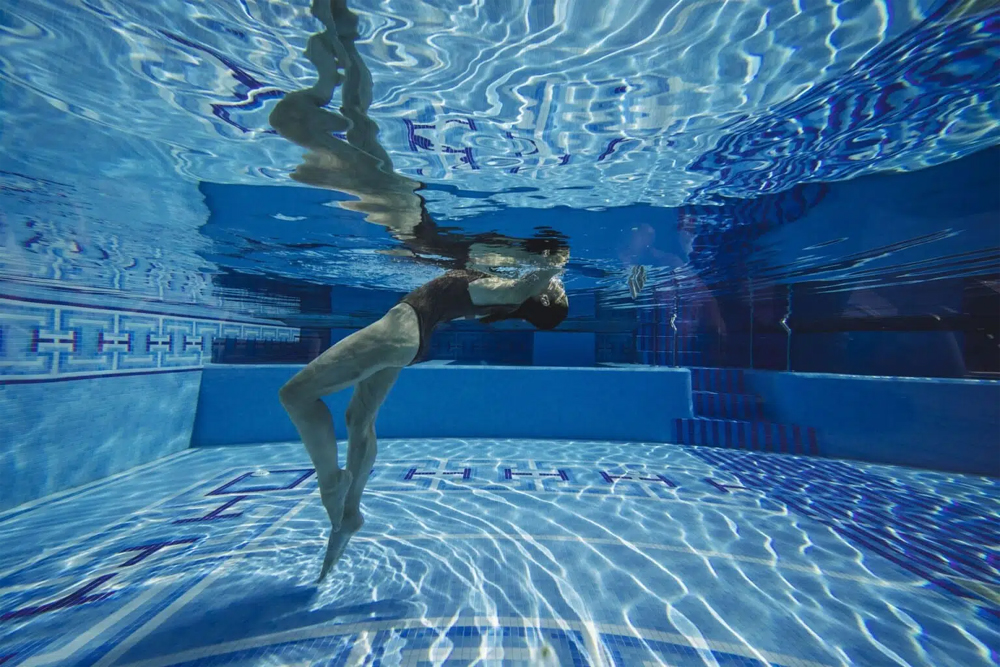 In downtown Athens, this coveted 5-star hotel on a narrow, often crowded old street offers carefully designed facials and body treatments, types of massage from the Far East, beauty rituals inspired by Ancient Greece, a nail spa, and a refreshing wet area, including a sumptuous indoor pool at a serene space that is normally open to guests and visitors. Natural products stand at the core of each treatment. The name Aegeo is the abbreviated Greek word for the Aegean Sea where most of the wonderful Greek islands are. It is dedicated as a concept to the revitalizing power of water.
Located inside the most luxurious seaside Athenian hotel with mesmerizing sea view, this spa is inspired by the teachings of Hippocrates, an ancient Greek physician who lived in the Classical Age (5th century BC) and is known as the "Father of Medicine". The names of the rituals come from Greek words that will teach you a thing or two about wellness and a healthy Mediterranean lifestyle. The most exciting part of the space is the indoor hydrotherapy zone designed as a place to socialize while indulging in the power of water – connecting ancient Greek tradition with modern-day spa culture. It includes the Fountain House, an aroma steam grotto, a hammam, a vitality pool, and chilled showers. By the end of the session, you can rest in the relaxation lounge with panoramic Aegean Sea views. It is also complemented by a fitness studio.
The 3,500 sq. m./37,000 sq. ft. Thalassotherapy Center – also on the Athenian Riviera (seaside) — is one of the biggest spas in Europe, featuring a 270 sq. m./2,900 sq. ft. pool with 16 different areas with water jets for you to unwind, 25 private treatment and massage rooms for customized rituals, and a fully-equipped fitness center with a personal trainer as an option.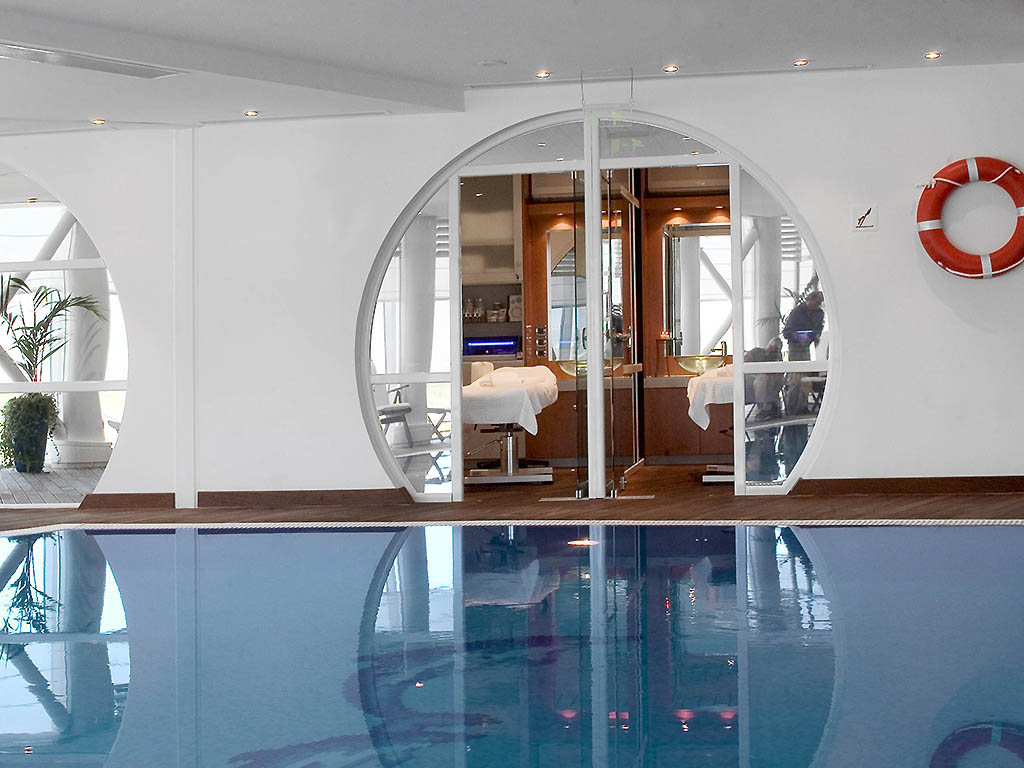 50m away from the arrival and departure terminals of Athens International Airport, this French luxury hotel offers you the chance to experience a spa treatment with a view of the airport runway. It is complemented by a heated indoor pool, a fitness center, a sauna, and a massage area.
In 1972 two young pharmacists created a soap that was the first product in a wide range of cosmetics available now in 23 countries combining naturally derived active ingredients, extracts from plants of the Greek nature, beehive products of high nutritional value, and organic essential oils. The successful formulas contain 85-100% natural ingredients and are free from silicones, parabens, mineral oil, propylene glycol, polycyclic musks, nitro musks, phthalates, as well as other ingredients that have been associated with adverse effects on health or the environment. Their precious green cosmetology findings are now applied to customers at the Beehive Spa inside the 4-floor Apivita Experience Store in the chic Athenian neighborhood of Kolonaki. The holistic approach of the company stands in the fact that each product you will experience has multiple actions: hydration, protection from environmental aggressors, prevention and treatment of signs of aging or other problems, plus – thanks to 100% certified organic essential oils – invigoration and relief from tension and stress.
Get back to ancient times, indulging in the oriental magic of the steam bath in a marble-clad space at the heart of Athens, close to the Acropolis hill and the historical center. The healing properties of the traditional hammam combined with massage and other treatments by experts will transform you into your zen self. The experience is based on the power of water and is optionally complemented by facials, manicures, pedicures, and other beauty services.