Ultimate Luxury & Beauty in the Southern Greek Mainland
Peloponnese is a picturesque peninsula in the southern part of the Greek mainland, looking more like a big island, yet connected to the rest of the Greek mainland with a narrow stretch of land and a bridge above the human-made Isthmus canal constructed in the late 19th century as a geographical shortcut that connects the Ionian Sea (West) to the Aegean Sea (East). The best way to tour or visit major sightseeing and luxury resorts in this 8,320.3 sq mi/21,549.6 sq km area is with a rented car. An hour's drive southwards from downtown Athens will get you to the Isthmus canal in Corinth. You can also fly from the Athens International Airport (ATH) or abroad to the Kalamata International Airport (KLX), yet the city of Kalamata is located in the southwestern part of the Peloponnese, and you might also need to drive if you want to visit other exciting places there. A flight will be convenient for those who just want to relax in one resort. The entire population is around 1.1 million. The cities are relatively small and overall, not so impressive. At the same time, the rural areas are representative of the wild beauty of Greek nature featuring olive trees, vineyards, orange groves, and biodiversity in general (income based on agriculture). Combined with an impressive bay-and-beach-rich shoreline and thousands-year-old history with visible ruins, this is a peninsula you can't miss.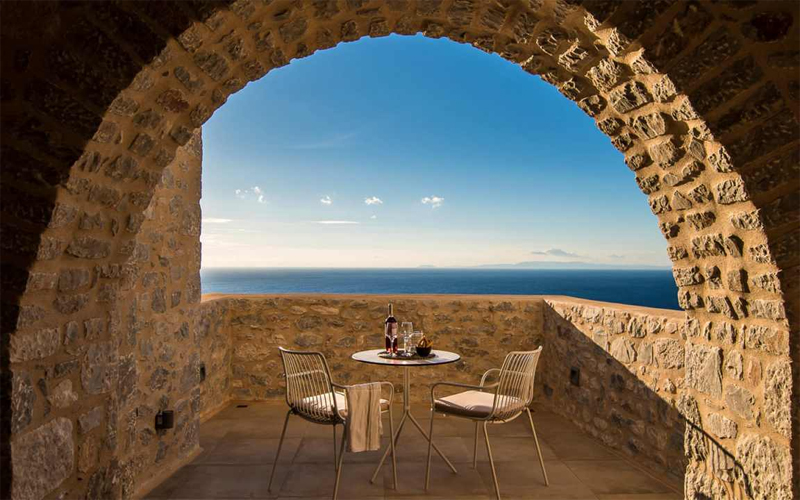 Brief History of the Peloponnese
Since prehistoric times, Peloponnese (in Greek 'the island of Pelops,' a mythological local king) was the birthplace of the Mycenaean civilization, Europe's first major one which lasted until the end of the 2nd millennium BC, leaving behind the UNESCO-protected archeological sites of Mycenae, Tiryns, and Pylos. During the classical period of antiquity, powerful local city-states such as Sparta, Corinth, and Argos were heavily involved in Greek affairs and some of the bloodiest wars. Later, the declining strongholds of the Peloponnese have been raided, captured, and invaded in rough chronological order by the Romans, Byzantines (Eastern Roman emperors), Slavic tribes, Franks (Crusaders), Venetians, and Ottoman Turks. In the 19th century, the Peloponnesians started and prevailed in the Greek war of independence. Nafplio, on the eastern coast, became the first capital of the independent Greek state.
Accommodation & Things to Do in the Peloponnese
Several 5-star and 4-star hotels in Peloponnese are designed as exaggerated versions of an all-inclusive luxury resort, which means that higher prices per night are not the only indication of elegant upscale accommodation. On the other hand, an array of rooms and suites are offered at extremely low prices, most probably because they don't meet the luxury standards you might wish for. In this itinerary, we tried to refer to only those that are really worth it in terms of aesthetics, services, amenities, and facilities, to the point that they can be your main destination or base for day road trips to significant sightseeing. Depending on your vacation duration, you might need to combine stays in more than one hotel and even in nearby islands, the Saronic Gulf and the Ionian ones. As you might have guessed from the historical background, Peloponnese is rich in archeological sites and monuments/architecture (some extraordinary Venetian castles). As you enter the peninsula via the bridge in the Isthmus canal in the northeastern city of Corinth, a 20-minute drive westwards will get you to the worth-vising ancient city of Corinth with incredible ruins like the courtyard and temple of Apollo, a Roman basilica, a fountain, and an agora, coupled with an on-site museum. Adventurers will also love to climb up the hilltop panoramic-view site of Acrocorinth, the oldest, largest, and most spectacular castle in the Peloponnese with remains of massive medieval (Byzantine) fortification walls, the temple of Aphrodite, Turkish mosques, fountains, Venetian buildings, and unexpected details. It is also a natural reserve of diverse flora you can walk through for at least two hours.
Eastern Peloponnese
A 40-minute drive from Corinth southwards will get you to the ancient city of Mycenae (15th-12th century BC), featuring massive defensive walls, the beehive tholos tomb Treasury of Atreus, and the Lion Gate, which was the entrance to the Bronze Age citadel. A 10-minute drive from Mycenae will get you to the city of Tiryns, with fortifications (Cyclopean walls) built with colossal stones, regarded in antiquity to have been built by the Cyclops (mythological giants described by Homer in his epics).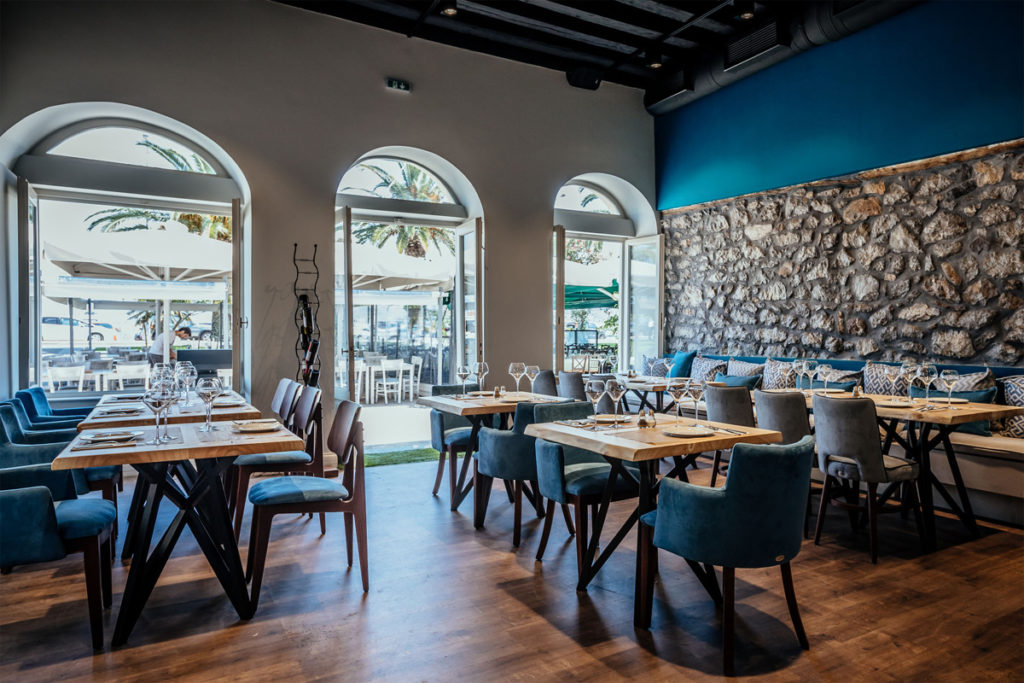 If you visit these sites, our recommendation is to book a one-night stay at a hotel in one of the neoclassical buildings in the city of Nafplio (a 25-minute drive from Mycenae). Try to pick a date that allows you to watch an evening performance (Greek play or other) at the one-of-a-kind ancient open-air theater of Epidaurus (end of 4th century BC), with a 14,000-spectator marble seating area. It is perched on a breathtaking forested hill that often serves as part of the set. The theater has seen among performers throughout the years the likes of Maria Callas, Irene Papas, Helen Mirren, Ethan Hawke, and Kevin Spacey. Right after their performance, all of them have dined in the humble yet legendary taverna of Leonidas in the nearby village of Ligourio, and many of them have danced in the 'cult' hard-to-locate Disco Capaki inside an orange grove. You can check the Athens & Epidaurus Festival Schedule for those performances taking place in 2023. These performances normally end late (slightly before midnight), and the theater is 30 minutes away from your hotel in Nafplio. Still, the spectacle is worth it! Next morning you can visit the Venetian and Frankish fortifications in the ancient part of the city called Acronauplia, the hilltop Castle of Palamidi to the east of Acronauplia, and the Fortress of Bourtzi on an isle in the middle of the harbor. Before you leave, don't forget to try the ice cream at the Antica Gelateria di Roma from an Italian specialist, and a fresh-fish lunch at the Savouras restaurant. Favorite accommodation options in Nafplio include:
3Sixty Hotel. In a refurbished 19th-century neoclassical house near the harbor, the suites of this small boutique hotel are accented with dazzling crystal chandeliers, imposing palatial mirrors, and modern décor elements. At the same time, a majestic stately staircase dominates the reception. On the ground floor, the hotel operates one of the most famous bars and café-restaurants in the city, serving healthy meals and exotic cocktails. The menu is grill-oriented and focuses on premium meats from renowned world-class farms.
Grande Bretagne. This waterfront boutique hotel in a neoclassical building with a view of the harbor and the fortress of Bourtzi features a great selection of suites decorated with classic antique-style and vintage furniture. An impressive lounge cafe operates in the hotel, with a mind-blowing hand-painted ceiling and a bright chandelier. A sumptuous American buffet with Greek touches is served each morning at the breakfast area, bathed by natural sunlight.
A 40-minute drive from Nafplio will get you to Porto Heli, a seaside town accented with mansions owned by high-profile residents and regular visitors such as Sean Connery, Roman Abramovic, and the Dutch and Greek royal families. Real-estate wise, this otherwise discreet place is 'gold,' due to its natural beauty and location. You might get a glimpse of the high-profile crowd inhabiting the area if you have the chance to dine at the casual restaurant Papadias. From the little harbor of Costa near Porto Heli, boats and ferries can get you to the cosmopolitan Saronic island of Spetses in 10 minutes. Also, from the Ermioni or Hermioni port – a 20-minute drive from Porto Heli – the ferry will get you to the posh/artistic Saronic island of Hydra in 20 minutes. On your way to Ermioni, you can stop by the Godai Seascape beach bar-restaurant for smoothies, snacks, swimming, and great music. Near Ermioni, an enjoyable & eclectic place to eat is the French restaurant Maryvonne. Favorite accommodation options in Porto Heli and nearby Kranidi that also offer a boat ride to the islands include:
Amanzoe. One of the most luxurious – opulent and minimalist – elegant resorts in Greece, alluding vividly to iconic modern Greco-Roman-inspired classic buildings such as the Getty Villa in LA, this hilltop olive grove paradise (a whole peninsula) with an exclusive private beach, a 30,700 sq. ft/2,850 sq. m bespoke-services spa and 360-degree views of the Aegean Sea and the countryside has already hosted the elite of jet setters. As part of the Aman Resorts International group, it epitomizes sophisticated accommodation luxury in discreet environments of striking natural beauty. If that's your ultimate destination for unparalleled service, seclusion, and privacy, you can land it via a brief helicopter ride. Or it can be one of your major stays and stops in your tour of the Peloponnese. Designed to meld with the land, suites and villas with private pools open onto fragrant gardens or the beach, where speedboats lie waiting to zip between secret coves and the nearby islands of Spetses and Hydra. Drawing on classic Greek architecture, with strong lines and a pared-back aesthetic, the standalone luxury Pavilions open onto terraces with private plunge pools and incredible views. Each Pavilion is accessed via a stone-walled courtyard, leading to a high-ceiling living area with a king-size bed. Beach Cabanas with similar amenities are a great option for swimmers. Guests can enjoy a day on the beach, swimming in the sea, discovering bays by canoe, and sunbathing in privacy. If money is not an issue at all, pick one of the jaw-dropping villas in the Amanzoe peninsula of various sizes topped by the 9-bedroom, 6-pool, and private-spa Villa 20 designed by Ed Tuttle and Marios Angelopoulos (like the rest of the resort) as a modern-day acropolis. Other top-end options – all with their private chef, host, and pool – are villas with 2,3,4,5, or 6 bedrooms as well as the one-bedroom Villa 31 featuring a cubic ceiling 'Skyspace' light installation called Sky Plain, the only permanent installation in the Mediterranean by acclaimed artist James Turrell. Enjoy your lunch at the Pool Restaurant with a breathtaking panoramic view, and your dinner at The Restaurant (Greek cuisine), or the Nama Japanese restaurant. Dinner is normally also available for reservation by visitors. Private dining for 2-30 people is offered at the open-air Amphitheatre, and cocktails at the Bar with a firepit terrace for sunset drinks. Amanzoe's private beach and Beach Club lie below the hilltop resort overlooking a sheltered bay. Complimentary transfers take guests down to the Aegean, where non-motorized watersports can be enjoyed, and guests can depart on island-hopping day trips. The serene Beach Club is a destination unto itself, with no less than four swimming pools, a restaurant, lounging areas, a boutique, several overnight Cabanas, and a two-room spa.
Nikki Beach Resort & Spa Porto Heli. Since 2014 this stunning resort represents the modern concept of the Nikki Beach Worldwide brand in Greece, letting its guests indulge in comfort and the joy of summer life. Initially built in the 1970s, the seafront property has been renovated by Gatserelia Design in collaboration with the Athens-based Arch Group. Pick among the sea-view Suites and the roomier Ultra Suites, some of them equipped with a private pool or Jacuzzi, and decorated with all-white contemporary furniture plus blue or wooden details. With 2 solo-treatment and one couple's cabin, Nikki Spa applies ancient Greek and internationally recognized holistic therapies based on cutting-edge equipment and finest-quality rare organic Greek ingredients. The Tone Fitness Centre, with cardiovascular and weight training equipment, aims at keeping you energized and toned, ready to hit the beach club or pool decks. The Nikki Beach Club (with 2 piers) brings the glam, fun-loving cosmopolitan spirit of the internationally renowned beach club to this gorgeous chunk of the so-called Greek Riviera. It is modeled after all other stylish Nikki Beach locations worldwide with plush, all-white sun beds and yacht-inspired decks. Swim and revel with a glass of champagne, a cocktail, Greek tapas, and later a dinner combined with vacay-chic and upbeat Dj sets. Your meals are part of your entertainment regime there. Café Nikki is a breakfast-to-dinner contemporary seafront bistro serving a healthy and creative culinary (à la carte & buffet) menu based on international and local fare. It is sprinkled with signature dishes such as the original Nikki Beach salads, sushi roll iterations, seafood entrées, the slow-roasted free-range rotisserie chicken, and a Greek Salad in Basil Tramezzone Bread (much lighter than regular white bread). For the evening, the sea-view Terasu Japanese Robatayaki (fireside-cooking) and Sushi Restaurant are complemented with a sunset-view cocktail bar that blends the classics with mixology trends. Experience on the rooftop fashionable party vibes.
Southern Peloponnese
Those who want to include Monemvasia (translates as 'Single Entrance') in their tour, can drive 4 hours southwards or helicopter-hop to visit its scenic medieval fortress. Located on an islet (dubbed 'The Gibraltar of the East' or 'The Rock'), a plateau 328 ft/100 m above sea level, it connects to the mainland via a short causeway. The hilltop town southeast of The Rock features narrow pedestrian streets and traditional stone houses. Drink your coffee at the casual sea-view Enetiko Café. Then, head to the nearby beaches of Pounta and Pavlopetri where divers have the opportunity to swim around the submerged ruins (at least 15 buildings in 9.8–13.1 ft/3-4 m depth) of the oldest (5,000-year old) sunken city in the world, often mentioned as the real-life Atlantis. Adventurers would also love to explore the Kastania Cave with geological rarities such as discs, flat stalagmites, eccentrites, and elictites (2nd of its kind in Europe). From the little town of Neapoli Voion (beach and ferry terminal of Pounta) – an hour away from Monemvasia – the ferry will get you in 8 minutes to the small island of Elafonisos. It translates as 'the island of the deer' – although no deer is present – and features the exotic Simos beach, among the most beautiful ones in Greece and the Mediterranean. Now, if you decide to stay a little further around Monemvasia and chill in a sophisticated Greek setting, our favorite accommodation option is:
Kinsterna Hotel. A sprawling 25-acre 19th-century estate with over 250 kinds of plants, and a mansion dating back to the Byzantine, Ottoman, and Venetian eras, meticulously restored into a discreetly luxurious 5-star year-round resort, features suites and villas mixing traditional architectural features with modern amenities. A central fortified manor with adjacent outbuildings and nearby dwellings comprises an entire settlement surrounded by idyllic gardens, vineyards, centuries-old olive trees (of the local Athinolia variety), old eucalyptus trees, towering cypresses, and fruit orchards. The estate produces its wine, extra-virgin olive oil, table olives, soap, tsipouro (a traditional Greek distilled spirit containing 40–45% alcohol by volume), bread from its wood-fired oven, marmalades, vegetables, and aromatic herbs, following sustainable practices. Native Greek varietals (Kidonitsa, Assyrtiko, Agiorgitiko, and Monemvasia) are produced in the on-site 5-acre vineyards with wine tasting sessions at the cellar. Enjoy the delicious local specialties prepared by the chef, a creative Greek-Mediterranean dinner at the Sterna restaurant, home-cooked farm-to-table treats at the all-day Mouries restaurant, and a local outdoor slow-cooked meal next to the old stone olive press twice a week in the summer. Wellness is a priority best expressed through its sparkling pools filled with fresh water from mountain springs and spa treatments (based on estate-produced rosemary, peppermint, lemongrass, chamomile, etc.), applied in state-of-the-art facilities (indoor-outdoor Jacuzzis, cabins, and a hammam). At the pool bar, cocktails containing homemade syrups are served. You can relax or engage in activities such as cycling, horseback riding, carriage or donkey rides, mansion tours (be prepared to encounter the ruins of a fort from 250 BC), hiking through the surrounding verdant hills, or browsing rare volumes in the library with a cup of tea. There are many sea-view spaces and suites. The décor features hand-made embroideries on the walls, impressive wooden ceilings, opulent marble baths, antiques, and custom design objects. Check also their labeled products, antique boutique, and weaving workshop (in the heart of Monemvasia) for excellent gift shopping.
If you drive up an hour and 40 minutes to the west, you will meet the so-called 'Wonder of the Morea' (the medieval name for Peloponnese), the hilltop amphitheatric fortress of Mystras. It features many churches, monasteries, medieval fortification ruins, and, most importantly, the Palace of the Despots, the second major stronghold of Byzantine rule. Franks started building it in the 13th century, and Byzantines completed it by the 15th. It is comprised of 5 main buildings and many smaller ones, with most prominent the Throne Hall, the Despot's Residence (usually for the emperor's second son), and the Palace of Paleologos. Austere architecture is juxtaposed with intricate interiors (multiple arches, attics, chambers, and cellars), as well as with the breathtaking natural setting in Upper Mystras. The fortress features cultural elements from Gothic and Romanesque art. It was later occupied by the Turks and the Venetians and abandoned in the early 19th century when people started moving to the new city of Sparta. Opt for a guided tour or a casual walk around these magnificent buildings. Our nearby suggestion for luxe zen accommodation is:
Euphoria Retreat. A holistic wellbeing destination spa & resort that mixes ancient Greek (Hippocratic Medicine) and Chinese philosophies and practices articulated in personalized treatments, and exercise & nutrition plans is an excellent destination for a complete makeover. The innovative facilities include the Sphere Pool, Tepidarium (designed after Roman baths), Byzantine Hammam, Salt Cave, Watsu Pool (bodywork sessions combining elements of massage, shiatsu, muscle stretching, and joint movement), showers, fountains, yoga, Pilates, and fitness studios. Designed according to the principles of Feng shui, with ecclesiastical domes and curves, the spa, spanning 4 hillside levels, is characterized by monastic finesse. The design of the Sphere Pool offers a womb-like experience of utter relaxation and rebirth to the soothing sounds of music, dolphins, and whales. At the Tepidarium, the finest marble has been used on benches, walls, and floors to radiate a constant heat of between 98.6-102°F/37-39°C – just above body temperature – and keep humidity levels to around 20%. Hot and cold footbaths – marked by black and white pebbles – at the base of the impressive 82 ft/25 m deep Waterwell structure introduce you to the healing effects of Kneipp Therapy that promotes body circulation. In the beautifully appointed Finnish sauna, it takes only a few minutes to work up a deep and healthy sweat that flushes toxins away. At the Gaia restaurant with panoramic views of the valley and the citrus groves and the opportunity of enjoying your meal under the mulberry trees or the grapevine, personalized and à la carte gourmet options are prepped daily with wholesome seasonal ingredients. Soothing colors, dreamy curves, and touches of modern luxury (bioclimatisation and a home automation system) create an atmosphere of absolute relaxation in 45 spacious rooms and suites. Mattresses are hand-made to follow your body contours and infused with anti-aging and antibacterial olive oil, contributing to your skin feeling soft and velvety. Transformation is a sure thing!
An hour and 15 minutes to the south by car, the Diros Vlychada Cave is a geological masterpiece adorned with white stalactites and stalagmites, impressive curtains, and glittering crystals in miraculous natural formations. They have been created drop by drop for hundreds of thousands of years while water penetrating the cracks, dissolved limestone rock, and caused it to drip. Since 1960, 48,228 ft/14,700 m of routes have been mapped. Most of the cave is located below the surface of the water. The tourist route has a total length of 4,921 ft/1,500 m, of which visitors navigate the first 3,937 ft/1,200 by little boats in an underground lake. The thrilling tour lasts about 25 minutes. Rare anthropological finds from the Neolithic era were discovered in the adjacent cave of Alepotrypa, many of them displayed in the museum next to the cave's entrance. The overall area, called Mani, also features picturesque villages with old stone buildings. You are encouraged to visit the fishing port of Limeni and the traditional town of Areopolis, with many tower houses and cobblestone alleyways. Favorite accommodation options in Mani include:
Bassa Maina. This 4-star boutique hotel comprises 9 independent, luxuriously elegant villas and suites, all with unobstructed views of the Mediterranean. Featuring private terraces and entrances, exposed stone walls, beamed ceilings, heavenly comfortable beds, and designer furniture, decoration, and lighting fixtures – some of them a fireplace and outdoor heated Jacuzzi – they represent the indigenous version of luxury. Incredible aesthetics mix with the exemplary landscape. The complex also has a bar, a guest lounge with astonishing sea views, a gym with modern equipment (TRX, treadmills, elliptical machine, Pilates, weights, etc.), and the Crocus sea-view farm-to-table restaurant serving family recipes with a modern twist.
Petra & Fos. These Greek words that mean 'Stone & Light' clearly describe the traditional timeless style of this boutique hotel near the picturesque and historic village of Oitylo. Elegant suites with private verandas and fireplaces enjoy a great view. The experience involves treatments at the Ioni spa, workouts at the gym, swimming and drinking at the sea-view infinity pool bar, and Greek gourmet meals at the Anerousa restaurant.
A 45-minute flight from Athens to Kalamata might be an option, yet, this modern city is also a one-hour-and-30-minutes drive from Mani. Plus, it provides you with some great accommodation options:
Filoxenia Kalamata. As a member of the Grecotel luxury group, this resort along an exotic riviera lined with palm trees, features spacious guestrooms and suites, a private beach, a large swimming pool with hydro-massage bathtub and bar, modern lounges with designer furniture, and dining options with a fantastic view to the Messinian bay.
Elysian Hotel & Spa. This 5-star resort, set in an idyllic location in the district of Cordias (a 5-minute drive from the heart of the city), offers an elegant collection of 44 luxury rooms and suites with 22 private pools. Guests, locals, and visitors are welcomed in the enchanting dining areas and the Champs Elysees Café. The chef serves a range of international and Greek gourmet dishes based on fresh ingredients from the Messinian countryside. The spa is equipped with cabins and an indoor heated pool, while the fitness center with treadmills, TRX, yoga walls, and more. Embraced by the endless blue of the sea, the infinity pool is the right place for cocktails.
Messinia in southwestern Peloponnese is an area with lots of sightseeing, especially castles and ancient Greek ruins. 15 minutes away from Kalamata, you are recommended to visit Ancient Messene with impressive ruins from the 3rd century BC. An hour's drive to the south will get you to the breathtaking Venetian castle of Koroni (13th-16th century) on the edge of the Messinian Gulf, with an octagon tower, churches, abandoned houses, and more. 30 minutes to the east, the Castle of Methoni, occupying an entire cape, is equally impressive and romantic, connected via a path with an islet featuring another octagonal tower. Swimmers and nature lovers are recommended to drive 35 minutes to the north and visit the area of the Gialova lagoon/Divari beach and the renowned Omega-shaped Voidokilia beach, which constitutes a unique ecosystem and a protected natural and cultural zone. It serves as a wildlife habitat and has been proclaimed a zone of archaeological protection with important finds such as the Cave of Nestor related to ancient Pylos. If you prefer a more curated experience, check the Kookoonari beach bar (Romanos) with full service on a gorgeous sandy shore.
15 minutes away, Pylos, the main harbor on the Bay of Navarino, has more surprises for you. It was a significant kingdom in Mycenaean Greece, with remains of the so-called 14th-century-BC Palace of Nestor (Homeric local king), which is the best preserved in Greece and one of the most important from the Mycenaean civilization. Excavations revealed thousands of ancient stone tablets that led to the deciphering of the Linear B script, and continue with precious finds lately (2015-17) in a vast area around. At the palace, archeologists have uncovered and restored the throne room with its foyer, an anteroom, chambers, and passageways all covered with frescoes of Minoan inspiration, large warehouses, the external walls, unique baths, galleries, and outside a beehive tholos tomb, which are worth visiting. Since the 13th century, Pylos has been respectively ruled by the Franks, Venetians, and Turks until the Greek war of independence and the victorious battle of Navarino. The most coveted accommodation option nearby is:
Costa Navarino. Vast and ideally located in an area of high biodiversity and immense natural beauty, this is the prime sustainable destination in the Mediterranean. It consists of several distinct mixed-use resorts integrating deluxe hotels, signature golf courses, private beaches, world-class spas, state-of-the-art conference facilities, and high-end private residences. Upon completion Costa Navarino will comprise 5 sites, complementing and not competing against each other, extending over 1,000 hectares in total. Navarino Dunes, the first area in operation, features two 5-star resorts (The Romanos, a Luxury Collection Resort and The Westin Resort, Costa Navarino), two signature golf courses, the award-winning Anazoe Spa, over 20 restaurants and bars, and Navarino Residences. Once through the gates of Navarino Dunes (130 hectares), guests find themselves in a place where ancient wisdom and the inspiration drawn from old Messinian mansions blend harmoniously with the natural landscape and the symmetry of modern design. The second resort site, Navarino Bay (140 hectares), is home to an 18-hole signature golf course, The Bay Course (designed by Robert Trent Jones II) with its brand new earth-sheltered modern Clubhouse integrated into the surrounding greenery, in operation since 2011. An ultra-luxurious hotel next to pool villas, all embedded in the natural environment, is currently under construction. Future real-estate developments and projects include the Navarino Waterfront (a vibrant lifestyle resort of contemporary chic design with lagoon pools and beachfront bungalows), the Navarino Hills (a year-round integrated resort with alternative tourism elements, and 2 new 18-hole golf courses designed by 2-time Masters champion and Ryder Cup legend José Marίa Olazábal), and the 210-hectare Navarino Blue (the site of multiple themed resorts offering a plethora of sports, leisure and entertainment activities). Costa Navarino residences and apartments for sale – perfectly designed and located – are an excellent possibility for those who want to secure a fabulous spot in this worry-free setting.
Western Peloponnese
From Costa Navarino, you can drive 1-2 hours to the north to visit the well-preserved and researched Temple of Apollo Epicurius (5th century BC) at the archeological site of Bassae in Oichalia, as well as Ancient Olympia, where the Olympic Games were born and held every 4 years, from the 8th century BC to the 4th century AD. Ruins from over 70 buildings show the magnitude of this religious center. Since the late 19th century, excavations have revealed 14,000 objects, many of them kept today in the nearby Archaeological Museum of Olympia, one of the most important museums in Greece. The Olympic flame is still lit there, by the reflection of the sunlight, and then is torch-transported to the next country. Our favorite accommodation options on the west coast include:
Aldemar Royal Olympian Luxury & Spa Resort. This 5-star beachfront hotel features bungalows and suites, surrounded by blooming gardens and dozens of pools. The Royal Olympian Spa & Thalasso spans a rejuvenating 30,138 sq ft/2,800sq m space with treatment rooms, pools, and beauty & fitness facilities. Dine and drink cocktails in one of the hotel's 8 restaurants and bars. The concept Elements Dine Around opens a world of unlimited gourmet choices of wining and dining in all à la carte restaurants that can satisfy even the most demanding palate. Premium natural ingredients, customized & gluten-free menus, colorful infusions, and herbal teas contribute to your wellbeing.
Dexamenes Seaside Hotel. A postwar winery built in the late 20s has been transformed into a barefoot luxury resort on one of the most unspoiled stretches of coastline in the western Peloponnese. Located on Kourouta beach near the town of Amaliada, the hotel is an ideal outpost for sun-seeking and exploring the region's offerings. This unique concept mixes raw architectural and natural elements into a harmonious whole. The singular hospitality experience of sleeping inside old wine tanks has now been minimally reanimated with steel, engineered glass, timber, and clean-line aesthetics, as an homage to its past. Wine tank suites and a two-story neoclassical villa along with the Ex-Engine Room farm-to-table restaurant, the private beach, and the bar make for a memorable stay.
Mandola Rosa. In seaside Kyllini this residence in a 500-acre estate conjures the glamour of bygone eras. Its name translates as 'pink almond tree,' like the ones that blossom at Ancient Olympia. This exclusive resort's main building stands at the edge of a stretch of a dreamy sandy beach overlooking the Ionian Sea. The 54 one-bedroom suites and villas are individually furnished in an updated version of Belle Époque elegance. As part of the vast 5-star-plus Riviera Olympia & Aqua Park Resort, Mandola Rosa offers its guests access to many more services and amenities, including 24 restaurants, bars, a freshwater outdoor pool, a heated seawater indoor pool at the Elixir Thalasso Spa (1,431sq ft/133sq m), and the largest water park in a Greek resort.
From the western port of Kyllini – which is an hour drive from Olympia – the ferry will get you to the Ionian island of Zakynthos (Zante) in an hour and 15 minutes, or that of Kefalonia in an hour and 30 minutes.