Horse Carriages, Maritime Wealth, and Waterfront Dining on the VIP-Approved Greek Island of Spetses
Spetses is one of the Saronic Gulf islands, which are the nearest to Athens. This island has rich maritime history dominated by the name of a brave, wealthy, and generous woman Laskarina Bouboulina (the first female Admiral in world naval history), whose mansion operates now as a very charming museum. Wealth is still visible in many buildings left by local shipowners and successful Greeks who started emigrating to the United States and other countries from the 19th century onwards. To the Southeast of Spetses, the small private island Spetsopoula was purchased in 1962 by shipping magnate Stavros Niarchos and still belongs to the same family; visited by descendants and their VIP friends, including in 2016, the then 25-year-old billionaire Hugh Grosvenor, 7th Duke of Westminster. These people often cross to Spetses for a fun night or lunch. Spetses has been visited for decades by A-listers such as Elizabeth Taylor, Bobby Kennedy, Marilyn Monroe, Ingrid Bergman, Rudolf Nureyev, Princess Caroline of Monaco, Uma Thurman, the Duchess of York, Bo Derek, and the list goes on. Many discerning foreigners own villas on the island. In 2010 it attracted most European royals who visited to celebrate the nuptials of Prince Nikolaos of Greece and Denmark and Tatiana Blatnik.
Accommodation in Spetses
Poseidonion Grand Hotel. The most exceptional hotel in Spetses first opened in 1914 as the brainchild of Sotirios Anargiros, a visionary benefactor who was responsible for much of Spetses' development. Heir to a wealthy 18th-century Spetsiot shipping family and later a US immigrant and tobacco tycoon, he built this luxurious hotel after Carlton in Cannes and Negresco in Nice. It's still an architectural gem and a landmark updated with an extra building and a stylish pool at the back. Front gardens and balconies offer a magnificent view of the Dapia Port (new port). Among other fabulous rooms and suites, the Cupola, built in the hotel's historic dome, stands out for its wooden ceiling with a sky window and a private massage loft. Gastronomy and mixology are placed at the core of its services with two gourmet farm-to-table restaurants ('On the Verandah' and 'Il Cortile'), one Brasserie, the cosmopolitan 'Palms Bar', the 'Bostani experience' at the hotel's farm where you can handpick the ingredients, learn cooking techniques and dine al fresco, and the Picnic option with a curated menu of delicacies custom-packed in a hamper for a getaway into the woods. Old-school excellence! Continuing an over-a-century-old heritage, an amazing spa facility is included today with an Asian ayurvedic twist. There is also a hair salon with full services, a nail bar, a gym, an art gallery, and a fashion boutique. Finally, the hotel undertook the revival of Ciné Titania, an elegant outdoor movie theater originally built in the 60s, with regular screenings through the summer.
Orloff Resort. In the elegant & posh Old Harbor area, you will find an ultra-chic design boutique hotel in a renovated and extended mansion built in 1865 by the family of Nikolaos Orloff. All new rooms are as well-designed as the original mansion, which can now host up to 10 people. Chill by their super relaxing swimming pool with snacks and refreshments. In the same area, on the waterfront, the hotel maintains the amazing Orloff restaurant in the building of the island's first port authority built in 1802.
Zoe's Club Hotel. Elegantly designed, the rooms and suites at the accommodation complex are equipped with premium Dux beds and remotely controlled headboards that adjust to your body shape and position, offering you a good night's sleep. The swimming pool is arranged and decorated with a similar focus on rejuvenation and relaxation. Located nearer to the new port (where Poseidonion is), it is another great option.
Nissia. Simpler but in a nice location at the new port close to Poseidonion, this complex of traditional residences is still graced by the impressive façade of a 1920s textile and spinning factory. Behind the façade (classified as a monument of Greek industrial architecture), you will find an impressive swimming pool for moments of ultimate relaxation. The factory that soon became a power plant and an ice-producing facility was restored by the Greek shipowner Andreas Kyrtatas from the island of Andros in 1989. The Greek word 'Nissia' means 'islands'.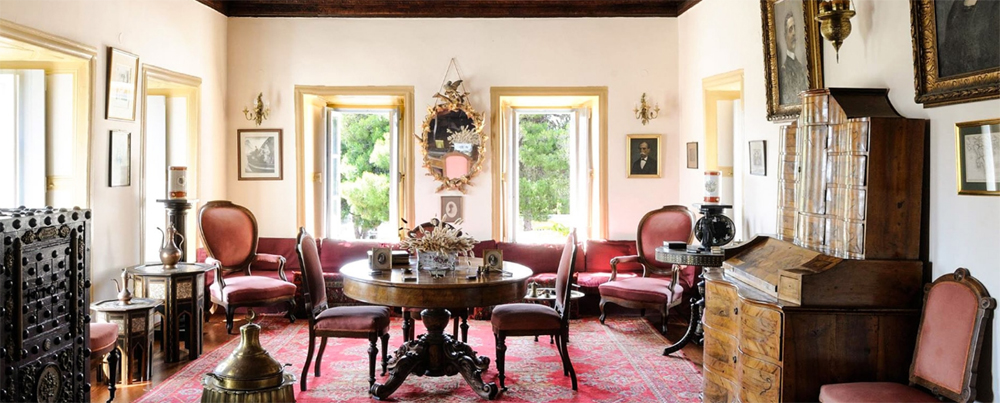 Things to do in Spetses
There is a 'no private automobile' rule – only taxis and delivery vehicles are allowed – so that you walk towards various places, including the beaches of Agia Marina and Kaiki, or get there in the most signature way; on a romantic horse-driven carriage. Additionally to the Bouboulina Museum, you can learn about the island's history at the Museum of Spetses. If you are ready to swim, head to the two organized beaches on the island that usually open for the season after Greek Easter. The first one is Kaiki Beach Club with sunbeds, full beach service, a bar, and a seafood restaurant, and the second one is Agia Marina or Paradise Beach with sunbeds, a mixology bar, and a restaurant. Water sports are also an option.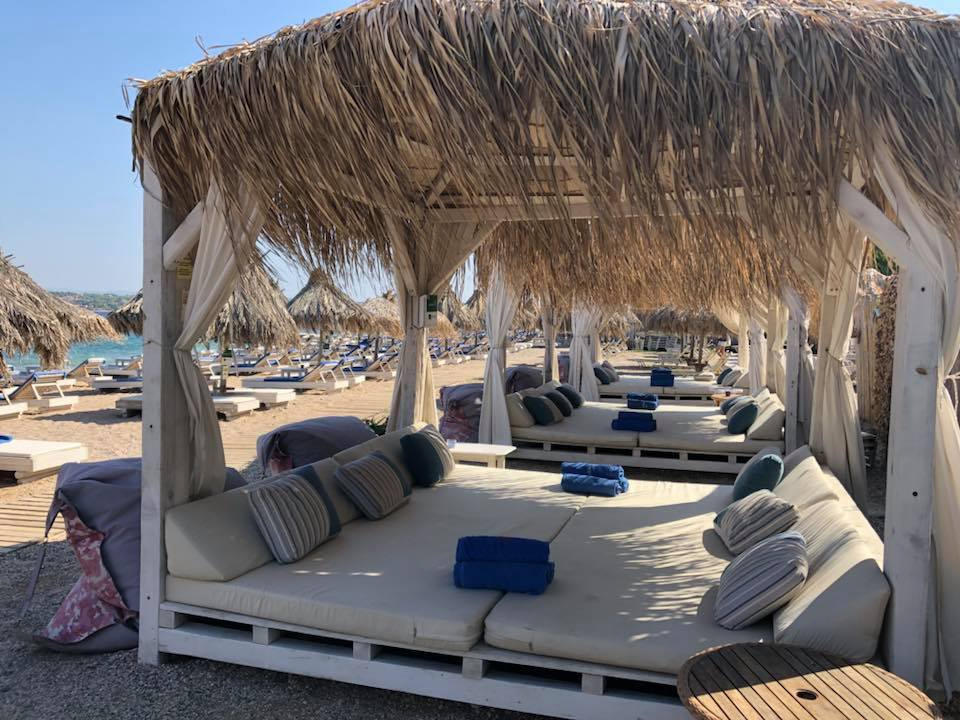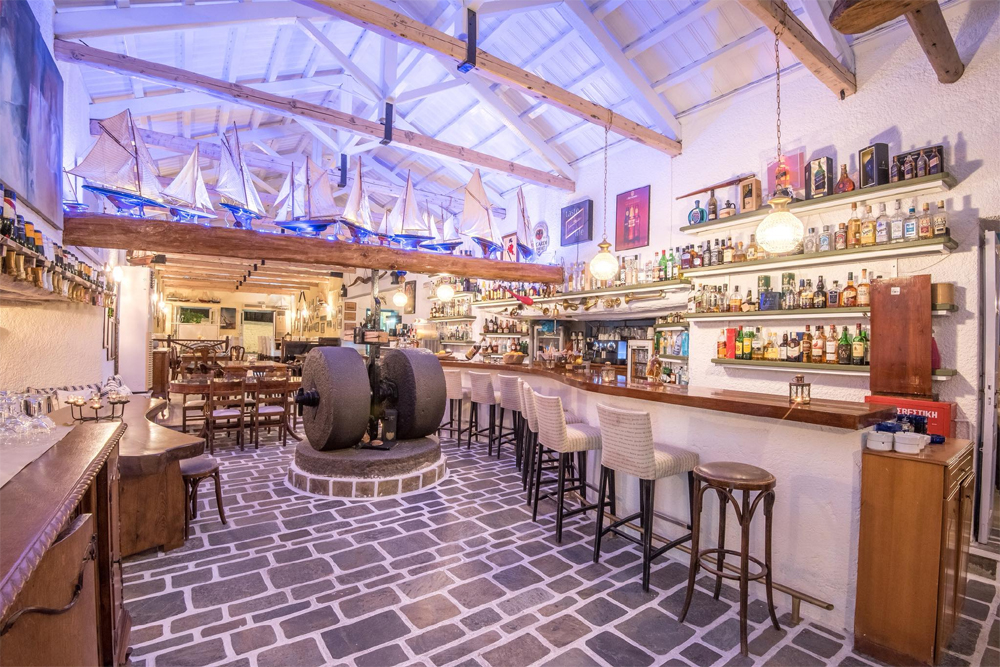 Restaurants/Bars/Pastry Shops in Spetses
Liotrivi. Its name translates as 'olive press' and is a great restaurant with Greek traditional recipes and a great interior/outdoor ambiance that serves dinner on a dreamy Old Harbor dock.
Tarsanas. Around the same area of the old port, on the waterfront, experience the freshest fish and seafood at this traditional taverna (taverna means casual Greek restaurant).
Bikini. If you want to stay long after dinner out, end up in the most cosmopolitan bar on the island again on an Old Harbor dock with a bar outside and a cool disco for those who want to dance indoors. You can also have dinner and breakfast/brunch there!
To Nero tis Agapis. If you are staying at the Poseidonion or Zoe's Club or Nissia hotel and you don't want to walk or be carriage-carried to the old port, then we suggest this seafood restaurant which translates as 'the water of love' and has a great sea view balcony at a zen location.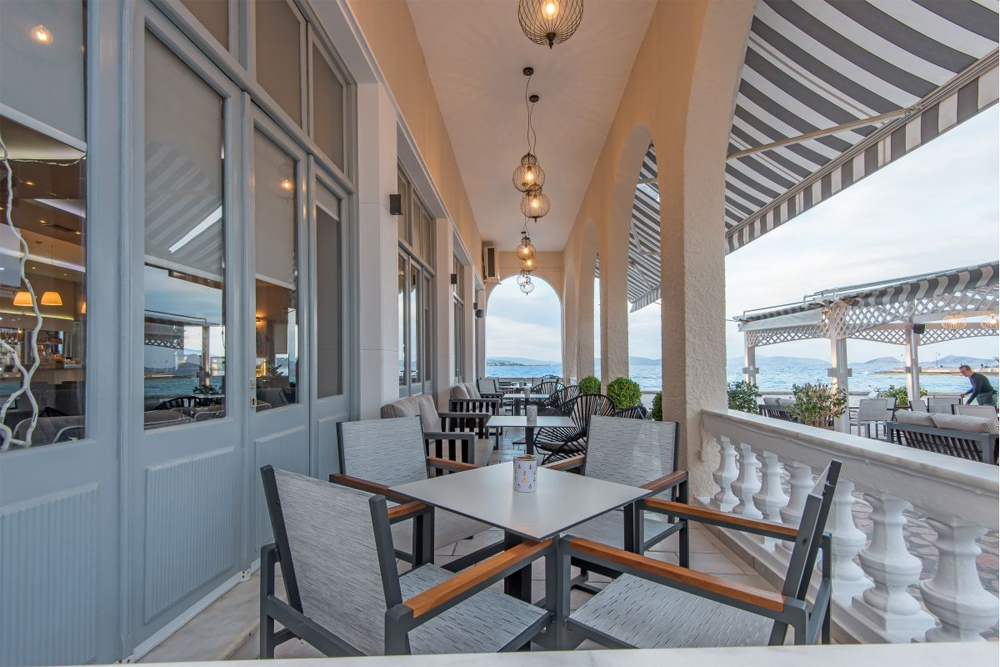 Klimis or Politis. Before leaving the island, get a box of the famous local almond marzipans or almond bites, known as 'amygdalota,' from these pastry shops.