Sophie Deloudi: The Minimalist Swimwear Designer Talks About Greece, the Pandemic, and Her Approach to Femininity
Raised in a family of interior design connoisseurs and aesthetes, and well into her second career as Creative Director of a swimwear and beachwear brand, Sophie Deloudi is determined to empower women through her perfectionist spirit. Her figure-flattering silhouettes are what strong, independent women love to wear on the beach. The Greek designer stands out for her uniquely modern personal style and fresh approach. She constantly experiments with new materials and forms, striking a balance between sensuality and elegance. Women with attitude and character are definitely irresistible under the Greek sun, and she knows that very well! 8 years after the brand's official launch, she continues to embrace her own language and codes. With the Spring/Summer 2021 collection, she had the opportunity to tap into her favorite rhythms and melodies, naming each product line after a great song. Amidst the pandemic, she found inspiration in music. As expected, our discussion revolved around the design process, the fun of it, and the challenges.
You studied Fashion Design but shifted for twenty years to working with your acclaimed father in the field of Interior Design as an importer and retailer of global high-end brands. How did you get back to fashion design? Has your previous work experience been proven helpful?
Coming back from my studies in Milan, I made my first attempt at creating a bathing suit collection. Back then, it was tougher to import materials from abroad; I was young, inexperienced and I kind of lacked self-confidence, so every obstacle seemed like it was insurmountable. Getting to work with my father was, at the time, a safe solution, but I can now say it was the best schooling I ever got. Working for many of the top design companies in Europe, I learned how to be a professional, how to be demanding so I could get a great final result and how to have an overview of the way a global brand works. My path was diverted during the height of the economic crisis in Greece in 2011 when the job I was doing had deteriorated into mundane tasks without any creativity. That's when I decided to take up what I had left unfinished 20 years before.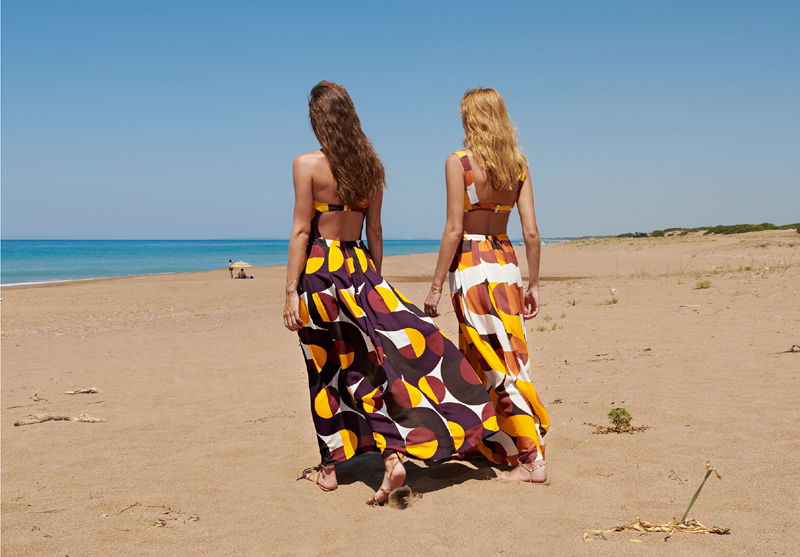 Why did you focus on swimwear and beachwear design? Does it relate to Greece's heritage as a summer destination?
During my childhood, summer was the perfect time of the year. I used to go on vacation for three months right next to the sea. A bathing suit was my only outfit for most of the day. I still remember bathing suits my mother brought back from Italy; in the 80s, imported clothes were not that common. I was fascinated since then.
Is it challenging to design swimwear, and what parameters of the process do you focus on the most?
I do think that every design is a challenge: The materials you will use, the form you will give them, the changes that you will make along the way so that the final result is aesthetically pleasing. For me, material and color are the substance. When I figure those two out in a design, fitting the body is my next step. In the end, what I really want is for the final result to be feminine, a bit sexy without crossing my personal boundaries, and also dynamic.
How do you describe the identity and philosophy of your brand?
I am consistent and loyal to my values regarding elegance and high aesthetics: Architecture meets geometry, elegance meets femininity, and a magical combination of colors, as well as original cuts, define my creations. Bikinis, one-piece styles, dresses, shorts, pants, and skirts that often tie as you wish, complete summer collections that respond to the needs of the modern independent woman. I respect women's bodies, and I always design driven by attention to detail, quality, elegance, and originality.
It seems that you love designing one-piece swimsuits. Why is that?
I really enjoy one-piece swimsuits! You get to do more… design compared to working on a bikini. I approach one-piece swimsuits as the formalwear of the sea!
Your creations are characterized by clean, geometric, architectural lines and motifs. Is that coming from your Interior design references?
I have most definitely been influenced by my work in interior design. Architecture is, for me, the ultimate applied art. I admire it, studied it extensively, and it has surely influenced my work. My aesthetic signature was formulated way earlier than that, though. Both my parents were pioneers of modern aesthetics and minimalism. During the 70s, when most homes in Greece had wooden carved furniture and traditional rugs, our house had black and white surfaces, metallic furniture, and design items.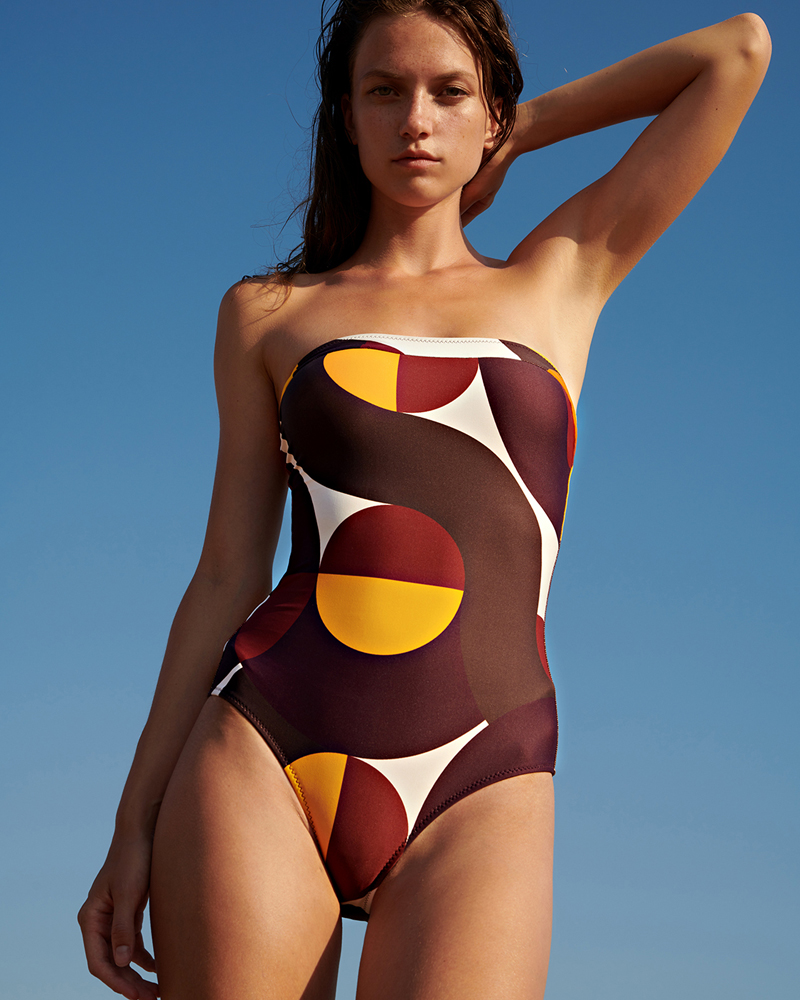 Has art impacted you, and how do you translate such references into things to wear on the beach? Using color and shapes?
Art is always there, inside and around me. I love photography and painting – one of the best gifts to myself is traveling and visiting museums worldwide. It is reflected both ways – on color and shape and the concept of our photoshoots every year.
You prefer using natural fibers and sustainable materials. Is it easy for a designer to follow an eco-friendly approach to fashion? How do you source your fabrics and work in a conscious way?
Using natural raw materials was my priority from the start. I don't use polyester-based fabrics. Our brand avoids making large-scale production that cannot be absorbed by the market. We manufacture everything in Greece, and our products are made to stand the test of time. I would be lying, though, if I said we only use recyclable materials. The market's available recyclable materials that can be used in the construction of bathing suits are extremely restricted and don't leave any room for creativity. As a brand, we care deeply to create a highly aesthetically pleasing result. We want our products to last more than one season so that we can tread lightly environmentally; as much as this can be achieved in the fashion world.
Your swimsuits often feature strategically placed cut-outs that are both sensual and sophisticated. How do you experiment with these to create figure-flattering silhouettes?
It is a matter of instinct, multiple tries, imagination. When your guide is seductive elegance, then you experiment on that path and finally choose the best result.
Do you present yourself as a minimalist or a maximalist?
Minimalist to the core. With a touch of femininity and sexiness.
Your collections are all about a refined sense of femininity. In what ways are you trying to empower women as a designer?
I love women! I want them to be able to be their best selves. I enjoy dynamic women who don't sacrifice their femininity; women taking care of their health and appearance. I grew up with a woman who is exactly like that, so I'm obviously influenced by that person. I want my brand to inspire that archetype; that's what I strive for, especially when dealing with the toughest condition: bodies exposed to the sun.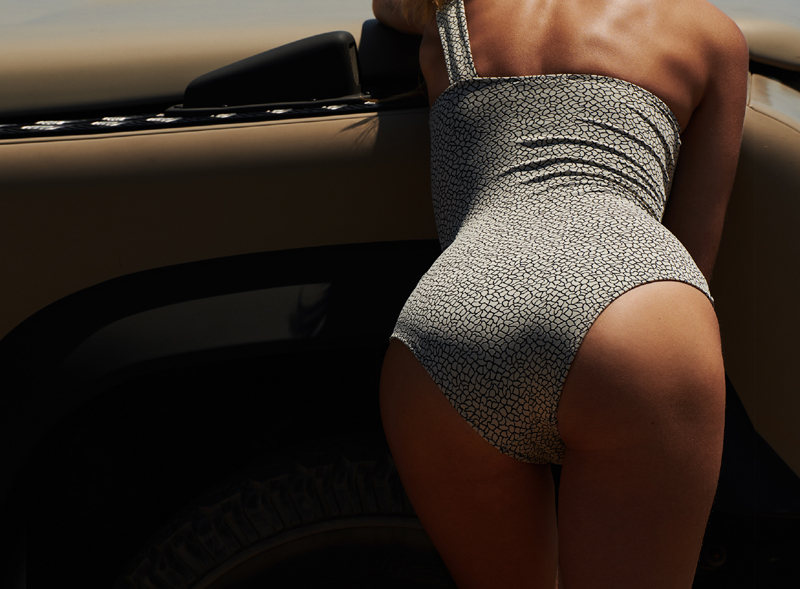 Which places in Greece best exemplify or meet your design approach? Are you getting inspired by certain destinations in Greece?
I'm lucky to be living in a country with amazing natural beauty and a great variety of landscapes in such proximity to each other. I don't think I can choose a favorite. For every trip I've ever taken in Greece, there's always a landscape that enchants me. Yet, I can't leave out our islands, especially the Cyclades, with their harsh landscape being framed by the blue of the sea and sky alongside white houses! I think it's a unique location, and every time I get to visit one of these islands, I'm transformed.
As a designer and entrepreneur with an international clientele, how do you see the pandemic affecting creativity and the fashion industry as a whole? Has it affected you, and how does it reflect on your Spring/Summer 2021 Collection?
When the pandemic hit, March of last year, we had just received our 2020 collection for distribution to our network of sellers, while at the same time, we had started designing our Summer 2021 collection. We were deeply concerned about whether or not we should go forward with this new collection that included many new and costly designs in the context of all of the market unknowns. We had no idea how the situation would unfold; we couldn't have known if our sellers would be interested in buying our new designs (since they already had our previous collection in stock) or if the customers themselves would be interested in purchasing new designs! I followed my instinct which was telling me that none of us need anything new. We already have everything! But, fashion, for a woman, is a fairytale. It's what can change up your whole demeanor. So, because of that, and because this is a pretty strange and challenging time, I went forward with creating our new designs without falling victim to the barrage of negativity about the pandemic.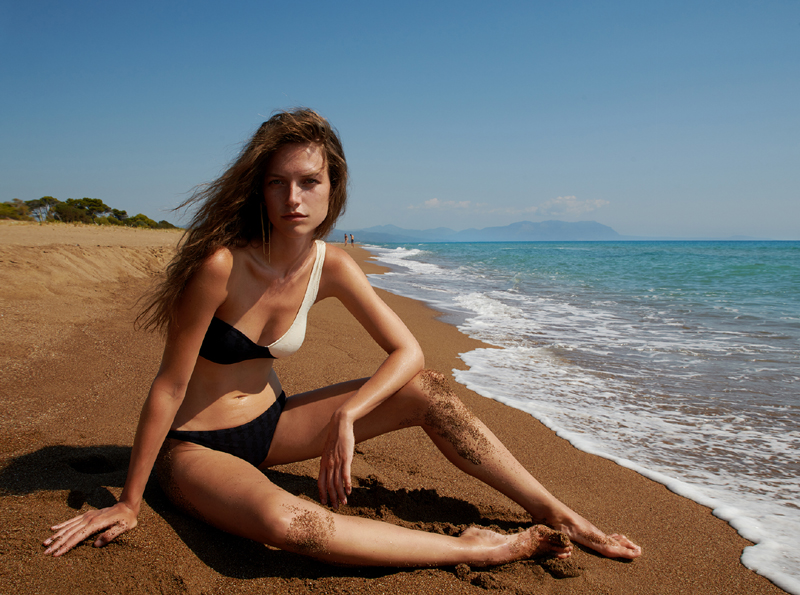 Do you feel that we now have the opportunity to adopt a healthy Greek lifestyle? Appreciate good food and outdoor living a bit more?
I don't know if that's what we need just now. For me, this has always been a way of living; staying in touch with nature, consuming quality foods, and keeping great company.
What is a luxury for you as a designer and a person? Being near the beach?
Spending time in nature, having great friends that turn into family, and traveling. I've missed them all so much!