Evi Grintela: The Greek Fashion Insider Who Reinvented Herself Leading a Second Global Career as the Designer Who Luxuriated the Shirt Dress

Extremely talented, eloquent, and discerning, Evi Grintela is a woman that never passes unnoticed. She is a luxury connoisseur with a bon-vivant attitude and a strong work ethic. If you are heading to Greece for vacation and want to know what's "Mediterranean chic" and how to excel at dressing for the islands, she can be the only person you need to ask for tips. Her luxe shirt dresses, the signature pieces of the Evi Grintela brand, exude effortless elegance. They signify that the wearer knows how to look impeccable on a cosmopolitan getaway. You can find them available to shop at high-profile retailers worldwide. The designer, who previously was an influential Greek editor and a fashion industry insider, talks about her glorious past and bright new future, one drawn with beautiful blue stripes and other mesmerizing colors for her ultra-sophisticated palette.
You have been a successful professional in prestigious magazines, the fashion industry, and the luxury market for well over two decades. From editorial positions and projects as a stylist, fashion director, and curator, you took the leap back to fashion design, which you studied in the past. What pushed you toward a new direction, and how do you feel about the outcome today?
My career in the Greek magazines coincided with their heyday, and admittedly, that was a very glamorous world that took me by storm. I cherish these memories, feeling immensely grateful for all the great moments I experienced during my tenure at various magazines. Each magazine gave me something precious, and I only remember what was good about it. When this chapter and the whole print media boom era came to an end due to socio-economic changes in Greece, I went through a transitional, introspective, and rather transformative period. I dove deep into a new phase in which I decided to start from scratch, stand on my feet again, reinvent myself, and do my own thing. What I created really surpassed my expectations and gave me a second chance in life.
All the work I put into the magazines and the wisdom I gained from my two-decade career became the foundations of what I am building now. I am constantly rediscovering and appreciating how valuable that previous experience was. I feel that my journey through the magazines was meant to prep me for my current creative chapter as a designer, helping me develop my own aesthetics. I am thankful for my first career, especially for the access I had to high-profile fashion shows on a global scale. I was fortunate enough to attend the shows of legendary designers like John Galliano and those geniuses who are no longer with us, such as Alexander McQueen. I was lucky to meet many of them in person, including the late Alber Elbaz. Like any other fashion editor, I was able to see and study all these collections up close, and through this ongoing research, I have collected valuable information and knowledge. Through dedication and experiential learning, I compiled my own archive of references which is extremely instrumental in my process of designing a new collection. I am constantly in a research mode, driven by my passion for fashion, my urge to delve into all possible databases of human creativity and culture and make something new off of them.
Why is the shirt dress so important to you, and why do you think it is also so relevant to your clients worldwide? What's the overall concept around it, and how did you take it to new levels of sophistication? Why yours feels so luxurious?
I always loved shirt dresses, wearing and styling them in my way. A shirt dress is timeless, a wardrobe classic for every woman with a great sense of style and innate elegance. I started by designing a line for me and my friends. I found some great artisans who made my first shirt dresses by hand using high-quality men's shirting fabrics, paying attention to every single detail. Some international designers were turning men's shirts into womenswear essentials at the time, so I was further encouraged to work on this concept that already aligned with my aesthetics. Specializing and narrowing down to the idea of the shirt dress played an important role in my brand's evolution and recognition. It had the perfect timing plus originality that is often appreciated in this highly competitive international market.
Is fabric leading the way in what you create, or do you start building each collection around a different, more conceptual parameter?
For me, fabrics are always a guide and a source of inspiration. My love for them was among the reasons I created this brand. High-end striped or monochrome poplins and linens are categorized as luxury fabrics. Our poplins are made of the finest quality cotton and processed with the latest-technology methods; hence they have an excellent feel. Regarding the printed ones in my collections, they follow my seasonal vision and are made exclusively for our brand in Como, Italy. Creating a new vision is the most sacred part of my job. Before designing the actual collection, I do extensive research and often attend seminars by globally acclaimed trend-forecasting experts. This preliminary phase helps me come up with a seasonal inspiration that somehow guides me in picking fabrics, motifs, and silhouettes. Fashion — and the overall creative process — gives me great pleasure as it evolves from one season to the next and is affected by global socio-economic factors. It helps me absorb what is going on around me and live in the present. And I just grow and improve along with my brand.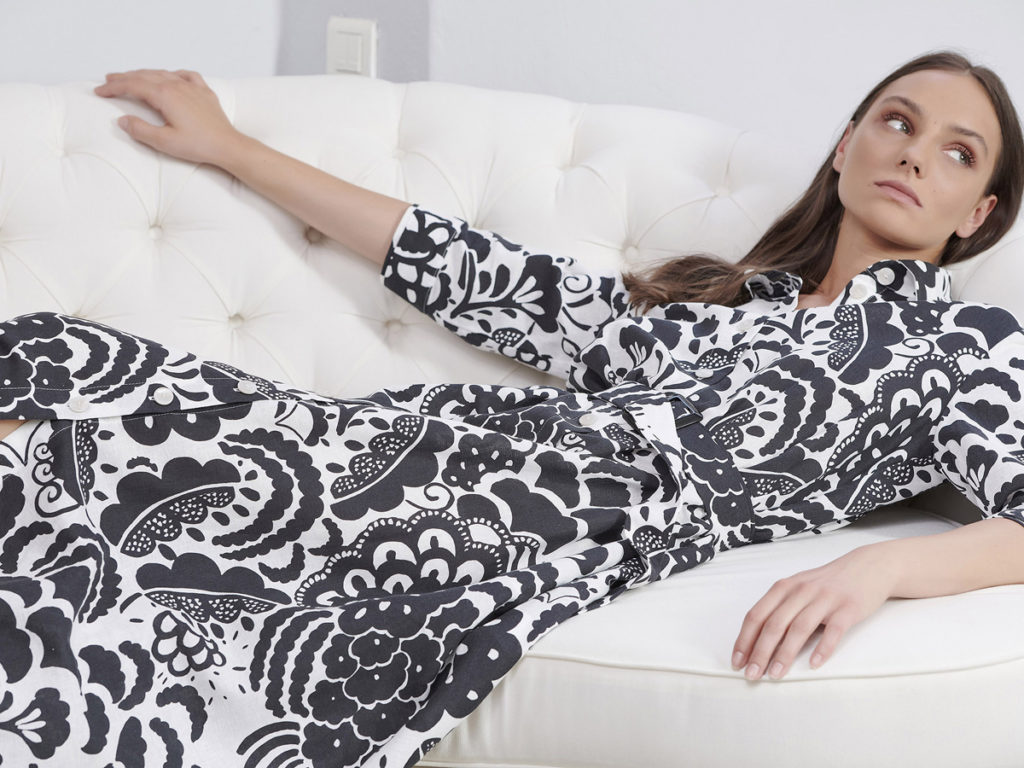 Where are your creations being made, your exclusive prints are designed, and your fabrics are sourced from?
We source our fabrics from Italy, France, Switzerland, and the UK. And as I told you, our prints are custom-made for us by a very prestigious factory in Como, Italy, which counts in its roster of clients established luxury fashion brands worldwide. We team up with the right people in the industry to meet the superb, premium-designer quality standards our customers are used to.
Your collections are practical and easy to wear but also dreamy, romantic, and artistic. What's your relationship to the arts, literature, and culture in general, and how are these elements reflected in your work?
The practicality and timelessness of the shirt dress occupy a significant part of my wardrobe and vision as a designer. Through my collections, you will discover my aesthetics, elements from my editorial experience, and knowledge I got from reading books, especially those related to the arts and culture. Reading is the greatest pleasure in my life!
Romantic, vintage aesthetics constitute another aspect of our brand philosophy that gives it a distinctive character. It stems from my love for antiques, archeology, and history and my constant treasure-hunting in various vintage markets across the world. I love the 1920s and 1930s, and I collect a variety of precious objects from different eras and centuries, such as antique china, opaline, embroidered table linens, and previous-century lingerie. These beautiful objects are a great source of inspiration reflected in my work.
You have your own new elegant atelier downtown. Can you describe its interiors, building, concept, and location?
The interiors of our atelier were designed by architect and sculptor Kostas Gouselis, an influential artist who is no longer with us. His approach to Architecture, which aligns with our brand philosophy, was multi-faceted, a dialogue between art and aesthetics unfolding with absolute respect for the environment, the setting in which he created forms with dedication and a poetic, sensual spirit. Our space is located in a typical Athenian apartment building of the 1950s, downtown on Skouze street. Its urban style will remind you of a Bauhaus studio, quite minimal with exciting details, 1970s industrial elements, and accents such as Crittall steel windows and Ingo Maurer lights.
Which are your favorite little corners, restaurants, coffee shops, boutiques, sightseeing, or other best-kept secrets when you walk around Athens?
One of my favorite places in Athens is the Museum of Cycladic Art and its café. I also love visiting the Benaki Museum and its restaurant, the National Gallery, the National Museum of Contemporary Art (EMST), the Stavros Niarchos Foundation Cultural Center, and the restaurant on its premises. Soil, Nolan, Birdman, and the all-time vegetarian classic called Avocado are my go-to restaurants for great food in Athens. My favorite holiday-season dessert is Panettone with chestnut filling from Madame Fraise. On Sundays, I enjoy strolling and shopping little vintage treasures around Avissinias square antique market in Monastiraki. And because I live in Plaka (the other historical neighborhood in Athens), I love to walk the pedestrianized Dionysiou Areopagitou Street under the Acropolis.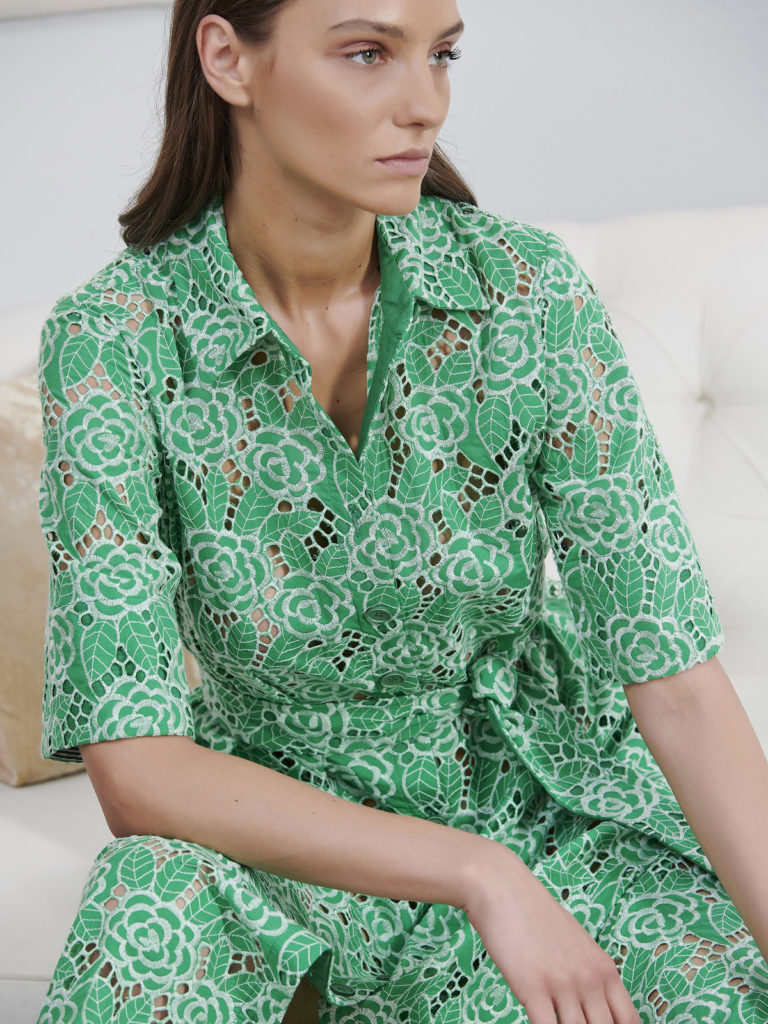 In what ways do you draw inspiration from Greece? Which parts of Greek heritage and tradition do you appreciate the most as a creative?
I feel blessed to be born and based in Greece, where democracy, culture, theater, and the arts find some of their earliest roots. Many parts of Greek history strike a chord with me, yet I am always impressed by how advanced the ancient Greek civilization was. Visiting Ancient Greek sites and all places where Greek antiquity has left its remnants is always a thrill to me. I am lucky to be living quite near the Parthenon and be able to see this monument almost every day. Other favorite archeological sites include Knossos, Delphi, and Elefsina (or Eleusis). I recently studied the last one, as I am rather intrigued by the secret religious rites that were taking place there in antiquity and were known as the Eleusinian Mysteries.
Greece is also known for its unique, radiant quality of light, clear blue skies, and natural beauty in general. I am an ardent explorer of this country, never losing interest in all it offers.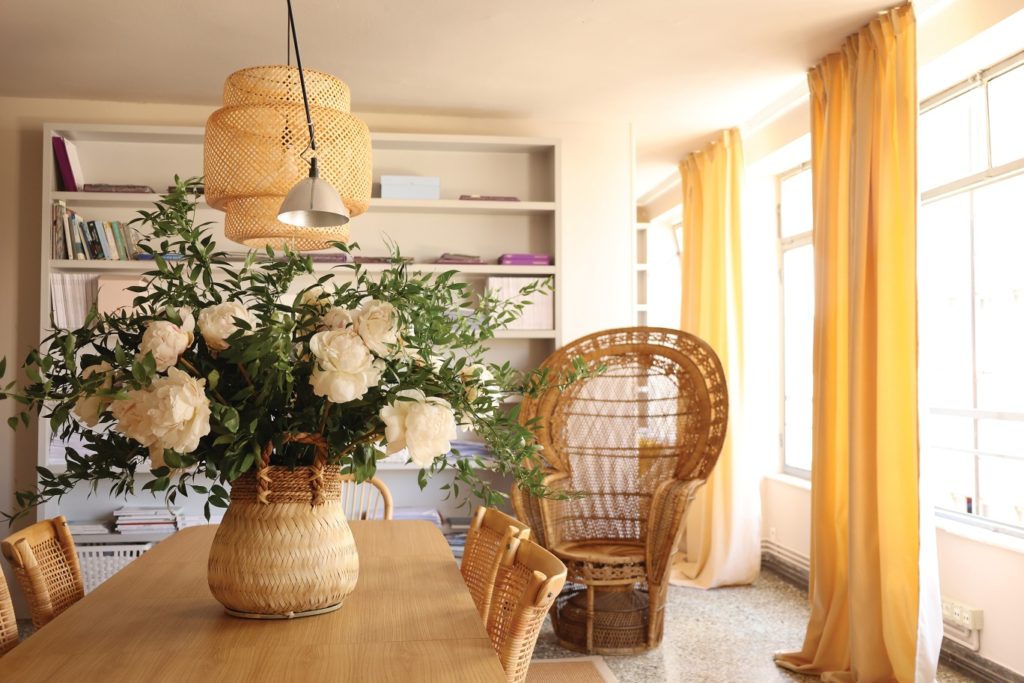 After traveling extensively and attending countless fashion shows across the globe, are you still an avid traveler? Which are your favorite destinations?
Travels are the greatest joy in life. While traveling for various fashion weeks worldwide, I made lasting memories and invested in unique experiences that are dear to my heart. I love traveling, often on my own, which is the best way to relax, dream, and get inspired.
One of the most significant trips I have ever taken was to India, right before the pandemic, on Christmas 2019. I first visited Kerala, being initiated and indulging in the treatments of Ayurveda, then moved on to discover the rest of this country's cultural wealth and beauty.
My other favorite places in the world are Paris which has offered me unique moments, Morocco, New York, Seychelles, and definitely Italy, a country I adore. I often visit Como, which occupies a special place in my heart. My next destination will certainly be Copenhagen.
In Greece, my preferred island vacation destinations include Patmos, Hydra, The Rooster resort in Antiparos, Kimolos, Skinopi Lodge in Milos, Captain's House in Spetses, Ammos Hotel in Crete, and Aegina, where good friends of mine have a house and a list of the island's best-kept secrets.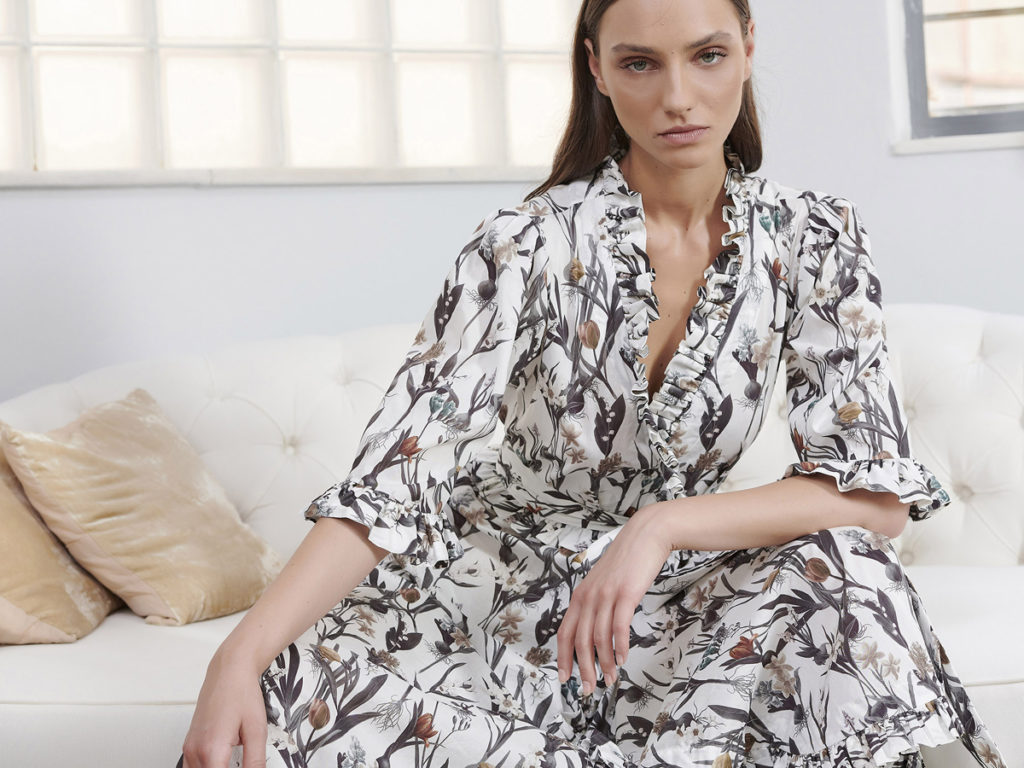 Is Patmos your secret paradise, or is it another one? Can you share with our audience your go-to restaurants, accommodation options, beaches, and favorite things to do in your own magical summer vacation place in Greece?
When in Patmos, I usually stay in Chora (the main medieval town), which is magical. For me, the most wonderful thing about this island is the friends I have made there. Most of them, a circle of dear people, have renovated incredible captains' mansions, and it is always a unique experience to visit them and be part of their occasions and gatherings. My favorite is the Moundreas family mansion, which dates back to 1800. Its current owner and hostess is my good friend Melina Moundreas.
I love having breakfast at Benetos in Chora. The most fun thing to do when in Patmos is renting a caïque or other small boat and island-hop around while savoring fresh fish, sea urchins, and other seafood right off the sea, the boat's catch of the day. The beaches I like the most are Psili Ammos and its restaurant, Petra, Livadi Geranou, Lambi, and Kambos with its stylish beach bar Àtmos.
In Chora, on the square, the most beautiful boutique – where we can also resell our nicest clothes – is Zafiria.
How do Greek women dress for vacation, and how would you recommend our international visitors dress for the islands?
In Greece, several new exciting resortwear brands have been successfully launched over the last few years, selling their collections on the islands and all over Greece. Foreign visitors seem to love Greek products, as we have also gathered from our own sales in Greece. They clearly like our blue stripes, broderie details, and finest-quality cotton shirt dresses.
For me, the most suitable summer vacation wardrobe options are ethereal shirt dresses or shirt & shorts sets featuring various striped motifs or other prints we have designed on our luxurious cotton and linen creations.
How would you describe the fashion scene and industry in Greece? Do Greeks excel or have any potential in the field of design, and which areas of Greek creativity are the strongest?
Considering current global and local circumstances and challenges, I think Greek designers are really doing their best. We even have designers setting foot on the global market, such as Christos Costarellos and Vassilis Zoulias. The last one recently saw some of his creations featured on "Emily in Paris."
Still, I believe that Greeks are far more creative and commercially successful in the area of jewelry design. Greek fine jewelry has always had a special place in the global market, and nowadays, more and more Greek designers such as Nikos Koulis, Lito Karakostanoglou, Yannis Sergakis, and Ileana Makri represent this vibrant local sector internationally.
Who are the people in the international fashion scene you have looked up to as icons and sources of inspiration?
My constant source of inspiration has been Υves Saint Laurent, who gave fashion a new dimension by redefining the very notion of elegance. I also draw inspiration from women who forever left their authentic mark on the history of fashion, such as Diana Vreeland, Loulou de la Falaise, Simone De Beauvoir, Edie Sedgwick, Coco Chanel, Catherine Deneuve, Patti Smith, Marchesa Luisa Casati, Millicent Rogers, Kate Moss, Miuccia Prada, and Phoebe Philo.
My biggest inspiration was the iconic shirt dress created by Yves Saint Laurent in the 1970s. If Coco Chanel emancipated women from the conventions of style, Yves empowered them. He revolutionized women's fashion by incorporating menswear elements and creating an androgynous look, first introduced through his groundbreaking "Le Smoking" collection in 1966. It was the first tuxedo suit made for women. The shirt dress he created in 1971 has a special meaning in the sense that it freed women from overly polished feminine silhouettes. Borrowing elements from men's shirts, he designed more comfortable and wearable clothes, "effortless chic," as the new generation and fashion enthusiasts would say. Women have an ongoing love affair with shirt dresses because they offer them timeless elegance without compromising their ever-evolving sense of style.
How do you see the global fashion market evolving after the pandemic? How is it affected by new trends in consumer behavior, the growing volume of past collections, the increasing demand for pre-loved fashion, and the quest for transparency, inclusivity, and sustainability?
During hard times of uncertainty and financial crisis, the best thing a woman can do is maintain her simplicity and personal style. In the era of global warming and climate change, she also needs to grow her awareness of environmental issues and shop for brands that follow ethical and eco-friendly practices.
The pandemic made us reevaluate our needs and the way we dress. We rediscovered the value of vintage clothes and accessories, creating a whole new global reselling market. Buying and selling vintage clothes became the new luxury, a trend that encouraged people to wear them proudly as precious fashion finds. This is how we are now more into upcycling and recycling fashion. People are also more willing to buy fewer and higher-quality items that stand the test of time.
The industry constantly changes, and I think this transitional period will lead to a more sustainable future in which all of us will actively contribute to protecting the environment and saving the planet. I believe fast fashion is losing ground as people gradually shift toward a more ethical approach to shopping.