Rachel Weaving: The Author of "Gardens of Corfu" Guides Us Through the Greenest of the Greek Islands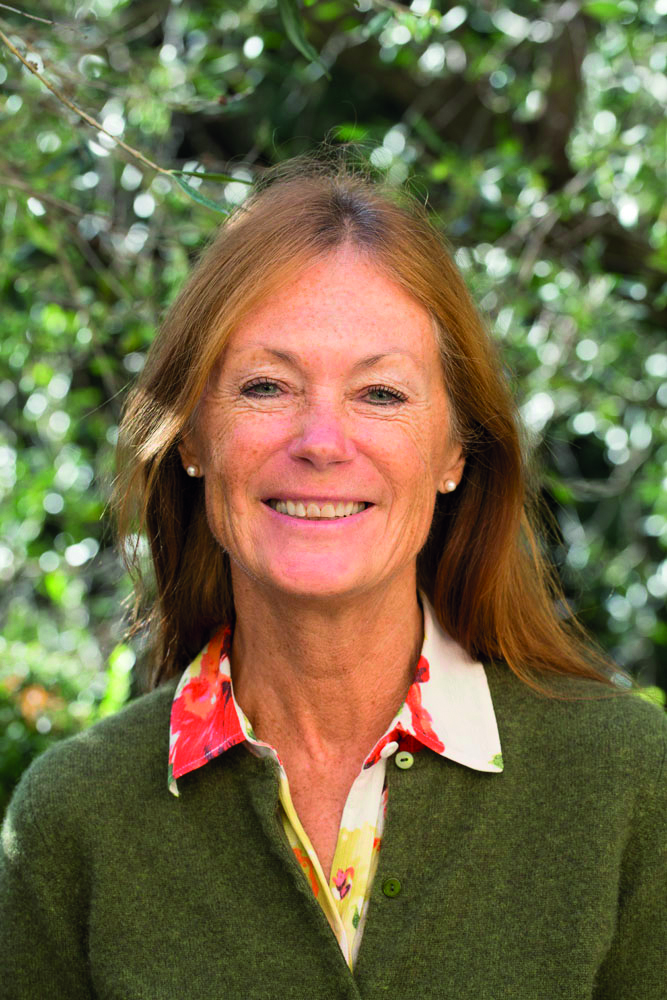 Known as 'The Garden Isle,' Corfu has long inspired artists, writers, and travelers. Rachel Weaving has been one of them. Today, the acclaimed garden maker and author divides her time between Washington, DC, and Corfu. After a career in international financial organizations, she followed up a lifelong love of gardens, obtaining a Royal Horticultural Society Certificate in Horticulture, studying garden design at the Oxford College of Garden Design, and advising on it. She began creating her current garden 16 years ago on a Corfiot hillside. The challenge of doing so led her to study the island's gardening conditions and traditions and their roots in its culture, history, and natural environment. And, of course, made her write the first-ever book on the topic, the "Gardens of Corfu" (Impress Publishing London), magnificently illustrated by Marianne Majerus, who won the 2018 IGPOTY European Garden Photography award for one of the photographs in it. The focus is entirely on enchanting private gardens, ones that make you dream of walking out in the wondrous nature. Weaving is discussing with us her affinity with this place and its gardens, as well as garden design trends and sustainability considerations. Check more about the book in our previous article as well as on its official website.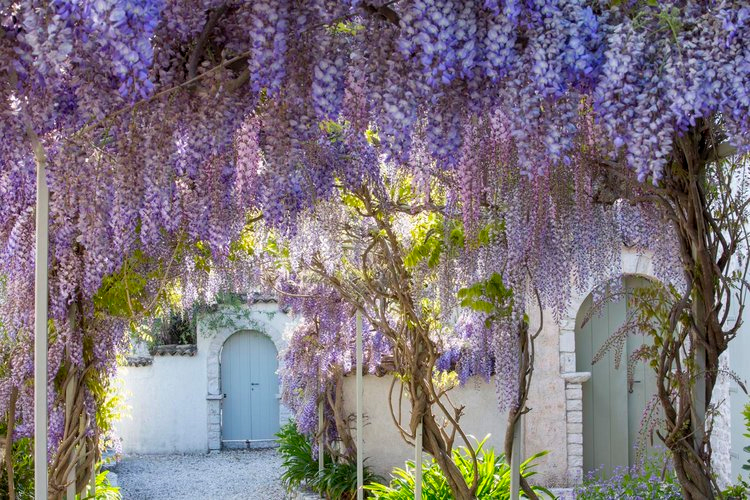 Can you recall your first ever visit to Corfu? When was that, and which elements impressed you the most and made you buy a house there?
My first visit to Corfu was in the summer of 2003 to visit friends. In previous years, I'd vacationed in Athens, and many of the Aegean islands, but Corfu came as a surprise. In many ways, it is typically Greek, with a glorious natural landscape, beautiful pristine beaches, and warm, hospitable people, but it has also been a cosmopolitan cultural center for centuries. Today it has a rich artistic and musical life. The Venetians occupied the island for 500 years, then the French and the British, until it became part of independent Greece in 1864. You see its mixed history in the architecture: beautiful old Venetian-style houses, gracious French arcades in Corfu Town's well-known Liston, and British neoclassicism in some of the old public buildings. The local dialect has many Italian words, and some of the key dishes in the local cuisine evolved from the Venetian. And as odd legacies of the British, people play cricket and drink ginger beer. But it was the green-ness of Corfu that pushed me over the edge and convinced me all of a sudden to build a house and create a garden there. Along with natural forest, Corfu also has about 3 million ancient olive trees, which are kept mainly unpruned and create beautiful mysterious "forests" of their own. As a gardener, I could see quickly that the rainfall there is high for a Mediterranean island, making gardening much more exciting than in a drier climate.
What makes the gardens of Corfu so special and intriguing as subject-matter for a book?
Gardens can tell you a lot about the soul of a place. As I made friends in Corfu and looked around for advice and inspiration for making my own garden, people introduced me to a whole range of gardens, from romantic old estates and colorful village gardens to stunning contemporary works. The gardens at the old estates evoke Italian and English models, reflecting the cultural affiliations of the people who originally created them. On these estates, the local nobility once produced wine, olive oil, or citrus. These gardens are not grand in the tradition of the stately homes of Italy or northern Europe, but each has a unique atmosphere, historic trees and old varieties of plants, and a story to tell. Many of the contemporary gardens reflect the tastes (and resources) of Corfu's big international community: some of the owners and designers are local, but others hail from a range of places from Chicago to Cape Town. The design standards in some of these gardens match the best one could hope to see anywhere. Meanwhile, village gardens contain a wonderful mixture of fruits, vegetables, and flowers, often including old varieties expertly tended and handed down from generation to generation.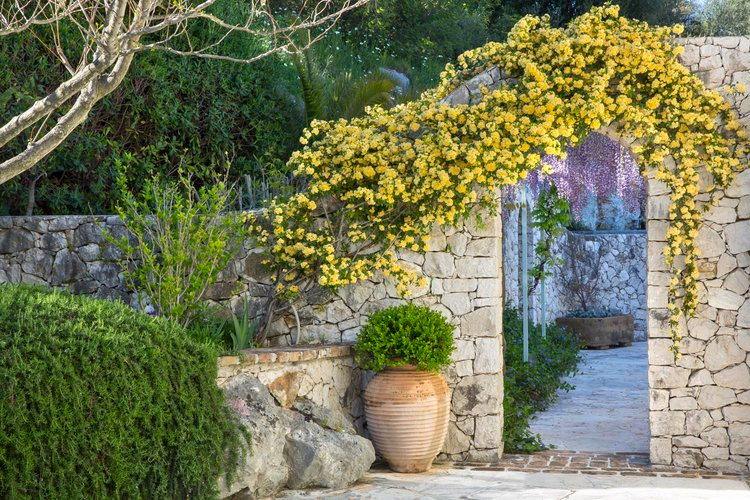 Why did you decide to focus on private gardens, and how demanding was that? To what length your research went in order to cover the topic and get access to these properties?
Corfu does have a few public gardens of note, including at the Achilleion, the Capodistrias Museum at Koukouritsa, and Mon Repos, but those are already featured in guide books. It seemed to me a pity that the private ones were not being more widely seen, and that it was worth providing a window into a world that people can't ordinarily see for themselves. The research took me about three years, on and off. People were very generous in pointing me to gardens they admired, in suggesting historical sources, in giving access to their gardens to me and photographer Marianne Majerus, my distinguished collaborator, and telling us about their gardening experiences and what their gardens mean to them.
What about people's relationship with nature, gardening, and outdoor leisure today? Has the pandemic improved it? Is there a revamped interest in gardening from those who haven't touched upon the topic before?
Certainly, in much of Europe and North America, the pandemic has created a big surge of interest in gardening among people newly confined to their homes. Sales of seeds and garden supplies have surged, and gardening advice is eagerly sought — and TV series on garden themes seem to be more popular than ever. And from a practical perspective, growing your own food is a good idea when a lockdown makes it hard to go shopping and hard to find the right vegetables in the shops.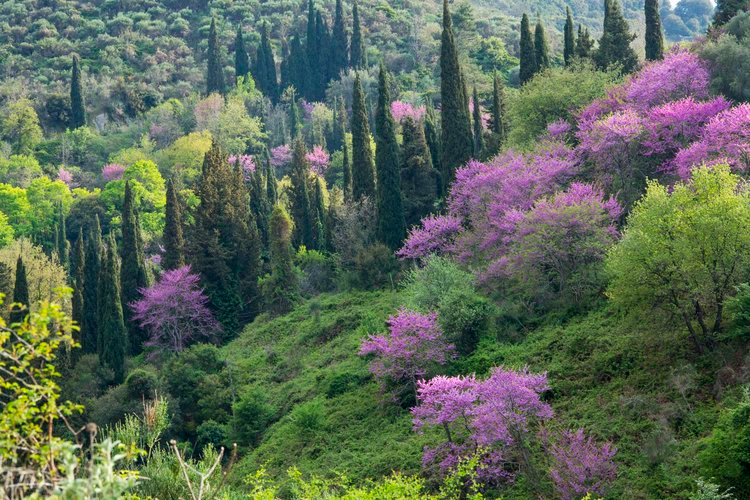 Is Corfu at a good place regarding sustainability efforts in gardening? Who are the masterminds and major proponents of such methods and modern solutions, and what are they mainly suggesting? How can the latest global landscape design trends benefit the environment locally?
Corfu's contemporary gardens reflect international design trends. So, though they do vary widely in complexity and mood as well as in scale, they almost all try to be ecologically sustainable and to conserve water, which is very scarce in Corfu in summer. Inspired by the "plant native" movement, most of them rely heavily on native plants and local materials and craftsmanship. Corfu's natural beauty makes it an ideal place to get inspiration directly from the local landscape, taking cues from what grows wild locally and so won't require a lot of scarce resources to thrive. Late 20th century works by Spanish architect Javier Barba at the Rothschild estate, and by Cali Doxiádis at Gastoúri, that allow the spirit of place to speak for itself, have helped to inspire a younger generation of designers working in Corfu, including Thomas Doxiádis, Jennifer Gay, and Alithea Johns. I think that paradoxically, the best of the contemporary designers bring one closer to appreciating the wild heart of the island through their subtle enhancements of what they find on-site and through the contrasts they highlight between the cultivated and the wild.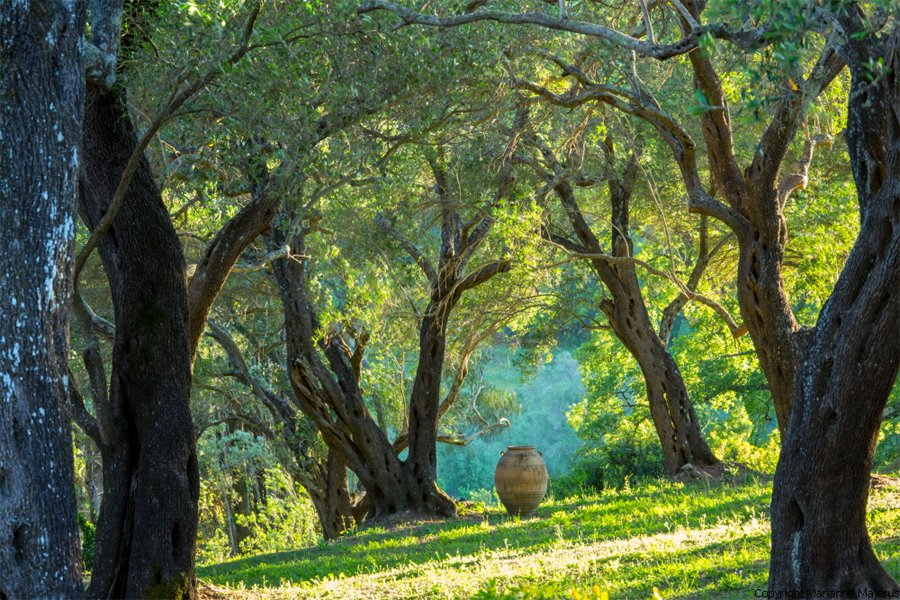 Do contemporary gardens on the island borrow elements from the older estates? In what ways do you feel there is continuity, evolution, and appreciation for the local tradition in gardening?
Certain common elements give the gardens a characteristic Corfiot feel: stone, ironwork, terracotta urns, and a tendency to grow fruit or vegetables along with flowers in gardens that are mainly decorative. Some of these elements are familiar from around the Mediterranean basin generally – for example, the use of local stone for building, terracing, and decoration, and the crop-ornamental combination that appears in village gardens almost everywhere and certainly in the traditional Greek courtyard garden, or avli. But a particularly Corfiot feature is the decorative use of big terracotta urns, which you find just as much in the gardens of old noble houses as in their contemporary and village counterparts. In the past, these urns were widely used for storage and for exporting olive oil. Another local feature is wrought iron, which features in pergolas, gates, fences, garden lamps, and furniture. Corfiot blacksmiths use old Venetian patterns that have become part of the local vernacular over the centuries, as well as design their own. Also, Corfu's gardeners noticeably favor plants and flowers that are scented, including jasmine, roses, wisteria, gardenias, winter-flowering stocks, and aromatic herbs and shrubs.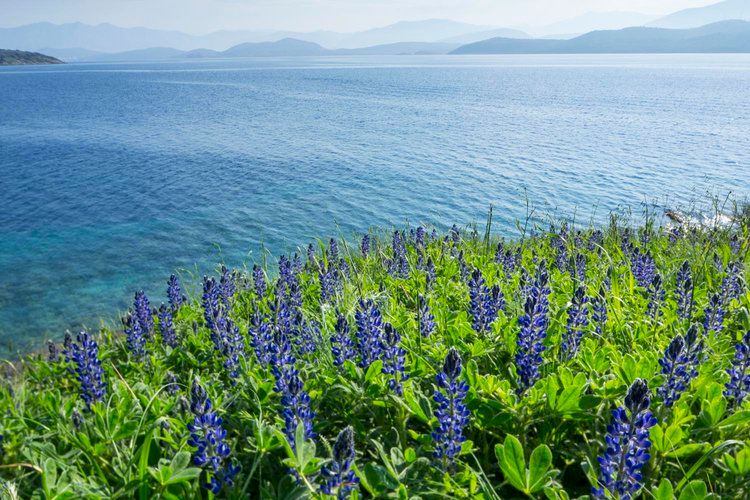 You dedicate the last chapter of the book to the "wild garden," meaning the natural landscape, and most importantly, the wildflowers. Which are the most impressive facts about Corfu's flora?
Corfu's wild landscapes and wildflowers are so visibly an inspiration for the modern gardens that we felt it was essential to cover them in our book. Corfu is a plant hunter's paradise, with the largest number of wild plant species on any Mediterranean island: some 1,400 in a land area of 400 square miles. Partly this richness comes from the relatively damp climate, which encourages vigorous plant growth. Another reason is that geographically the island is at a crossroads between Greece and Italy, with the Adriatic Sea to the north and the Ionian and Mediterranean seas to the south. Many of Corfu's wild plants are like those in southern Italy or mainland Greece, while others are typical of Northern Europe or North Africa. And the habitats on the island are very varied – from coastal dunes and wetlands, windswept cliffs, deep oak forests, olive groves, to open rock-strewn mountainside, for example – each with their own flora. Of course, visiting gardeners find the wild parts of Corfu irresistible because there, they discover precursors of so many familiar garden plants: lily, gladiolus, hollyhock, acanthus, iris, cyclamen – the list goes on and on!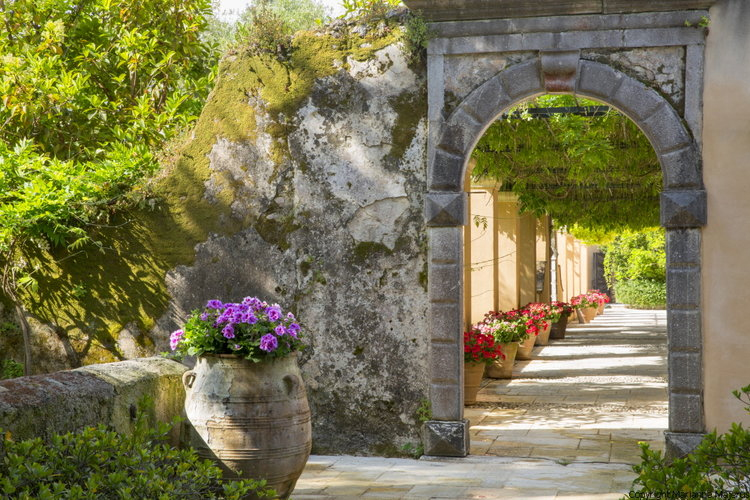 Can you tell us how the idea of Corfu Open Gardens came up and got organized in 2018 and 2019?
The inspiration for Corfu Open Gardens (in which private gardens open up to the public on two weekends a year) came originally from Joanna Fortnam, an editor at the British newspaper the Daily Telegraph, for whom I was writing a piece at the time. She commented that it might be frustrating for readers to be given a glimpse into private gardens but not be allowed to visit them in person. I did see her point, so I was really happy when an initial group of garden owners agreed they would open their gates for public visits and when designer Alithea Johns agreed to help me with the organization. The twice-yearly event became popular very quickly, involving a growing number of gardens (a much bigger and more diverse set than covered in the book) and attracting hundreds of visitors by autumn 2019. Sad to say, the Covid pandemic stopped it in 2020, but I'm hoping it can be somehow revived in 2022, if not before. The Facebook page for the event will carry updates.