Stéphanie Artarit: The French Author of Assouline's Athens Riviera Book Analyzes the Greek Psyche
She is the author of Athens Riviera, a book that was released in May 2020 as one of the latest additions to Assouline's series of books on magical travel destinations. French journalist and writer Stéphanie Artarit, who also worked as a psychoanalyst for many years in Tokyo, lives today between Athens and Antiparos island. Her book is about a unique place. Overlooking the Aegean Sea, a charming string of coastal neighborhoods constitutes Athens Riviera, a serene retreat from the city center's constant activity. A selection of high-end hotels lines the pristine stretch of beaches down to the Attica Peninsula's southernmost point, Cape Sounion. The revamped Four Seasons Astir Palace, with a history of accommodating foreign dignitaries and film stars since the 1960s, is the most luxurious hotel in Athens and perhaps in all of Greece. The nightclub Island is bringing back the glamour and fun-loving spirit of the 20th-century bouzouki clubs reminiscent of Melina Mercouri and Stavros Niarchos's times. Indeed, Athens is experiencing a revival in art, nightlife, and design, and this is among the reasons why Assouline decided to tap into its Riviera. Island club's owner Chrysanthos Panas, a visionary entrepreneur in entertainment, event management, and hospitality, has been an ardent supporter of this initiative. He wrote the book's foreword and is probably the most prominent Greek who has consistently popularized the idea of the Athens Riviera among jet-setters, luxury connoisseurs, and superstars. The ultra-sophisticated presentation equals authentic Greek luxury. Still, Artarit always has more than one project in her lap, with one of her current ones related to tourism and fashion launched right before the pandemic. She is constantly up for a new adventure, especially a creative one. Chatting with her about Greece, traveling, shopping, and psychoanalysis, we start figuring out why some brilliant globetrotters have chosen Greece at some point in their lives as their haven.
Can you recall your first ever visit to Greece?
I was 20 the first time I came to Greece just for 2 weeks of holidays. It was in Santorini… 30 years ago. I was dazzled. Since then, I have traveled a lot, and I must confess it is still one of the most beautiful places I have ever seen. I was going all around the island, dreaming of buying a house. I remember, especially, an old building in Pyrgos. It became a luxury hotel… All my dream homes became luxury hotels… But I wrote a novel called "Devil's Variations" and the story was ending in Santorini. Two months ago I wrote a thriller and the story was also ending on a greek island. I believe I am cursed. All the books I have written are either about Greece or finishing here!
Which of your subsequent visits "sealed the deal" and made you move to this country?
When I moved to Japan, one day I told my husband we should go to Greece for holidays. He had never been here before. To make a long story short, we bought a house in Paros in the blink of an eye. The first year I spent in Greece was there. Spending a long time on an empty island during winter is quite an experience! It was quite boring, and I decided to make a shop also rather spontaneously. You see, I am as impulsive as the Greeks!
How was your first year here?
It was the beginning of Petit Tipota (my boutique currently in Antiparos island- its name translates as "a little nothing"). Life is always starting with "a little nothing," yet siga-siga (Greek phrase for little by little), this became my entire life. We decided to move to Athens with all the family, kids and mother included (notice again how Greek I am to be living with my 85-year-old mother!), and we are delighted here for the last 4 years. We were living in Japan, a country where we couldn't understand or even read a single word, so we are used to it. Actually, it is quite pleasant not to understand anything. You are in your own bubble, and you can imagine everybody having deep thoughts. I was shocked when I went back to France. Listening to people's conversations in the streets, cafés, and supermarkets, I got so disappointed to realize how our words are so empty…
Did you have any master plan in terms of a career in Greece, or did it unfold organically with time?
I am not a very good planner in general. And honestly, the situation we are going through right now is proof of that.
Can Athens, in any way, be compared to the other cities you were living in before? From Tokyo to Athens, the cultural gap is abysmal, for example.
You would be surprised to see the ways Japanese people are similar to Greeks. There is even a book called "The Greek Japan" by Michael Lucken, which I recommend your readers to check. In everybody's mind, the Japanese are very conservative people, but for the most part, we ignore how crazy they could be too. The main difference is that they have a place and a time for showing their craziness. Here, it is anytime and anywhere! The Japanese are overly polite, and that makes this place very pleasant to live in. The Greeks often seem to be a bit rude, like the French, at first sight. Yet you can make real friends here. It is more difficult in Japan.
What elements drew you to Athens? Were they practical considerations or more philosophical ones?
It was mainly because of the way of living; more easy-going, simpler, and cheaper than in Paris. When you turn 50, it's time to start eating delicious tomatoes! Let me mention here that I had the best tomatoes in my life in Greece and Japan. Another similarity!
You have worked as a psychoanalyst for many years. Have you managed to read and decode the Greek "psyche," meaning certain common unconscious thoughts, feelings, desires, and memories among Greeks? Is there a common thread in their unconscious that reflects on their "Greek," let's say, lifestyle and behavior?
This question would take at least 100 pages to be adequately answered as Psychoanalysis is also, to a great extent, based on Greek myths. But if we think about the most famous one, Oedipus, we can see this myth through Greek mothers' influence on their sons. Please don't misunderstand what I say, but honestly, the Greek fathers are often not dominant in raising their kids, particularly their sons. They may ignore that the only thing they are supposed to do is make them feel more independent. A father's lead over a son should come down to "give your mum a break; she is mine, not yours." The same should apply to their daughter, by the way. But even more so to their son. Fathers must be very clear about it. "You will not marry your mother. She is already married to me." I can see the wrong type of attitude all the time. At restaurants, for example, with kids running around and making noise. The Greek mother usually looks exhausted and desperate, but the father does not take action. They look entirely disarmed. In such instances, fathers have to set the rules. That would also make Greeks drive safer! In French, the same word is used for the verb "drive" and "conduct." It's all about how you conduct or carry yourself in the world. Abiding with the rules has to be taught. It allows us to live together harmoniously. Applying them in a household has to be a father's responsibility as well. One might say that minimum limitations in upbringing give children freedom, confidence, and energy, but let's not confuse those with impulsiveness.
How did the idea of writing the "Athens Riviera book" came up, and what was the extent of research you had to do to get into the spirit of the Greek culture and uncover the secrets of the Athenian Riviera?
I think the idea came up in the first place when Chrysantos Panas spoke about it to Martine Assouline. I know her for many years, and she asked me if I would like to write the book. I was a bit nervous because, initially, I didn't know many things about the Athens Riviera. But I love challenges! It was an opportunity for me to thank my adopted country, and I worked hard to be up to the task entrusted to me and not disappoint Martine, Chrysantos, and all the Greek readers. It was a big honor to be assigned to promote this dreamy part of Athens.
The book was translated by acclaimed Indian novelist Radhika Jha who recently relocated to Greece as well. Did you write it initially in French?
I did. As Radhika is one of my best friends, a great writer, and living in Athens, I thought she was the right person to do it. I believe writing is like psychoanalysis. You can do it well only in your mother tongue. Or maybe if you are fluent in another language (which is not my case).
Chrysanthos Panas, the most ardent supporter of the idea of the "Athens Riviera," wrote the forward. He is an innovator in the hospitality and entertainment business. What was the most valuable input and information he gave you regarding the local scene and industry?
I met Chrysanthos when I started writing the book. I must say he was so helpful! We went all around the places he likes the most in the Athens Riviera. He explained to me why he is so in love with this place, how he wants to promote it and respect its beauty. We didn't talk a lot about the local scene and industry but rather about feelings. And honestly, it was really inspiring to me.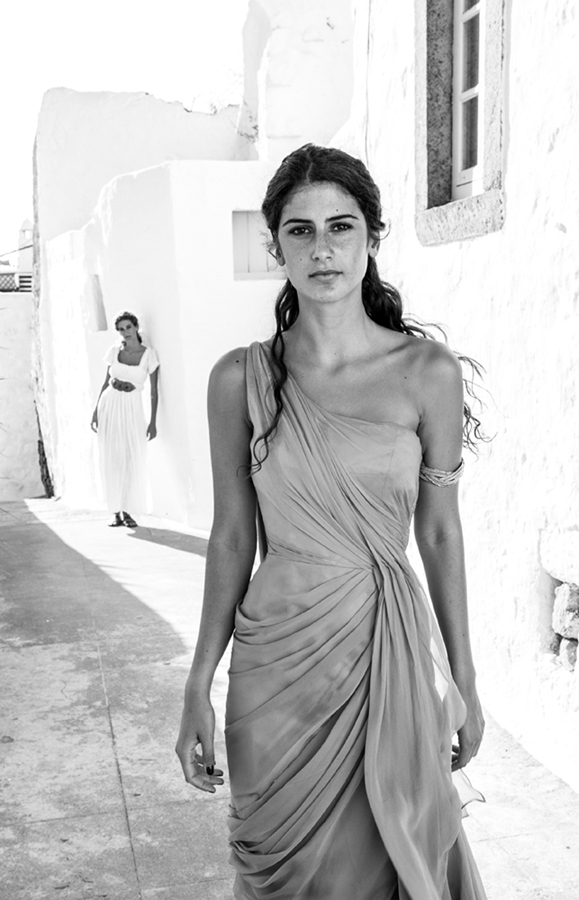 Who else contributed to that effort of collecting spectacular assets, including quotes, descriptions, opinions, and images?
I knew Greek photographer Calliope who agreed to give some of her pictures for the book. The other photos have been collected by Chrysanthos Panas and Martine Assouline. It was considerable work and the main objective of the book. The quotes have been sourced from my readings (Lawrence Durrell, Henry Miller, Vassilis Alexakis, Jacques Lacarrière, but also Homer's Odyssey). I always read a lot before starting to write. Martine found some, too, I guess. We were all thinking and working together.
Were there people willing to help you, show you around, and connect you to others?
Honestly, the people I knew, but Chrysanthos, did not trust my capacity to write something deep about Greece or themselves. They talked to me but off of the record. The famous Greek families are very protective of their names and reluctant to share stories.
Besides a beautiful narrative, the book offers actionable info on what to do once you set foot on the Athens Riviera. Which is your own "day trip itinerary" for this destination; your favorite places to do in the first 24 hours?
I am not very good at dispatching advice to tourists. I wouldn't even give recommendations to people traveling to Paris unless I know them very well. I love the Thissio area in Athens. Very romantic. As for restaurants in the Syntagma area, I love Cherchez la Femme and Nolan. The terrace of Athenée just nearby is also trendy and international. In the Riviera, I would most probably say Island club for a great party and Fours Seasons Astir Palace for cocktails. But in general and especially in Athens, I would recommend you to wander around the city. If you get lost, you can grab a cab from anywhere.
Your publisher Martine Assouline has some Greek origins through her grandmother, whom she dedicated the book to. It seems she has a special connection. What made you feel connected to Greece?
The wild spirit and the chaos! On a more serious note, I believe we are all connected to Greece. Greece is the root of everything. We are using 5 million Greek words. We are counting with Pythagoras and Euclid. We are thinking with Socrates, Aristotle, and Plato. We are hoping with Epicurus, and we are watching the stars with Eratosthenes. We are governing with Solon and Cleisthenes. We are healing with Hippocrates, and as Vassilis Alexakis used to write with his great sense of humor, "we will all die of a Greek disease."
You decided to stay for some time in Paros, and you maintain the boutique "Petit Tipota" at the "Beach House" on the nearby island of Antiparos. How is everyday life in the Greek islands from the point of view of a business owner and a seasonal resident?
Working on an island is like being on vacation somehow. I meet many people in my little shop, and my clients become very often my friends. As the shop is mostly an open space near the beach and the bar, we enjoy drinking cocktails or coffee (depends on the time), sharing the island's latest gossip. As I used to be a psychoanalyst, these chats sometimes turn into funny psy sessions…
After a few years here in Greece, do you now feel like an insider? Which are the things you are still excited to learn and delve into?
As I told you in the first question, I don't want to delve too much. I came here as a foreigner, and I love it this way. As soon as I start speaking Greek, I am afraid the magic will be lost.
You got this summer boutique, and you also set up The Gang of Style, a company that specializes in designing in-house boutiques for luxury hotels globally, as well as brand consulting & bespoke solutions. Can you explain the concept?
I can quickly figure out the ideal spots for boutiques inside hotels, where guests and visitors are most of the time willing to shop. The hotels don't even have to rent a shop, so it's a win-win proposition. I've traveled a lot in my life and visited many luxury hotels worldwide, yet most hotel shops are quite disappointing. Usually, the hotel managers are not paying enough attention to them because they don't know fashion. So they literally hire anybody to run the hotel boutique, sometimes ending up in a disaster, not an added value for the hotel. Failure gets them further discouraged, gradually focusing less on the boutique. It's a downward spiral I know how to stop. It's challenging because many hoteliers want to play it safe, following the old way of doing things. It takes time to build trust.
What's your relationship to style, luxury, and fashion, and what parts of your knowledge and experience enable you to offer such services? Were you once a serial shopper & luxury hotel guest?
Japan is probably the best place to shop in the world. When I arrived in Tokyo, I got obsessed with the creativity of the designers. Not only the famous ones like Issey Miyake or Yohji Yamamoto but also all the unknown ones! Shopping in Tokyo is like an experiment. Everything from the fabric to the wrapping is so delicate and perfect. At that time, my budget was higher than today, so I began to be like a fetichist or a collector, let's say. When I left Paris, I sold almost everything. I wanted a fresh start. But I guess I felt some frustration not finding anything as good as the Japanese fashion when I arrived in Greece so to balance this I opened a store, to be able to shop again in a "bigger" way and to bring to Greece a bit of my own view about fashion and style! Little by little, I built a strong relationship with the brand owners I was working with. Some of them (@inouitoosh, @lornamurray_, @pier_sicilia, @maredilatte, @thenicefleet, etc.) asked me if I would like to be their agent in Greece, and I agreed. New job, new experience!
In one of your capacities, as a writer, you definitely appreciate reading others as well. What are your favorite books written about Greece?
From the ones I know, I would say the "Dictionary of the Lover of Greece" by Jacques Lacarrière but also all Jean-Pierre Vernant's books about Greece. He is a great philhellene (like Jacques Lacarrière), and I read many of his books to my kids. My 10-year-old son's knowledge of the Greek Gods' family tree is unbeatable! I'm also a huge fan of Vassilis Alexakis. I remember something he wrote about the 3 different types of winds in Greece: "the capellatos who is blowing away the hats (in Greek capella), the kariklatos who is blowing away the chairs (in Greek karekles) and the trapezatos, the tables (in Greek trapezia)…" It always makes me happy to read this. Maybe because it also relates to different human characters. As a fashionista, I am probably more interested in the capellatos!