Top-Tier International and Greek Art Galleries in Athens
As we explained in the article on the Athenian concert venues, Athens has been a cultural epicenter since ancient times. 5th century BC is described as the Golden Age of sculpture and architecture, with the legendary sculptor Pheidias being considered one of the greatest in antiquity. In the 4th century BC, another sculptor called Praxiteles is credited for the first life-size nude female statues and statues of young-looking Greek gods made of marble from the island of Paros, including the statue of Hermes, part of the Archeological Museum of Olympia's permanent collection. Since the 19th century, Greek painters have also produced important artworks across all artistic movements and styles from realism to surrealism. Some art galleries in Athens date back to the 50s and 60s, and more are being added to this list, including international branches. Over the last decade of the financial crisis, the gradually gentrified city center evolves into a glorious mix of grunginess and heritage, graffiti walls juxtaposed with incredible vistas of ancient ruins and neoclassical buildings. Through residency programs or prolonged stay, artists from all over the world draw inspiration from the city and engage in its rich cultural calendar.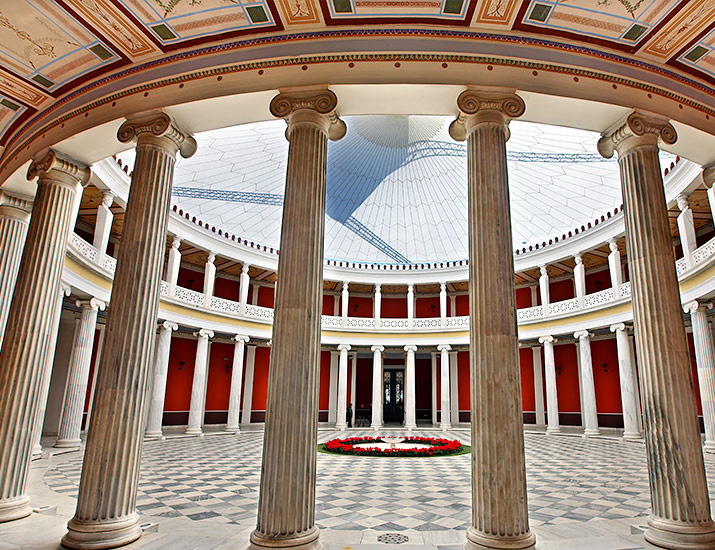 The Cultural Revival of Athens
One way to get the first glimpse of today's art scene in Athens is by visiting the DESTE Foundation for Contemporary Art and the National Museum of Contemporary Art. Another way is by taking part in or attending art fairs such as Art Athina, one of the oldest in Europe, which was founded by the Hellenic Art Galleries Association in 1993. With the participation of Greek and international talent, this fair went stronger after another pivotal one, the Documenta 14, which took place in 2017 in both Kassel, Germany (its home base since 1955) and Athens, signifying the revival of the Greek capital as an artistic/cultural center. Although art galleries are spread around Athens and its suburbs, you will find the majority of them in the posh and historic area of Kolonaki, a breath away from the Greek Parliament, the embassies, and the bustling Syntagma Square. You can walk from one to the next, always in comfortable shoes, as certain parts of this neighborhood are uphill. In this article, we will guide you through the most important Greek galleries in the city, those in proximity to downtown hotels, and some you need to drive to. In any case, it is really worth the effort; art world insiders are seeing a small renaissance going on in Athens. Keep in mind that most galleries are digitally active, and can be visited physically (in some cases with an appointment).
Athens – Kolonaki
Allouche Benias. In one of the most emblematic Athenian neoclassical buildings, the Deligiorgis Mansion, built in 1890 in Kolonaki by the venerated German architect Ernst Ziller and featuring Art Nouveau details and extraordinary ceilings, this gallery is spectacular in all aspects. From his namesake gallery in Meatpacking District, across the Whitney Museum in NYC, French gallerist Eric Allouche and his longtime art dealer/curator George Benias of Greek origin decided to create a joint spin-off art universe under their names. They were definitely intrigued by the artistic landscape and dialogue in today's Athens, and they are qualified to spice up the scene even more. This is what they lately do with an important contemporary art selection by internationally acclaimed and must-watch artists from Greece and all over the world.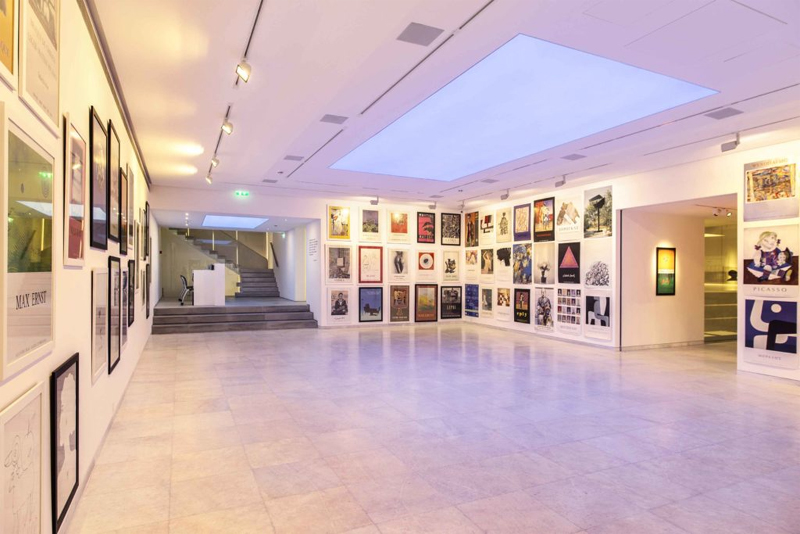 Zoumboulakis Galleries. Founded in the late 60s in the upbeat Kolonaki Square, this is one of Athens' most influential art spaces, hosting, through the decades, fine-art heavyweights, local and international. Focusing on contemporary art, it sets the trends by introducing new promising artists and established ones to its loyal audience. With an Art Shop a few blocks away and an event space nearer to the Acropolis, it showcases exciting art projects year-round.
Skoufa Gallery. Since 1981, it exhibits acclaimed contemporary Greek artists who had an impact from the 30s and onwards. This elegant space in Kolonaki Square successfully connects the past and the future of Greek art through a carefully curated selection. Many historically significant artists exhibited there were friends with the founder Eleni Kalligas, mother of Yannis Kalligas, current Director of the gallery. He also runs a sibling gallery on the island of Mykonos.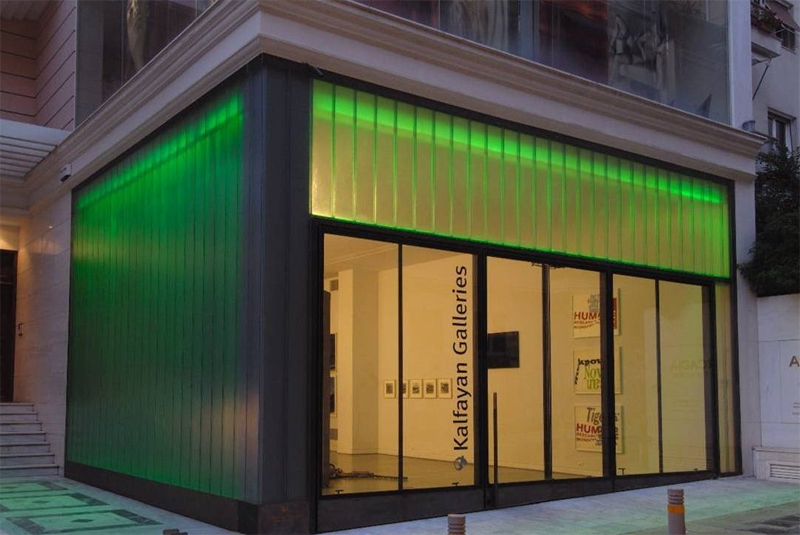 Kalfayan Galleries. Starting from the Northern city of Thessaloniki in 1995, its Athenian branch on one of the most exclusive little streets of Kolonaki is an art gem. Through a broad spectrum of projects and collaborations, it has established a strong international profile. It has produced historically researched exhibitions on post-war Greek art and represents the estates of some of the most crucial artists in the evolution of contemporary Greek art.
Artion Galleries. Founded by the Greek family of Manolakis, based in Geneva, Switzerland, and maintaining locations in Greek destinations, including Athens, this is an important name in the global art market, organizing events and private sales for the elite of art collectors and focusing on the most distinguished artists of the previous generations and the most promising ones of our times. It presents a meticulously curated mix of serious works of art made by established professionals. Greek and international artists of a huge impact are represented, so make an effort to visit the gallery on Voukourestiou Street in Kolonaki, the most prestigious of all streets in Athens.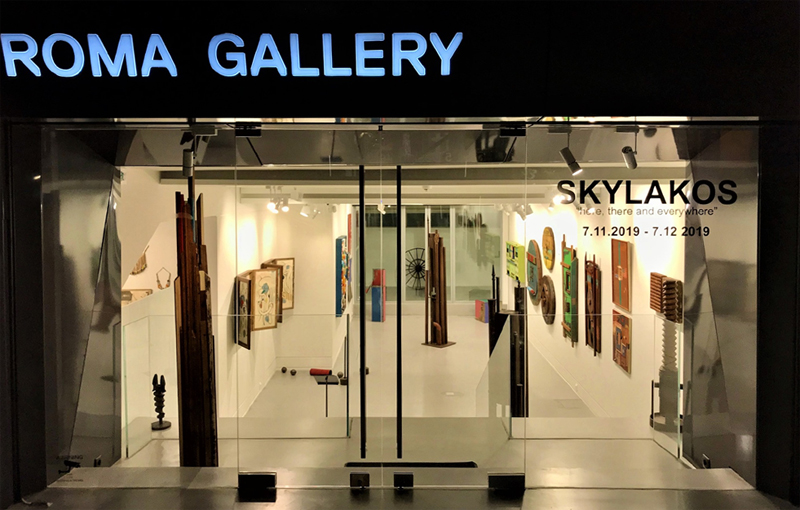 Roma Gallery. This relatively new gallery in Kolonaki, showcasing and representing acclaimed post-War and up-and-coming contemporary artists, has a rich international program accented with Greek artists' works. It focuses on presenting its clientele with a boundary-pushing collection infused with rare pieces from the past and new exciting trends. Fresh talent is abundant within its eclectic roster.
CAN Gallery by Christina Androulidaki. Among other creative spaces, boutiques, coffee shops, and restaurants on the prestigious Anagnostopoulou street in Kolonaki, this space is committed to promoting emerging art talent from Greece and worldwide. With art studies in the UK and previous experience, Christina Androulidaki set up to establish in 2012 a gallery that will introduce collectors and art lovers to the latest in contemporary art. She is one of the youngest gallerists in Athens, organizing exhibits that are often mentioned in the ArtForum magazine.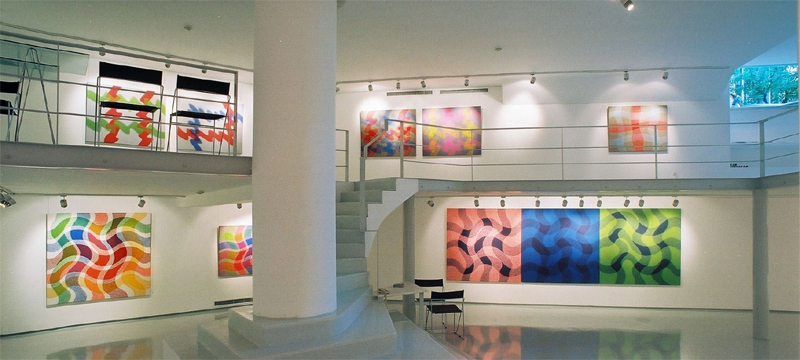 Astrolavos. Near the historic Deksameni Square, known for the well-preserved aqueduct by Roman emperor Hadrian (the Greek word 'deksameni' means cistern), a 3-level modern art gallery, awarded for its interior design and amphitheatric architectural plan by international magazines, continues to charm the Athenian art-loving audience since 1994. An intriguing variety of old and new, mostly Greek, artists is a great reason to reach this picturesque edge of the Kolonaki neighborhood.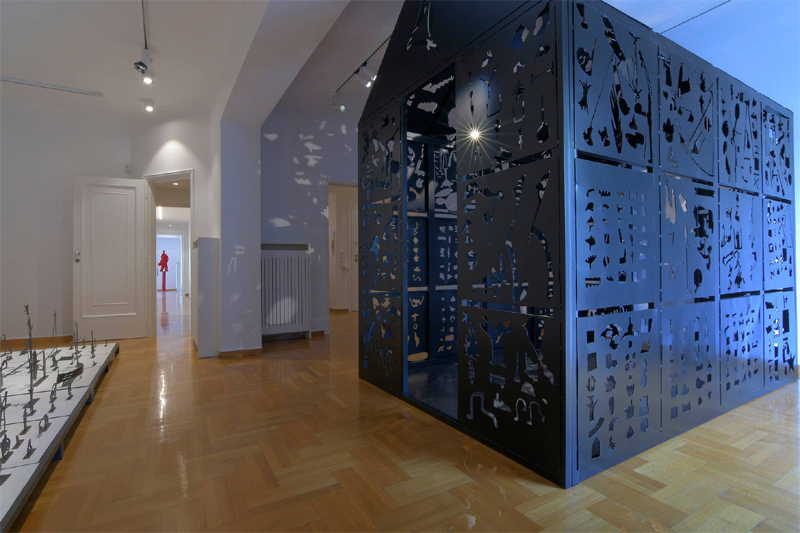 Citronne Gallery. In a spacious 4th-floor elegant 60s apartment on the most prominent street in Kolonaki, Athens, a gallery known since 2006 for organizing intriguing Greek art exhibits in a charmingly austere 18th-century building on the island of Poros, evolves into a global platform. Greek art historian and founder Tatiana Spinari-Pollalis became an influential gallerist in Greece after taking a brave leap from her illustrious academic career in the US (Boston College and Boston University). The gallery stands somewhere between the 'local' and 'global,' in the realm of 'glocal.' Since 2018, it has hosted in Kolonaki artists with great careers in Greece and internationally, including an inaugural exhibit by the late George Lappas, whose Mappemonde installation is a major Greek post-war work of sculpture.
Evripides Art. In 2015, two women from the Evripides family of Cypriot descent, art collectors and dealers themselves, renovated a beautiful neoclassical building in Kolonaki as a space that promotes contemporary Greek artists to an elite audience.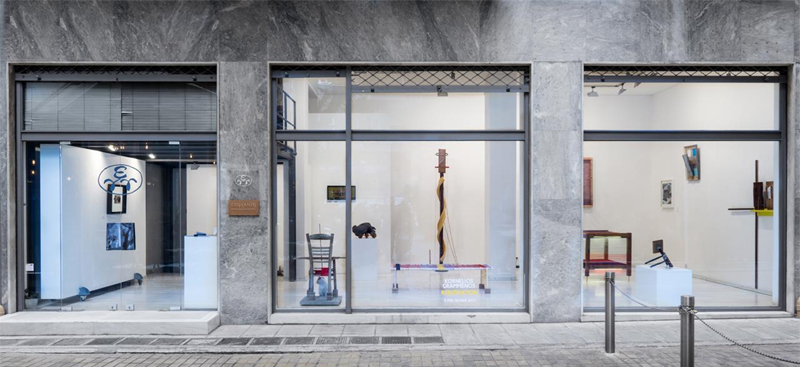 Ekfrasi-Yianna Grammatopoulou. On the chic pedestrian street of Valaoritou in Kolonaki, a leading woman among Greek art gallerists maintains since 2000 an influential minimalist space with a clear focus on Greek and international contemporary art, established and new talents.
Genesis Gallery. An international approach to indigenous and imported talent unfolds in this sleek space on the tiny exclusive Charitos street in Kolonaki through a decade-long journey. Its calendar is typically filled with exciting events.
Gagosian. A name that needs no further introduction has its own share in the exciting local art scene. This industry heavyweight relocated – had a smaller space in Athens since 2009 – to a spectacular Art Deco building on the periphery of Kolonaki near emblematic cultural institutions such as the Athens Concert Hall. The new location's inaugural show with works of acclaimed American painter Brice Marden, inspired by the Greek island of Hydra and other themes, was on from September 24th to December 11th, 2020.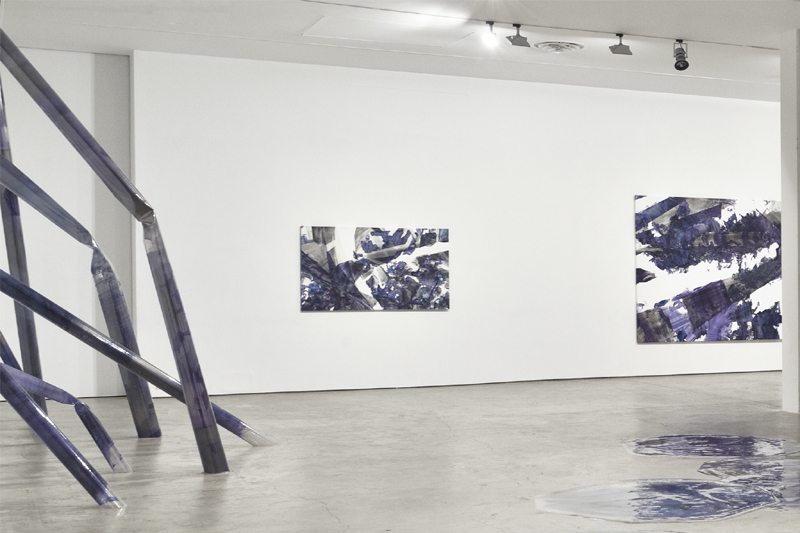 Ileana Tounta Gallery. Opened in 1988 as the first multi-purpose art & culture center in Athens, it has organized over 250 contemporary exhibitions by Greek and international artists. Along with them, various events, including festivals, lectures, book presentations, poetry readings, theatrical performances, and concerts have taken place in this modern 2-level state-of-the-art space with the façade of an old factory, a short drive from Kolonaki. It is complemented with the latest technology equipment, an art shop, and an avant-garde street-food gourmet restaurant-bar called 48 Urban Garden, which features a gleaming custom-made airstream with a fully equipped kitchen.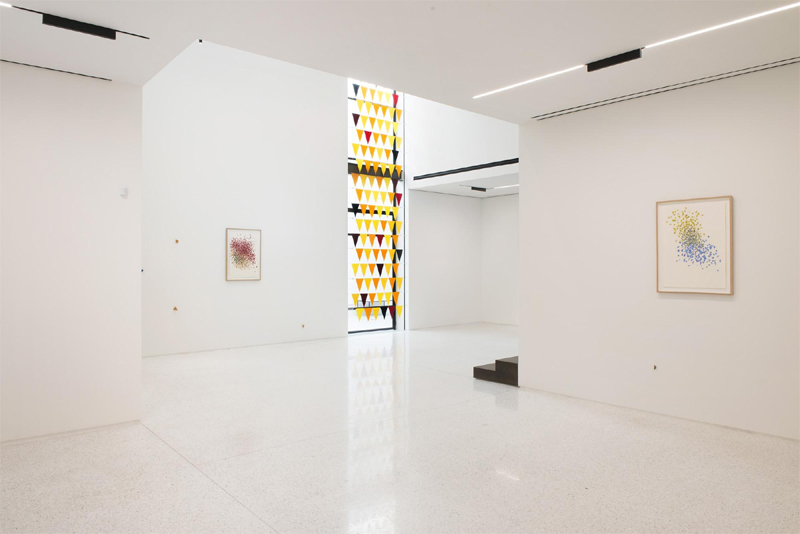 Athens – Historical Center & Around
ARCH Athens. Near the Arch that commemorates the arrival of the Roman emperor Hadrian in Athens, a monument also known as Hadrian's Gate, in the historical neighborhood of Plaka, a non-profit modern exhibition space with a 30s Art Deco façade, is complemented by a workshop area, an outdoor ground-floor patio, a lecture space, and a public library. Run by Atalanti Martinos and located where her maritime family owned an old match factory, this is a modern cultural center focusing on maximum-three-month artist-in-residence programs. With experience as curator at the MoMa, Sotheby's, and the Skarstedt Gallery in NYC, she created a privately funded artistic universe that exemplifies eclecticism and refinement, adjusted to the uniquely effortless spirit of the city.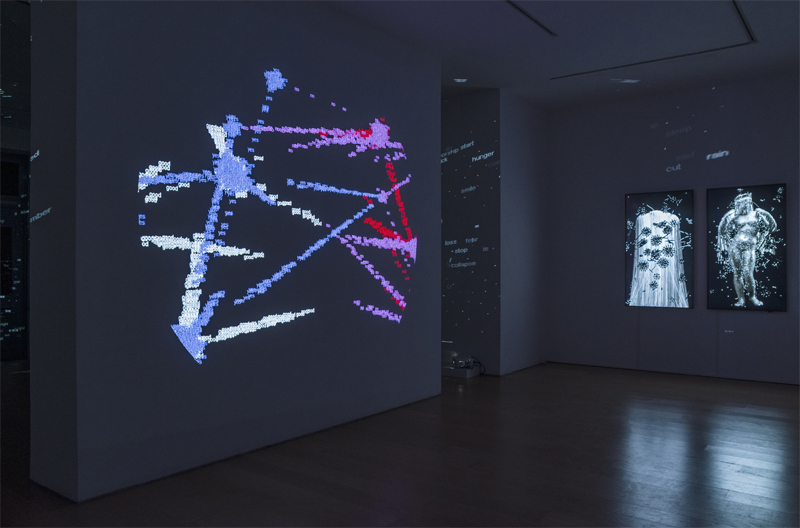 Bernier/Eliades. Founded in 1977, initially in Kolonaki, this contemporary art gallery is housed since 1999 in an elegant neoclassical building in Thission, in Athens's historical center, quite near Acropolis. From its era in Kolonaki, when it was operating from the first house of the late globally-acclaimed gallerist Alexander Iolas, the founders Jean Bernier and Marina Eliades have sought to familiarize the Greek audience with global artistic currents such as Arte Povera, Minimalism, and Conceptualism through the work of a new generation of American and European artists. In 2016, they also opened a new space in Brussels.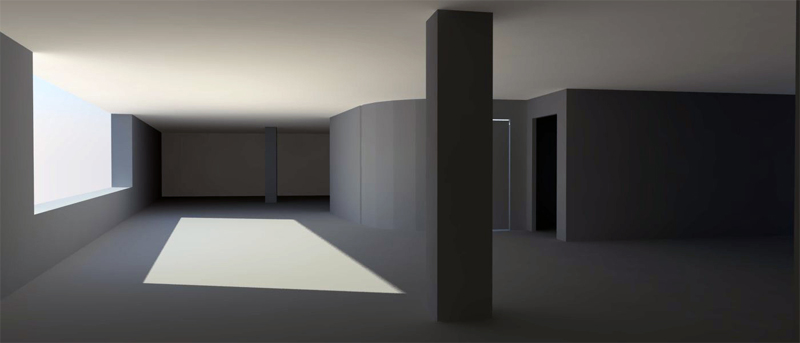 Kappatos Gallery. In the historical center and specifically, the area of Monastiraki, surrounded by ancient sightseeing, near the Acropolis, this contemporary art gallery, founded in 1991, has hosted a long roster of recognized artists from all over the world. Along with a rich calendar of exhibitions and cultural events, the gallery organizes, since 1999, the collective event ROOMS for emerging art talents and a generous artist-in-residence program.
a.antonopoulou art. At Psirri, one of the oldest neighborhoods in Athens, in the historical center, this contemporary gallery brings forth relevant artistic conversations through the work of influential, mainly Greek artists. Aggeliki Antonopoulou – a gallerist for 3 decades – started off with her ground-breaking gallery in the Greek city of Patras and continues in Athens, always with avant-garde ideas and collaborations.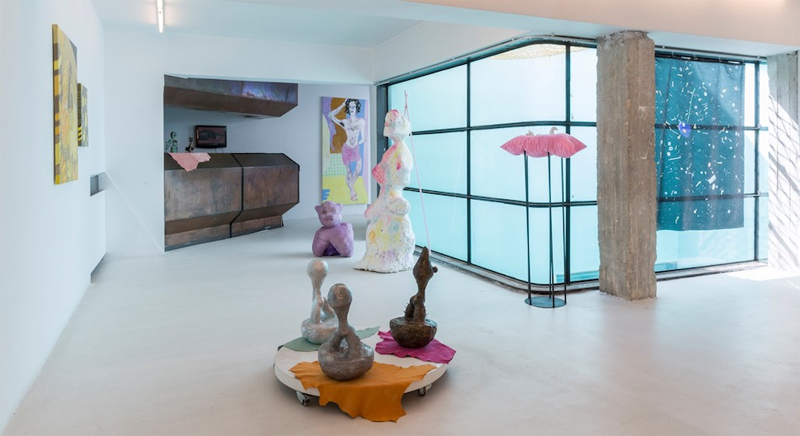 The Breeder. One of the most forward-thinking galleries in Athens has relocated in 2008 to a 1970s ice-cream factory in the grungy Athenian neighborhood of Metaxourgio. It constantly updates the city's audience with artistic trends from other countries while also promoting Greek talent abroad. Co-founders George Vamvakidis and Stathis Panagoulis let their previous project The Breeder magazine in the early noughties evolve into a modern brick-and-mortar space that enhances artistic dialogue across gender, color, religion, and ethnicity, awarded for its renovation by the Hellenic Institute of Architecture. Throughout 2013, The Breeder operated a pop-up gallery space in Monte Carlo, Monaco. From 2010 to 2015, The Breeder operated Breeder Feeder, a pop-up restaurant on its second floor, inside a site-specific installation by Andreas Angelidakis. Among the guest chefs was Mina Stone, who later opened Mina's at MoMA PS1. Since 2019, the Breeder operates the Breeder Open Studio as a means to engage with the production of art practice. The gallery space is transformed several times per year into a studio space for 4-6 weeks, hosting the outpost of an invited artist's studio.
Rebecca Camhi. With studies (Political Science, History of Art) and former experience in France, she maintains her own gallery since 1995, the first decade from a rooftop Acropolis-view space in a grungy downtown location, and later from her own 19th-century neoclassical architecture abode, a place that is fronted with a gallery and an art shop, and backed with a beautiful garden and a residential part for her family. Located in the gradually evolving – some would say gentrified – neighborhood of Metaxourgio, this gallery has been a sparkle of creativity and a hint at what quality of living might look like in an area of Athens known mostly as a "red-light district." In this multi-cultural corner of Athens, Rebecca has grown into a successful art dealer/consultant with impressive global connections, and as the curator/organizer of high-caliber art exhibits/ collaborations with local and international artists. She is a peaceful activist at heart, taking local initiatives – small acts of love for her surroundings – such as planting trees in open spaces around the neighborhood, cleaning pavements, and educating the immigrants on respecting the urban environment they live in. With an eye for art – she bought with a small loan from her parents a now-priceless Basquiat when she was a student in Paris, and at the same time, was doing some work for famous Kinetic Art sculptor Takis – she is undoubtedly a confident voice in the contemporary art world.
Eleni Koroneou. Since 1989, her namesake gallery has undertaken an array of exciting art projects. With her daughter Aleksandra Economou, who studied History of Art in Berlin, they relocated the gallery to a bigger space in a neoclassical building a little farther from the initial Acropolis location. In the historical neighborhood of Thission, this contemporary art gallery exhibits in Athens Greek talent of international magnitude and potential. Concurrently, it promotes local talent abroad through collaborations.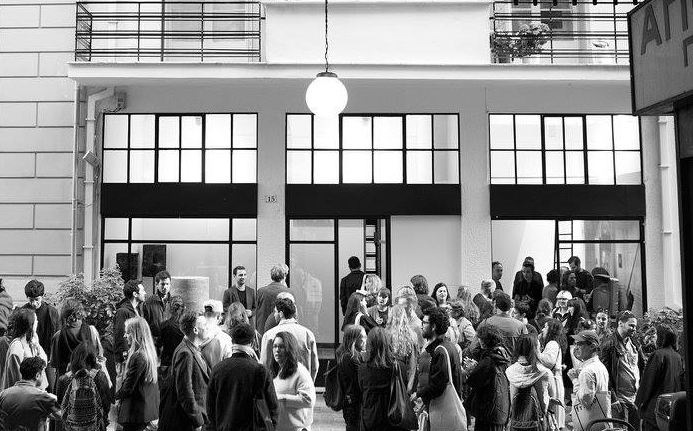 Radio Athènes. Although included in this article among other galleries, it is described by its founders – Helena Papadopoulou, Andreas Melas, and Ion Constas – as an institute for the advancement of contemporary visual culture. This non-profit organization, which opened in 2014 near Syntagma Square, works together with local and international artists and institutions to present exhibitions, lectures, screenings, and readings in the fields of contemporary art, literature, philosophy, dance, and the applied arts. It doubles as a bookstore/library and attracts thinkers, intellectuals, and artists that love to go deep into cultural issues and stay informed about the freshest currents.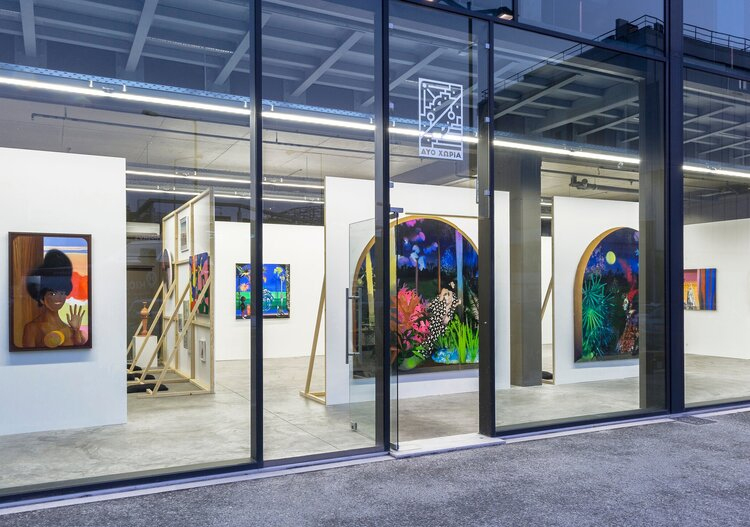 Northern Suburbs of Athens
Dio Horia. More as an art platform or an 18th-century-inspired art salon, rather than a typical gallery, this concept started in 2015 with a nonchalant, dialectic, art-loving attitude on the island of Mykonos, and later expanded into another space in Nea Filothei, a chic and lively northern suburb of Athens, where innovative projects and exhibitions are taking place, and recently into a new one near Acropolis. Its founder Marina Vranopoulou, also Project Coordinator at the DESTE Project Space Slaughterhouse on the island of Hydra, has been endorsed throughout her career so far by art world heavyweights, including mega-collector Dakis Joannou, the President and founder of the DESTE Foundation for Contemporary Art. She has also received raving reviews from illustrious publications and other media such as the ArtForum, Yatzer, Wall Street Journal, Goop, L'Officiel, Evening Standard, and Wallpaper. The platform also supports fascinating residency programs.                
Mamush Gallery. Directed previously by Menia Kouli, an art industry professional who is now Director of Public Affairs & PR for the Takis Foundation (a research center for the arts & sciences), this is a relatively new and impressive contemporary art gallery at the heart of the posh Athenian suburb of Kifissia. Besides art exhibits of international appeal, it has a private collection of more than 700 works by Andy Warhol, Roy Lichtenstein, Keith Haring, Victor Vasarely, Robert Indiana, Jeff Koons, Pablo Picasso, Alexander Calder, Joan Miro, as well as by internationally established artists like Takis, Pavlos, Gaitis, Vassiliki, Takeshi Hara, and others. It is located at the Benakeio Commercial Center of Kifissia, a wonderfully designed space that fits the purpose.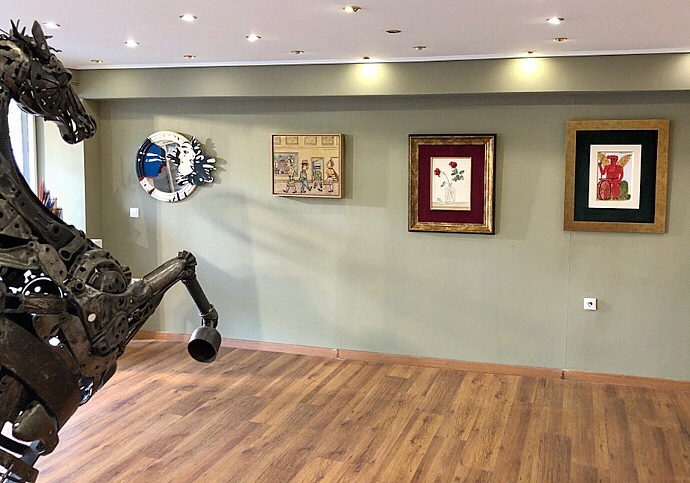 Galerie Lefakis. Founded in 1979 by Zinon Lefakis, it has expanded to a network of galleries and representations in Greece and internationally. With two galleries in the northern Athenian suburbs of Kifissia and Chalandri, it maintains collaborations with the elite of Greek artists and organizes many events. Another gallery in the southern Athenian suburbs, one in Saint Paul de Vence in the South of France, plus various online auctions – the first Greek gallery to go online – are all run by a family with long experience and lasting relationships within the art world.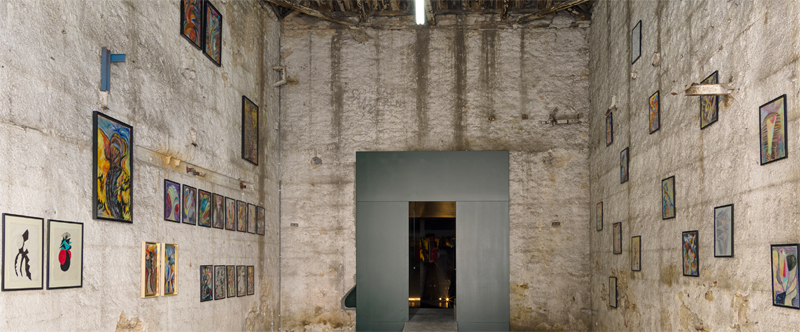 Southern Suburbs of Athens
Rodeo Gallery. Inside one of the old tobacco warehouses on the discovered-by-the-art-world small street of Polydefkous in the industrial zone that partially survives near Piraeus's port, this gallery from the early 1900s was renovated by Berlin-based architect Etienne Descloux. It opened in 2018 and tuned in with the carved-out-by-the-authorities plans to revive the area as a cultural hot-spot that aspires to maintain its edgy spirit. The gallery's founder, the UK-educated Greek Sylvia Kouvali, did the same thing in 2007 when she was in her 20s breathing artistic life to a traditional Turkish neighborhood with her first Rodeo gallery opening in Tophane, Istanbul. In-between, in 2014, she opened a Rodeo Gallery in Soho, London, and recently relocated to the poshest of all, Mayfair. Both knowledgeable and intuitive, she moves from city to city, handpicking talent that later gets awarded and distinguished at prestigious international art fairs and competitions. A sure ally in the movement toward Athens's ongoing cultural rebirth, she organizes unique events and exhibitions, must-sees among the elite of arts, and those with a genuine interest in what's next. Most publications agree that Sylvia Kouvali is a fearless gallerist who has the Midas touch. She has opened galleries and picked cities with the right timing; during a booming period or right before. She maintains a dialogue among museums, institutions, collectors, and galleries from all over the world. Definitely a connector and a pioneer, she knows which new artists to watch, most probably, before anybody else!
The Intermission. A close friend of Sylvia Kouvali, art curator, and consultant, Artemis Baltoyanni opened in September 2019 her own exhibition space with a new concept, just next to the Rodeo gallery, thus contributing to the creation of a market that attracts collectors and a hub for global artistic dialogue. With studies at Goldsmiths, London, and NYU, New York, and a resume that includes her work for American contemporary artist Elizabeth Peyton, for McCabe Fine Art advisory services, and her role as Director at the famous Upper-East-Side gallery Venus Over Manhattan of collector Adam Lindemann, she lives today between Athens and Los Angeles offering her precious insight to a list of more than 15 loyal clients and organizing new exciting collaborations with galleries from all over the world. She mainly doesn't represent the artists directly but invites them and their galleries to work together and present works of art appealing to the increasingly international Athenian audience. Her early 20th-century warehouse-based space comes as a melting pot between the established and the new. She organizes the whole production and initiates the dialogue. It's an unconventional, free-spirited model, and she allows artists to participate with no strings attached. Critically acclaimed artists – emerging, established, and historical – belong to this promising agenda; her inaugural one was pioneering conceptual artist John Knight! Instead of competing with the galleries, Artemis includes them in her global Piraeus-based vision.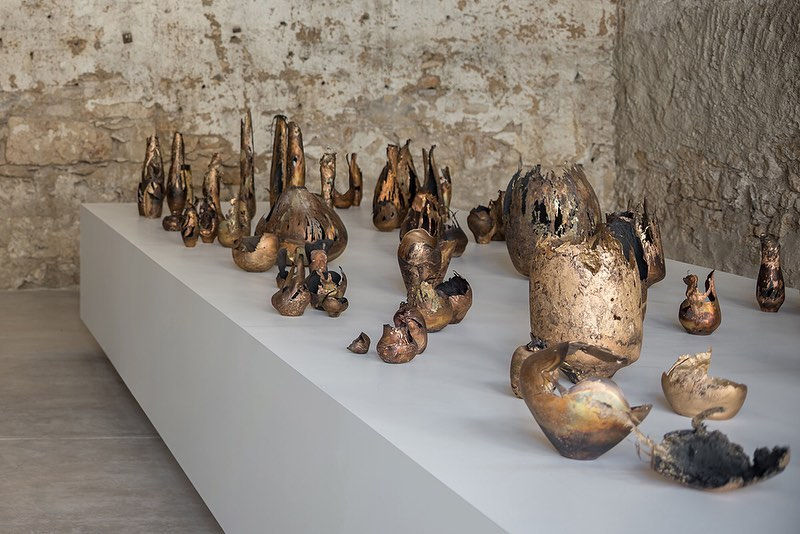 Carwan Gallery. This leading international contemporary design gallery that was founded in 2011 in Beirut, Lebanon, by architects Nicolas Bellavance-Lecompte and Quentin Moyse just relocated in September 2020 in Athens, and more specifically in the Piraeus port, on the same street where Rodeo Gallery and The Intermission are, solidifying, even more, the artistic reputation of the Papastratou area named after an old tobacco factory there. They renovated a timber-roof warehouse from the late 1800s and started off with an exhibition by acclaimed interdisciplinary artist/designer Omer Arbel. This is a gallery dedicated to design of a higher artistic level recognized by important art institutions and authorities and having ardently supported an admirable roster of artists, including Carlo Massoud, Karen Chekerdjian, Rotor, and Lindsey Adelman.
The Blender. This well-designed multi-purpose art & entertainment space blends – as its name suggests – all sorts and levels of artistic expression – from works by globally acclaimed artists to those by up-and-coming talent, as well as more commercial events and other cultural initiatives. With modern-architecture premises in the southern suburb of Glyfada, on the other side of the Athenian Riviera, it has an inclusive approach and an affinity for cultural fusion.