Luxury Hotels, VIP Services, and Celebrity Hotspots in Mykonos
A 35-minute flight or 2.5-to-5-hour boat ride from Athens, the so-called 'Island of Winds' is the most cosmopolitan island in Greece and among the most expensive tourist destinations on earth. It is also known as a playground for the rich, the famous, and the party animals, while in fact, it can give you many different experiences, depending on your needs and preferences. Mykonos is undeniably a stunning rocky island with tens of mostly sandy beaches – over 15 being fully organized with beach bars, gourmet restaurants, exclusive services, and boutiques. It is often compared to Ibiza for its multi-option nightlife, but one can easily argue that Mykonos' natural beauty is beyond that comparison. Plus, people who don't love to party but are in quest of an exclusive experience can rent a villa in one of the quiet areas of the island, swim on the natural beaches that have no sunbeds or bars, and have dinner in restaurants outside the 'town' (in Greek most island capitals are called 'Chora'). The place is designed for spenders and evolves every season along the way, offering new ideas and services. Starting back in the 60s as a little gay-friendly paradise where tycoons and celebrities from all over the world mingled with the hippies, it still carries with it seeds of a bohemian spirit affordable now mostly to an affluent crowd and the locals. Mykonos is a summertime international melting pot, a place to see and be seen, to be taken care of by talents and pros in hospitality. As many Greeks might say, it feels like an autonomous principality in the middle of the Aegean with its own rules, in its own fun-loving universe!
Accommodation in Mykonos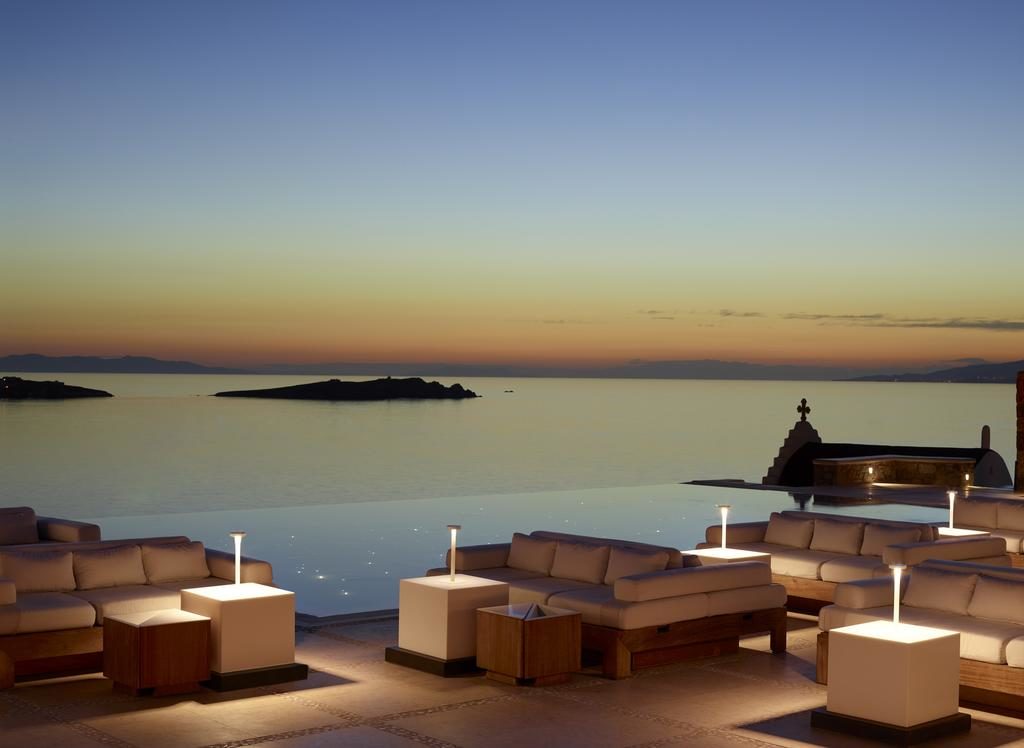 Bill & Coo Suites and Lounge. Uphill and on your way out of town, in the Megali Ammos beach area, with a breathtaking Aegean sea view, a spectacular swimming pool & bar, and the Gastronomy Project culinary experience, this boutique hotel offers privacy and a serene atmosphere in a modern Cycladic design complex. Sister hotel Bill & Coo Coast Suites with equally luxurious amenities and the acclaimed meat-focused Beef Bar restaurant is located on the other edge of the island in Agios Ioannis. Private dining is also an option.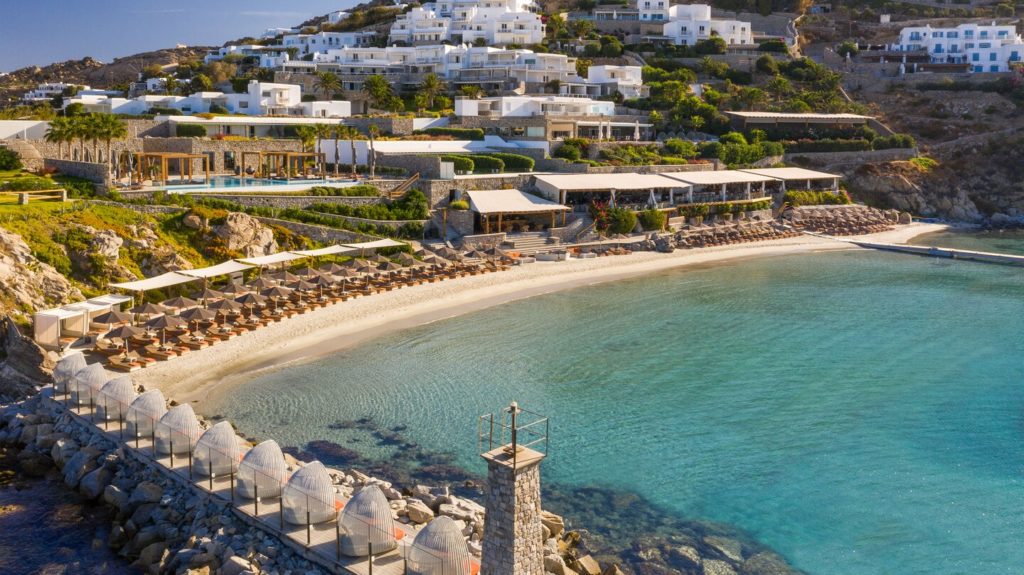 Santa Marina. On the more densely built bay of Ornos, this sizeable Luxury Collection exclusive resort with multiple swimming pools, restaurants (including Buddha Bar), bars, private dining areas, a private beach, tennis court, fitness center, a spa with sauna and steam room, a hair salon, a nail salon, a chapel for weddings, and over hundred ultra-elegantly decorated rooms and villas, has been a vacay Eden for celebrities and purely affluent guests alike. For summer 2021, the world-renowned British chef and restauranteur, Jason Atherton, launches his first restaurant (June 16th) in the Mediterranean at Santa Marina, Mykonos Social. Atherton – whose flagship restaurant, Pollen Street Social in Mayfair, London, was awarded a Michelin star within just six months of its opening – takes over the resort's former Colonial Pool Restaurant and Bar with hypnotic views of the Aegean Sea. The stylish restaurant is a bespoke, all-day dining destination serving a selection of Mediterranean and Greek dishes along with Tiki-style cocktails. The hotel soon unveils the extensive renovations to its luxury villa collection, including the new Crystal and Turquoise Combined 7-Bedroom Villa – a palatial property, sleeping up to 14 guests. Plus, the world-class Ginkgo Spa, known for its unique blend of medical-grade facials and holistic wellbeing, celebrates the arrival of 111SKIN founded by globally renowned Greek-American Harley Street cosmetic surgeon Dr. Yannis Alexandrides pioneering celebrity-approved non-surgical procedures.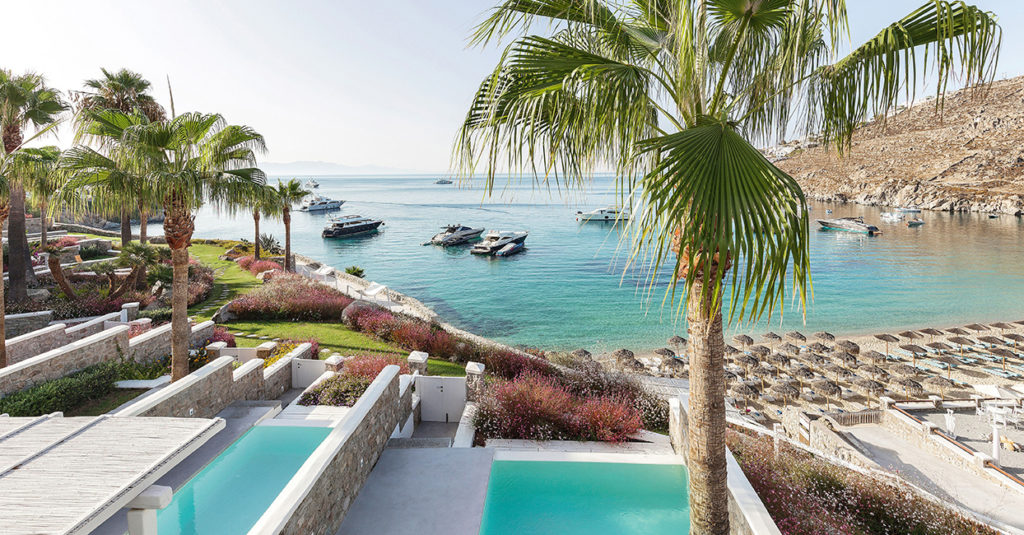 Mykonos Blu. Elevated, right on the world-famous sandy beach of Psarou, with a private full-service segment of it, 103 blue-accented all-white luxury bungalows, suites, and villas (some of them with private pools and other amenities) stand among the finest examples of exclusive seaside accommodation. With a one-of-a-kind infinity pool (20 pools in total), multiple restaurants, bars, stylish lounges, a wellness center, it is definitely an idyllic place with many perks.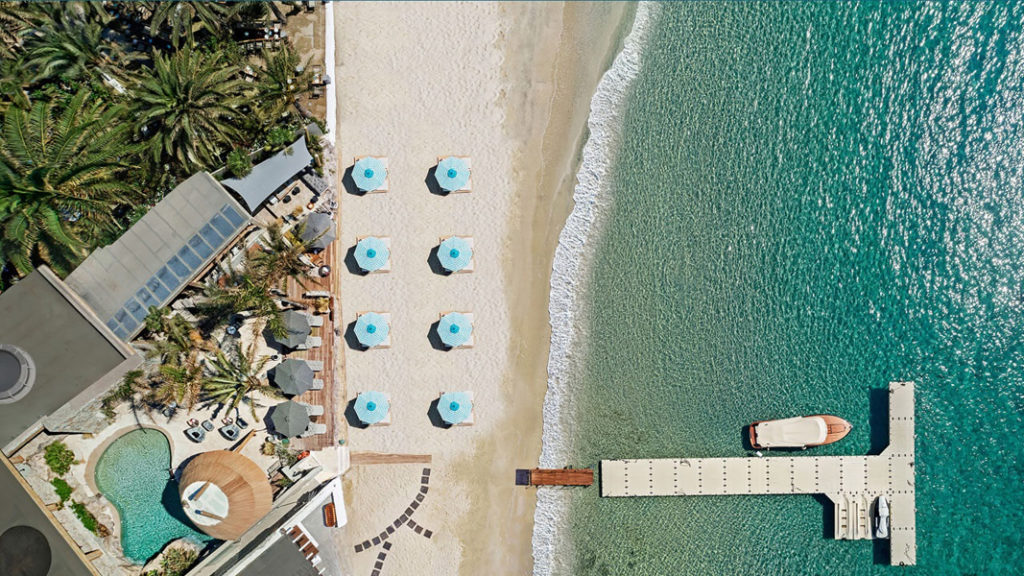 N Hotel Mykonos. A recently renamed 5-star hotel for jetsetters who adore beach life, this Aegean architecture masterpiece crafted from local stone and aged wood recently opened also in Psarou; one of the most exclusive beaches on the planet. 29 luxury rooms and suites equipped with either outdoor hot tubs or private plunge pools are complemented with a seaside pool lounge and a restaurant, a beach club, a spa, a jaw-dropping all-glass good-framed sea-view fitness center, and a designer boutique. It is totally a VIP experience with many famous guests.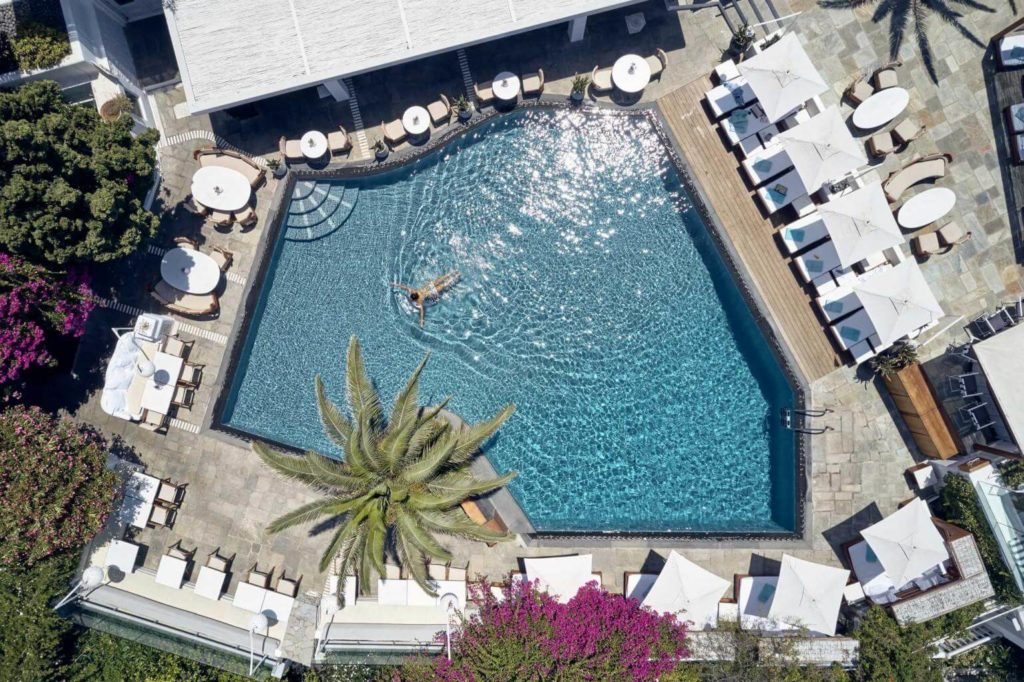 Belvedere. A well-gated traditional Cycladic architectural complex of rooms, suites, and villas overlooking the town and old port exudes exclusivity that applies to superstars and luxury connoisseurs. Simplicity and zen along with fun vibes is the mix that describes its scenic pool bar, Greek kitchen restaurant, and sushi heaven Matsuhisa created and often tended by the hugely acclaimed sushi chef Nobu. The cosmopolitan experience is complemented by the Six Senses Spa, the Venyx fine jewelry boutique by designer Eugenie Niarchos, and the Belvedere Shop with Greek and international designer items for seaside luxurious style. VIPs claim this hotel and pool bar as their own 'microcosm' on the island.
Cavo Tagoo. With the richest variety of super upscale roomy Cycladic suites and villas featuring private pools, hot tubs, and cave-like structures, an infinity pool with breathtaking sunset sea view, and a bar for heavenly cocktails, this place near Chora defines sea-view luxury. Nothing compares to their magnificent villas. Ultra-rich tastemakers have it as their favorite from the moment they check in to the modern-art-clad lobby. It's totally unique. The world-renowned Zuma restaurant serves signature contemporary Japanese cuisine next to the iconic pool bar.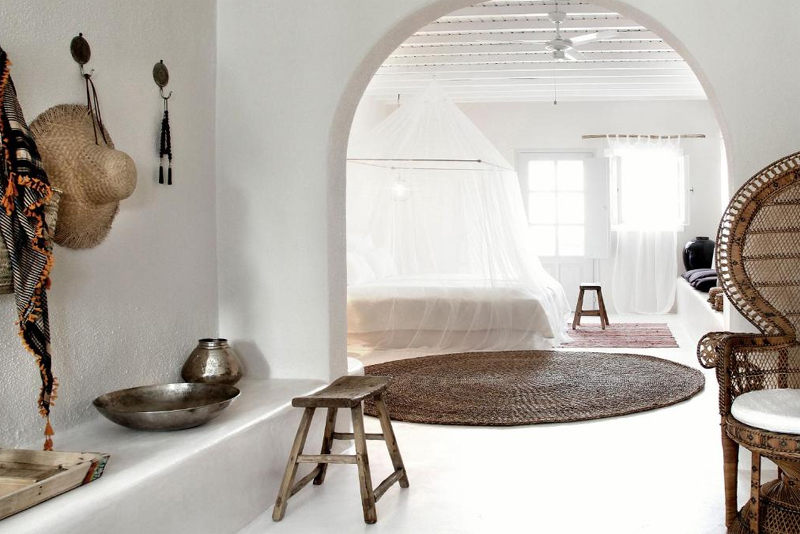 Soho Roc House. You can only book there if you are a member of the prestigious Soho House club. Perched above a rocky stretch of coastline in Mykonos, near Paraga beach and the iconic Scorpios Beach Bar & Restaurant, it has an era of exclusivity and nonchalance. The premises include 45 rooms, a poolside veranda, an outdoor gym, a restaurant, and lounge areas.
The Wild Hotel by Interni. Located in the Kalafatis beach area, this boho-chic design hotel offers privacy and seclusion. Perched on a cliffside, it overlooks a small cove once home to "the Wild Ones", the most fearless fishermen of Mykonos. All 40 rooms, suites, and villas have sea views. Bigger or smaller, with 1 or 2 bedrooms, some with their own dining room and plunge pool – they have their own distinguished style featuring natural earthy-tone materials. High-end design furniture is matched with handmade lamps, artisanal objects, antiques, cotton and linen fabrics, soft leather, fine tiles, and handcrafted floors. Enjoy healthy-nutrition treats at the picturesque private beach with stylish sunbeds and socialize over cocktails at the swimming pool. Embrace the slow food philosophy at the hotel's Taverna. Crispy pies made with handmade phyllo, fresh vegetables sourced from the island's farms, local Myconian cheeses, and the freshest fish are on the menu. Relax at the cave-style spa.
Kivotos Mykonos. Owned by a family with a longtime interest in the arts, it displays luxurious eclectic facilities and treats its guests to a plethora of premium services and amenities. Rooms and suites, an incredible villa with a private pool and a secluded beach area, two swimming pools with open-air jacuzzis, a spa, a state-of-the-art fitness center, a private beach, restaurants and bars, an art gallery, a boutique, a hair salon, a scenic chapel within its premises, and a private yacht anchored in Ornos bay are among the options. Celebrities like Jean-Paul Gaultier, Karolina Kurkova, Calvin Klein, Shakira and her husband Gerard Piqué, Prince Albert II of Monaco, John Legend, and Heidi Klum have stayed at the hotel.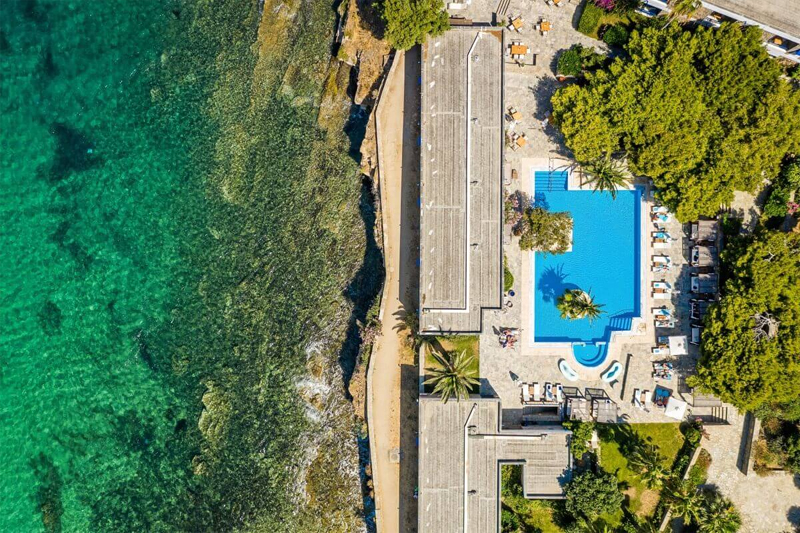 Mykonos Theoxenia. Listed as a UNESCO and Greek national treasure, the hotel was originally designed and constructed in 1960 by the acclaimed architect Aris Constantinides, who drew on the purity of traditional Cycladic architecture and stone craftsmanship for his inspiration. In 2003, the hotel underwent an elegant refurbishment by a team of hospitality experts and interior designers, who preserved the historic character of its structure while infusing the décor with retro accents from the fashionable 60s. Its latest renovation in 2022 represents the archetypical Cycladic minimalism that feels timeless. It offers 5-star hospitality right on the seafront, in the famous Little Venice neighborhood of Mykonos Town (Chora), near the iconic windmills. With 50 rooms in neutral hues, landscaped gardens, fresh-water swimming pool & jacuzzi, sleek sunbeds and pergolas, fine dining, and upscale spa treatments, it is an iconic hotel of superb aesthetics.
Rocabella Mykonos. Renovated and with high standards in services, this stylish hotel near Agios Stefanos beach, a 5-minute drive from Chora, welcomes you to a new era. Its 24 rooms and suites are characterized by clean Cycladic lines, bright white, earthy hues, and natural materials. Stunning views of the Aegean Sea and the picturesque Chora make it a destination in itself. Reeza (meaning "root" in Greek) is the hotel's restaurant focusing on pure Greek flavors that honor tradition through a contemporary perspective. Relax by the pool and enjoy a comfort food menu made with local produce, creative cocktails, and refreshing beverages. Private dining and cooking lessons are among the options. Add to the facilities the Ciel Mykonos Spa and a gym.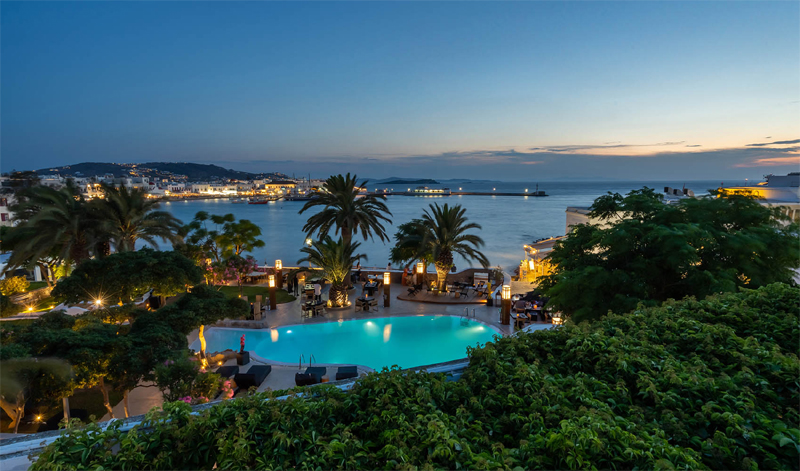 Leto Hotel Mykonos. Its location right on the narrow stretch of the Old Harbor beach right in the heart of the bay of Chora is the most convenient and unique. The historic Mykonian hotel was the first ever to offer first-class services on the island, operating since 1953. It is built in the local neo-classical style and consists of 25 tastefully renovated rooms, all of which have a balcony overlooking the port of Mykonos. By its curvilinear tree-framed iconic pool, you can enjoy a farm-to-table meal and cocktails while watching the boats come and go.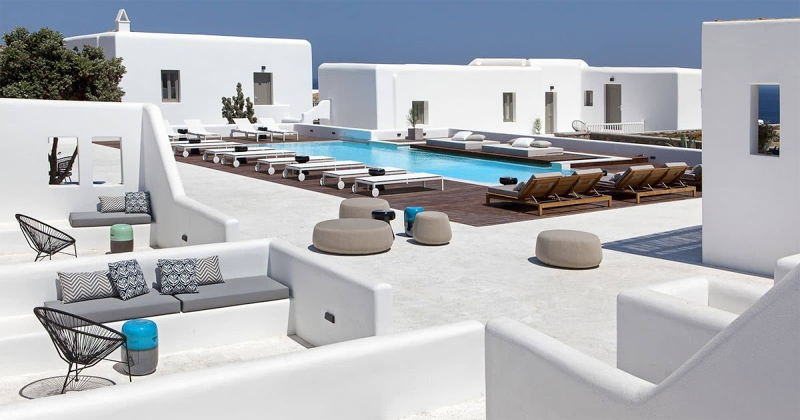 LYO Boutique Hotel. Located above the famous Super Paradise beach, this new hotel is minimalist and elegant with 18 spacious rooms & suites in the Cycladic color palette. Built around the pool, it offers spectacular Aegean sea views. From local & international delicacies served at the poolside restaurant to creative cocktails designed by certified mixologists, it adds modern touches to the Mykonian experience.
Branco. Located at Platis Gialos beach, this sparkling new 5-star hotel features luxurious rooms and suites with stunning views and inspiring design. At the hotel's restaurant, organic-ingredient culinary creations, reinventing the traditional recipes of Greek cuisine, offer a unique gastronomic journey. Chef Christos Tzieras has worked in Greece and abroad for over two decades. In the early 90s, as an awarded Greek young chef, he was invited to meet Prince Charles. So it seems that if you dine there, you will get the royal treatment as well! On the beach, stylish sunbeds, exceptional service, vibrant music, and refreshing cocktails are part of the experience. Other lifestyle options include a swimming pool, a massage area, spa treatments, and yoga sessions. The hotel also hosts a SOHO-SOHO multi-brand designer boutique along with personal shopper services.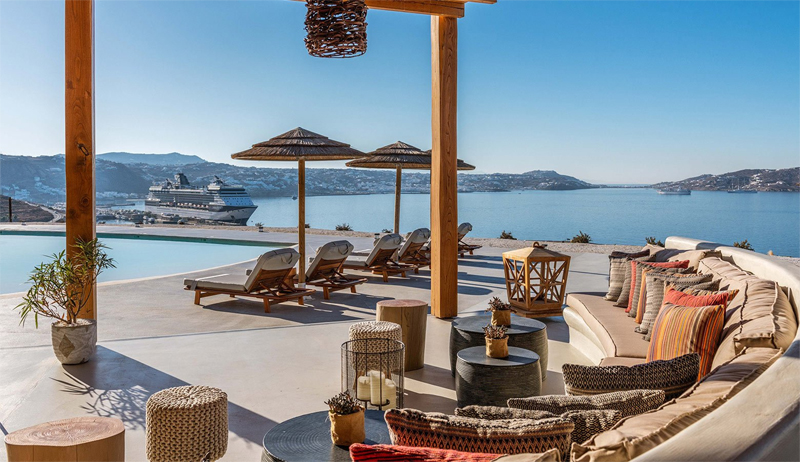 Destino Pacha. The legendary nightclub, restaurant, and hospitality brand of Ibiza, just opened (June 11th, 2021) a sister-hotel in Mykonos with a stunningly designed sea-view pool and rooms located in Agios Stefanos, near Chora. At the vibrant pool bar, people listen to music playlists and live sets from legendary Ibiza resident DJs and leading international performers. Designed in soft natural tones, the rooms have private outdoor spaces for quiet moments. Mediterranean-inspired cuisine featuring local favorites and classics from the original Ibizan location is served at the restaurant and pool bar. The iconic cherries (the logo) are coming to Mykonos with this hotel and a spin-off of Ibiza's Lío Club at the Tria Pigadia area in Chora, Mykonos. Entering through a secret door in Mykonos town opening into a spectacular garden, the scene is set for an unforgettable night of high-octane glamour. Lío blends hedonism and sophistication through a unique concept that combines an electric cabaret show, eclectic cuisine, and integrated entertainment, culminating in La Fête, a dynamic musical lounge experience. It is a 2.5-hour performance in which the singers, dancers, acrobats, international artists, and even the waiters surprise the cosmopolitan clientele.
Things to Do in Mykonos
Mykonos town ('Chora' in Greek) is the epicenter of nightlife, although partygoers lately gravitate more and more towards late-night events at beach bars around the island. Walk along its picturesque narrow car-free paths generally known as 'Matoyiannia' after its main commercial pedestrian street. You will easily discover the famous 'Little Venice' area made up of waterfront seamen houses with balconies, most of them now serving as romantic sunset-view cafeterias and upbeat bars. As you walk you will also meet the island's mascot 'Peter the Pelican' who sought refuge in the island in 1954 after a storm and after its death was succeeded by another pelican tourists love taking selfies with! You will also see many windmills – some dating back to the Venetian rule – with most iconic those near Little Venice. For an equestrian experience, Mykonos Horseland organizes Kardashian-approved horse riding tours following a route past the water reservoir to the virgin beach of Fokos. You can also book a grass or hard court at the Mykonos Tennis Club where even the legendary Björn Borg has played! In terms of cultural sightseeing, Mykonos has a few small museums and numerous churches. Yet the most important things to check are the many world-class art galleries (Dio Horia, Rarity, Minima, e.t.c.) and undeniably the ancient ruins on the uninhabited island of Delos (a brief boat ride away) that used to be one of the most important religious centers in the Aegean during antiquity (1st millennium BC). But above all, Mykonos is sartorial in nature which means that retail includes – especially in Chora – the elite of fashion and design brands as well as a vast range of highly eclectic collections from all over the world. Shopping is what people do when they visit Mykonos and the experience now extends to Nammos Village the most unique seaside shopping mall in the world with elegant standalone boutiques by the likes of Gucci, Louis Vuitton, Dior, Burberry, Christian Louboutin, Balenciaga, and more, in an exotic waterfront art-decorated park behind the iconic world-famous Nammos beach bar & restaurant on the exclusive VIP-crowded Psarou beach. Start your Mykonos experience from the ultra-fancy supermarket Mega Market Flora (across the Airport) featuring neon lights, technicolor decoration, a DJ booth, and the world's most famous champagnes in Standard, Magnum, Jeroboam, Methuselah, and Midas bottles sizes!
Beaches in Mykonos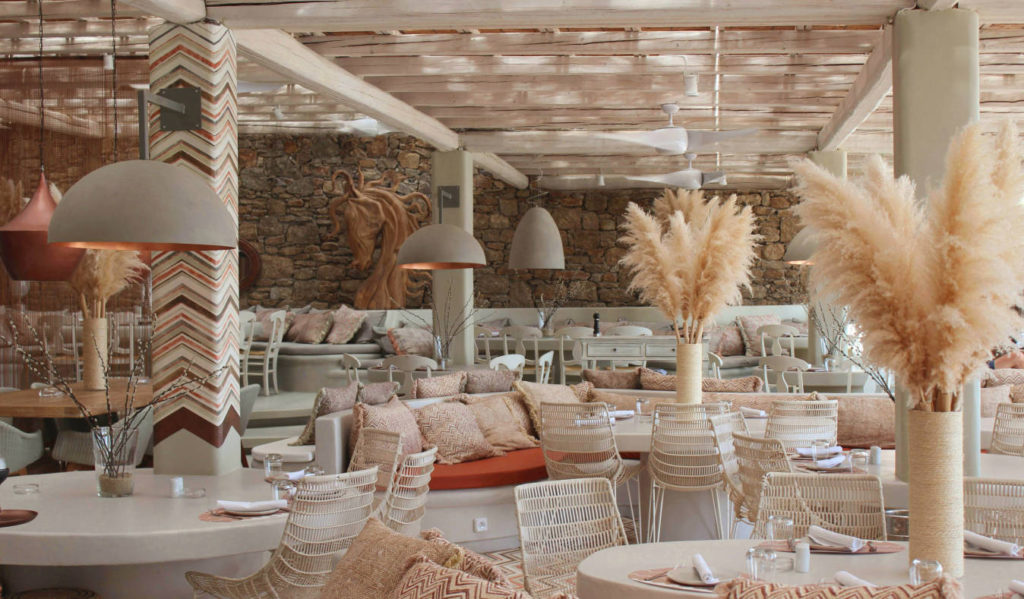 For a start, most beaches (except for Agios Sostis, Fokos, and a few others) in Mykonos are fully organized (mostly sandy) with sunbeds and umbrellas, beach bars & menus, spa & towel services, gourmet restaurants, resortwear/swimwear boutiques, and parking lots. The level of luxury ranges, but most of the aforementioned are regarded as the bare essentials. Some of them are all-day party spots and a few occasionally turn into nightclubs after sunset. The availability of options allows you to decide among beach bars and restaurants with different attributes and amenities. Psarou is the most luxurious of all, serving all types of food (from club sandwiches to sushi with champagne) on sunbeds that cost $3,100/2,800euro to make with $1,200-mattresses by Loro Piana and $1,400-umbrellas by Tuuci. In most high-end places like that (its restaurant Nammos being popular among jetsetters for decades) you need to book an umbrella set for the day and that often can be arranged with the help of the hotel concierge. Or else you need to arrive 'early' to the beach and by that, we mean around 11 am (since most party animals show up as late as 2-3 pm). The daily rental for two sunbeds and an umbrella starts from $70/60euros for less 'competitive' beaches and goes up to a few hundred. Food and drink consumption is an additional expense. Favorite beach list includes: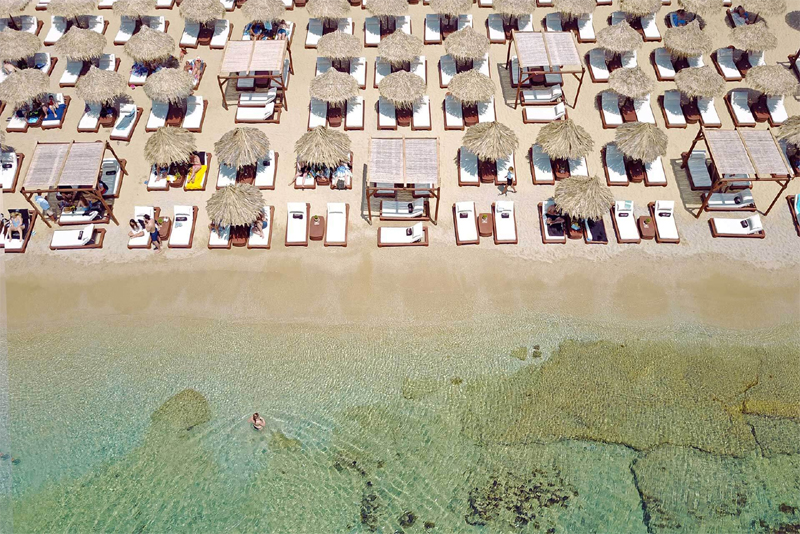 Agia Anna (next to Kalafatis beach). Check its beach bar/restaurant and the world-famous cave-like tiered sea-front Spilia restaurant ('spilia' means 'cave' in Greek) serving sea urchin from a seawater-filled natural basin, fresh fish, and seafood to VIPs and yacht-owners anchoring outside.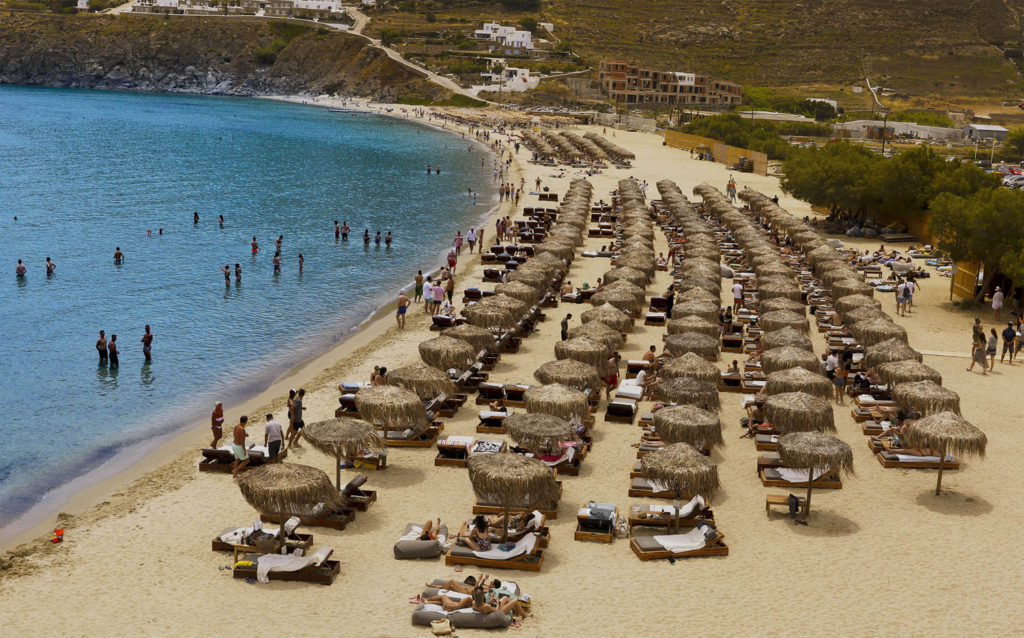 Kalo Livadi. A long full-service sandy beach with the upbeat beach bar/restaurant Solymar, a private pier for transfers, and a boutique.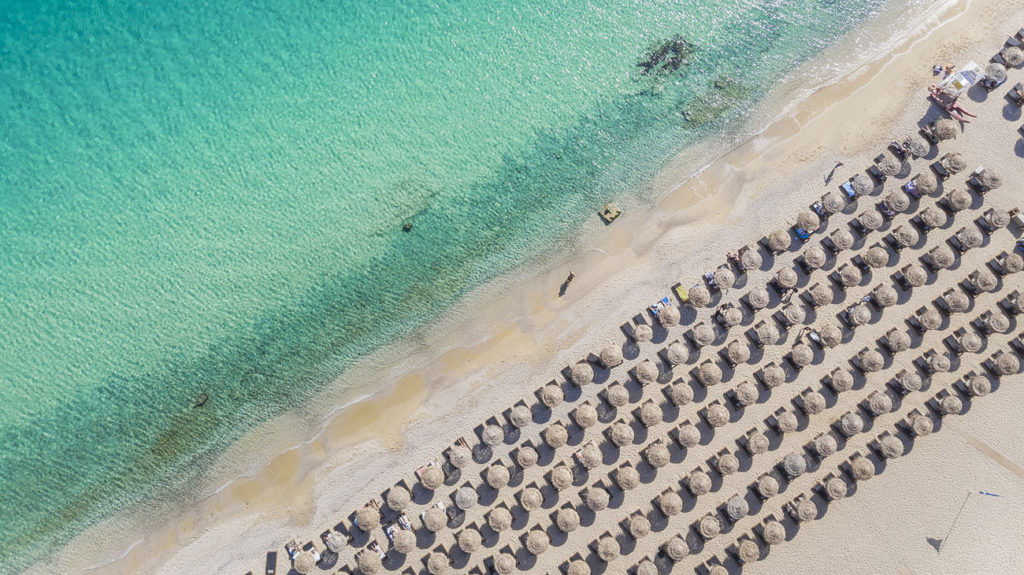 Elia. A chic no-frills less-of-a-VIP choice with full beach service, a wonderful beach restaurant, a resort, and great natural beauty around.
Panormos. Highly curated sandy beach with the sizeable Principote beach bar/restaurant area, full service, and a resortwear boutique; the name Principote aligns with the theory that Mykonos could have been an autonomous 'principality' or 'kingdom' of fun & leisure. This is the place to "show off", see, and be seen. Its extended, surrounded-by-walls premises have been built on a formerly natural expanse of coastal land that was previously protected by local environmentalists. Public access to the charming natural beach is now (summer of 2022) extremely limited unless you go through the entrance of the Principote beach club and use its parking lot. The facilities offer over-the-top beach service, so they are a fitting option for big spenders with a knack for a maximalist luxury travel style.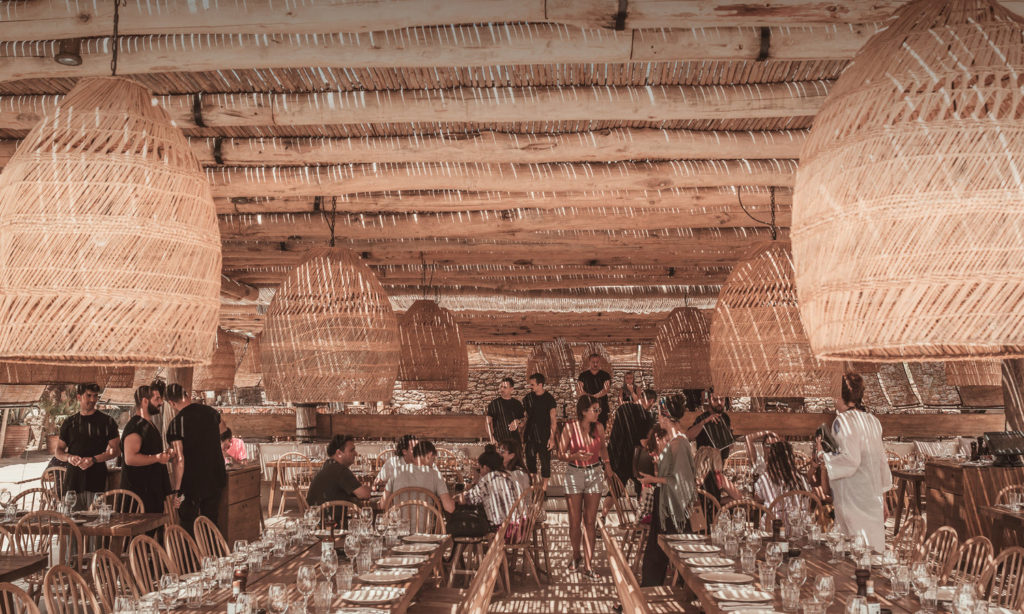 Paraga. It is dominated by 3 beach bars/restaurants; Kalua with its own Shisha menu, Santanna with the largest lagoon-shaped seawater beachfront pool on the island, a gourmet restaurant, a raw/sushi bar, a cocktail bar, and a spa, plus, on the other end of the beach, world-famous Scorpios standing on its own tiered peninsula with options for swimming, exquisite VIP lunching and dining, drinking, and dancing in a sophisticated ayurvedic Burning-Man-inspired boho-chic design setting. All three 'institutions' offer music by their sought-after resident and guest DJs in an impressive Spring/Summer calendar of events.
Ftelia. A bohemian-style party-ready beach with services from its popular bar/restaurant Alemagou; not necessarily the greatest spot to swim (as rocky inside as Scorpios) but surely with the perfect gourmet menu, and a coveted bar.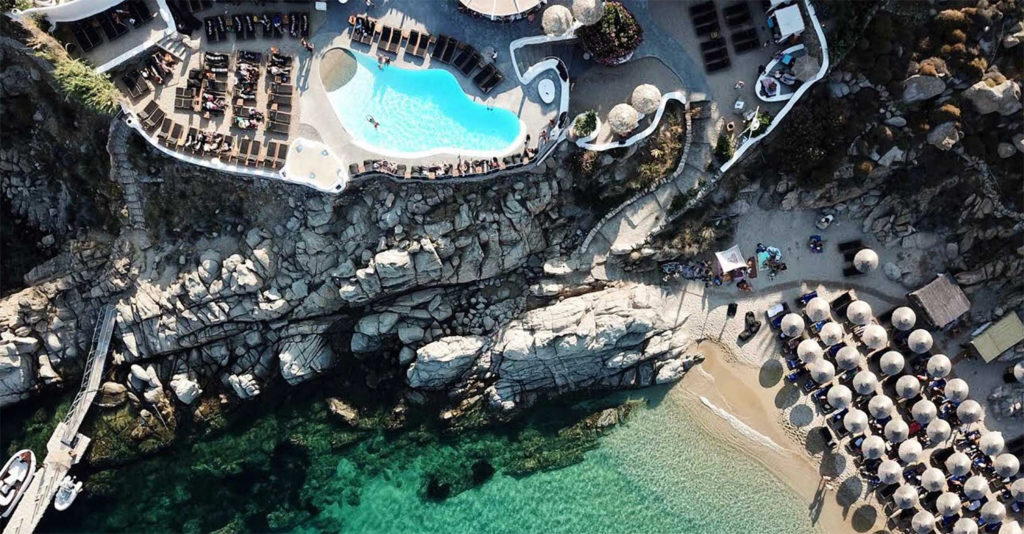 Super Paradise. Long, sandy, and spacious, it is spiced up with its super unique gender-inclusive Jackie O' beach club, bar, and intriguing gourmet restaurant featuring a tiered terrace space with a curvy swimming pool, and before the sun sets an upbeat drag-queen show!
Lia. Quieter than other beaches in Mykonos, still organized with sunbeds, umbrellas, a resortwear boutique, and beach service from the boho-chic Liasti beach bar & restaurant, this is a beautiful place to swim and chill.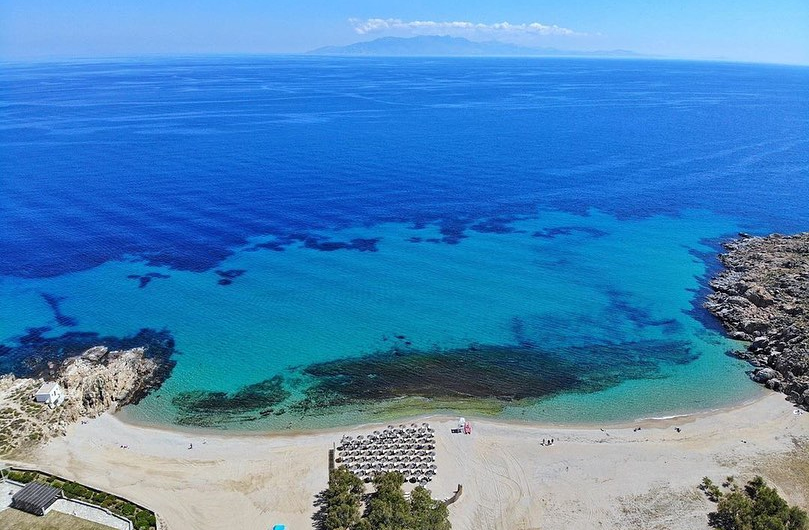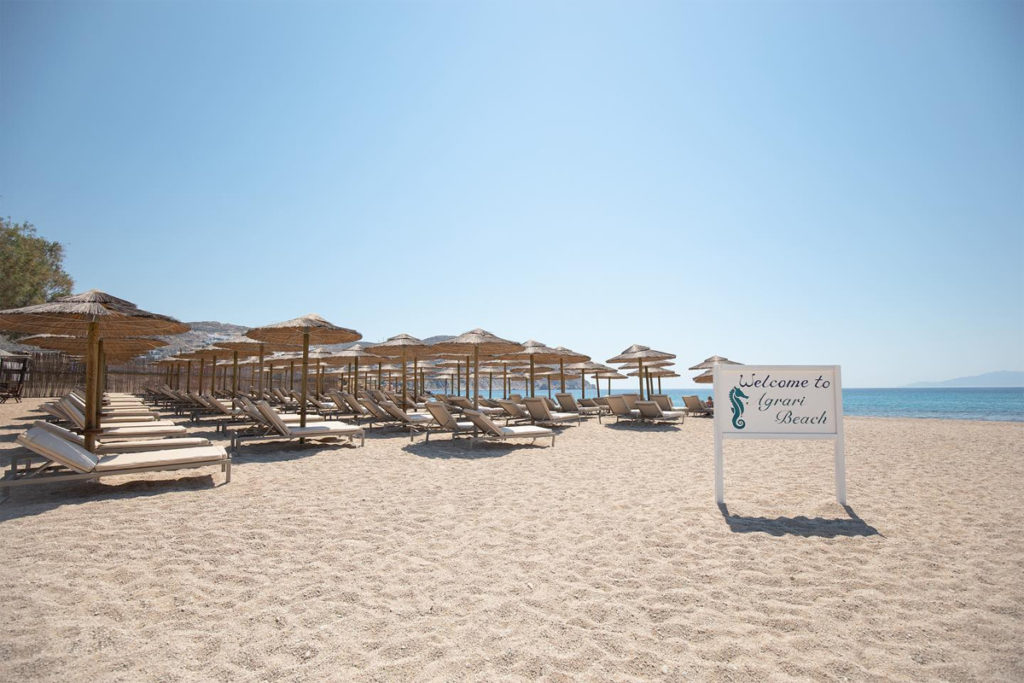 Agrari. Off the beaten track for celebrities and party-goers, this sandy expanse of Mykonian seashore serves as a place to unwind in full privacy. The otherwise virgin beach has a section that is offering full beach service with sunbeds, umbrellas, a cult beach bar, and a restaurant.
Restaurants & Bars in Mykonos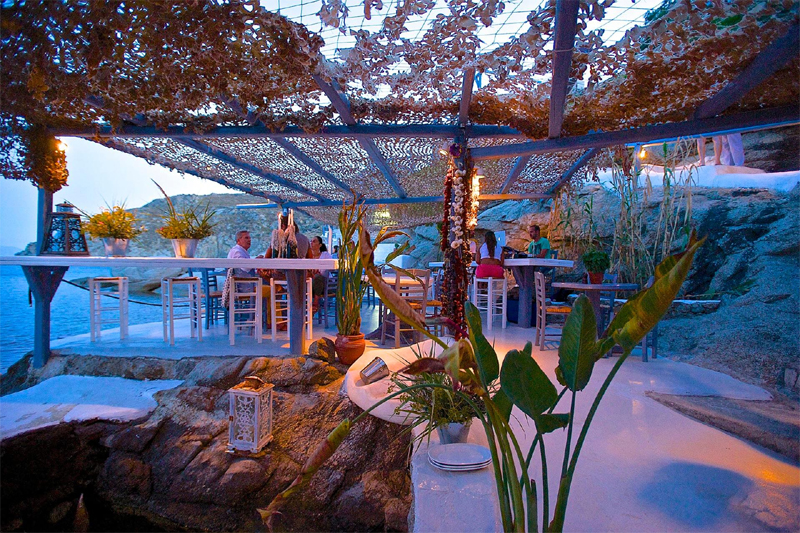 Most people in Mykonos are having lunch around 2 pm or so, and dinner as late as 11 pm or even midnight, mainly because they are dancing the night away, sometimes until sunrise. Yet if you are not a night owl you can have your meals anytime you prefer; there is ample flexibility to everything. Your hotel restaurant will surely be yummy and spectacular (most of them are multi-awarded), and the same applies to the aforementioned beach restaurants, yet if you are curious to try an independent one, here is a list of spots you can't miss: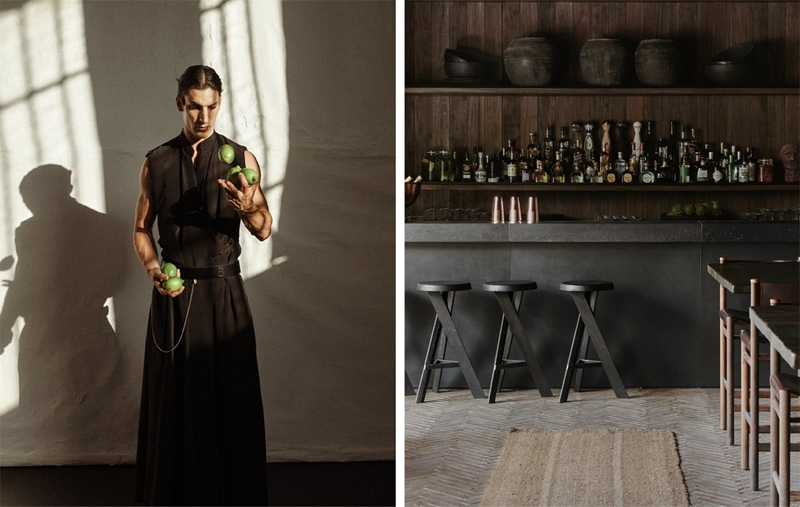 Nōema. This new contemporary Greek restaurant & bar in Chora celebrates the free spirit of the Cyclades. In the Cycladic lexicon, Nōema is the meaning of life. In an elegantly designed hidden courtyard, nouveau Cycladic cuisine that spotlights indigenous ingredients and cooking methods, sharpened with an experimental attitude, is served to satisfy the modern palate. Raw materials are pickled, fermented, cured, and sun-dried — transforming bare necessities into something beautiful and unexpected. This nose-to-tail approach is the root of the restaurant's culinary philosophy. Chef Athinagoras Kostakos who has popularized modern Greek food in Athens, London, Riyadh, and Mykonos is also the Culinary Director of Scorpios. Mixology master Nikos Triantafyllou creates cocktails based on seasonality, sustainability, hand-picked healing herbs, small-batch distillates, and other local products. An eclectic assemblage of musicians, performers, and DJs explores musical horizons that defy categorization. There is even a resortwear boutique on the premises featuring the signature Prao line designed by Marios Schwab and Jacopo Ianniello.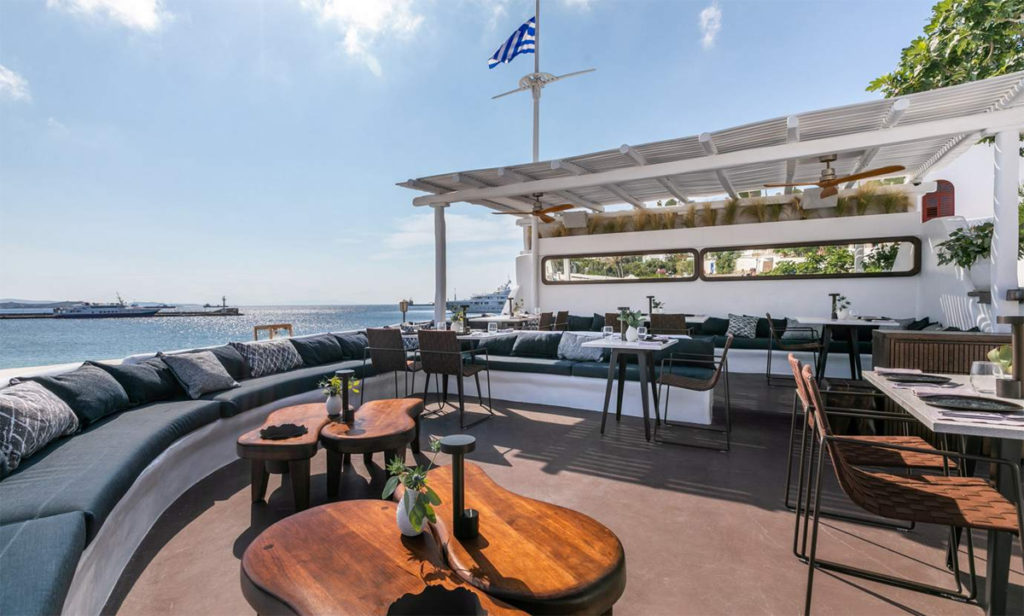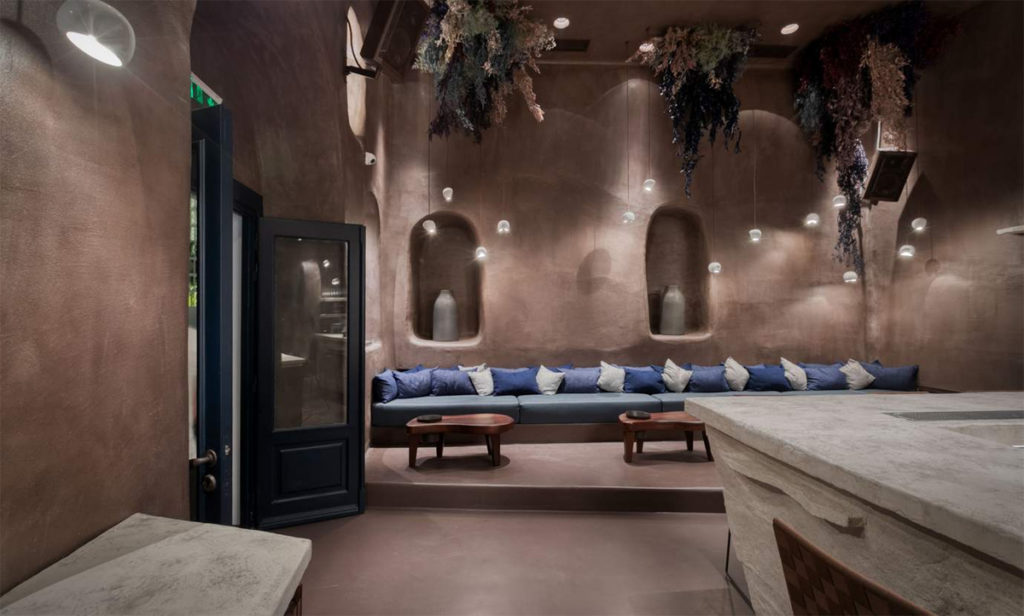 Remezzo. Enjoy Aristotle Onassis' favorite balcony sea view in the Aegean from the iconic restaurant/bar that was established in 1967 in Chora. Gourmet food is accompanied by a DJ set and party atmosphere that lasts till dawn.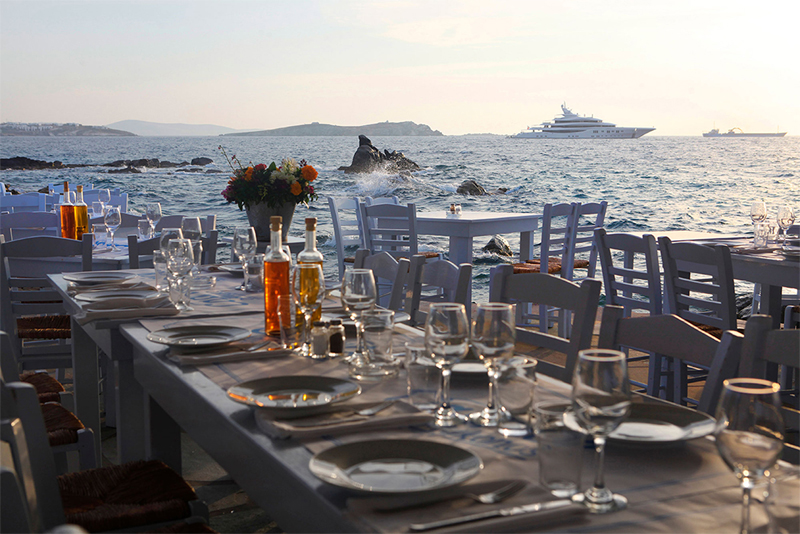 Sea Satin Market. Try the freshest seafood in a vast waterfront casual restaurant (near the windmills and Little Venice) that turns around midnight into a Greek music nightclub (diners are even dancing on the tables).
Nautilus. Get into the spirit of local Mykonian seafood cuisine and hospitality in a no-frills romantic, understated-glamour restaurant in the pedestrian part of the town. Zen, nonchalant, and finest-quality dining; it is as if you are eating at a local's house!
Katrin. Since 1971 this super cute restaurant in Chora that extends to the cobblestone area outside and a little space nearby has been an important dining spot for an array of celebrities (including Valentino Garavani, Nicole Richie, and Kendall Jenner recently) loving the fusion of Greek and French culinary elements.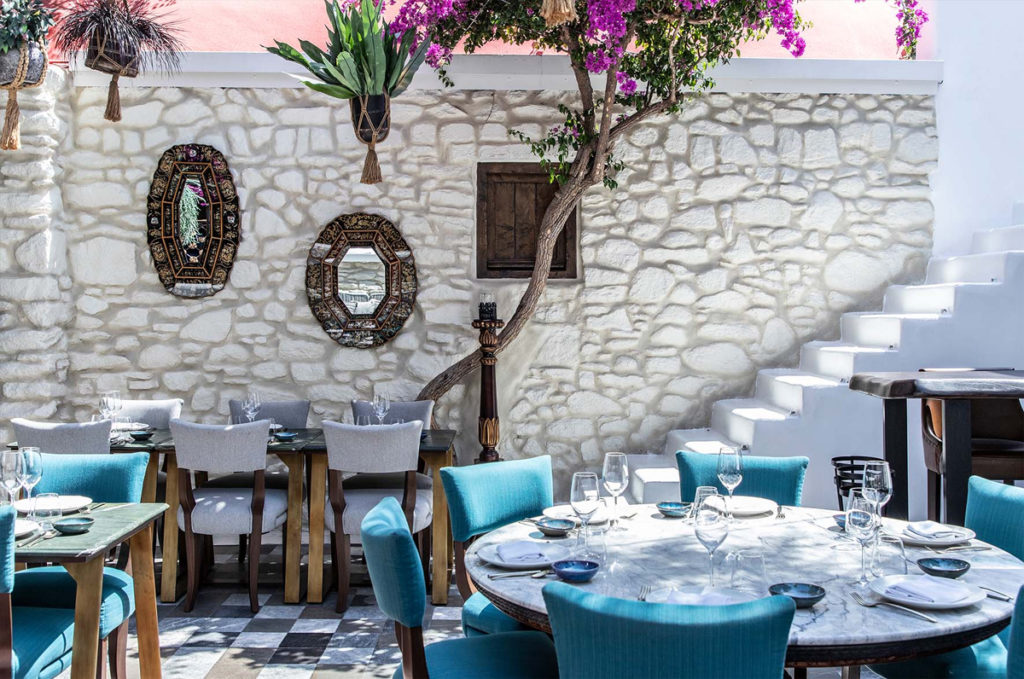 Coya. The international group guarantees an ultra-healthy Peruvian dinner with Japanese, Chinese, and Spanish accents, or great cocktails (their own pisco flavors) in a multi-level space taking up an older culinary institution inside a traditional fully modernized Mykonian building in Chora.
Ceresio7. After 8 years of success in Milan, a sister restaurant opened in Mykonos in the summer of 2021, in collaboration with Greek jewelers Giannis and Grigoris Gofas. Located in Chora, it is the latest creative and aesthetic offspring of designers ​​Dean and Dan Caten (Dsquared2) and the architecture firm Storage Milano. Magically renovated, the historic building harmoniously combines the traditional Mykonian style with Italian finesse and the elegant modernism of the 50s. The original vision is evident in all aspects of this space, from architecture to layout, interior design, and decoration. The restaurant spreads over an area of ​​more than 400 sq. m/ 4,300 sq. ft, in a beautiful courtyard with white masonry accented with red and blue details. Graphic floors, nature, elegant seating, and eye-catching ceramic tableware sum up the elevated notion of local hospitality. The menu, created by chef Elio Sironi, offers a uniquely modern interpretation of Italian cuisine, based on well-rounded flavors, and simple, authentic recipes. The restaurant's bar offerings, including cocktails and a wine list, are equally spectacular.
Interni. Decorated by renowned architect and designer Paola Navone, this magical design-infused garden in Chora serves farm-to-table Mediterranean recipes with international touches.
Kuzina. Its full-service beach club in Ornos might be too crowded for an exclusive clientele, yet the restaurant is highly recommended for fusing Greek flavors with Asian and other culinary elements. Keep it in mind also for dinner on quiet evenings! Award-winning chefs John Vidalis and Stratos Chronakis will make it memorable.
Avli tou Thodori. This is a great beachfront spot in Platis Gialos for a traditional Greek lunch with a long culinary history.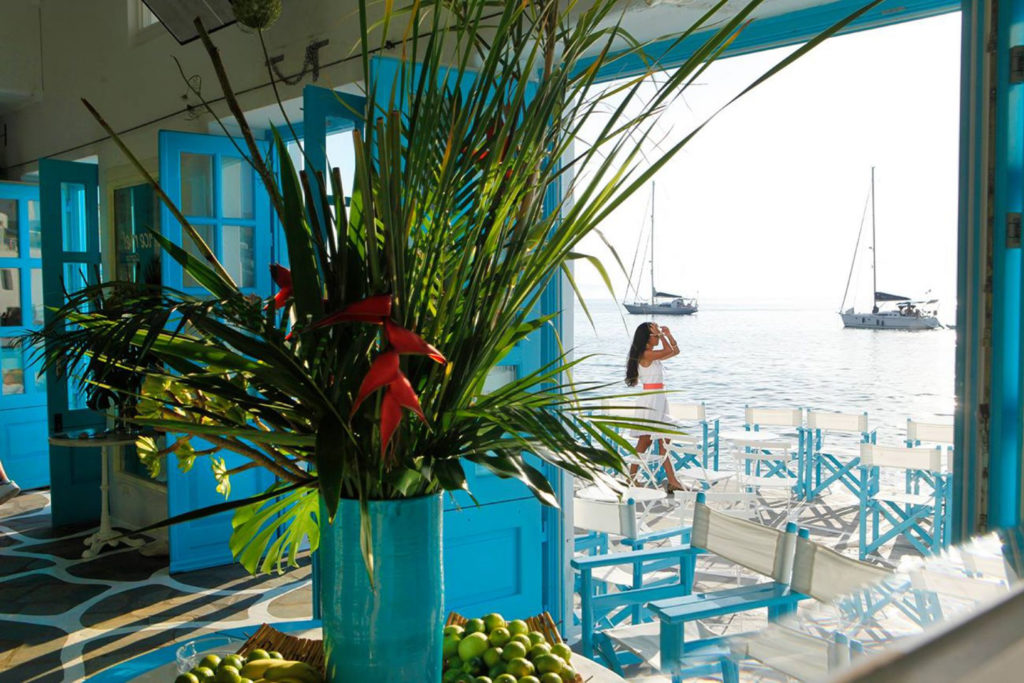 Caprice and Bao's. On Little Venice, the iconic Caprice from a slightly nearby location and Bao's in the space of the original Caprice are the best spots to enjoy sunset drinks in the town. DJ set and cocktails are keeping you dancing until dinner and you can get back there after it!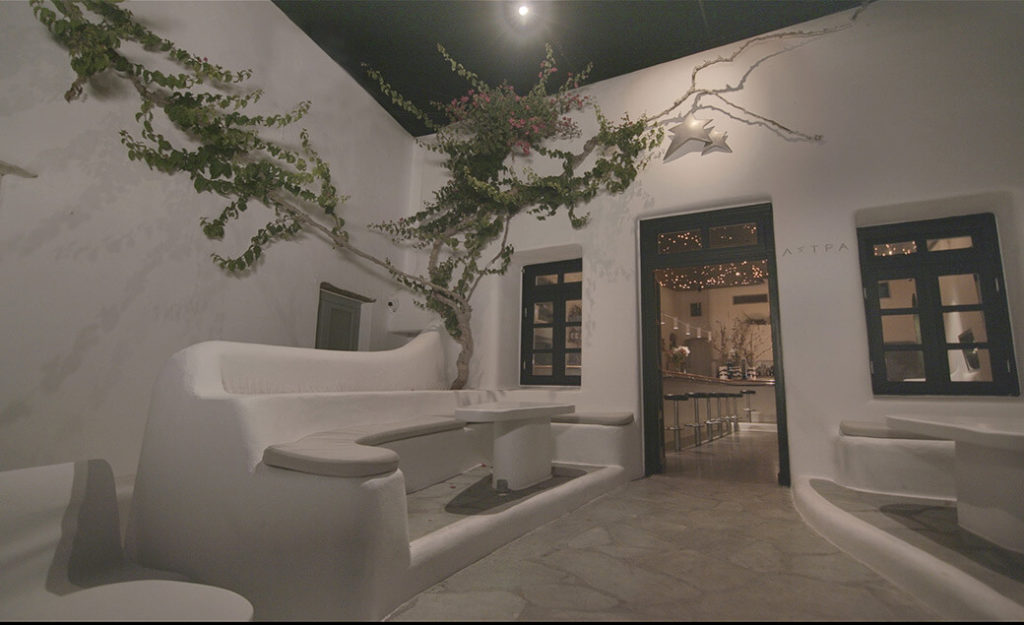 Astra. Since 1987, designed by famous jeweler Minas, the star-shaped logo (astra=stars in Greek) and the northern-hemisphere-sky-inspired ceiling with over 2,500 lights synchronizes with the ever-electrifying DJ sets in this iconic disco that has seen the likes of royals, megastars, and top models dancing the night away and then relaxing outside in the timeless yard with 3 landmark wells.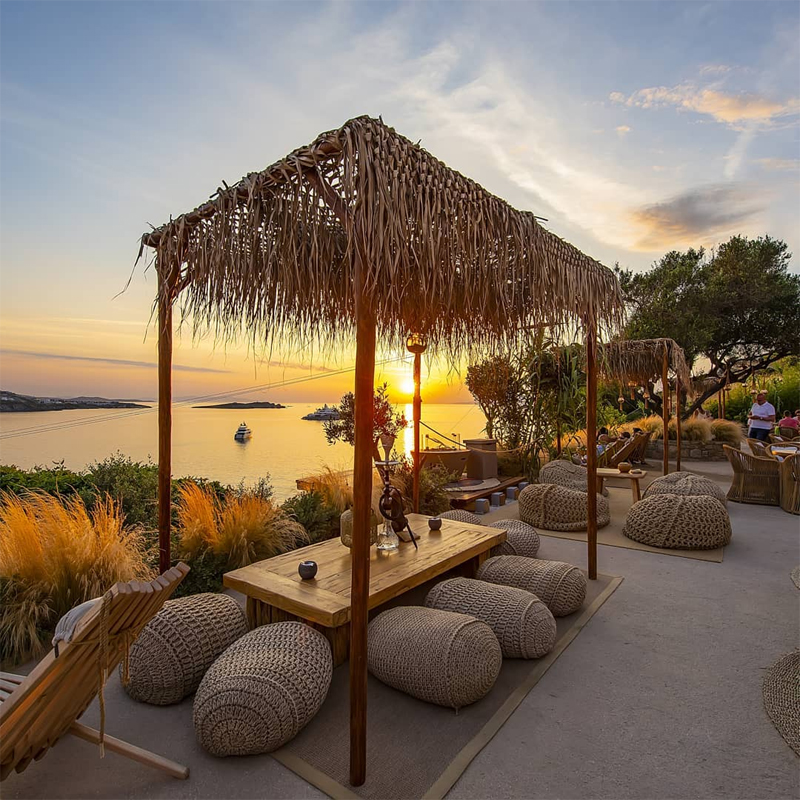 Garden of Mykonos. This elegant spot, which previously belonged to the famous Yehudi Menuhin, one of the most talented larger-than-life violinists of the 20th century, is the perfect outdoor sunset bar. Try unique cocktails based on fresh Greek herbs and flowers, or award-winning wines and selected spirits while lounging comfortably in a magical sea-view tiered setting above the cliffs of Megali Ammos beach near Chora. It all began when Menuhin came to Mykonos for the first time in 1962, with his American wife Diana and gradually acquired the estate where this garden is located. His good friends and current owners, the Kousathanas family being active in the hospitality industry for generations, decided to revive this dreamy place and make it a meeting point for aesthetes.
Best-Kept Traditional Cycladic Dining Secrets in Mykonos
Beyond Mykonos' gourmet and mixology hotspots, A-listers are lining up for a table, wishing to enjoy local recipes and delicacies at 4 acclaimed traditional tavernas. Try Asimina's meatballs at the tiny Maereio in Chora. Indulge in the grilled pork chop and the chocolate cake with fresh amaretto cream at the electricity-free Kiki's Tavern above Agios Stefanos beach. Opt for fresh grilled fish and angel food cake at Fokos Taverna on Fokos beach. Both beaches are accessible by car but remote and not organized. Finally, Nikolas Taverna, which operates on Agia Anna-Paraga beach (near Scorpios) since 1967, continues the legacy of simple local food, serving fresh seafood on tables placed right on the sand.
From Mykonos, the ferry continues to other islands. Check stops to Paros-Naxos-Ios-Santorini in the Springtime Island-Hopping Luxuries in Greece – Part III!