Top 3 Venues in Athens for Opera, Ballet, Theater, and Concerts
Athens is bustling with cultural activity year-round. It has always been like that, and during the last decade's financial crisis, artists from all over the world started flocking to the Greek capital. The graffiti-flecked streets and grungy cobblestone neighborhoods hosted and inspired their vision. Filled with landmark neoclassical buildings, museums, art galleries, and ancient ruins, Athens is a cultural epicenter. Exhibitions and performances, artist-in-residence programs, and more casual forms of art are part of the city's life. There are many concert halls, theaters, and stages, yet in this article, we will share with you where la crème de la crème of cultural activity is taking place. These three most prestigious venues in Athens can only be met or surpassed in international magnitude and artistic impact by the summer-only, open-air Roman theater Odeon of Herodes Atticus or "Herodeion" built in 161 AD on the southwest slope of the Acropolis of Athens. Renovated in 1950, it has seen performances by Maria Callas, Frank Sinatra, Luciano Pavarotti, Sting, Elton John, Andrea Bocelli, Plácido Domingo, José Carreras, Montserrat Caballé, the Bolshoi Ballets, Diana Ross, Liza Minnelli, and many more. Equally extraordinary is the roster of artists that have performed at the following highly recommended venues!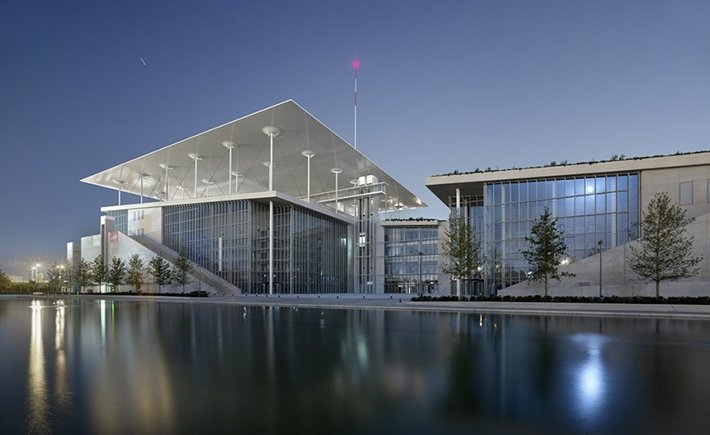 Greek National Opera. Located in the Stavros Niarchos Foundation Cultural Center, its two state-of-the-art stages – the Stavros Niarchos Hall and the Alternative Stage – are carefully designed for opera, operetta, ballet, dance in general, and other performances. Meeting high standards of acoustics and aesthetics, it exudes the vibrancy and cosmopolitan spirit of Greek cultural activity. In 2020, it celebrated its 80th anniversary with a series of international artistic collaborations. The company had been preceded by a 150-year history of a flourishing opera tradition on the Ionian Islands and half a century of activity by the Hellenic Melodrama, an opera company that ran in various forms from 1888 to 1938. The Stavros Niarchos Foundation picked through an international competition Italian architect Renzo Piano and his firm Renzo Piano Building Workshop for the study and design of the Stavros Niarchos Foundation Cultural Center (SNFCC). The architectural complex and surrounding 21-hectare park of spectacular biodiversity is an additional reason to book tickets for the Greek National Opera.
Onassis Stegi. At the heart of the foundation, created following the vision of late tycoon Aristotle Onassis, lies a cultural center and a venue that annually hosts an array of events and undertakes outstanding initiatives. A modern building on one of the busiest avenues in Athens called Syngrou is the site of countless artistic collaborations, theatrical and musical productions, film screenings, art exhibits, and digital shows by a compelling roster of artists and creatives from all over the world. It is a space that pushes the boundaries in every dimension of creativity, attracting the most intriguing audience, those thirsty for what's next in culture. Built in 2004, by the French architectural practice "Architecture Studio," this remarkable space magically plays with light. A new architectural study was drawn up for the interior of the two amphitheaters. James Morse from the London-based Light & Design Associates company designed the theater lighting in both auditoria. The entire building's architectural lighting was redesigned by Eleftheria Deko & Associates, the lighting design company behind the Opening and Closing Ceremonies of the Athens 2004 Olympics. Post- or pre-show, you can enjoy a dinner on the 6th & 7th floors at the Hytra restaurant. Holding one Michelin star and featuring a breathtaking view of the Acropolis is the ultimate touch to an exquisite cultural experience.
Megaron – The Athens Concert Hall. With state-of-the-art equipment – acoustics was the prime consideration before an architectural plan was laid down – this Doric-inspired modern complex on a main Athenian avenue includes one of the best-designed concert halls in Europe, the Christos Lambrakis Hall. Envisioned in the 1970s and inaugurated in 1991, it has many more spaces – halls designed for chamber music concerts, all kinds of performances, opera, ballet, multimedia presentations, conferences, banquets, exhibitions, and more. The 1,500-seat Alexandra Trianti Hall is impressive with an advanced lighting system and 4 alternate stages. The complex has multiple foyers, the exterior Atrium of the Muses, and a lush, perfectly-manicured garden that accommodates events for up to 5,000 guests. In it, you will also find the stylish indoor-outdoor Fuga restaurant serving fusion gourmet cuisine described as Italenese (Japanese x Italian) made of ethically sourced mostly local ingredients. The elite of music, dance, theater, and culture from Greece and worldwide performs at the Megaron, a Greek word that alludes to a mansion or other building of palatial proportions and grandeur. Its Music Library displays a wealth of books and records of western music, and a rare collection of Greek genres (ancient, byzantine, folk, popular, rebetiko, etc.). Among other influential personalities who funded this vision, acclaimed 20th-century Greek composer Dimitri Mitropoulos, the Music Director of the New York Philharmonic in the 1950s, offered all proceeds from the concerts he had conducted in Athens.