Luxury Sunscreens, After-Sun Products, and Self-Tanners for Your Greek Summer Vacations
Over recent years, we've increasingly turned our attention to the importance of self-care, emphasizing a need to spend more quality time with ourselves. This introspective turn has allowed us to acknowledge past errors in our often overly social lifestyles; frequent omissions of beauty routines, workout sessions, and nutritious meals in exchange for endless responsibility-juggling, socializing, and traveling! As we redefine our day-to-day lives, learning to slow down and achieve a new balance, our vacation experiences have become more fulfilling than ever before. Not only do we yearn for them more intensely (relishing those lazy, sun-soaked moments to the fullest), but we also plan them more thoughtfully with a wellness-centered approach to packing our luggage. Prime among our choices is the radiant Greece, a destination where "sea and sun" offer the ultimate joy, especially under the protective shield of sunscreen! It's no surprise that Greece has emerged as one of the most popular, if not the most popular, summer vacation destinations in 2023. If you really want to enjoy the sun in one of the islands on in the mainland, make sure your luggage is filled with some of the following products we picked for you!
Sun Exposure in Greece
Average sunshine is closely related to the proportion of sky that's cloud-free, and scientists have estimated that clear-sky percentage to exceed 50% all over Greece throughout the year. According to Weather-and-Climate.com, the average annual amount of sun-hours in Athens is 2,769, with July being the sunniest month of all (over 350 hours). Greece is very sunny. For the sake of comparison, London and the UK overall have around 1,500 sun hours per year. Visitors from England and other countries with less sunshine should be consistent in sunscreen use, especially those with fair skin who are more susceptible to sunburns and severe skin damage because they are likely to absorb more solar energy than dark-skinned people under the same conditions. In fact, we all need to be consistent with our sunscreen regime to safeguard our health and beauty. Ultraviolet rays come at various wavelengths, increasing from UVC to UVB and UVA. The shortest ones, mostly UVC, are absorbed by the ozone layer before affecting our skin health, but longer ones are not in their totality, with UVB causing sunburns and UVA being often responsible for cellular-level damage. An article posted at SkinCancer.com mentions that 90% of all visible aging signs on our skin are due to photoaging. It's the cumulative sun damage we have suffered throughout our lives caused by unprotected exposure. It seems that sunscreen can keep us younger forever!
Sun Protection Tips for Greece and Other Sunny Destinations
Like in any other sunny place, you should protect yourself from UV (ultraviolet) radiation in more than one way. Remember that it only takes 15 minutes of unprotected exposure for UV rays to cause serious sun damage. Here are the tips most dermatologists come down to:
Always look for shade under a tree (tamarisks are often framing the Greek shores), an umbrella (organized beaches provide sunbed-umbrella sets), a tent (countless variations on the Greek beaches), or a seaside café/taverna.
Opt for long-sleeve caftans and rash guards. Darker colors and dry clothes are a bit more protective. Pick clothing made of dense-weave natural fabrics or tech fabrics with UPF (Ultraviolet Protection Factor) like Mott50 or Coolibar.
Wear a wide-brim hat and sunglasses (lenses offering 99% to 100% UV absorption), again made with efficient UV-protective certified materials.
Apply sunscreen sparingly every single day, even on cloudy ones. For Greece, think of SPF30 or SPF50, which is a safe bet against the sun.
Check the label to confirm it has broad-spectrum coverage. Because SPF values are determined from a test that measures protection against sunburn caused only by UVB radiation, SPF values only indicate a sunscreen's UVB protection. Broad-spectrum indication means that it also provides you with UVA protection. In certain countries (Japan, UK, Germany, US, and Australia), this UVA protection is also marked on the labels as PA, PA+, PA++, PA+++, which is a Japanese measurement.
Invest in a fine-quality water-resistant sunscreen because this is your most valuable asset, the one that saves you from serious trouble. FDA-approved labels are required to state whether the sunscreen remains effective for 40 minutes or 80 minutes when swimming or sweating.
After a maximum of 2 hours of exposure, reapplication is a "must" because sunscreen wears off in many ways, including with swimming, towel use, and sweating. There is a popular misconception that SPF relates to the duration of solar exposure, while in fact, it is directly related to the amount of solar exposure. Higher SPF does not enable you to stay longer in the sun without reapplication.
Buy a new sunscreen if the one you had last summer has expired. Those without an expiration date should not be used for more than 3 years (in fact, you should better get a new one every year).
Protect the sunscreen by wrapping the containers in towels or keeping them in the shade. Sunscreen containers can also be kept in coolers while on the beach.
Self-tan products and bronzers do not usually protect you from the sun, so sunscreen is always necessary, the layer that comes under your makeup and can be reapplied on top of it. Compact powders and other products with SPF can be used, of course, on their own.
The amount of sunscreen to be applied per person 15-30 minutes before exposure should be that of a filled tequila shot glass. Be generous with it.
Try to limit as much as possible your exposure between 11 am and 4 pm, which is the time frame of the most intense sunshine.
Sun exposure should not coincide with treatments that increase your sensitivity to the sun, including antibiotics, alpha hydroxy acid (AHA) and retinoid facials, and exfoliants.
Sunscreen should also cover body areas we most often forget (ears, nose, lips, back of the neck, hands, top of feet, along the hairline, and areas of the head exposed by balding or thinning hair)
The list of approved sunscreen active ingredients is constantly reviewed according to the FDA guidelines and might differ from those established in Europe. In the United States, sunscreens are treated as over-the-counter drugs, not as cosmetics; hence the regulations are stricter and the variety of approved ingredients smaller than in other countries.
Types of Sunscreens and Benefits
Mineral sunscreens or inorganic UV filters containing FDA-approved zinc oxide and titanium dioxide stay on your skin's surface, acting instantly (no need to apply them 15 minutes before) like a mirror or a sunblocking film that deflects and scatters UV rays. Tinted ones are trending. They should be reapplied more often as they stay on the surface but won't clog your pores, so they are ideal for sensitive skin people. Make sure you apply them to every single inch of your body and avoid them in spray form.
Chemical sunscreens or organic UV filters are slowly absorbed into the skin's layers with chemical ingredients partially turning the absorbed radiation into heat and releasing it. The FDA recently reported that once absorbed, these active ingredients can remain in the body for longer, and that's why there is ongoing research on that. Chemical sunscreens become invisible (non-sticky-non-streaky), requiring less frequent reapplication, perfect for active people. Still, some of them allow a bit of UVA and chemicals like oxybenzone to penetrate further than desired (the ingredient was even found in some users' breast milk).
Best Sunscreens for Greece and Other Sunny Destinations
Your sunscreen-type choice depends on your lifestyle. We are here to present those products meeting the highest safety and efficiency levels, our complete Luxury Suncare List for 2023.
Lancaster Sun Beauty. This range combines the brand's advanced Full Light technology targeting 100% of the sun spectrum now including a boosted blue light protection and the new Sun Repair System that helps repair skin from UV-induced damages. Enriched with the brand's natural-origin Tan Activator Complex, these formulas help all skin types achieve a golden tan in twice less time of sun exposure. They are also clean and ocean-friendly. Our favorite products include the Sun Protective Water SPF30, which is an incredibly lightweight, refreshing, and beautifying formula. Fast absorbed, and invisible once applied, it leaves your skin intensely moisturized, enriched with a pleasant fragrance that alludes to the Riviera. We also adore the Sun Protective Fluid SPF30, which offers your face invisible protection and a nude skin sensation, as well as the Sun Sport Cooling Invisible Mist SPF50, which keeps your skin breathing even during intense outdoor activities.
Clinique Sun. The line includes high-level sunscreens offering sun protection combined with skincare benefits. The brand's mineral sunscreens feature advanced formulas (Invisible Shield Technology) that are ultra-lightweight, virtually invisible, 100% mineral, and incredibly comfortable, ideal for sensitive skins. The SPF50 Mineral Sunscreen Fluid For the Face, for example, is gentle enough to use around the eye area. There is also one with SPF30, and the Broad Spectrum SPF 50 Sunscreen Body Cream, all broad-spectrum, of course. The other group of products within the line is based on innovative SolarSmart technology, which stabilizes high-level protection against the aging and burning effects of UVA and UVB rays. It triggers repair thanks to solar-activated antioxidants that help prevent visible damage. There is a Broad Spectrum SPF 50 Sunscreen Face Cream, one with SPF30, an SPF50 for the body, and the Clinique Pep-Start™ Daily UV Protector Broad Spectrum SPF 50 which is offered an ultra-lightweight sunscreen and universal perfecting tint in one. Self-tanning products also revolve around the brand's philosophy of avoiding the use of allergens, irritants, and ingredients in ways that could potentially harm the skin. Definitely a safe choice!
Sisley-Paris. With over 25 years of sun care expertise and anti-aging research, the brand offers a comprehensive range of products that combine protection and skincare. These products are luxurious for a reason. The opulent Sunleÿa SPF 50+ Sunscreen Cream helps decrease drastically the risk against photo-aging, thanks to a potent cocktail of anti-free-radical ingredients of mineral (Rhodochrosite extract), plant (Alkekengi Calyx extract), and vitamin origin (Vitamin E), as well as powerful hydrating agents. Still, we will focus on self-tan and tan-prolonging products from this line. The Self-Tanning Hydrating Facial Skin Care offers a natural and uniform tan for immediately radiant golden skin, which looks intensely moisturized due to a quenching complex of ingredients that continuously retain water. Alpine Rose extract, a powerful antioxidant, enables the skin to reflect light better, hence its radiance. The same characteristics apply to the Self-Tanning Hydrating Body Skin Care with star-ingredient Macadamia oil, known for its nourishing and soothing properties. If you want to combine sun protection, the Tinted Sunscreen Cream SPF 30 does it safely during initial exposure, and it is also water-resistant for 40 minutes with a mesmerizing scent of sage and marjoram essential oils. The After-Sun Care Tan Extender seals the deal with a formula rich in soothing ingredients (Andiroba oil, Alpha-bisabolol), hydrating ones (Shea butter, Stevia leaf extracts), and Plant Glycerin that softens the skin. The "key" is that it contains a small amount of self-tanning ingredients to extend the look of your tan naturally. Summer is a time to indulge and invest in cosmetology!
La Prairie. Speaking of luxury, the Cellular Swiss UV Protection Veil Sunscreen Broad Spectrum SPF50 is a precious asset! This lightweight formula is designed to be used over your moisturizer or serum as the final, essential step in your skincare ritual. It is a powerful shield or veil that protects you from UVA and UVB that cause age spots or skin discoloration while offering deep and lasting hydration.
Uriage. For over 2,000 years, Uriage Thermal Water has travelled through the heart of the French Alps, taking 75 years to pass through the rocks. As the seasons change, it becomes enriched with minerals and trace elements. The Uriage Dermatological Laboratories use its powerful ingredients to elevate protection to new levels with their Bariésun sun protection formula. Based on the Telomeres Protect patent, the Bariésun complex, and Uriage thermal water, these ingredients work together to provide optimal skin protection, safeguard cellular DNA, and prevent photoaging. The Telomeres Protect patent fortifies chromosomes, especially their telomeres, while the Arthrospira Platensis extract limits cellular damage from UV radiation and blue light. The patented Bariésun complex maintains sun filters on the skin's surface for enhanced photoprotection. Uriage products, tailored to all skin types, including sensitive and intolerant skin, are enriched with their renowned thermal water, which offers moisturizing, protective, and soothing properties. Dry oil, mist, spray, lotion, cream, stick, and more – Uriage offers galenic compositions with adorable textures for daily use. The captivating fragrance combines fruity notes with musk, vanilla, and orange. Uriage is dedicated to both skin and environmental protection, exemplified by their eco-friendly packaging, such as the Eco Tube made from FSC-certified paper and other initiatives.
Clarins. This brand's sunscreens contain an anti-pollution complex which might be unnecessary in the Greek islands, although they are performing amazingly! Still, our favorites from this line are in the realm of self-tanning and after-sun protection. The best-selling Self-Tanning Milky-Lotion for Face and Body creates a natural-looking golden glow and hydrates the skin for 24 hours. The smooth texture melts into the skin for effortless application and streak-free color. It is enriched with natural plant extracts of fig and aloe vera and has an irresistible delicate scent. The Radiance-Plus Golden Glow Booster for Face mixes with any day or night moisturizer for a natural-looking, made-to-measure tan. It lets you customize the intensity — from a subtle, sun-kissed glow to a deep bronze tan, offering signature skincare benefits. Formulated with 99.8% natural plant-based ingredients, it gives a flawless result along with hydration, softness, and radiance. For a pleasant post-beach experience, the 3-in-1 After Sun Shower Gel for Face, Body, and Hair removes sunscreens, salt, sand, and chlorine odors, without drying your skin. The real savior comes down to the icy SOS Sunburn Soother Mask for Face and Body, which soothes and rehydrates the skin for 48 hours, the perfect post-sun cooldown! With over 65 years of skincare expertise, The Clarins Laboratories incorporated in their proprietary formula moisture-packed plant extracts — including organic aloe vera and organic shea butter — as well as soothing sunflower extract healing red, hot, sunburned skin, and free-radical-fighting Mimosa Tenuiflora ensuring youthfulness.
Shiseido. There is no doubt that the Ultimate Sun Protector Lotion SPF 50+ Sunscreen for Face and Body is among the most popular and awarded luxury sunscreens in the market. The latest innovation builds on Shiseido WetForce Technology with the addition of HeatForce Technology. Together they create SynchroShield, an invisible, lightweight, protective veil that's reinforced by heat and water. It is an ocean-friendly formula, free of oxybenzone and octinoxate, water-and-sweat-resistant for up to 80 minutes. It hydrates and leaves no residue. What else could you ask for? Along the same lines, you will appreciate the Clear Sunscreen Stick SPF 50+. Glide the clear stick under or over makeup for easy, portable coverage on active, outdoor days. Another gem in the collection is the UV Protective Compact Foundation, a travel-friendly SPF36 compact foundation that delivers a powdery, long-lasting, natural-looking finish.
Frezyderm. Leveraging patented Second Skin Technology, this Greek company's Sun Screen Velvet sunscreens offer unique sun protection, superior cosmetic benefits, and a commitment to human and environmental health. These products provide broad-spectrum protection against various types of radiation, with advanced photostable filters that adhere to the skin without penetrating deep layers or entering the bloodstream. The line includes the Sun Screen Velvet Face with SPF 30 & 50+, Sun Screen Color Velvet SPF 30 & 50+ for coverage, and Sun Screen Velvet Body SPF 50+. Their velvety texture, matte finish, and ability to enhance skin appearance, all while allowing the skin to breathe freely, make these products stand out in the world of dermocosmetics.
Lancôme. Your face deserves the best, so what about a product that is perfecting and protecting it? The UV Expert Aquagel Defense SPF 50 Priming Moisturizer is an all-in-one, oil-free face primer and sunscreen that gives lasting hydration thanks to miraculous ingredients such as antioxidant-rich Vitamin E, Moringa, and Edelweiss. Its cooling texture transforms into a lightweight, non-sticky water-like gel that's easy to blend and fast to absorb. Another favorite, the Rénergie Lift Multi-Action Ultra Face Cream with SPF 30, is sun protection with anti-aging properties. A sunscreen and face cream in one, this moisturizer lifts, firms, and corrects dark spots. Its innovative lightweight texture, with a unique blend of jojoba, sunflower, and mimosa flower waxes, melts upon contact with the skin, delivering 24-hour hydration. Linseed exact and LHA (Lipo Hydroxy Acid) act on the key visible signs of aging linked to collagen loss: fine lines, wrinkles, and reduced elasticity. It carries the Skin Cancer Foundation seal of approval as an effective broad-spectrum sunscreen.
La Mer. As the luxury brand's name suggests, all products draw elements from marine life. The Broad Spectrum SPF 50 UV Protecting Fluid fulfills your daily sun protection requirement. Designed to be worn over your moisturizer or under makeup, this soothing, lightweight lotion infuses the skin with the sea-sourced renewing energies of the proprietary Miracle Broth.
Giorgio Armani. Keeping up with the designer's perfectionist tradition! Discover the Power Fabric+ Foundation SPF 25, a medium to full coverage foundation with a natural matte finish. The lightweight, non-drying longwear formula delivers up to 24 hours of wear and comfort with SPF25 UVA/UVB sun protection. It is formulated with patented Micro–fil Technology ™, a fine weaving process that allows pigments to lay flat for seamless blending to provide a weightless and comfortable feel. And the most fascinating of all is that it is available in 30 shades!
Chanel. Luxury has definitely a name! The CC CREAM Super Active Complete Correction Sunscreen Broad Spectrum SPF 50 is a tinted moisturizer that evens, corrects, protects, and illuminates. It combines skincare benefits with a long-wearing, medium-to-full coverage makeup effect and the glowing finish of a healthy complexion. Infused with Murunga Plum Extract —from an Australian superfruit rich in vitamin C – the enhanced formula visibly minimizes aging signs and improves skin texture after one month of use. A new form of Hyaluronic Acid helps hydrate the skin, making it look plump. You can wear it alone after skincare or underneath powder makeup.
Dior. The iconic Maison includes in its lines some real treasures of sun care and self-tanning. The Capture Dreamskin moist & perfect cushion SPF 50 PA+++ acts on the appearance of pores, minor redness and shine for naturally more beautiful skin complexion that stays fresh, matte and luminous. Day after day, it is enhanced by its age-defying and sun-protective properties. Another favorite, the Dior Solar Self-Tanning Gel is a gradual self-tanner for the face that beautifies the skin by enhancing it with an even tan and a natural finish. Its formula is composed of 90% natural-origin ingredients.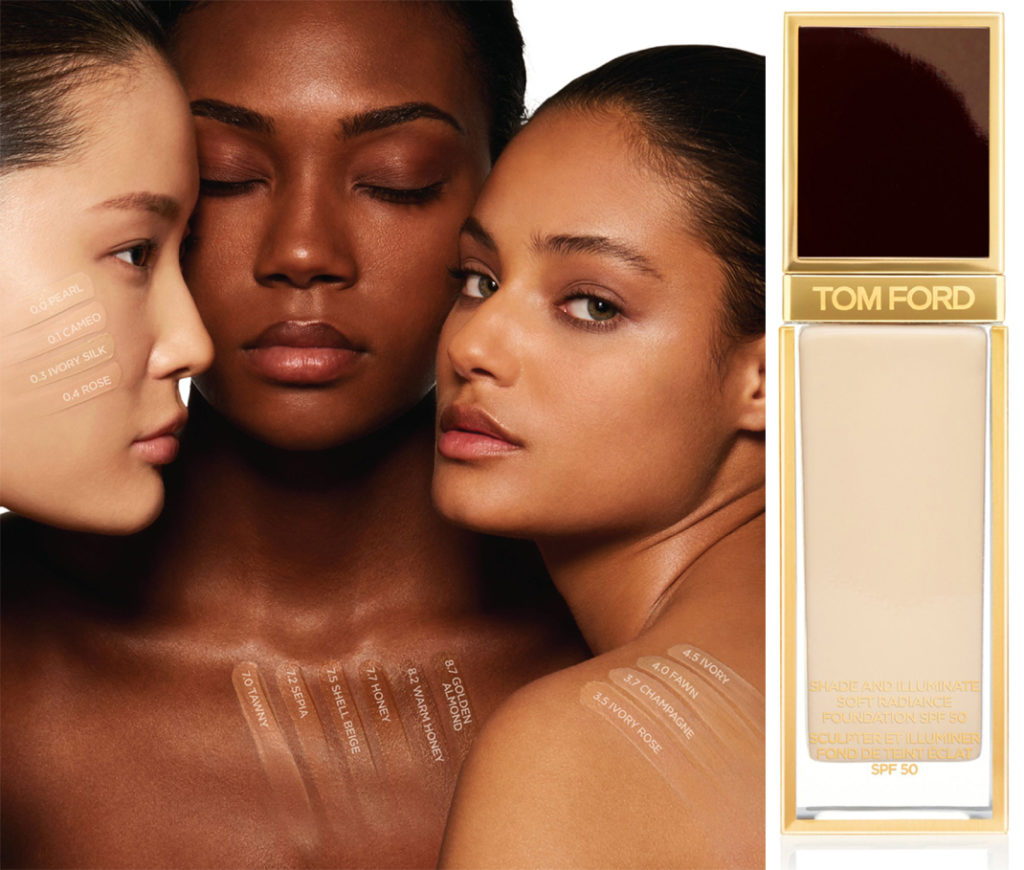 Tom Ford. His luxury beauty products will zoom in your face with its Creative Director's perfectionist spirit. Shade and Illuminate Soft Radiance Foundation SPF 50/PA is our favorite because it merges 3D radiance with 3D skincare. This medium-to-full-coverage foundation features a blend of advanced elastomers and light-diffusing powders to create the perfect surface to reflect soft light. It creates the appearance of flawless skin while it nourishes the skin with breathable protection. Infused with Hyaluronic Acid, it helps to moisturize the skin for a plump, dewy look. Natural oils Balsam Copaiba, Andiroba, Acai, and anti-inflammatory Noni fruit extract nourish and calm the skin, while SPF 50/PA protects you from the sun. It comes in 40 shades covering the whole spectrum of skin tones.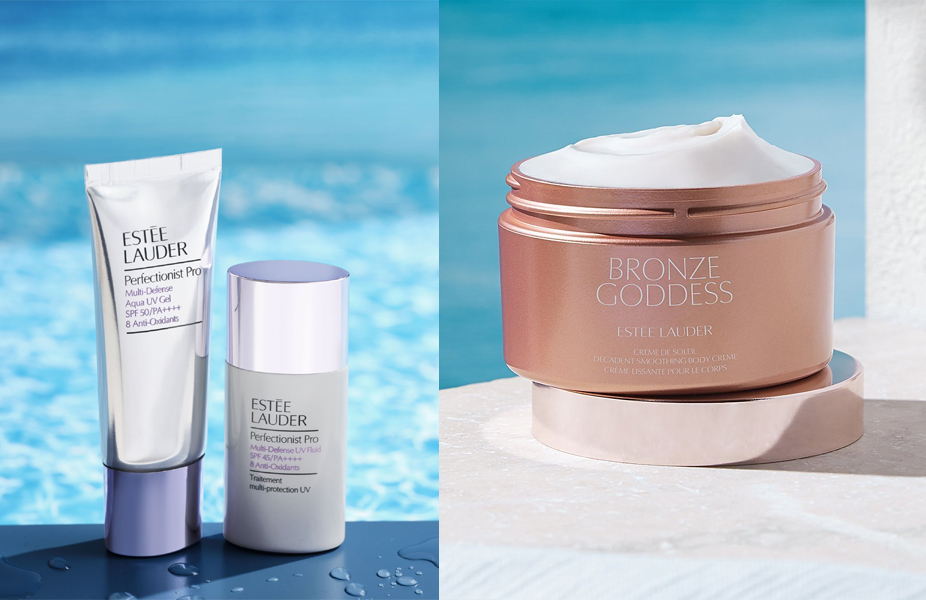 Estée Lauder. As part of the brand's vision for next-generation skin care, sun protection is a priority. There are amazing products in this category, including the Perfectionist Pro Multi-Defense Aqua UV Gel SPF 50 with 8 Antioxidants, a professionally-inspired treatment that follows a holistic 3-in-1 approach. UVA/UVB broad-spectrum defense takes the form of an invisible veil featuring Tiger Lily Extract. It fights UV damage to elastin, ensuring naturally firm, bouncy skin. Combined with a miraculous mix of antioxidants, it protects from indoor/outdoor environmental aggressors, an element that will be more at use when you visit Athens. Greece's capital is not the most polluted in Europe – air quality is good overall – but like all cities, it has some degree of pollution. This refreshing gel formula also hydrates the skin for 8 hours, strengthens its barrier against infrared (IR) radiation, and helps prevent dehydration from changing weather, heating, and air-conditioning. It's like your skin is drinking lots of water! Apply it as your last step in your morning skin regimen and before makeup. With similar benefits, the Perfectionist Pro Multi-Defense UV Fluid SPF 45 with 8 Antioxidants is a 100% mineral-based sunscreen with a lightweight absorbable texture.
YSL Beauty. There are some great SPF products in this brand's roster, including the All Hours Foundation SPF 39 PA+++ which comes now with an upgraded, breathable formula that provides up to 24h full coverage and a weightless, light as air feel, as if your skin was bare. Infused with hyaluronic acid, the new skin-loving formula provides all-day hydration, as well as skin-caring benefits. The skin is proven to feel softer, smoother, and more hydrated. Second in line from our favorites is the Pure Shots Airthin UV Defender SPF 50+ based on a breakthrough 'air thin' technology 8x thinner than classic UV base, combining detoxifying Citrus Peel from Morocco and Niacinamide which is involved in skin breathing mechanism. Every day your skin is actively protected from UVA, UVB, pollution, and dust. After two weeks, it looks more youthful and your skin tone looks visibly improved.
Nuxe. This French brand, known for the iconic Huile Prodigieuse®, combines sun protection with glamour. The Light Fluid High Protection SPF 50 is definitely a favorite product thanks to its ultra-lightweight absorbable texture, ideal for combination skin. It helps protect your face from premature photoaging of the skin at a cellular level (prevents dark spots). Shake its ultra-practical pocket format before application to dispense the product for a "bare skin" effect. Its water-resistant, fluid formula protects from dehydration and enhances your tan. Scented with notes of sweet orange, Tiare, and vanilla, it is an irresistible invitation to savor that summer feeling.
Korres. As people discover Greek yogurt's health & beauty benefits, the globally established Greek cosmetics brand uses it in a miraculous after-fun product in variations across the world. The Greek Yogurt Cooling After Sun Gel for Face and Body calms and hydrates your skin post-sun or post-workout like no other. It is inspired by the way old ladies treat sunburns in Greece, applying some raw yogurt onto the damaged area of the skin. Another ingredient found in Greek nature and tradition and utilized here for sun protection is red grape. The Korres Red Grape line, your ultimate solution to sun and photo-aging protection, is designed to be a companion throughout the year, be it in the urban jungle or at the beach. These multi-tasking formulas seamlessly marry sun protection with comprehensive skin care, clinically proven to combat wrinkles and blemishes. The range is broad, with options such as SPF50 in tinted versions that not only protect but also enhance your skin tone with radiance, and a facial cream imbued with a transparent shine that instantly bestows your face with a naturally radiant glow. The Red Grape line boasts of high UVA/UVB radiation protection that works round the clock, wherever you are. Its clinically proven credentials include effective action against spots and blemishes, anti-aging properties, and a hydration-boosting function. It is amplified by the advanced Grape Stem Cell Antioxidant System technology, a complex mix of three potent antioxidant sources: stem cells from a rare variety of red grape abundant in polyphenols, a Greek grape extract, and a cocktail of antioxidant vitamins that bolster the normal functioning of the skin barrier, the skin's first line of defense.
Tan-Luxe. This upscale skincare-meets-self-tanning brand has some hugely-coveted innovations in its line, including the Super Glow, the world's first hyaluronic, superfood self-tan serum, which combines both a high-weight hyaluronic acid and extremely-low-molecular-weight sodium hyaluronate to achieve hydration binding across multiple layers of the skin. This enables multi-level, instant, and lasting hydration, leaving skin looking and feeling firmer, refreshed, visibly more radiant, and tanned! This daily-use 100% vegan & cruelty-free anti-aging formula for gradual sun-kissed glow on your face is derived from exclusive organic rapeseed oil grown in France, plus seven antioxidant-rich superfoods. The good news is that there is also Super Glow Body to have the same sensational benefits for your body!
St. Tropez Tan. Do you want to know Ashley Graham's secrets to summer-ready skin tone? If you are in a hurry, the Luxe Whipped Crème Mousse will instantly hydrate, protect, and even tone while delivering a natural streak-free sun-kissed glow that lasts all week and evenly fades. This ultra-lightweight tinted mousse is enriched with superior dual tan technology and high performing natural skincare ingredients: Niacinamide, Hyaluronic Acid, Echinacea and Vitamin E, as well as a new and imrpoved sophisticated yet subtle fine fragrance. Combine it with the Self-Tan Purity Bronzing Water Face Mist that contains hyaluronic acid and non-pore blocking skincare ingredients, including hibiscus extract known for its antioxidant properties. With no tell-tale self-tan smell, no need to rinse off, simply spritz and glow for an instant radiance boost every few days all year round.
James Read. A self-tanning expert himself, the founder adds skincare benefits to the mix to create luxurious products. His multi-purpose tanning novelties or "tanning hybrids" suit all skin tones and types. Patented Tantone Technology ensures an incredibly natural-looking glow. Sleep Mask Tan Face was the world's first overnight tanning product that brought to the brand celebrity following, including Cara Delevinge, Ellie Goulding, and Rosie Huntington-Whitely. You can also try the Sleep Mask Tan Body, the Click & Glow Body (concentrated, vitamin-enriched tanning drops you add to your regular body lotion) as well as the all-time-classic H2O Tan Drops Body for a tailor-made approach to self-tanning.
Elizabeth Arden. The legendary innovator and a tireless entrepreneur believed in skincare products that benefited, not masked, the skin. And the legacy continues. The Prevage® Anti-Aging Moisture Lotion Broad Spectrum Sunscreen SPF 30 immediately hydrates your skin and improves the appearance of dryness and sun damage to create a brighter, more radiant look. It neutralizes free radicals with Idebenone, the most powerful antioxidant available today. Also, keep in your purse the Eight Hour® Cream Lip Protectant Stick Sunscreen SPF 15 for perfect lips.
Hampton Sun. This brand specializes in sun care and tanning. We love the Age-Defying SPF 50 Mineral Crème, which is an all-natural, chemical-free sunscreen for the face expertly formulated with potent anti-aging ingredients, vitamins, and antioxidants. This ultra-luxe & super lightweight formula is non-nano, fragrance-free, and ideal for sensitive skins. Natural mineral zinc oxide provides added anti-acne benefits while protecting the skin at the surface from harmful UV rays. It also has a great fuss-free multi-awarded self-tanning "asset," the Sunless Tanning Mist.
Aesop. The name needs no introduction among self-care connoisseurs. For its fluid texture and incredible scent that reminds us of a blooming-herbs Greek landscape, the Protective Body Lotion SPF50 is pure delight! It is formulated to provide up to 4 hours of water resistance and broad-spectrum protection.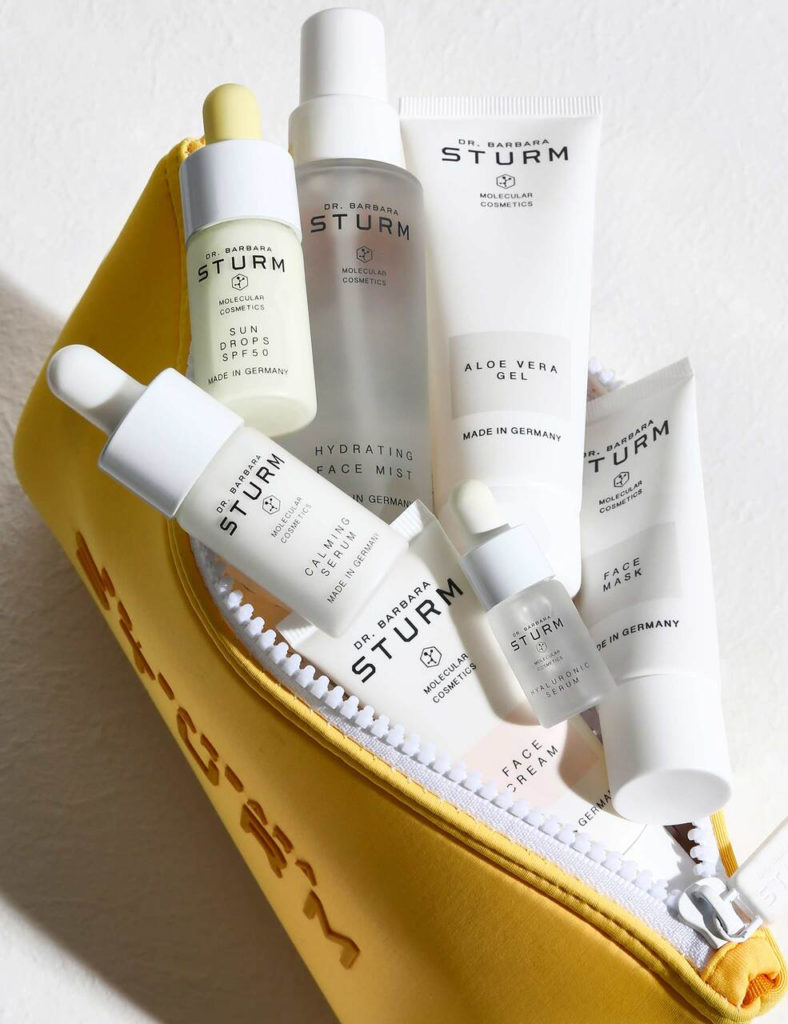 Dr. Barbara Sturm. She is a leading innovator in skincare with an A-list clientele. Her Sun & Pollution Screen Set includes Anti-Pollution Drops formulated to protect your complexion from particulate pollution, harmful UV rays, and the often-overlooked danger of HEV blue light from our electronic screens. Sun Drops provide a broad-spectrum SPF 50 protection against UVA (photoaging) and UVB (sunburn) rays.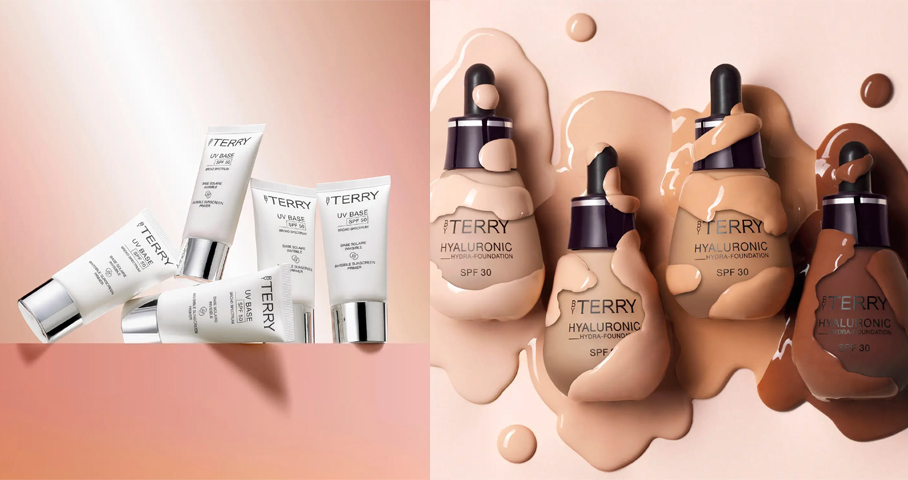 By Terry. Are you looking for the perfect sun-protecting primer that goes before your makeup to create flawless skin? The UV Base SPF 50 is suited to all skin types. The invisible, lightweight cream-gel formula provides a high level of broad-spectrum protection, and a matte finish, and helps the skin fight against external factors thanks to antioxidants and UV filters. You can combine it with the vegan Hyaluronic Hydra-Foundation SPF 30 which floods the skin with moisture, delivering seamless coverage.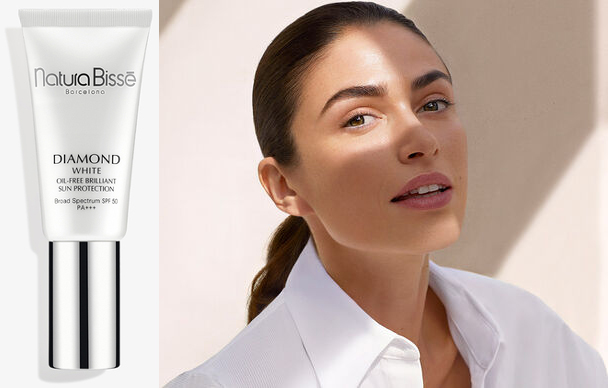 Natura Bissé. Founded in 1979 in Barcelona, the super-innovative brand entered the skincare world through professional spa clinics and carries out more than 7.5 million annual treatments in leading spas and luxury resorts worldwide. Among other magical products, check the Diamond White SPF 50 PA+++ Oil-Free Brilliant Sun Protection, an unusual, multi-functional velvety cream that brightens, protects, and color-corrects your skin (minimizing dark spots). This formula includes pomegranate extract rich in ellagic acid, a wondrous ingredient protecting against UVA/UVB rays that evens skin tone while bringing vibrant luminosity to the skin.
Sarah Chapman. Any idea this acclaimed facialist comes up with ends up in making our lives and skin more beautiful. Sarah's discreet Skinesis clinic in Chelsea, London, is the ultimate destination for those in pursuit of perfect skin, with a 12-week waiting list for a much-coveted facial appointment. Her inimitable results have earned her a long list of loyal clients, from A-list celebrities and beauty editors to socialites and facial obsessives everywhere. Her selection of SPF products you can use at home provide advanced protection from environmental, infrared and UV ageing as well as digital damage in featherweight formulas for both the face and around the vulnerable eye area. They're packed with proven skin-rejuvenating ingredients and blurring optics for a soft-focus finish. Our favorites include Skin Insurance SPF 50 Invisible designed for all skin tones wishing to have a fresh, perfected finish, and Eye Insurance SPF 30, which banishes signs of fatigue while smoothing, firming, brightening, and fortifying the delicate skin around the eye against ageing UV and environmental damage.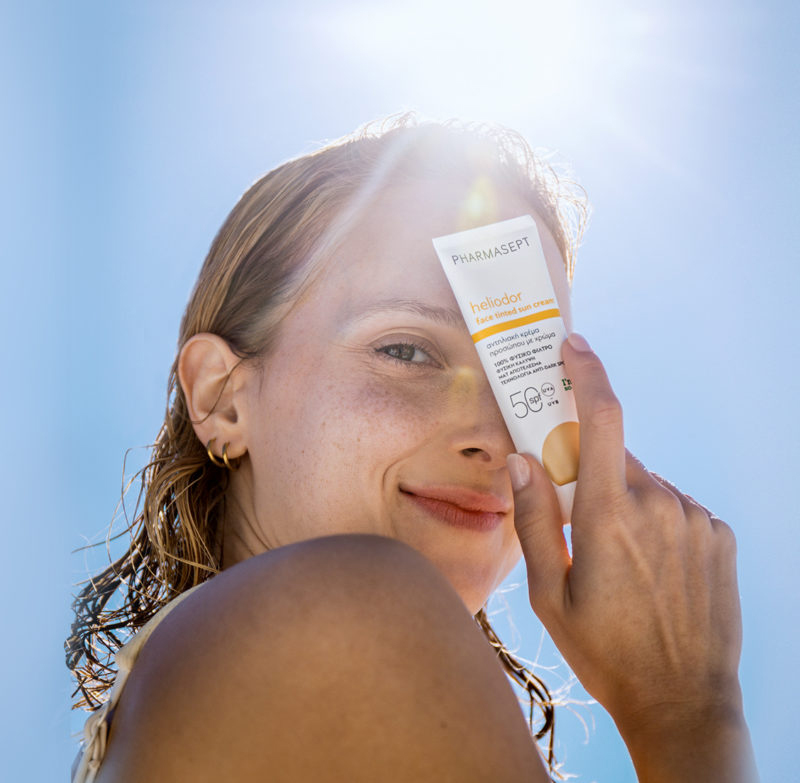 Pharmasept. This Greek company is revolutionizing sun protection with its innovative line of natural sunscreens, Heliodor. This patented sunscreen range, which features a unique composition of a single 100% natural filter made from zinc oxide ZANO®20 and offering high SPF 50 protection, reflects all harmful sun rays. It delivers instant, effective broad-spectrum sun protection (UVA, UVB, IR, and Blue Light). Concurrently, Heliodor products do not cause photoallergies or phototoxicity, while creating a protective film on the skin that reflects all harmful sun rays. Zinc, with its unique properties, offers skin hydration and a soothing action on irritations and redness. The Heliodor sunscreens, with their 100% natural ZANO®20 filter recognized as one of the safest sunscreen filters, are ideal even for the most sensitive skins. Their pleasing textures allow for easy application and they are resistant to water and sweat. Beyond skincare, the brand also cares for nature which generously gives us all its beneficial elements. For this reason, the Heliodor range was created with respect for our environment and seas, featuring biodegradable compositions that contribute to reducing ocean pollution, and ecological packaging to reduce our environmental footprint. The tube packaging comes from bio-based sugarcane and the spray containers are made from 20% recycled polyethylene. You will find them in selected stockists in Greece.
Shop for our Editor's Choices of Sun Care from anywhere in the world, and also check our article Where to Find Your Favorite Luxury Beauty Brands in Greece.