Island-Hopping Lifestyle Options Near Athens – Part II
When the temperature goes above the 22°C/71.6°F mark in the daytime around Athens – most definitely by early May – the nearby islands that are not connected with flights are the ideal destinations to reach with a ferry or other boat. We have already shared the itinerary for the Saronic Gulf islands and in this post will share the magic of another easy sea route. In May fewer visitors are seen in the islands, yet from June onwards tourism puts these sparsely inhabited islands on vacation mode. Some prestigious hotels kick off the spring/summer season in mid-April but many more in mid-May and stay open at least until mid-September. For island-hopping to be a successful mission, islands have to be near each other. You can reach them via either a boat ride or a combination of a short drive and a boat ride. A boat ride among these islands can last from 20 minutes to a maximum of 4.5 hours. Always opt for the high-speed ferry if available as an option. For added privacy and fun, you can enjoy island-hopping in the most quintessentially Greek way; sailing. Availability of boat charters and professional skippers/guides runs high in mid-season, and the idea of exploring a small group of islands on a sailing boat with stop-over nights in various island ports proves fascinating in practice. Clear blue skies, a rocky Greek landscape, and wonderful beaches are usually part of the experience. Although the chapter on island-hopping in Greece is eternally open to additions and revisions, we will try to narrow it down to suggestions that feel convenient and luxurious. Pack in your luggage windbreakers, caftans, swimsuits, and lots of sunscreens to enjoy the morning sunshine and occasional evening breeze. This fun itinerary goes through the following stops:
Port of Piraeus – Serifos – Sifnos – Milos – Kimolos
(also check the Kea – Kythnos – Serifos – Sifnos – Milos – Kimolos itinerary)
Cyclades is the second nearest to Athens group of islands (after the Saronic Islands) that includes popular destinations such as Mykonos and Santorini. Yet we will focus here on less touristy ones although still quite popular due to their picturesque landscape and perfect conditions for sailing. All-white houses are characteristic of the local architecture as seen in most Greek postcards. Island-hopping is highly recommended there due to the short distances between them. Take a boat (speed ferries are highly recommended) from the Port of Piraeus which is a 30-minute drive from downtown Athens and begin your journey. Ferries usually hop from one island in the group to the next, so you are encouraged to stay for 2-5 days on each and ferry your way among them. Tickets are rarely selling out in springtime – except for the Orthodox Easter long weekend – so you can book for the next island on the spot based on your mood. Yet if you travel in the summer it will be slightly safer for you to pre-book (still not absolutely necessary). Cycladic islands are known for the Cycladic civilization (3200-1050 BC), with visible ancient ruins in various sites and museums, which means great sightseeing. They are usually dry rocky islands graced with beaches of rare beauty.
Serifos
In a maximum of 2.5 hours the fast ferry will take you from the port of Piraeus (a max 30-minute drive from downtown Athens) to the Port of Livadi on the small island of Serifos in the West Cyclades; an effortless chic Greek vacation spot featuring a vibrant main village ('Chora' which is the name of the Town for many Greek islands) and other sparsely inhabited countryside locations around. It has wonderful beaches and a few of them (Avlomonas and Livadakia near the port) are organized with sunbeds, bars, and basic beach service. The virgin ones (Agios Sostis, Ai Giannis, Ganema, Psili Ammos) are also graced with partial shade from local seaside tamarisk trees, and of course crystal-clear waters. The 4th century BC White Tower segment and other sporadically found ancient ruins are the only sightseeing beyond churches, the fortified Monastery of Taxiarches, and the traditionally built Chora with its medieval Castle. Although hospitality infrastructure – especially dining and accommodation – on the island is not that developed, there are some hotspots of sophistication that will increase with time.
Accommodation in Serifos
Coco-Mat Eco Residences. The internationally recognized leading Greek company in natural sleep products (mattresses, beds, pillows, and bed linen) and owner of a luxury group of hotels in Greece renovated the seaside cottages at the serene Vagia beach that used to house the staff of the now-defunct local iron mines. Implemented with the finest natural materials, this posh bohemian resort is equipped and operating along with the principles of sustainability and bio-climatic architecture that secures natural air-conditioning in all spaces. You can even pick the type and material your mattresses and pillows will be made of, as well as your slippers' size and more. It's a tailor-made experience complete with custom meals and full beach service.
Rizes Hotel. 14 roomy apartments with private terraces and 2 suites with private swimming pools comprise a tranquil hillside resort equipped also with a central pool, lounge, and restaurant-bar serving fabulous meals and cocktails. Yoga sessions are also a 'must' in this hotel.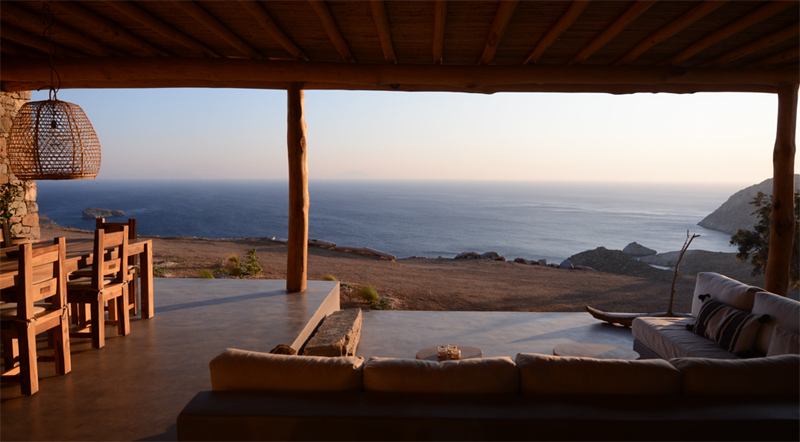 Pénde Suites & Natura Residences. From this relatively new hospitality proposition, we will suggest the 5 ultra-simple suites near the beach of Livadakia and the two eco-friendly cottages with a panoramic sea view located between Kalo Ambeli and Vagia beaches.
Things to do in Serifos
For souvenir shopping, early dinner, and drinks, head to Chora on a hill built with cascading whitewashed examples of traditional Cycladic architecture. Walk the cobblestones connected like a maze and sprinkled with small boutiques, tiny bars, and restaurants (the casual version of them; the tavernas). Don't forget to shop for hand-crafted ceramics at Kerameio, an amazing pottery studio in Kato Chora. Before sunset, find Ano Piazza – a cute square dominated by the neoclassical building of the Town Hall and the Church of St. Athanasios. On brightly colored tables, chairs, and benches (mostly blue) the square's outdoor cafés serve coffee, finger food, dessert, and most importantly a strong local liquor option called 'rakomelo' which is a heated-honey-and-high-in-alcohol raki mix; anecdotally described by Greeks as medicine for the regular cold or flu. It's sweet, so refrain from drinking too many shots, unless you really want to find yourself seriously drunk. Our recommendations for yummy bites and rakomelo there is the Ano Piazza café owned by photographer Katerina Kaloudi and the Stou Stratou café. Our favorite traditional restaurant in Chora is Marathoriza and later for drinks hit the terrace of the tiny cocktail bar Gaidaros (Greek word for donkey). Although nightlife isn't strong, if you want to drink equally good cocktails around, head to Batrachos with Panama Cardoon as resident DJ for Summer 2023 , or to the 25-year-old Yacht Club Serifos bar. And for an unexpected dash of luxury, you can contact Serifos Travel which offers concierge services including helicopter transportation, water taxis, and more luxury villa suggestions.
Sifnos
In a maximum of 30 minutes from Serifos, the speed ferry will take you to the Port of Kamares on the island of Sifnos with a long heritage of sailing, yachting, and a delicious local kitchen. Hands down, it is a globally recognized culinary destination; the birthplace of Nikolaos Tselementes (1878–1958) author of the quintessential Greek cookbook that is still considered to be the 'Bible' of Greek cooking; a point of reference for restaurants and households. Their main village or town which is not called 'Chora', like in many Greek islands, but Apollonia (named after the ancient temple of Apollo that used to be there), is a super sleek example of Cycladic architecture with locals keeping every wall and detail pristine white and clean. This 'boutique' island is a favorite to a discerning clientele of Greek ship-owners, bohemian jetsetters, and sailors. Artemonas – allegedly named after the local ancient temple of god Apollo's sister Artemis – is the second largest village.
Accommodation in Sifnos
Elies Resorts. With a full-service private beach chunk of the Vathy Bay, a spectacularly decorated 213ft/65m-long pool, a spa center, a gym, a tennis court, an art shop, 2 cocktail bars, a restaurant, this 5-star complex of rooms, suites, and villas (some of them with private pools and open-air lounges, nestled between olive trees and garden blooms is an excellent choice for absolutely relaxing and opulent Greek seaside vacations. Nearby, fish tavernas (casual restaurants) with the freshest and yummiest of local food will further enhance the experience.
Verina Hotels. Stylish, luxurious (the brainchild of a shipping/yachting family), and applied to 3 different key locations on the island, this hospitality concept offers the best of Cycladic lifestyle. Precious minimalist designer décor, traditional high-end facilities, and exclusive services define the essence of effortless chic. Verina Astra ('astra' is the Greek word for stars) in the stunning hillside panoramic sea-view location of Poulati consists of spacious suites with elegantly furnished private verandas, the main pool, and a farm-to-table Mediterranean restaurant. Verina Terra set amidst olive trees at Platys Gialos beach is a boutique hotel comprised of 4 apartments, 4 double rooms, 2 separate suites, and one family apartment. Relax at the pool, get to the fully organized beach, and dine either in one of the amazing restaurants around or at the hotel. Finally, Verina Villa, at the other popular beach of Vathy, is a complex of three 3-level villas with a pool, tennis court, hammam, gym, dining room, water sports equipment, playground, and VIP concierge services. Each villa is a luxe summer home. Verina Hotels serve from their own veggie garden and bakery. Yoga classes and massage are also recommended there.
Selana Suites. Simple with great service and location (amphitheatrically built at the serene bay of Chrysopigi), this sea-view 4-star hotel offers Cycladic-style hospitality with great homemade breakfast and drinks at the infinity pool and lounge.
Patriarca. This is the cutest historic boutique hotel on the island for those enjoying staying a breath away from the buzzy nightlife of the town. Renovated and accented with colorful décor and a small pool, it was built in 1650 and was home to Patriarch Grigorios VII of Constantinople.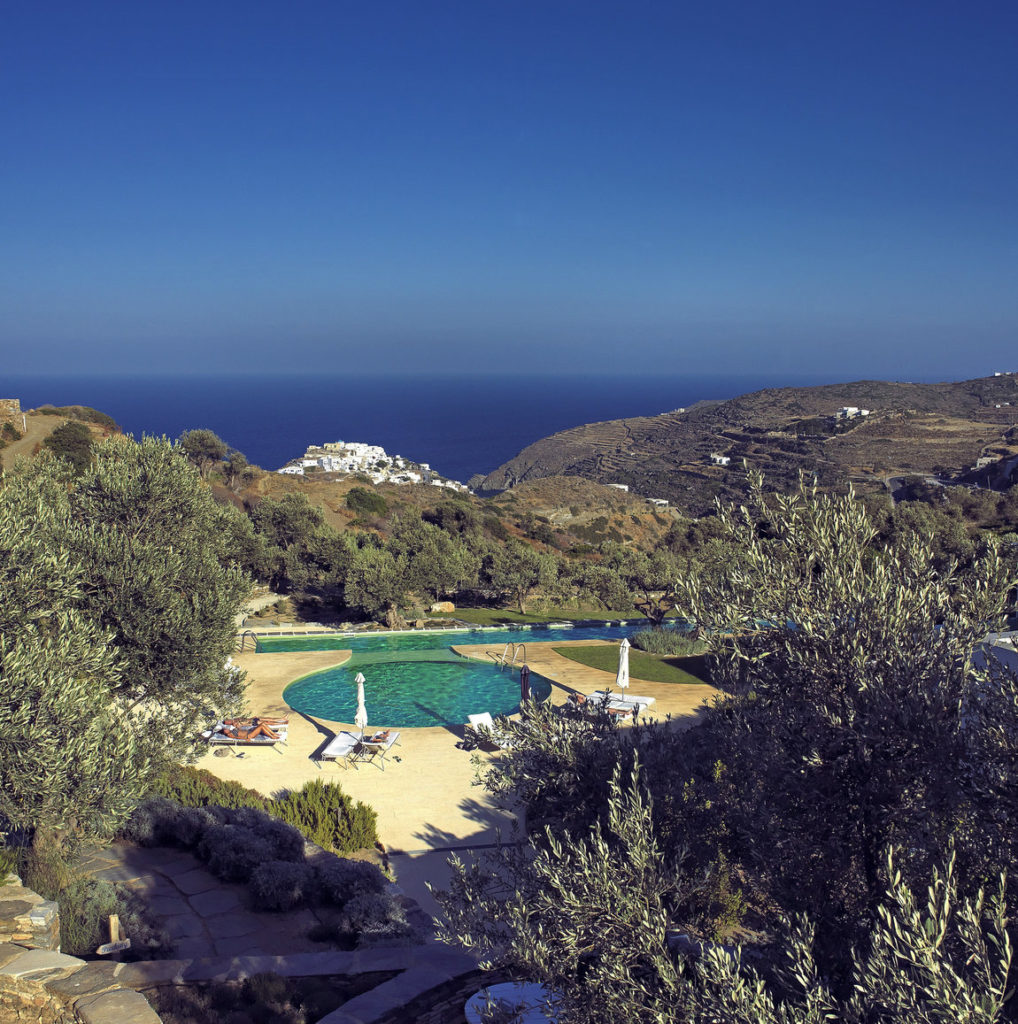 Kamarotí Suites Hotel. Nestled on a natural olive grove overlooking the antique village of Kastro with the blue backdrop of the magnificent Aegean Sea, it consists of small charming guesthouses with a refined, homey feel. In line with local architecture and the modern traveler's quest for comfort, it offers an effortless-chic accommodation option in a sea-view location protected from the winds. Three outdoor swimming pools are surrounded by olive trees and an herb-accented garden offering an authentic version of Greek nature. The owners' Spanish origins are reflected in the tapas menu made with fresh vegetables from their orchard.
Things to Do in Sifnos
The hillside village of Kastro (Greek word for castle) – where you can also find the Archeological Museum – features extensive medieval remains. Ruins of ancient gold, silver, and lead mines, and fortifications from the 3rd millennium to the 6th century BC are visible in various locations, including Kastro. Since antiquity, rich clay deposits on the island have made it a pottery stronghold in the Cyclades. You are highly recommended to check their signature shapes including the 'chimneys' and shop for amazing decorative items and tableware. Check the oldest workshops Atsonios Handmade Ceramics and Apostolidis. In lively Apollonia, the multi-purpose Cycladic Space (open from 9 am till late night) is an entertainment multiplex featuring the Rambagas Café-Bar-Restaurant, and elegant boutiques. For more nightlife, walk along the narrow main pedestrian Apollonia path flanked by stores and bars. Certain bustling and serene beaches are highly recommended for swimming and the most beautiful and emblematic of all is Chryssopigi (Greek word for golden fountain) featuring sparkling golden sand, shade from the seaside trees, and a white chapel-size monastery on its one end. In total there are 360 churches on this island! The biggest and most popular beaches with service are Platys Gialos and Vathi (same beach names you will find repeating in other Greek islands).
Restaurants & Bars in Sifnos
Omega 3. On this foodie island, on the beach of Platys Gialos people – including A-listers such as Tom Hanks and Scarlett Johansson – are excited to secure a molecular seafood meal prepped in a lab-style kitchen by acclaimed Greek chef Giorgos Samoilis. Greek-only limited-edition wine labels are handpicked to complete the spectacular fish bar experience. A spin-off project called Cantina on Seralia beach in Kastro opened in 2020, offering a mix of bohemian attitude and zero-waste, sustainable gastronomic excellence.
Drimoni. In Apollonia gourmet Mediterranean kitchen is served by George Patriarchis; an experienced chef assisted by family members including his confectioner brother. Try the traditional fried Manoura cheese saganaki, the minced meat patty, and pork fillet with figs.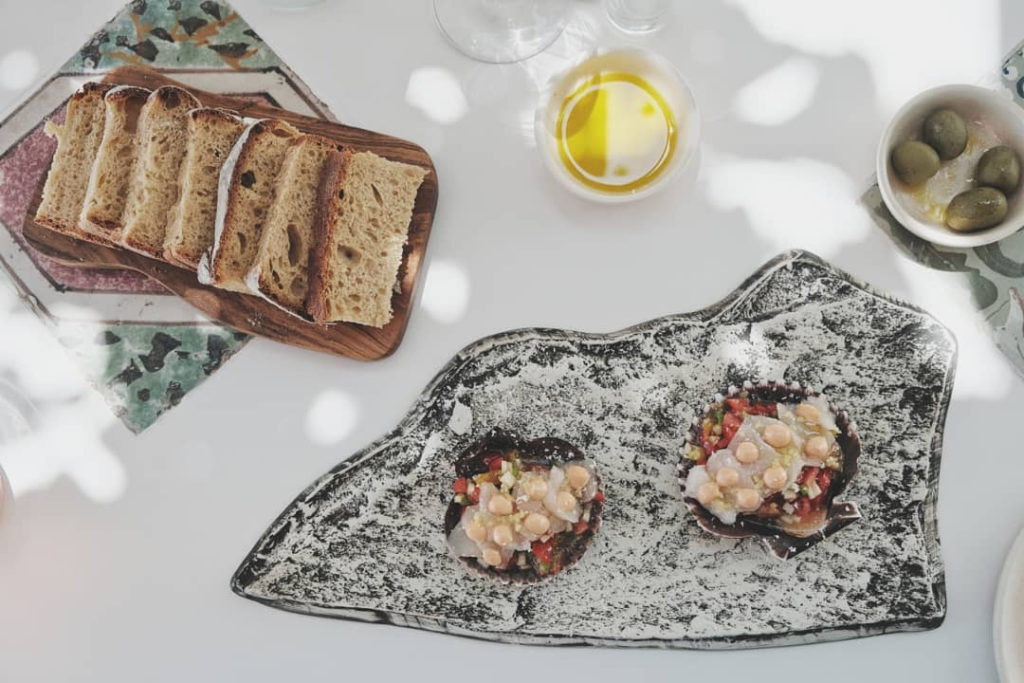 Maiolica. Named after Italian-style tin-glazed Renaissance pottery, this gourmet farm-to-table Mediterranean restaurant in Platys Gialos creates a delicious mix of local and international recipes including their own version of the Greek vine-leaf rolls, chickpea gnocchi, and lamb leg with couscous.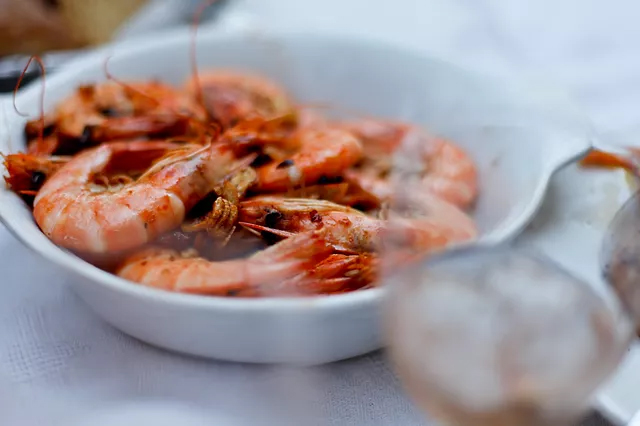 Okyalos. In Apollonia, this traditional taverna serves a great version of the Sifnian classics including grilled chloromanoura cheese with fig, caper salad, 'Revithada' chickpeas cooked for at least 6 hours in a traditional wood oven, and 'Mastelo' roasted lamb.
Kelari. Serving yummy meat-centered local recipes since 1988 in the quiet area of Kato Petali, this family-run taverna (casual Greek restaurant) is also memorable for its outdoor vine-covered pergolas and museum-worthy interiors featuring old pottery and olive-oil processing machines.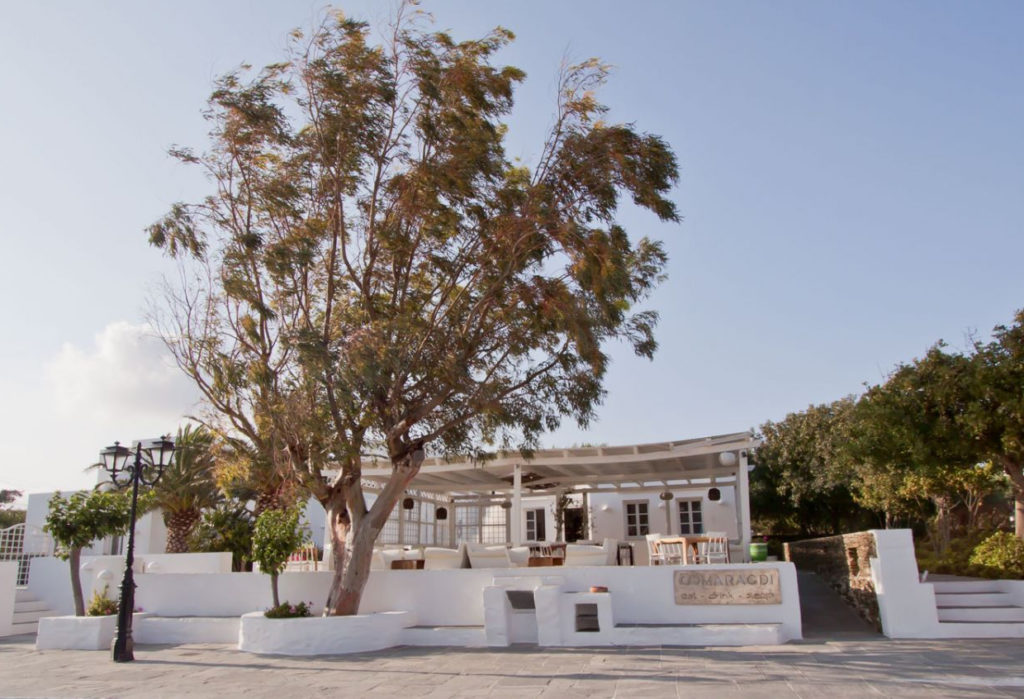 Smaragdi. Located in the village of Artemonas inside a cute family-run hotel, it is a great place for homemade brunch and other meals.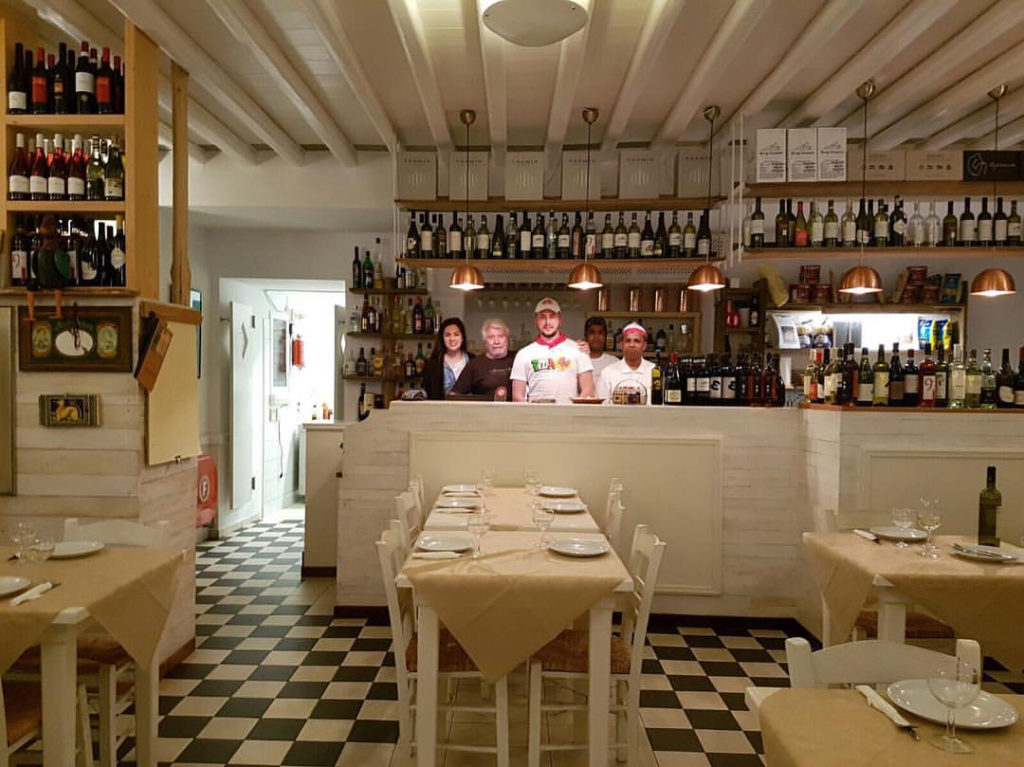 Mamma Mia. Starting in Apollonia in 1988 and expanding to Platys Gialos beach, this is the oldest authentically Italian trattoria on the island. Some of the regular visitors call this place 'The Italian'.
Theodorou's Sweet Shop. For to-die-for 'amygdalota' (almond-flavored cookies), 'bourekia' (flakey pastry treats with honey, cheese, and spices), and other desserts, this is the right spot since 1933.
Drakakis. Like in Serifos, you can drink your strong & sweet 'rakomelo' accompanied by a variety of meze (the Greek word for bites) options here in Apollonia at a traditional café that opened in 1887.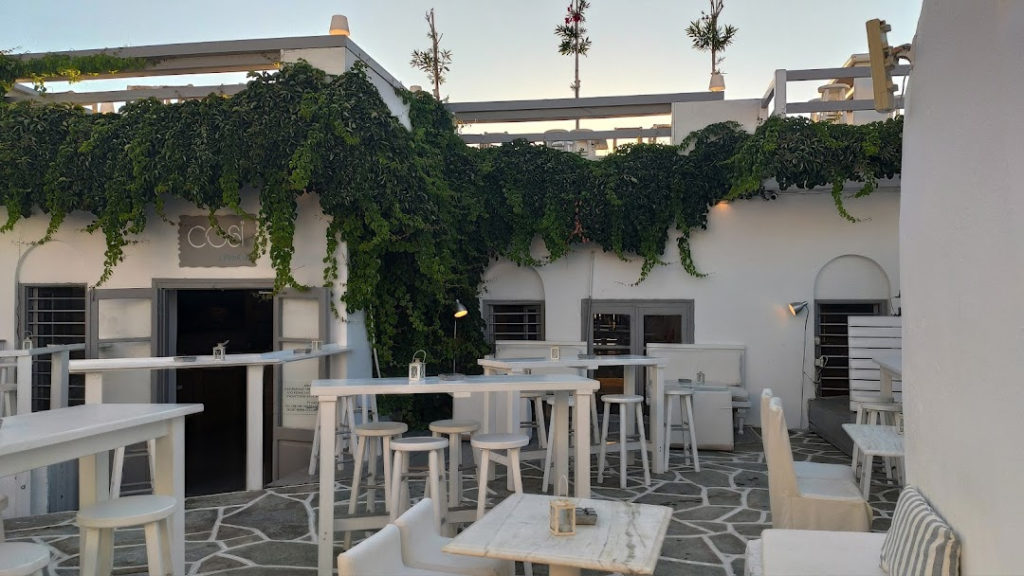 Botzi 93. A classic late-drinks spot in Apollonia for a night out. All around you might find many more bars for cocktails, seasonally changing names, and décor.
Argo. Similarly charming night-out spot for cocktails and music in Apollonia.
Milos
In a maximum of 40 minutes from Sifnos the speed ferry will get you to the Port of Adamas or Adamantas in the volcanic and hilly island of Milos known across the world for local ancient Greek sculpture masterpieces such as the Venus of Milos (now at the Louvre) and the Asclepius of Milos (now at the British Museum). Like in Santorini, volcanic formations create several isles (including the dreamy uninhabited white rock Polyaigos) around the main island. It's a fantastic place to sail from isle to isle and between remotely located beaches. You can charter a group or private sailing day trip once you reach Adamas. The town or main village is called Plaka, followed by Kastro (the Greek word for castle). Milos was in antiquity an important source of obsidian that was back then used instead of metals. Today it is a major exporter of in-demand natural clay Bentonite.
Accommodation in Milos
Milos Cove. Inspired by the island's caves and conceived as the manmade version of shelter this 5-star hotel (opened in 2018) overlooking Agkali beach near Pollonia offers a holistic experience. All minimalist luxury suites and villas have a private infinity pool, breathtaking sea view, and access to a private beach. TV cabinets and closets are hidden as a zen spin to the décor. Breakfast, al fresco lunch, and dinner based on a gourmet mix of authentic local and Italian recipes, coffee, and cocktails are served at the hotel's sea-view Pathos restaurant and bar (make sure you don't skip desserts). There are also 5 private dining balconies for an air of exclusivity. Relax by the full-service Pnoe pool bar or at the Obsidian spa where modern treatments with Labiomer and Voya products are inspired by ancient rituals. The experience is complemented with water tubs, heated indoor aqua baths, an outdoor pool, and a fitness center.
Hotel Milos Resort. This recently renovated 3-star resort in the area of Achivadolimni (Greek word for 'seashell lake') is located 150m from the famous beach. Cycladic décor with wood and stone spans its simple rooms with private verandahs and suites with private pools.
Artemis Seaside Resort. On the beach of Paliochori, the minimalist all-white suites in this resort are equipped with private sea-view verandahs. The full-service sea-view pool bar serves snacks and cocktails and the same applies to the hotel's beach bar, again with sunbeds, umbrellas, and music (gets more upbeat as the day progresses). Try there the famous ouzo sorbet and fresh fruit juices. Get a massage at the spa or on the beach.
Breeze Boutique Hotel. This 4-star hillside hotel in Pollonia with panoramic sea and sunset views features an infinity pool that is enhanced with magnesium, which offers a sense of euphoria, a brand new spa, garden terraces with local plants and herbs, and 7 different categories of minimalist rooms, including suites with private pools.
Arco Solium Suites. This sophisticated boutique hotel opened at the port of Adamas in 2019 offering spacious minimalist suites bathed in natural light. Comfy upscale amenities, organic décor, modern en-suite bathrooms, and a wonderful garden and terrace for your breakfast might make up for the absence of a pool.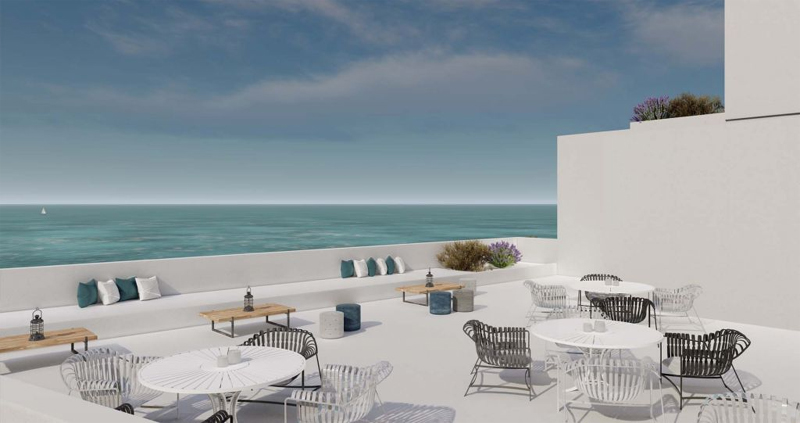 Domes White Coast Milos. This sea & sunset-view adults-only resort opened back in Summer 2021 and consists of 16 ultra-modern Cycladic-inspired luxury suites with private infinity pools. The private white shoreline that looks equally lunar to that of Sarakiniko is a nature preserve. From the signature custom room fragrance and designer furniture to the local organic ingredient breakfast, every detail of your stay has been meticulously prepared. Gourmet dining options and an extensive bar menu are available.
Golden Milos Beach. On the sandy beach of Provata, this sea-view hotel offers simple spacious rooms and an outdoor lounge with 2 pools and a jacuzzi.
Things to Do in Milos
Mining Museum. Due to its volcanic nature, the island has a rich mining history, areas with hot springs, and incredible rocky formations poking upwards from the water. The richness and variety of local minerals are discussed and showcased in this unique museum that also organizes various tours to the island's natural geological park.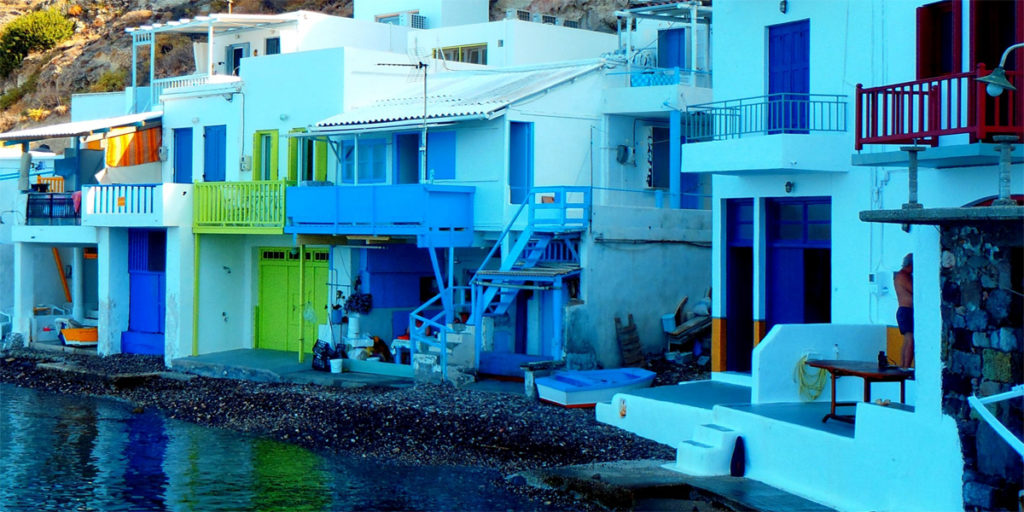 Syrmata. During eruptions lava froth that remained on the surface and cooled without pressure from overlying rocks became pumice; a porous material that was subsequently dug by the locals as storage areas and even catacombs. You will find some colorful fishermen's pumice-dag dwellings in the picturesque area of Klima and a few other places.
Catacombs. Dating from the 1st-5th century AD, they are among the 3 most important ones of the 74 discovered worldwide — probably older than those in Rome. This underground maze at the village of Trypiti served as a mass burial place for early Christians on the island. You are highly recommended to visit especially if you are a 'Tomb Raider' fan!
Phylakopi. Regarded to be one of the most important Bronze Age settlements in the Aegean (3rd millennium to 12th century BC), it survives today in very few ruins and of course artifacts from the excavations that are exhibited in the Archeological Museum of Milos.
Kostantakis Winery. For wine tasting head to the only winery on the island, built in a cave in the village of Pollonia and producing annually only 10.000 bottles; An interesting blend of local varieties includes Assyrtiko, Monemvasia, Roditis, Savatiano, Malagousia, Mavrotragano, Mandilaria, Mavro Aidani, and Moscato (Muscat). Wine is stored in an underground labyrinth which provides the needed humidity and steady, cool temperature.
Beaches in Milos
With over 70 magnificent natural beaches there, our impossible task is to pick for you the best.
Firiplaka. Accented with a standing rock pocking from the water surface and framed by volcanic cliffs, this highly popular lengthy white-grey sandy beach – where one of the two Milos craters is located, is accessible by car and offers you casual beach service on sunbeds if you arrive early.
Sarakiniko. The most photographed of all, this 'moonscape' white volcanic stone beach offers a nearly lunar experience at the seaside. Arrive early and explore rocky formations, caves, and Instagrammable settings of graphic excellence.
Papafragas. This hard-to-reach (steep stairs from the parking lot) small pool-like sandy beach with coves and caves is made for adventurers. Narrow high-cliff canals with tiny segments of sand are naturally formed for daring swimmers. You can combine it with a visit to the archeological site of Fylakopi.
Alogomantra (Greek word for horse fence). White rocks with a cave-like shade-producing natural fence in the middle of two remote beaches with white sand and turquoise waters are a place of tranquility, when not windy.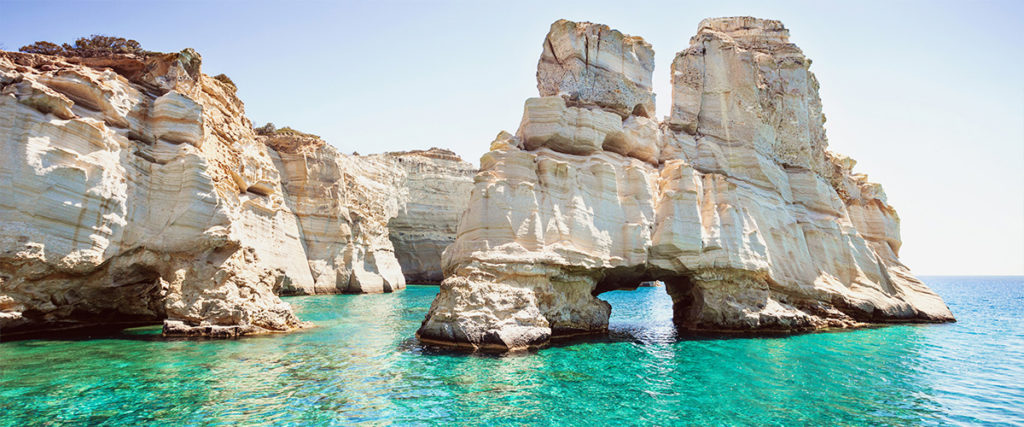 Kleftiko. If you don't take one of the sailing-boat rides from the port of Adamas to visit these extraordinary standing white rocks, swim around them, and probably try guided snorkeling in the surrounding caves (some with bioluminescent organisms), then you missed half the Milos experience. The day trip – private or small-group – will take you to the all-white 'Capri of Greece' and allegedly a pirate hideaway in the past. Other secluded or semi-secluded beaches you are recommended to visit with a boat include Gerontas, Tsigrado, and Triades.
Paleochori. Protected from the wind, this lengthy fully organized thick-sand beach with thermal springs is framed with eye-catching red, yellow, and green volcanic rocks.
Agia Kyriaki. Another beautiful long sand and white pebble beach is organized with sunbeds, restaurant-bars, and a water sports facility.
Thiorichia or Paliorema. Not the most beautiful of all but definitely photographable due to the abandoned sulfur mines.
Restaurants & Bars in Milos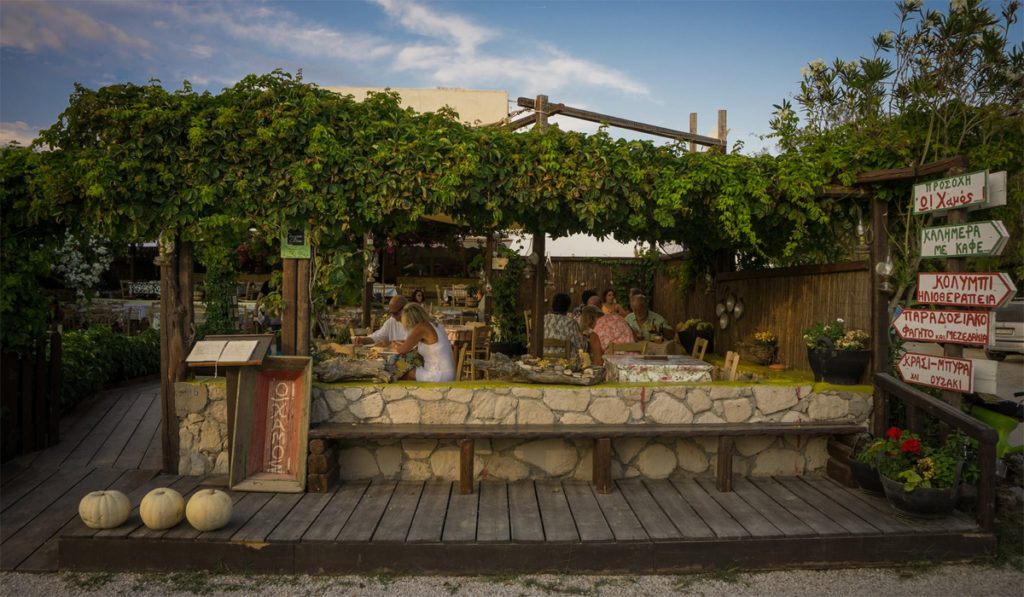 O! Hamos. Near the port of Adamas you will find the most popular and yummiest taverna (the Greek word for casual restaurant) on the island. No reservations are taken, so you just line up for a table on a first-come, first-served basis. We assure you it is worth the wait. Try the young goat roasted in parchment paper, the rooster, and the 'Pitarakia' (small half-moon-shaped pastries with cheese). Everything they cook comes from their farm and traditional cheese-making facility.
Barriello. This famous farm-to-table Greek restaurant in a panoramic sunset-view verandah in the village of Trypiti produces most of the ingredients in its gourmet recipes including veggies, eggs, and meat. Try the pork cheeks with chorizo jam, the fish fillet in fricassee sauce, the veggie risotto, and anything on the menu!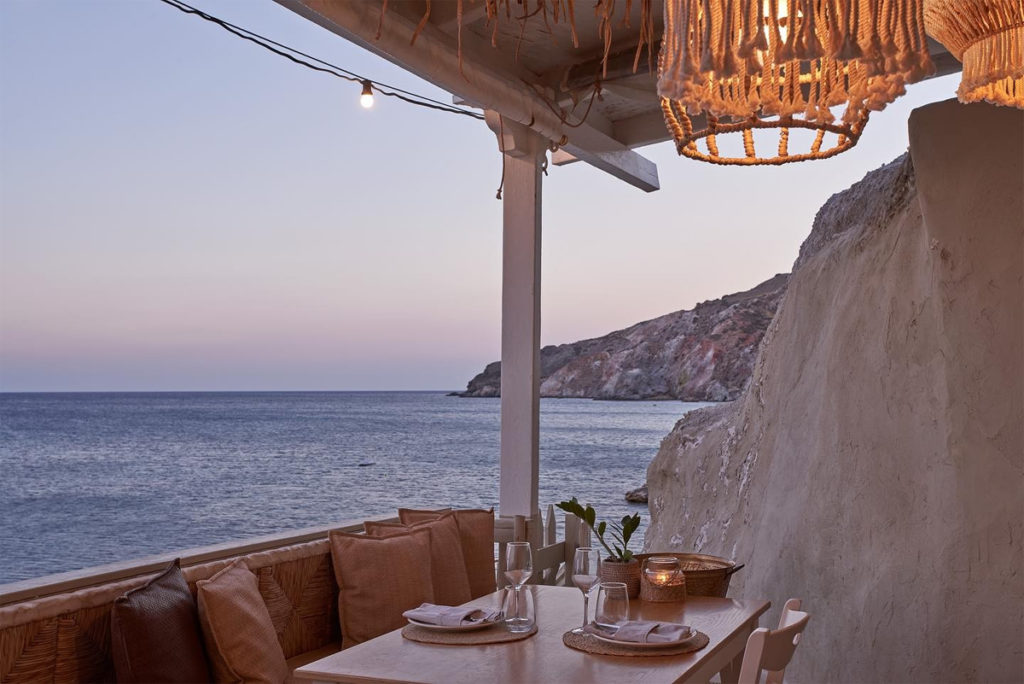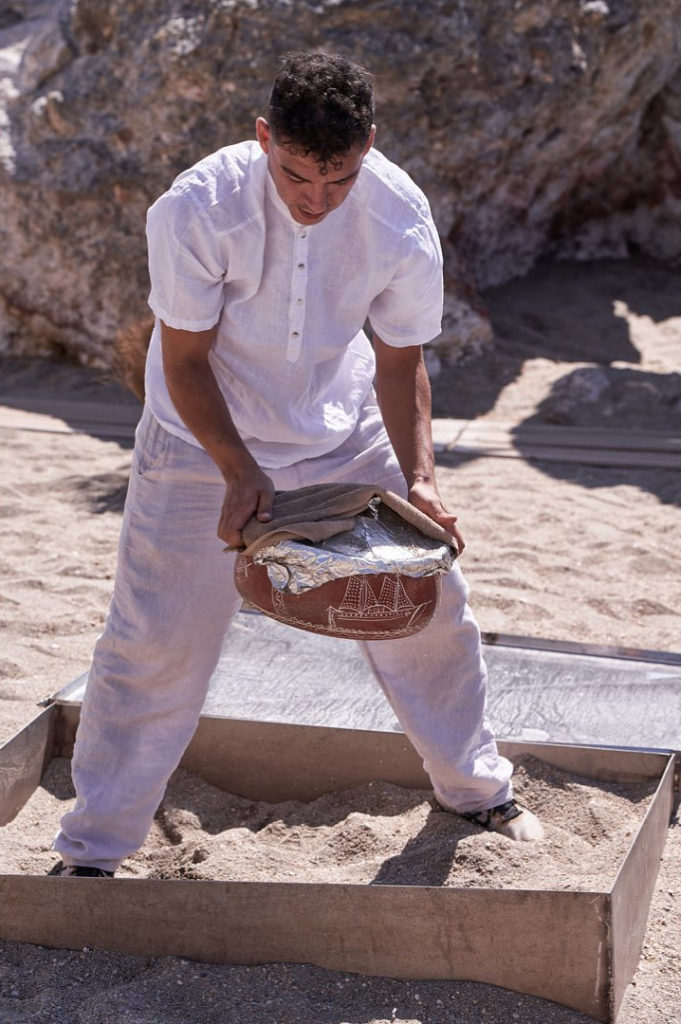 Sirocco. On the geothermal spring beach location of Paleochori, this newly renovated and organized beachfront restaurant (with sunbeds, spa services, and even shisha) is serving volcanic food such as lamb and veggies slow-cooked in volcanic sand pits in a process you are encouraged to watch.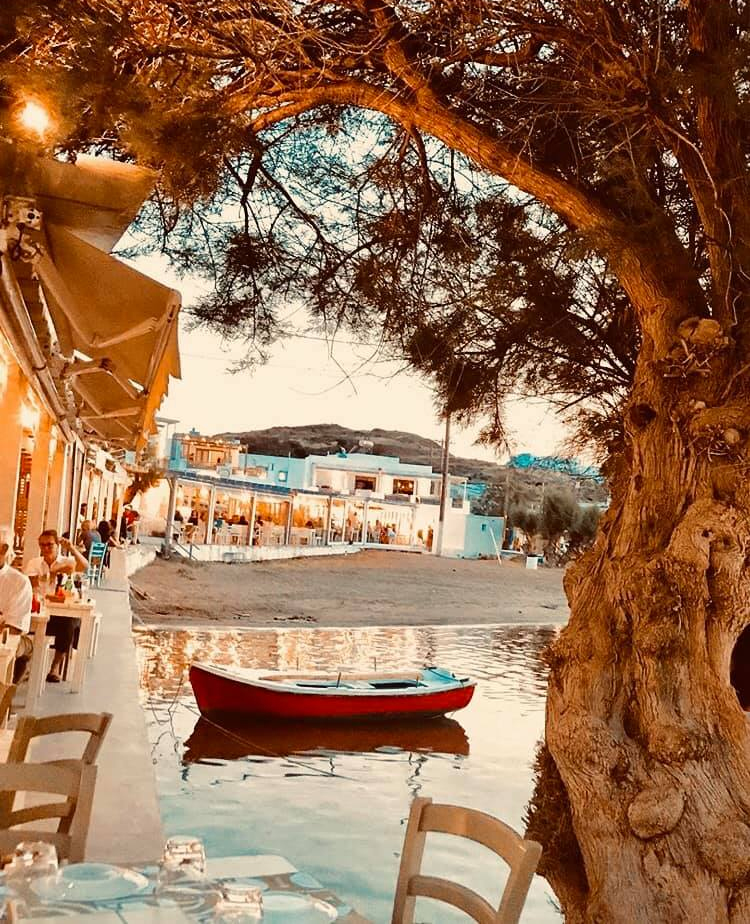 Gialos (Greek word for sea shore). A group of food-loving friends opened this sea-front restaurant in the picturesque village of Pollonia in 2007. Simple, elegant, and discreet — Giorgio Armani has dined there too — it serves a delicious mix of history and modernity, with stand-out specialties such as sea bream carpaccio with olive oil/ fresh pepper, open lasagna with vegetables/prawns, and fresh fish/seafood straight from the local fishermen some of it presented in excellent crudos. Traditional spoon sweets (fruit preserves) and a liqueur made of cherries are the perfect finale.
Nostos Seafood Experience. On the Port of Adamas, this idyllic sea-front seafood restaurant — first opened in the summer of 2020 — serves Greek classics with a modern twist and other Mediterranean-cuisine references. The word nostos, according to Homer's Odyssey, means returning home from a long journey. It has also its origins in the words nostimos (which means yummy) and nostalgia. The founders aspire to offer this nostalgic element by promoting pure local flavors combined with Greek wines.
Medusa. In the small sunset-view fishing village Mandrakia, this waterfront mostly-sea food taverna serves 'Sxizakia' bread slices with tomato paste on top, spectacular sundried grilled octopus, local cheese, and fresh fish meze with strong 'Raki' liquor shots.
Astakas. In the picturesque, protected from the wind and heatwaves, dag-in-pumice fishermen lodge location Klima where the famous ancient statue of Poseidon was found, this sunset-view casual restaurant serves freshest seafood and veggies from their nearby farm.
Alevromilos. Chef Vassilis Papikinos in this simple taverna in Parasporos serves the most creative twists on local recipes including their garlic lasagna, casserole chickpeas, and local Manoura cheese with eggs.
Enalion. A more traditional taverna with great flavors. Try the local sundried tomato paste, the 'Koufeto' of Milos (pumpkin, almond, and honey spoon sweet), and local goat cheese varieties.
At traditional bakeries and on your way to the beach, look for 'Rafiolia' (fried dough with honey and orange) and watermelon pie.
Kimolos
In 10 to 25 minutes from Milos the open-type ferry boat, traditional trawler, or speedboat taxi will take you to the Port of Psathi in Kimolos. Also next to it is the uninhabited paradise island of Polyaigos (Greek word for many goats); the largest uninhabited island in Greece and one of the largest and best-preserved in the Mediterranean. If you visit with a little sailing or speed boat you might have the chance to encounter the protected monk seal, many goats, and rare birds (including a falcon). Kimolos is also a volcanic island with geothermal areas, hot springs, and impressive rock formations such as the mushroom-shaped Skiadi rock. With around 600 permanent residents, this island is a well-kept secret you are encouraged to experience. If luxury is defined as serenity, majestic view, and hospitality, then you got it. No clubbing and bar hopping, yet lots of swimming in crystal clear waters and walking around Greek nature. Plus great food served with honesty! Kimolos is derived from 'kimolia' (the Greek word for chalk) and it has indeed abundant reserves of chalk and mining activity, hence some very white rocks and beaches around.
Accommodation in Kimolos
The Windmill. Accommodation in simple rooms is the norm yet this renovated windmill built in 1952 and extended to a complex of 5 elegant traditional rooms is a nice boutique hotel in the port of Psathi.
Thalasea Kimolos. With a rare for the island swimming pool, this simple hotel next to the beach of Aliki is a great laid-back setting.
Toffee Kimolos. These traditional-style apartments in Psathi decorated elegantly with stone, Greek marble and wood are among your best options. Enjoy the view from your private verandah.
Things to do in Kimolos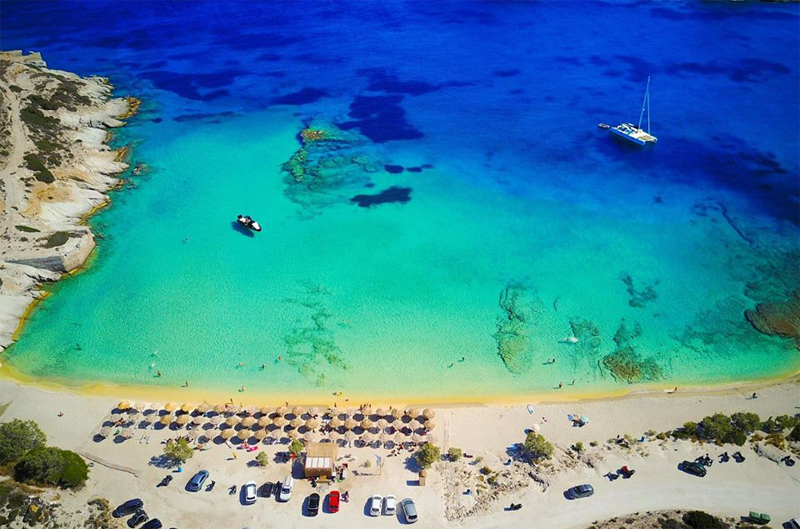 The ultra-quiet hillside town of Kimolos is called Chorio (Greek word for village). Its most picturesque part is Kastro (Greek word for castle) which consists of the Mesa Kastro and Exo Kastro, meaning Inner and Outer Castle. Cycladic houses form an outer wall around a Venetian castle. Some parts of the castle are built around the 16th century. Walking the cobblestone paths you will find medieval ruins mixed with humble white-washed Cycladic homes. You will also find 80 churches and chapels, the most important of all being Panagia Odigitria built in 1867-1874 and including a 15th-century icon of the Virgin Mary. Don't forget to walk around and check many abandoned windmills. This is another windy island in the Aegean, yet you are still encouraged to visit some amazing beaches like Prassa with white sand, turquoise waters, sunbeds and Kimolia beach bar, Bonatsa (sandy & pebbly, with sunbeds and beach bar), Kalamitsi (sandy, with shade from tamarisk trees), hard-to-reach Mavrospilia (sandy with a view to volcanic rock formations poking from the water), and Agios Georgios with white sand.
Restaurants in Kimolos
Above everything else, this is another great culinary destination with only four important restaurants and a few traditional bakeries. Local specialties include Ladenia (their version of a pizza), Tyrenia (cheese pie), Elenia (olive bread), and rusks with lentisk seeds. They also produce excellent xino (sour cheese), manoura (dry cheese), fresh pasta, honey, caper, and tiny round cucumbers. As in Milos, you will enjoy lots of tomato paste.
I Kali Kardia or "Bohoris". This casual restaurant's first name translates as 'the good heart' which is usually a description assigned to a warm-hearted person. The second name is just the last name of the owner. His grandma opened this place in 1920 and they still serve amazing 'meze' (mezedes in plural) meaning yummy bites to accompany Greek liquor varieties such as ouzo and raki. Opt for their Greek recipes including moussaka, cheese pies, and tomato balls. This all-day spot in Chorio is very cute & rewarding!
Meltemi. This family restaurant in Chorio serves tempting creative versions of local recipes with fresh ingredients from nature. Fennel, croutons, capers, basil, sun-dried tomatoes, savory black, red pumpkin, fresh eggs, extra virgin olive oil, local cheeses, meats of great quality, seafood, and well-made pasta with wines from Greek vineyards blend into a memorable culinary experience. The chef is young and daring with the utmost respect for tradition and a great vision for the future.
Sardi's or Bemba's (the owner's nickname). This seafood family taverna on the picturesque Aliki beach is a no-brainer for most of its regular clients since the 90s. Fish arrives straight from the water, yet you are also recommended to order tomato balls, cabbage, squash, ladenia, tyrenia, and spaghetti lobster.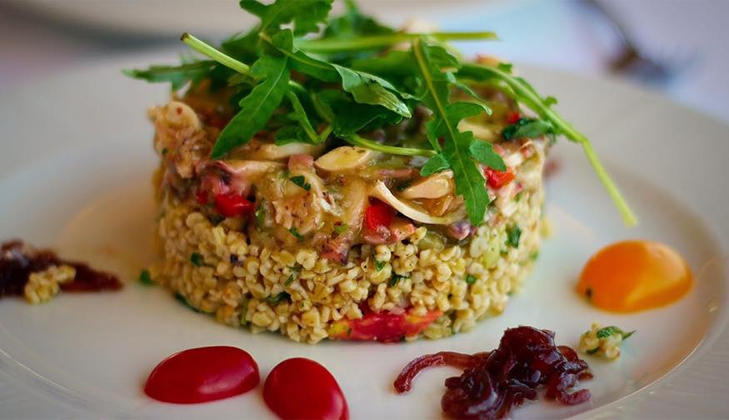 To Kyma tis Psathis. This seafood restaurant with tables literally on the beach of Psathi (port) — your feet resting on the sand — serves fresh seafood, the Kimolian classics, and a dream setting day and night. It justifies its name (kyma is the Greek word for sea waves).