Island-Hopping Lifestyle Options Near Athens – Part I
When the temperature goes above the 22°C/71.6°F mark in the daytime around Athens – most definitely by early May – the nearby islands that are not connected with flights are the ideal destinations to reach with a ferry or other boat. We have already shared the itinerary for the Saronic Gulf islands and in this post will share the magic of another easy sea route. In May fewer visitors are seen in the islands, yet from June onwards tourism puts these sparsely inhabited islands on vacation mode. Some prestigious hotels kick off the spring/summer season in mid-April but many more in mid-May and stay open at least until mid-September. For island-hopping to be a successful operation, islands have to be near each other. You can reach them via either a boat ride or a combination of a short drive and a boat ride. A boat ride among these islands can last from 20 minutes to a maximum of 4.5 hours. Always opt for the high-speed ferry if available as an option. For added privacy and fun, you can enjoy island-hopping in the most quintessentially Greek way; sailing. Availability of boat charters and professional skippers/guides runs high in mid-season, and the idea of exploring a small group of islands on a sailing boat with stop-over nights in various island ports proves fascinating in practice. Clear blue skies, a rocky Greek landscape, and wonderful beaches are usually part of the experience. Although the chapter on island-hopping in Greece is eternally open to additions and revisions, we will try to narrow it down to suggestions that feel convenient and luxurious. Pack in your luggage windbreakers, caftans, swimsuits, and lots of sunscreens to enjoy the morning sunshine and occasional evening breeze. This fun itinerary goes through the following stops:
Athens Airport – Port of Lavrio – Kea – Kythnos
Cyclades is the second nearest to Athens group of islands (after the Saronic Islands) that includes popular destinations such as Mykonos and Santorini. Yet we will focus here on less touristy ones although still quite popular due to their picturesque landscape and perfect conditions for sailing. All-white houses are characteristic of the local architecture as seen in most Greek postcards but there are certainly variations with the stone-accented buildings of Kea being a great example. Island-hopping is highly recommended there due to the short distances between them. Ferries usually hop from one island in the group to the next, so you are encouraged to stay for 2-5 days on each and ferry your way among them. Tickets are rarely selling out in springtime – except for the Orthodox Easter long weekend – so you can book for the next island on the spot based on your mood. Yet if you travel in the summer it will be slightly safer for you to pre-book (still not absolutely necessary). Cycladic islands are known for the Cycladic civilization (3200-1050 BC), with visible ancient ruins in various sites and museums, which means great sightseeing. They are usually dry rocky islands graced with beaches of rare beauty.
Kea
A 30-minute taxi or rented-car drive from the Athens Airport to the south of Athens will get you to the port of Lavrio which is way smaller than that of Piraeus. If you haven't booked in advance, you can buy tickets on-the-spot; just take a look at the schedule. A one-hour boat ride will get you to the port of Korissia (also known as Livadi) on the small island of Kea (also known as Tzia). Quite popular with Athenians due to its proximity to the capital's coastline, this island has gradually become known to a wider audience from all over the world. Its uncontrived bohemian spirit and wild natural beauty are accented with little pockets of luxury you might discover along the way. Fine dining and accommodation are redefined here, and some of the greatest opportunities to enjoy the island come from more exclusive sources such as agencies and leading luxury brokerage firms selling incredible villas. Repeat visitors from across the globe have bought amazing properties on the island and those who haven't yet, are definitely tempted to do so. After a COVID19-related delay and a great deal of speculation the ultra-luxe One&Only Kea Island Resort is expected to open in 2024 but they are already selling their private villas, so if interested check it out. The complex will include a spa, restaurants, bars, and more. This sparsely populated island is evolving into an effortless chic destination with its own pace and vibrant attitude. Yachting aficionados are regulars on a year-round basis anchoring and spending the night on their way to the next Cycladic island. Serenity, privacy, and a healthy lifestyle are goals that can definitely be met in many parts of the island, although there might be crowded places too in the high season.
Accommodation in Kea
Aigis Suites. Roads are quite steep and bumpy on this island, yet this one will leads to a sea-viewing luxury retreat equipped with 9 distinctively designed suites and the perfect infinity-pool bar. This family-owned hillside boutique hotel, surrounded by nature and offering a fine example of Greek hospitality, clearly represents the luxury experience you are looking for on this island. Oriental-inspired treatments are offered at its spa, and farm-to-table Greek recipes are served around the pool area or in your suite. From private balconies to fireplaces, stone-clad walls, and a majestic sunset view, this resort is special. Enjoy great cocktails, music, and ambiance day to evening. The name 'Aigis' that freely translates as 'under our auspices', the logo, and certain works of art on the property, are created by one of Greece's greatest contemporary visual artists, Alekos Fassianos.
Porto Kea Suites. Near the port, this seaside 5-star hotel has a sleek classic feel that blends nicely with the nonchalant aspect of the island. A wide range of suites, a Mediterranean restaurant, a sea-view pool lounge, a spa with steam room and sauna, and access to the private beach bar-restaurant Ammos are definitely way beyond the average expectations. The large waterfront pool framed by manicured gardens is an elegant centerpiece in this property located just across the street from the beach.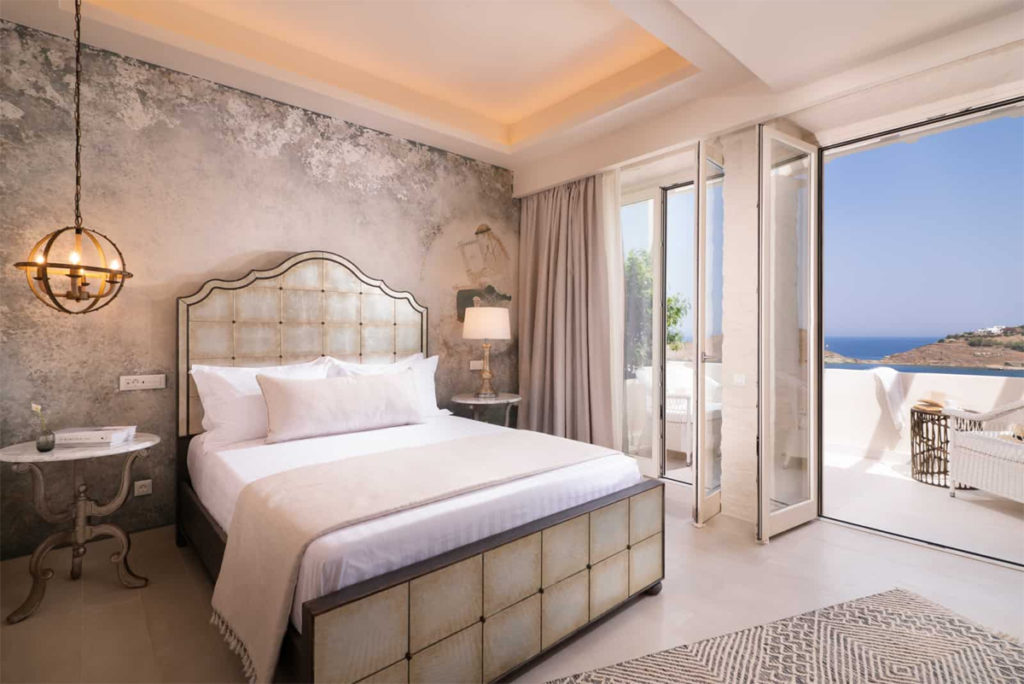 Ydor Hotel. Owned by the same family of hoteliers as Porto Kea Suites, whose members have a 60-year-old history in the area of luxury hospitality, this is a stylish newcomer in Kea. Perched on a hillside in the bay of Vourkari, overlooking the Aegean sea, this retreat is absolutely zen. It has elegantly designed suites & rooms, a spa, a restaurant-bar, a sea-view pool, and ultra-chic indoor and outdoor spaces.
Anamar Kea. A 30-minute drive from the port to the picturesque seaside location of Koundouros, this elegant Cycladic-style 4-star boutique hotel that opened its doors in 2018 has a minimalist flair, luxury amenities, and a perfect sea view. Rooms and suites (some of them with a Jacuzzi), a pool bar, a breakfast lounge, and a restaurant make for a refreshing experience and an opportunity to explore nearby beaches and coves.
Kea Village. Elegant suites and villas including the 'Lefkothea' estate, a pool, and the Greek gourmet restaurant 'To Spiti sti Chora' are all amphitheatrically perched on the hills of Chora with a distant sea view and great island vibes.
Porto Koundouros Villas. Set right on the most beautiful and well-organized beach of Kea, with access to the facilities and services of Porto Koundouros, these independent beachfront villas are a very convenient option for beach lovers. You'll be located near the Alas restaurant, Isalos beach bar, and a cafeteria.
Agrikea. A panoramic view hillside farm with rooms, suites, a jet stream/hydromassage-equipped elongated swimming pool, and a farm-to-table breakfast option is designed for those who want to get reconnected with nature. It aligns with the agrotourism trend on the island.
Restaurants in Kea
To Spiti sti Chora. A gourmet twist on traditional recipes plus a unique multi-level indoor and outdoor space in the hillside town of Kea called Ioulis or Chora account for a major culinary point of attraction on the island. Great live jazz and ethnic music often make the evenings feel even more special. Enjoy brunch, lunch, sunset drinks, and dinners cooked with ingredients from local organic farms and breeders. On the terraces blooming herbs fill the air as yummy iterations of the Mediterranean cuisine arrive on the table. The surrounding mountains form a great romantic setting. 'Spiti' is the Greek word for home and this is really how it feels like.
Aristos. On the small and vibrant bay of Vourkari or Agios Nikolaos which is often buzzing with sailboats, speed boats, and yachts, everybody wants to try Aristo's famous lobster pasta along with fresh fish and other Greek specialties in a very casual waterfront setting; totally unpretentious, yet still quite cosmopolitan.
Ennea Kores. Freshest seafood rendered in delicious traditional ways and served with a direct view of the quietest end of the bay of Vourkari is surely memorable. Some of the tables are placed right on the waterfront and others are elevated with a panoramic view of the bay. Try oysters and pick your own fish from the kitchen. Farm-to-table veggies, Greek wine, and a wide range of local ouzo liquor are keys to casual gastronomic excellence!
I Strofi tou Mimi. In the bay of Vourkari another sunset-view casual restaurant with most of its tables placed right on the sand serves fresh seafood and other Greek specialties. Romantic lights and seaside serenity make for a great date night.
Abourkouna. An experienced chef cooks creative versions of the Mediterranean cuisine with Greek ingredients from farms served in the simple setting of a beautiful terrace in Chora.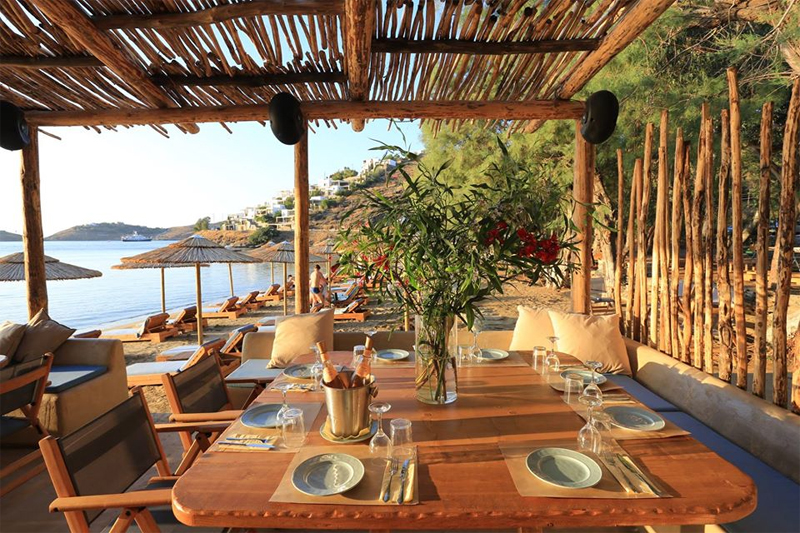 Things to Do in Kea
Kea has a long history visible today through the ruins of the Ancient city of Karthea (12th-5th century BC – hikers are recommended to visit the remnants of two temples and a theater overlooking a wonderful beach), the hillside 'smiling' stone 'Lion of Ioulis' (late 7th century BC), and a wide chronological range of artifacts at the Archaeological Museum of Kea in Chora (Ioulis). Maze-like medieval Ioulis (town) with visible hints of its archaic past is a great place to walk. If you want to explore and exercise further, a well-preserved network of footpaths on the island includes 12 routes. Roads to many sites and beaches might be rough but if you love exploring natural beauty it is often worth it. The largest organized beach is the aforementioned Porto Koundouros. Next to it is Koundouraki beach (meaning Little Koundouros) with a casual bar and water sports facilities. Sunbeds and beach bars on other beautiful remote sandy beaches you will find at Spathi (it has also a restaurant and seaside bungalows), Pisses, and Xyla, while closer to the port you are recommended to have a post-swim drink at the Eora Gialiskari beach bar. The most beautiful remote one without service is Sikamia. If you want to buy local products, visit the Red Tractor Farm (also a guesthouse) that produces homemade marmalades, limited edition red organic wine, acorn cookies (rich in proteins, potassium, magnesium, calcium, and vitamin B6), and St. John's Word Oil (an ointment drastically healing injuries). Nightlife isn't the island's forte yet you are encouraged to have some seaside street cocktails at the iconic recently renamed Acqua bar in Vourkari. Find a table near the water!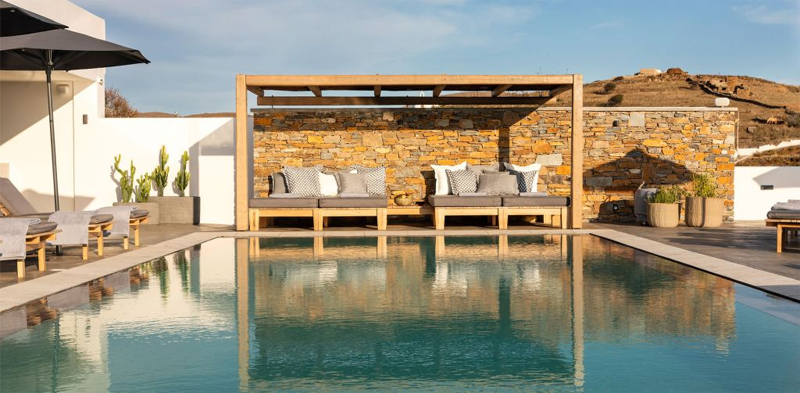 Kythnos
A 1.5-hour boat ride from Kea (or a 3-hour one from the port of Piraeus) will get you to the port of Merichas in the even less touristy picturesque island of Kythnos. Crystal clear waters, sandy beaches, and white-washed Cycladic houses are interesting to explore for a day or two. Inhabited since the Mesolithic era, it has revealed through excavations among the earliest remnants of human presence in the Aegean. Everything is simple but natural beauty is definitely intricate and outstanding. Kythnos is known for the largest number of fishing boats in the Aegean, so probably the right place for seafood dining.
Accommodation in Kythnos
Chora Kythnos Suites. One of the very few luxury accommodation options on the island, this resort displays a great taste level in its Cycladic minimalist premises. Decorated with raw wood, stone, and designer furniture, the stylish suites (one of them with a private pool) along with the pool bar, and the fitness center are a great reason to visit the island.
K4 Kythnos. This group of architects created in various locations around the island elegant and spacious Cycladic-style villas with private pools, and a stunning sea-view yoga retreat with vegan meal options. There is no better place for a yoga or meditation session, and later a massage!
Things to Do in Kythnos
Amazing beaches – most of them virgin ones – such as Kolona (a boat ride from the port), Apokrousi, Gaidouromantra, Martinakia with Hamsa beach bar-restaurant, and Agia Irini are worth visiting often with the essentials in your bag. Rent a jeep because the dirt roads to most places are really wild. Don't forget to have dinner at Arias family-owned restaurant serving freshest fish cooked with organic herbs in a dreamy setting on the Agia Irini bay. Captain Konstantis Vlastaris, a lighthouse keeper and landlord in the area, left his small fish taverna as a heritage to his children. They took over and created the restaurant we see today. Try fish soup, lobster spaghetti or salad, grilled squid, cuttlefish cooked in its ink, 'Sfouggato', and caramelized octopus. Walk the cobblestone paths of hillside Chora (town) and check some of the oldest churches. Have evening drinks in the original Cycladic setting of the Kraken bar. Another nice dining option with creative touches is Chartino Karavi in Dryopida. Don't leave the island without a jar of the multi-awarded Pure Mother Bee organic thyme honey. Try also traditional Greek desserts at the Tratamento pastry shop in Chora.
From Kythnos the ferry continues to Serifos. Check next stops to Serifos – Sifnos – Milos – Kimolos in the itinerary Island-Hopping Lifestyle Options Near Athens – Part II.