Spring/Summer Island-Hopping Luxuries in Greece – Part IV
From late March onwards some of the islands start having few daring visitors especially when the temperature rises a bit above seasonal levels meaning above the 20C/68F mark in the daytime. Some prestigious hotels kick off the spring/summer season in mid-April. Our recommendations around that time of the year include either islands that are very close to Athens and the mainland, or those that are so big, organized, and populated that they maintain a tourist cycle almost throughout the year. For island-hopping to be a successful operation such islands have to be near each other. You can reach them via either a boat ride or a maximum 45-minute flight or a combination of a short drive and boat ride. A boat ride among these islands can last from 20 minutes to maximum 5 hours. Always opt for the high-speed ferry if available as an option. For added privacy and fun, you can enjoy island-hopping in the most quintessentially Greek way; sailing. Availability of boat charters and professional skippers/guides runs high in mid-season, and the idea of exploring a small group of islands on a sailing boat with stop-over nights in various island ports proves fascinating in practice. Clear blue skies and blooming Greek nature diffusing herb aromas are usually part of the experience. Although the chapter on island-hopping in Greece is eternally open to additions and revisions, we will try to narrow it down to suggestions that feel convenient and luxurious in spring/summer weather. Pack in your luggage windbreakers or even puffers because Greek summer can come as late as the end of May. Our fourth itinerary that connects with ferries to our third one (Mykonos – Paros – Naxos – Ios – Santorini) goes through the following stops:
Athens Airport or Rafina Port – Andros – Tinos – Mykonos
Cyclades is the next group of islands closest to Athens that includes popular destinations such as Mykonos and Santorini. All-white houses are characteristic of the local architecture as seen in most Greek postcards. Island-hopping is highly recommended there due to the short distances between them. Take a boat (speed ferries are highly recommended) from the Port of Piraeus which is a 30-minute drive from downtown Athens and begin your journey. Ferries usually hop from one island in the group to the next, so you are encouraged to stay for 2-5 days on each and ferry your way among them. Tickets are rarely selling out in springtime – except for the Orthodox Easter long weekend – so you can book for the next island on the spot based on your mood. Cycladic islands are known for the Cycladic civilization (3200-1050 BC), with visible ancient ruins in various sites and museums, which means great sightseeing. They are usually dry rocky islands and some of them (Mykonos, Paros, Andros) can get windy. Graced with beaches of rare beauty, these relatively small islands are major tourist attractions.
Andros
A 30-minute drive with a rented car or taxi from Athens Airport will take you to Rafina Port and from there you only need 2 hours with a speed ferry to get to the ultra-sophisticated Cycladic island of Andros. Known as a maritime center since antiquity and in modern times as the birthplace of internationally established ship-owning families (Moraitis, Embiricos, Goulandris, Polemis) who are patrons to art, cultural and philanthropic initiatives, this mountainous northernmost island is the land of hidden understated luxuries. This particularly windy land with marvelous fortified villages – remnants of the Venetian rule – is the second largest in the Cycladic group. Dubbed also 'Little England' due to the 19th-early 20th-century era when local shipping tycoons flourished and established themselves across the world migrating to major capitals such as London and New York, it still carries with it a 'boho posh' spirit inspired by heirs to these families still preferring to maintain the island's gifts as best kept secrets for themselves when they are visiting in the summers. Nothing is touristy or fancy. Yet from the moment you step on the island, you somehow feel lucky that you entered a very exclusive world of unexpected natural & manmade beauty in the middle of the Aegean Sea.
Accommodation in Andros
Micra Anglia. With its name translated in Greek as 'Little England', this 5-star boutique hotel occupying an exquisite 19th-century mansion in Chora (town) is the most representative example of the island's old-school grandeur. Neoclassical décor prevails in its ultra-elegant suites and the 'aristocratic' experience is complemented by a majestic gourmet restaurant & bar, a garden, and a pool.
Casa di Fiori. Owned by florists this newly constructed rural hotel near Chora is equipped with minimalist spacious luxury suites with modern touches and decorated with floral details. Breakfast treats are brought to the rooms in chic baskets. No pool, yet great ambiance and a convenient location.
Camara Suites. Another historical neoclassical-style mansion is available in the form of wonderful suites featuring handmade furniture and mattresses, well-designed lighting, and maritime-themed artwork. No pool again but a central location in Chora.
Belvedere Andros. Again in Batsi, simple suites in the main building with a swimming pool plus an independent apartment suite nearby can be among your more casual choices, especially if you want to experience the area by night.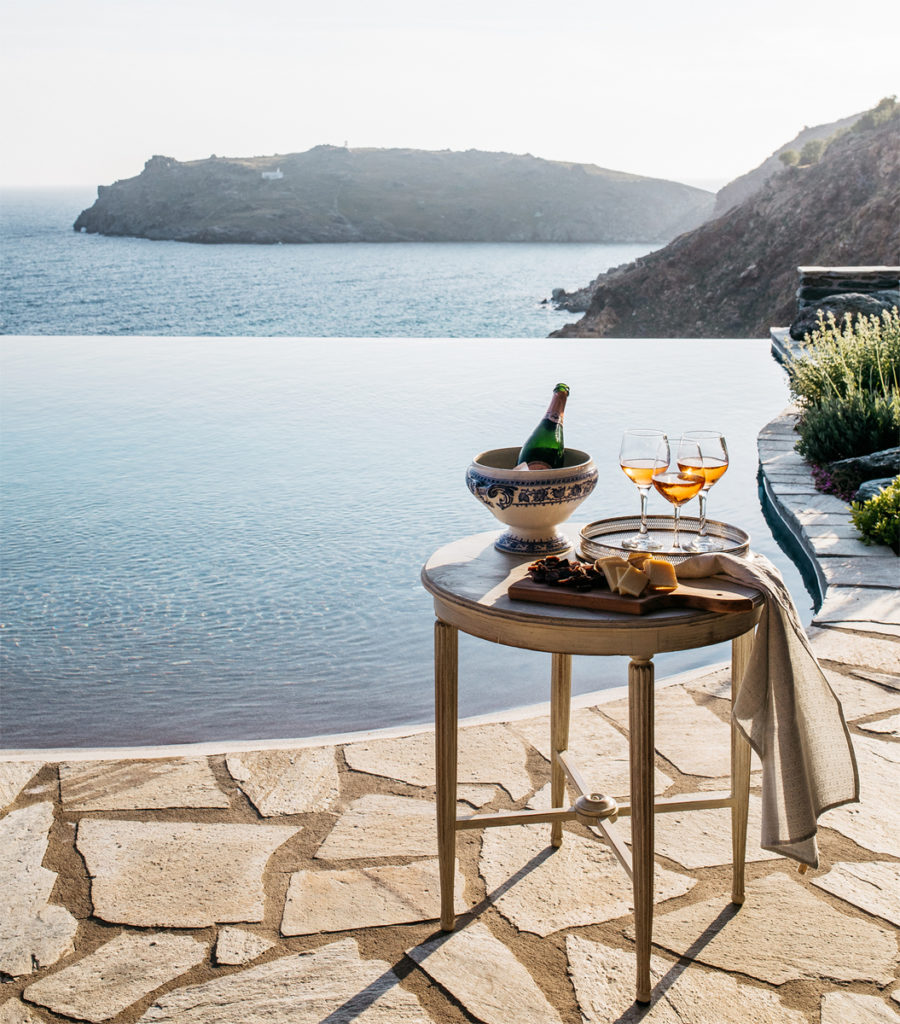 Mèlisses. This uniquely eclectic waterfront accommodation option, built into a hill and curated to perfection by ultra-talented landscape designers and architects, echoes a blend of Italian and Aegean heritage. This intimate retreat respects the local flora and fauna by using local plants and rough stones as the continuation of the natural surroundings. Its host and workshop manager Allegra Pomilio is Italian but deeply font of the Greek culture and traditions. Her creative and professional path includes studies at the Alain Ducasse Academy and training next to acclaimed Italian chefs as well as a previous collaboration with the French food blogger Mimi Thorisson. Always interested in the "art de la table" and the way simple home-cooked local ingredients are served and presented, she is the woman behind the retreat's marvelous poolside breakfast and other meals. She also organizes with other prominent guests culinary workshops and other events that rediscover the island's flavors and history from different perspectives. At the open kitchen/living room space, the old marble balcony has been repurposed into a stunning counter, while Thonet chairs and stools are mixed with antique furniture from elegant Cycladic mansions and vintage objects from Italy and France. The property's fully independent cottage with private pool, the spacious suite, and the two other rooms with access to the main saltwater infinity pool have a panoramic sea view with beautiful sunsets. They are equipped with comfortable French mattresses, Italian-made linens, soft towels, and locally made organic bathroom amenities. On the walls, works of art, from Mimmo Jodice to Armin Linke, including old botanical prints and vintage photos of Greece are on display. The estate is surrounded by a variety of fruit trees, along with local fresh herbs and spices. Santorinian tomatoes, local zucchini varieties, and onions are picked and cooked from its garden. Completely isolated, yet located 7 minutes from the upbeat Batsi harbor, and having its own access to the sea for a swim, it seems to be the best of both worlds. Underwater you can still see the ancient city of Paleopoli, so snorkeling is highly encouraged with all the essentials available on site.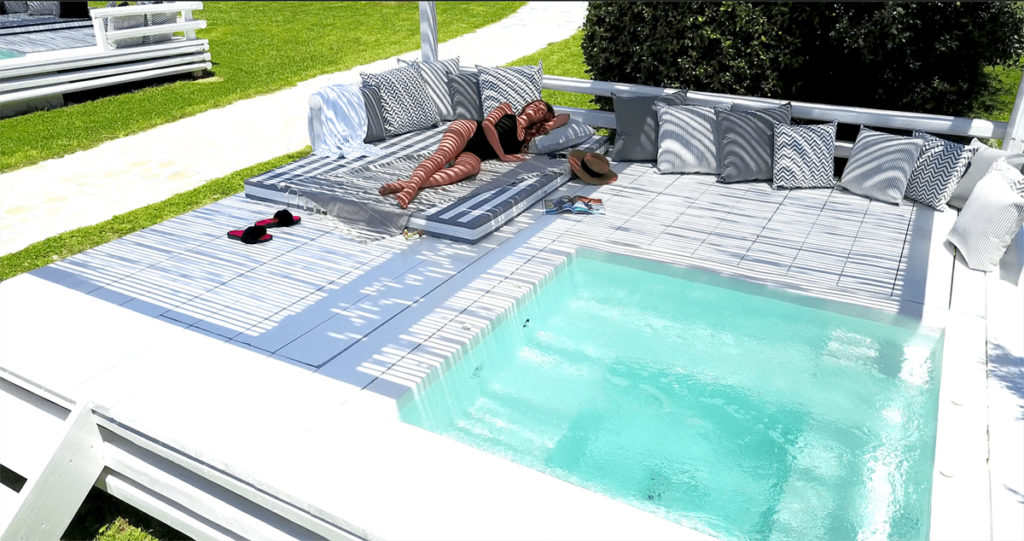 OW Andros. In a valley near the beautiful natural beach of Fellos, these 5 simple suites are equipped with a private outdoor hot tub/Jacuzzi. All guests have access to a pool with a lounge, sunbeds, and exclusive services.
Paradise Art Hotel. In Chora, this artsy boutique hotel with classic décor has simple rooms, a pool bar, and outdoor sports facilities.
Ktima Lemonies. Four sets of independent lodgings (that can also be rented as a fully serviced holiday home), a swimming pool, and courtyards comprise a traditional guesthouse experience inside a hard-to-find lemon-tree estate a 40-minute drive away from the port, at a place of absolute serenity. Enjoy the farm-to-table breakfast and the luxe rural hospitality experience curated by architect Michalis Gryparis and his wife.
Things to Do in Andros
Chora – the marble-paved capital of the island – extends into a spectacular windswept sea-view peninsula, built with Cycladic style homes and neoclassical-style mansions. In general, the eastern windy part of the island – including the stunning village of Stenies – shows off its glorious heritage. Villages are in general very beautiful, each one having natural springs, often with healing water coming from the mountains. Although not well-preserved, you will notice remnants of 3 major Venetian castles and many fortifications. Chora is built on the Lower Castle, while north of the southern area of Korthi you will find the Upper Castle or Phaneromeni, and on the cape of the north-western rocky beach of Pyrgos still stands the fort of Makrotantalo (or Ostodosia). Roads to sightseeing and some of the beaches are totally rough, narrow, and bumpy, and this probably shows the locals' wish to keep them not so accessible to visitors. Yet if you are pro-adventure (hiking-trekking etc.), make sure you reach the Pithara waterfalls, the Foros cave (book an appointment), and the famous Tis Grias to Pidima beach near Korthi. Keep in mind that the west-coast beaches are protected from winds. Organized beaches with some sort of a beach bar (not the full-service ones of Mykonos) include the following:
San Pedro beach bar. A beautiful beach near the port (Gavrio) for water sports and often loud beach parties.
Gold Beach or Chrissi Ammos. Another upbeat party-style sandy beach near the port.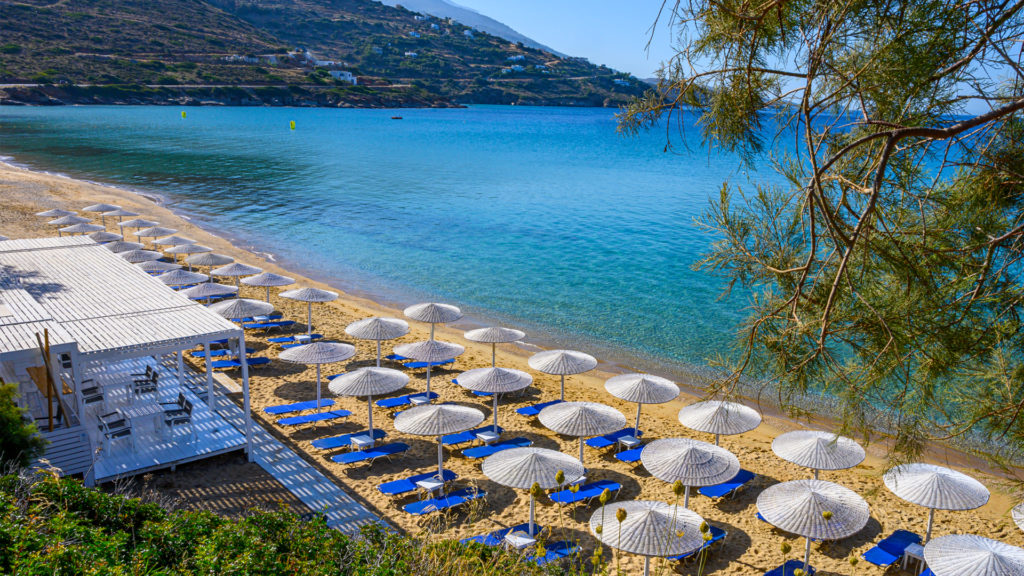 Kypri Beach. Next to Gold Beach, it is sandy and fully organized with bar, deck, restaurant, and services from the Perrakis Hotel.
Copper Beach Bar at Chalkolimiona Beach. With umbrellas, sunbeds, beach service, DJ sets, and a parking lot, this sandy beach on the western coast, with easy access and clear, shallow waters is ideal for families.
Cambos Beach Bar Vitali. On the eastern windy side of the island, this beautiful beach serves cocktails, juices, and snacks.
Apothikes beach bar. On the western coast, this deep-water sandy beach has a few sunbeds and a canteen that often organizes beach parties.
Kaliva beach bar. Between St. Peter's beach and the port, this sandy place is organized (sunbeds, beach service, etc.), accessible, and often busy.
Important Sightseeing in Andros
Museum of Contemporary Art. Inaugurated in 1979 in Chora as the first Contemporary Art Museum in Greece, and extended to a new wing in 1986, it eventually started showcasing important pieces from the $3 billion modern art collection of the cosmopolitan couple Basil & Elise Goulandris (shipowning family from Andros) carefully collected in their various homes across the world throughout the years, including works by Matisse, Kandinsky, Balthus, Giacometti, Klee, Chagall, de Chirico, Rodin, Picasso, Braque, Mirό, Toulouse-Lautrec and others.
Maritime or Nautical Museum of Andros. Established in 1972 by the family of Nicholas Goulandris at a neoclassical-style mansion in a windswept location with a breathtaking view to the Aegean, it hosts an array of historical items from the island's long maritime history. At the Square, check also the statue of the Unknown Sailor.
Archaeological Museum of Andros. Built in 1981 with a donation from the Basil & Elise Goulandris Foundation, it has on display important items from the Geometric Period, and from the Archaic to the Roman, and Byzantine times, with the most important one being the statue of Hermes, probably a Hellenistic iteration of a famous one created in 4th century BC by acclaimed sculptor Praxiteles.
Monastery of Our Lady of Panahrados. Churches are part of important sightseeing on the island, yet if you are only willing to do one, try the monastery with the best view. It's built like a fortress literally hooked on the mountain, surrounded by large rock masses, which over the centuries have carved hundreds of small caves, often used as hermitages by the older monks.
Tourlitis lighthouse. Initially built in 1897 in the harbor bay on the tiny rocky isle of Tourlitis, destroyed by a German air raid in 1943, and recreated with funding from Alexandros and Marietta Goulandris in the 90s, it is the first automatic lighthouse in Greece and Instagram-worthy!
Restaurants & Bars in Andros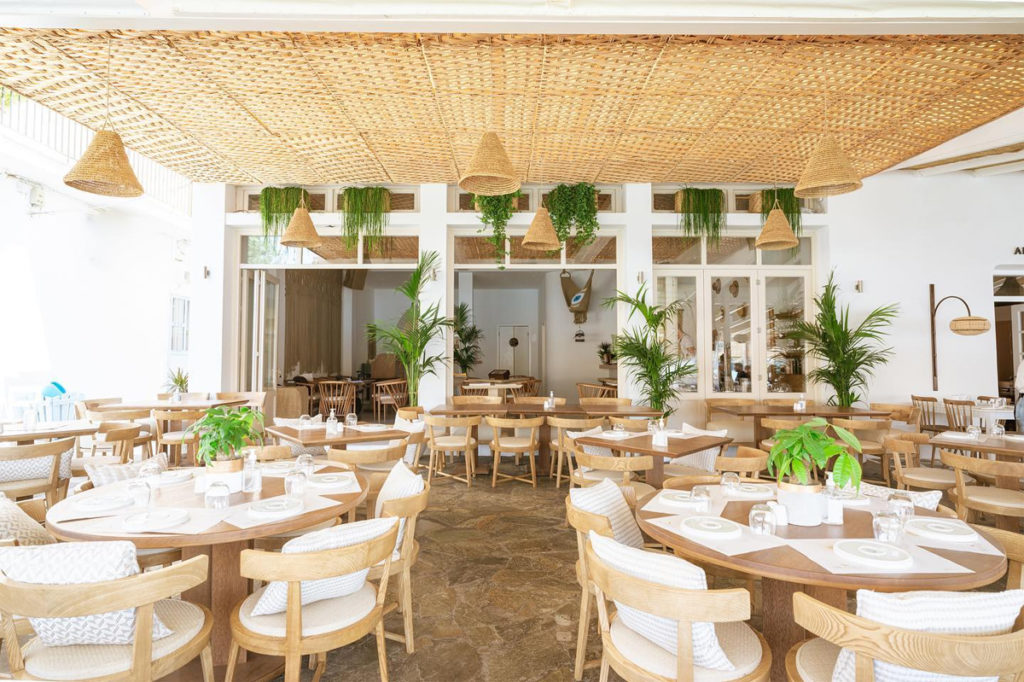 Branda. This is a great addition to the very limited gourmet culinary scene in Andros, a stylish restaurant which opened back in summer 2021 and is much praised for its elegance and attention to detail, the finest ingredients, and the most exquisite techniques, all focusing on wellbeing. Try the already popular "Almira" salad and fresh seafood in creative iterations.
Dolly's Bar & Restaurant. Inside the best hotel of Andros 'Micra Anglia', this is literally the only true gourmet restaurant on the island, with culinary surprises inspired by Greek & Italian cuisine, made of the freshest ingredients, and served in an elegant Art Nouveau space with spectacular cocktails to follow. Wines come from the 19th-century hotel cellar.
Onar. A rough road-drive away, on the beautiful east-coast windy beach of Achla (Ahla) this restaurant (along with boho-chic options for sustainable accommodation) offers exceptional al fresco dining with produce from their organic garden, local farmers, and fishermen. The hand-picked organic products from the farm are certified by DIO (Organisation for Control and Certification of Biological Products). Dairy products come from the farms of the island and fresh eggs and freshly baked cakes from their neighbors!
Mastello Andros. In nightlife-central seaside Batsi, this restaurant serves mezze platters and specialties with ingredients from local farmers.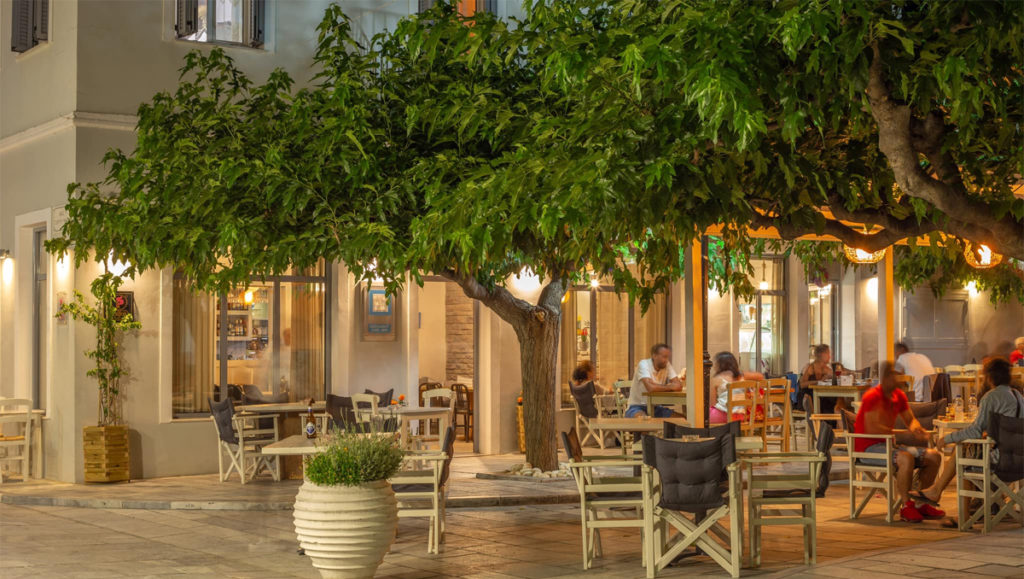 Sea Satin Nino. At west-coast Korthi, on a pedestrian street behind the seafront, an adorable couple serves the yummiest version of the local recipes in a casual space.
Endochora. A simple restaurant in Chora with a slight creative touch on Greek recipes made of fresh ingredients.
O Nonas. In Chora, this traditional casual restaurant has evolved into one serving excellent Greek cuisine with gourmet touches.
Tou Josef or Josef's. Ultra-creative versions of Greek recipes that come from daily improvisations inside the traditional kitchen of an impressive lady can be served in a tiny Greek garden in the mountain village of Pitrofos. Greek hospitality comes to the forefront. Make a reservation.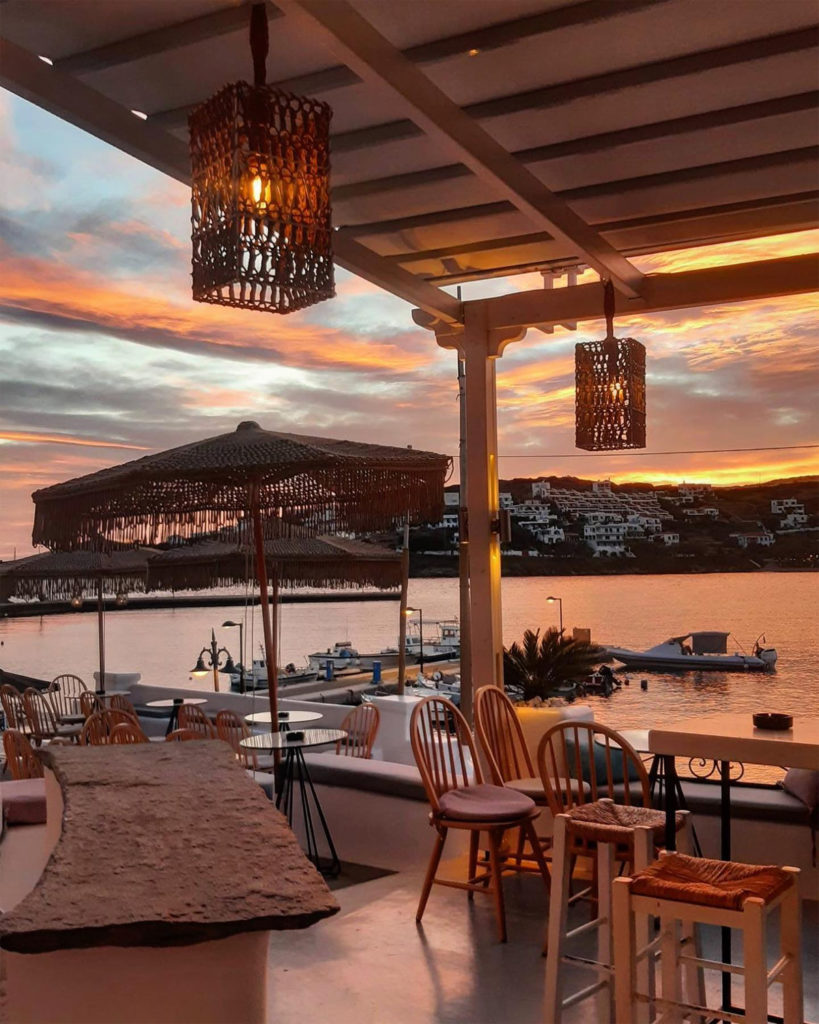 Capriccio bar. If you are looking for cocktails and nightlife in Andros, you should go to the seaside Batsi. Known for around two decades, this is one of the places with the best sea view that will allow you to dance the night away (bar-hopping is also possible). DJs and lots of dancing are part of the experience.
Neo bar Chora. Built on a former slaughterhouse, this bar in Chora serves great cocktails you can often combine with pizza.
Centro Café Bar. A day-to-late-night casual sea-view bar on the marvelous beach of Korthi, is the spot to see young people synchronizing their moves to the tunes from the resident DJ set.
Tinos
In 1 hour and 30 minutes from Andros, the ferry will get you to the next island Tinos (just check the ferry schedule at a local travel agency and book on the spot). Known primarily as a center of an annual pilgrimage that attracts orthodox Christians to its main church Panagia Evangelistria holding the miraculous icon of Virgin Mary, it has served as an artistic destination and birthplace of important Greek painters and sculptors. With around 80 windmills, Venetian fortifications uphill, dovecotes, and 50 vibrant villages, it inspires a serene, sophisticated attitude.
Accommodation in Tinos
Diles & Rinies. In a quiet inland area with a breathtaking Aegean sea view, this 8-acre estate is built with 8 roomy villas meeting sustainability standards. Complemented with vineyards, olive trees, herb, and flower gardens, a large infinity pool with bar, a few private pools, an art gallery, and a gourmet farm-to-table restaurant, it is the perfect setting for ultimate relaxation. Beauty and fitness services add up to the experience. The estate has a view to and is named after two tiny uninhabited Cycladic islands (Delos and Renia located off Mykonos) that were dedicated to the cult of Apollo and are usually visited for their ancient ruins.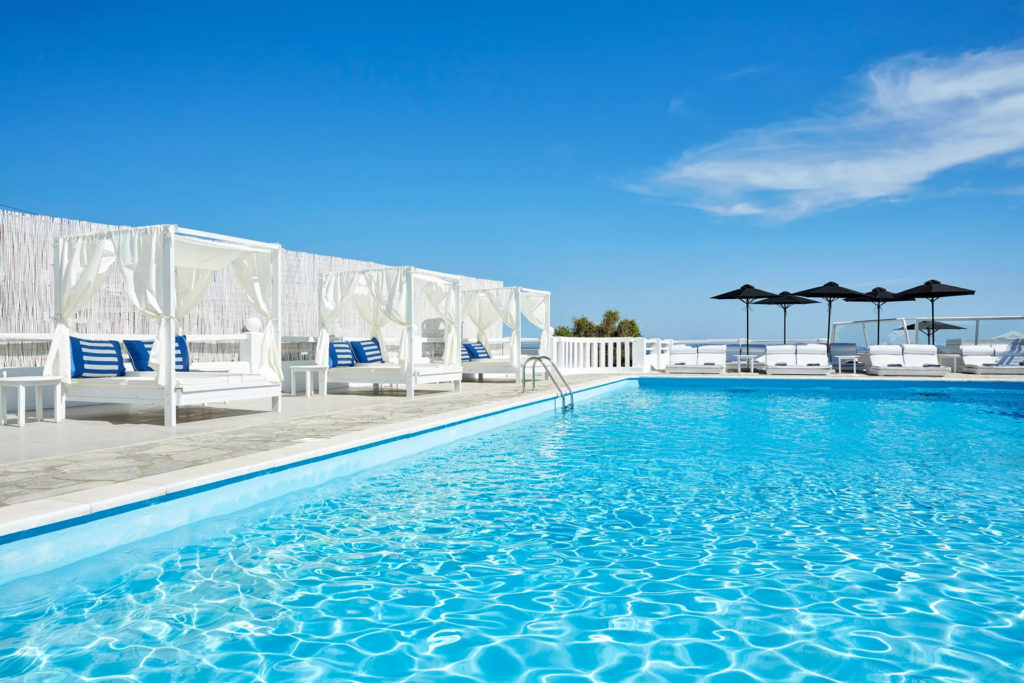 Mr & Mrs. White. Near the beach of St. John and a few minutes away from the town, this charming boutique hotel that is mixing modern clean aesthetics with traditional elements, offers high-quality services and amenities including a freshwater swimming pool, a chic lounge area, gardens, and a restaurant.
Infinity View Tinos. Built in a privileged position – 1,480 ft/ 450 m from the beach of Stavros and 0.8 miles/ 1.3 km from the organized beach of Kionia on the island of Tinos – with a panoramic view of the Aegean, this place is pure magic. Each room of the hotel exudes an atmosphere of airy luxury, harmoniously combining its elegant bohemian character with the characteristic elements of Cycladic architecture and tradition. In its 16 suites, a unique experience of comfort and relaxation awaits you. All are fully harmonized with the natural landscape, but each has its own unique style. The attention to detail and the minimalist decoration give the feeling of staying in a familiar space with high-quality facilities. Staying at Infinity View becomes even more idyllic at sunset when the suites are illuminated by nature's unique colors. Pick a suite with access to the main pool or one with a private pool; the sea view is equally mesmerizing.
Xinara House. This spectacularly restored former bishop's home in the heart of rural Tinos consists of two private adjoining villas you can book separately or together. Every single detail is beautifully marrying Cycladic tradition with cosmopolitan modernity. Indoors, original carved marble fanlights and plasterwork are combined with modern bathrooms and kitchens. On hilly terrain, surrounded by private tiered gardens with mature mulberry, walnut, almond, and other fruit-bearing trees, as well as areas where the owners grow organic vegetables for their guests, this is an amazing new entry, an elegant place of ultimate relaxation. Wander among ancient cactuses, olive and citrus trees, or hang out up at the pool terrace. Island pebble patterns are laid on one terrace while another is laid with marble. There is even a newly-planted vineyard for their rosé and a welcoming bougainvillea at the entrance. Definitely, everything is exuding a great taste level.
Things to Do in Tinos
Tinos is a place to exercise, relax, and contemplate. If you can afford to dive into its cool waters in springtime, just visit one of the over 35 natural beaches on the island. Or else hike and walk or hop from one village to the next; there are many (some of them Catholic due to Venetian rule in the Middle Ages) with little coffee shops and casual restaurants. Check also the over 1000 dovecotes, quite characteristic architectural elements that were symbols of Venetian wealth. Nightlife is not a strong point here, but if you want to have some drinks in the town try the two cult bars: Argonautis and Koursaros. The best restaurant in embracing creatively local gastronomy is Thalassaki and you need to book in advance! Other culinary suggestions (serving local organic wine as well) include San to Alati (translates as 'Like Salt'), Marathia (a must-try, gourmet, farm-to-table, all-day dining spot with elegant accommodation options), and Mikro Karavi (an elegant one with equal attention to the quality of local ingredients).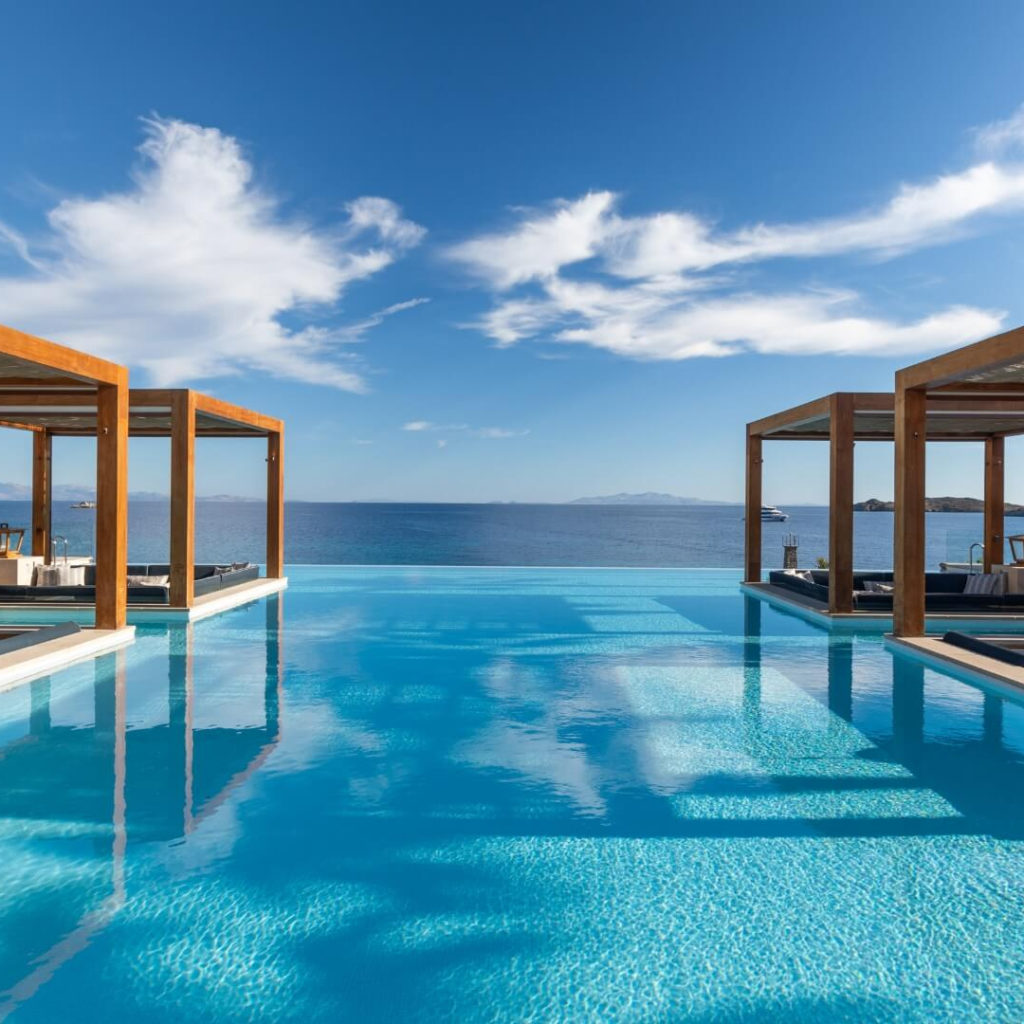 Mykonos
In 20-30 minutes from Tinos the ferry will get you to the so-called 'Island of Winds', the most cosmopolitan island of Greece and among the most expensive tourist destinations on earth. It is also known as a playground for the rich, the famous, and the party animals, while in fact, it can give you many different experiences, depending on your needs and preferences. It is undeniably a very beautiful rocky island with tens of beaches – over 15 being fully organized with beach bars, gourmet restaurants, exclusive services, and boutiques. For its multi-option nightlife, it is often compared to Ibiza, but one can easily argue that Mykonos' natural beauty is beyond that comparison. Plus, people who don't love to party but are in quest of an exclusive experience can rent a villa in one of the quiet areas of the island, swim in the natural beaches that have no sunbeds or bars, and have dinner in restaurants outside the 'town' (in Greek most island capitals are called 'chora'). The place is designed for spenders and evolves every season along the way, offering new ideas and services. Starting back in the 60s as a little gay-friendly paradise where tycoons and celebrities from all over the world mingled with the hippies, it still carries with it seeds of a bohemian spirit affordable now mostly to an affluent crowd and the locals. Mykonos is a summertime international melting pot, a place to see and be seen, to be taken care of by talents and pros in hospitality, and as many Greeks might say it feels like an autonomous principality in the middle of the Aegean with its own rules; in its own fun-loving universe! We will analyze it more in a separate article, due to its endless aspects, but for the moment let's go through the basic suggestions since Mykonos is in this discussion only one of your stops in your Cycladic island-hopping experience and not the main destination.
For more Accommodation & Lifestyle suggestions (sightseeing, shopping, beaches, restaurants, bars) in MYKONOS check HERE.