Spring/Summer Island-Hopping Luxuries in Greece – Part III
From late March onwards some of the islands start having few daring visitors especially when the temperature rises a bit above seasonal levels meaning above the 20C/68F mark in the daytime. Some prestigious hotels kick off the spring/summer season in mid-April. Our recommendations around that time of the year include either islands that are very close to Athens and the mainland, or those that are so big, organized, and populated that they maintain a tourist cycle almost throughout the year. For island-hopping to be a successful operation such islands have to be near each other. You can reach them via either a boat ride or a maximum 45-minute flight or a combination of a short drive and boat ride. A boat ride among these islands can last from 20 minutes to a maximum of 5 hours. Always opt for the high-speed ferry, if available as an option. For added privacy and fun, you can enjoy island-hopping in the most quintessentially Greek way; sailing. The availability of boat charters and professional skippers/guides runs high in mid-season, and the idea of exploring a small group of islands on a sailing boat with stop-over nights in various island ports proves fascinating in practice. Clear blue skies and blooming Greek nature diffusing herb aromas are usually part of the experience. Although the chapter on island hopping in Greece is eternally open to additions and revisions, we will try to narrow it down to suggestions that feel convenient and luxurious in springtime weather. Pack in your luggage windbreakers, puffers, and trenchcoats because summer can come as late as mid-May. Our third itinerary that connects with ferries & flights to our second one (Downtown Athens – Piraeus Port – Syros – Tinos – Mykonos) goes through the following stops:
Mykonos – Paros – Naxos – Ios – Santorini
The Cyclades is the second nearest to the Athens group of islands (after the Saronic Islands) that includes popular destinations such as Mykonos and Santorini. All-white houses are characteristic of the local architecture as seen in most Greek postcards. Island-hopping is highly recommended there due to the short distances between them. Take a boat (speed ferries are highly recommended) from the Port of Piraeus which is a 30-minute drive from downtown Athens and begin your journey. Ferries usually hop from one island in the group to the next, so you are encouraged to stay for 2-5 days on each and ferry your way among them. Tickets are rarely selling out in springtime – except for the Orthodox Easter long weekend – so you can book for the next island on the spot based on your mood. Cycladic islands are known for the Cycladic civilization (3200-1050 BC), with visible ancient ruins in various sites and museums, which means great sightseeing. They are usually dry rocky islands and some of them (Mykonos, Paros) can get windy. Graced with beaches of rare beauty, these relatively small islands are major tourist attractions.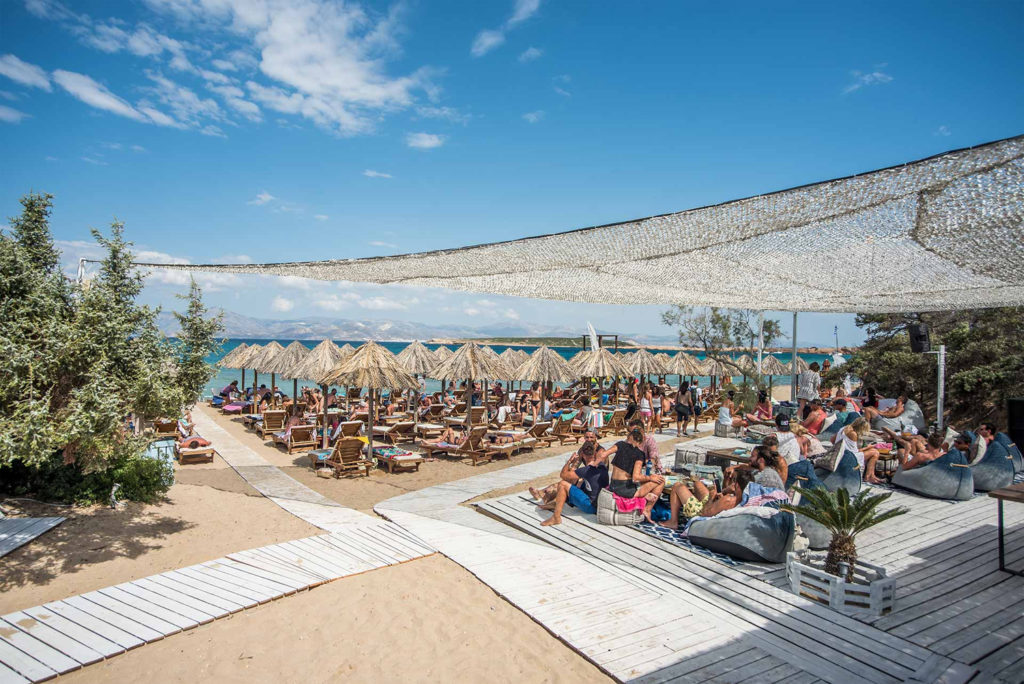 Paros
A 40-minute flight away from Athens Airport or a 40min to 1h 15min ferry ride from Mykonos will get you to the island of Paros, well-known to windsurfers finding adequate wind in the narrow straight with another Cycladic island called Naxos and the islet of Antiparos where Tom Hanks owns and visits a summer villa. As the main producer of the finest quality all-white Parian marble in antiquity, it has a long history seen through ancient Greek masterpieces and the quarries at Marathi producing tiny amounts used only by the state for conservation purposes.
Accommodation in Paros
Paros is a very touristy island with varied profiles of visitors so you really need to plan ahead and go through the best options. Fortunately, you will be able to find some luxury resorts with a great sea view there including:
Parīlio. Designed by the Athens-based Interior Design Laboratorium and led by Kalia & Antonis Eliopoulos, behind the acclaimed hotels Vedema, Mystique, and Istoria in Santorini, this luxury accommodation hotspot is informed in its entirety by this north-western corner of the island, its landscape, history, and mythology. It is by far the newest, most opulent, and elegant hotel on the island. This minimalist all-suite property presents an authentic and organic Greek experience curated to fit modern needs. Zen and design-savvy, authentic and contemporary, it appeals to an aesthetically discerning clientele. Its most eye-catching outdoor design element is the imposing cross-shaped pool highlighted by two impressive rocks, loungers, and utterly relaxing natural surroundings. For those looking to fully embrace the slow-paced Cycladic way of living, the on-site Elios Spa is highly recommended. Plus, its Mr. E restaurant welcomes you to try the island's famed gastronomic heritage through seasonal Greek and Mediterranean cuisine.
Summer Senses. Two free-form swimming pools, 100 rooms & suites (some with private pools), a spa, a gym, a pool bar, a lounge bar, the main restaurant, and the gourmet restaurant Galazia Hytra in collaboration with the Michelin-star Hytra restaurant in Athens are all offered by this sizeable resort in the island's most visited beach, Punda.
White Dunes. Minimalists will enjoy their stay in this all-white hotel with a swimming pool, bar, restaurant, and other services by the beautiful beach of Santa Maria.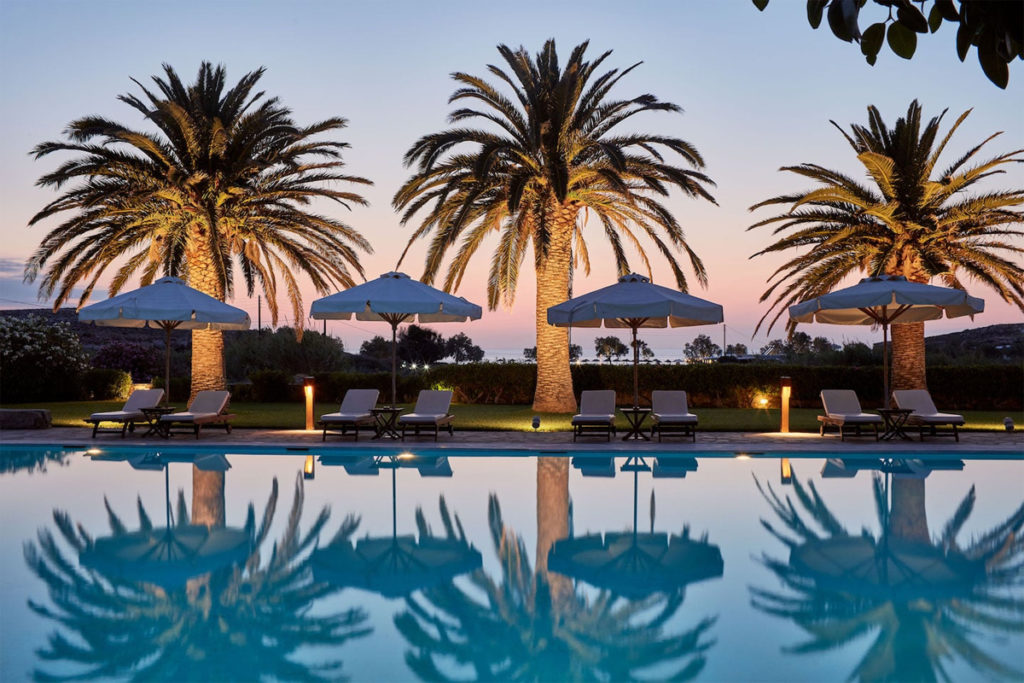 Yria Hotel. Probably the most stylish and luxurious of all, this eco-friendly boutique hotel by the picturesque bay of Parasporos on the west coast of the island, extends into 5.4 acres /22,000 sq. m of vineyards and gardens as all-white architectural entities inspired by the traditional Cycladic villages. Yria (after Paros' ancient name) includes roomy suites (option for private pool or residence), a pool bar, a gym, an open-air spa with Jacuzzi, a Greek-designer boutique, a cocktail bar, and the farm-to-table Mediterranean cuisine Nefeli restaurant with seafood specialties signed by Michelin-star chef Lefteris Lazarou.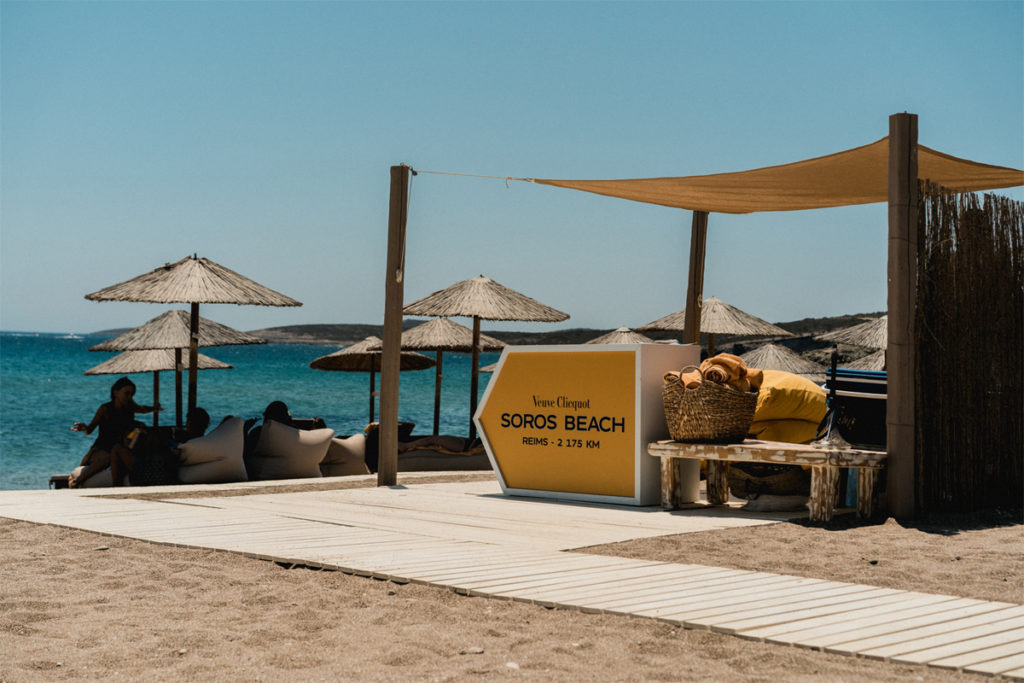 Things to Do in Paros
The most beautiful fishermen's port on the island is Naoussa with cute coffee shops, bars, restaurants, and a Venetian castle. It is ideal for brunch, lunch, dinner, and drinks. Most of the places are very carefully curated and you are highly encouraged to opt for the freshest seafood. In the island's capital Parikia, make sure to check the Byzantine church Panagia Ekatontapiliani (which translates as a church with 100 doors dedicated to Virgin Mary). Swimmers and fans of water sports will enjoy the organized Golden Beach, Santa Maria (main and small) beach with a bar, Parasporos, Monastiri, and Punda for kite surfers & party animals. Beach-wise, Paros' services are not at all at the Mykonos level of luxury and this is why you are recommended to also visit natural sandy beaches without any serious infrastructure such as Logaras, Lageri, and Piperi. Kolymbithres is a geologically interesting beach to check out. Don't skip a day trip (or longer) to Antiparos island to swim on the beaches of Psaraliki (organized), Soros (organized), Glifa, Livadia, and Agios Georgios. The regular ferries take you there in 7 minutes and there is even an extra option for a boat ride to the nearby islet of Despotiko. Make sure you have one of your meals at the Anargyros restaurant which is Greek culinary magic and at Pizza Lollo's, which serves Roman pinsa (flat-bread pita-style slim pizza) and the yummiest fresh pasta. If you stay the night at The Rooster (in itself a reason to visit Antiparos) or Kouros Village you will be able to stroll around this cute town with pedestrian cobblestone paths, little shops, and bars that stay open until late. In the daytime, feel free to experience the concept of Beach House Antiparos in the island's most sheltered from the northern winds beach called Apantima, featuring a restaurant bar, 9 sea-view suites, wellness, and concierge services. Also, visit the Antiparos Cave with stalactites and stalagmites; one of the most important and beautiful in Europe.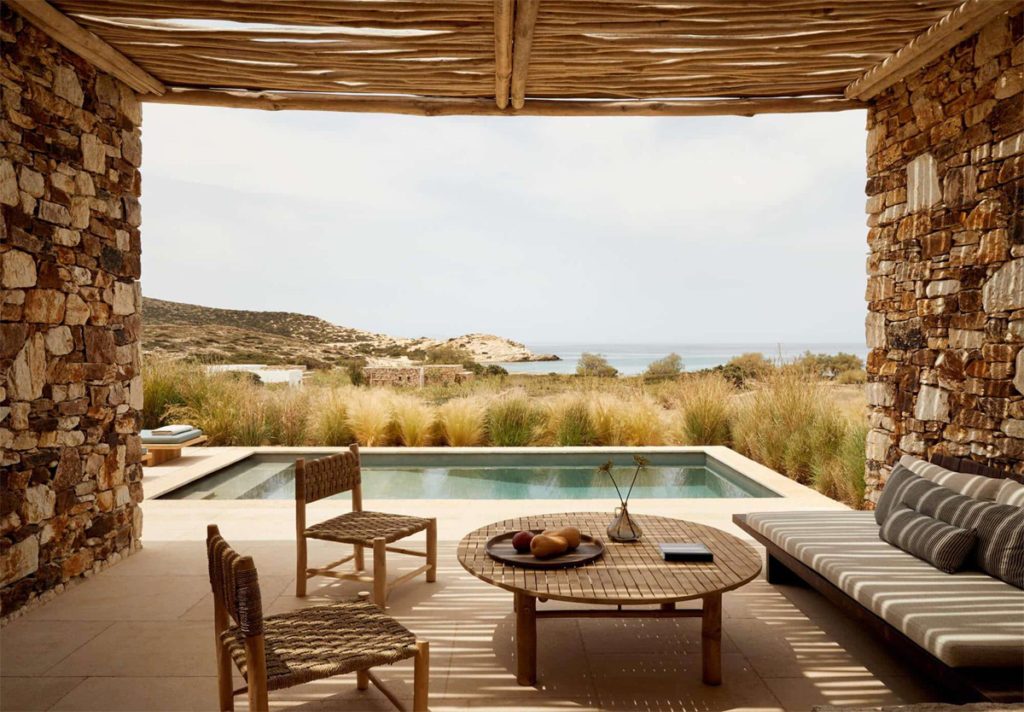 Restaurants & Bars in Paros
Barbarossa. Since 1987 this seafood restaurant which gradually adopts a gourmet approach to the Greek kitchen dominates the Venetian port of Naoussa. Chef Dimitris Nikolis created a menu based on traditional ingredients; textures and the flavors of the Aegean Sea. It includes the freshest seafood, grilled fish, and even raw options such as sashimi, tataki, tartare, and ceviche dishes. Plus, excellent options for meat lovers.
Sigi Ikthios. In around the same location (Naoussa Port), you will also find this nice Mediterranean restaurant with the adjacent Salty Bar for post-dinner cocktails.
Statheros. A family-run restaurant in Naoussa you are also recommended to try if you want to indulge in a delightful version of traditional local recipes.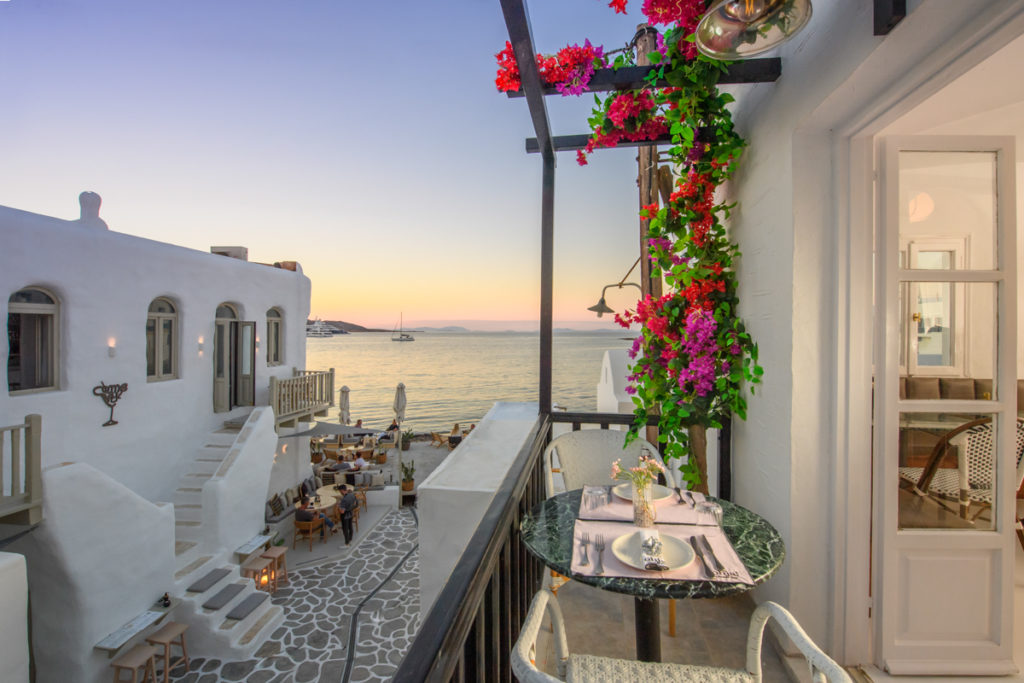 Ohja! Oyster & Cocktail Bar. It opened back in 2021 to offer an incredible fine-dining experience in an eclectic waterfront space inside a renovated old stone building in Naoussa. Chef Nikolaos Pylarinos, inspired by Greek and French cuisine, has created an exciting seafood menu based on the finest ingredients. Mixologist Jason Manolis Papadakis pairs these culinary marine treasures with mesmerizing cocktails.
Les Amis. For a gourmet twist on classic Mediterranean recipes and a focus on great wine pairings in a waterfront location on the Punta Port, try this elegant culinary option.
To Balcony tou Aki. Simple ultra-fresh seafood is served in a dreamy seaside location at a restaurant that has been operating since 1964 and has been awarded by local culinary media over the last two years.
Sommaripa Consolato. This is a cute all-day café that turns into a recommended aperitivo/cocktail bar for drinks after dinner in picturesque Naoussa.
Agosta. The night is long in Naoussa and this waterfront bar is another special option for either sunset drinks or cocktails and dance music till the late hours.
Santé. For special cocktails, often mixed with fresh exotic fruits and accompanied by summertime music, try this little bar on a cobblestone path in Naoussa, founded in the 90s.
Naxos
In 25-45 minutes from Paros, the ferry will get you to Naxos. With the ancient Greek giant door (in Greek 'Portara', dating 530 BC) on a path-connected islet at the entrance of its main port, the largest and most fertile Cycladic island is a tourist destination of gastronomic and archaeological interest. Beyond its many crowded and serene beaches, you will have to visit its many mountainous traditional villages that keep the Naxian culture and history alive and vibrant. Just rent a car and drive from place to place, and if you are into sports, do some hiking.
Accommodation in Naxos
Naxian Utopia. Extremely well-designed in organic minimalist forms, this boutique resort's hillside private-pool suites and villas with luxury amenities (Jacuzzi, hammam, and/or other extras), plus a spa by internationally acclaimed Greek brand Apivita, is the most stylish summer retreat in the island.
Nissaki Beach Hotel. It is hard to find a 5-star beach hotel like this in Naxos, which means that it is coveted. Near the town and Agios Georgios beach, colorful sea-view suites are complemented with hotel amenities such as a swimming pool with a hydromassage area, a bar, and a farm-to-table restaurant.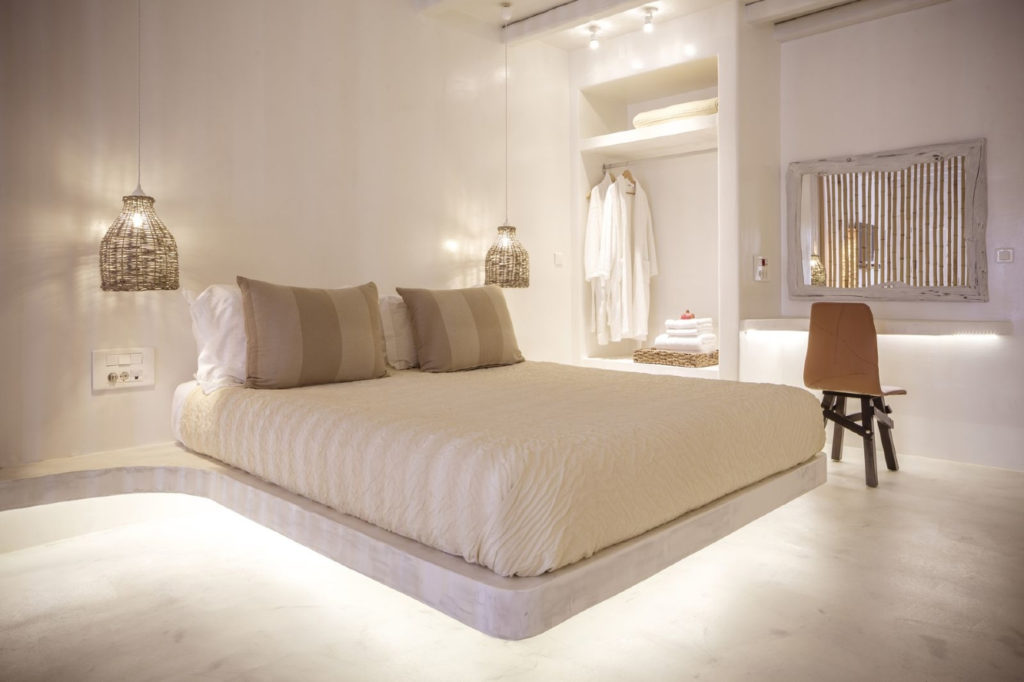 Naxian Collection. Raw-material minimalist suites and villas, an organic vegetable garden, a wine cellar, private or semi-private pools, and a famous farm-to-table restaurant visited by the legendary chef Anthony Bourdain and other great foodies, are the treasures of this boutique hotel.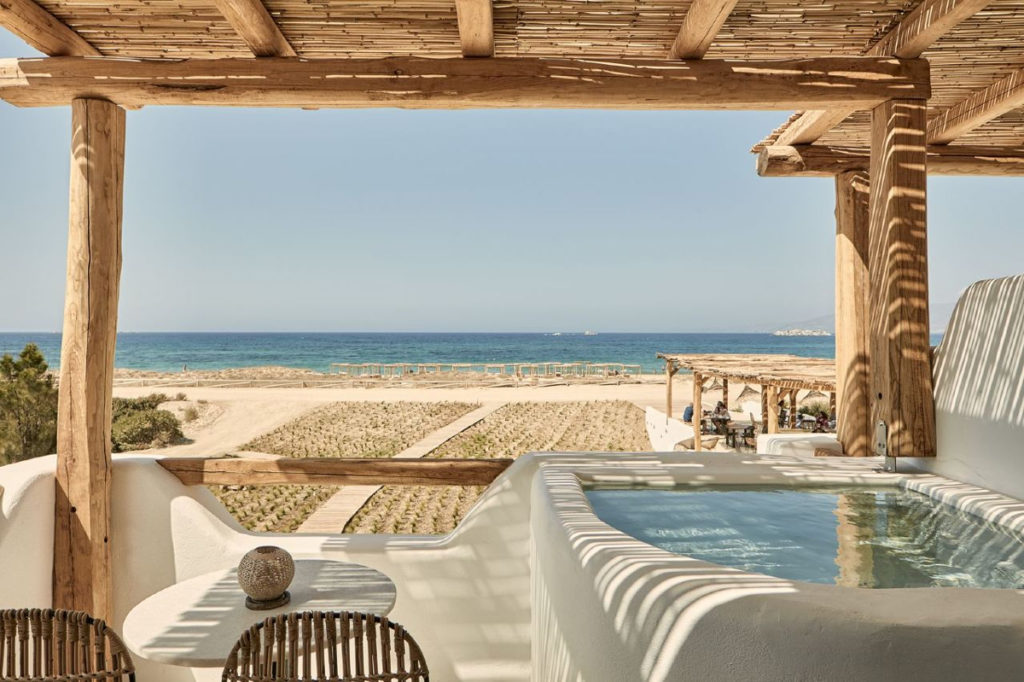 Naxian on the Beach. Naxian Collection's sister hotel is a seaside complex with the same approach plus a beach club on the popular sandy paradise Plaka.
Kavos Naxos. Just above the spectacular sandy beach of Agios Prokopios simply decorated sea view villas and suites, a pool with a bar, and a famous local kitchen restaurant equal vacay bliss.
Things to Do in Naxos
Hillside villages Melanes, Filoti, and Apeiranthos (the last one with marble houses and many small museums) are among the oldest settlements on the island. Check the three ginormous unfinished Naxian marble Kouros statues (7th-6th century BC), one resting in a quarry near the village Apollonas and the others outside Melanes. In the picturesque village of Chalki indulge in the local Kitron liqueur tasting experience at the traditional Vallindras Distillery. Enjoy the sunset from the Castle of Naxos, the best-preserved Venetian fortification in Greece. And make an effort to visit the Temple of Demeter or Temple of Sangri (village) from 6th century BC made of finest quality Naxian marble in one of the earliest examples of Ionic order (style). Swim at the bustling long sandy beaches mainly on the west coastline of the island including Agios Georgios (St George), Agios Prokopios, Agia Anna (check Island beach bar also for a night out, and Banana beach bar, and Plaka (check Tortuga beach bar). For a quiet romantic sunset, Mikri Vigla beaches are highly recommended.
Restaurants in Naxos
Axiotissa. It feels like being in the middle of nowhere in a Greek movie setting with the yummiest food on earth. Naxos is known for the finest meats, vegetables, and cheeses (Arseniko, Xinomyzithra, and Kopanisti) which are exactly among the things you are able to try in this jaw-dropping traditional eatery, coming directly from their farm next door. Every single dish from the extra-long menu (seafood, vegan, and meat) is executed to perfection based on traditional recipes.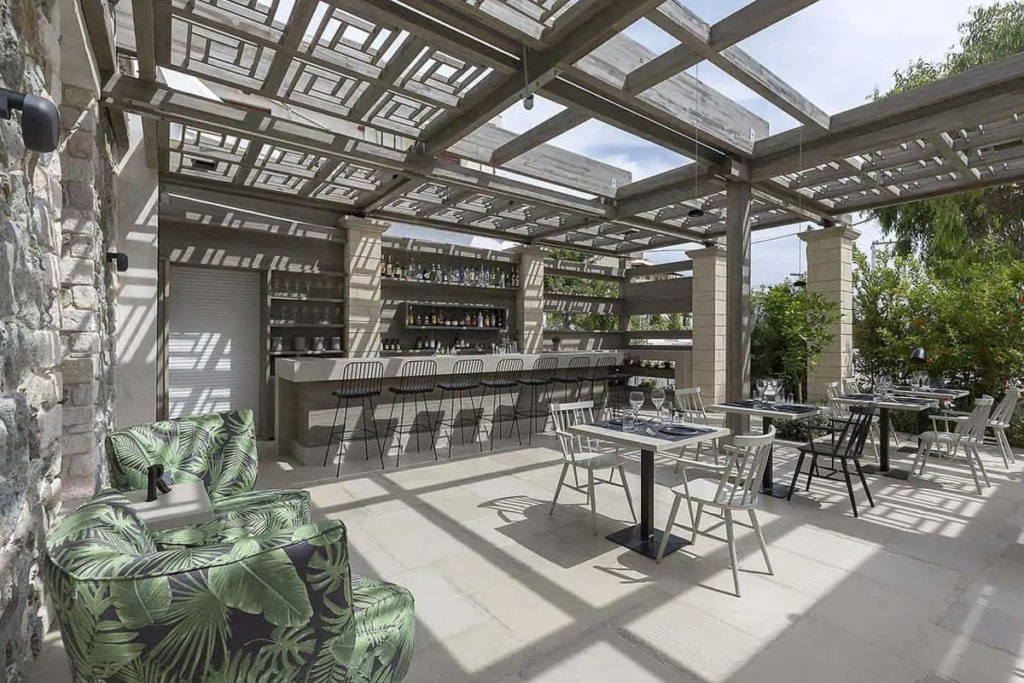 Barozzi. This farm-to-table restaurant in Naxos town is among the few or even the only one on the island offering a fine-dining experience inspired by Naxian cuisine and made with local ingredients. Acclaimed Greek chef Gikas Xenakis has designed a menu (executed to perfection by chef Kostas Votanos) that has been awarded the Aegean Cuisine certificate and constantly receives distinctions. Established in 2017 in a 1930s building renovated by Aliberti Projects with GFRA architecture, it is an upscale option for gourmet lovers. At the bar, Christos Houseas, one of the most imaginative Greek mixologists, creates signature cocktails exuding the essence of the Cyclades.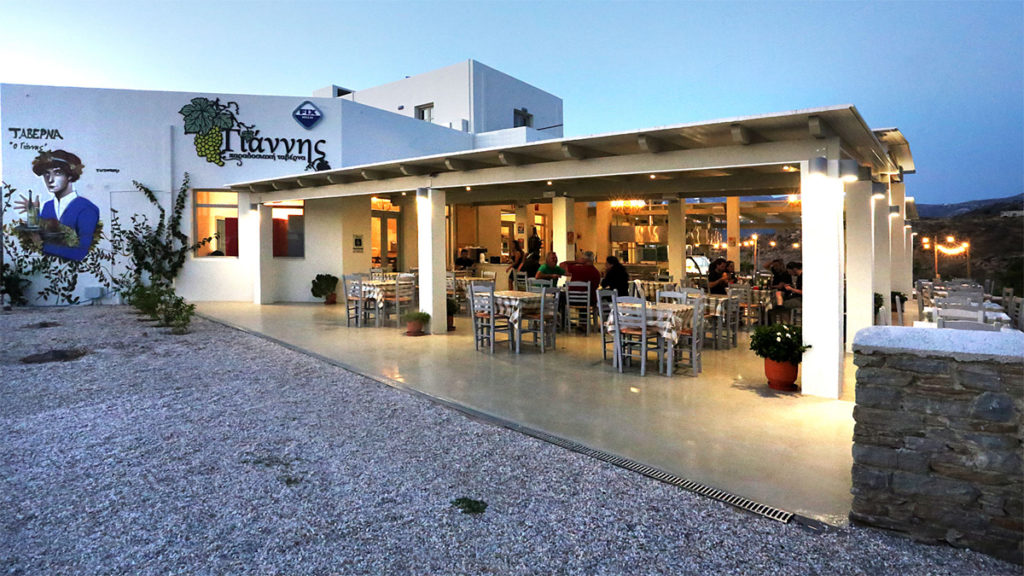 Yannis Tavern. A little outside its initial location in the village Chalki, this restaurant is known for delicious Naxian food with all the classics of this island cuisine. Meat comes from mountainous areas of Naxos while veggies and wine from their own gardens and vineyard. Raki (Greek liquor) is also among its products.
Lefteris. Located in the marble-made mountain village of Apeiranthos, this is a no-frills culinary gem serving the Naxian essentials such as masterfully grilled finest meats, pitas, cheeses, and Greek desserts.
Ios
In 1 hour and 45 minutes from Naxos the ferry will arrive at Ios. Built sparsely – mostly on its many hills and around the town or 'Chora' – Aegean Sea's party mecca for millennials is in fact a rocky island with tens of natural sandy beaches. Only 5 of them are over-organized with mega-beach clubs crammed up with youth vacaying on a budget. Dubbed 'Nio' by the locals, with a population of around 2,000 residents, it currently offers only small hints of luxury in the form of a few boutique hotels that are gradually opening. Real-estate-wise the Greek LuxurIOS group is owning now an important part of the land, committing to not building on it massively just to maintain the island's original character. That most probably sparks the interest of other potential long-term-profit buyers. As a curious island-hopping visitor, if you avoid Chora and its mass nightlife scene, the crowded beaches of Mylopotas, and all the famous sunset spots, you will discover the zero-party tranquil side of the island. The greatest part of the island is almost uninhabited. Your best option for a night or two is to find a nice hotel and relax there – including dining there because Ios is surely not a gourmet destination or a culinary hotspot yet.
Accommodation in Ios
Calilo. It's one of the very few outstanding luxury hotels on the island. Recently built, the 5-star whimsical sea view resort in the middle of a 1000-acre privately-owned plot of land on the stunning beach of Papas offers extraordinary marble interiors, private pools, an organic garden with a farm-to-table restaurant, a pool bar & lounge, a spa, and a private beach with full service that easily qualify as an earthly paradise.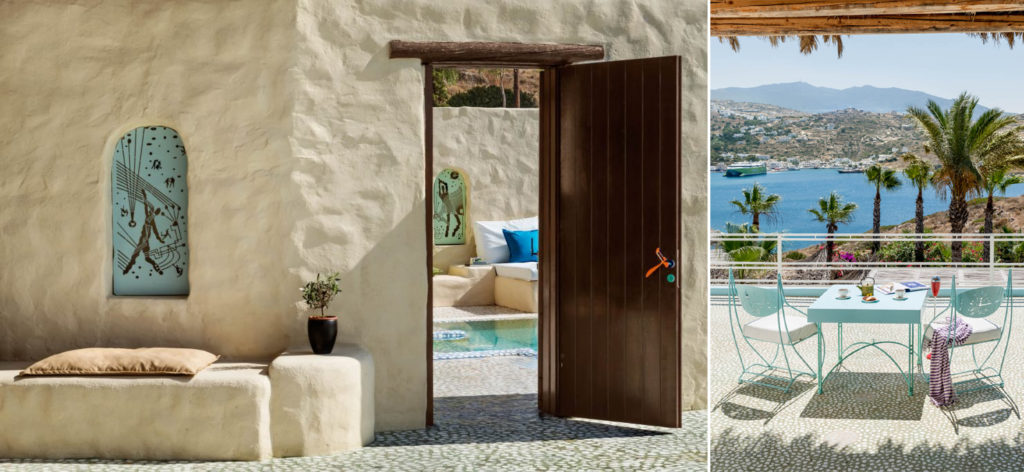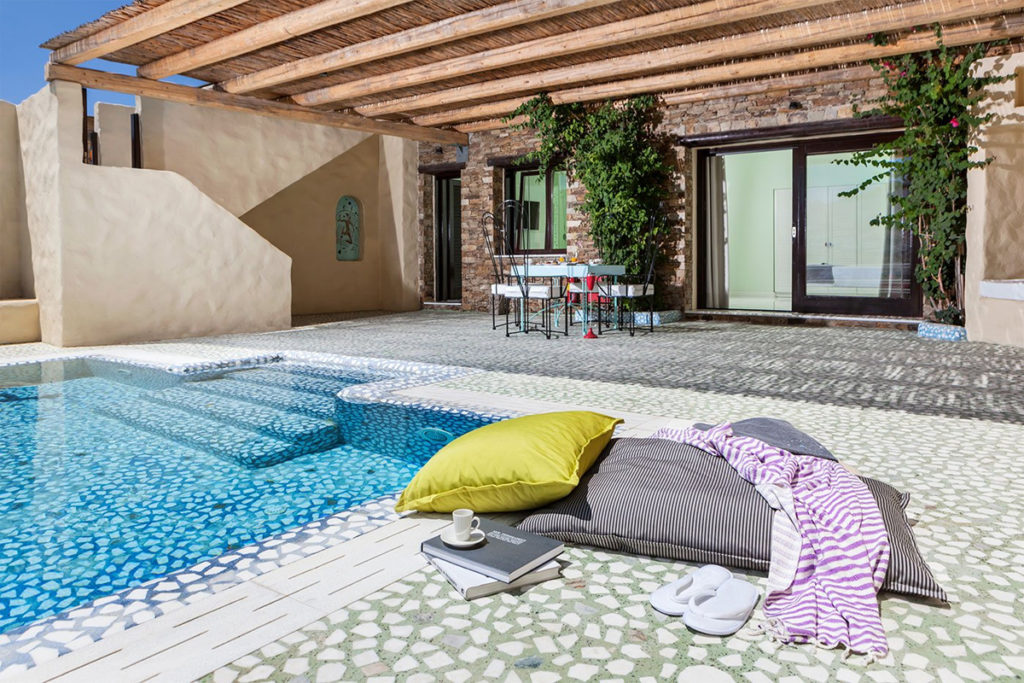 Agalia. Owned by the same LuxurIOS group, with a view to the port and Chora, this hillside luxury boutique hotel has an impressively large pool with a bar, 16 suites (6 of them with private pools), marble urban-style artsy interiors, Cycladic-inspired exteriors, and other luxury amenities.
Liostasi. This sea-view hillside luxury boutique hotel is equipped with Grandma's restaurant, honored with a Toques d' Or award in the category "Modern Cuisine" in 2019, 2020, and 2021, literally the only real fine-dining spot on the island. With multiple pools, an open-air movie theater, a spa, and a beauty salon, it is definitely an upscale accommodation option.
Levantes. 10 minutes away from the Port, this Cycladic-style boutique hotel with a view of the popular beach of Mylopotas, a swimming pool, and a couple of suites with private pools, will be a rather comfortable choice.
Ios Palace. 60 Cycladic-style rooms and suites (some with private pools), 3 main pools with a view to Mylopotas beach, a spa, a gym, a beauty salon, the Greek cuisine Tomatini restaurant, and other 5-star amenities will help you unwind and enjoy the moments.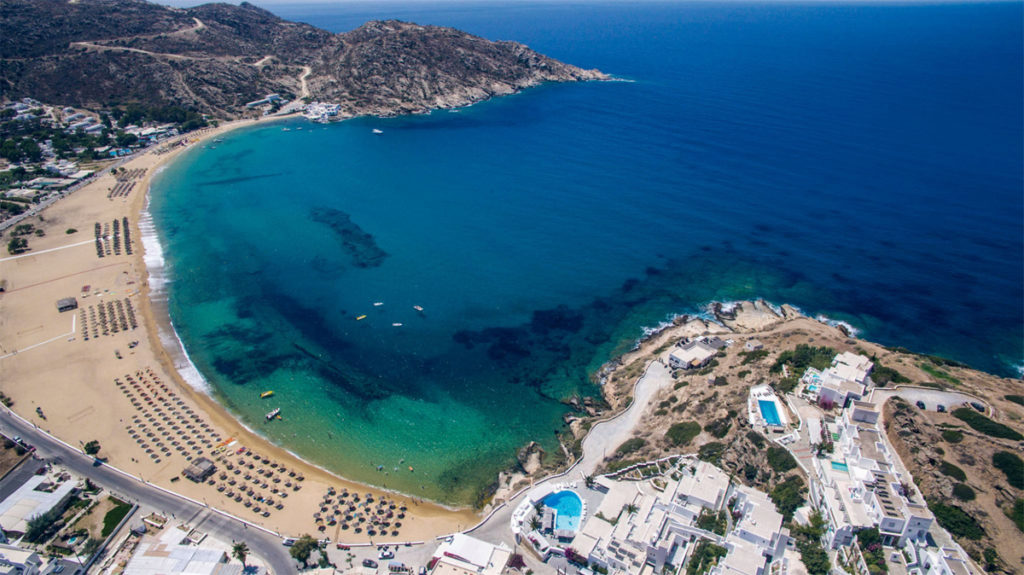 Things to Do in Ios
You can definitely swim on nice quiet sandy beaches such as Kalamos, Psathi, and Theodoti. Some others are quite beautiful but secluded and accessible either by boat or after a long or challenging walk. From the organized ones, you are recommended to swim in Manganari (3 beaches in one) which is organized but not too crowded due to its spaciousness. Make sure you visit the impressive and intricate Skarkos ancient settlement; one of the most important prehistoric archeological sites in the Aegean. And if you want to exercise out in nature, just follow one of the 10 marked hiking trails on the island. In terms of dining outside the hotel, you will more or less find many casual restaurants with the basics of Greek or Mediterranean cuisine such as Polydoros in Koumbara, The Mills, and Lord Byron in Chora. We also recommend a romantic, bohemian waterfront dinner at the Drakos Taverna, sunset drinks at the legendary Ios Club, and a well-designed fine-dining setting at the Almyra by the Sea restaurant in the Dionysos Resort on Mylopotas beach.
Santorini
In 35 minutes from Ios, the speedboat will be at Santorini (also a 45-minute flight from Athens) where white-washed houses stand against a colorful-cliff backdrop. This world-famous Southernmost Cycladic island is the largest of an island group that was formed in antiquity after many volcanic eruptions as a collapsed caldera. With more than 15,000 residents and over 2 million visitors per year, this cosmopolitan tourist destination is included on many traveler bucket lists. Partly the victim and the beneficiary of mass tourism, Santorini tries to balance between high-end amenities and traditional infrastructure, in some cases seeming that those aesthetics have stuck to the not-so-stylish 80s. Still, the uniqueness of the natural setting makes up for it, especially these dreamy sunsets in caldera-viewing Oia, Imerovigli, and Firostefani that are hugely adored by Asians and not only. A pre-wedding, wedding, and honeymoon destination, Santorini carries with it the stamp of a must-visit place. We are navigating this reality by suggesting only the most exclusive places, and the signature ones. If you really want to experience luxury, you are recommended to invest a little extra in a nice hotel and gourmet dining options. You are encouraged to try some luxurious 'hyposkapha' which are cave-style rooms created after digging in the abundant pumice with insulating properties. We will analyze Santorini more in a separate article, due to its endless aspects, but for the moment let's go through the basic suggestions as part of your Cycladic island-hopping experience and not as the main destination.
Accommodation in Santorini
Grace. Top-choice cliff-edged resort (Auberge Resorts Collection) with the best swimming pool and modern Cycladic décor; its caldera-view suites in Imerovigli are getting fully booked fast. Perfect for extended stays, the hotel's 400-square-meter luxury villa offers space and privacy along with access to unparalleled amenities. Equipped with a full kitchen, dining area, swimming pool, and an expansive outdoor terrace, it can be either used as the ultimate one-bedroom honeymoon suite or as a two-bedroom suite. This hotel boasts the local branch of a famous Greek restaurant, Varoulko Santorini, where Michelin-starred chef Lefteris Lazarou delivers a fresh take on Greek and Mediterranean cuisine. Signature dishes like squid with pesto Genovese and crayfish tartare with basil and yuzu showcase the island's abundant fresh ingredients. Enjoy these culinary masterpieces while savoring stunning Caldera views from the hotel's prime vantage point.
Mystique. Carved into the caldera cliffs of Oia, 41 Cycladic-style luxe suites and villas (Marriott's Luxury Collection) are complemented with sea view pools, a spa, a gym, and fab restaurants; one of them at a century-old mansion. Discover the hotel's new restaurant, "Lure" by Olivier Campanha, a modern oasis inspired by the Mediterranean, highlighting the rich local epicurean heritage.
Perivolas. A short walk from sunset-central Oia, in a caldera-view cliff where 300-year-old fishermen's caves were restored, 20 unique suites are complemented with a wine-cellar restaurant, a gym, and pools. Chef Theodoros Kakoulis has created a contemporary Greek menu and daily specials using the flavorful seasonal local produce, served with authenticity and simplicity.
Aenaon Villas. Cycladic minimalist caldera-view luxe villas in Imerovigli — with Charissa probably being the most exquisite of all — plus an infinity pool offer privacy in an ultra-stylish setting.
Vedema. This Marriott resort in the medieval village Megalohori – based on a 400-year-old wine cellar and a 100-year-old mansion — houses 59 spacious suites & villas with their own terraces and some with private pools; plus a cave restaurant called Alati and a poolside one.
Katikies. Enjoy the sunset in Oia from your Cycladic-style suite, the pool, the Seltz Champagne Bar & Restaurant by Fleur de Miraval (a rosé champagne house co-founded by Brad Pitt), or one of the sea-view restaurants. Experience the holistic approach spa. The Katikies Collection includes more locations and luxury hotels including the highly-recommended, 5-star Katikies Garden. Nestled in the historic town of Fira, Katikies Garden is an enchanting holiday retreat with a bespoke collection of 40 suites, and beguiling wellness & leisure offerings. A converted monastery, the historic building stuns its guests like no other, offering an intimate sanctuary of sophisticated yet pared-back spaces. The group also gives you the opportunity to sail aboard the hotel's private yacht with its experienced crew and discover hidden "gems."
Andronis Concept. At caldera-view Imerovigli, 28 pool suites and villas offer 5-star wellness-focused service including the gourmet restaurant Throubi and a spa. Wood and other raw materials are zen decorative touches. The Andronis group includes some other locations on the island of which we equally recommend the Andronis Boutique Hotel, the Andronis Arcadia, and the Andronis Luxury Suites in Oia.
Rocabella Santorini. Perfect caldera-view location in Imerovigli and luxe amenities for 42 rooms and suites are combined with dining and wellness options. Indulge in the luxury and sophistication of a top-rated two-bedroom suite featuring spacious comfort and style in harmony with the outstanding excellence of Cycladic décor and cherish moments of bliss on an expansive veranda with a private Jacuzzi overlooking the volcanic cliff of caldera. Or opt for smaller suites with mini plunge pools. Inspired by a rare local natural phenomenon, the hotel's Anedosa Spa by Ariadne Athens offers a unique beauty & wellness experience.
Cavo Tagoo Santorini. Almost as luxurious and fancy as its sister hotel in Mykonos, it has elegant suites with private pools, a chic pool bar, and a spectacular caldera view in Imerovigli. Back in 2021, the hotel welcomed one of Greece's most influential chefs, Ari Vezené, and his eponymous bistro, widely considered an Athenian locals' favorite for over a decade. Enjoy flavors fueled by the aromas of an open-fire grill, the traditions of a Greek taverna, and the elegance of a French bistro.
Kapari Natural Resort. It is a recently restored 300-year-old complex of caves and traditional residences in Imerovigli with 5-star elegant amenities & facilities and a caldera view.
Cosmopolitan Suites. This modern Cycladic caldera-view 4-star boutique hotel in the capital Fira offers easy access to nightlife.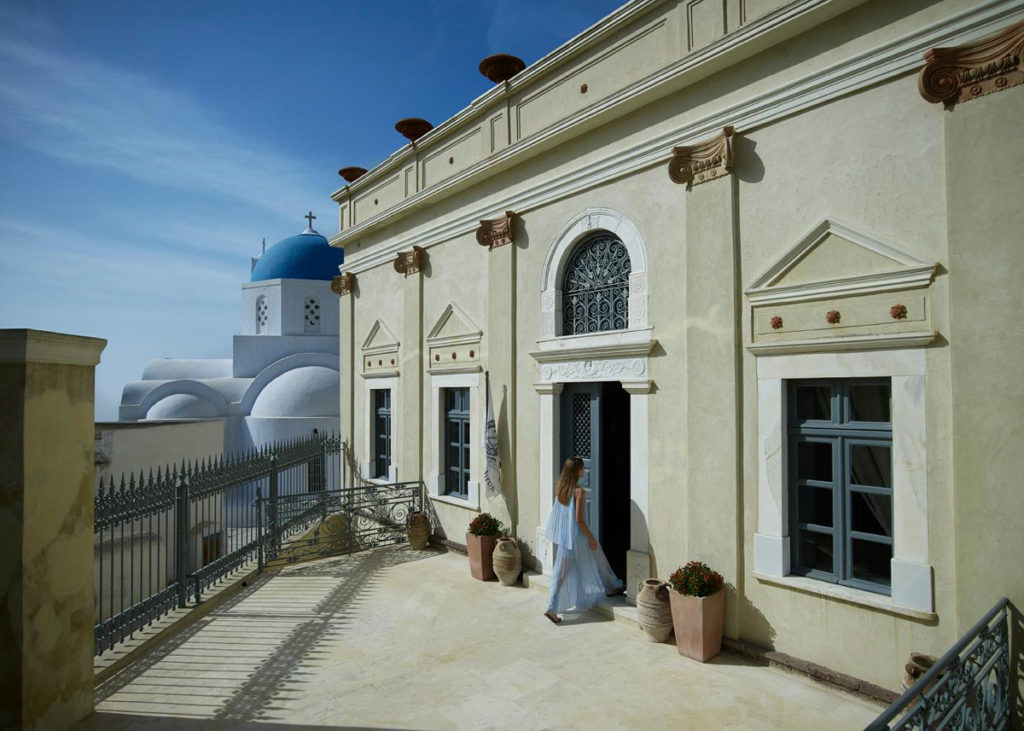 Zannos Melathron. A renovated 19th-century mansion and 18th-century villa, located at the medieval village Pyrgos, have charming rooms decorated with Renaissance-inspired murals; plus a distant-sea-view pool & restaurant.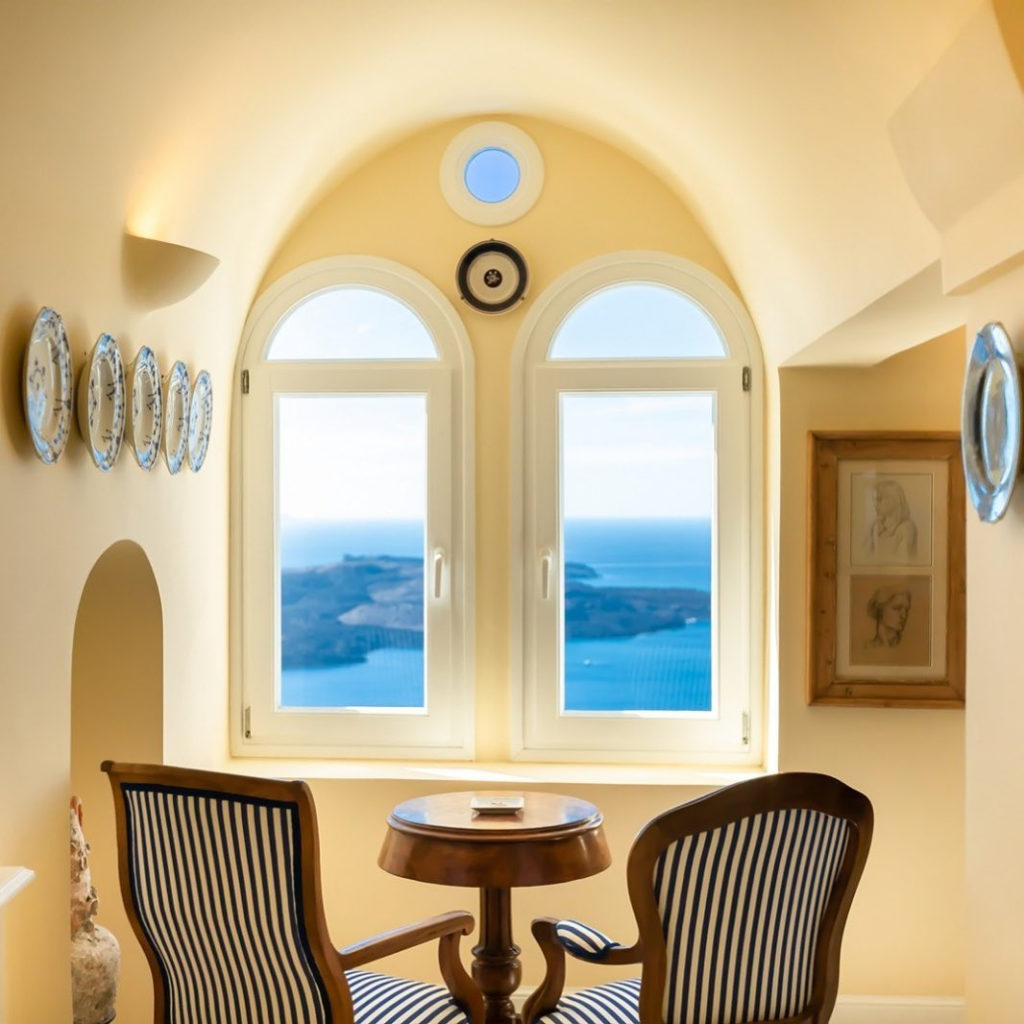 Tsitouras Collection. This renovated mansion built in 1780 in Firostefani is filled with antiques and works of art collected by wealthy lawyer Dimitris Tsitouras. It features a caldera-view pool, and one of the 5 suites was designed as an homage to his friend Rudolf Nureyev. Gianni Versace, Jean-Paul Gaultier, Joan Kennedy, Peter Stein, Hugh Jackman, Catherine Deneuve, Pedro Almodovar, Domenico Dolce, and Michael J. Fox have been among its many other prominent visitors through the years.
Things to Do in Santorini
Smaller islands like inhabited Therasia (check Perivolas Hideaway) and uninhabited Nea Kameni (near the dormant active volcano), Palaia Kameni (swim in its volcanic hot springs), and Aspronisi (that translates as White Island), can be the stops in a boat tour to the caldera. 3,600 years ago at the height of the Minoan civilization (ancient civilization in Crete), Santorini which was culturally and commercially connected to Crete, became the site of one of the largest volcanic eruptions in recorded history that also caused a tsunami toward Crete. An extraordinary Minoan town called Akrotiri (first excavated in 1967) dating back to as early as the 5th millennium BC and abandoned in the 16th century BC has been amazingly preserved with its masterful multicolor frescoes under solidified volcanic ash and can now be visited in some of its areas, as part of your recommended sightseeing along with the Museum of Prehistoric Thera (another name for Santorini). The East coast of the island has no cool view of the caldera and hence it's less exclusive; its black-sand beaches, such as Perivolos, Perissa, and Kamari, are massively visited and filled with buzzy beach bars and restaurants. Monolithos is the only less crowded black beach. The famous Red Beach is unique but often packed, the Eros Beach has the amazing Theros bar and sunbeds, and the all-natural White Beach is quiet and spectacular. In the busy capital Fira, Odos Ipapantis dubbed as 'Gold Street' is known for its jewelry shops; for Greek-inspired fine jewelry visit Poniros and Ilias Lalaounis. Shopping is a great pleasure at the Speira Santorini Concept Store.
Wine Tasting in Santorini
Volcanic (although arid) land and its mineral-laden soil are an ideal setting for local vineyards that organize excellent wine-tasting sessions & tours – try the indigenous grape variety called Assyrtiko (white wine type) and the barrel-aged intensely sweet Vinsanto dessert wine.

Vassaltis Vineyards. The latest addition to the local wine scene produces among the best Assyrtiko wines.
Volcanic Slopes. Its story as a winery and as a 'canava' (traditional wine-making space) goes back to the 18th century. Try their 'Pure' Assyrtiko and labels from other producers.
Venetsanos Winery. Dating back to 1947, it is the first industrial winery on the island. Taste their own Assyrtiko, Rosé, and red wines on their sunset terrace.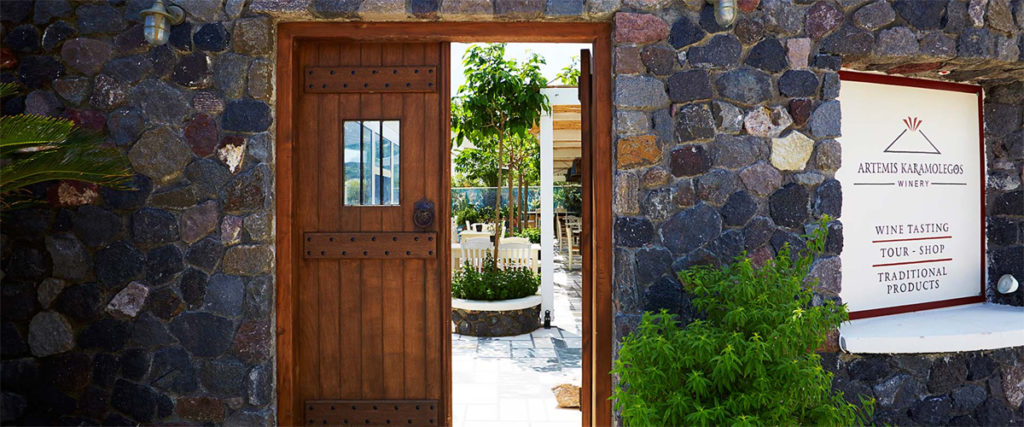 Artemis Karamolegos. The 3rd largest winery on the island producing 11 different wines is complemented by a farm-to-table Greek restaurant.
Boutari Santorini. One of the most awarded Greek winemakers organizes food & wine private and semi-private tours, plus tasting at their restaurant.
Estate Argyros. Established in 1903, these 70-year-old (on average) vineyards produce outstanding indigenous varieties and offer you a stylish wine-tasting culinary experience or an exclusive custom tour.
Check more about the finest Greek wines HERE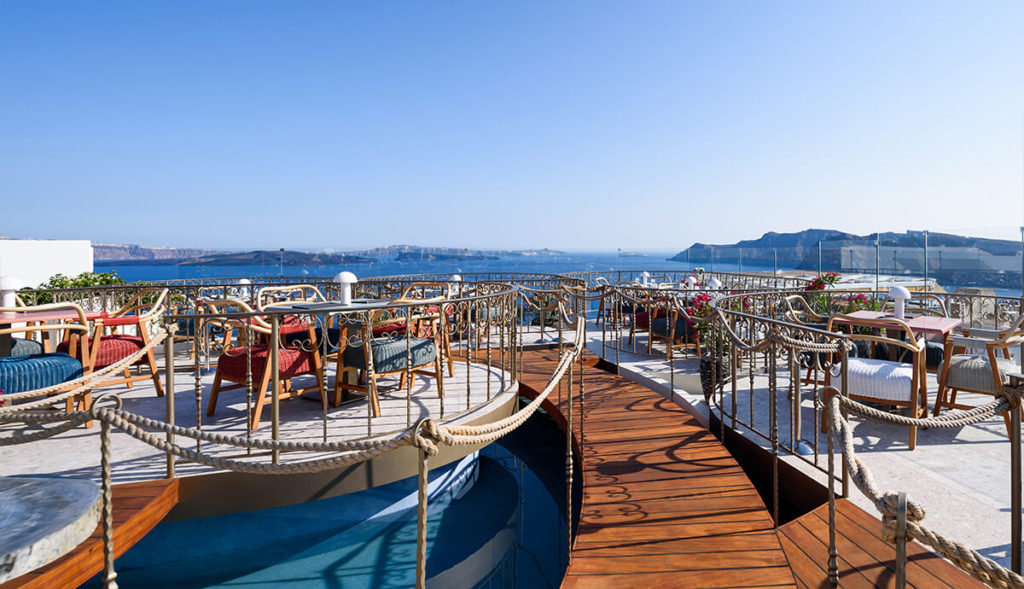 Restaurants & Bars in Santorini
Naos. One of the finest dining experiences is taking place in Oia town, in a superbly renovated majestic mansion (captain's house) of Aegean architecture aged back in 1845. The purity of flavors and respect for the exceptional local ingredients are at the core of our gastronomic identity. Multi-awarded executive chef Theodoros Kakoulis' philosophy is about creating authentic dishes inspired by the Greek and Mediterranean culinary heritage. Boasting a career stint at the 3-Michelin-starred restaurant "Maaemo" in Norway, he has cooperated with some of Greece's emblematic restaurants contributing to their success and recognition. At Naos, the best Greek products, the freshest local fish, and some of the world's rarest gastronomic treasures are delicately treated to compose an intriguing menu with a creative spin on traditional recipes. The captivating view of the terrace and advanced cocktail bar make a lively and radiant setting that embraces this sensorial journey through flavors and aromas.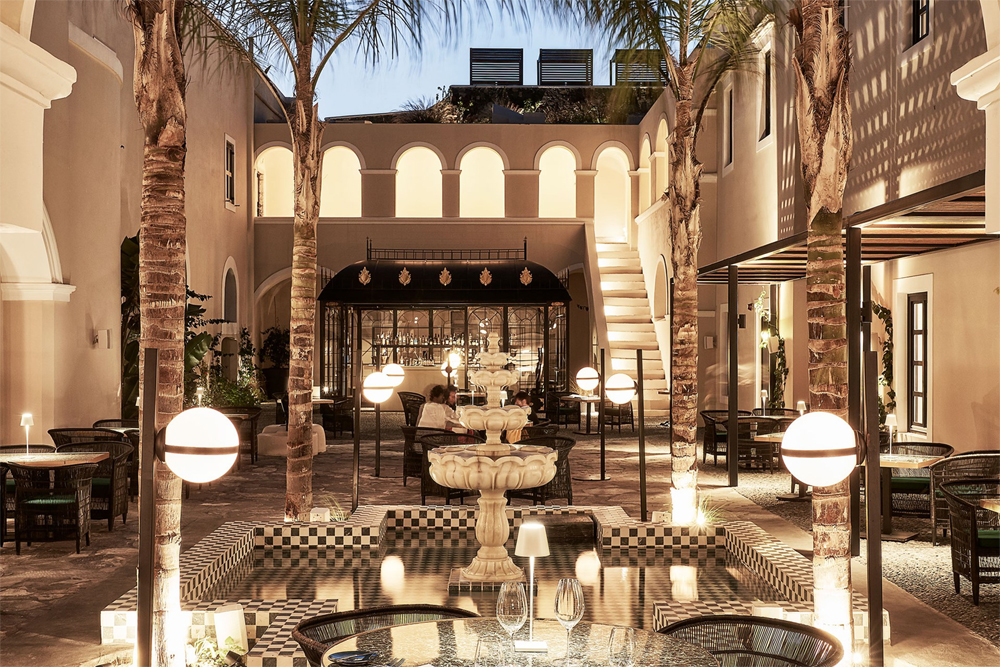 Selene. Inside Katikies Garden Resort, at a historic building formerly housing a Catholic monastery in Fira, it serves inventive Greek gourmet and Greek wine pairings. Giorgos Hatzigiannakis and his Selene Restaurant are names connected, like no other, with the rediscovery and promotion of the culinary treasures of Santorini. Back in the summer of 2021, the restaurant announced its collaboration with Michelin-star Corfiot-Italian chef Ettore Botrini who transforms the local fine ingredients into contemporary dishes, evolving the gastronomic scene of the island. In the passage of the Selene restaurant to its new era — on its 35th-year milestone — "I meet with the man I always admired to take and continue, his vision, with respect to his course and work," Mr. Botrini remarked. Sounds like a match made in heaven!
Aktaion. Operating since 1922 under 3 generations of the same family and with the current owner filling the cute traditional space with his own artworks, this historic restaurant serves still the same delicious dishes. Santorinian dishes like fava, korkosela (eggs with fresh tomato and green bell pepper), Santorinian salad with codfish, octopus with fava and sweet capers, the historic Santorini tomato balls, chloro cheese of Santorini, skordomakarona (pasta with garlic), and moussaka in the oven, and a range of options with meat and seafood plus various daily specials, and wines from the island's historic vineyards accompany in the most tasteful way the view to the world-acclaimed caldera of Santorini.
Seaside Santorini. This is your chance to enjoy Mediterranean gourmet seafood in a stylish beach-front restaurant, bar, and lounge in Perivolos. The experience includes a full-service beach and a fashion boutique. In the kitchen, Mediterranean flavors elegantly blend with the creative funky culinary "remixes" and the personal style of chefs Tassos Bacharidis and his business partner Maria Christofidou.
Ambrosia. This upscale & posh caldera-view Mediterranean gourmet restaurant in Oia is world-famous. Enjoy your candlelight dinner on the panorama terrace overlooking the caldera or dine in one of the two antique-filled indoor spaces.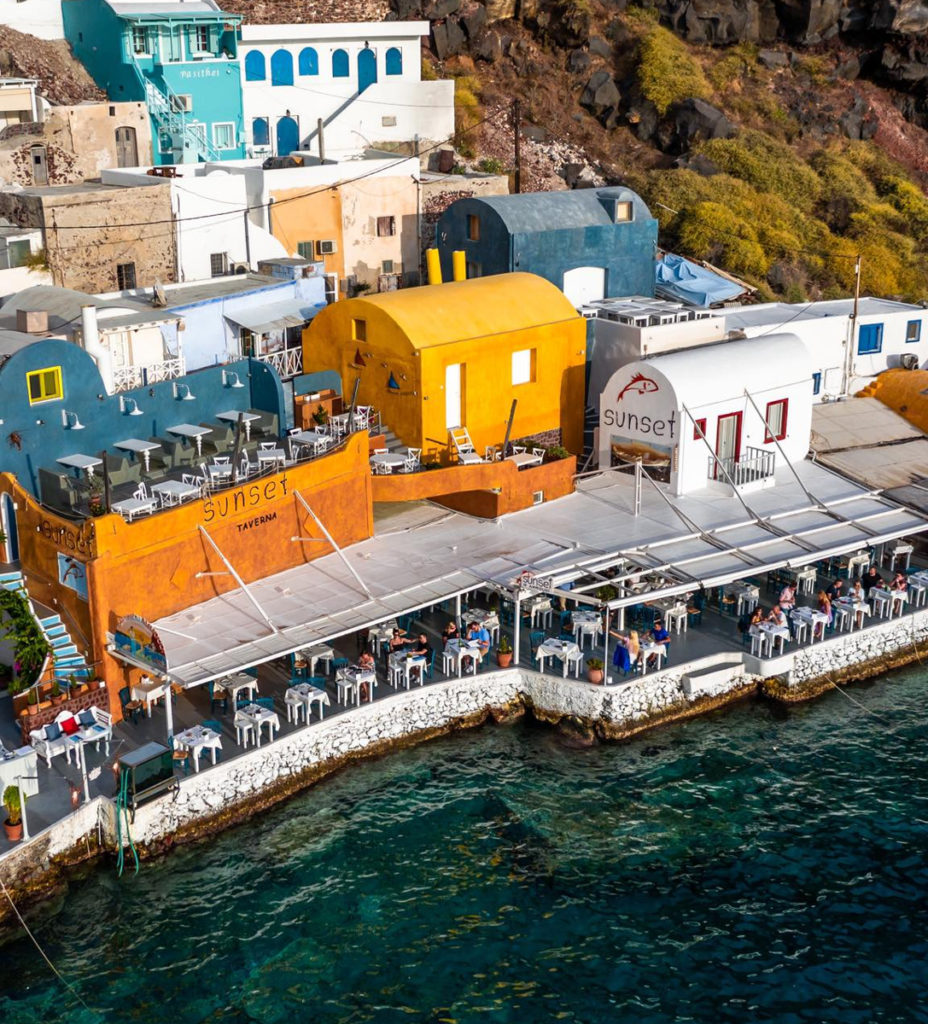 Sunset by Paraskevas. This simple 30-year-old restaurant at the port of Ammoudi has a top-secret recipe for lobster pasta and the freshest seafood picked by a former fisherman. Paraskevas and his wife Margarita in the kitchen make sure your effortless, idyllic lunch or dinner is pure delight.
Along with premium-level luxury accommodation, we must say that the Andronis group has done a magnificent job with its restaurants in its hotels in Oia. If upscale dining is your thing, try Lauda in the Andronis Boutique Hotel, built on a rock in 1971, as the village's first restaurant, today a gourmet destination with a menu developed by 3-Michelin-star chef Emmanuel Renaut. Try also Pacman for sushi and the new 2023 opening of the Beefbar Santorini in the Andronis Arcadia. Finally, don't miss Lycabettus in the Andronis Luxury Suites on one of the most romantic terraces of Oia.
Marykay's Hassapiko bar. This former butcher's shop in Oia turned into a cute 24-hour spot for drinks & snacks indoors, but especially outside on the pedestrian street, is the meeting point of a global clientele since 1991. The DJ in this cult spot plays funk, jazz, disco, house, latin, rock, and more, adjusting to preferences.
Tango. This established caldera-view champagne & cocktail bar at Fira has the most majestic cliff-side terraces. Minimalist lines, sophisticated décor, smart touches, and acclaimed guest DJs create an irresistible atmosphere, hence it is getting packed after midnight.