Spring/Summer Island-Hopping Luxuries in Greece – Part II
From late March onwards some of the islands start having few daring visitors especially when the temperature rises a bit above seasonal levels meaning above the 20C/68F mark in the daytime. Some prestigious hotels kick off the spring/summer season in mid-April. Our recommendations around that time of the year include either islands that are very close to Athens and the mainland, or those that are so big, organized, and populated that they maintain a tourist cycle almost throughout the year. For island-hopping to be a successful operation such islands have to be near each other. You can reach them via either a boat ride or a maximum 45-minute flight or a combination of a short drive and boat ride. A boat ride among these islands can last from 20 minutes to maximum 5 hours. Always opt for the high-speed ferry if available as an option. For added privacy and fun, you can enjoy island-hopping in the most quintessentially Greek way; sailing. Availability of boat charters and professional skippers/guides runs high in mid-season, and the idea of exploring a small group of islands on a sailing boat with stop-over nights in various island ports proves fascinating in practice. Clear blue skies and blooming Greek nature diffusing herb aromas are usually part of the experience. Although the chapter on island-hopping in Greece is eternally open to additions and revisions, we will try to narrow it down to suggestions that feel convenient and luxurious in springtime weather. Pack in your luggage windbreakers, puffers, and trenchcoats because summer can come as late as mid-May. The longest version of our itinerary goes through the following stops:
Downtown Athens – Piraeus Port – Syros – Tinos – Mykonos – Paros – Naxos – Ios – Santorini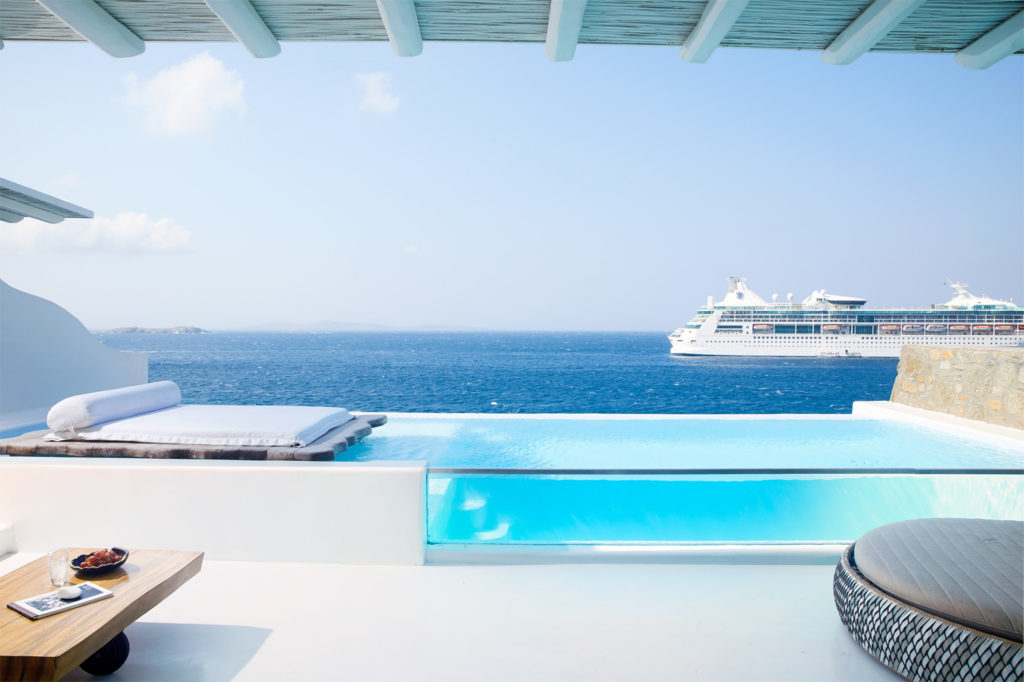 Cyclades is the second group of islands closest to Athens (after the Saronic ones) that includes popular destinations such as Mykonos and Santorini. All-white houses are characteristic of the local architecture as seen in most Greek postcards, yet there are colorful variations. Island-hopping is highly recommended there due to short distances between them. Take a boat (speed ferries are highly recommended) from the Port of Piraeus which is a 30-minute drive from downtown Athens and begin your journey. Ferries usually hop from one island in the group to the next, so you are encouraged to stay for 2-5 days on each and ferry your way among them. Tickets are rarely selling out in springtime – except for the Orthodox Easter long weekend – so you can book for the next island on the spot based on your mood. Cycladic islands are known for the Cycladic civilization (3200-1050 BC), with visible ancient ruins in various sites and museums, which means great sightseeing. They are usually dry rocky islands and some of them (Mykonos, Paros) can get windy. Graced with beaches of rare beauty, these relatively small islands are major tourist attractions.
Syros
With speedboats getting you there from Piraeus port in 2-4 hours as well as available direct flights from Athens Airport, this island is definitely an interesting first stop – not so cosmopolitan as others in the group – but still very unique in terms of culture and attractions. Known for its musical heritage, the island offers you the opportunity to be part of an array of festivals and other cultural events.
Accommodation in Syros
Aristide. Housed in a newly restored mansion in the historical center of Ermoupolis, in the aristocratic Vaporia (Greek for "Boats") neighborhood, once a residential one for shipowners and industrialists, this boutique hotel combines old-world elegance and contemporary design. With its dramatic marble staircase and Doric columns, the building is an architectural gem showcasing Greek Neoclassical and Art Deco styles. From common to private areas, guests can enjoy the spaciousness of a grand home together with celebrated interior design pieces and a private art collection. It provides you with a selection of 9 incredible suites, an art gallery, an artists' residence & workshop, and two bars. Almost all suites have high ceilings, sea views, balconies or terraces, and private plunge pools or stone bathtubs. Already, the hotel's breakfast was praised for focusing on local and organic ingredients. The addition in 2022 of its own vegetable and fruit garden gives you the opportunity to enjoy an excitingly creative seasonal menu inspired by local recipes. All coffees are made to order by the barista. In addition to established breakfast staples, the menu includes dishes such as Tirititim eggs, San Michali saganaki and caper preserve, or zucchini tart with yogurt. Another new development is the opening of its rooftop restaurant treating you with contemporary Cycladic cuisine. Panoramic views over the Aegean Sea and 'the most comfortable chair in the world' (Honoré's vintage Croisette armchair) make for an unusually relaxed fine dining experience. You can drink a cocktail in the shade of trees or on the sea-view rooftop. The beach is an 8-minute walk away, making it a convenient choice for luxury travelers.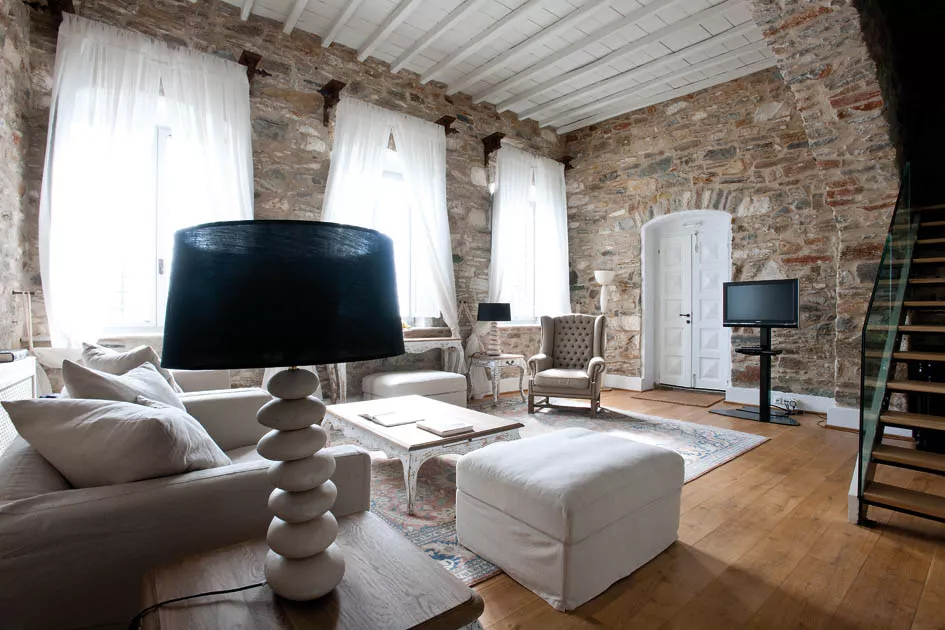 Hotel Ploes. In a 150-year-old two-wing neoclassical mansion in Ermoupolis, renovated at the end of the 20th century, you will find one luxe suite with a private spa, 8 rooms, and various others majestic spaces decorated with art and antiques. The café-bar 'Plous' at the hotel's front yard has an amazing Aegean sea view. Plus you will have direct access to swimming. Handmade rugs, genuine Venetian chandeliers, marble bathrooms, fine chinaware, and classic furniture are a visual treat for the guests.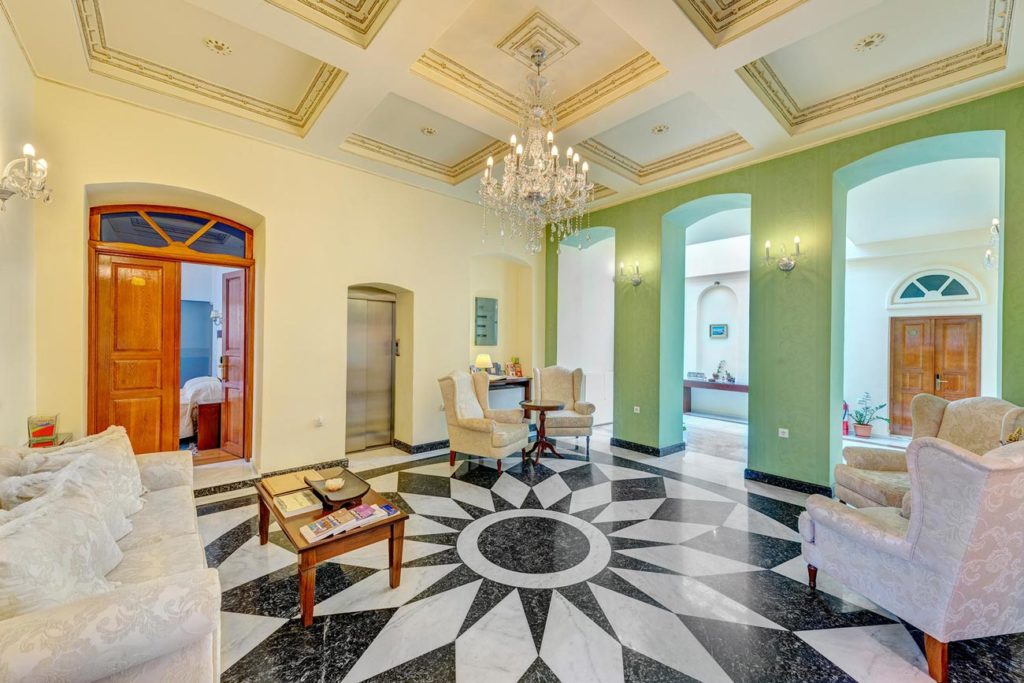 Apollonion Palace. In a historic 19th century building in Ermoupolis that was renovated in 2009, this 5-star hotel offers spectacular sea view, elegantly decorated classical spaces, an open-air bar, and roomy suites, including the Presidential.
Benois. Located at the seaside resort of Galissas, near a sandy organized beach fringed with trees and flanked with restaurants and shops, this boutique hotel is inspired by the surrounding nature and its raw materials. Serving breakfast with local products is definitely a plus, as it is the swimming pool with a bar, sunbeds, and an outdoor gym.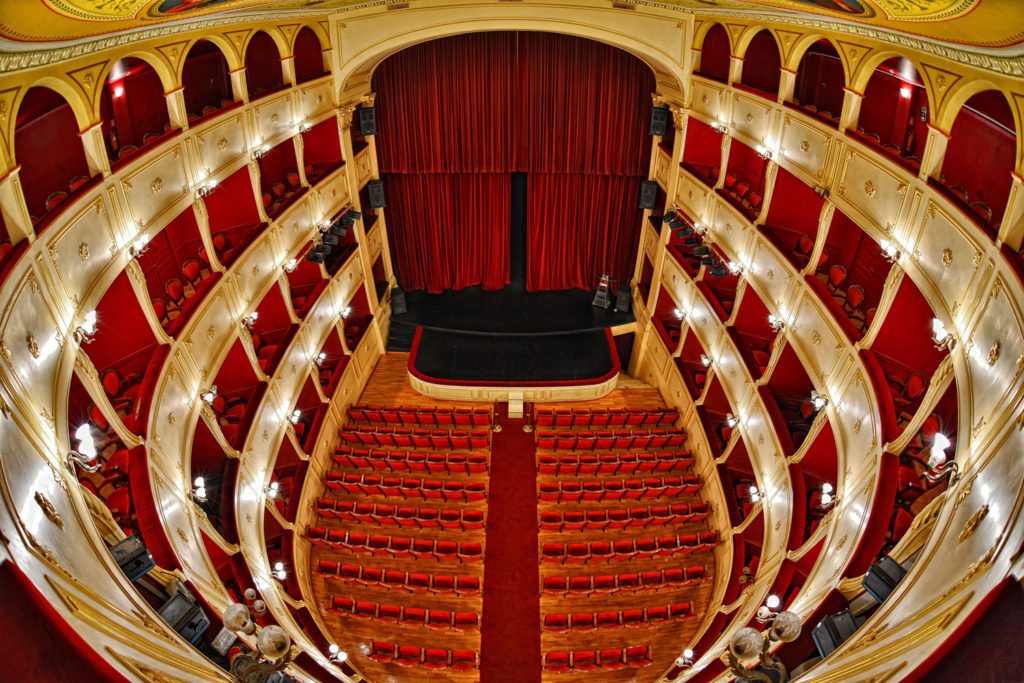 Things to do in Syros
Ermoupolis, which translates as 'City of Hermes', is the port and capital of the island and of the Cycladic group. Graced with 19th-century neoclassical-style mansions, it features beautiful landmark buildings such as the City Hall (designed by German architect Ernst Ziller) and the Apollo Theater by Italian architect Pietro Campo (a miniature version of the La Scala in Milano) where you can watch performances. Upon entering the harbor you will also notice the Neorion shipyard which is still in operation for repairs and refittings. Archeological sites include the settlement of Kastri that dates back to the Early Bronze Age of the Cycladic Civilization, around 5,000 years ago. Syros has many Greek Orthodox churches – among those the one called Koimisi tis Theotokou (The Dormition of the Virgin Mary) with an El Greco masterpiece in it – as well as catholic churches and villages (due to the Venetian rule in the Middle Ages); points of reference for the Catholic Church in Greece. Among other high-profile institutions on the island, you will find many European consulates.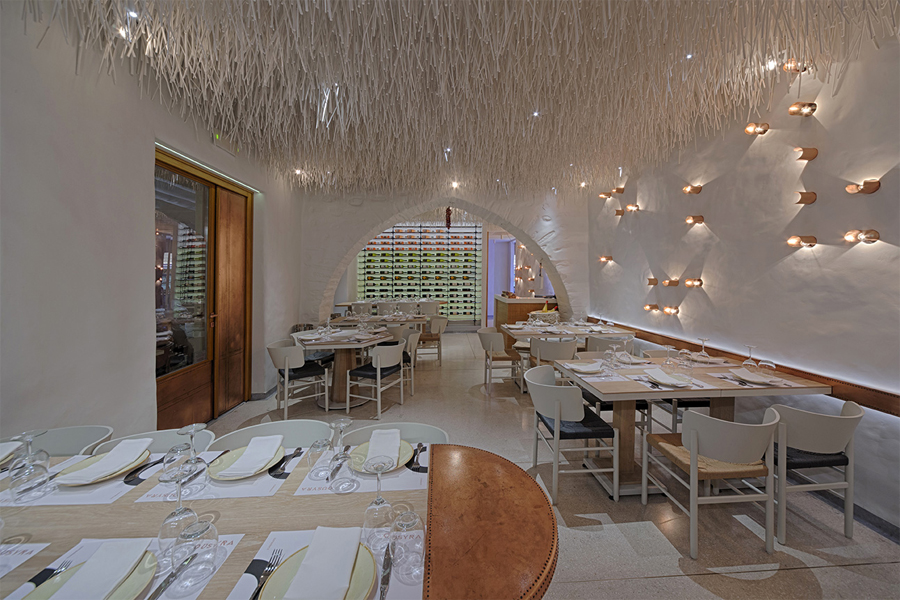 Restaurants & Bars in Syros
Nightlife comes down to casual restaurants, bars, the Casino, and Ano Syros which is a hilltop medieval neighborhood northwest of Ermoupolis, built also by the Venetians and filled today with mezedopoleia (casual restaurants serving Greek mezze snacks) often accompanied with live local 'rebetiko' music by small bands. Among other delicacies try local types of cheese, 'chalvadopita' cake, and 'loukoumi' marshmallows. For traditional Greek desserts and a great view there, stop by the Apanochoritissa café hidden in a maze of small streets. The seafood, beachfront restaurant you are highly recommended not to miss is Iliovasilema by chef Kostas Bougiouris with a clear focus on modern Greek cuisine and Cycladic origins. Another great culinary option is Allou Yialou on Kini beach. In Ermoupolis try Ousyra by chef Costas Tsingas, a professional cook and journalist, for an Italian-focused Mediterranean menu that includes pizza and pasta served in an ultra-chic, well-designed space. For a romantic night nearby, add to your to-dos Mazi, nestled in a scenic cobblestone alleyway bordering the Miaoulis Square, the cultural hub of Syros. Its enchanting garden is the perfect setting for fine dining and cocktails. The farm-to-table menu is a mix of Greek tradition and global gastronomic trends. An equally creative approach can be seen at Django where gelato and sorbet flavors are handmade with secret recipes and the freshest ingredients (a second one opened in Athens).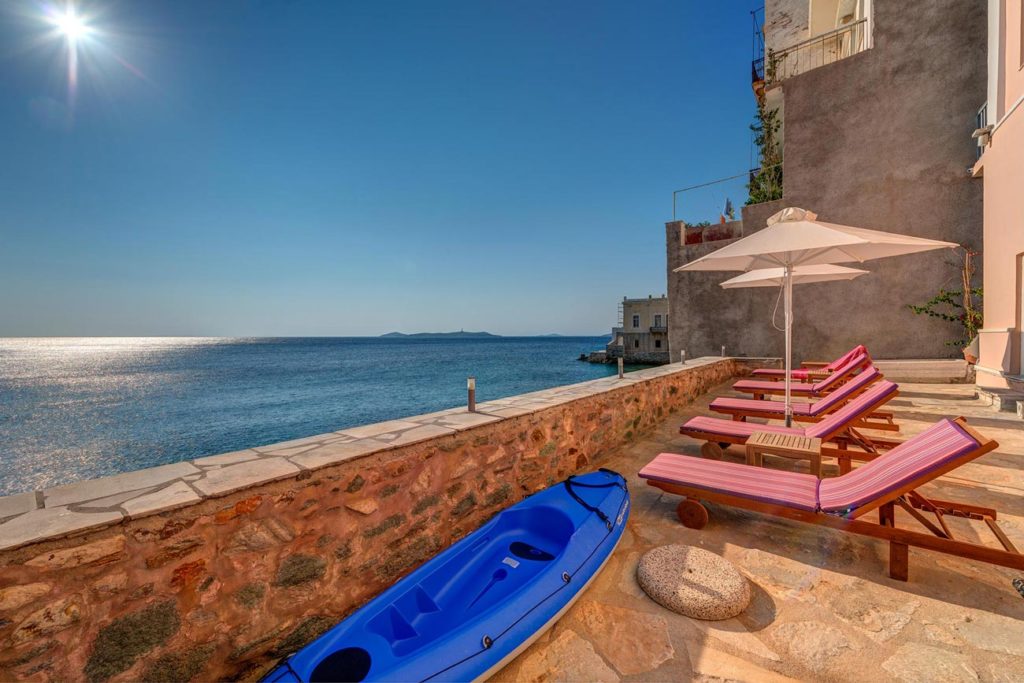 Tinos
In 30 minutes from Syros, the ferry will get you to the next island Tinos (just check the ferry schedule at a local travel agency and book on the spot). Known primarily as a center of an annual pilgrimage that attracts orthodox Christians to its main church Panagia Evangelistria holding the miraculous icon of Virgin Mary, it has served as an artistic destination and birthplace of important Greek painters and sculptors. With around 80 windmills, Venetian fortifications uphill, dovecotes, and 50 vibrant villages, it inspires a serene, sophisticated attitude.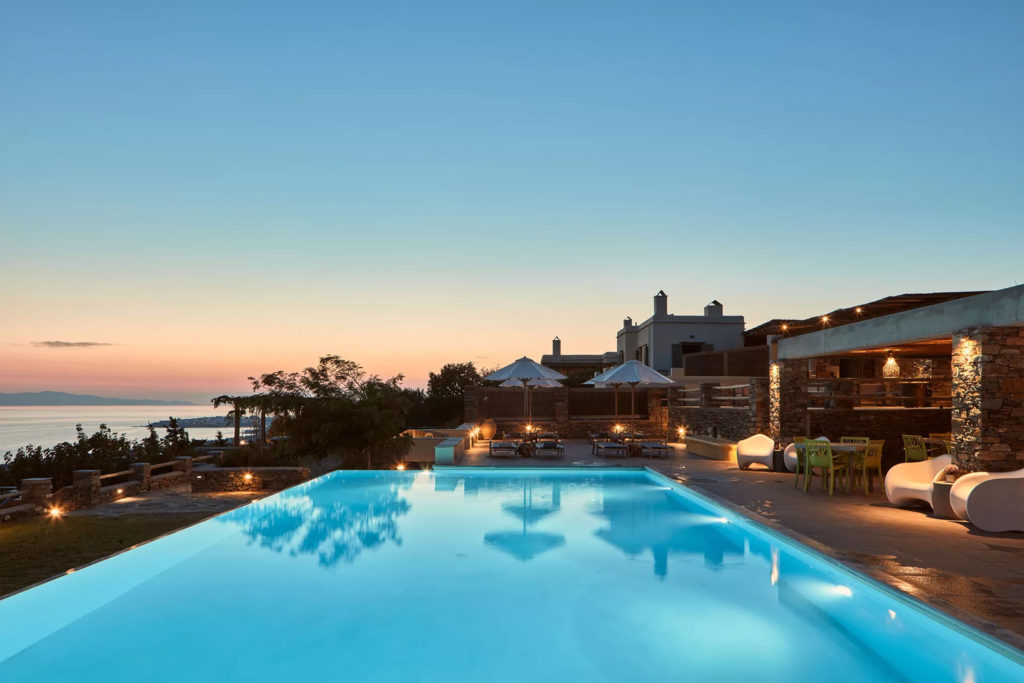 Accommodation in Tinos
Diles & Rinies. In a quiet inland area with breathtaking Aegean sea view, this 8-acre estate is built with 8 roomy villas meeting sustainability standards. Complemented with vineyards, olive tree, herb, and flower gardens, a large infinity pool with bar, a few private pools, an art gallery, and a gourmet farm-to-table restaurant, it is the perfect setting for ultimate relaxation. Beauty and fitness services add up to the experience. The estate has a view to and is named after two tiny uninhabited Cycladic islands (Delos and Renia located off Mykonos) that were dedicated to the cult of Apollo and are usually visited for their ancient ruins.
Mr. & Mrs. White. Near the beach of St. John and a few minutes away from the town, this charming boutique hotel that is mixing modern clean aesthetics with traditional elements, offers high-quality services and amenities including a freshwater swimming pool, a chic lounge area, gardens, and a restaurant.
Infinity View Tinos. Built in a privileged position – 1,480 ft/ 450 m from the beach of Stavros and 0.8 miles/ 1.3 km from the organized beach of Kionia on the island of Tinos – with a panoramic view of the Aegean, this place is pure magic. Each room of the hotel exudes an atmosphere of airy luxury, harmoniously combining its elegant bohemian character with the characteristic elements of Cycladic architecture and tradition. In its 16 suites, a unique experience of comfort and relaxation awaits you. All are fully harmonized with the natural landscape, but each has its own unique style. The attention to detail and the minimalist decoration give the feeling of staying in a familiar space with high-quality facilities. Staying at Infinity View becomes even more idyllic at sunset when the suites are illuminated by nature's unique colors. Pick a suite with access to the main pool or one with a private pool; the sea view is equally mesmerizing.
Xinara House. This spectacularly restored former bishop's home in the heart of rural Tinos consists of two private adjoining villas you can book separately or together. Every single detail is beautifully marrying Cycladic tradition with cosmopolitan modernity. Indoors, original carved marble fanlights and plasterwork are combined with modern bathrooms and kitchens. On hilly terrain, surrounded by private tiered gardens with mature mulberry, walnut, almond, and other fruit-bearing trees, as well as areas where the owners grow organic vegetables for their guests, this is an amazing new entry, an elegant place of ultimate relaxation. Wander among ancient cactuses, olive and citrus trees, or hang-out up at the pool terrace. Island pebble-patterns are laid on one terrace while another is laid with marble. There is even a newly-planted vineyard for their rosé and a welcoming bougainvillea at the entrance. Definitely, everything is exuding a great taste level.
Things to Do in Tinos
Tinos is a place to exercise, relax, and contemplate. If you can afford to dive into its cool waters in springtime, just visit one of the over 35 natural beaches on the island. Or else hike and walk or hop from one village to the next; there are many (some of them Catholic due to Venetian rule in the Middle Ages) with little coffee shops and casual restaurants. Check also the over 1000 dovecotes, quite characteristic architectural elements that were symbols of Venetian wealth. Nightlife is not a strong point here, but if you want to have some drinks in the town try the two cult bars: Argonautis and Koursaros. The best restaurant in embracing creatively local gastronomy is Thalassaki and you need to book in advance! Other culinary suggestions (serving local organic wine as well) include San to Alati (translates as 'Like Salt'), Marathia (a must-try, gourmet, farm-to-table, all-day dining spot with elegant accommodation options), and Mikro Karavi (an elegant one with equal attention to the quality of local ingredients).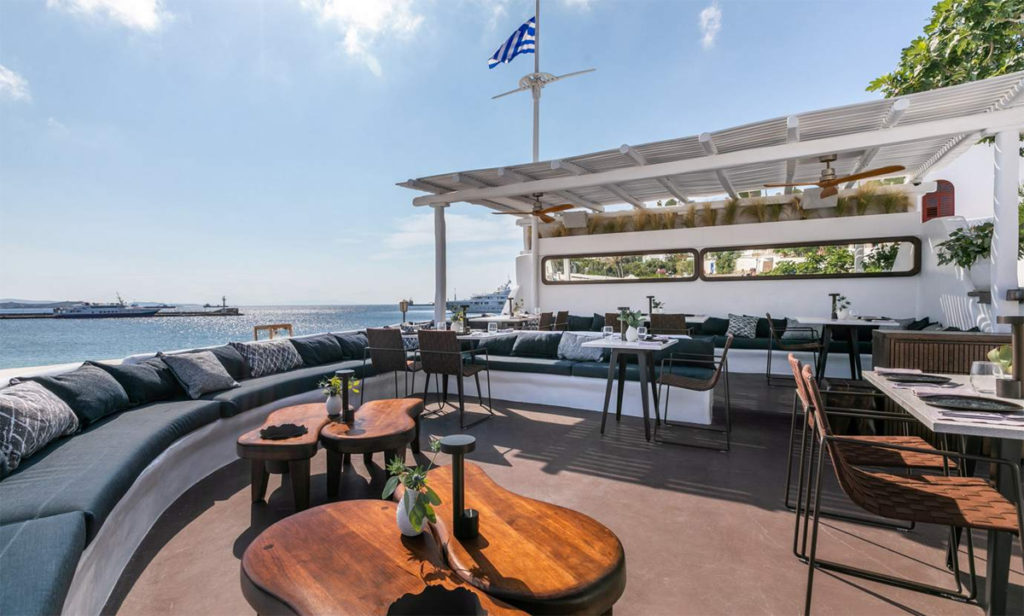 Mykonos
In 20-30 minutes from Tinos the ferry will get you to the so-called 'Island of Winds', the most cosmopolitan island of Greece and among the most expensive tourist destinations on earth. It is also known as a playground for the rich, the famous, and the party animals, while in fact, it can give you many different experiences, depending on your needs and preferences. It is undeniably a very beautiful rocky island with tens of beaches – over 15 being fully organized with beach bars, gourmet restaurants, exclusive services, and boutiques. For its multi-option nightlife, it is often compared to Ibiza, but one can easily argue that Mykonos' natural beauty is beyond that comparison. Plus people who don't love to party but are in the quest of an exclusive experience can rent a villa in one of the quiet areas of the island, swim in the natural beaches that have no sunbeds or bars, and have dinner in restaurants outside the 'town' or 'chora' (which is the Greek name for most Greek islands' capitals). The place is designed for spenders and evolves every season along the way, offering new ideas and services. Starting back in the 60s as a little gay-friendly paradise where tycoons and celebrities from all over the world mixed with the hippies, it still carries with it seeds of a bohemian spirit affordable now mostly to an affluent crowd and the locals. Mykonos is a summertime international melting pot, a place to see and be seen, to be taken care of by talents and pros in hospitality, and as many Greeks might say, it feels like an autonomous principality in the middle of the Aegean with its own rules; in its own fun-loving universe! We will analyze Mykonos more in a separate article, due to its endless aspects, but for the moment let's go through the basic suggestions as part of your Cycladic island-hopping experience and not as the main destination.
Accommodation in Mykonos
Bill & Coo Suites and Lounge. Uphill and on your way out of town, in the Megali Ammos beach area, with a breathtaking Aegean sea view, a spectacular swimming pool & bar, and the Gastronomy Project culinary experience, this boutique hotel offers privacy and a serene atmosphere in a modern Cycladic design complex. Sister hotel Bill & Coo Coast Suites with equally luxurious amenities and the acclaimed meat-focused Beefbar restaurant bar is located on the other edge of the island in Agios Ioannis. Private dining is also an option.
Santa Marina. On the more densely built bay of Ornos, this sizeable Luxury Collection exclusive resort by Marriott, with multiple swimming pools, restaurants (including Buddha Bar), bars, private dining areas, a private beach, tennis court, fitness center, a spa with sauna and steam room, a hair salon, a nail salon, a chapel for weddings, and over hundred ultra-elegantly decorated rooms and villas, has been a vacay Eden for celebrities and purely affluent guests alike. Back in summer 2021, the world-renowned British chef and restauranteur, Jason Atherton, launched his first restaurant in the Mediterranean at Santa Marina, Mykonos Social. Atherton – whose flagship restaurant, Pollen Street Social in Mayfair, London, was awarded a Michelin star within just six months of its opening – took over the resort's former Colonial Pool Restaurant and Bar with hypnotic views of the Aegean Sea. The stylish restaurant is a bespoke, all-day dining destination serving a selection of Mediterranean and Greek dishes along with Tiki-style cocktails.
Mykonos Blu. Elevated, right on the world-famous sandy beach of Psarou, with a private full-service segment of it, 103 blue-accented all-white luxury bungalows, suites, and villas (some of them with private pools and other amenities) stand among the finest examples of exclusive seaside accommodation. With a one-of-a-kind infinity pool (20 pools in total), multiple restaurants, bars, stylish lounges, a wellness center, it is definitely an idyllic place with many perks.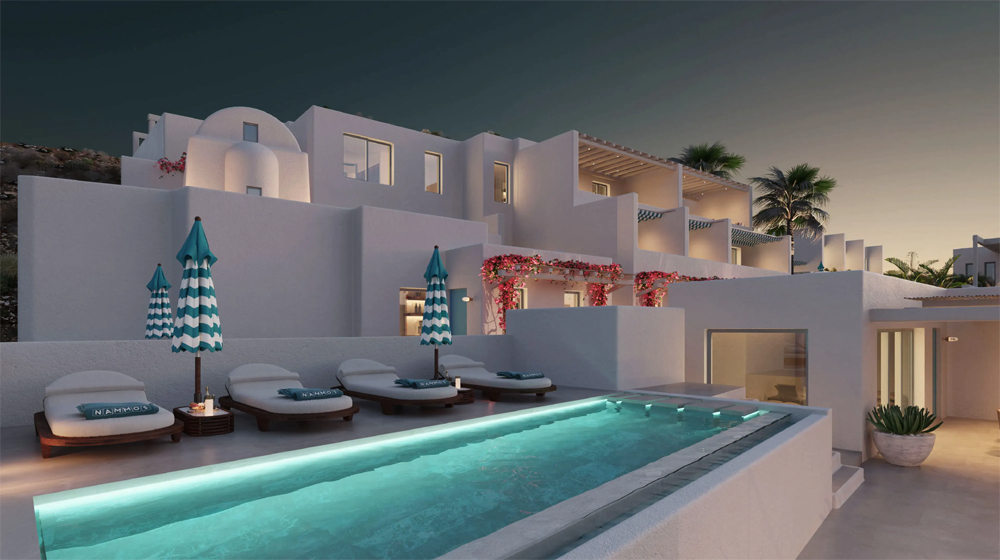 Nammos Hotel Mykonos. It as anticipated as the perfect retreat for luxury-seekers on cosmopolitan Psarou Beach. With 29 stylish and elegant rooms, suites, and private villas, all featuring breathtaking views of the Aegean Sea, Nammos Hotel Mykonos offers the ultimate in comfort and relaxation. Indulge in luxury shopping at Nammos Village, savor exceptional dining at Nammos Restaurant Mykonos, and dance to world-class music and entertainment at Nammos Beach Club. Don't miss the chance to experience this exclusive destination, opening in Summer 2023 (most probably mid-July).
Belvedere. A well-gated traditional Cycladic architectural complex of rooms, suites, and villas overlooking the town and old port exudes exclusivity that applies to superstars and luxury connoisseurs. Simplicity and zen along with fun vibes is the mix that describes its scenic pool bar and sushi heaven Matsuhisa (which in 2023 celebrates its 20th anniversary) created and often tended by the hugely acclaimed sushi chef Nobu. On that occasion, along with a meticulously curated fashion selection from Greek and international designers available at the Belvedere Shop, the hotel welcomes jewelers Danelian and Marianna Lemos as well as handmade ceramics brand Kalopsia for those who want to invest in luxurious island aesthetics. To celebrate even more, an eclectic mix of international DJs will appear throughout summer 2023, curated by musical tastemaker Arman Naféei who arrives in Mykonos fresh off his new interview series "What's on Air", dubbed by Vogue "the coolest music podcast in the world." The cosmopolitan experience is complemented by the Six Senses Spa, with signature beauty & wellness treatments that will absolutely rejuvenate you. VIPs claim this hotel and pool bar as their own 'microcosm' on the island.
Cavo Tagoo. With the richest variety of super upscale roomy Cycladic suites and villas featuring private pools, hot tubs, and cave-like structures, an infinity pool with breathtaking sunset sea view, and a bar for heavenly cocktails, this place near Chora defines sea-view luxury. Nothing compares to their magnificent villas. Ultra-rich tastemakers have it as their favorite from the moment they check in to the modern-art-clad lobby. It's totally unique. The world-renowned Zuma restaurant serves signature contemporary Japanese cuisine next to the iconic pool bar. Plus, the equally international Meraki restaurant, which opened back in 2022, serves summery vibes, mouth-watering cocktails, and their famous Greek & Mediterranean cuisine.
Things to Do in Mykonos
Mykonos town ('Chora' in Greek) is the epicenter of nightlife, although partygoers lately gravitate more and more towards late-night events at beach bars around the island. Walk along its picturesque narrow car-free paths generally known as 'Matoyiannia' after its main commercial pedestrian street. You will easily discover the famous 'Little Venice' area made up of waterfront seamen houses with balconies, most of them now serving as romantic sunset-view cafeterias and upbeat bars. As you walk you will also meet the island's mascot 'Peter the Pelican' who sought refuge in the island in 1954 after a storm and after its death was succeeded by another pelican tourists love taking selfies with! You will also see many windmills – some dating back to the Venetian rule – with most iconic those near Little Venice. For an equestrian experience, Mykonos Horseland organizes Kardashian-approved horse riding tours following a route past the water reservoir to the virgin beach of Fokos. In terms of cultural sightseeing, Mykonos has a few small museums and numerous churches but the most important things to check are the many world-class art galleries and undeniably the ancient ruins in the uninhabited island of Delos (a brief boat ride away) that used to be one of the most important religious centers in the Aegean during antiquity (1st millennium BC). But above all, Mykonos is sartorial in nature which means that retail includes – especially in Chora – the elite of fashion and design brands as well as a vast range of highly eclectic collections from all over the world. Shopping is what people do when they visit Mykonos and the experience extends to Nammos Village the most unique seaside shopping mall in the world with elegant standalone boutiques by the likes of Gucci, Louis Vuitton, Dior, Fendi, Loro Piana, Bottega Veneta, and more, in an exotic waterfront art-decorated park in the exclusive VIP-crowded Psarou beach behind the iconic world-famous 'Nammos' beach bar & restaurant.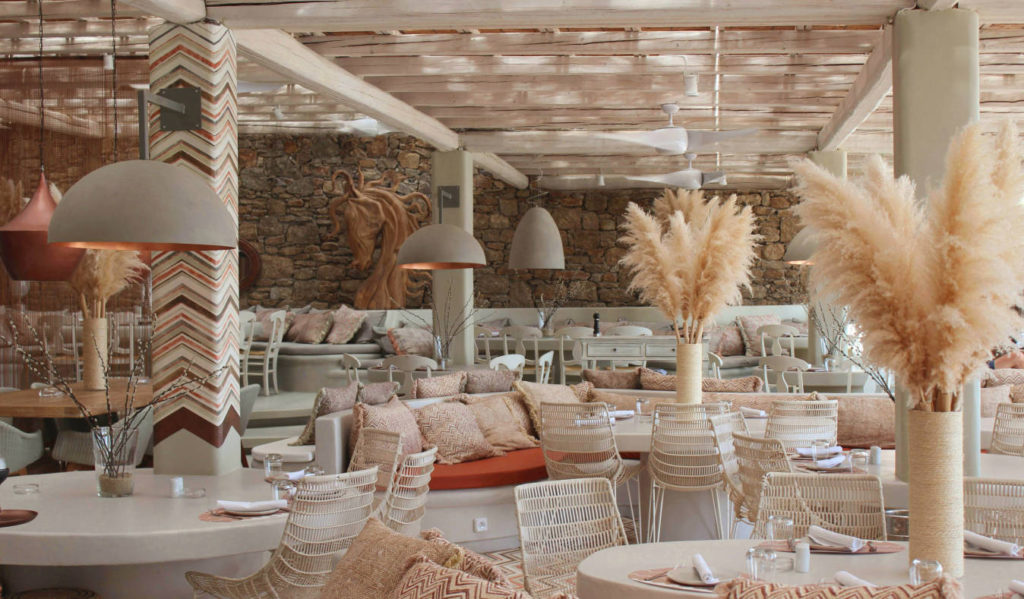 Beaches in Mykonos
For a start, most beaches (except for Agios Sostis, Fokos, and a few others) in Mykonos are fully organized (mostly sandy) with sunbeds and umbrellas, beach bars & menus, spa & towel services, gourmet restaurants, resortwear/swimwear boutiques, and parking lots. The level of luxury ranges, but most of the aforementioned are regarded as the bare essentials. Some of them are all-day party spots and a few occasionally turn into nightclubs after sunset. The availability of options allows you to decide among beach bars and restaurants with different attributes and amenities. Psarou is the most luxurious of all, serving all types of food (from club sandwiches to sushi with champagne) on sunbeds that cost thousands of euros equipped with Loro Piana mattresses and accompanied by Tuuci umbrellas. In most high-end places like that (its restaurant Nammos being popular among jetsetters for decades) you need to book an umbrella set for the day and that often can be arranged with the help of the hotel concierge. Or else you need to arrive 'early' to the beach and by that, we mean around 11 am (since most party animals show up as late as 2-3 pm). The daily rental for two sunbeds and an umbrella starts from $70/60euros for less 'competitive' beaches and goes up to a few hundred. Food and drink consumption is an additional expense. Favorite beach list includes:
Agia Anna (next to Kalafatis beach). Check its beach bar/restaurant and the world-famous cave-like tiered sea-front Spilia restaurant ('spilia' means 'cave' in Greek) serving sea urchins from a seawater-filled natural basin, fresh fish, and seafood to VIPs and yacht-owners anchoring outside.
Kalo Livadi. A long full-service sandy beach with the upbeat beach bar/restaurant Solymar, a private pier for transfers, and a boutique.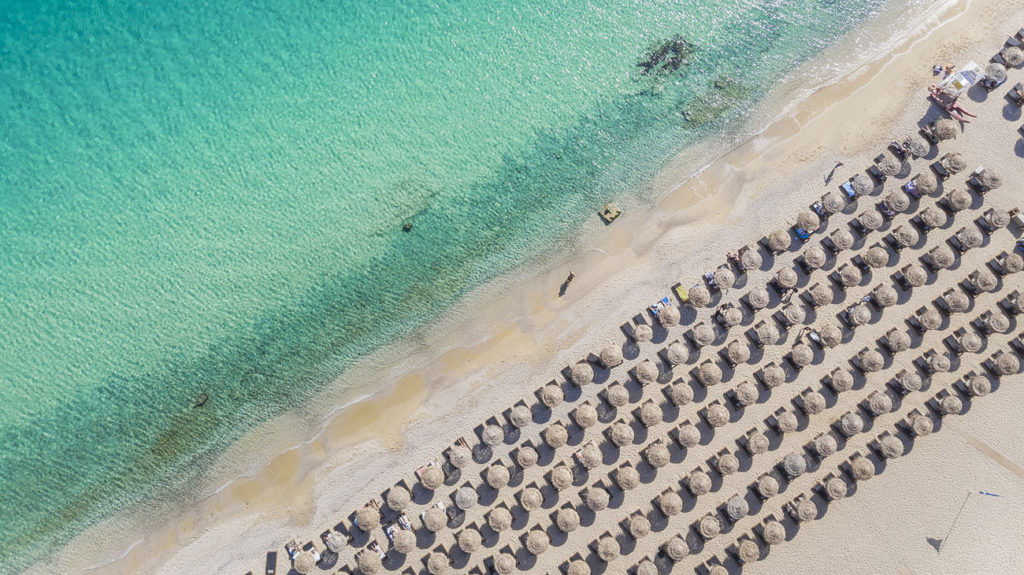 Elia. Not necessarily a VIP choice, yet one with full beach service, a wonderful beach restaurant, a resort, and great natural beauty around.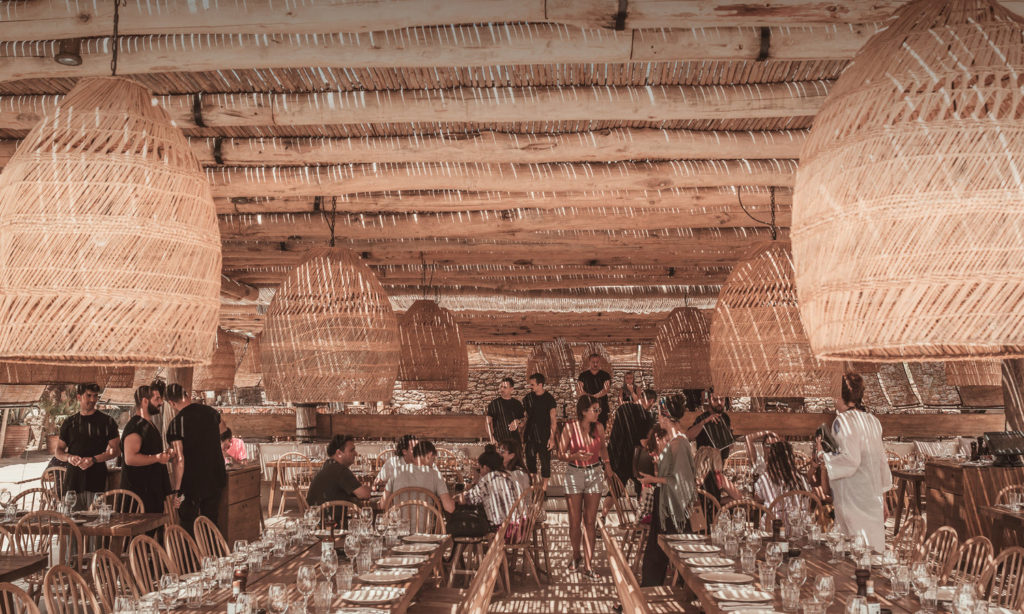 Paraga. It is dominated by 3 beach bar/restaurants; Kalua with its own Shisha menu, Santanna with the largest lagoon-shaped seawater beachfront pool on the island, a gourmet restaurant, a raw/sushi bar, a cocktail bar, and a spa, plus at the other end of the beach world-famous Scorpios standing on its own tiered peninsula with options for swimming, exquisite VIP lunching and dining, drinking, and dancing in a sophisticated ayurvedic Burning-Man-inspired boho-chic design setting. All three 'institutions' offer music by their sought-after resident and guest DJs in an impressive Spring/Summer calendar of events.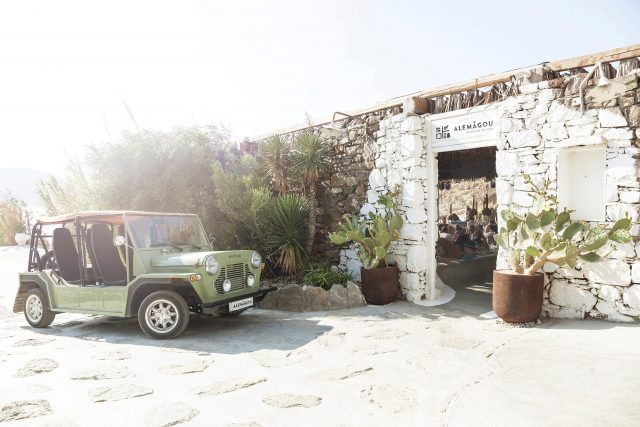 Ftelia. A bohemian-style party-ready beach with services from its popular bar/restaurant Alemagou; not necessarily the greatest spot to swim (as rocky inside as Scorpios) but surely with the perfect gourmet menu, and a coveted bar.
Super Paradise. Long, sandy, and spacious, it is spiced up with its super unique gender-inclusive Jackie O' beach club, bar, and intriguing gourmet restaurant featuring a tiered terrace space with a curvy swimming pool, and before the sun sets an upbeat drag-queen show!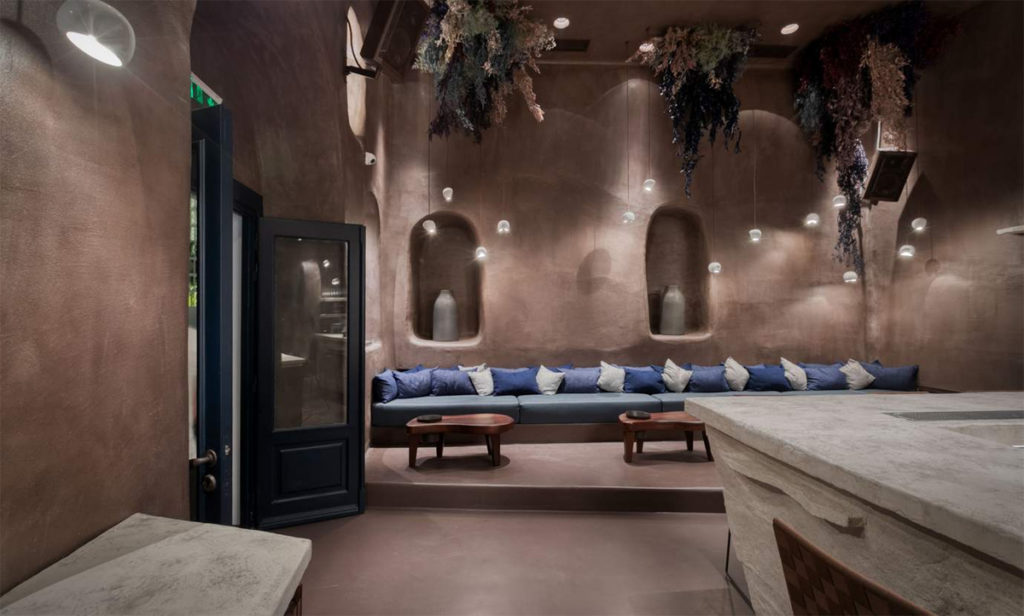 Restaurants & Bars in Mykonos
Most people in Mykonos are having lunch around 2 pm or so, and dinner as late as 11 pm or even midnight, mainly because they are dancing the night away, sometimes until sunrise. Yet if you are not a night owl you can have your meals anytime you prefer; there is ample flexibility to everything. Your hotel restaurant will surely be yummy and spectacular (most of them are multi-awarded), and the same applies to the aforementioned beach restaurants, yet if you are curious to try an independent one, here is a list of spots you can't miss:
Remezzo. Enjoy Aristotle Onassis' favorite balcony sea view in the Aegean from the iconic restaurant/bar that was established in 1967 in Chora. Gourmet food is accompanied by a DJ set and party atmosphere that lasts till dawn.
Sea Satin Market. Try the freshest seafood in a vast waterfront casual restaurant (near the windmills and Little Venice) that turns around midnight into a Greek music nightclub (diners are even dancing on the tables).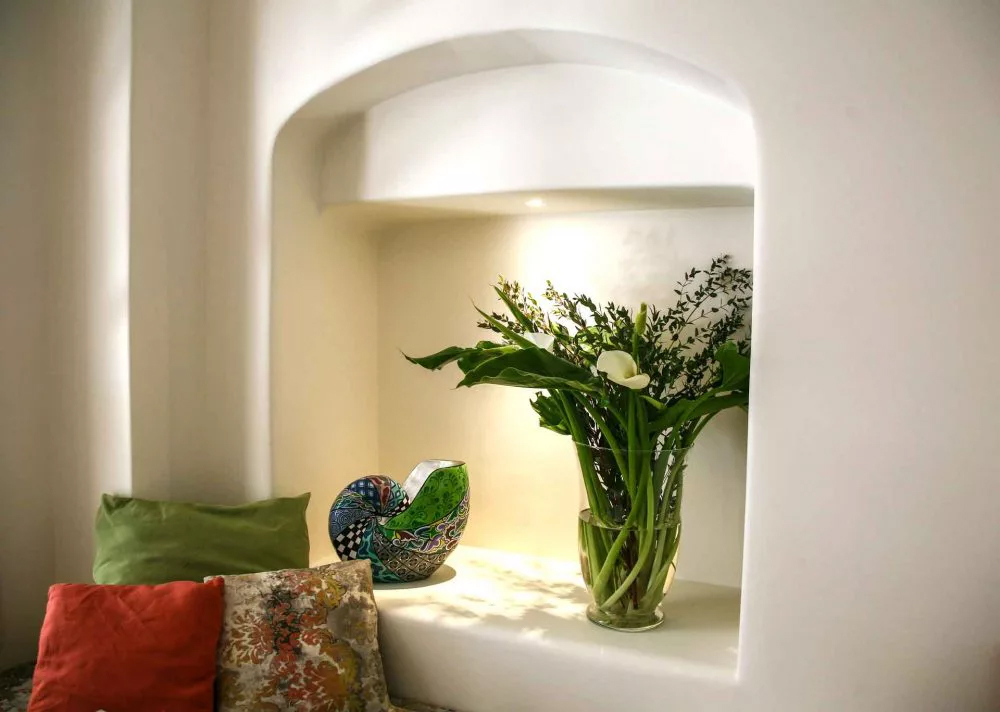 Nautilus. Get into the spirit of local Mykonian seafood cuisine and hospitality in a no-frills romantic, understated-glamour restaurant in the pedestrian part of the town. Zen, nonchalant, and finest-quality dining; it is as if you are eating at a local's house!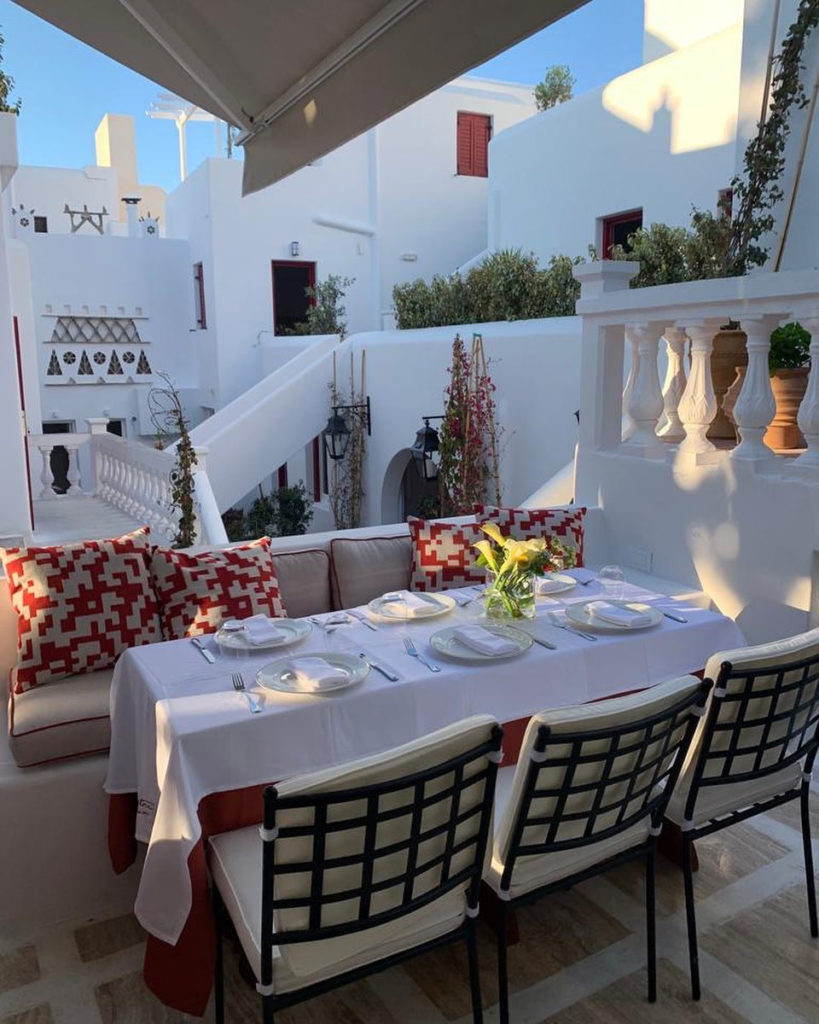 Katrin. Since 1971 this super cute restaurant, that recently relocated to a much more spacious building in the "town" or "chora," has been an important dining spot for an array of celebrities (including Valentino Garavani, Nicole Richie, and Kendall Jenner recently) loving the fusion of Greek and French culinary elements.
Coya. The international group guarantees an ultra-healthy Peruvian dinner with Japanese, Chinese, and Spanish accents, or great cocktails (their own pisco flavors) in a multi-level space taking up an older culinary institution inside a traditional fully modernized Mykonian building.
Interni. Decorated by renowned architect and designer Paola Navone, this magical design-infused garden serves farm-to-table Mediterranean recipes with international touches.
Kuzina. Its full-service beach club in Ornos might be too crowded for an exclusive clientele, yet the restaurant is highly recommended for fusing Greek flavors with Asian and other culinary elements. Keep it in mind also for dinner on quiet evenings! Executive Chef John Vidalis will make it memorable.
Avli tou Thodori. This is a great beachfront spot in Platis Gialos for traditional Greek lunch with a long culinary history.
Bao's. On Little Venice, in the original space of the iconic Caprice bar, this is the best spot to enjoy sunset drinks in the town. DJ set and cocktails are keeping you dancing until dinner and you can get back there after it!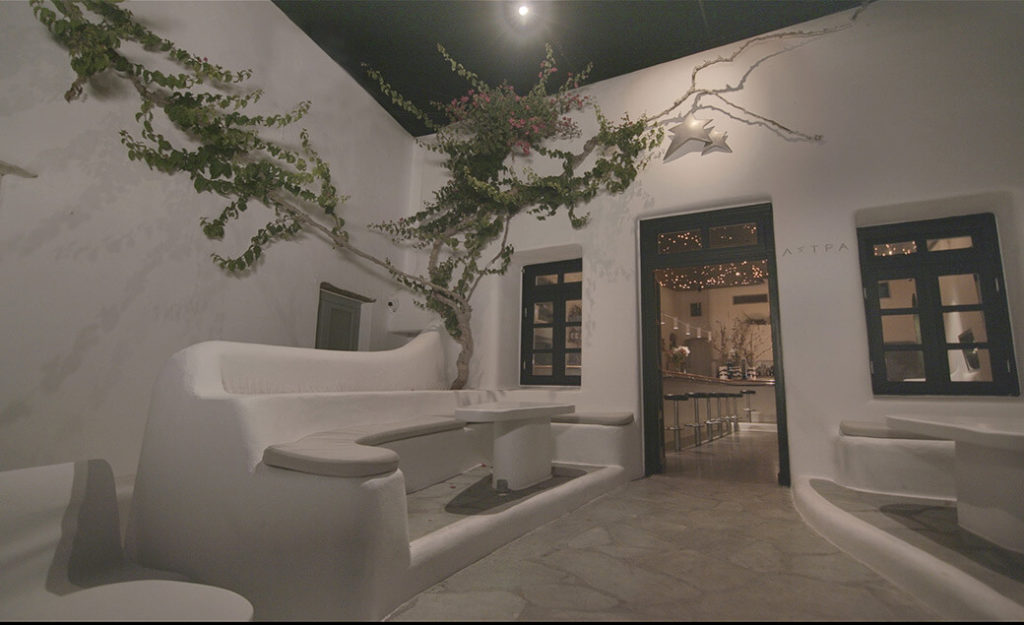 Astra. Since 1987, designed by famous jeweler Minas, the star-shaped logo (astra=stars in Greek) and the northern-hemisphere-sky-inspired ceiling with over 2,500 lights synchronizes with the ever-electrifying DJ sets in this iconic disco that has seen the likes of royals, megastars, and top models dancing the night away and then relaxing outside in the timeless yard with 3 landmark wells.
There are dozens of other luxury lifestyle suggestions for Mykonos but these are part of a special Mykonos-only itinerary coming soon! From Mykonos, the ferry continues to other islands. Check stops to Paros-Naxos-Ios-Santorini in the Spring/Summer Island-Hopping Luxuries in Greece – Part III!