Spring/Summer Island-Hopping Luxuries in Greece – Part I
It might sound too early for a dive into the chilly waters of the Aegean and the Ionian Sea, yet from late March onwards some of the islands start having a few daring visitors especially when the temperature rises a bit above seasonal levels meaning above the 20C/68F mark in the daytime. Some prestigious hotels kick off the spring/summer season in mid-April. Our recommendations around that time of the year include either islands that are very close to Athens and the mainland, or those that are so big, organized, and populated that they maintain a tourist cycle almost throughout the year. For island-hopping to be a successful operation such islands have to be near each other. You can reach them via either a boat ride or a combination of a short drive and a boat ride. A boat ride among these islands can last from 20 minutes to maximum 5 hours. Always opt for the high-speed ferry if available as an option. For added privacy and fun, you can enjoy island-hopping in the most quintessentially Greek way; sailing. Availability of boat charters and professional skippers/guides runs high in mid-season, and the idea of exploring a small group of islands on a sailing boat with stop-over nights in various island ports proves fascinating in practice. Clear blue skies and blooming Greek nature diffusing herb aromas are usually part of the experience. Although the chapter of island-hopping in Greece is eternally open to additions and revisions, we will try to narrow down to suggestions that feel convenient and luxurious in springtime weather. Pack in your luggage windbreakers, puffers, and trenchcoats because summer can come as late as mid-May. Our first itinerary goes through the following stops:
Downtown Athens – Piraeus Port – Agistri – Aegina – Poros – Hydra – Spetses
The Saronic Gulf islands are the closest to Athens, yet they are beautiful and serene, real destinations for a short getaway. None of them has an airport, but this is unnecessary since you can hop from one to the next via a brief boat ride; they are all connected with ferries and hydrofoils. Our suggested duration of stay on each island in this group is from half to 3 days (surely a shorter visit to Agistri, a very small picturesque pine-covered island). You can skip any of the islands in this itinerary to create your own shortcut.
Agistri-Aegina
Agistri is an hour's boat ride from the port of Piraeus and 10-20 minutes away from Aegina, which is an island known for the 5th century BC Temple of Aphaia (probably the oldest Doric Temple standing on Greek soil) and one of the best pistachio varieties in the world, which has been declared a Protected Designation of Origin product by the European Union since 1996. For luxury & design lovers, accommodation options are very limited in Aegina. If you decide to extend your day trip there, our suggestions narrow down to Marini Luxury Suites and Angelina Boutique Hotel. Another option, which greatly appeals to art lovers, is Nikolaou Residence Studios built in 1964 as the home of painter Nikos Nikolaou, where Greek intellectuals and artists gathered to exchange views and enjoy the surrounding nature.
Poros
Next morning take the boat that arrives in Poros in an hour or so. This tiny island, quite close and connected to mainland Greece, consists geographically of one volcanic and one pine-forested island (called Sphairia and Kalavria) that are connected with a bridge. You are recommended to book a suite at the amphitheatrically placed seaside Sirene Blue Resort, with its levels built on a pine-forested slope and connected with stairs leading to a pool, restaurant decks, and a private beach.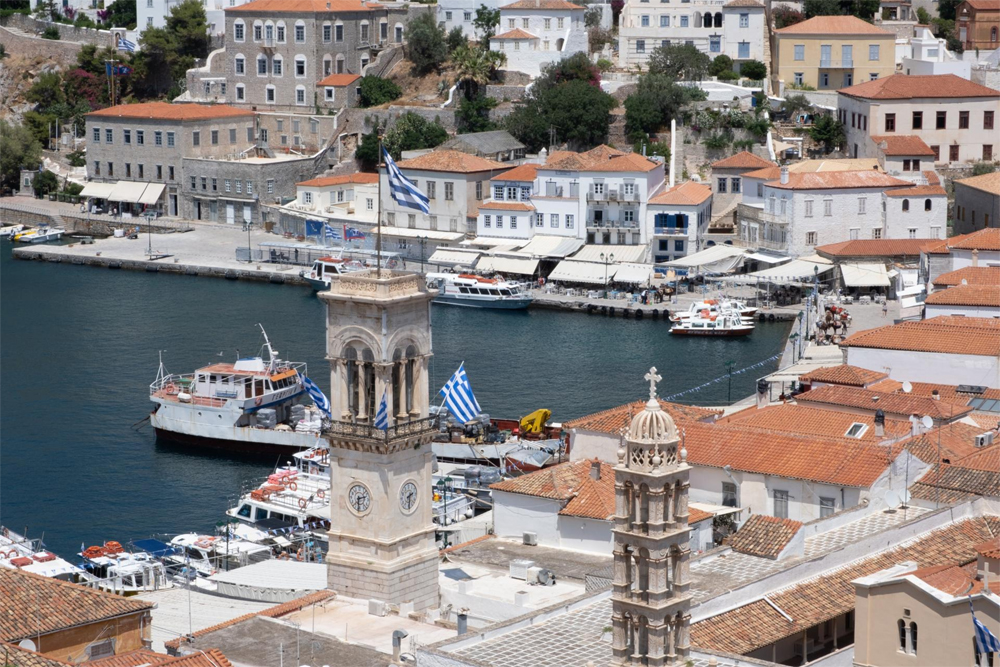 Hydra
Get ready for a quick boat ride to Hydra with a crescent-shaped port that is even more amphitheatric, surrounded by old stone mansions built by wealthy naval war leaders and ship owners through the last centuries. This cosmopolitan and artistic island has been a maritime stronghold, a cultural center, and in recent decades a discreet haven for the rich & sophisticated. The strict no-car/motorbike policy – only donkeys, mules, horses, and water taxis are allowed for transportation – will encourage you to walk all these short distances and exercise, which is also a very attractive concept to those focusing on wellness. Art connoisseurs such as billionaire art collector Dakis Joannou and singer/songwriter Leonard Cohen have shared publicly their affinity for the island. In the 60s and the 70s, it was visited by icons such as Sophia Loren, Richard Burton, Mick Jagger, Keith Richards, Pink Floyd, Joan Collins, Brigitte Bardot, John Lennon, and Jackie O. Elizabeth Taylor owned a home there until her death. Famous conceptual photographer Juergen Teller is a regular along with an eclectic list of elite foreign visitors. Kate Moss loves it too.
Accommodation in Hydra
Bratsera Hotel. This is our favorite choice in Hydra and coveted among A-listers too. Bratsera means the mother ship where Greek sponge divers relaxed after solitary hours in the sea. It is a serene boutique hotel inside an 1860s renovated sponge factory. Today, this building, with the only hotel swimming pool on the island due to limited water reserves, features many luxury amenities. Rooms and suites are decorated in the traditional island-chic style.
Leto Hotel. Without a pool but with the authentic aura of a 50-year-old 5-star hotel hidden in a picturesque alley near the port, it emphasizes Greek hospitality in roomy spaces accented with neoclassical and traditional island-style furniture.
Four Seasons Hydra. Right on the beach of Vlychos (area "Plakes"), you will also find this estate (renovated in 2008) comprised only of suites plus one villa and offers cruises with their own wooden sailing boat.
Orloff Hotel. 6 rooms and 2 suites in a house built in 1796 by a Russian noble sent by Catherine II to assist the Greek war of independence against the Turkish rulers comprise the first boutique hotel on the island that opened its doors in 1986. Renovations with respect to the traditional island style have turned it into a highly recommended option.
Cotommatae 1810 Guest House. One of the most important mansions at the port of Hydra has been lately restored as a special type of boutique hotel. It belongs to the Historic Hotels of Europe, dating back to the early 19th century. Exceptional architectural elements such as the masterful ceilings of the hall and of the drawing room, the wooden walls, and the chestnut tree wooden roofs have been preserved. Beautiful outdoor spaces include a garden, courtyards, and verandas. It has 5 suites, each very special in terms of the interiors.
Hydrea. Originally built in 1803, this beautiful archontiko (the Greek word for 'mansion') was restored to all its former glory in 2010 and since then guests are invited to enjoy the exclusivity of staying in one of the island's stately, historical homes. The sea-view building has a handful of suites, masterfully renovated and some overlooking the port. Hydrea invites its guests to its official partner restaurant, Castello, to taste delicious Mediterranean dishes from breakfast to gourmet lunch or dinner. It is in a fully renovated 18th-century fort-like building in the neighborhood of Kamini, with a breathtaking sea view from its romantic terraces and a sunbed-equipped beach lounge. Hydra Hotel is another partnering boutique hotel of similar allure with modernized, minimalist interiors.
Restaurants/Bars & Beaches in Hydra
If you are daring enough to swim in springtime, take a dip in the water from the iconic rocks of Spilia, Avlaki, and Hydronetta (not exactly beaches); the last one is also suggested for its famous sunset-cocktail Hydronetta bar that is literally hanging from the cliff. Regarding other beaches, you can walk to Kamini and Mandraki with a resort & beach services (sushi is an option!) or take one of the many water taxis to the beaches of Saint Nicholas, Vlychos, and Bisti.
Omilos restaurant. For cocktails and a cosmopolitan dinner, try the exact building of the internationally known legendary nightclub Lagoudera – that has seen Brigitte Bardot, Aristotle Onassis, Jackie Kennedy, The Rolling Stones, Elizabeth Taylor, John Lennon, and more VIPs dancing or flirting in the 70s. It's renamed, yet it is still a magical place.
Téchnē restaurant. Gourmet is served by young yet experienced chef Yannis Michalopoulos who is lately receiving great reviews for his farm-to-table modern Greek kitchen offerings.
Sunset restaurant. Another one at the port with a great view, it has been awarded 2nd place globally among 'restaurants with a view' by the ABC news.
Mikra Agglia. This comfy & stylish restaurant near the port waterfront provides a multi-sensory experience for guests with its delicious brunch, lunch, and dinner menus. The restaurant prides itself on using premium ingredients sourced from local suppliers, and creating a dining atmosphere that translates local culture into a modern culinary experience. Set in a sophisticated space with rustic undertones, it offers elegant details such as a bar, an open kitchen, and a glass-wall wine cellar. The menu features inventive variations of classic Greek dishes and other mouth-watering options inspired by the Mediterranean cuisine. It consists of indoor and outdoor spaces, including a protected backyard.
Sightseeing in Hydra
Lazaros Koundouriotis Historical Mansion & Museum. Take a glimpse of the grandeur of the famous local captains' mansions from a visit to this home-turned-museum, where you can be guided to the affluent 19th-century island lifestyle.
Museum of Hydra. You should also check this one located in a majestic stone building right on the port. It houses many items donated by the descendants of the families who dominated the island's social structure in the 1800s and were instrumental in launching the Greek War of Independence. The museum has a distinctive nautical theme which reflects the strategic importance that Hydra held during that time as a safe harbor from which to launch the Greek fleet.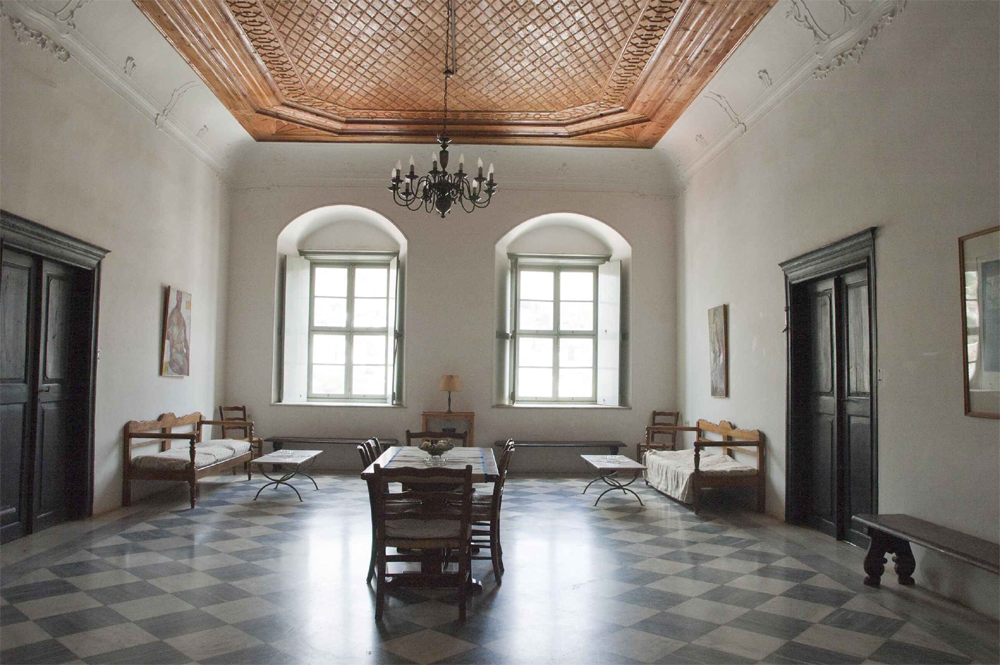 School of Fine Arts. The Tombasis family Mansion has been an art education institution since 1936 that exhibits paintings of historical ships and events. Modernist Marc Chagall lived and taught there for a while. Although only students are allowed in, visitors can take a look when the school is open.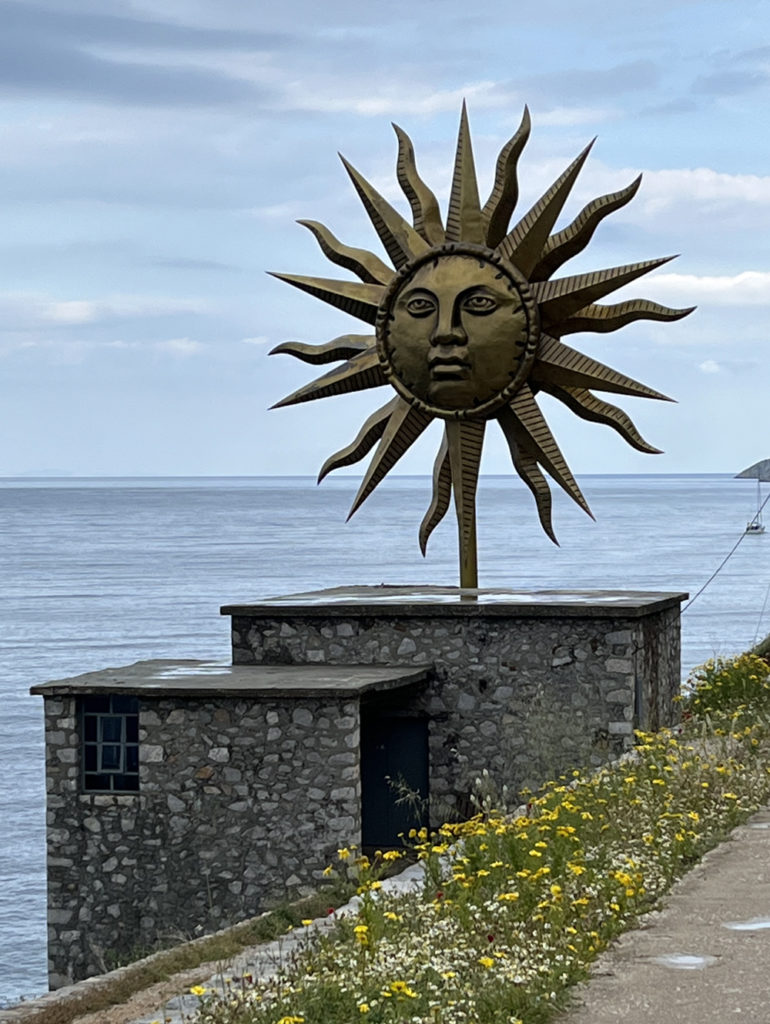 Hydra Slaughterhouse. This Project Space, in a building renovated in ways that reflect its past and present use, is part of the DESTE Foundation's program of contemporary art exhibitions and events and holds every spring/summer season a project by one or more guest artists. Art-collecting industrialist Dakis Joannou, the founder of DESTE, along with curators, has been behind incredible initiatives and big-name art projects, including an exhibition by his close friend Jeff Koons that took place in summer 2022 attracting international A-listers and art connoisseurs. The location – right on the edge of a rock – and the raw nature of this stone-wall premise has already been proven an ideal setting for creativity since 2009.
Prophet Elias Monastery. Finally, hikers should definitely walk up mount Eros ending up for chilled water and a loukoumi dessert at a monastery graced by a breathtaking view of the port.
Spetses
This island has similar maritime history dominated by the name of a brave, wealthy, and generous woman Laskarina Bouboulina (the first female Admiral in world naval history), whose mansion operates now as a very charming museum. Wealth is still visible in many buildings left by local shipowners and successful Greeks who started emigrating to the United States and other countries from the 19th century onwards. To the Southeast of Spetses, the small private island Spetsopoula was purchased in 1962 by shipping magnate Stavros Niarchos and still belongs to the same family; visited by descendants and their VIP friends, including in 2016, the then 25-year-old billionaire Hugh Grosvenor, 7th Duke of Westminster. These people often cross to Spetses for a fun night or lunch. Spetses has been visited for decades by A-listers such as Elizabeth Taylor, Bobby Kennedy, Marilyn Monroe, Ingrid Bergman, Rudolf Nureyev, Princess Caroline of Monaco, Uma Thurman, the Duchess of York, Bo Derek, and the list goes on. Many discerning foreigners own villas on the island. In 2010 it attracted most European royals who visited to celebrate the nuptials of Prince Nikolaos of Greece and Denmark and Tatiana Blatnik.
Accommodation in Spetses
Poseidonion Grand Hotel. The most exceptional hotel in Spetses first opened in 1914 as the brainchild of Sotirios Anargiros, a visionary benefactor who was responsible for much of Spetses' development. Heir to a wealthy 18th-century Spetsiot shipping family and later a US immigrant and tobacco tycoon, he built this luxurious hotel after Carlton in Cannes and Negresco in Nice. It's still an architectural gem and a landmark updated with an extra building and a stylish pool at the back. Front gardens and balconies offer a magnificent view of the Dapia Port (new port). Among other fabulous rooms and suites, the Cupola, built in the hotel's historic dome, stands out for its wooden ceiling with a sky window and a private massage loft. Gastronomy and mixology are placed at the core of its services with two gourmet farm-to-table restaurants ('On the Verandah' and 'Il Cortile'), one Brasserie, the cosmopolitan 'Palms Bar', the 'Bostani experience' at the hotel's farm where you can handpick the ingredients, learn cooking techniques and dine al fresco, and the Picnic option with a curated menu of delicacies custom-packed in a hamper for a getaway into the woods. Old-school excellence! Continuing an over-a-century-old heritage, an amazing spa facility is included today with an Asian ayurvedic twist. There is also a hair salon with full services, a nail bar, a gym, an art gallery, and a fashion boutique. Finally, the hotel undertook the revival of Ciné Titania, an elegant outdoor movie theater originally built in the 60s, with regular screenings through the summer.
Orloff Resort. In the elegant & posh Old Harbor area, you will find an ultra-chic design boutique hotel in a renovated and extended mansion built in 1865 by the family of Nikolaos Orloff. All new rooms are as well-designed as the original mansion, which can host up to 10 people. Chill by their super relaxing swimming pool with snacks and refreshments. In the same area, on the waterfront, the hotel maintains the amazing Orloff restaurant in the building of the island's first port authority built in 1802.
Zoe's Club Hotel. Elegantly designed, the rooms and suites at the accommodation complex are equipped with premium Dux beds and remotely controlled headboards that adjust to your body shape and position, offering you a good night's sleep. The swimming pool is arranged and decorated with a similar focus on rejuvenation and relaxation. Located nearer to the new port (where Poseidonion is), it is another great option.
Nissia. Simpler but still in a nice location at the new port close to Poseidonion, this complex of traditional residences is still graced by the impressive façade of a 1920s textile and spinning factory. Behind the façade (classified as a monument of Greek industrial architecture), you will find an impressive swimming pool for moments of ultimate relaxation. The factory that soon became a power plant and an ice-producing facility was restored by the Greek shipowner Andreas Kyrtatas from the island of Andros in 1989. The Greek word 'Nissia' means 'islands'.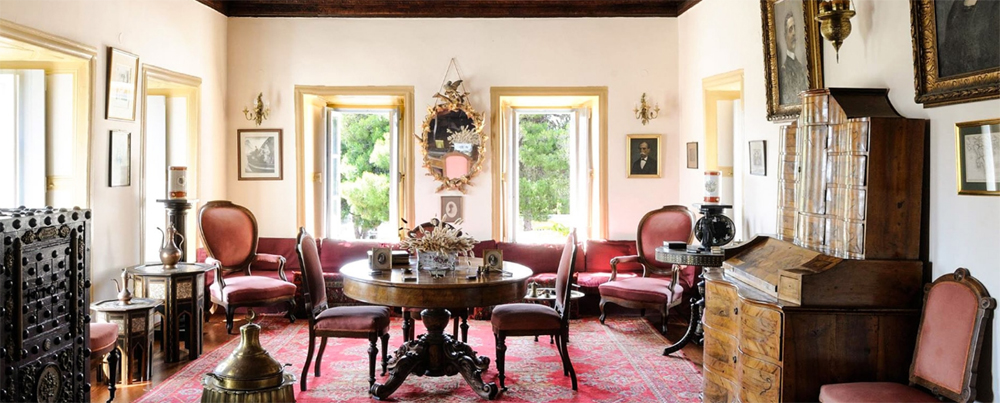 Things to do in Spetses
There is a 'no private automobile' rule – only taxis and delivery vehicles are allowed – so that you walk towards various places, including the beaches of Agia Marina and Kaiki, or get there in the most signature way; on a romantic horse-driven carriage. Additionally to the Bouboulina Museum, you can learn about the island's history at the Museum of Spetses. If you are ready to swim, head to the two organized beaches on the island that usually open for the season after Greek Easter. The first one is Kaiki Beach Club with sunbeds, full beach service, a bar, and a seafood restaurant, and the second one is Agia Marina or Paradise Beach with sunbeds, a mixology bar, and a restaurant. Water sports are also an option.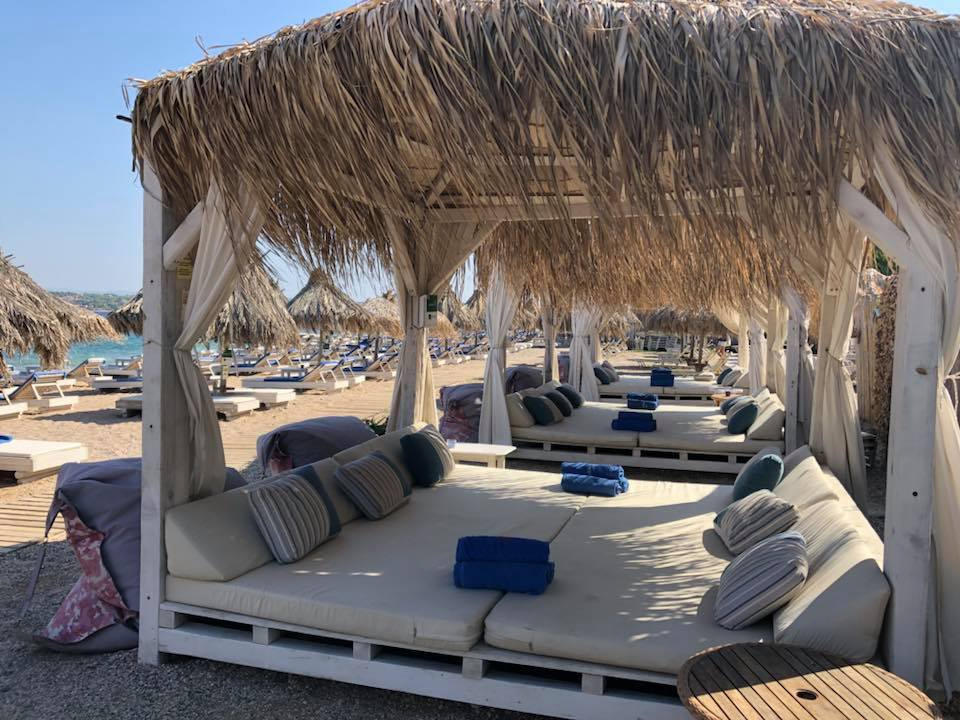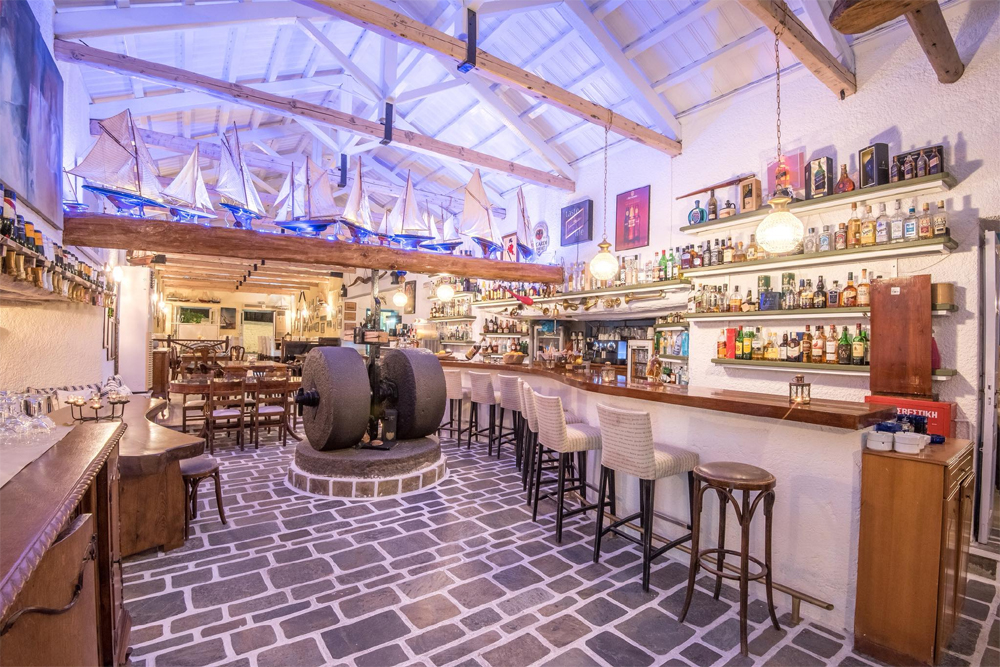 Restaurants/Bars/Pastry Shops in Spetses
Liotrivi. Its name translates as 'olive press' and is a great restaurant with Greek traditional recipes and a great interior/outdoor ambiance that serves dinner on a dreamy Old Harbor dock.
Tarsanas. Around the same area of the old port, on the waterfront, experience the freshest fish and seafood at this traditional taverna (taverna means casual Greek restaurant).
Bikini. If you want to stay long after dinner out, end up in the most cosmopolitan bar on the island again on an Old Harbor dock with a bar outside and a cool disco for those who want to dance indoors. You can also have dinner and breakfast/brunch there!
To Nero tis Agapis. If you are staying at the Poseidonion or Zoe's Club or Nissia hotel and you don't want to walk or be carriage-carried to the old port, then we suggest this seafood restaurant (same management with "Tarsanas' restaurant), which translates as 'the water of love' and has a great sea view balcony at a zen location.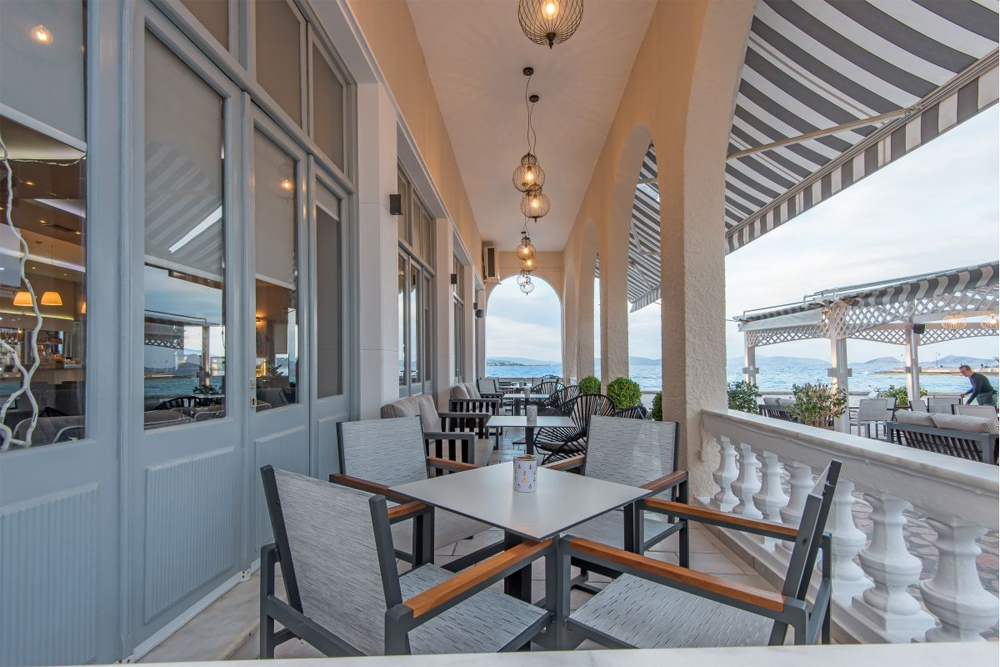 Klimis or Politis. Before leaving the island, get a box of the famous local almond marzipans or almond bites, known as 'amygdalota,' from these pastry shops.