Precious Info on Yachting Around the Endless Greek Islands
As we mentioned in other articles, island-hopping in Greece is best enjoyed and understood in the quintessentially local way; yachting. Recreational sailing is possible year-round, weather permitting, and preferably from as early as April and as late as November. The actual number of Greek islands ranges from 1,200 to 6,000, depending on the minimum size that differentiates an island from an islet, and of inhabited ones between 166 and 277. 80 of them have more than 100 residents and around 30 Greek islands are regularly visited by tourists.
Uninhabited Islands & Hidden Treasures
To sailors, uninhabited islands – some of them with gorgeous beaches – offer a substantial degree of privacy and exclusivity. A motor or sailing yacht gives you privileged access to islands that are uninhabited or not connected with ferries and to beaches in organized islands you cannot drive to, due to their wild – often rocky – terrain. Examples of exclusive uninhabited paradises mainly in the Cycladic group include Despotiko or The Isle of Kouros (near the famous Antiparos island) with ancient ruins of a temple dedicated to Apollo, next to it Strongilo or Strongyli island with a protected sandy beach, Rineia or Rhenia island (close to Mykonos) with an ancient cemetery, and next to it Delos island (one of the most important archaeological sites dedicated to Apollo) that was inhabited since the 3rd millennium BC., Polyaigos island (the largest uninhabited island in Greece close to Milos and Kimolos island) with emerald waters and beautiful beaches, Keros island near Naxos (archeological excavations gave us Cycladic artifacts from 3,000-2,000 BC) with white sandy beaches, Lichades or Lihadonisia which is an exotic volcanic island complex that has been described as the 'Maldives of Greece', and the two-island complex of Gramvousa in Crete with a Venetian fortress and access to the magical lagoon of Balos.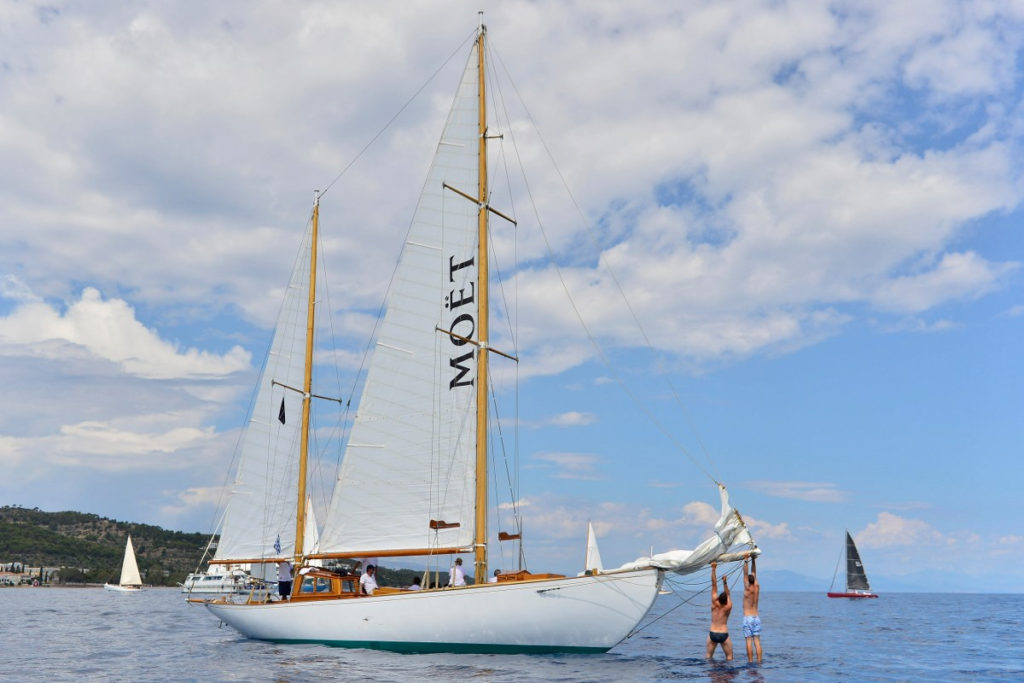 Inhabited Islands and Groups
There are 6 main island groups – plus Crete which is the biggest one to the South of Greece and stands on its own – consisting of both inhabited and uninhabited islands:
Saronic islands are the nearest to Athens – just off the mainland to the capital's east – in the Argo-Saronic Gulf in the Aegean Sea. It is suggested to first-timers in Greek yachting due to short distances and proximity to the city but also the genuine island vacay vibes. It includes Agistri, Aegina, Poros, cosmopolitan Hydra, and Spetses.
Cycladic islands or Cyclades are a little further to the east and south, yet still quite close to Athens at the center of the Aegean Sea. They include popular islands such as Mykonos, Santorini, Paros & Antiparos (Tom Hanks has a villa there over the last 15 years), Naxos, Milos, Serifos, Sifnos, Syros, Tinos, Andros, Ios, Kea, and less known Amorgos, Anafi, Kimolos, Kythnos, Folegandros, and Sikinos. Don't forget Lesser or Small Cyclades which include 4 main small exotic islands and tens of islets; the most inhabited island being Ano Koufonisi with around 400 inhabitants.
North or Northeast Aegean islands are more than 7 hours away from Athens and close to the Turkish coastline. They are spaced at considerable distances from each other so they are less recommended for island-hopping, especially if your vacation duration is less than 5 days. They include larger ones such as Chios and Lesbos, medium-size Lemnos, Samos, and Ikaria, tiny Agios Efstratios, Fournoi, and next-to-Chios Psara and Oinousses.
Sporades islands which translate as 'the scattered ones' are a 5-hour trip northeast of Athens in the Aegean Sea. Out of the 14 islands in the group which is literally located in a marine park featuring dolphins and Mediterranean monk seals, only four are inhabited: Skiathos, Alonnisos, Skopelos, and Skyros. They are characterized by green hills, turquoise waters, and sandy beaches. It is definitely a great place to sail, swim, and dive.
Dodecanese islands are far from Athens in the Southeastern part of the Aegean Sea, close to the Turkish coastline. Known for Medieval castles and Byzantine churches, the 26 inhabited islands plus over 100 islets are fun but sometimes a little challenging for sailing due to occasionally strong winds. Specialists recommend that you sail closer to Turkey to avoid them. Visit the medieval city dating back to the occupation of the St John Knights during the Crusades on the largest island of the group Rhodes. Don't skip Patmos attracting tastemakers, Vogue editors, and celebrities – especially after mid-August – enjoying the chic & serene atmosphere of the 11th-century monastery and the Cave of the Apocalypse where St. John is said to have written the book of Revelations. Try also Kos island which is graced with Roman antiquities and gorgeous sandy beaches. Other picturesque islands there include colorful Kastellorizo (seen in many Greek postcards), Astypalaia, Kalymnos (known for the sponge divers), Karpathos, Kasos, Symi, Chalki, Nisyros, and more.
Ionian islands are the only group off the west coast of Greece in the Ionian Sea. They are also called the Heptanese (hepta means seven) because they include 7 main islands with visible cultural elements from their Venetian rule and proximity to Italy. Corfu or Kerkyra island shows a great mix of influences from its Venetian, French, and British rule; hence the many castles, palaces, and majestic historical buildings. Kefalonia or Cephalonia is a large island with limestone cliffs and white sandy beaches; some of them are only accessible to sailors. Zante or Zakynthos island is famous for the 'Navagio' which translates as the 'shipwreck' that lies on a dreamy sandy beach surrounded by vertical cliffs. Lefkada has equally amazing beaches with turquoise waters. Known from Homer, Ithaca and equally tiny Paxoi (a subgroup of islands featured on the successful Nexflix series "Maestro in Blue") have breathtaking beaches too. Kythira is traditionally regarded to be the seventh island although located far away off the Southeastern tip of the Peloponnese.
Marinas
Charters begin their trip from certain marinas near Athens. Throughout Greece, some of them are well-organized while others offer just the basics. In Athens, the most convenient and organized ones include Flisvos marina (6km/3.7 miles from Athens downtown, top-rated with 5 Anchors by the British Marine Federation for luxury amenities and 303 berths for large and mega yachts), Zea marina (next to Piraeus port; fully organized with 670 berths; located in an ancient naval base area), organized and connected Alimos marina (15km/9.3 miles from Athens; among the largest in Greece with 1080 berths), super exclusive under-renovation Astir Marina (21km/13 miles from Athens; near the ultra-luxurious Four Seasons Astir Palace hotel; with 59 berths for up to 60m/196ft yachts), and Olympic Marine (20km/12.4 miles from Athens Airport and a short distance from many Cycladic Islands; fully organized with 680 berths for up to 40m/131 ft). Fully-organized marinas have restaurants, bars, shops, fuel stations, security, often VIP concierge, and more for their members and guests.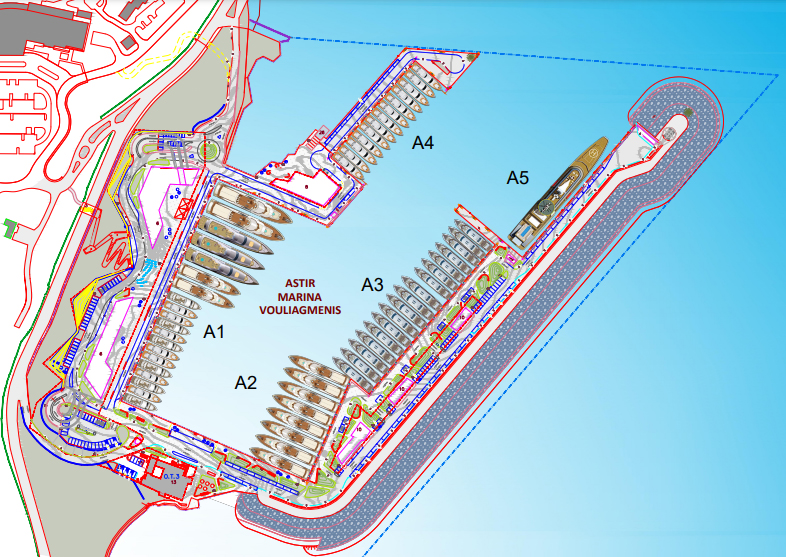 Rates for Charters
High season prices are applied from early July to late August. To get an estimate the price range in the low season for bareboat charters starts from around $1,500 and can exceed $400,000 per week, which means that you really have a wide range of options. And you should add to this amount fuel consumption, port fees, and a few other extras such as the skipper's fee.

Types of Yachts
Your choice of type depends on your needs and preferences. Sailboats are for more sporty and active people while motor yachts are often filled with more amenities. Catamarans can be roomier if a larger group wants to enjoy sailing. And the schooner is for the lovers of tradition. If a beginner, make sure you can tell the difference between these types before your pick one:
Motor Yacht. It includes most types and sizes of boats propelled with engines, including small speedboats that are allowed to island-hop in short distances and on the other side of the spectrum superyachts or megayachts (meaning luxurious ones with lengths ranging from 40m/131ft to 180m/590.5ft (currently maximum length available for charter is 90m/295ft).
Sailboat. A boat propelled partly or entirely by sails is the most traditional and popular form of yachting in Greece. Some upscale over 25m/82ft sailing boats are characterized as superyachts too.
Catamaran. The hull is the watertight part of a boat and the catamaran type is a two-hulled or multi-hulled one that has more stability and less resistance to the water than the classic monohull sailing boat. It has a huge range of sizes and can be chartered for sailing too.
Schooner. It's a two-or-more-masted wooden vessel built in the traditional way and has a characteristic shorter foremast as opposed to the other multi-masted sailing boats. The gulet (Turkish term) is also wooden but doesn't have this design detail.
Weather
The most recognizable wind in the Aegean Sea (similar ones in the Ionian) is the Greek 'meltemi' or 'meltemia' (in plural). They are also called etesians and they are described as dry strong northern winds that blow from about mid-May to mid-September (7-9 Beaufort). They appear without prior notice in a clear sky and are more intense from the afternoon until early in the evening, yet at their worst, they last for a few days without a break. For seasoned sailors sometimes these winds are fun. Yet smaller motor yachts, hydrofoils, and ferries are often not allowed to travel with such winds. Keep in mind that when the meltemia blow, you should find beaches on the southern coasts of the islands to swim. Websites like WindFinder.com provide you with detailed maps of currents winds and forecasts so that you have an idea before you decide to travel.
On-Board Amenities & Services
Depending on your preferences and yachting profile, you will decide on the type of services you need. If you are a certified skipper and some of your friends want to help, you can opt for a bareboat meaning just the boat without a crew. Those lacking certification should go for a skippered boat (just a skipper without crew) or a crewed boat (minimum with a captain and a hostess/cook). Another type of service offers captain-guided tours or cruises where a skipper guides you through the specifics of the area and the boat for part of the trip or most of it. You can customize your itinerary, organize a party or other event on board, charter a yacht with a famous chef for private dining, exercise with a personal trainer, do yoga or massage with a specialist, play with the jet packs/ jet skis, dive with underwater seabobs, snorkel with a guide, wakeboard or ski with a tender boat/dinghy and many more fun activities. On-board outdoor cinema is often a possibility with superyachts.
Mega Υachts and Greece's Wealthiest
Greece has a long heritage in shipping and yachting with Greek tycoons owning some of the biggest private boats in the world. Atlantis II (115.76m/380ft), which was commissioned in a Greek shipyard in the 80s by the Niarchos family to outdo Onassis' mega-yacht Christina O has a swimming pool, a transformable disco area, and ultimate luxury for 25 guests. Alexander (121.95m/400ft) which belonged to the family of the late shipping magnate John S. Latsis (built in 1966 & lastly refitted in 1998) offers luxury accommodation and facilities for 60 people. The 3-masted Maltese Falcon (88m/288.7ft) with smart eco-friendly DynaRig technology which was commissioned by businessman Tom Perkins and is one of the world's largest and most complex sailing yachts – currently available for charter – belongs to Greek hedge fund manager Elena Ambrosiadou. The Baracuda Valletta (50m/164ft), which was custom built in 2009, is featuring characteristic purple sails, and is currently available for charter offering a luxury trip for 10 guests. It most probably still belongs to shipping magnate George Economou. Guilty (35m/114.8ft) which is featuring an exterior covered with a kaleidoscopic pattern by Jeff Koons belongs to internationally acclaimed art collector Dakis Joannou. Okto (66.4m/217.8ft) which was built in 2014 and features among other luxuries for 10 people an infinity pool (available for charter), belonged to shipping and steel magnate Theodore Aggelopoulos. Christianne B (41.8M/137.1ft), which is a luxurious sailing boat for 10 guests, custom built in 1986, is owned by shipping tycoon Captain Panayiotis Tsakos. The list of stunning Greek yachts is endless!
Boat Shows and Regattas in Greece
With such a long history in yachting, Greece is the place where many yachting-related events are taking place. Boat shows are usually held in major coastal cities like Athens, Thessaloniki, and Piraeus, showcasing a range of boats and yachts from various manufacturers and dealers. These events are not only a platform for buying and selling boats, but they also offer a chance for networking and learning about the latest trends in the boating industry. Regattas, on the other hand, are competitive sailing events that bring together sailors and sailing enthusiasts from Greece and beyond. They provide participants with the opportunity to race their boats, enjoy the scenic beauty of the Greek islands, and experience the hospitality of the Greek people. The following are among the most popular ones, mentioned with a few details, and their dates for 2023:
Mediterranean Yacht Show. It is planned for April 29th-May 3rd, 2023, offering 4 days of fun yachting around the port of Nafplion.
Athens Boat Show. This important annual event (December 6th-10th, 2023) includes exhibitors in the area of speed boats, sailing boats, equipment, fishing, and other services related to marine tourism.
Aegean 600. This annual 600-mile non-stop race across the Aegean will run for the third time from July 7th-15th, 2023. It is organized by the Hellenic Offshore Racing Club established in Piraeus in 1961. The marina that will host the boats is situated in Lavrion, near Cape Sounion, Athens, and is fully equipped based on the highest international standards.
Blue Cup Regatta. This annual event happens for the 32nd time in the Saronic Gulf from October 28th-November 4th, 2023. 50 boats compete for 9 days in 3 categories among the beautiful small islands near Athens. 32 years since it was established in 1991 by Vernicos Yachts, this exciting annual passage race has grown into an international event attracting entries from all over the world. In 2011 Dream Yacht Charter purchased Vernicos Yachts and continues the Blue Cup. Yachts built by other shipyards like Jeanneau, Bavaria & Dufour participate in the Regatta. The highlight is the Grand Prize-Giving Ceremony, with dinner and dancing at the last port of call, Porto Heli.
Spetses Classic Yacht Regatta. Organized by the Yacht Club of Greece and supported by the one-and-only Poseidonion Grand Hotel, this prestigious regatta in the Saronic Gulf attracts international crews. It has been scheduled for June 22nd-25th, 2023.
Rodos Cup. Organized by the Rhodes Yacht Club, it has been taking place for the last two decades, today with over 100 teams competing and covering different levels. The race starts from Kos island and finishes in Rhodes passing through the smaller islands of Kalymnos, Nisiros, and Symi. It is scheduled for July 23rd-28th, 2023.
Posidonia Cup. After an extended break, the prestigious Posidonia Cup sailing regatta will once again bring the international shipping community back together. Launching Posidonia week on Friday, May 31st, 2024 for the 11th time, the Posidonia Cup will become one of the longest-standing corporate sporting events on the global agenda. The historic Saronic Gulf is the ideal setting for a race that is expected to attract some 60 yachts and over 600 crew members, who will be invited to the prestigious Award Ceremony, where the winners will be presented with their trophies in a picturesque setting. Posidonia exhibitors and all members of the international shipping community are invited to join the race, either with their own private yacht or with those provided by the co-organizers, the Hellenic Offshore Racing Club (HORC).
International Catamarans Cup. Open to sailors of any level of competence, this regatta (launched by Istion Yachting in 2010) draws participants from all parts of the world who wish to share with family and friends 4 days of competitive sailing combined with many side events and lots of fun. The special welcome for the participants on every island of call, the thematic competitions, the cocktail parties, and the dinners hold many surprises every year. This time it will take place from October 28th-4th, 2023.
Aegean Regatta. In the Dodecanese islands, the great annual race that was launched in 2001 and will take place on August 20th-26th, 2023, aims at rediscovering the beauty of bigger and smaller islands from within a sailing boat.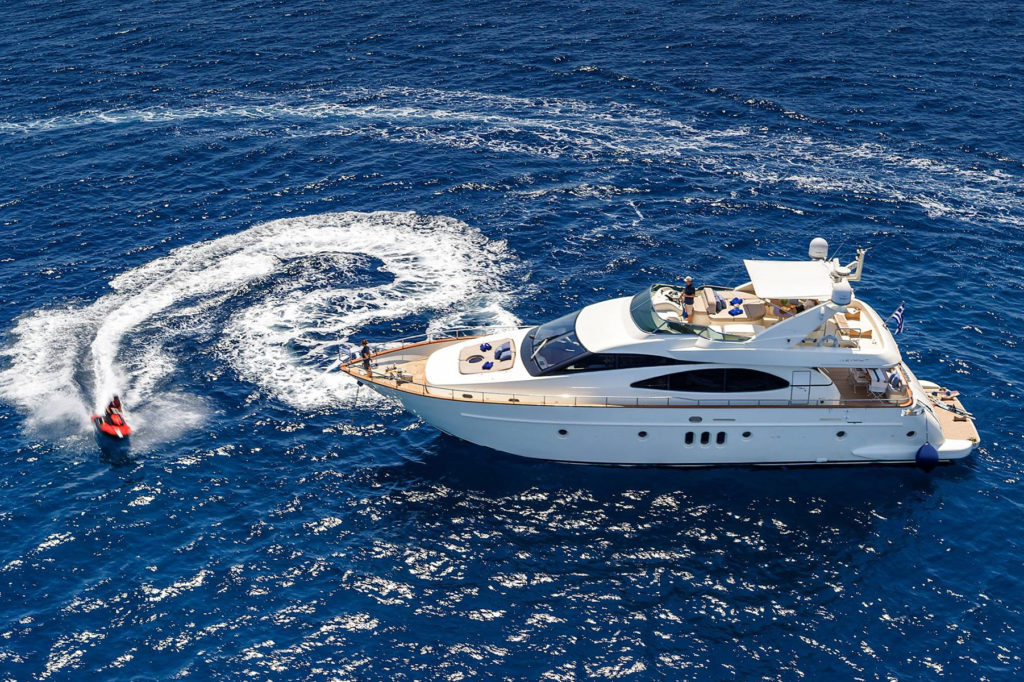 Suggested Boat Charters
It is very important to find the agency that fits your criteria for yachting. Look for those with many years of experience under their belt or those with great reviews and clientele. Their professionalism should be evident through their consultation and presentation of their services. Check their background and certification. Our suggestions include the following companies:
Atalanta Golden Yachts. Established in 2006 as a team-up of Atalanta Marine — one of the first brokerage companies and a pioneer in Greek yachting since the 70s — and Golden Yachts, a company specialized in the construction and refit of luxury custom yachts, ranging from 94 to 272 feet, it is fairly acknowledged among the best in luxury yachting and mega-yachting. Leading the market of management, sales, and chartering of crewed yachts in Greece, it will provide you with the ultimate private yachting vacation tailor-made to your needs. High standards of yacht selection and maintenance are ensured, and the crew's skills come beyond any doubt. For its profound dedication to 5-star luxury and customization, the company is endorsed by repeating clients and top internationally operating agencies. Its charters are available both in Greece and many other destinations around the world. With the jaw-dropping O'PARI (311.6 ft/ 95 m) and O'PTASIA (278.1 ft. / 85m) among other gems in their fleet, it seems that yachting-wise, the sky is not even the limit!
Vernicos Yachts. Established in 1975 and carrying the heritage of family enterprises that stretch back to the 19th century, it offers crewed yacht charters and procurement of yacht-related services from the best professionals in the industry. With a fleet of company-owned or privately owned sailing yachts, motor yachts, and catamarans, an extensive network of bases in Greece, Turkey, and Croatia, and a team of professionals at your service, they definitely give you the absolute experience in sailing. In 1997 Vernicos Yachts became the first yachting company in the world to acquire the quality certificate ISO 9001 for yacht sales and charters.
A1 Group. Specialized in superyachts as an agency, a charter, and a broker, providing additional services such as concierge, management, technical support, and provisions, they will custom-design your upscale yachting experience so that you don't worry about anything at all. Working with a network of offices and companies from all over Greece and the world, they will make sure that your onboard itinerary meets 100% of your needs. The teams operate in Greece and Cyprus being able to provide you with a meticulously curated list of suggestions, helping you pick the right yacht and the ideal list of things to do, including secluded beaches, rare wine tasting, special performances, expert-guided tours to sightseeing, bespoke yacht decor and floral arrangements, personal training, and more. An international crew and team will plan everything ahead. Specialty foods such as caviar, salmon, foie grass, truffles, and even the most exquisite varieties, along with premium meat, fish, and seafood can be served while you are island-hopping. For activities, they collaborate with the most skilled diving, hiking, and cycling instructors. Deep knowledge of the weather and the local naval geography, along with best-kept secrets will make for a flawless trip. Feel free to share with them all you are dreaming of happening in Greece, even more so now that a private visit to a museum or a private Michelin-star dinner offer additional vacation safety.
Exadas Yachts. In-depth expertise is combined here with great options for bareboat and crewed yachts of all types – sailboats, motor yachts, luxury yachts, and catamarans.
Athenian Yachts. A family-owned business with over 34 years of experience in boat sales, yacht charter & management, and yacht maintenance, makes boating with motor & sails catamarans, sail yachts, and monohulls an exciting experience for you. Their fleet operates in 8 bases that cover the five main sailing island destinations in Greece; the Ionian Islands, Cyclades, Saronic & Argolic Gulf Islands, Sporades, and the Dodecanese.
Yacht Sailing. Among other services, they offer value-for-money customized skippered sailing itineraries in their own yachts that are yearly inspected and certified by the Lloyds registry. They promise that before your departure your yacht will comply with the amenities of a 5-star hotel and for that, they have a 5-star Trip Advisor rating.
Sail Greece Yachts. This boutique agency that was founded in 1985 by two close friends who love sailing, Giannis Makridakis and Vassilis Patiniotis, is offering skippered and bareboat yacht charters to the Greek islands in privately owned sailing boats.
Fyly. Established in 1989 by Miltos Goutos and Barbara Gabriel, this is an important yacht charter company by a family that has a big name and great expertise in the field. The brand name 'Fyly' sounds like the Greek word that translates as 'friends' and this is the type of relationship the hosts want to have with their customers. They offer luxury cruises with optional customized services by 2-6 crew members, a captain, a deckhand, and a chef.
MG Luxury Yachts. For over 30 years, this company offers luxury yachting services under the supervision of the highly experienced manager Mrs. Mary Gogossis. It's definitely a woman's vision!