Luxury Villa Rentals in Greece in the Post-Pandemic Era
Back in the summer of 2020, Greece was gradually and relatively early opening up to international tourism despite all adversity related to Covid-19. The strategic moves against the pandemic were orchestrated and curated by the government and other authorities with surgical precision, as the slightest mistake could end up in another lockdown locally or nationwide. Expert advisors contributed to a safer picture for those visiting Greece. They managed to do the impossible, and some of our cosmopolitan friends claimed that the Greeks were showing the world how to do tourism. A scheduled application of hygiene protocols, testing upon entry to the country, special measures based on a constant reassessment of globally updated data, and, most importantly, caution at the initial stages of this health crisis, have been proven life-saving. Staying prudent and proactive was the key to a disaster-free summer. Fast-forward to 2021, and we saw Greece going through a curated plan of local lockdowns and general restrictions, as well as a vaccination program that allowed it to remain a safe destination. Cases rose significantly by the end of the year yet were slowly dropping again, and the authorities were optimistic. In 2022, everything was under control after a peak in January. In 2023, everybody agrees that Greece is a top-choice destination for the summer.
After all, this country has a glorious precedent. As early as the 1930s, it was mandated that all exterior walls of the buildings will get whitewashed to enhance hygiene, due to this coating's mild antimicrobial and antibacterial properties. Later in the 60s, sanitary benefits of that measure further encouraged its enforcement, and visible examples of these policies are the blue-accented whitewashed houses in the Cycladic islands of the Aegean. Practically, white represented the Greek obsession with cleanliness that promotes great health. White walls are also convenient because they reflect bright sunlight, keeping the interiors cool in the summertime. This is the historical background that might explain why this little country confronted the virus quite effectively.
A-listers and other elite visitors focus on privacy, luxury, customization, and seclusion. An opulent, sea-view, isolated villa with trained staff, and upscale amenities for a couple, a group of friends, or families, is meeting the post-coronavirus vacation requirements. Instead of mingling with randoms at a fancy cocktail bar, some people would still prefer drinks and private dining at their posh or boho-chic rented villa somewhere in the Athenian Riviera, the Peloponnese, the Halkidiki peninsula, or the Greek islands. It is true that all luxury hotels guarantee the utmost hygiene for guests on their premises. Yet, this season too, they might have to compete with the countless fabulous privately-owned villas all over Greece. The most conservative travelers might be looking for a space nobody else – except for those at their service – will have access to. You might be one of them, looking for a private jet, a helicopter transfer, a private beach, a personal trainer & chef, and all the autonomy in the world. Estates, villas, and luxurious properties are abundant in this country, yet top-tier professionals take an extra step, scrutinizing availabilities and presenting you only with those that deserve to be characterized as 'luxe' or premium. Most of them are offered along with concierge services so that you have nothing to worry about. Experiencing the Greek Summer not just as a 'state of mind' but also as a tangible reality will make you feel that you are indeed fortunate. Agencies will further advise you on updated traveler specs & regulations as well as the easiest way to get to your dream destination.
Luxury Villa Rentals, Concierge & Real Estate Firms in Greece
White Key Villas. Established more than a decade ago by native Greeks with multinational backgrounds, they specialize in designing for each discerning client a unique Greek villa rental experience. Combined, this team of experts speaks 6 languages and boasts careers that span 8 countries. It is now merged with "The Thinking Traveller," which started in Italy and has been voted many times as Condé Nast Traveller's top villa rental company in the world. Devoted to the realm of luxury services through a robust network of professionals, they promise to find you the right vacation space. Child-friendly options are their specialty. In their current portfolio, they include properties in many Greek islands, as well as the Athenian Riviera, and the Peloponnese.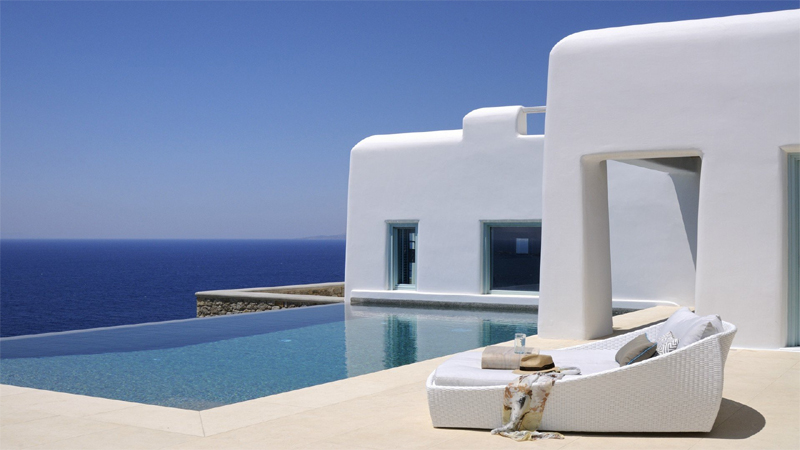 Bright Blue Villas. A rich portfolio of luxurious private villas in Greece holds the answer for vacationers looking for privacy, exclusivity, and discretion. Whether seeking dreamy beachfront villas, romantic villas for couples with a private pool, or spacious villas for large groups, such rentals in Greece are synonymous with unique style and aesthetics. Dedicated concierge experts turn every private luxury accommodation option into experiential travel with custom itineraries, including sports, wellness, entertainment, and culinary highlights. They recently expanded their roster of one-of-a-kind villas into the gorgeous islands of Hydra, Aegina, Tinos, and Syros. A high-end approach to vacation applies everywhere. Boat and helicopter transfers, car rental, airport transfers, yacht, and catamaran charters, as well as guided tours, can be arranged upon request. Babysitting services, children's activities, kid's parties, cakes for special occasions, beauty services, fitness instructors, courier services, chefs & cooks, housekeeping services, gastronomy & wine tastings, spouse itineraries, restaurant, and nightlife recommendations are made possible. Plus, your young ones can spend their day water-skiing, sailing, scuba-diving, canoeing, or windsurfing in the bright blue waters.
Blue Villas. From handpicking unique properties around Greece to award-winning concierge services, the team of specialists focuses on creating a bespoke experience. Each property is inspected in person and carefully chosen to meet more than 150 criteria. On-site staff during your stay maintains a discreet presence, responding to your needs upon request. Since 2016, this posh hospitality company has been voted the "Best Serviced Luxury Villas" in Greece by the World Luxury Hotel Awards. The upscale concept is applied to over 350 villas on the popular Greek islands of Mykonos, Santorini, Paros, Antiparos, and Crete, as well as other Greek islands and mainland Greek destinations. With over 8 years in the luxury rental industry, the original vision stands firm around the parameters described as 3 Blues; each villa being graced with three blue-shade elements as a view: the pool or Jacuzzi, the sea, and the sky. A consultation precedes everything so that you book the right villa. A Signature Portfolio section differentiates luxury villas from 5-star level properties that exceed every expectation. Services are offered in partnership with Traveller Made network, a selection of the best travel designers in the world, and J.MAK Hospitality.
The Greek Villas. Luxury villas in 26 amazing Greek destinations are coupled with a 'Private Hotel' villa experience. In each of the 400 remote private villas scattered in the Greek islands with the services of a 5-star hotel (private transfer, thorough daily cleaning, catered meals, wellness sessions, and more), guests can enjoy dream vacations. From 11-bedroom properties with direct beach access to 3-bedroom hilltop wellness retreats, there is one perfect answer to your quest for a safe and opulent getaway. Private boat trips, pampering spa treatments, and private jets are part of the fun.
Greek Villas Boutique. This Athens-based boutique vacation rental agency offers a curated portfolio of the most stylish, comfortable, and beautiful villas around Greece (islands & mainland), based on an in-depth knowledge of the market. The over 300 villas come with Travel Assistance and Concierge service in conjunction with trusted luxury partners that customize your stay in tremendous detail. A team of carefully selected private chefs will ensure the highest quality meals with local products. Guided tours to sightseeing, part-time or full-time babysitting, pre-stocked groceries, fitness activities, spa treatments, and private yachts & flights can be meticulously arranged.
Blue Collection. Nailing the 1st place in 2018 at the International Luxury Lifestyle Awards in the category of Luxury Villas Rent Service in Greece, this agency offers a top-end selection of properties in Mykonos, as well as in the islands of Paros, Ios, Kea, Crete, Skiathos, Zakynthos, and even chalets in Courchevel, France. Blue Concierge Club members also enjoy platinum services in Paris, Cannes, Nice, St. Tropez, Monaco, Gstaad, Ibiza, the Americas, and the Caribbean. In Mykonos, villas of 2-21 bedrooms come with an appointed chef, butler, maid, and daily breakfast. Feel free to request a babysitter, beauty expert, chauffeur, event planner, animator, hairstylist, personal trainer, bodyguard, and all professionals that can offer you a big smile. Additionally, the company has a private large & mega-yacht charter service (more than 2,000 options), car & limousine rental (including 4×4 vehicles & luxury sports cars), a very serious security team of professionals trained in the military and other special forces, and a private aviation department with access to elite aircraft choices.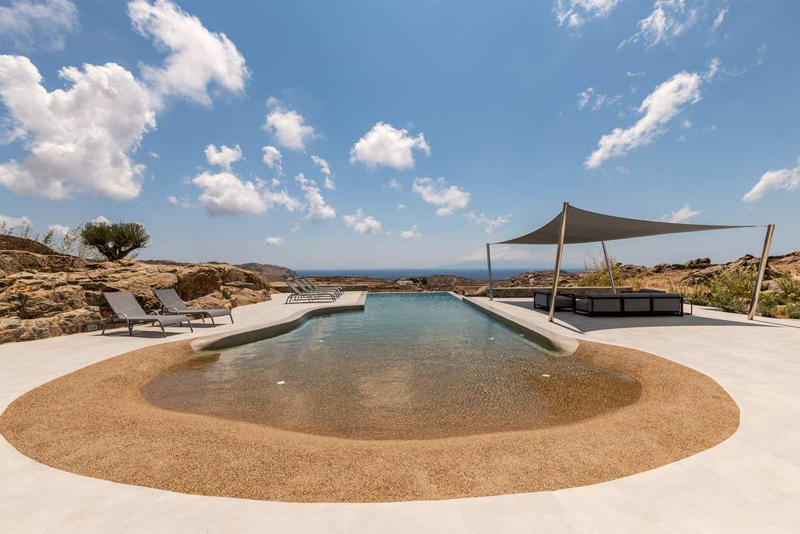 More than Villa. With a small, carefully curated selection of villas mainly in Mykonos, but also in other locations (Athens, Ios, Paros, etc.), this boutique agency offers all the services of the bigger ones including security, gastronomy, babysitting, VIP transfer (helicopter, your favorite Riva or anything else), yacht rental, personal training, and sports.
All Greek Villas. Rental & concierge services involving an extensive collection of high-end villas in Greece are offered by a 30-year-old agency initially founded as a global event management company. More than 900 villas are filtered by specialists ending up with the fittest suggestions for each client. Opt for the private VIP Collection if you need something extra luxurious. A team of specialists at your disposal will make restaurant and exclusive beach club reservations, charter jets & yachts, rent cars, book private chefs or catering, and bring the destinations' best-kept secrets to your fingertips.
Villa Delight. A team of globetrotters and seasoned travel professionals based in Dubai, Athens, and Geneva represent a new generation and a fresh concept within the travel and luxury villa rental industry. Among global destinations such as the Alps, Italy, Spain, the South of France, and Thailand, you can be assisted in picking your favorite villa in Athens, Peloponnese, and the Greek islands. VIP chauffeur services are specially tailored to your needs, as well as luxury cars and minivans rentals. The always-available F&B team consists of professional chefs, waiters, mixologists, and DJs. Professional partners maintain a fully equipped fleet of privately owned Lear jets and turboprops as well as a fleet of luxury helicopters with bases in Mykonos, Athens & Santorini. Villa Delight maintains connections with hundreds of yacht owners worldwide. It may cater to yachts up to 80 meters with competitive pricing, and the largest in the world, including the Okto and the Maltese Falcon. A network of highly trained and skilled experts is offering a broad array of invigorating spa and beauty therapies in the comfort of your villa, along with services by physicians, nutritionists, personal trainers, yoga/ Pilates/ tai chi instructors, and acupuncture practitioners. At your service, upon request, you will also have nannies, security guards, butlers, maids, personal shoppers, pet sitters, first-class entertainers, DJs, photographers, sommeliers, sports trainers, tailors, event planners, and more.
The Agency Estates. Founded by two young Greek ladies, this boutique lifestyle real estate & vacation home rental company maintains a well-curated portfolio of privately owned villas that can be coupled with premium concierge services. Founders Ada Stamopoulou with experience and studies in Europe, the US, and Asia, and Evita Katsiani, who has worked in London as an architect and in Athens as a marketer, ideally complement each other in the area of property management & evaluation. Their mission is to make your lovely getaway to Athens or the Greek islands the most memorable of all.
Five Star Greece. Founders Ileana von Hirsch and Evi Aidonopoulou offer a unique personal service locating the perfect villa or yacht for your needs. They think of themselves as the experienced matchmakers between a sophisticated clientele and a select pool of luxury villas and destinations. They work through a consultation process during which you feed them with preferences, and they feed you back with a personalized list of options. For their high-end impeccably designed services, since 2006, they have been chosen by Conde Nast Traveler as top specialists in the area of Greek villa rentals. They also have been acknowledged among 'World's top Superagents' by Centurion Magazine. Plus, they regularly scoop journalists from the Financial Times, Departures, Robb Report, Worth Magazine, Forbes, Globalista, The Sunday Times, The Telegraph, Harper's Bazaar, Vogue, and other top publications with rental trends, tips, and recommendations. The well-connected, highly-skilled team is active between London, Athens, and Brussels. Their network includes as associates the UK-based Bespoke Travel Club and the exceptional Athens-based Magna Concierge that books hotels, flights, tour guides, airport pick-ups, helicopters, cars, and anything you can imagine of for your villa.
Greece Sotheby's International Realty. From exquisite private villa rentals to private estates, apartments, and private islands available to buy in Greece, the Greek branch of the global leading luxury brokerage firm has it all for you. Handpicking only the best properties, they offer you a unique opportunity to vacay like never before. Only tens of exclusive villas are currently available plus a private portfolio for an elite clientele, yet these can provide you with nothing less than excellence. The villas are located in the most privileged, often seaside plots of land, and are equipped with the highest aesthetic luxury amenities.
Engel & Völkers Greece. With over 250 luxury villa rentals in Greece – especially in Athens and Mykonos – one of the world's leading service companies, specialized in the brokerage of premium residential property for more than 40 years, offers exceptional choices from its Greek branch since 2010.
Errikos Kohls. This premium rental agency consists of a German-Greek team based on the Greek island of Paros and specialized in designing a bespoke itinerary & stay on this picturesque and lively Cycladic island. They know every little secret, and they have browsed the properties and the local real estate scene thoroughly. Sightseeing, sea sports, dining, and nightlife in Paros are their domain, and they can assist you in organizing everything in and outside your villa. From a helicopter ride to a more traditional boat trip, a private chef, and a nanny, they have you covered.