Most Insightful Coffee-Table Books About Greece
Books are great gifts, and some are also sophisticated decorative details. Rather than being mere interior design accents, we picked those with intriguing content for you, showing you Greece from a far more educated perspective in ways that both inform you and lure you to its inherent magic. Adding more depth to the notion of a coffee-table book and a casual-reading 'beauty,' our suggestions are enlightening and revealing, a great surprise for lifestyle and luxury connoisseurs, and probable points of reference for cosmopolitan travelers. One of the first travel writers in the world was the Greek geographer Pausanias, who lived in the 2nd century AD, traveled a lot in the known world during Roman times, and wrote his Description of Greece or Hellados Periegesis, which consists of 10 'books,' each dedicated to one region of Greece. Described as "cultural geography," his work has been a reference for archeologists and globetrotters through the centuries. He wrote about Greece because it was already a dream destination and a place mentioned by most of the earliest writers, including ancient Greek poet Homer, who wrote the Iliad and Odyssey around the 8th century BC. As you can see, Greece has been triggering travelers' imaginations for thousands of years. Since these classic books are charming but rather complicated to grasp from their translation, let's delve into today's Greece through their best-written modern counterparts; books people read today, before booking their next flight to Athens, the Greek mainland, or the islands, and even as they are dreaming of an epic post-Covid19 vacation.
Louis Vuitton Fashion Eye Series – Greece by François Halard. Louis Vuitton invited the French photographer François Halard to share his personal journey through Greece in one of the titles included in the Fashion Eye photography book series. Far from merely an outstanding photographer of interiors or home furnishings, Halard sees himself as a soul-hunter, capturing places that are alive, infused with the spirits of their owners. Here, he casts his gaze on Greece, or more precisely his Greece: "We don't include a shot of the Acropolis in this book, nor photos of several other iconic places. It's not meant to be an exhaustive journey or a catalogue raisonné. Like all travel, it's a personal, even an imagined, journey." Classical sculptures, mineral structures, and landscapes rising from the earth fill the book's pages, tinted in blue tones, relishing the shade of villas on the island of Symi, all as if under the watchful eye of Halard's mentor, Cy Twombly. It's an eclectic approach to Greece that focuses on unexpected, beautiful aspects and exudes an incredible sense of style with the iconic house's seal of approval.
Mykonos Muse by Lizy Manola (Assouline). Located in the Cyclades and surrounded by the blue-green water of the Aegean sits whitewashed, windmill-strewn Mykonos. This ancient island and those surrounding it, mythologized as the bodies of gods felled by Hercules in antiquity, are older than legend and have played host to countless cultures for millennia. At forty square miles and boasting a population of only ten thousand, the 'Ibiza of Greece' has become prized for gorgeous architecture, welcoming and open-minded locals, and fantastic beaches. With such names as 'Paradise' and 'Super Paradise,' the sands of these shores have captured the imaginations and hearts of industry titans, artists, and party-goers alike from all around the globe, marking it as a stable cosmopolitan destination and as a paramount 'it' haven of the jet-set circuit. This book chronicles the culture and society that has defined Mykonos over the last century — from its days as a hideout for such luminaries and elites as Le Corbusier and Antonis Benakis to its moment as a sanctuary for the gay community, to its predominant party scene — all the while indulging the reader with the ruins and myths hidden there. Its Greek author Lizy Manola is an acclaimed documentary photographer and owner of a summer house in Mykonos who has already published another two books with Assouline, with this one becoming an instant classic! Additional contributions have been made by Rachel Howard and Michael Skafidas. This book is now regarded as a quintessential intro to the 'Island of the Winds!'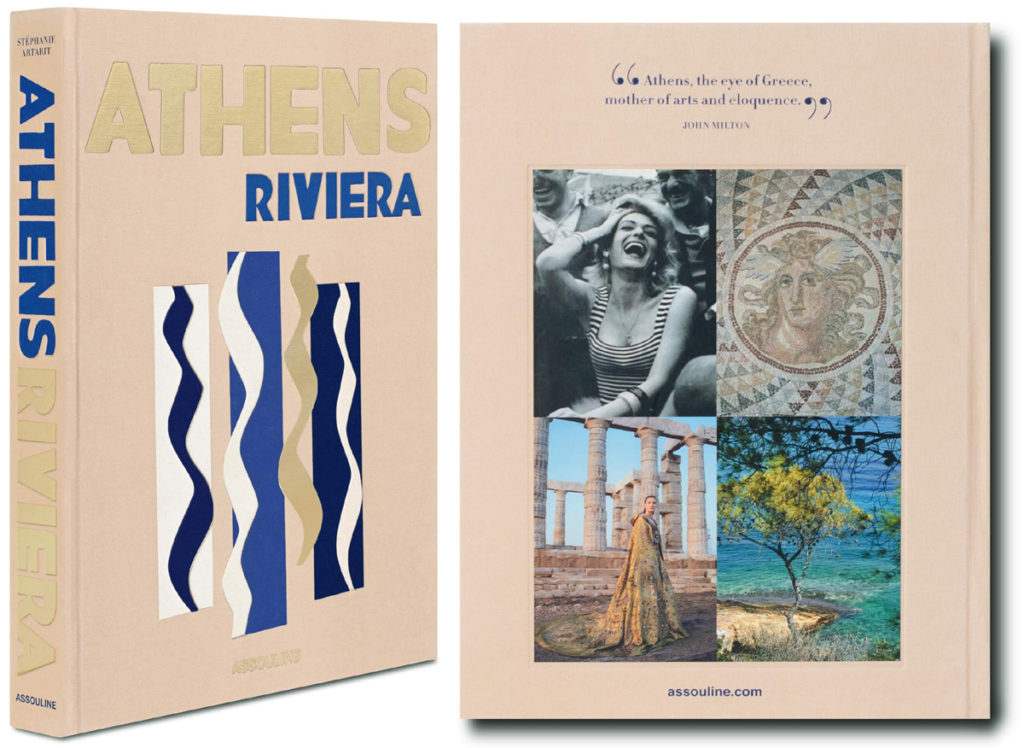 Athens Riviera by Stephanie Artarit (Assouline). Released in May 2020, this book is one of the latest additions to Assouline's series of books on magical travel destinations. Overlooking the Aegean Sea, a charming string of coastal neighborhoods constitutes Athens Riviera, a serene escape from the city center's constant activity. A selection of high-end hotels lines the pristine stretch of beaches down to the Attica Peninsula's southernmost point, Cape Sounion. The revamped Four Seasons Astir Palace, with a history of accommodating foreign dignitaries and film stars since the 1960s, is the most luxurious hotel in Athens and perhaps in all of Greece. The nightclub Island brings back the glamour and fun-loving spirit of the 20th-century bouzouki clubs reminiscent of Melina Mercouri and Stavros Niarchos's times. Indeed, Athens is experiencing a revival in art, nightlife, and design, and this is among the reasons why Assouline decided to tap into its charming Riviera. Island club's owner Chrysanthos Panas, a visionary entrepreneur in the areas of entertainment, event management, and hospitality, has been an ardent supporter of this initiative. He wrote the book's foreword and is probably the most prominent Greek who has consistently popularized the idea of the Athens Riviera among jet-setters, luxury connoisseurs, and superstars. As pointed out in the book, for a metropolis always associated with the past, the modern strides taken in development and culture are sometimes overlooked in favor of Greece's antiquity. In fact, the juxtaposition only enhances the beauty of both. This new book puts the old-world beside the new-world element and navigates you through spectacularly desirable and iconic photos to the essence of this ancient capital and its modern lifestyle. With access to both the vibrancy of city life and the tranquility of beachside resorts, Athens shows its cosmopolitan character, and the book amazingly links the glorious past with the exciting present. The ultra-sophisticated presentation equals authentic Greek luxury. Its author Stéphanie Artarit lives today between Athens and Antiparos island.
Greek Islands by Chrysanthos Panas (Assouline). Released in April 2022 with an embossed linen hardcover, this luxurious tome is a destination in itself. Teaming up again with Martine Assouline, Athenian businessman, art collector, philanthropist, and hospitality innovator Chrysanthos Panas wrote a book dedicated to the endless expanse of shimmering waters and unmatched Greek experience for those visiting the islands of the Aegean Sea. An expert in destination management and co-owner, with his brother Spyros, of several well-known clubs and restaurants in Greece, such as Island and Athénée, he introduces us to each island's unique spirit and mythology. From Patmos (a favorite of Aga Khan) to Hydra (which captivated Henry Miller, Leonard Cohen, and Sophia Loren), the islands are imbued with a seductive sense of history, tradition, and adventure. Several films over the decades have been shot on them, including Boy on a Dolphin (1957) on Hydra, The Big Blue (1988) on Amorgos, and The Sisterhood of the Traveling Pants (2005) on Santorini. Sources of inspiration for millennia, the ancient ruins, cliffside monasteries, and volcanic rims are all can't-miss sights. Photographer, hospitality consultant, travel writer, marathon runner, and aviator Katerina Katopis-Lykiardopulo offers a charmingly authentic perspective. Her adventures have taken her to more than 110 countries, but to her, there is no place like Greece. As a member of the team behind some of the country's premier luxury destinations, she has been instrumental in introducing the concept of branded residences in Greece for projects such as Amanzoe. Venturing on an Odyssey of their own, the author and the photographer boarded a traditional Greek sailboat and set out to capture the calming atmosphere, quintessential characters, and breathtaking architecture of these gems of the Aegean. It is a spectacular journey re-created in 312 pages graced with over 200 illustrations, and the foreword written by Eugenia Chandris, a hospitality industry executive, author, the founder of the eclectic shopping platform A Magic Cabinet, contributor for the HuffPost, and co-founder of its Greek edition.
Mykonos: Portrait of a Vanished Era by Robert A. McCabe (Abbeville Press). There are hundreds of Greek islands. Why did Mykonos become one of the world's top vacation spots in just a few decades? Part of the answer can be found in these remarkable images, which show the natural beauty and traditional island culture that initially attracted artists, writers, and celebrities like Jackie Kennedy. These photographs, taken in 1955 and 1957 — many for National Geographic — re-create a daylong visit to Mykonos in the days before cars, running water, and electricity. We disembark in the Old Harbor and wander the picturesque streets of Chora (the main town), watching the townspeople at their daily tasks. We visit St. Panteleimon Monastery on a festival day, and take a caïque (a traditional wooden boat) to see the ruins on the neighboring island of Delos. Every photograph is reproduced as a full-page tritone of surpassing quality and accompanied by a detailed caption. This book will fascinate modern-day visitors to Mykonos and those who trace their roots to the Greek islands. Its author Robert A. McCabe is an acclaimed American photographer and Grecophile who has published many books and was given honorary Greek citizenship in 2020.
Santorini: Portrait of a Vanished Era by Robert A. McCabe (Abbeville Press). Today Santorini is visited by some 2.5 million people a year. But when Robert McCabe and his brother arrived there in 1954, they were the only visitors on the island. In this collection of iconic photographs from the 1950s and 1960s — reproduced as monuments of timeless island-born bohemian elegance — McCabe has recorded the hardscrabble, yet often romantic, life of a vanished era. Picturesque whitewashed houses dug into the volcanic pumice, the harvest of the island's famous cherry tomatoes, the winding road to the ruins of ancient Thera, and many other original moments were captured by his lens. McCabe's photographs are complemented by two essays from the noted Greek journalist Margarita Pournara, one poetically evoking her grandmother's childhood on Santorini and the other explaining the geological forces that have given this volcanic island its dramatic form.
The Sites of Ancient Greece by Georg Gerster (Phaidon). This richly illustrated book presents 150 of Georg Gerster's most spectacular and evocative photographs of the landscapes and architecture — both ancient and modern — of Greece, a country he visited and photographed numerous times in his long career. The photos here were taken between 1996 and 2006. A short preface by Gerster himself and an introductory essay convey a sense of why this country, its history, myths, and landscapes, have captured the hearts and minds of so many for thousands of years, from ancient kings and poets to modern holiday-makers. In addition, a map of the featured locations and a timeline listing the key dates, events, and eras of the ancient Greek world help set the scene for the picture section to follow. Arranged geographically by region, the images take the viewer on a guided tour of Greece and its islands, from cloud-topped Mount Olympus, home of the Gods, in the northern mainland to Crete island in the Mediterranean Sea. Georg Gerster was a Swiss pioneer aerial photographer and journalist who passed away in 2019.
SANI – A Naturally Dazzling Resort (teNeues). It's easy to be carried away by the sheer fun-loving spirit of Sani. This 5-star, family-owned ecological reserve in Greece stretches across 1,000 acres and hosts 5 inspirational hotels as well as a striking yacht marina. With its endless golden beaches lapped by the crystal clear waters of the Aegean and flanked by the fragrant pine forests of the Kassandra Peninsula in Halkidiki, Sani immerses visitors in Greek nature. Guests enjoy the highest standard of luxury, including private beach and pool options, exquisite spa treatments, and an array of sports, fitness programs, eco-friendly activities, and events for the entire family. This book curates the finest photographs of Sani by acclaimed Greek photographer Marina Vernicos that evoke its simplicity, beauty, and social and environmental consciousness. Some 100 color images capture the freedom and joy a Sani holiday entails: taking off on a bike through the forests, savoring fresh flavors from the Sani gardens, and diving into a warm, aquamarine pool. It is a stunning, feel-good volume taking you on a journey to a one-of-a-kind destination.
Mykonos by Marina Vernicos. The famous Greek photographer's affinity with Mykonos and photography is the reason behind this book; definitely a project of love. The 100 photographs featured in this collection are a testament to the unparalleled natural beauty of Mykonos and the neighboring islands of Rhenia and Delos. "Photographic work calls for dedication to the principles and ideas that allow one to capture, through a lens, the very essence and form of beauty. Having spent my holidays on the island since childhood, Mykonos constitutes a source of endless memories for me, a magnificent place I now enjoy with my friends, husband, and children, forever enchanted by the surrounding Cycladic light and rush of Aegean waters. Blessed are those who have the opportunity to dwell on this island, and the chance to experience such beautiful nature in its alternating seasons. I have traveled to many places around the world, but Mykonos for me is simply one-of-a-kind, as it is for millions of travelers who will always yearn to return to the free-spirited island of aesthetic emotions. Mykonos has always compelled me to photograph her. The island possesses unique energy by which one seldom comes, in other parts of the world. I photograph Mykonos every time I visit. What fascinates me is that every time is different. The island evolves, grows, blossoms, welcomes, hosts, opens, closes, like a bright flower on dry terrain, with a striking Aegean Sea backdrop," she explains. As a photographer, Marina Vernicos is known for a great taste level, a discerning eye; a master in the use of natural light, and a minimalist at heart. Having this book on your table speaks volumes about your aesthetics; surely a next-level conversation starter.
An Island Sanctuary: A House in Greece by John Stefanidis (Rizzoli). The 16th-century house of renowned interior designer John Stefanidis in Patmos is a source of inspiration for homeowners and decorators worldwide. John Stefanidis has created a quintessential island house in Greece, which caused his actual career shift from Advertising to Interior Design. Its bold Mediterranean colors, natural materials, and crisp, clean lines epitomize this comfortable yet sophisticated style. Sun-drenched rooms feature materials like tile, stone, and stucco. One of the house's hallmarks is its emphasis on indoor/outdoor living: spaces such as the "garden rooms" and the "breakfast terrace" are outside yet are thought of as parts of the house. The exquisite gardens are further evidence of a style that effortlessly flows from the inside to the outside. In his own words, Stefanidis explains how the house has evolved over many years, reflecting the designer's love for the island, his original use of vibrant color, his eclectic and cosmopolitan aesthetic, and his desire to combine comfort with style. With 200 vibrant photographs, this hard-to-find book demonstrates how the picturesque scenery of an island retreat and its rich history and culture inspire present-day living. John Stefanidis is a world-renowned and much sought-after interior designer with a prestigious, international clientele, from British aristocracy to elite hoteliers.
Gardens of Corfu by Rachel Weaving & Marianne Majerus (Impress Publishing London). Greenest of the Greek islands, Corfu has long inspired artists, writers, and travelers with the beauty of its natural landscapes and intrigued them with its unique cultural history. Magnificently illustrated and a delight to read, this first-ever book on Corfu's gardens focuses entirely on private gardens, ranging from romantic old estates and highly personal "grandma's gardens" to stunning contemporary works by international designers. Rich with stories, the text brims with insights into the island's remarkable social and natural history. A series of in-depth portraits shows how design ideals have evolved, influenced by global and Mediterranean trends, respecting the local spirit and traditions. The newer gardens are designed for sustainability, conserving water, and drawing inspiration from the surrounding natural landscape. Tracing the roots of their inspiration, the book's last chapter explores the island's varied wild landscape and the procession of wildflowers through the seasons. The illustrations are by Marianne Majerus, who won the 2018 IGPOTY European Garden Photography award for one of the photographs in the book. The Preface is by Mary Keen, garden columnist for the UK Daily Telegraph, and the following is a small, rather indicative excerpt: "There is no doubt that Corfu is the most magical of all the Greek islands. Corfu has also been called 'The Garden Isle.' Blessed with more rainfall than anywhere in the Aegean and with a legacy of ancient olive trees from the Venetian rule, the place, and its flowers have always enchanted visitors."
Sculpture in the National Archaeological Museum, Athens by Nikolaos Kaltsas (J. Paul Getty Museum). This catalog contains all the sculptures on display in the National Archaeological Museum of Athens, undoubtedly the most important collection of ancient Greek sculptures in the world. Each entry is supplemented by a full bibliography and is written not only for experts but also for the general reading public. A useful short introduction offers readers an overview of ancient Greek sculpture from the Archaic Period to the end of antiquity. Included in this lavishly illustrated volume — 28 color and 670 duotone illustrations — are the Poseidon of Artemision, a statue of the god brandishing his trident; a marble group of Aphrodite, Pan, and Eros found on Delos; the Sounion Kouros, a colossal votive statue found in the sanctuary of Poseidon at Sounion; and the Roman statue of a young athlete, Diadoumenos. Archeologist Nikolaos Kaltsas was director of the National Archaeological Museum in Athens from 2002 to 2012.
Best-Kept Secrets of The Greek Islands by Diana Farr Louis (Flame Tree Publishing). Encompassing all 6 of Greece's island groups – starting in the west with the Ionian islands, moving east to the Argo-Saronics, continuing to the Cyclades, Crete, and the Dodecanese, circling up to the North Aegean islands and back round to the Sporades and Evia – this book highlights some of the most beautiful landscapes and villages of the Mediterranean. From the well-known hotspots of Corfu, Rhodes, and Kos down to the smaller or lesser-known islands such as Meganisi, Poros, and Alonnisos, this rather insightful gift book takes you on a journey through olive groves, secret coves, and whitewashed villas clinging to the rocks. It is a travelers' must-have! Its author Diana Farr Louis is a NYC-born writer who moved to Greece when she got married to an Athenian. Her second husband is also an Athenian, and she is currently living between the Greek capital and picturesque Andros island, happy to share what's unique about Greece beyond the obvious clichés seen in other travel guide books.