Most Unique Gyms & Fitness Centers in Athens
As you might have already gathered from our article on luxury spas in Athens, the fanciest or most stylish places to take care of your body are usually located inside the most upscale hotels in Athens where wellness facilities include a fitness center with state-of-the-art equipment and often options for group or personal training. If you are workout-specific and pro-convenience, you definitely need to book at a hotel that offers such options within its premises. Alternatively, you can visit another hotel gym or a standalone gym that accepts drop-ins and visitors. Luxury lovers won't find that many special spaces to exercise, yet a handful of those spots will meet their demands to the fullest. If possible, you are highly recommended to avoid such spaces during busy hours (5-8 pm) when they are struggling to meet the demand. Embrace the athletic spirit inspired by the first modern Olympic Games that took place in Athens in 1896 when French historian Baron Pierre de Coubertin took the initiative to revive similar series of sports events being held in the sacred land of Olympia (a town in Southern mainland Greece) from the 8th century BC to the 4th century AD.
Holmes Place Athens. Right on Syntagma Square, near the most important hotels in Athens – including Grande Bretagne and King George – you will find this elegant gym that is locally regarded to be the most prestigious meeting point for those who love to exercise. The 1st-floor premises decorated with colorful Plexiglas and wood include the latest equipment with music, TV, cardio, and Wi-Fi connection, a 25m/82ft pool with Jacuzzi, sauna & Turkish bath separately for men and women, a free weights and a BoxFit area, a sportswear boutique, a café for smoothies and healthy meals/snacks, studios for scheduled classes, an on-site hairstylist, and a spa next door. You can also book and plan your personal training session with certified professionals. Holmes Place Athens belongs to a world-acclaimed sports club group that created its first gym in 1980 in Chelsea, London.
Street Workout Athens. Founded by two amazing ladies Aggeliki and Tonia who are coaches and medalists at local, global, and Olympic levels, this predominantly outdoors gym takes full advantage of its scenic historic location right across the birthplace of the modern Olympic Games; the all-marble Panathenaic Stadium where you also have the option to run! The premises, which include an indoor gym and a Pilates Studio, inside a neoclassical building, are located in the Fokianos Sports Park near the National Garden and the Presidential Mansion. The first outdoor gym in Athens offers open-air facilities and training tools such as a weightlifting machine with pull-up handles, push-up bars, dip stations, TRX, medicine balls, BOSU, and heavy ropes. It is among the very few athletic clubs in Athens that provide visitors (and members) with the option of online booking. Be part of a small group, design your own custom class, opt for personal training, or get the opportunity to combine guided running with sightseeing around Athens. A single 55-minute workout session costs 17 euros/$18 and the 1-hour guided run comes at 35 euros/$38.
Athlesis. This boutique sports center at the heart of the posh neighborhood of Kolonaki is home to cool small-group and personal training sessions designed to meet specific needs. Personalization comes at the forefront of your workout routine in an elegant space with state-of-the-art equipment. Dynamic cyclic TRX training, circuit cardio workout, cross-spinning, Yoga, Pilates, gymnastics, massage, and more, can be part of your own custom mix. You can also book your sessions online.
FFreak. This boutique gym in Kifissia, a 45-minute ride from downtown Athens, is young & upbeat. Their mission is to ignite a passion for fitness by combining the latest music and exercise science with expert instructors who motivate and energize. Their world-class group fitness workouts take place in specialized studios, designed for groups of 6-12 people and equipped with top-of-the-line gear. To improve your technique and build strength, it's recommended to attend 5-10 classes. The sensory-driven environment is enhanced by state-of-the-art sound systems, studio displays, and club-like lighting installations. Their industrial-luxe facilities inspire clients to push for more. The gym's bar offers a range of muscle recovery options, as well as signature smoothies made with high-quality whey protein and grab-and-go snacks.
Hot Yoga Niko Geo. They brought Hot Yoga to Greece and they keep on infusing the core experience with other types of exercise including Hot TRX and Pilates as well as non-hot-yoga training styles. A short drive north of downtown Athens, this minimalist studio has a great team of certified specialists including its owner Niko Geo who is a world-acclaimed yoga teacher, public speaker, and founder of Agni School of Yoga training accredited by the Yoga Alliance. In a serene space with 40C/104F temperature and 50% humidity, you will get all the benefits of yoga combined with detoxification provided via sweating your way to perfection in special conditions. Online booking is also available.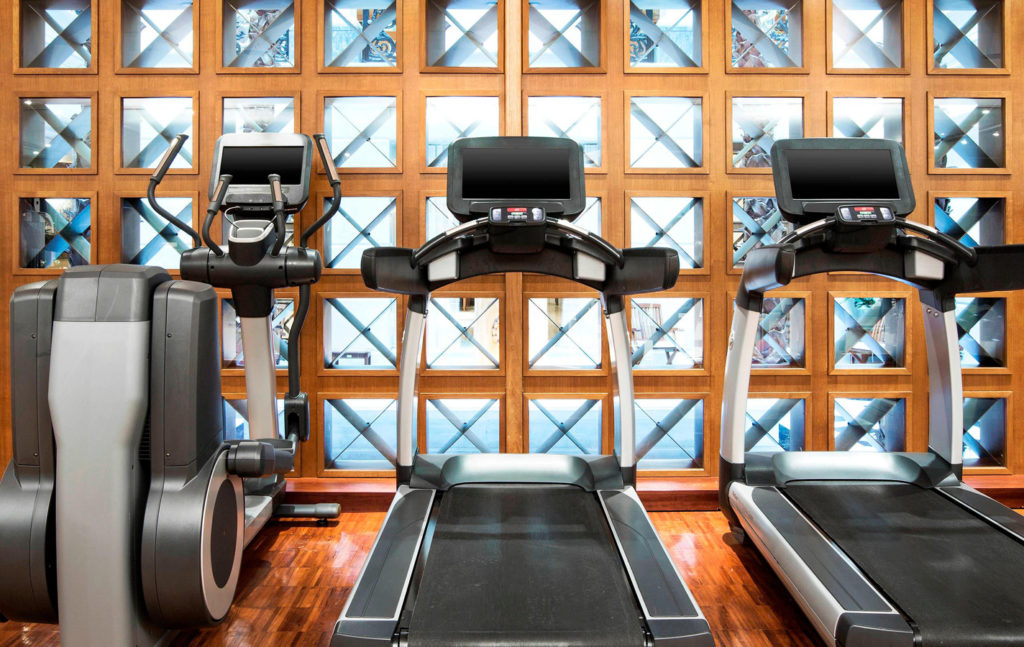 Grande Bretagne Hotel. Inside the most iconic hotel in Athens (on Syntagma Square), the hotel-guests-only gym is set in an equally grand style. Located at the luxurious GB Spa, it features an extensive range of LifeFitness® cardio and resistance equipment—including treadmills, bicycles, and elliptical machines with a flat-screen TV attached to each. Certified personal trainers are available to help optimize a current fitness routine or customize a new one. Chilled bottles of water are also provided during your workout.
Theoxenia Palace Hotel. At this luxurious hotel in the Northern suburbs – a 45-minute' drive away from the center of Athens – you will find another great gym with a view of an outdoor swimming pool. Equipped with the latest Cybex treadmills, stationary bikes, weight machines, stair machines, and an elliptical trainer, it offers you a complete workout.
Four Seasons Astir Palace. If you prefer to exercise with a great sea view, then there is nothing better than the Fitness Center at this top luxury accommodation complex on the stunning Athenian Riviera, the coastal area of the southern suburbs. It is a real gym with the latest equipment and a vast array of options. Your routine can be enriched with yoga, core training, and other classes as well as personal training. It definitely exudes understated glamour and an air of exclusivity.
Divani Apollon Palace & Thalasso. Home to the only Thalassotherapy Center in Athens and one of the biggest spas in Europe, this luxury hotel in the Athens Riviera region features an equally sizeable Fitness Center equipped with Technogym machines and other training tools. Trained staff will guide you through the various options, including personal training at the gym and the pool.
Semiramis Hotel. This tiny Plexiglass-accented space has a view of the colorful Miami-inspired outdoor pool and offers great privacy especially when not busy. Located in this boutique design hotel in the serene Northern suburbs, it is an ideal space for relaxation and invigoration.
Divani Caravel Hotel. We might have not referred to this hotel in our article on luxury accommodation, yet it is very much recommended thanks to its wonderful amenities including its gym on the 9th floor that offers a breathtaking Athenian vista. Equipped with the latest technology Technogym machines and staffed with specialists, it will give you the opportunity to exercise on your own or with the help of a personal trainer.