Where to Shop Italian Fashion in Greece – From Milano, Roma, and Firenze to Athens and the Greek Islands
Has Greece affected Italian aesthetics and vice versa? The answer comes from a centuries-long timeline. Italy and Greece have crossed paths in several ways. Yet, Italy remains the foremost capital of fashion across the world, and here we will see the roots of it, the trail of history, and the ways Italian fashion is among the most coveted options for travelers visiting Greece today from all over the world! Visible remnants of the Roman presence in Greece, such as the Theater of Herodes Atticus (AD 161), the Roman Agora (27 BC-17 BC), and the Arch of Hadrian (131 AD) in Athens and on the other hand, the ancient Greek temple of Hera II (460–450 BC) in Paestum, Campania, Italy and ancient Greek ruins in Sicily show that the Greek-Italian interchange of cultures goes quite back in time. Only in the Valley of the Temples, Sicily, 8 Greek temples were built between approximately 510BC and 430BC. In antiquity, Sicily was the epicenter of the so-called "Magna Graecia" (Greater Greece). As early as the 8th century BC, Greek settlers started colonizing a large area in Southern Italy covering modern-day Calabria, Apulia, Basilicata, Campania, and Sicily. They so much culturally influenced the locals, as seen later in Roman art and architecture, that we almost can't tell the two styles apart, except for the fact that Roman ruins are most of the time newer and better preserved.
"Una Faccia, Una Razza"
Not surprisingly, research shows that similarities between the Greeks and the Italians go as deep as the genetic level. Although such conclusions are still debated, a study published on Nature.com concluded that the genetic contribution of Greek chromosomes to the Sicilian gene pool is estimated to be about 37%. There must be some truth in that, explained through ancient Greek colonization. No wonder why both Greeks and Italians describe their common characteristics with the phrase "una faccia, una razza," meaning "one face, one race." Some see it as a controversial phrase used by Mussolini's occupation forces in Greece, yet for most people, it has only a positive connotation. It was even the title of an exhibition that took place in Rome in 2014 on the occasion of the passing of the EU Presidency from Greece to Italy.
Italian Style Stood the Test of Time
Despite such common roots, there are some profound differences. Italians are to this day obsessed with natural and human-made beauty, the perfect style, and looks. We see it in how they preserve their monuments, decorate their homes, and above all, in how they dress. On the contrary, although Greeks were obsessed with beauty and glorified it through their statues and harmonious architectural masterpieces in antiquity, they aren't that much anymore. They are not now famous for their fashion and design industry or modern architecture. Fine jewelry is the only area of design in which Greeks maintain a long tradition.
Greeks & Italians from Medieval to Modern Times
As we have seen, history goes back in terms of Greek-Italian relations. Greeks love visiting Italy, and Italians are always excited to visit Greece, especially the islands characterized by pristine, untouched natural beauty and cultural authenticity. In Western Greece, Venetians ruled the Ionian Islands from the mid-14th century until the late 18th century. Other Greek locations under the Republic of Venice at some point in their medieval history include Peloponnese, Crete, Tinos, Mykonos, Parga, and even Athens for a short period, hence the various remnants of spectacular Venetian castles and fortresses all around Greece. Italians are very much involved in several chapters of modern Greek history too. They seized the Dodecanese islands in Southeastern Greece from the Ottomans in 1912 and occupied them until 1943. Of these islands, Rhodes had the largest Italian minority of settlers. Impressive Italian administrative buildings from that period are still major points of attraction, repurposed today. In Rhodes, urban planning, infrastructure, and architecture were heavily influenced by the Italian occupation, including, unfortunately, during Mussolini's era. Leading Italian architects of the times, such as Florestano Di Fausto, were involved in Rhodes' modernization. Other Dodecanese islands include Kos, with many elegant old Italian buildings, such as the Albergo Gelsomino hotel, built in 1928 by Rodolfo Petracco as a guest house for Italian officials, and Leros, where architects Rodolfo Petracco and Armando Bernabiti were hired by Mussolini to create the utopian town of Lakki also known as Porto Lago, an Italian naval base. Examples of a hybrid modernist style of Art Deco and Bauhaus are still standing in Lakki, quite different from anything else you see around. Italian administrative buildings of great beauty are also standing at the port of Skala on Patmos, an island regularly visited by Italian aesthetes and fashion insiders (including Alexander Werz, CEO of Karla Otto) in our days.
Italian Celebrities & Fashion Insiders Visiting Greece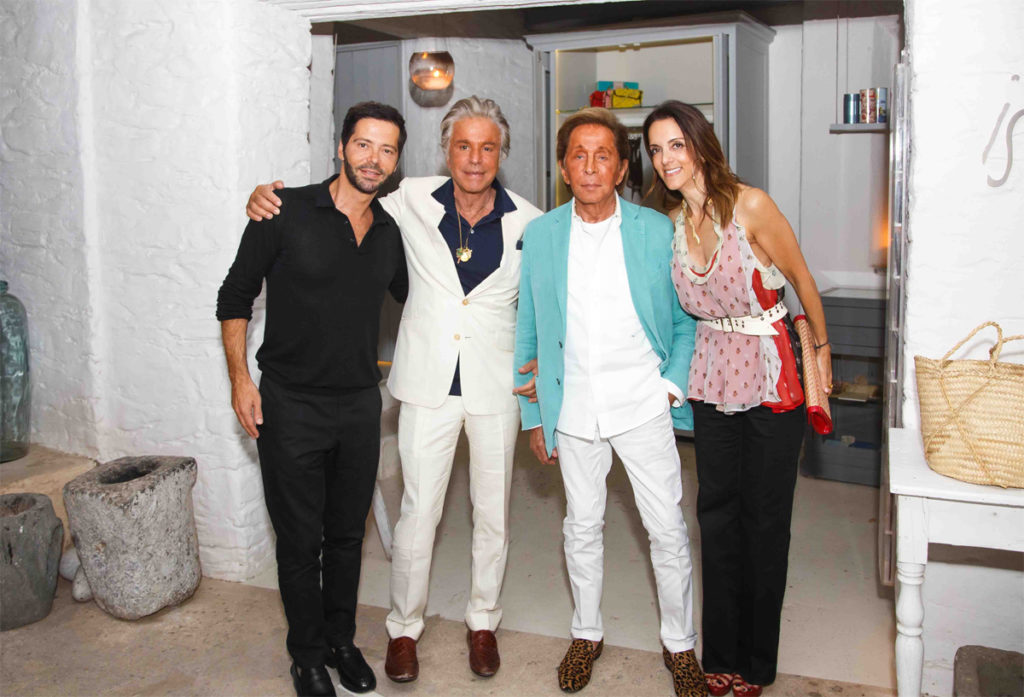 In 2015, in a New York Times interview, Academy Award-winning Italian actress Sophia Loren described the Greek island of Hydra as "one of the most beautiful places in the world." Back in 1957, she did there the 20th Century Fox movie "The Boy on a Dolphin," which was the beginning of her American film industry career. Another famous Italian actress, Monica Bellucci, has been spotted many times in Greece, including in 2022 on her favorite island of Paros. In the Summer of 2020, she was welcomed to Athens by Greek hospitality innovator (and author of Assouline's "Greek Islands" book) Chrysanthos Panas, who is also friends with designer Valentino Garavani and his business partner Giancarlo Giammetti. These two Italian fashion industry legends frequently yacht the Greek islands and visit Chrysanthos' infamous "Island" nightclub on the Athens Riviera. Valentino is related to Greece in many ways. Even Jackie Kennedy wore a Valentino dress she had pulled from her own closet to wed Greek tycoon Aristotle Onnasis in 1968 on the private Ionian island of Scorpios. Giorgio Armani is also often vacaying in Greece, stopping by Mykonos, Symi, Crete, and other places. Italian fashion influencers pick Greece as a destination. In the summer of 2022, Chiara Ferragni visited Hydra for vacation, and her sister Valentina visited Mykonos for a work retreat. Many A-list Italians have houses in Greece, including one of the most elegant and affluent families in the world, the Agnellis of Fiat Automobiles, who own a stunning villa on the southernmost edge of the Paxos island in the Ionian Sea, according to Sotheby's Realty.
Italian Fashion in Greece
Italians appreciate history, heritage, culture, and beauty of all sorts, which is why they have a soft spot for Greece. Modern Greeks might not be known for highly refined aesthetics, yet they recognize the Italians for this trait; hence they are so much into Italian fashion, design, and craftsmanship. The whole world has been smitten with Italian style for decades and knows that Italian designers are the way to go when it comes to dressing for summer vacations to the Greek islands and the Mediterranean. Let's see where you can shop breezy, colorful, glamorous, and sexy Italian creations once you arrive in Greece!
Italian designer boutiques in Athens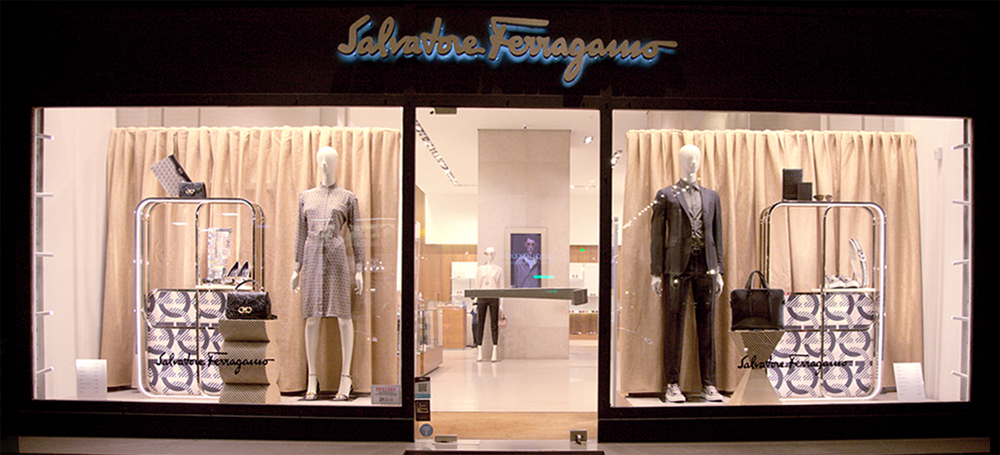 Salvatore Ferragamo. The renowned Italian luxury brand, with headquarters in Florence and a long heritage in leather craftsmanship, maintains a 2-floor minimalist-chic boutique on Stadiou street, Athens. Women's ready-to-wear and accessories are displayed on the ground floor and men's on its stylish, equally spacious basement. The founder's affair with Hollywood since the 20s and the quest for refined glamour transcends time. Brand classics such as the Varina ballet flats and buckled men's loafers, plus artsy silk scarves, and signature wardrobe essentials with a design spin, are all available at the store.
Bulgari. The Italian fine-jewelry house founded in 1884 in Rome by the Greek jeweler Sotirios Bulgaris – today part of the LVMH group – recognizes the posh Kessaris boutique on Voukourestiou street as its authorized retailer. As a result of this collaboration, the new Bulgari flagship store opened in 2022. Located on Voukourestiou street, Athens, featuring precious marble elements and Andy Warhol pop art, it honors the founder's Greek roots and international appeal. The founder's granddaughter Anna Bulgari who passed away in 2020, spoke Greek while never stopping visiting and supporting the family's little village of Paramythia on the coast of the Ionian Sea in Northwestern Greece, where the business started. The Bulgaris funded a museum and educational facilities there, showing the ongoing bonds of the family with its native land. The iconic luxury brand also maintains a boutique at the Athens International Airport.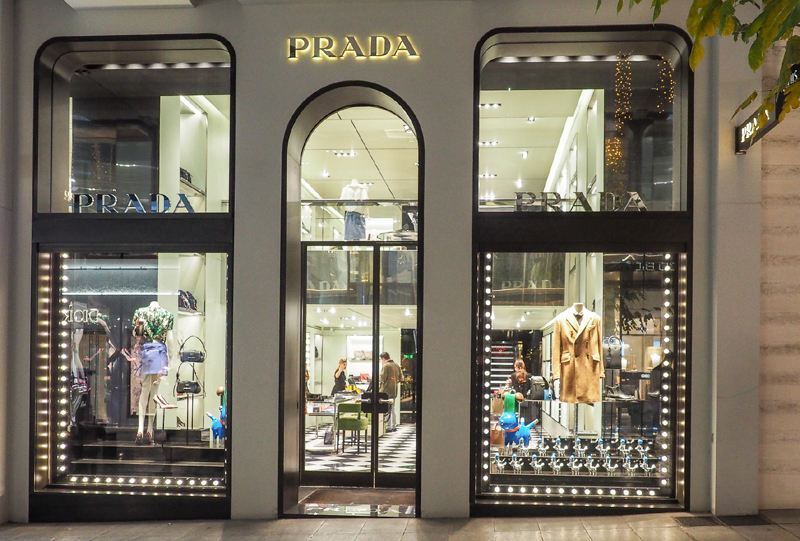 Prada. The Italian luxury fashion house has transformed another Athenian neoclassical building on Voukourestiou street into a multi-level sanctuary of Italian creativity with glossy floors, mirrored staircases, and comfy lounge areas. Representative pieces from the latest collections – especially bags and shoes – are waiting for you to try in this ultra-modern universe of finesse and eclecticism.
Tod's. Home to the most coveted driving shoes – loafers with rubber Gommino pebbled soles – this Italian luxury brand relocated its retail spot in Summer 2021 to a new modern, clean-aesthetics boutique on Panepistimiou street, Athens. There, you can find signature finest-quality leather products, including shoes and handbags for men and women.
Hogan. Famous for its high-quality, luxury sneakers, this coveted Italian brand relocated in late 2022 its Athenian boutique to shopping-central Stadiou street. Andrea della Valle, Vice Chairman/Co-CEO of Tod's group and co-founder of Hogan, who attended the boutique's opening, strongly believes in the revival of Athens and the Greek market. The collection of men's and women's shoes, handbags, and ready-to-wear — including ultra-chic weather-proof outerwear — is all available at this elegantly designed, modern boutique.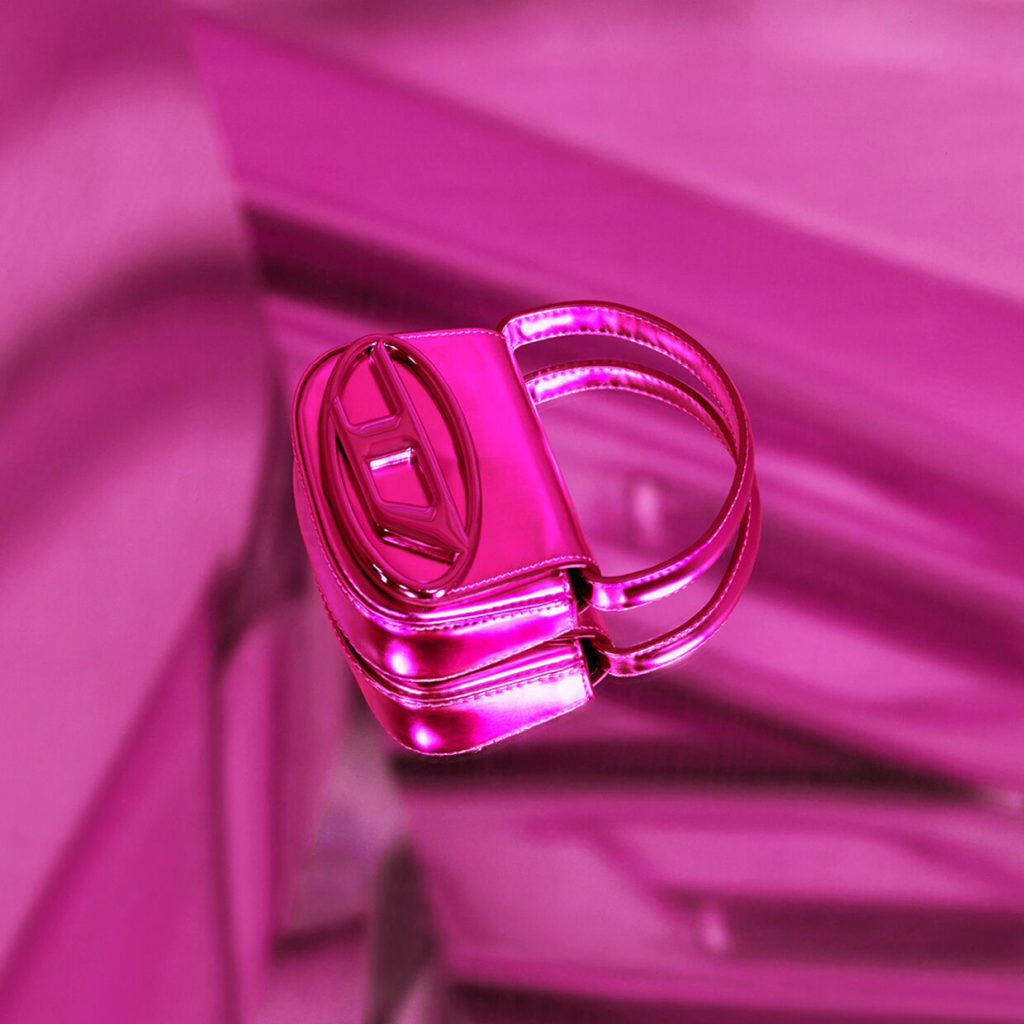 Diesel. With this innovative Italian denim brand founded by Renzo Rosso in 1978, experiencing lately another hype thanks to fun branded details and accessories, this boutique in Golden Hall to the North of Athens is always a great idea for shopping. Numbers regarding the brand's journey speak for themselves. It has over 5,000 points of sale worldwide with over 400 mono-brand stores. Between 1978 and 2012, the company produced more than 2,000 different washes of denim. In a modern space, representative of the brand's aesthetics, you will find things that every fashionista is eyeing such as the 1DR Bag, jeans in new washes and silhouettes, and clothes adorned with the "naughty" peekaboo logo.
Emporio Armani. Giorgio Armani, the elegant, minimalist Italian designer who has polished sportswear, eveningwear, menswear, and womenswear for generations defining both sleek sporty looks and understated glamour in the most intriguing and relatable ways, maintains this all-time classic Emporio Armani boutique in Kolonaki, Athens for years, despite the fluctuations of the Greek market over the last decade. He also has retail spaces inside the Attica department store on Panepistimiou street, downtown, the Golden Hall mall, and the Athens International Airport.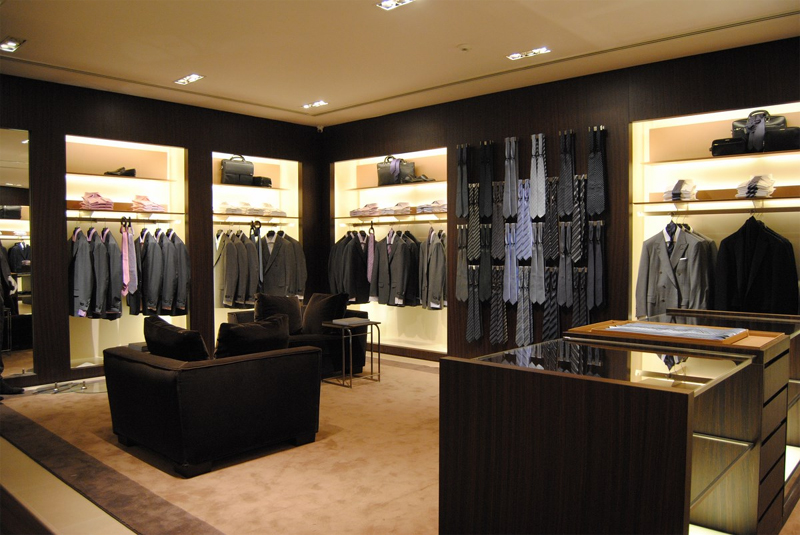 Ermenegildo Zegna. One of the most renowned luxury menswear Italian brands, founded in 1910 in Piedmont, also has a sizeable no-frills boutique on the pedestrian part of Voukourestiou street, Athens. The latest collections, from perfumes and shirts to tuxedos and black-tie accessories, are available.
Brunello Cucinelli. Self-described as the 'philosopher designer,' the Creative Director of this Italian luxury brand has picked Athens as one of its impeccably designed retail spots. Crossing Voukourestiou street and heading to the one end of the pedestrian Valaoritou street, you will find the multi-level boutique inside a small neoclassical building. The finest quality cashmere knits are top investment pieces. Equal attention to materials and craftsmanship is evident in apparel made of linen, wool, and silk, some of them accented with monili bead embroidery. The brand focuses on charity, so keep in mind that 20% of the profits are donated to restore important works of art and other causes. In a recent interview, Cucinelli shared how Ancient Greece inspired him to create a cultural and educational hub near his headquarters in medieval Solomeo, Umbria, and why his favorite hotel in Athens is the Grande Bretagne.
Max Mara. On Kanari street in Athens, one of the 'entrances' to the boutique-sprinkled area of Kolonaki, the Italian luxury brand offers a wide range of products from signature wool & cashmere coats to fashionable seasonal items, accessories, and a bridal collection. Another Max Mara boutique is located in the Northern suburb of Kifissia.
Gucci. In Spring 2021, the highly successful Italian luxury brand relocated its Athenian retail spot to a new spacious boutique with womenswear, menswear, shoes, bags, and accessories on Panepistimiou street, near Syntagma square, inside a historic neoclassical-style building. The well-trained team of salespeople offers exceptional service, guiding you through options and availabilities. The on-site latest collection is meticulously curated to reflect the demand for both classic and on-trend pieces. The vibrant décor is the perfect backdrop for the collection. The Florentine brand founded in 1921 has also a stylish summer boutique in Nammos Village, Mykonos.
Bottega Veneta. The iconic luxury brand, founded in Vicenza in 1966, is over the last years again on the hype due to highly-coveted pouch bags and shoe designs by previous Creative Director Daniel Lee. His right-hand man, talented Matthieu Blazy, is currently at the helm and continues his fashion-forward trajectory. The luxury brand maintains a magnificent boutique in the verdant premium northern suburb of Kifissia, on the Kolokotroni street that leads to the little square of Kefalari, quite near the design-perfect Semiramis hotel. The coveted brand maintains also a cool summer boutique in Nammos Village, Mykonos.
Italian Designers in Multi-Brand Boutiques in Athens
Luisa World. Since 1975 this multi-brand luxury boutique in the buzzy Skoufa street in Kolonaki, Athens, has offered you la crème de la crème of premium designers, including Italian superbrands like Bottega Veneta, Valentino, and Versace. Combined with a curated roster of contemporary collections, it has access to a vast pool of options covering the needs of a cosmopolitan wardrobe. The lavish multi-level boutique in Kolonaki is a meeting point for sophisticated fashionistas. The same applies to the group's boutiques in the northern Athenian suburb of Kifissia, in the southern suburb of Vouliagmeni at the Four Seasons Astir Palace Hotel, the Nammos Village seaside shopping mall in Mykonos, and inside Katikies Hotel and Katikies Garden in Santorini.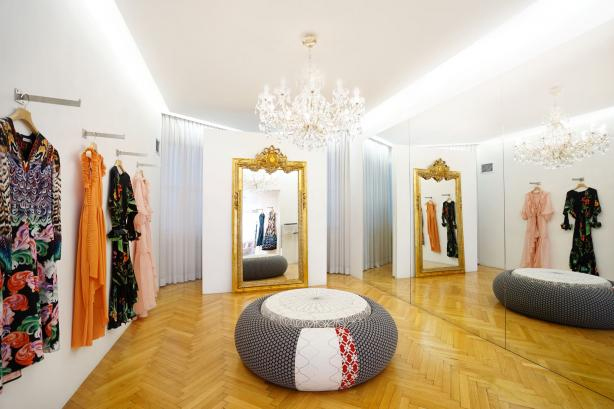 Enny di Monaco. An exciting mix of upmarket contemporary and premium brands can be discovered in this glamorous boutique with playful designer furniture. The roster of designers includes Italian names like Agnona, Giambattista Valli, Paco Rabanne, Philosophy di Lorenzo Serafini, Kiton, and more. The whole range of options unfolds through 4 premier spaces in Kriezotou street in Kolonaki, in the northern suburb of Kifissia, the southern suburb of Glyfada, and the island of Mykonos.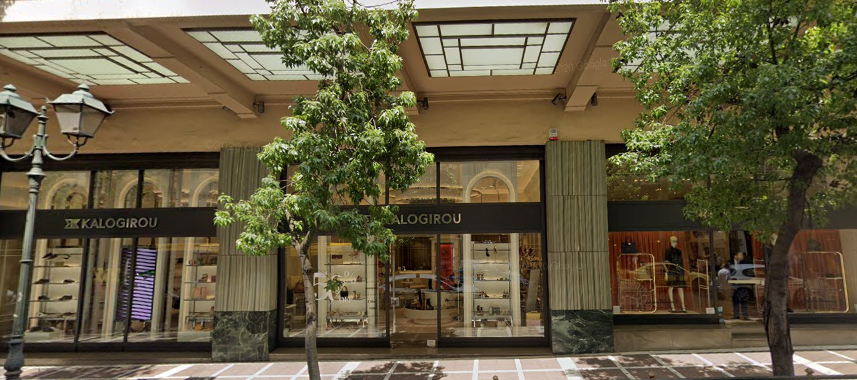 Kalogirou. The oldest luxury shoemaker in Athens, founded in 1890, has grown into a company with 10 boutiques in Greece, importing a long roster of high-end brands (shoes, bags, and accessories) for men and women, including Italian heavyweights such as Prada, Miu Miu, Casadei, Gianvito Rossi, Sergio Rossi, Fratelli Rossetti, Salvatore Ferragamo, Tod's, and Hogan. In Athens, its most historic boutique is located in Kolonaki. Another one recently opened next to Salvatore Ferragamo on Stadiou street. There is also a timeless, effortless-chic boutique in the Northern suburb of Kifissia and a larger, glamorous one inside the Golden Hall shopping mall.
Golden Hall. The most luxurious shopping mall in Athens that is worth visiting is located in an impressive, sparsely populated area of the northern suburb of Maroussi, halfway towards the more splendid suburb of Kifissia. The gleaming interiors of a modern glass architectural complex are complemented by generous outdoors with activities for your children. Among others, Italian fashion brands such as Ermenegildo Zegna, Diesel, Marina Rinaldi, Twinset, Intimissimi, and Trussardi, have standalone boutiques on its premises.
Eponymo. With multi-brand boutiques in Glyfada, the Golden Hall mall in the Northern suburbs of Athens, and Cavo Tagoo hotel in Mykonos, and with mono-brand stores in Mykonos and Thessaloniki, this retailer represents an array of successful Italian designers including Alberta Ferretti, Casadei, Diesel, DSquared2, Elisabetta Franchi, Ermanno Scervino, Just Cavalli, Moschino, Paolo Petrone, and Twinset.
Italian Fashion in the Greek Islands & Elsewhere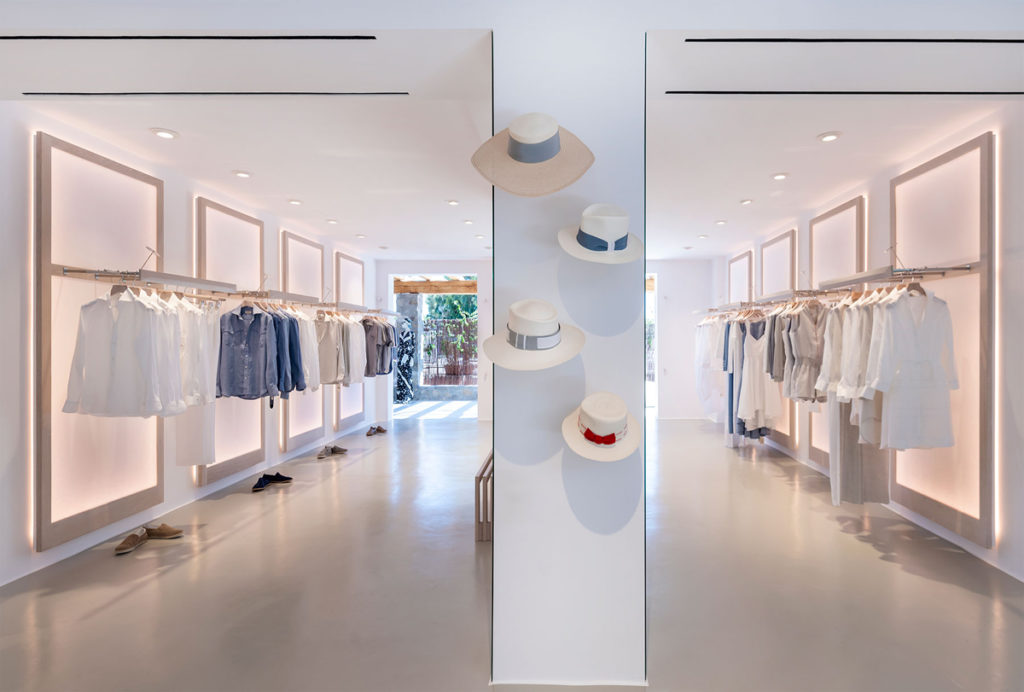 Nammos Village. An incredible shopping experience unfolds in Mykonos, in the most unique seaside shopping mall in the world with elegant standalone boutiques by global fashion brands including Italian designers such as Fendi, Loro Piana, Gucci, Bottega Veneta, Valentino, Giorgio Armani, Ermanno Scervino, 100% Capri, Borsalino, and more, in an exotic waterfront art-decorated park behind the iconic world-famous Nammos beach club, bar & restaurant on the exclusive celebrity-packed Psarou beach.
Ermanno Scervino. Made in Florence or better Firenze, this brand is characterized as prêt-à-couture for its use of elevated, couture craftsmanship and techniques in ready-to-wear fashion. You will find the boutique of this Florentine brand in the Nammos Village mall on the exclusive and cosmopolitan Nammos Beach in Mykonos where VIPs and fashionistas dress up for a swim, a gourmet experience, cocktails, and high-end shopping. All boutiques there emulate the traditional, minimalist architectural style of Cycladic Cubism. This boutique has equally exciting interiors always accented by the fashion items themselves, the signature straw bags, the white lace creations, and many more.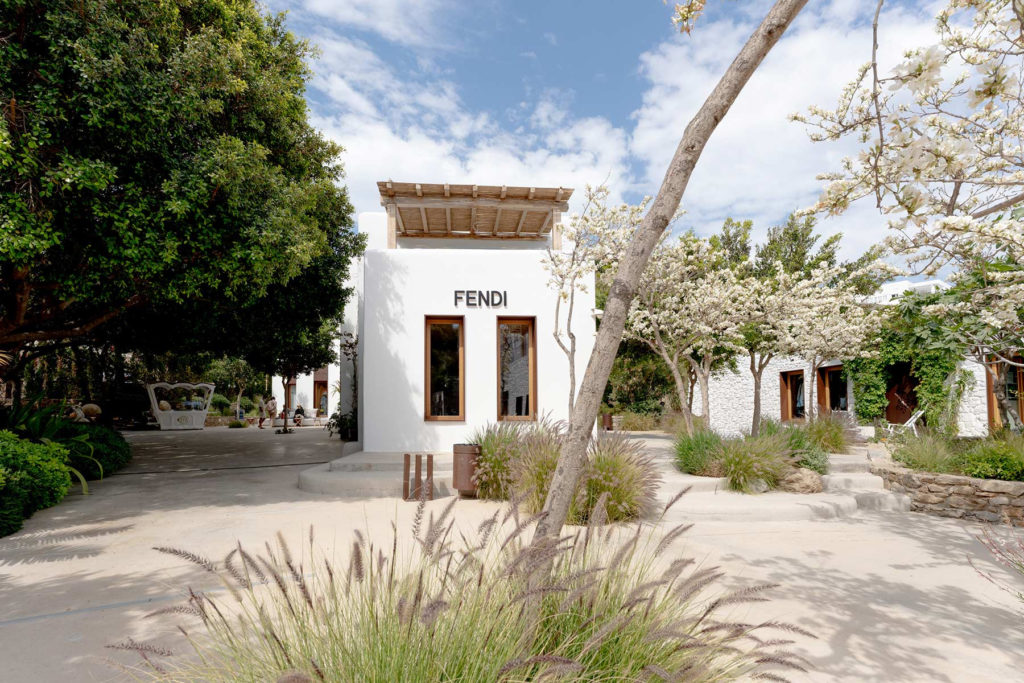 Fendi. It was big news when the big Italian fashion house decided to open a boutique in Nammos Village, Mykonos, in Spring 2022! We hope this seasonal boutique will operate in Summer 2023 too! Its design is inspired by the Mediterranean culture and the Mykonian flair combined with the signature FENDI codes. The two-floor store, realized in the traditional white Cycladic architecture, welcomes the entire FENDI universe, with all categories from womenswear to menswear lines. The walls are defined by rounded shapes and arches emphasized by the use of a light-colored pozzolanica and natural stone. The ceiling is lined with white joints and bamboo, while the floor is covered with oak wood and light blue resin inserts. The cross-gender ground floor is dedicated to leather goods, accessories, and shoes, presented in turquoise oxidized copper display structures referencing the colors of the seabed. Walking up the softly shaped staircase with ivory resin steps, the first floor opens to an area dedicated to women's and men's ready-to-wear. The fitting room surprises us with a precious raffia wallpaper with inserts reminiscent of a marine setting. The furniture is a selection of bespoke pieces in travertine and items that allude to local interiors in wood, rattan, and bamboo. Two terraces are designed to give continuity to the indoor area, accented with light blue resin on the floor and raffia and bamboo furnishings. Handcrafted, colored ceramic vases enrich the outdoor space in a unique way. This space marries Italian aesthetics with Greece island style.
DSquared2. Canadians Dean and Dan Caten and their fabulous based-in-Milan, made-in-Italy brand adore Mykonos, and this is obvious through the colorful gorgeousness of their boutique in the main town of the island. In a traditional 2-level white-washed building with bright customized interiors that represent the brand's playful codes, you will find anything you need — men's, women's, underwear, swimwear, eyewear, and fragrances — for a glorious summer full of style and bold attitude. The same brand has opened a boutique in Thessaloniki (the second biggest Geek city to the north of Athens), in collaboration with the Eponymo (Gruppo Pagoni) in Greece.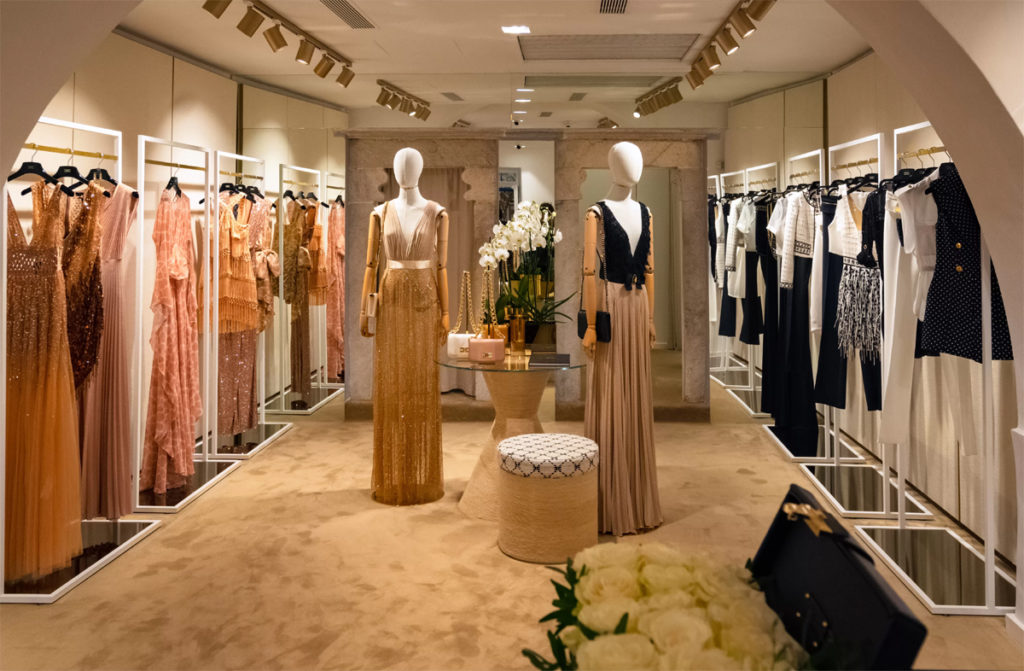 Elisabetta Franchi. The Italian designer who kicked off her business in Bologna to win women's hearts across the world with her unapologetically feminine modern creations, has her own boutique, in Chora (main town). She set up a small design studio in 1995 and after conceptualizing and funding the brand CELYN b, she created her namesake fashion house in 2012. Starting from the Spring-Summer 2015 season, the designer chose to present her collections during the Milan Fashion Week, a move that strengthened the brand's reputation and image. Working closely with the Eponymo (Gruppo Pagoni) in Greece, she opened her Mykonos boutique in the Spring of 2022. Characterized by luxe simplicity, light warm tones, cozy textures, and an arched element, this is a place to relax and shop until late hours. Dive into the collection's glam, sexy details that get all of the attention!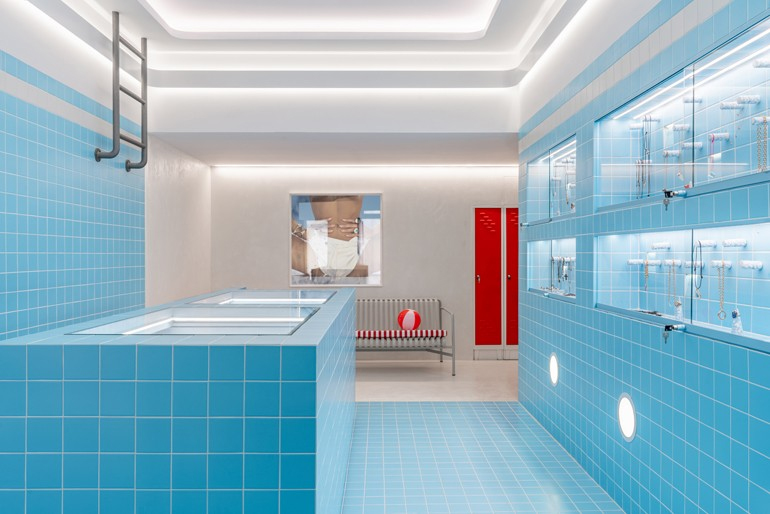 Gavello and Very Gavello. Back in the 70s in Milan, Rinaldo Gavello and his Greek wife Martha started designing beautiful modern jewelry based on their research on ergonomics, functionality, and technology. The brand has two lines the extraordinary fine jewelry one and the more affordable Very Gavello with signature styles available in 9kt gold and Essenza, a unique alloy of colors for each enameled jewel. Today the company's fascinating journey with headquarters in Milan and a flagship boutique in Kolonaki, Athens, continues with their very talented daughter Elisabetta. Get a scoop on their variety of coveted Riviera-worthy styles in Athens, but also in Mykonos in the Gavello Nel Blu boutique they opened in the Summer of 2022. Its pool-like tile-covered interiors, a concept designed by the innovative Saint of Athens studio feel like an invitation to a bejeweled pool party.
Kiton. Founded in Naples or better Napoli in 1968 by Ciro Paone, this brand excels at hand-made tailoring for men and women. Many fashion insiders say it has the best tailors in the world. You can now find their summer-chic collections in Mykonos, including the KNT (Kiton New Textures) Collection for men. Feel free to go through their top-quality fabrics and appreciate their longtime investment in craftsmanship. In fact, fabrics are their obsession. The most elegant exclusive weaves and patterns from the brand's historical archives along with new iterations narrate the company's story. New textures and mixtures of fibers are the results of experimentation in their wool mill at Biella, often with a mission to create tougher, longer-lasting garments. In Mykonos, their two boutiques — one in Chora and one in Nammos Village — are characterized by bold contrasts, red floors, traditional elements, and custom furniture that harmoniously combine heritage with modern Italian aesthetics.
Panerai. The iconic name in the realm of fine watches is proud of its new boutique in Santorini with dark minimalist interiors and majestic caldera views. The new space blends typical elements of Italian design with a new innovative digital experience. Founded in Florence in 1860 as a workshop, shop, and school of watch-making for many decades Panerai supplied the Italian Navy's specialist diving corps with precision instruments. Originally created to be used deep underwater, Panerai watches are known for their unparalleled legibility and luminosity in the dark. If you aren't planning to visit Santorini any time soon, top greek luxury entrepreneur Kessaris bringing to the Greek market la crème de la crème of fine jewelry and watchmaking brands has opened a Panerai boutique on Voukourestiou street in Athens.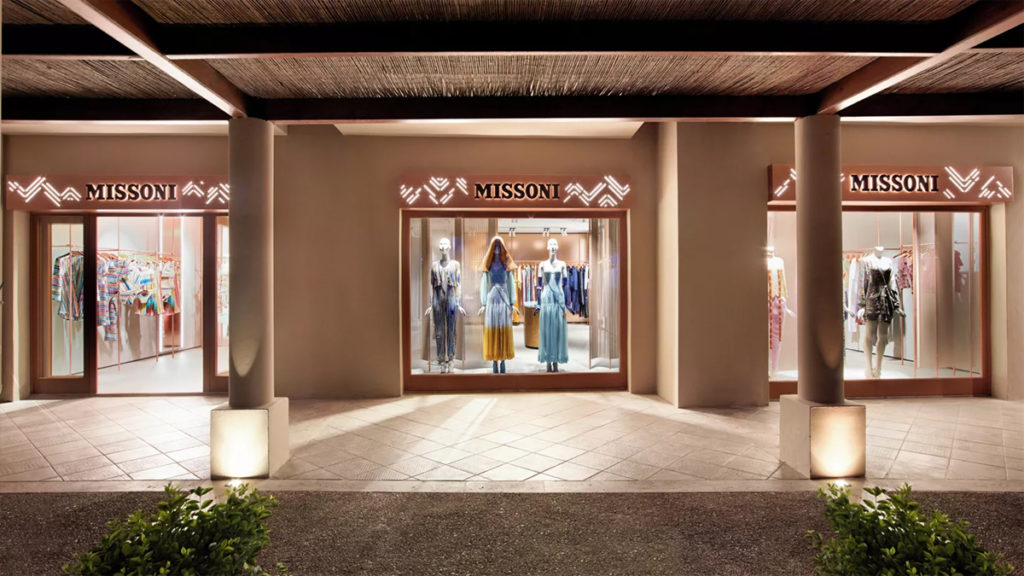 Missoni. It might not be on a Greek island, yet the first exclusive Missoni boutique in Greece is located on Marina Sani, in one of the most coveted luxury resorts in Chalkidiki, in Northern Greece. Right on the yacht marina of Sani Resort, the colorful, graphic, and often dazzling resortwear creations of the brand are available for all discerning guests and visitors who wish for a stylish getaway makeover. Luxe summer apparel and creations with the necessary Italian flair are there for you to enjoy.