Most Stylish Downtown Athens Boutique Hotels
Over the last 5 years, along with established luxury accommodation options, design-savvy hospitality entrepreneurs are behind many renovation projects of historic buildings repurposed as boutique hotels. They pop up like mushrooms in key Athenian spots as parts of the city's cultural revival and the gentrification of neighborhoods and streets that deteriorated during the recent years of recession. Greek interior designers and architects of great talent and aspiration, whom we have already described HERE, undertake ultra-creative refurbishment projects. Through them, they are "rebuilding" Athens with a mission to solidify the year-round tourism trend in the capital. A super convenient choice is usually either close to Acropolis in the so-called "historic center" (old neighborhoods like Monastiraki, Plaka, Psirri, and around the shopping-central Ermou street), or in the posh area of Kolonaki.
Boutique Hotel Hotspots
A downtown location will guarantee you a walking distance or a 5-10 minute taxi drive to main attractions in the city. The mostly-pedestrian "historic center" is a brief walk from sightseeing that includes outdoor monuments on your way to the Acropolis hill topped with the Parthenon temple. In the same area, you will find the Museum of Acropolis, the Lalaounis Museum of jewelry, and many more. The commercial Ermou street connects this extended cobblestone-paved area to Syntagma Square facing the Greek Parliament. From there, you can walk towards Kolonaki – our other luxury accommodation "hotspot" – through Vasilissis Sofias Avenue, lined with landmark buildings, embassies, and important museums such as the Benaki Museum, the Cycladic Museum, the Byzantine Museum, and the War Museum. Kolonaki is a historically posh neighborhood literally sprinkled with fancy restaurants, bars, cafés, fashion boutiques, hair salons, art galleries, and museums. For many decades, it has been the place where Greek fashion designer showrooms and tailor ateliers thrived among other retail options, mainly on the upscale side of things. Urbanized in the 50s, it carries the previous century's flair and the lifestyle of la crème de la crème of Athenian society. With many architectural masterpieces from that era still in place, it is a vibrant retail, entertainment, and residential neighborhood surrounded by picturesque nature you will come to appreciate as you climb up its narrow streets in comfy shoes. It sits on the foothills of Mount Lycabettus. A cable-car ride up, and you will be able to enjoy a panoramic city view from its 19th century St. George chapel. From Kolonaki, you are also recommended to take a 5-minute drive to the Archaeological Museum and a 5-minute walk to the Panathenaic Stadium.
Boutique Hotels in the Historic Center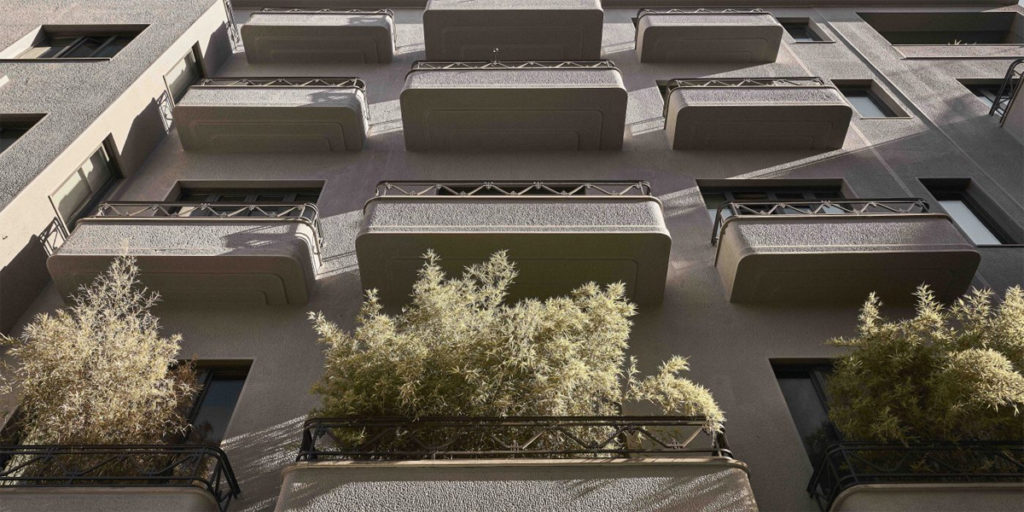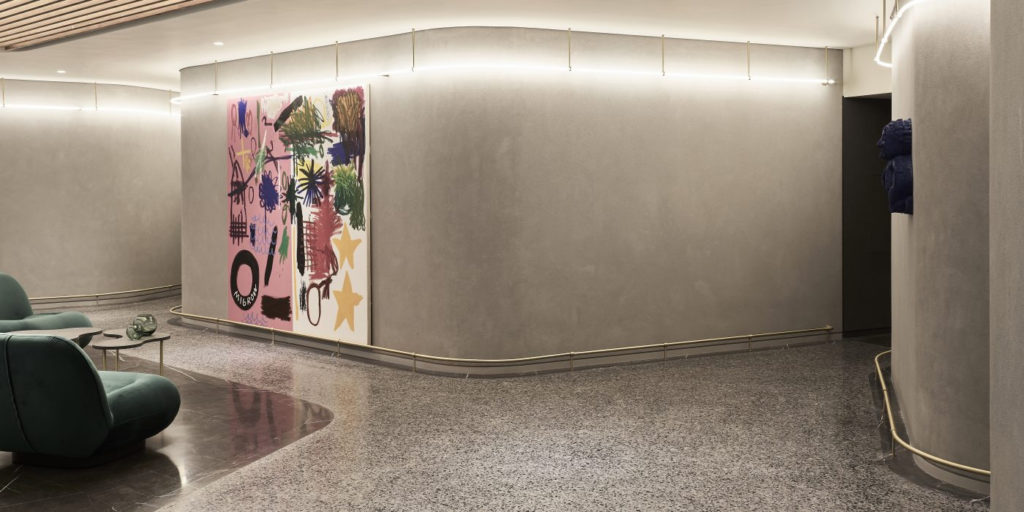 Perianth Hotel. This neo-modernist hospitality destination is located in Agias Eirinis Square, named after the Ag. Eirini Greek Orthodox church built there in 1850 by architect Lyssandros Kaftatzoglou, on the ruins of a medieval temple, and operating as the Cathedral of Athens for many years. It is a 15-minute walk to the Acropolis and was renovated by one of Greece's hottest design firms, K-Studio, with a mission to celebrate contemporary Greek culture. The interiors are inspired by the Athenian modernist movement, and the building is graced with an original art deco facade. Curated artworks by contemporary Greek artists are on display in the Acropolis-view rooms and the public spaces. Its 6th-floor Penthouse Suite offers a panoramic city view and features an expansive terrace with a swimming pool and a jacuzzi. Try cosmopolitan Mediterranean cuisine with references to Greek gastronomy or ask the bartender for one of the signature cocktails at the Perianth Café on the ground floor. The hotel also shares its space with Zen Center Athens, a unique non-profit institution devoted to meditation, martial arts, yoga, and Eastern philosophy.
xenodocheio Milos. Greek Chef Costas Spiliadis opened his first estiatorio Milos restaurant in Montreal back in 1979, followed by other successful locations: New York Midtown (1997), Athens (2004), Las Vegas (2010), Miami (2012), London (2015), and New York Hudson Yards (2019). As you may already know, the seafood-based menu focuses on clarity, simplicity, and the finest quality of ingredients. It is a quintessential Mediterranean culinary hotspot relocated in 2021 from the Athens Hilton Hotel to the brand's first-ever 5-star gastronomy hotel xenodocheio Milos at the heart of Athens' historic center right across the Old Parliament House. As with everything, the location has been carefully considered to express the true essence of Greek hospitality and the grandeur of Athens' history. Established in 1880, the building accommodates the architectural thinking of the time, when it was accustomed to featuring a shop on the ground floor and residences on the upper floors. In 1979, the Greek Ministry of Culture proclaimed it a "designated landmark building." Its elegant rooms and suites offer a soothing yet vibrant ambiance. Harmoniously blending contemporary design, minimalist art, and sophisticated décor, each room is complemented by a series of handpicked personalized amenities. High ceilings, marble bathrooms, wooden floors, velvet soft furnishing, the finest beds and linens, spacious outdoor sunny terraces are just a few of their characteristics. The Milos Teracce Suite has the largest private terrace of all, with a jacuzzi. The hotel is also equipped with a 24-hour state-of-the-art gym, and a Spa Suite. The Milos bar (8 am – 2 am) serves breakfast, coffee, and signature cocktails along with a music selection by world-acclaimed Greek composer Stavros Xarchakos.
The Dolli at Acropolis. Nestled in the vibrant heart of Athens, at 49 Mitropoleos Street, the historic Kallimasiotis Mansion has been beautifully transformed into an exceptional Hôtel Maison. This urban jewel, unveiled by Grecotel in 2023, offers 46 graciously appointed rooms, suites, and apartments, providing an inviting home away from home for its guests. Originally built in 1925 as a private mansion by the esteemed ship owner, merchant, and politician, Dimitrios Kallimasiotis, the property was later converted into a luxury fabric department store in the mid-1930s. Fast forward to today, and the mansion has been painstakingly restored over five years by Grecotel, maintaining its original charm while incorporating modern luxury. The mansion's architect, Andreas Kriezis—also known for his work converting the grand Athenian Royal Palace into the current Greek Parliament Building—incorporated elements from a multitude of periods and cultures into the design. An eclectic blend of ornamental styles can be found throughout the building, with each room echoing its rich history and unique aesthetic. Notably, the ancient Macedonian emblem, as conceived by Kriezis, has been meticulously preserved and restored in the ceiling motifs of the lobby and the halls on every floor. Upon entering The Dolli, guests are immediately drawn into a captivating, yet warm space where every object has a tale to tell. From original art pieces by Pablo Picasso and Jean Cocteau to designer works by François-Xavier and Claude Lalanne, 18th-century antiques, and custom-made furniture from esteemed contemporary designers such as Pierre Augustin Rose, the hotel is a treasure trove of aesthetic delights. Perfectly situated in the center of the wondrous Old Town of Athens, The Dolli is a stone's throw away from the Acropolis. The cherry on top is undoubtedly the hotel's rooftop restaurant, offering spectacular views of the Acropolis and the city's skyline, serving as a reminder of the city's timeless beauty and charm.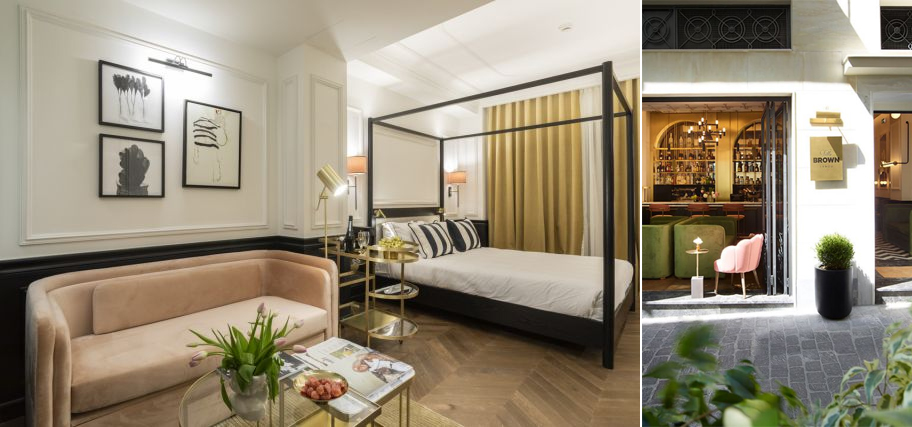 Villa Brown Ermou. Nestled between the bustling shopping street of Ermou and the historic neighborhood of Plaka, this elegant boutique hotel is a stylish accommodation option convenient for sightseeing and an authentic urban experience. Its 51 rooms and suites are imbued with a contemporary take on old-school opulence. They are all carefully curated, following a signature black and pink scheme with copper accents. The refined, Instagram-worthy details and the limited-edition artworks lend a fresh interpretation to what a contemporary Belle Époque would feel like. The hotel's bistro, already a meeting point among trendsetters, showcases a bold twist of new-age gastronomy with subtle hints of the local classics for breakfast, brunch, lunch, and dinner, along with an amazing wine list and cocktails.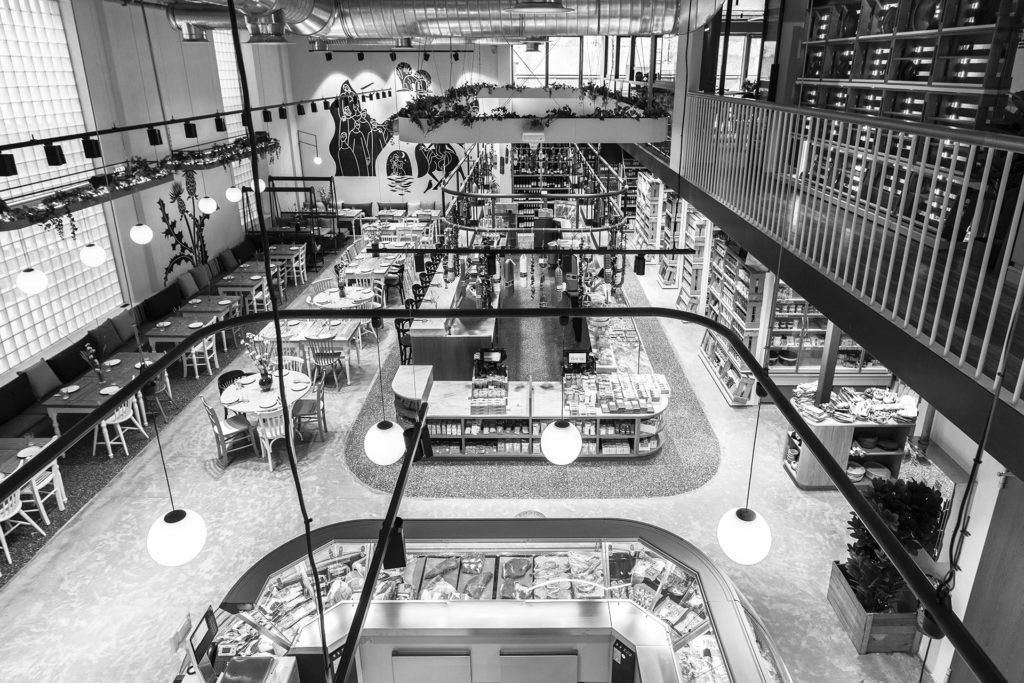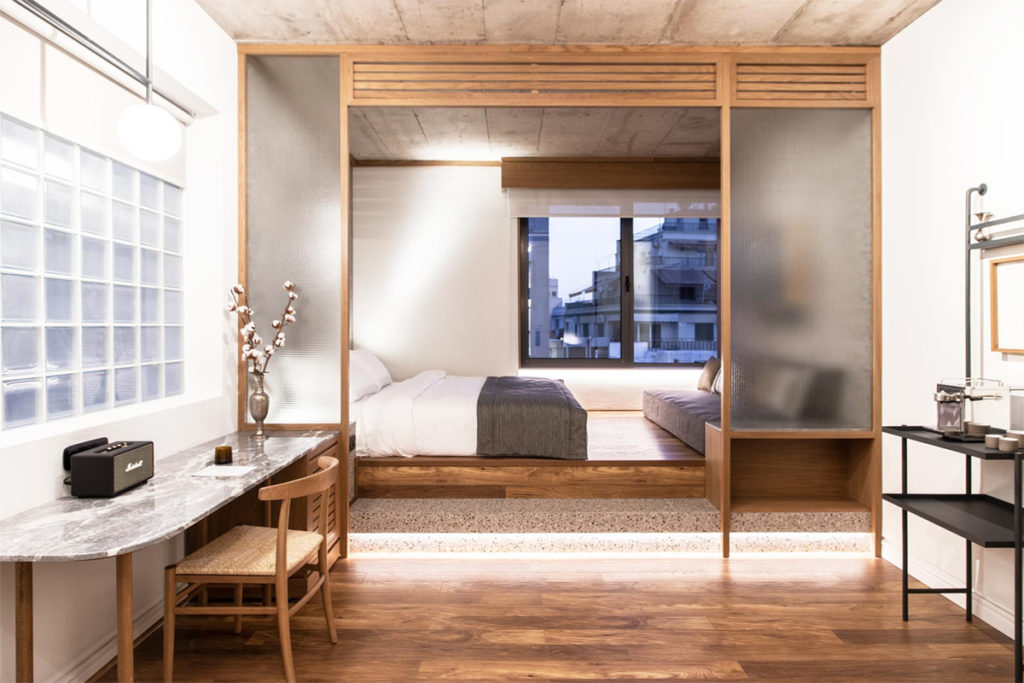 Ergon House Athens. Quite near the historic center and the Cathedral of Athens, this 4-star foodie boutique hotel serves Greek hospitality mixed with urban vibes. On the ground floor, a glass-atrium food marketplace, with a 200-year-old olive tree as its centerpiece, recreates the ancient "Agora" that existed around the area as a spot where people meet, shop, eat, and discuss. A greengrocer, butcher, fishmonger, bakery, delicatessen, and roaster section, along with a bar and a restaurant, celebrate the best of Greek cuisine and culture. 1,200 artisanal products from over 150 producers offer here their freshest. Above it, an epicurean hotel concept offers you modern luxury amenities, including a gym and a city-view rooftop terrace planted with olive trees. In the rooms, custom mood lights, fittings, and furniture are arranged in a contemporary open plan loosely screened by breeze blocks common in the Greek islands in the 60s. Raised 4-poster beds are reminiscent of the traditional 'ontades' of Pelion, and the patterned tiles in the bathrooms are inspired by the medieval 'xysta' motifs found on the island of Chios. The spaces were created in collaboration with leading local designers and artists. Try not to skip the hotel's signature locavore breakfast. You can also shop your ingredients at the "Agora" and cook your own meals in one of the hotel's communal kitchens, enjoying later an in-room dining experience. A private chef service is an additional option. This is a traveler's culinary heaven!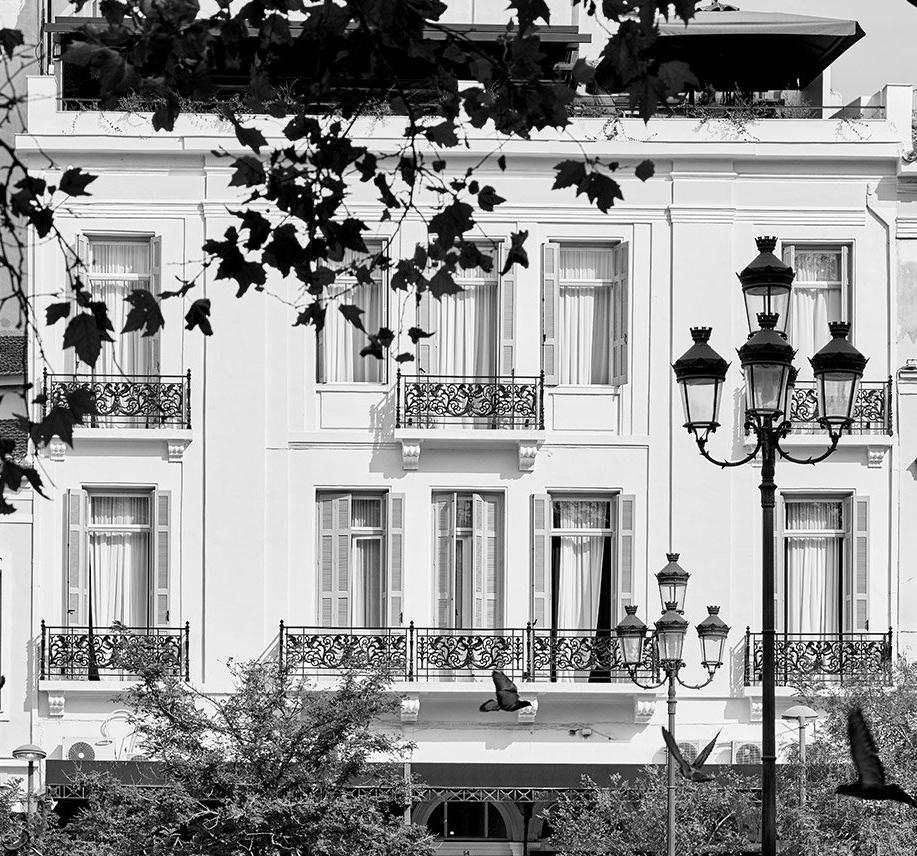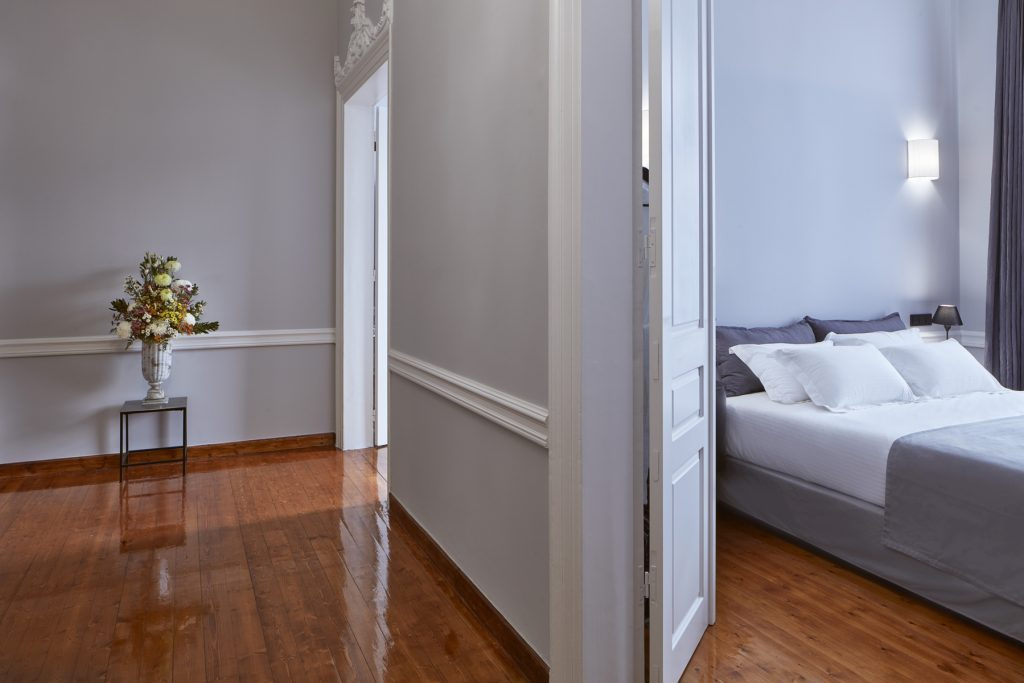 The Zillers. Located in the old neighborhood of Plaka near the historic center and across the Cathedral of Athens, this boutique hotel is a fully renovated 19th-century neoclassical architecture masterpiece. It was built for an affluent Athenian family by German architect Ernst Ziller, who transformed Athens into a European city. Modern pro-comfort touches have been added to a space that merges the typical Greek architectural elements with the lavishness of the Renaissance. The charming interiors feature high ceilings, wooden floors, and delicate decorative elements as references to the original style. The Acropolis-view Roof Garden has been remodeled to host guests and visitors enjoying breakfast, lunch, and fine-dining options along with cocktails and a well-curated Greek wine list. The menus pay homage to the Mediterranean culinary heritage. The roof-garden restaurant won its first Michelin star in 2022. It's a journey to Athens' glorious past!
A77 Suites by Andronis. This renovated early 19th-century listed neoclassical building is among the oldest ones in the picturesque neighborhood of Plaka in the historic center, near Acropolis. Formerly an affluent family residence, it maintains its original characteristics without compromising the concept of modern luxury accommodation. Back in time, the ground floor operated as stables for carriages and horses, the only means of transportation. The boutique hotel still gets us back to that era with its high ceilings, blue shutters, and classical Greek motifs adorning the cornices. In its state-of-the-art collection of 12 suites, minimalist design and exquisite materials prevail. Marble, wood, brass, plaster details, and an array of modern artworks exude an aura of high-end elegance. The hotel's concept boutique carries a handpicked roster of eclectic fashion brands and designers.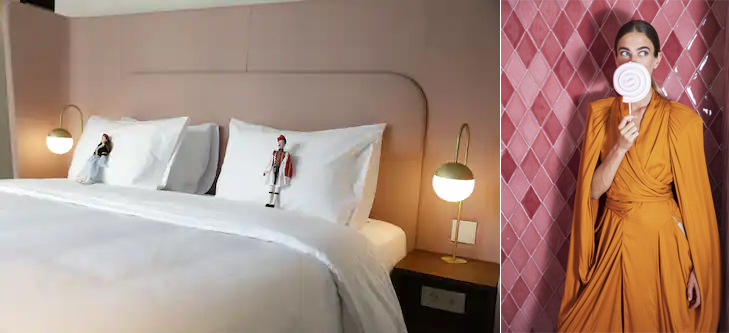 Gatsby Athens Hotel. This mid-1930s Art Deco building, now the young & fresh version of a boutique hotel, at the heart of the historic and commercial center, consists of 33 rooms, some of them featuring Juliet balconies or terraces with private sitting areas. It was masterfully revived based on a proposal by award-winning WoArchitects and the internationally renowned architectural/interior design firm Michaelis Boyd. The hotel's spacious Party Suite on the 6th floor has an outdoor jacuzzi and cinema! All rooms carry Ortigia amenities, modern furniture, wooden parquet floors, custom lights, and Alexa, your virtual assistant. An all-day bar and farm-to-table restaurant, the Cloud 9 Acropolis-view rooftop lounge, fine dining at a secret pop-up restaurant, a boxing session at The Ring, an art gallery, and a concept store for fun shopping will spice up your comfortable stay. Staff uniforms are designed by Athens-based Greek fashion designer Yiorgos Eleftheriades. Their silhouettes and environmentally conscious fabrics participate in a game of eclectic, timeless refinement with values rooted in functionality, diversity, tailoring, and liberation. The hotel's soundtrack has been selected by acclaimed Greek DJ and producer Alexandros Christopoulos. Leisure and entertainment are the main scope here.

Blend Hotel Athens. Located in the heart of the lively downtown "commercial triangle," near the iconic 19th-century churches of Chrisospiliotissa and Agia Eirini, in walking distance from all major sightseeing, this 24-room boutique hotel celebrates Athens' cultural diversity. Originally constructed in the mid-1800s, the building now becomes a landmark for the city's comeback. Back in the day, it belonged to the Pavlides family, renowned for introducing chocolate to Greece. The building housed their headquarters and pastry shop, and it was here where the first hot chocolate drink was ever created and served in Greece, in 1852. The straightforward exterior architecture is kept intact – a direct link to the iconic Athenian modernism in the mid-1800s and mid-1900s – while the interior received a breezy (Stockholm-meets-Soho) makeover. All rooms overlook the paved streets at the hotel's front and lovely squares around, while all suites offer a unique Acropolis view. The hotel's restaurant Folk serves breakfast and all-day brunch, blending healthy with decadent food, mixing & matching west-coast style inspirations, ethnic & Asian flavors, and Greek fresh produce.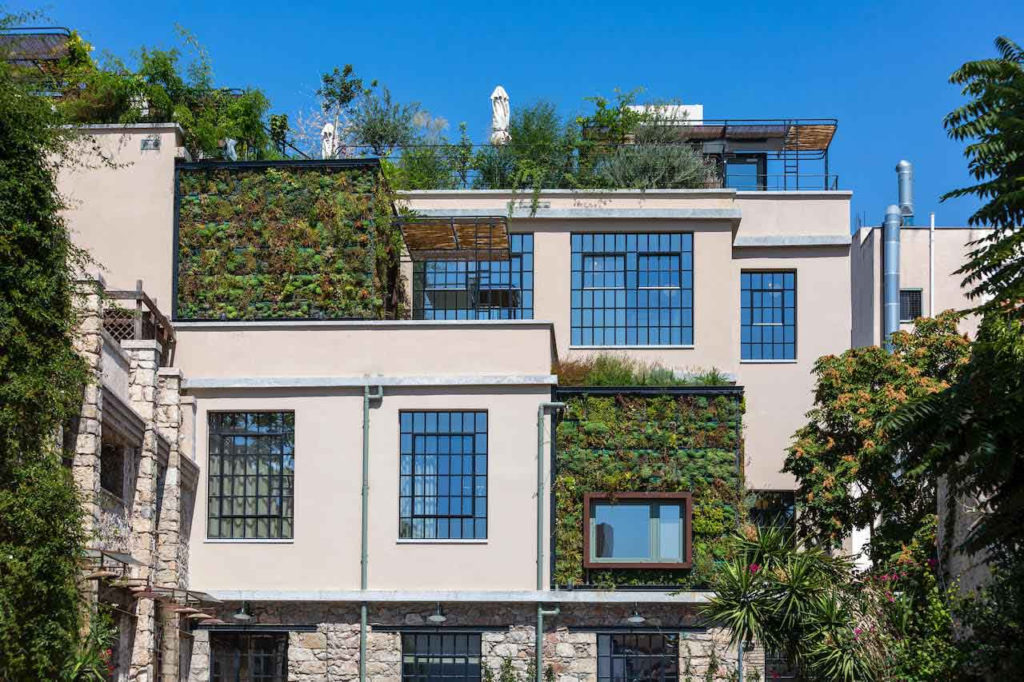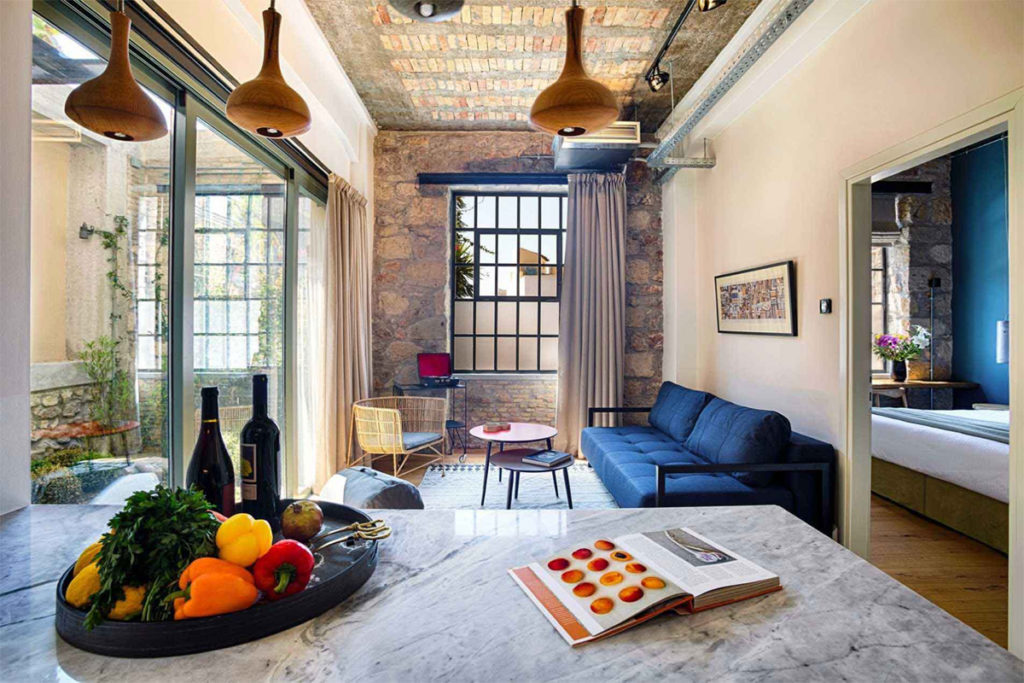 The Foundry Suites Athens. In the historic neighborhood of Psyrri, quite near Acropolis, this boutique hotel consists of 12 distinctive, fully equipped suites or rather apartments. It was originally built in 1930 and operated as a font foundry that soon developed into a printing house, and later a cultural center with a gallery and theater. On the rooftop, you will find the city-view Picnic Garden serving coffee, snacks, cocktails, and freshly baked pizza. The building was renovated to exude hip vibes, a homey atmosphere, and an eclectic attitude. It is a fusion of industrial design and mid-century modernist characteristics. The suites highlight the bare refinement of high-grade materials such as steel, glass, wood, stone, marble, and terrazzo and a sophisticated mix of diverse aesthetics. High ceilings, hardwood floors, earthy tones, and bold color accents characterize the interiors. Custom light fixtures, wall tapestries, vintage furniture, and avant-garde design elements give a new meaning to urban luxury.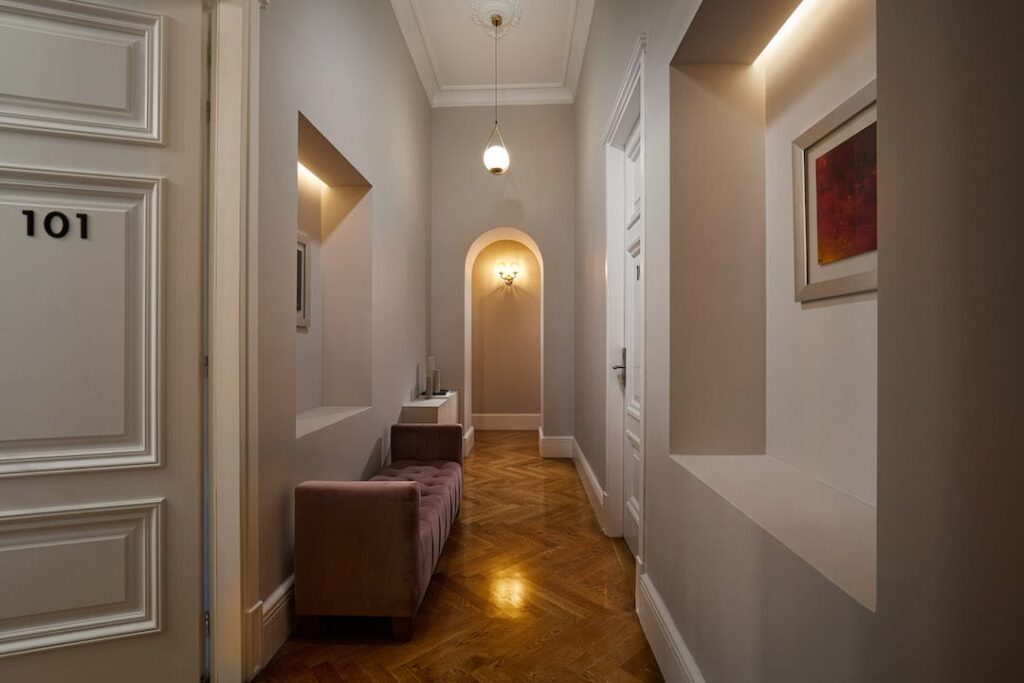 MiraMe Athens. In one of the most iconic spots of Athens, low on shopping-central Ermou Street, near Asomaton Square and Acropolis, this boutique hotel consists of 7 rooms and 2 restaurants! Its Spanish name translates as something that commands to be seen. The building, a typical Athenian 1925 house, has been declared a landmark renovated by Ioannis Zacharakis of a+ architects. The image of a mansion of the Athenian interwar period has been recreated to bridge classic with modern urban spirit. Each room has a balcony, two of them having an Acropolis view. The floors are covered with wooden French herringbone, while plaster decoration and rosettes on the ceilings were reconstructed. Modern lamps give the space a twist. Organza, linen, and velvet dress the windows and furniture, many of which are custom in a color palette revolving around pale, earthy, grey tones. The marble bathrooms are equipped with the latest-technology amenities. Works by contemporary Greek artists are on display on the walls. The rooftop restaurant & cocktail bar — Mediterranean cuisine with Asian references – is in one of Athens' most beautiful terraces, while the hotel's Bistrot welcomes you on the ground floor.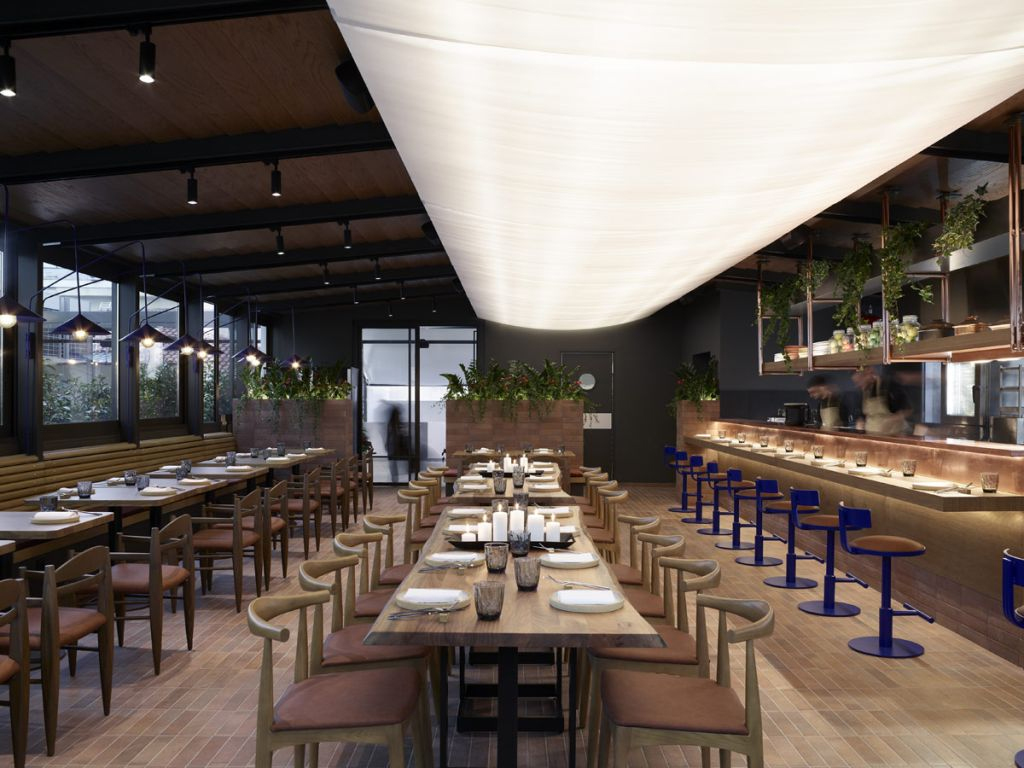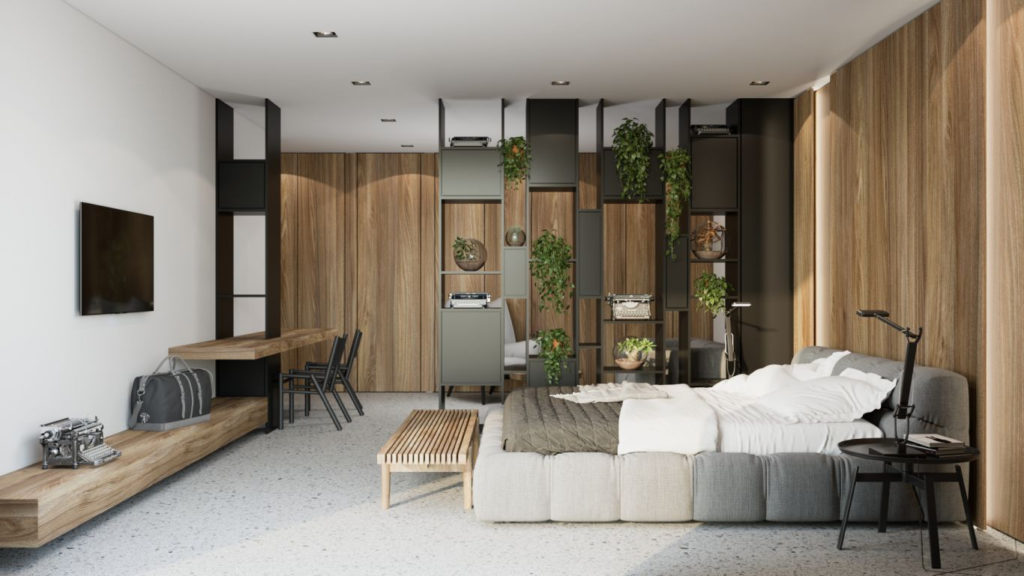 The Editor Athens. The former use of this building in the heart of Athens, operating as a well-known sports newspaper printing house (1945-2007), informs the concept of the hotel. Each of the 40 cozy rooms & suites has its distinctive earthy-tone minimalist style. The Executive Suite features incredible custom furniture. Two fresh-produce-focused culinary venues are operating under the guidance of chef Yiannis Liokas. The Publisher restaurant's all-day savoring experience is inventively curated with the finest local ingredients paired with Greek wines. For marvelous city views, you can also dine or drink cocktails at the elegant Stories Urban Bistronomy on the hotel's rooftop.
Boutique Hotels in Kolonaki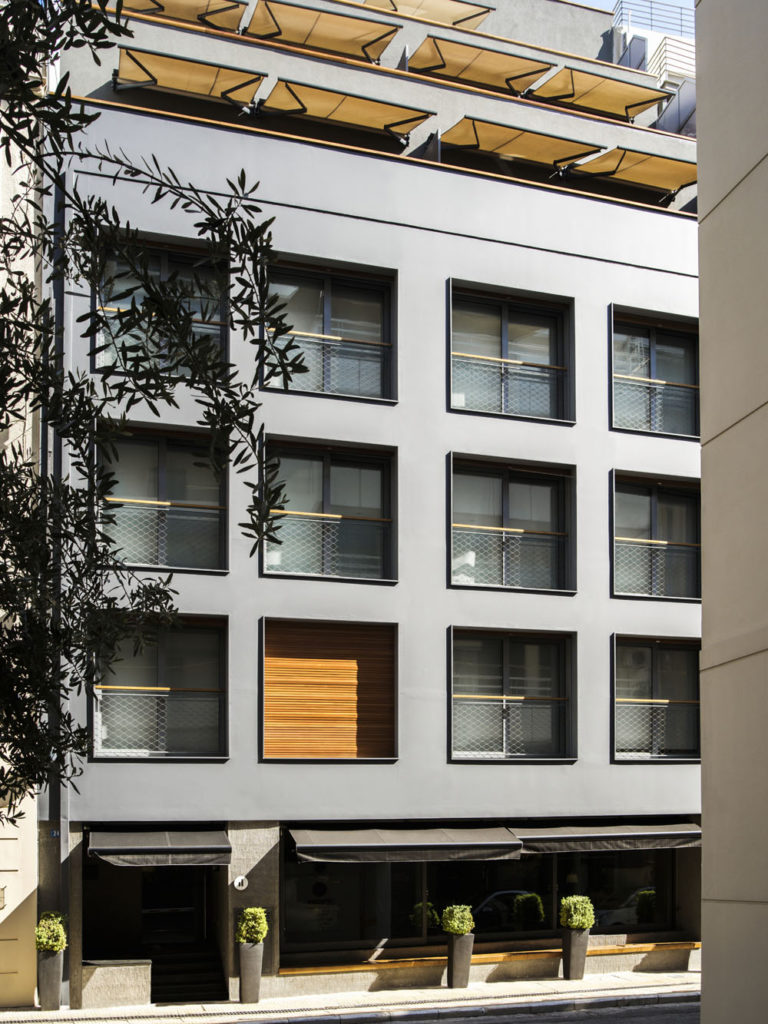 Periscope. As part of YES! Hotels group owned by internationally acclaimed contemporary art collector Dakis Joannou, located in the posh and stylish neighborhood of Kolonaki, it is the antidote to the ordinary city hotel. Its award-winning architectural design creates a young, enthusiastic, and seductive urban haven. Crafted around the theme of a periscope, the 22 guestrooms feature artworks and installations that allow guests to embark on an imaginary trip to the city's most vibrant spots. With an air of understated luxury, each room ensures a stay beyond imaginable at a very convenient location, surrounded by ultra-chic restaurants, art galleries, and boutiques. Modern minimalist interiors meet the latest technology. Guests can enjoy a buffet breakfast, fruits, and beverages all day long at the executive lounge. The spacious Penthouse suite expands into two levels, with an open-plan living room and office area. The pièce de résistance is definitely the private Acropolis-view Jacuzzi, surrounded by a teak deck. When the night falls, and the lights linger, this is probably one of the most exclusive places to see Athens by night.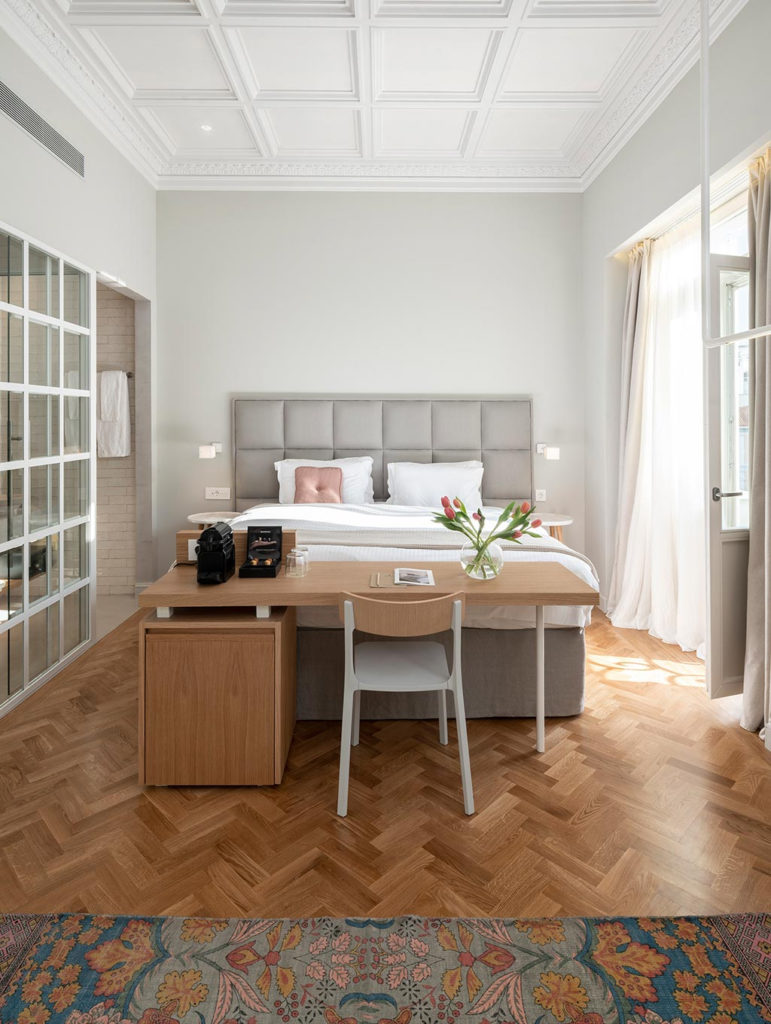 Coco-Mat Athens Jumelle. Coco-Mat, the global brand for high-end eco-friendly mattresses, has opened almost recently sustainable hotels like this one, equipped with signature products, including mattresses and pillows crafted from natural materials. This boutique hotel is located in the fashionable district of Kolonaki, a couple of minutes away from museum-sprinkled Vassilissis Sofias Avenue. A 1925 neoclassical-style mansion and a 1965 adjacent building make up a cool design hotel with an eco-friendly approach. It features a cute roof garden, a gym, an indoor pool, homemade meals, and bike tours.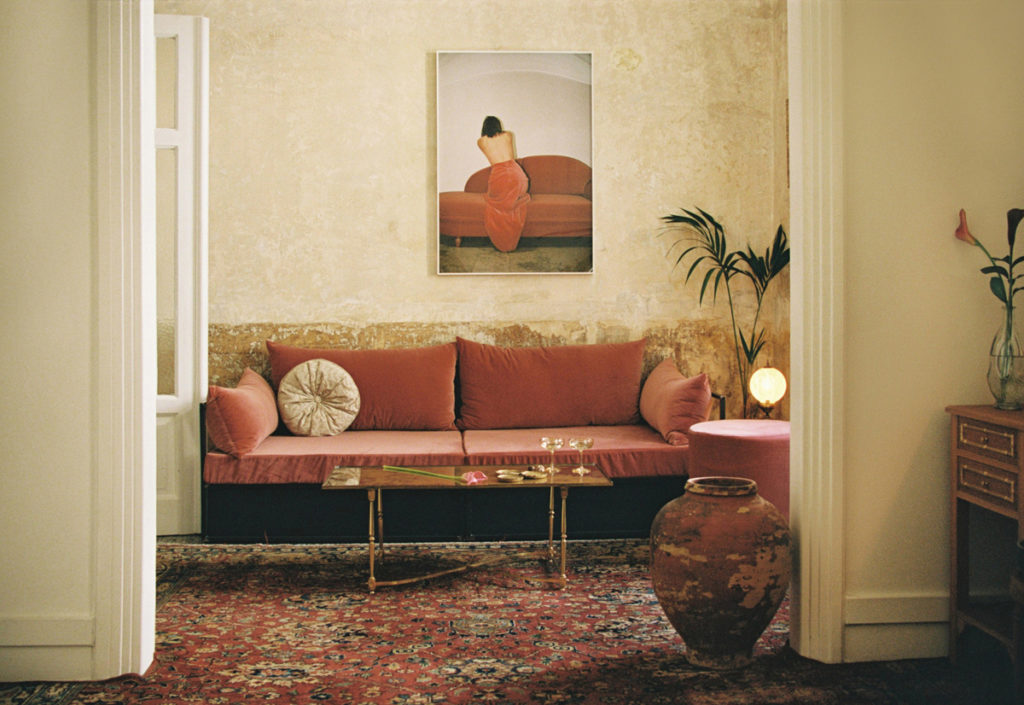 Shila Athens. This romantic late 1920s residence on a quiet pedestrian street in the chic neighborhood of Kolonaki gives new meaning to the boutique hotel concept. Combining retro and contemporary elements – reminiscent of a "hotel particulier" – this neoclassical house consists of six distinctively designed suites. The hotel features a lush courtyard, a tranquil rooftop, lounging areas, and reading nooks, ideally suited for events. An intuitive form of hospitality comes down to bespoke services and deep respect for privacy. A farm-to-table breakfast is made with top-quality local ingredients. The charming interiors include original architectural elements, custom-made and antique furnishings, and natural materials. Marble and stone mix with metal structures, locally milled wood, and vintage fabrics from all over the world. Furniture comes from a Greek family-run wood-making enterprise operating until the turn of the 20th century. The hotel is part of the vision of AUM, a NY-based real estate development company established in 1995 with a desire to convert various properties internationally into sensual urban experiences. The current art collection on display includes works by both Greek & international artists. They are all for sale, and shipping can be arranged upon request.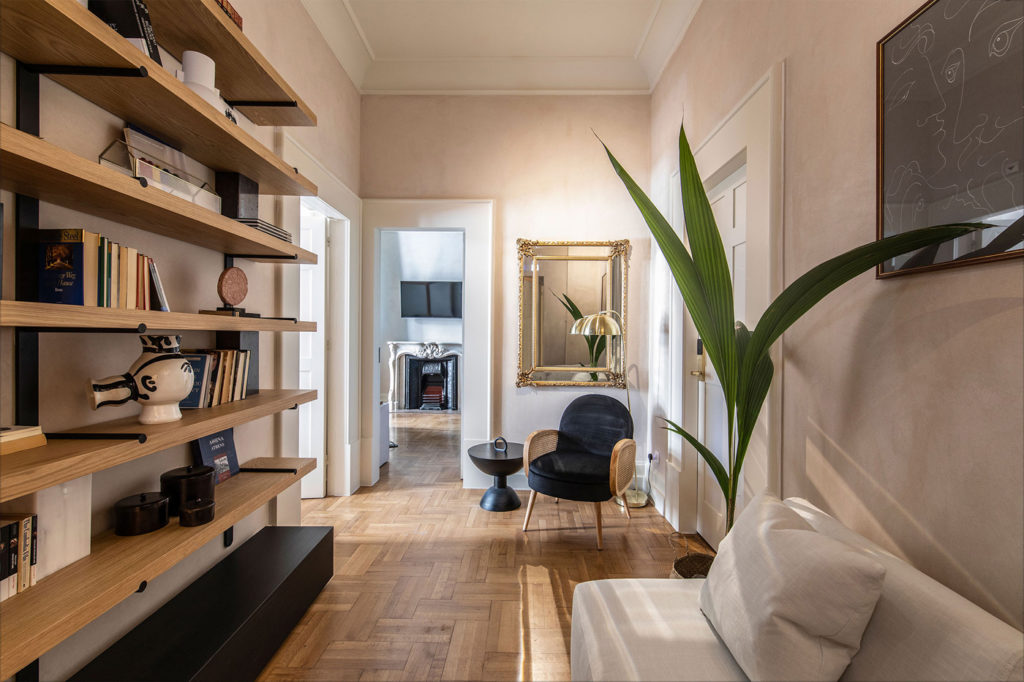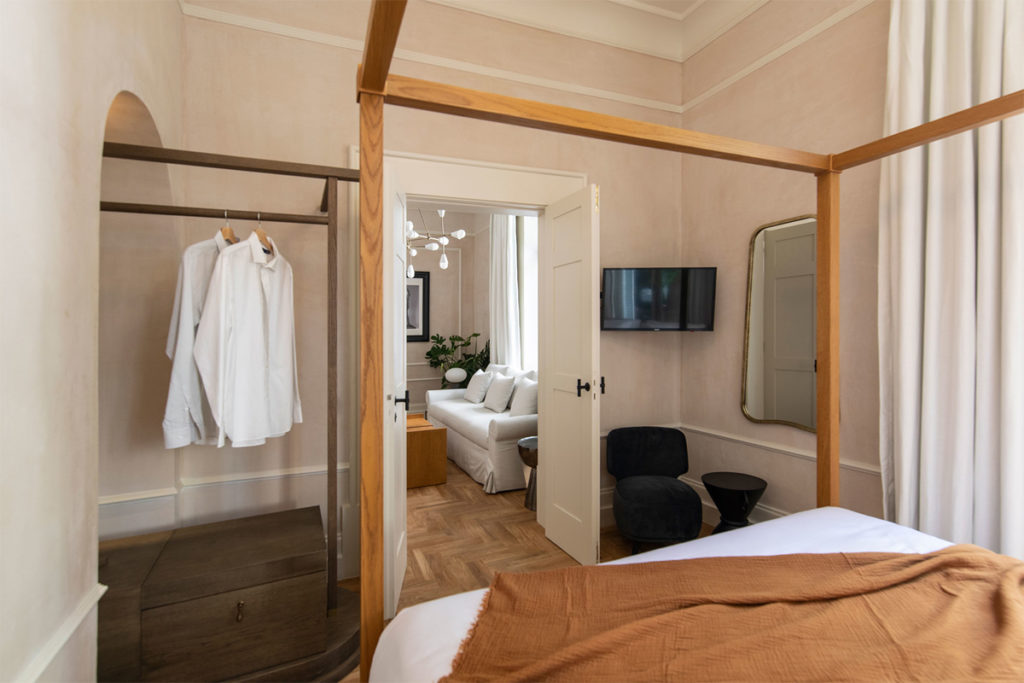 Monsieur Didot. Described as an Athenian culture-inspired home, this exemplary listed neoclassical building in Kolonaki hosted John Lennon and Yoko Ono during their incognito visit to the city some 50 years ago. Renovated by a brilliant team of interior designers (Babatchas Design Studio), it reflects a mix of original early 20th century elements with contemporary finishes and comforts. Bookcases, prints, and paintings by famous and emerging artists, unique pendants, handmade ceramic lamps, decorative details, exotic plants, and custom furniture echo the multidimensional soul of Athens. The effortless fusion of modern aesthetics with traditional methods and techniques redefines the idea of understated luxury. Mortar for walls, natural wood for furniture and floors, marble, clay, and plaster reflect a focus on sustainability. In combination with the revelation of the old decorative paintings on the interior walls, the décor is exceptionally unique. You can book one of the hotel's 6 spacious rooms or the whole 1st floor for an exquisite experience.
The Modernist Athens. Settled into the former Canadian Embassy on a quiet street overlooking a leafy residential square in Kolonaki, this handsome corner building with its many balconies in signature Modernist style combines casual, contemporary luxury with mid-century detailing and minimalist Danish design. Modernist rooms come in S, M, L, and XL sizes, tailored to individual needs and cut from the same cloth with custom furniture, mood lighting, Marshall speakers, and ultra-comfy mattresses. Luminous spaces are equipped with curtains that filter daylight, double-glazed windows, and block-out blinds for optimal sleep. Solid wood floors in ash blond provide a soft backdrop to custom joinery that combines anthracite timber, brass, black steel, and verdant accents both inside and outside. Marble sinks and walk-in showers complete the bathrooms' retro-modern elegance styled in black and white. The hotel's XL room on the top floor flows from an ample living area onto a furnished and landscaped deck terrace with a hot tub and magnificent Athens views. Solid timber parquet, a pick-up player and collection of vinyl, as well as a drinks trolley piled with premium spirits, take the whole experience to the next level of coolness.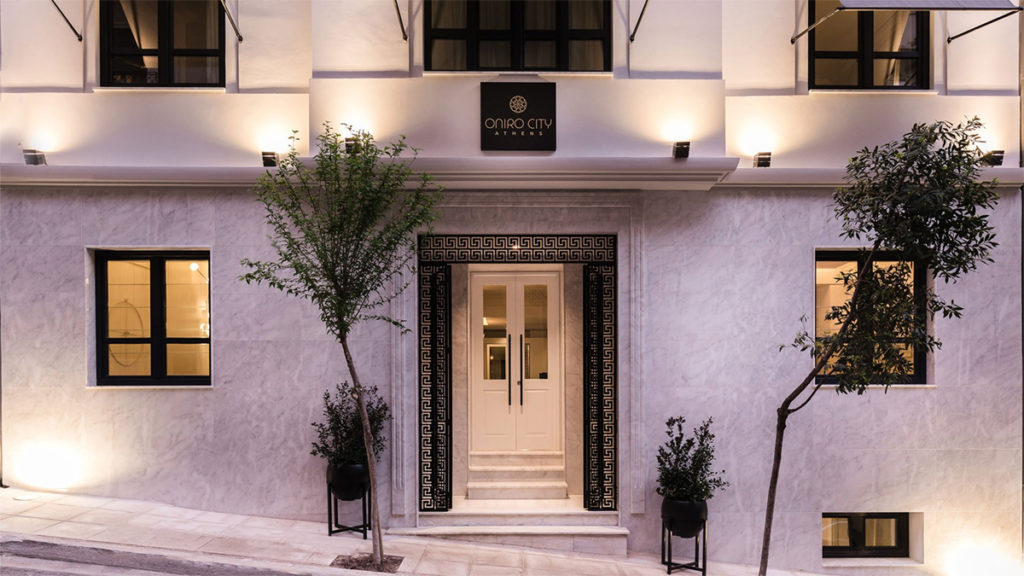 Oniro City. Ideal for a business trip or a city break, this boutique hotel in the upscale neighborhood of Kolonaki has been designed and polished to absolute perfection. Glamorous, avant-garde, and posh are all words accurately used to describe its location. Cool contemporary lines, warm, earthy tones, layered textures, and elegant latticework create an ultra-chic accommodation environment. All rooms and suites prioritize impeccable style and comfort. Gourmet food and drink options at the hotel's all-day restaurant are alluring too. The menu is as fitness-oriented as the hotel's gym.