Premium Global Fashion Designer Boutiques in Athens
Athens might not be a fashion capital, yet many global luxury brands maintain their standalone boutiques on prestigious Athenian addresses. Downtown, prime shopping locations include the pedestrian segment of Voukourestiou street, the posh & fashionable neighborhood of Kolonaki, and the parts of Stadiou & Panepistimiou streets closest to the buzzy Syntagma square. Known from the global coverage of rioting in Athens, this historic square is framed and flanked by the palatial building of the Greek parliament and other neoclassical buildings, mainly of landmark hotels such as the Grande Bretagne and King George. If you want to avoid its grungiest sides, cross from the Greek parliament to the square and the Grande Bretagne corner, then walk around the block (Panepistimiou-> Amerikis-> Stadiou-> Voukourestiou streets). Find also Valaoritou, a small pedestrian street crossing Voukourestiou, and then from Kanari street, enter the area of Kolonaki. These are short distances filled with boutiques, restaurants, bars, and coffee shops. Other international high-end designers can more or less be found at local multi-brand boutiques and the Attica City Link department store on Panepistimiou and Amerikis streets. Kolonaki has been, for many decades, the area where Greek designer showrooms thrived among upscale boutiques and high-street retail options. Everything revolves around the little Kolonaki square with coffee shops and restaurants nearby. Your shopping time can be combined with an uphill walk or cable car ride to the top of Mount Lycabettus with a great city view. Kolonaki is a vibrant retail and residential neighborhood surrounded by picturesque nature you will come to appreciate as you climb up its narrow streets in comfy shoes. Urbanized in the 50s, it carries the flair of the previous century.
Hermès. Apparel, handbags, scarves, and other upscale accessories in the legendary French house's high-fashion collection are available in an elegant and airy boutique. It is located on the ground floor of a neoclassical building at a corner with a partial view of the Syntagma square (Voukourestiou & Stadiou streets). European cherry wood furniture, leather details, Grecques roof lighting first designed for the brand in 1925, a custom floor mosaic with embedded logo, windows with seasonal art installations, and a huge, majestic door are part of the sophisticated décor. Current Artistic Director Pierre-Alexis Dumas' mother, Rena Dumas, who passed away in 2009, was the Greek-born interior and furniture designer behind more than 300 Hermès boutiques, including this one in Athens. She has also worked on projects with Christie's, Saint Laurent, John Lobb, and architect Renzo Piano, to name a few. This Greek 'connection' can be noticed in some of the house's ad campaigns.
Chanel. The iconic fashion house leaves now its mark on Athens with the opening of its first boutique in the city in Summer 2023. Located on Voukourestiou Street, the historic French brand joins other luxury boutiques like Louis Vuitton, Prada, and Dior, adding to the street's reputation as a hub for Athenian luxury shopping. The 2-story, 255-square-meter boutique is showcasing the latest creations by Chanel's artistic director of fashion, Virginie Viard, including ready-to-wear, handbags, shoes, accessories, watches, exquisite jewelry, eyewear, and the Les Exclusifs De Chanel fragrance collection. The interior design, conceived by New York-based architect and long-time Chanel collaborator Peter Marino, remains faithful to the house's codes, evoking the timeless allure of Chanel in creating perfect Parisian-chic ambiance and a welcoming environment. The space features clean, contemporary lines, while the signature color palette of the house, in beige, white, and black, is employed for striking graphic effects. Reflective glass surfaces and mirrors, such as the staircase reminiscent of Gabrielle Chanel's infamous staircase on rue Cambon, are used throughout the space to increase luminosity. The unique, minimalist flair of the space is further enhanced by a meticulously curated selection of artworks by Theodore Brauner, James Brown, and Julian Lethbridge. Collaborating with the Kasnakidis family of Linea Piu, with whom they have had an exclusive relationship since 1994, Chanel aims to capitalize on the growing interest in luxury products in Athens, driven in part by increasing tourism in the city. The decision to expand their presence in Greece highlights Chanel's commitment to creating luxurious shopping destinations, as seen with the recent openings of a Chanel boutique and the Fragrant & Beauty Boutique in Nammos Village, Mykonos, a dedicated space for Chanel's beauty products and perfumes.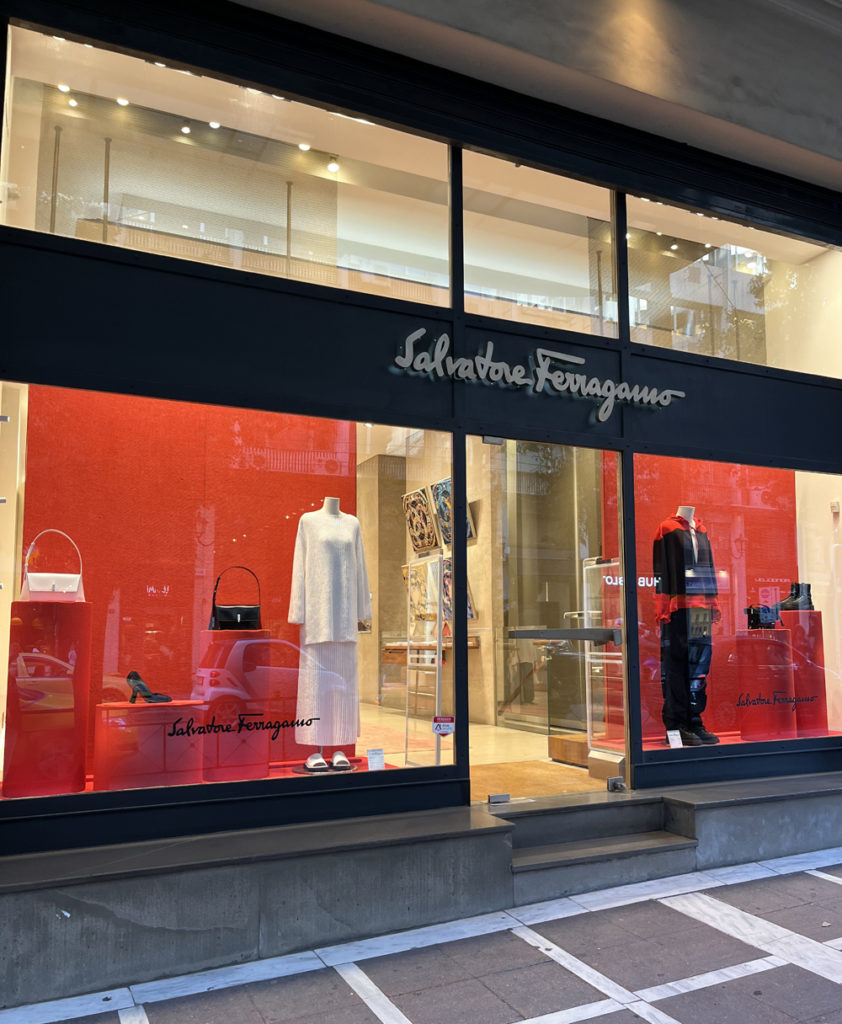 Salvatore Ferragamo. The renowned Italian luxury brand, with headquarters in Florence and a long heritage in leather craftsmanship, maintains a 2-floor minimalist chic boutique located next to Hermès on Stadiou street. Women's ready-to-wear and accessories are displayed on the ground floor and men's on its stylish, equally spacious basement. The founder's affair with Hollywood since the 20s and the quest for refined glamour transcends time. Brand classics such as the Varina ballet flats and buckled men's loafers, plus artsy silk scarves, and signature wardrobe essentials with a design spin, are all available at the store.
Rolex. Decorated with green and gold accents, the emblematic colors of the Swiss luxury watchmaker, this small boutique serves a curated selection of the brand's classics, a few steps from Syntagma square, on Kolokotroni street, and across the Old Parliament building, near the boutique of acclaimed Greek jeweler Zolotas. Another one is located nearby, on Valaoritou street.
Chopard. On Stadiou street, next to the NJV Athens Plaza Hotel, the Swiss manufacturer and retailer of luxury watches, jewelry, and accessories, maintains a glamorous boutique filled with light in the daytime. The Artistic Director and Co-President of Chopard, Caroline Scheufele, loves Athens and Mykonos (she usually stays at the Santa Marina Resort & Villas) and has organized some fantastic events in Greece. The brand proudly uses 'ethical gold,' responsibly sourced from small-scale mines with traditional, artisanal, and sustainable methods through a traceable supply chain.

Cartier. Among an imposing theater, outdoor coffee shops, and restaurants, on a colonnaded alley along the pedestrian part of Voukourestiou, the most important French Haute Joaillerie house maintains an elegant boutique with jewelry pieces that guarantee top quality and exceptional, iconic design.
Bulgari. The Italian fine-jewelry house founded in 1884 in Rome by the Greek jeweler Sotirios Bulgaris – today part of the LVMH group – recognizes the posh Kessaris boutique on Voukourestiou street as its authorized retailer. As a result of this collaboration, the new Bulgari flagship store opened in 2022. Located on Voukourestiou street next to the Dior boutique, featuring precious marble elements and Andy Warhol pop artworks, it honors the founder's Greek roots and international appeal. The iconic luxury brand also maintains a boutique at the Athens International Airport.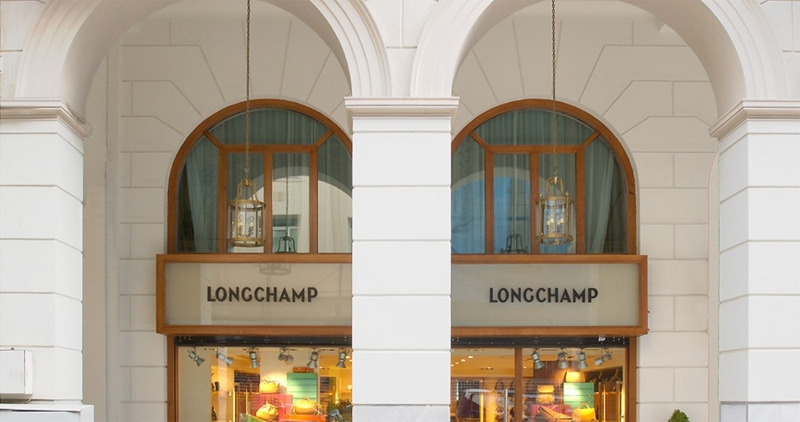 Longchamp. The French luxury leather goods company, founded in Paris in 1948, recently renovated its boutique on the colonnade along Voukourestiou street right across Cartier. Signature brand items such as the Le Pliage bags and the latest collections – often results of fascinating creative collaborations – are cast against a pristine white backdrop with concealed lighting fixtures.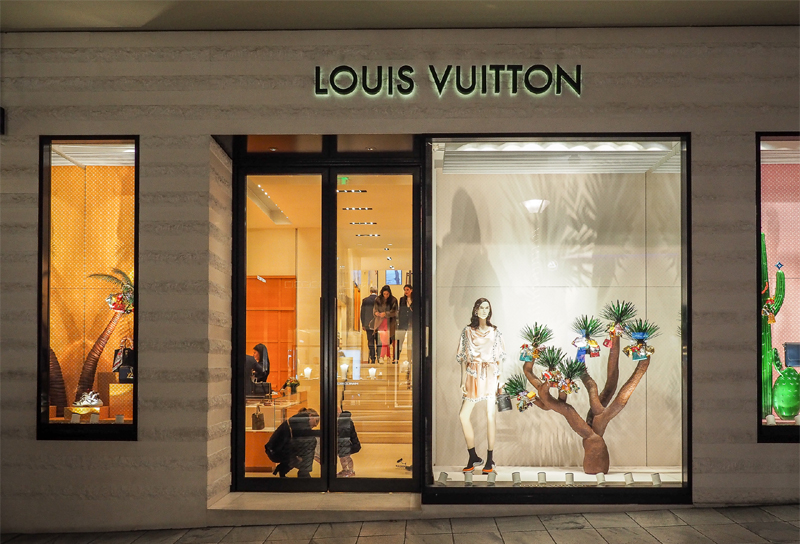 Louis Vuitton. The French luxury fashion house, founded in 1854, occupies a premium position in the retail map of Athens, with a multi-level boutique inside a graceful neoclassical building. Women's and men's ready-to-wear, leather, and silk accessories are displayed in a simple décor that lets their design heritage shine bright. Located on Voukourestiou street next to Prada and across from Dior boutique, it stands at the heart of the high-end market in Athens, where big spenders, especially Asians, hang out when in the mood for upscale shopping. Its art-installation window displays are always a major point of attraction for passersby. Island travelers will also find another two impeccably designed boutiques in Mykonos (town & Nammos Village beach mall), reflecting the spirit of the cosmopolitan island.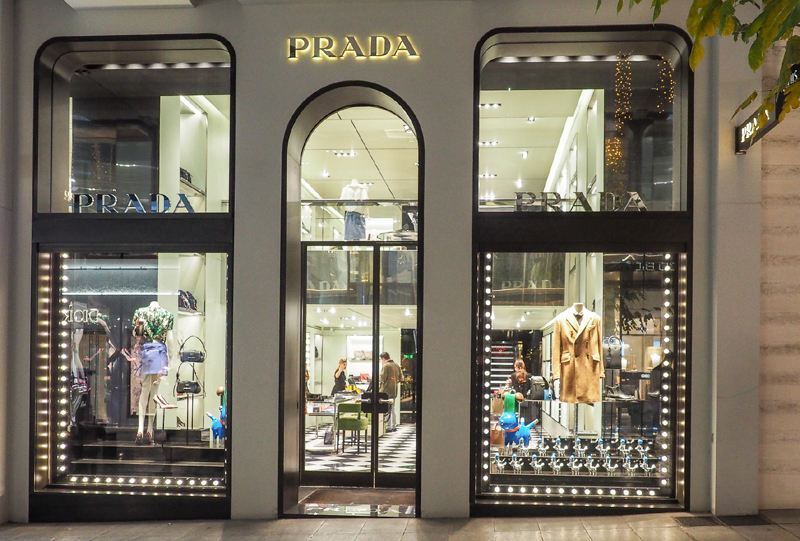 Prada. The Italian luxury fashion house has transformed another Athenian neoclassical building on Voukourestiou street into a multi-level sanctuary of Italian creativity with glossy floors, mirrored staircases, and comfy lounge areas. Representative pieces from the latest collections – especially bags and shoes – are waiting for you to try in this ultra-modern universe of finesse and eclecticism.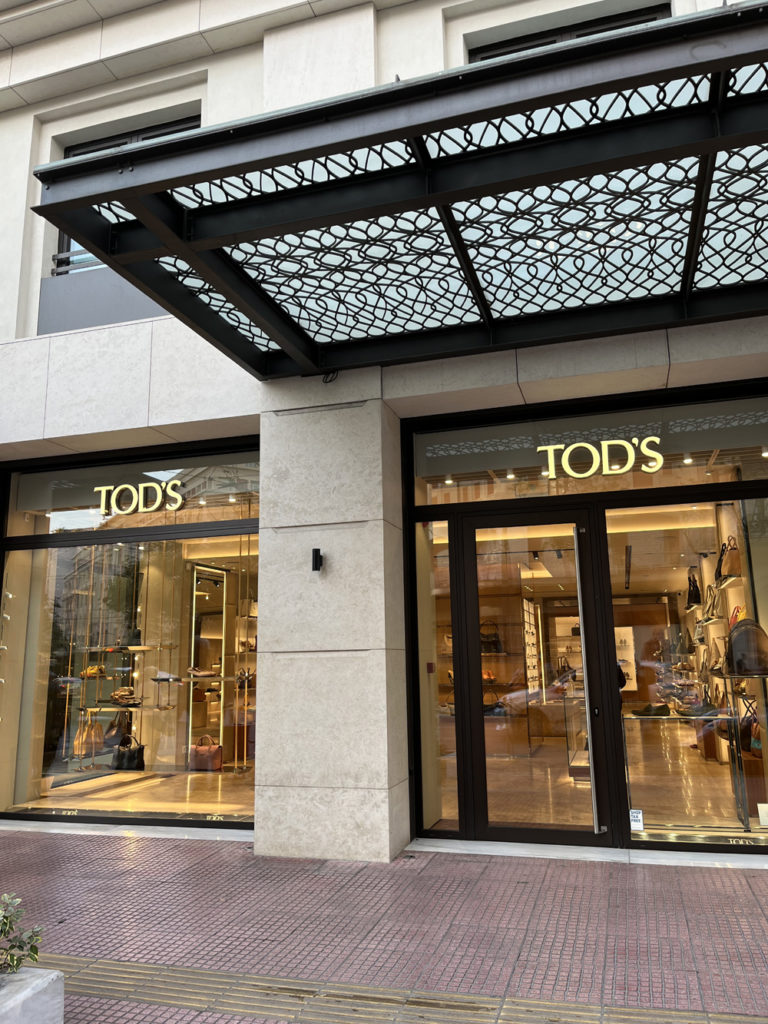 Tod's. Home to the most coveted driving shoes – loafers with rubber Gommino pebbled soles – this Italian luxury brand relocated its retail spot in Summer 2021 to a new modern, clean-aesthetics boutique on Panepistimiou street, near Syntagma. There, you can find signature finest-quality leather products, including shoes and handbags for men and women.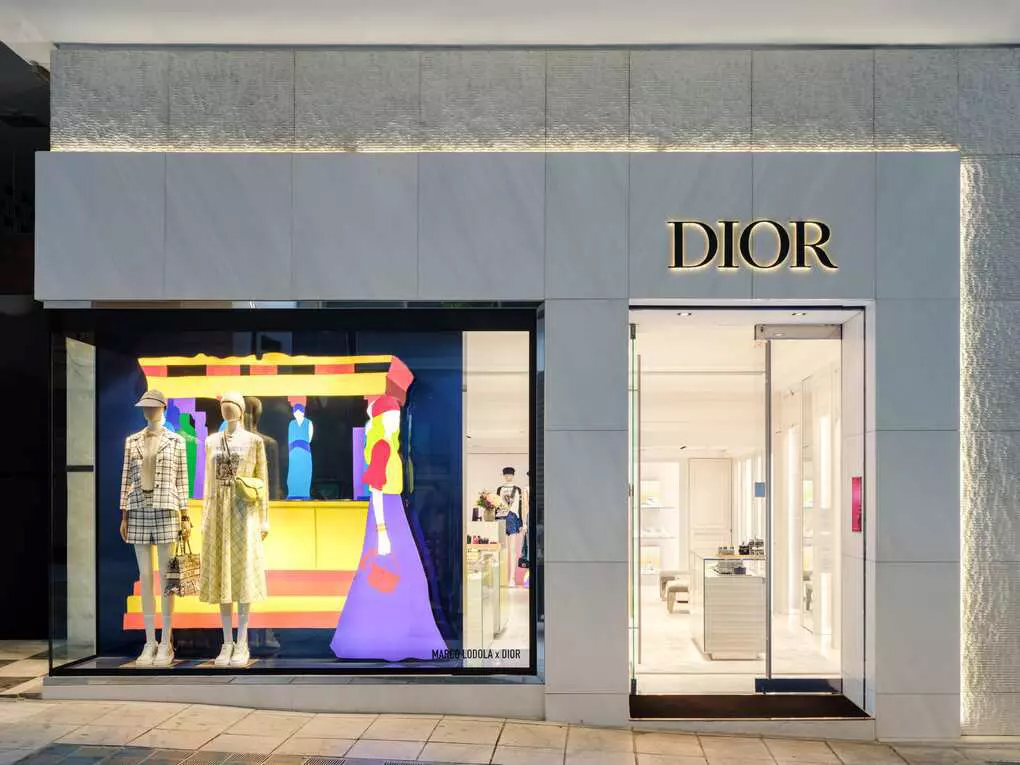 Dior. The legendary Parisian fashion house's multi-level boutique on Voukourestiou street exudes elegance and femininity. With exemplary service and a great selection of 'it' items from the latest collections (ready-to-wear, leather products, and accessories), it serves as a meeting point for a discerning clientele of cosmopolitan identity. Handbags, shoes, jewelry, sunglasses, and more, make this place look like a fashion candy store! Window displays are often exceptionally creative, following, of course, the seasonal guidelines and core aesthetics of the brand. Dior loves Greece, and in the summer of 2021, had two pop-up stores in Mykonos!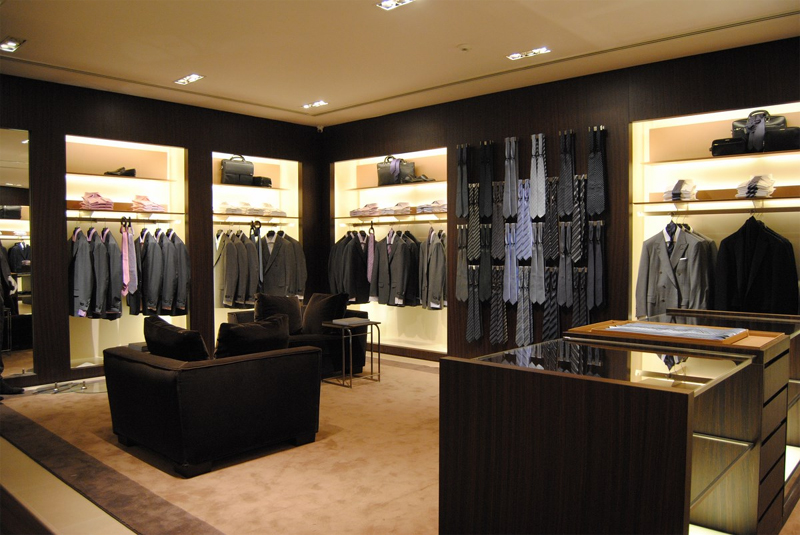 Ermenegildo Zegna. One of the most renowned luxury menswear Italian brands, founded in 1910 in Piedmont, also has a sizeable no-frills boutique on the pedestrian part of Voukourestiou street. The latest collections, from perfumes and shirts to tuxedos and black-tie accessories, are available.
Brunello Cucinelli. Self-described as the 'philosopher designer,' the Creative Director of this Italian luxury brand has picked Athens as one of its impeccably designed retail spots. Crossing Voukourestiou street and heading to the one end of the pedestrian Valaoritou street, you will find the multi-level boutique inside a small neoclassical building. The finest quality cashmere knits are top investment pieces. Equal attention to materials and craftsmanship is evident in apparel made of linen, wool, and silk, some of them accented with monili bead embroidery. The brand focuses on charity, so keep in mind that 20% of the profits are donated to restore important works of art and other causes.
Max Mara. On Kanari street, one of the 'entrances' to the boutique-sprinkled area of Kolonaki, the Italian luxury brand offers a wide range of products from signature wool & cashmere coats to fashionable seasonal items, accessories, and a bridal collection. Another Max Mara boutique is located in the Northern suburbs of Athens, in Kifissia.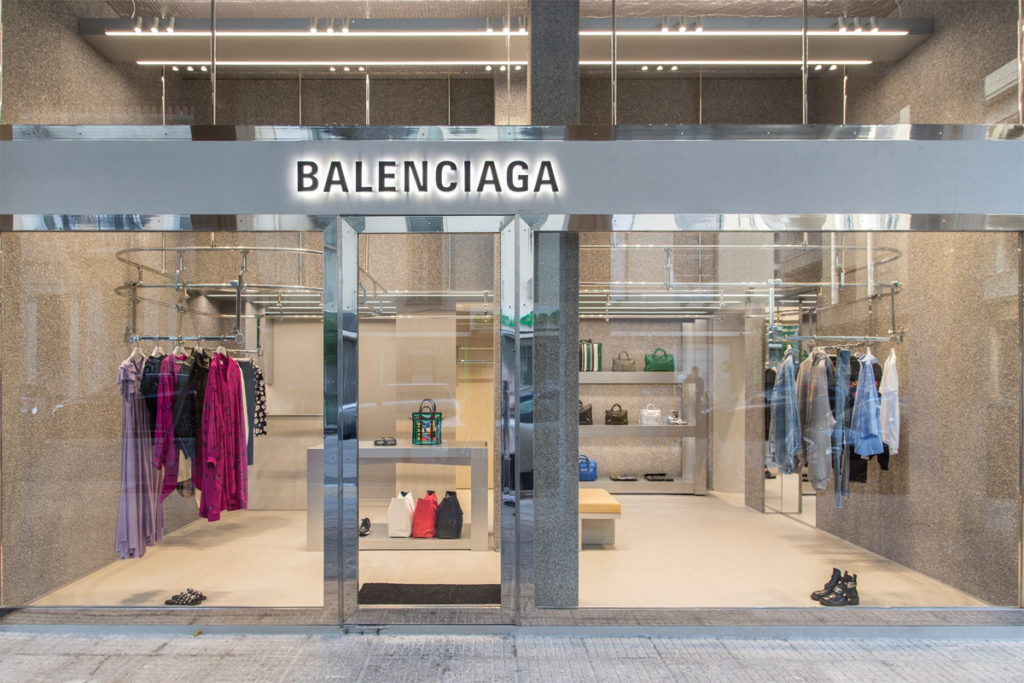 Balenciaga. On Skoufa street, in Kolonaki, known for its vibrant fashion retail scene, the avant-garde luxury brand, founded in Spain in 1917 by the revolutionary couturier Cristóbal Balenciaga, and owned today by the French group Kering, maintains a cool minimalist boutique with a great selection of apparel and accessories from the latest collection. Creative Director Demna Gvasalia is always ahead of the curve, sending down the runway visually eye-catching silhouettes based on the glorious archives of the house but taken in a new direction. As in every Balenciaga boutique, few, sparsely arranged items are arranged on the racks, drawing attention to the season's mood.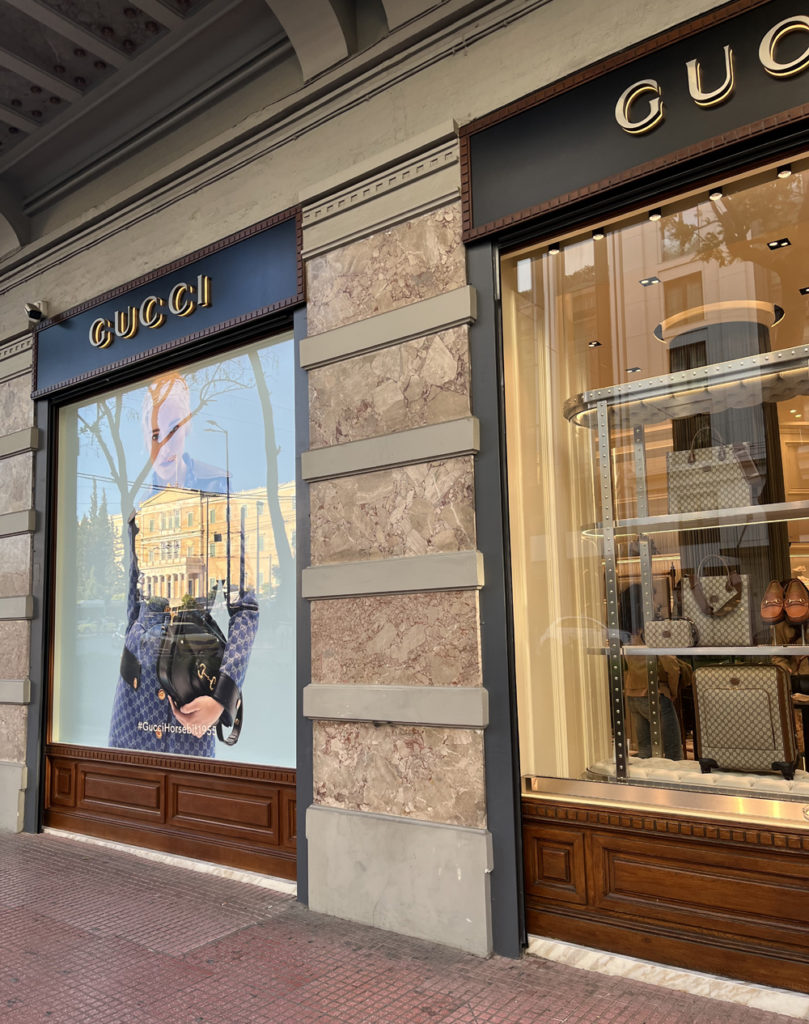 Gucci. In Spring 2021, the highly successful Italian luxury brand led by Creative Director Alessandro Michele relocated its Athenian retail spot to a new spacious boutique with womenswear, menswear, shoes, bags, and accessories on Panepistimiou street, near Syntagma square, inside a historic neoclassical-style building. The well-trained team of salespeople offers exceptional service, guiding you through options and availabilities. The on-site latest collection is meticulously curated to reflect the demand for both classic and on-trend pieces. The vibrant décor is the perfect backdrop for the collection.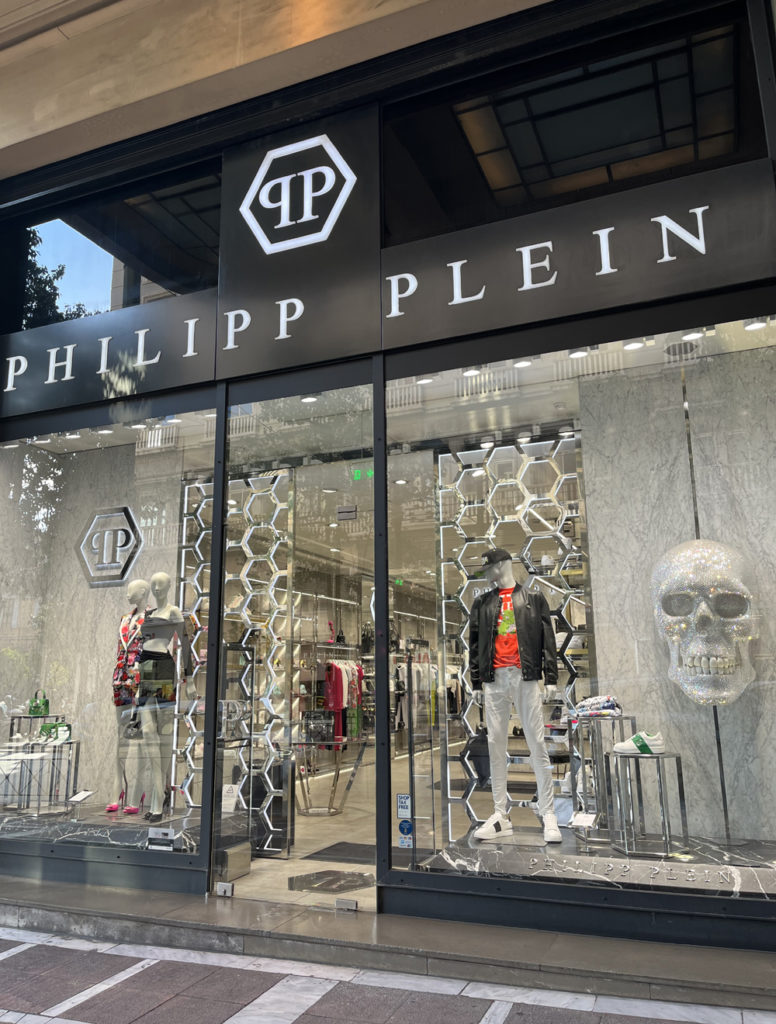 Philipp Plein. This German fashion designer is known for his bold and edgy aesthetics, combining streetwear elements with high-end luxury. His designs often feature eye-catching embellishments, such as studs, crystals, skull motifs, and bold prints, and his pieces have been worn by celebrities like Paris Hilton, Madonna, Naomi Campbell, Gwen Stafani, Mario Balotelli, Tyga, and more. His boutique in Athens on Stadiou street, showcasing his latest collections, provides fans with a chance to experience his unique brand elements up close. Plein is also famous for his impressive fashion shows, which are always extravagant and theatrical, featuring live performances, elaborate sets, and stunning visuals. With his rebellious, over-the-top style and collaborations with some of the biggest names in entertainment, including Snoop Dogg, Chris Brown, Fergie, Iggy Azalea, Alec Monopoly, and Rita Ora, he has grown into a designer who pushes the boundaries of the fashion industry and pop culture. Sharp contrasts, mirrors, a Murano crystal chandelier, and other decorative elements, such as the signature bejeweled skull, make his boutique in Athens a meeting point for street couture lovers.
Luisa World. Since 1975 this multi-brand luxury boutique in the buzzy Skoufa street in Kolonaki has offered you la crème de la crème of premium designers, including Saint Laurent, Bottega Veneta, Alexander McQueen, Valentino, Versace, Stella McCartney, Loewe, Balmain, Gucci, Prada, and Chloé. Combined with a curated roster of contemporary collections from Zimmermann, Theory, Caroline Constas, Miguelina, and more, it has access to a vast pool of options covering the needs of a cosmopolitan wardrobe. The lavish multi-level boutique in Kolonaki is a meeting point for sophisticated fashionistas. The same applies to the group's boutiques in the northern Athenian suburb of Kifissia, in the southern suburb of Vouliagmeni at the Four Seasons Astir Palace Hotel, and Nammos Village (seaside shopping mall) in Mykonos.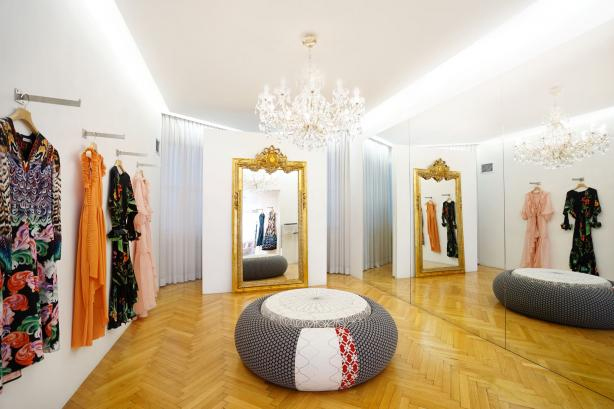 Enny di Monaco. An exciting mix of upmarket contemporary and premium brands can be discovered in this glamorous boutique with playful designer furniture. The roster of designers includes Christian Louboutin, Aquazzura for fabulous shoes, Johanna Ortiz, Lisa Marie Fernandez, Zimmermann for resort wear/swimwear, and Alaia, Alexandre Vauthier, Galvan London, and more for party time. The whole range of options unfolds through 4 premier spaces in Kriezotou street in Kolonaki, in the northern suburb of Kifissia, the southern suburb of Glyfada, and the island of Mykonos.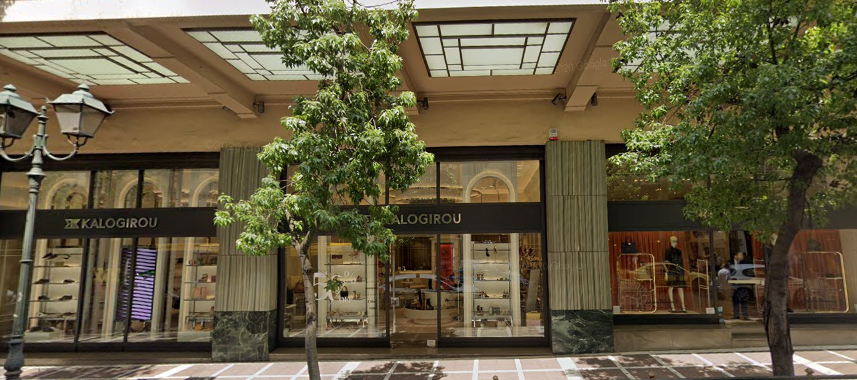 Kalogirou. The oldest luxury shoemaker in Athens, founded in 1890, has grown into a company with 10 boutiques in Greece, importing a long roster of high-end brands (shoes, bags, and accessories) for men and women, including Jimmy Choo, Prada, Miu Miu, Casadei, Gianvito Rossi, Sergio Rossi, Fratelli Rossetti, Salvatore Ferragamo, Stuart Weitzman, Tod's, Tory Burch, and Hogan. In Athens, its most historic boutique is located in Kolonaki. Another one recently opened next to Salvatore Ferragamo on Stadiou street. There is also a timeless, effortless-chic boutique in the Northern suburb of Kifissia and a larger, glamorous one inside the Golden Hall shopping mall.
If you have an extra day to spare, include in your itinerary a shopping & dining trip to the Northern suburb of Kifissia, which is a 40-60 minutes drive, depending on the traffic. This is another beautiful, mostly residential area featuring sprawling gardens, neoclassical mansions, opulent estates, an upscale shopping area, excellent fine-dining options, cute coffee shops, parks, and pedestrian areas. Due to the local high-income clientele, some luxury brands have picked it as a retail location.
Golden Hall. The most luxurious shopping mall in Athens that is worth visiting is located in an impressive, sparsely populated area of the northern suburb of Maroussi, halfway towards the more splendid suburb of Kifissia. The gleaming interiors of a modern glass architectural complex are complemented with generous outdoors with activities for your children. Luxury brands such as Salvatore Ferragamo, Georg Jensen, Ilias Lalaounis, CH Carolina Herrera, Ermenegildo Zegna, Wolford, Vilebrequin, and many top-tier Greek jewelers are nicely juxtaposed with high-street brands, and other services such as the well-established Georgios Doudessis hair salon, a nail bar, restaurants, and coffee shops.
CH Carolina Herrera. Carolina Hererra's lifestyle brand, a concept of universal appeal for the whole family, includes this spacious one at the Golden Hall shopping mall in its European boutiques. Founded in 2001, this more affordable and equally tasteful collection is presented in a new warm and sensual space accented with wood, alabaster, and raw fabrics. The men's department features raffia flooring, sliding wooden panels, and neutral tones, while the women's is decorated with more feminine details such as velvet rugs, elegant lamps, pillows, and aromatic candles. A cozy fireplace is staged against a library to exude a homey vibe. It's all about perennial aesthetics.
Bottega Veneta. The iconic luxury brand, founded in Vicenza in 1966, is over the last years again on the hype due to highly-coveted pouch bags and shoe designs by previous Creative Director Daniel Lee. His right-hand man, talented Matthieu Blazy, is currently at the helm and continues his fashion-forward trajectory. The luxury brand maintains a magnificent boutique in the verdant premium northern suburb of Kifissia, on the Kolokotroni street that leads to the little square of Kefalari, quite near the design-perfect Semiramis hotel.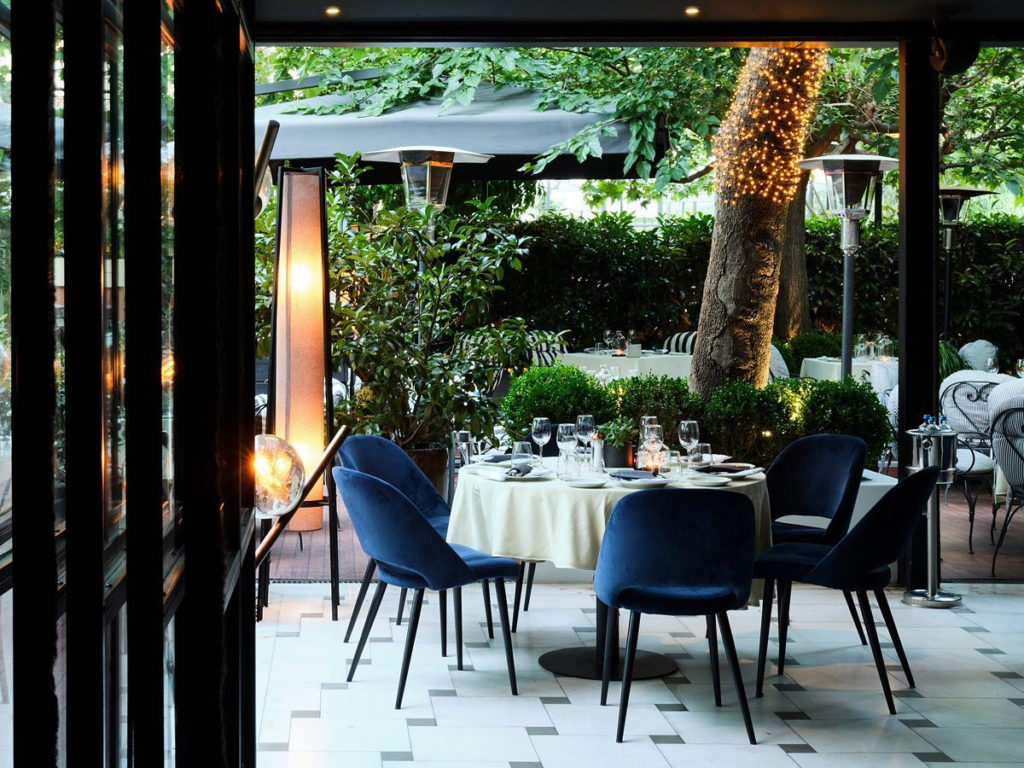 As mentioned above, there are many other boutiques around Kifissia to explore. We can add, as a post-shopping entertainment, the possibility of gourmet dining at the Twenty One restaurant or the Il Salumaio d'Atene plus an outdoor movie theater experience (Spring-Fall season) at Chloe Cinema in a spectacular garden with a view of the little tower of a nearby mansion, or Mpomponiera.