Finest Accommodation on a Winter Trip to Athens
There are over 30 5-star hotels in Athens, most of them located downtown, close to the historical center, and a few of them spread in the suburbs to the north and the south (seaside). On average, prices are lower in wintertime, always at slightly more reasonable levels in comparison with those in other major cities across the world. A downtown location will guarantee you walking distance or a 5-10 minute taxi drive to the main attractions in the city including the hill of the Acropolis with the iconic Parthenon temple, the hill of Lycabettus with the 19th c. Chapel of St. George, the private and public museums and historic buildings along Vasilissis Sofias Avenue (that leads to the Greek Parliament), the Panathenaic Stadium, and the infamous Syntagma Square. The old neighborhoods of Plaka and Monastiraki that connect to a large pedestrian zone sprinkled with ancient monuments are also within walking distance from most downtown hotels. Museums around, that are totally worth a visit are – with order of importance and preference – the Museum of Acropolis, the Cycladic Museum, the Archaeological Museum, the Benaki Museum, the Byzantine Museum, the Lalaounis Museum, and the War Museum. Regarding amenities, most outdoor swimming pools are not available in winter, yet some of the hotels have indoor ones, combined with spa and beauty facilities. If you are not into sightseeing but prefer to relax as if it is still summer, opt for the few Athenian 5-star hotels that are on the seaside. Greek winter is mild with mostly sunny days, so why not get some scoop on what the magic of Greece is about? Remember that from Athens a view of the 'ocean' is practically a view of the Aegean Sea which is the eastmost part of the lovely Mediterranean Sea.
Downtown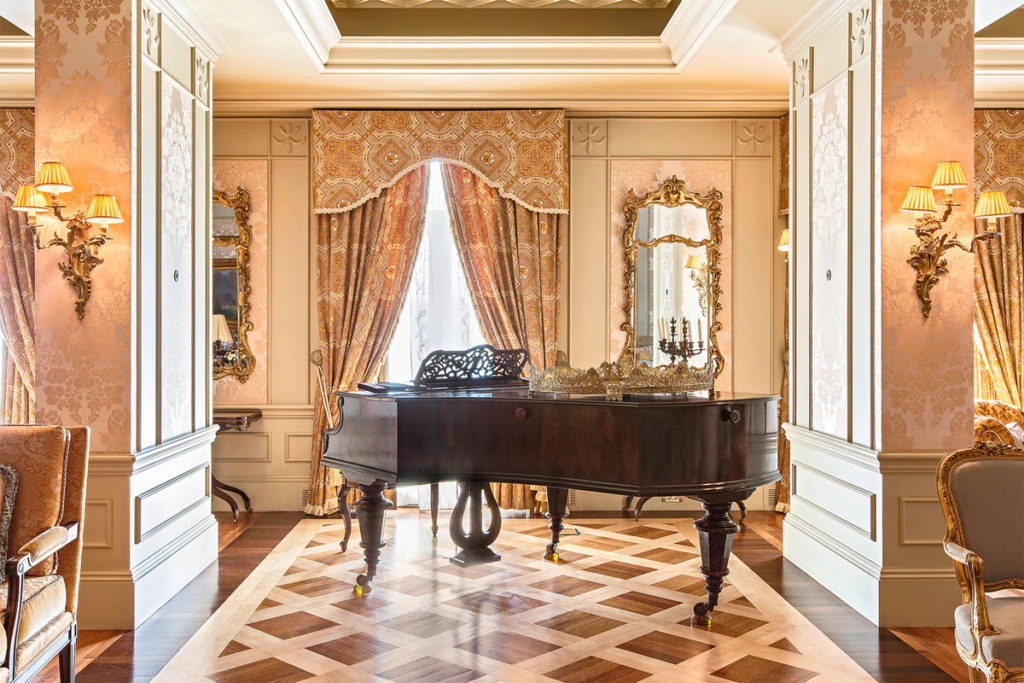 Grande Bretagne. Since 1874 this neoclassical-style 320-room landmark hotel has offered luxury accommodation to a lengthy list of world leaders, royals, superstars, and elegant guests from all over the world. Located diagonally across the Greek Parliament on the media-coverage-heavy Syntagma Square, it is definitely the most important hotel in Athens. The gilded interiors are decorated with precious antiques and works of art of museum quality (tours are scheduled upon request). With an unobstructed view of the Parthenon temple, the rooftop restaurant and bar are meeting points. An ideal spot for tea time or any other occasion, morning to evening, Winter Garden offers delicious treats accompanied by live piano tunes. And there are way more amenities including a cellar for wine-tasting, a spa with an indoor pool, a hair salon, the Grand Ballroom for events, the world-acclaimed Alexander's bar featuring the Alexander-the-Great-themed 18th-century tapestry on its main wall, and an ultra-chic cigar lounge. 
King George. Adjacent to Grande Bretagne, this smaller opulent hotel which is also part of Marriott's Luxury Collection, charms its guests with bright classic marble-clad décor, a multi-awarded restaurant on the 7th floor, an elegant perfumery, Greek delicacies for breakfast, antique furniture, Murano chandeliers, and rotating Greek paintings on the walls. Built in 1930 in the neoclassical style, it has also hosted VIPs from all over the world, including Grace Kelly who stayed with Prince Rainier of Monaco at the Penthouse Suite on the 9th floor which is equipped with the only outdoor swimming pool in the hotel. Guests can also enjoy the indoor pool, spa, bars, and restaurants of next-door Grande Bretagne.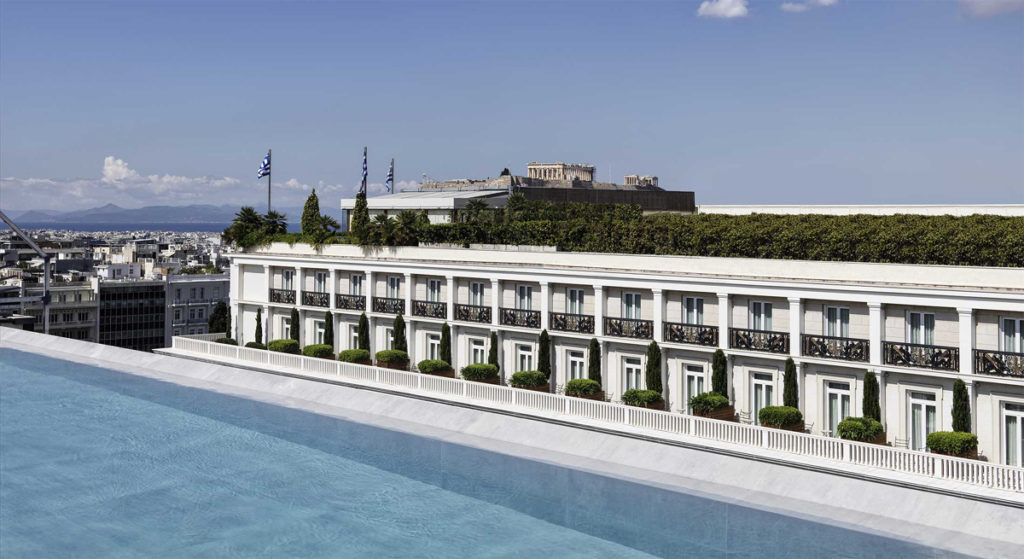 Athens Capital Hotel. Exuding understated elegance, this newly launched contemporary-art-filled boutique hotel, part of Accor's MGallery Collection, is ideal for a city break or a business trip. Located on Syntagma Square (across Grande Bretagne), it brings you near Kolonaki, the upscale neighborhood of Athens, and its many art galleries. On-site, installed vertically at the hotel's multi-level atrium, George Lappas' Mappemonde (World Map) is one of the most important works of Greek post-war sculpture. You can have a perfect view of it from its namesake rooftop infinity pool bar-restaurant. Signature cocktails are accompanied by delicious dishes. In this culinary hotel destination, try also the interactive open-kitchen concept, and the Galerie cafe. Finally, enjoy a panoramic view of the Acropolis and Lycabettus hills in the golden hour; it's a must!
Conrad Hotel (formerly Hilton Athens). More of a destination for executives but equally welcoming for those on vacation mode, this minimalist hotel, which opened its doors in 1963, has been honored by a long roster of VIPs, including Frank Sinatra and Anthony Quinn. The façade of this modern 506-room building is decorated with iconic reliefs by famous Greek artist Yiannis Moralis, and many of the rooms have a view of the 24-feet glass and iron statue of 'The Runner'. The iconic rooftop Galaxy bar had an excellent view of the Acropolis and Lycabettus hills. Located on the museum-sprinkled Vasilissis Sofias Avenue, it is a 15-minute walk from Syntagma Square. Following an agreement for a new Conrad hotel and residences, this hotel ceases to operate under the brand Hilton on January 31st, 2022. Redesign works will be carried out throughout 2022. We are looking forward to this hotel's launch!
St. George Lycabettus. On the foothills of pine-forested Mount Lycabettus, 300 meters/980 feet above sea level, this boutique hotel with eclectic décor is definitely a stylish retreat. Many of the 154 rooms, as well as the rooftop pool bar, have panoramic views of the Acropolis and the Saronic islands. Located in the fashionable and upscale Kolonaki district, it is surrounded by designer showrooms, art galleries, fashionable restaurants, and bars. Through an independent entrance on the ground level, you will find the Nikkei Peruvian fusion restaurant – not part of the hotel – for fun dining. The hotel is also equipped with a panoramic-view rooftop restaurant (La Suite) and lounge for a delicious lunch, brunch, or dinner, a gym, a yoga/pilates studio, and a 30-seat cinema screening room. There are also 15 eco-friendly design rooms. On a sunny day, take the cable car ride to the top of the mount from around the corner.
Electra Metropolis. With one of the coolest views of the Acropolis, this 216-room hotel which opened its doors in 2016, is a 5-minute walk from Syntagma Square, located on a tourist-roamed street in downtown Athens. With remains of the famous Themistoclean Wall, which surrounded ancient Athens in its basement, and a 16th-century chapel embedded on one side of its entrance, it is a major attraction by itself. The 10th-floor Mediterranean cuisine restaurant with floor-to-ceiling windows and a great cocktail bar is the perfect setting for a date. The modern hotel is also equipped with an indoor pool — an outdoor one, too, for the summer — and a spa. If you want to experience Athens more, just walk towards nearby Plaka and Monastiraki.
Grand Hyatt Athens. Α very brief taxi drive to Syntagma Square, this relatively new minimalist hotel features rooms with chic modern décor, an upscale top-floor restaurant called Grand by Interni, a distant view of the Acropolis, and elegant public spaces, lounges, and more. Located next to the vibrant Onassis Stegi cultural center that was founded under detailed instruction by the late tycoon Aristotle Onassis, it provides you with the opportunity to check their events and exhibits as well as the multi-awarded Hytra restaurant on the top floor.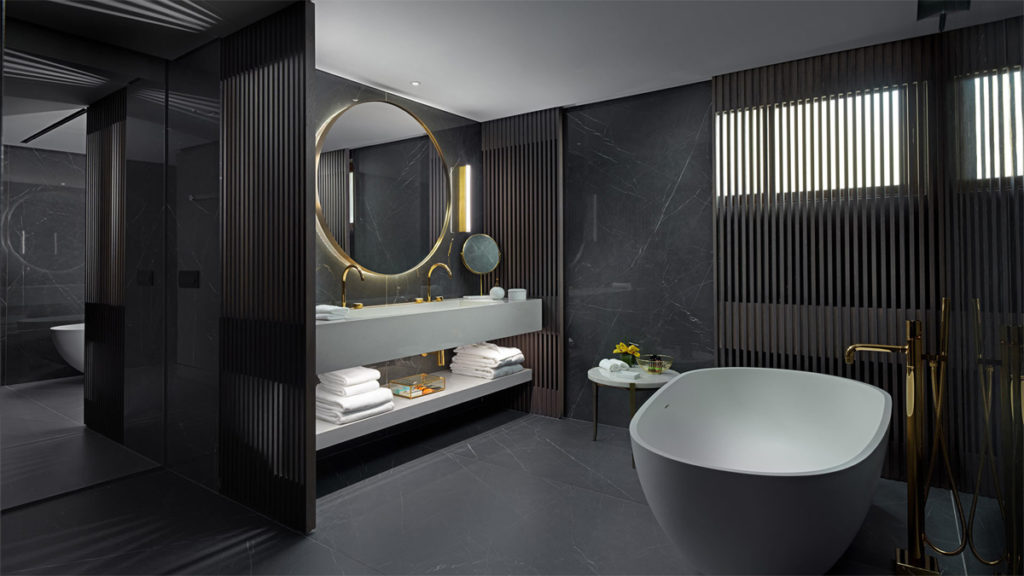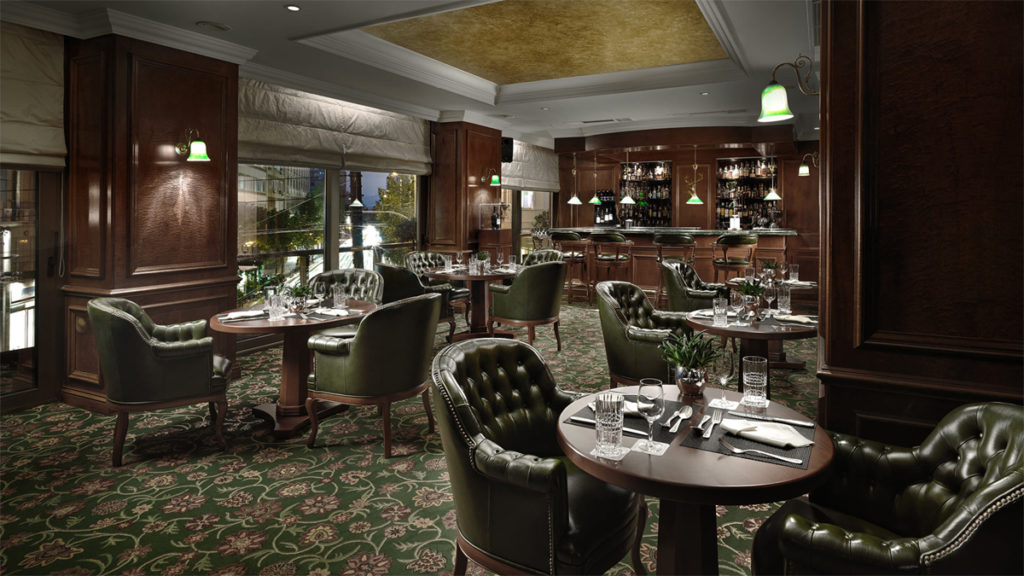 NJV Athens Plaza. Next to the Grande Bretagne and King George, this 162-room 5-star hotel is a great choice for a business & pleasure trip. With one classic restaurant, one British-style bar, and a café, it comes as a value-for-money luxury urban option. It has 18 elegantly decorated suites, among which a split-level Presidential Suite with a dining area for 10 guests and stunning panoramic views of the city and the Acropolis.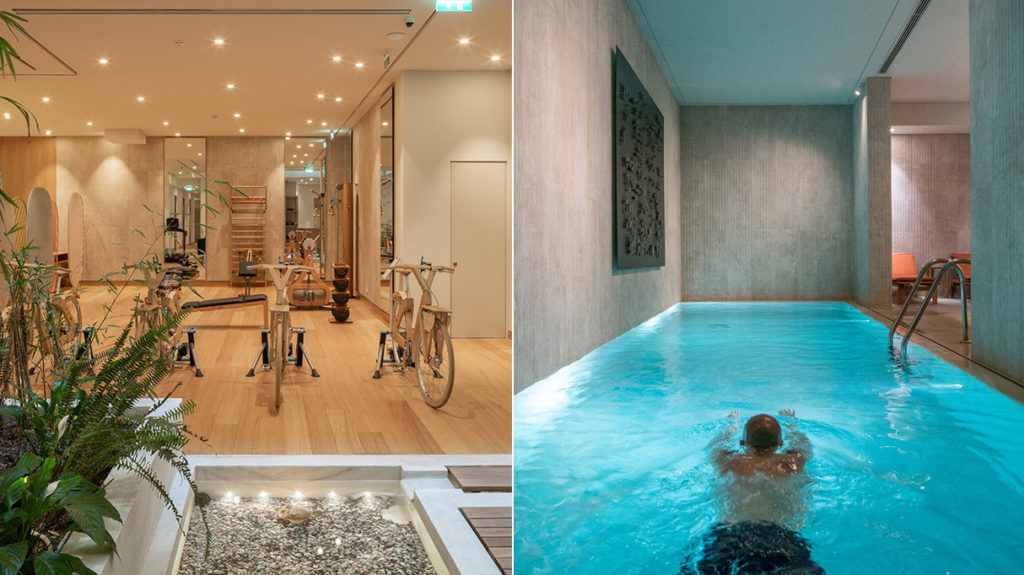 Coco-Mat Athens BC. Coco-Mat, the global brand for high-end eco-friendly mattresses, has opened almost recently equally sustainable hotels equipped with signature products, including mattresses and pillows crafted from natural materials. The minimalist rustic signature style transcends this new hotel that is located near the pedestrian historical center. With a stunning view of the Acropolis and a homey feel, it will definitely become dear to design lovers. It features an ancient Roman mosaic floor in the lobby, a breathtaking roof garden, an open-kitchen restaurant, a gym with eco-friendly equipment, and an indoor pool.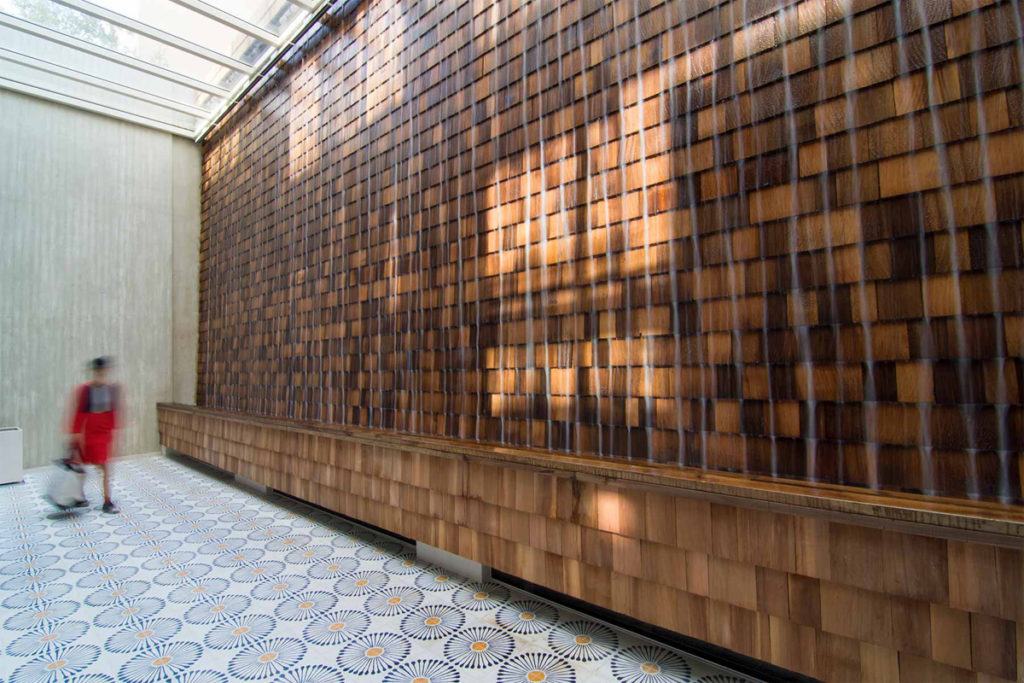 Coco-Mat Athens Jumelle. The same mattress company created another boutique hotel in the fashionable district of Kolonaki, the same area where St. George Lycabettus Hotel is, and a couple of minutes away from museum-sprinkled Vassilissis Sofias Avenue. A 1925 neoclassical-style mansion and a 1965 adjacent building make up a cool design hotel with an eco-friendly approach. It features a cute roof garden, a gym, an indoor pool, homemade meals, and bike tours.
AthensWas Hotel. Right on Dionysiou Areopagitou pedestrian street – the ancient cobblestone path that leads to the Acropolis and other monuments – this elegant boutique hotel embraces Athenian history in modern décor. With a gourmet restaurant called Sense and a gym, it offers you the opportunity to relax and enjoy the closest view to the iconic temple complex.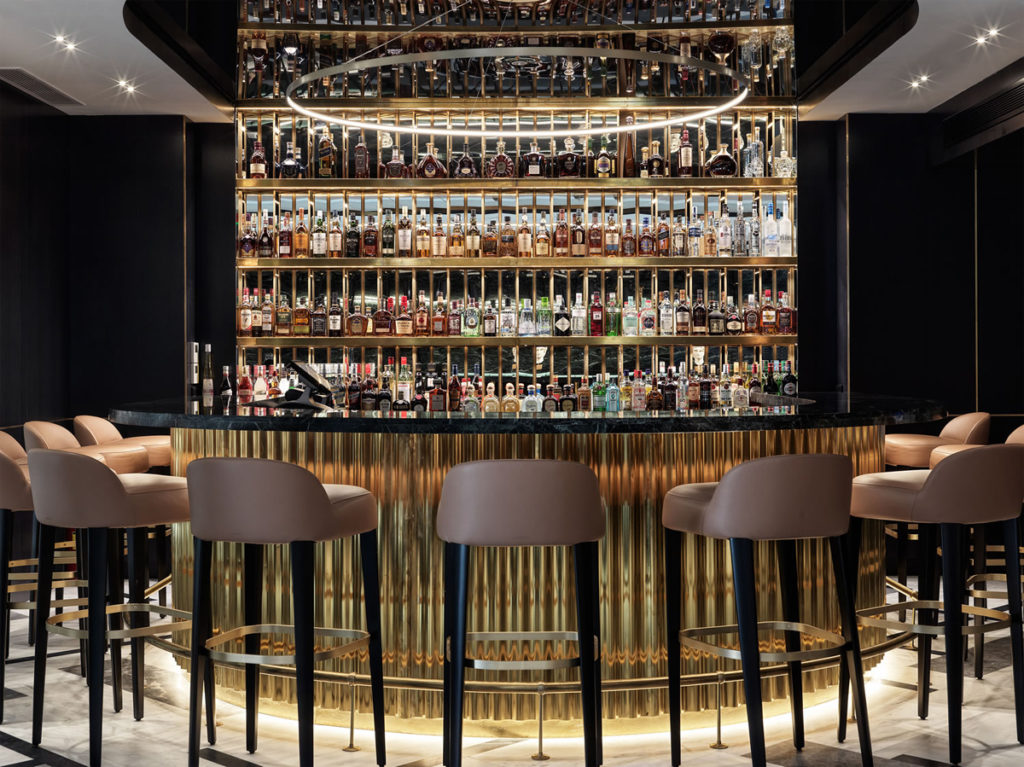 Academias Hotel, Autograph Collection. Part of Marriott's Autograph Collection, this downtown modern luxury 60-room boutique hotel offers you an array of amenities, including the gourmet Greek-inspired Symposium restaurant, the Plato lounge bar, and the Pnoe wellness center with an indoor heated pool.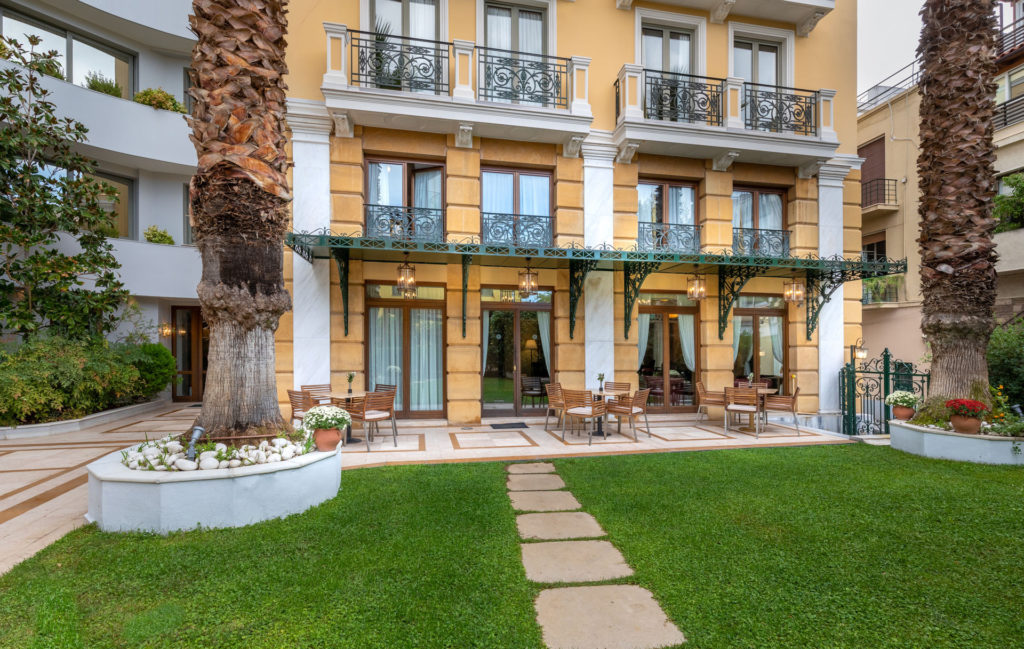 Electra Palace Athens. 'Sister' hotel with Electra Metropolis, this one, located in the historical neighborhood of Plaka, with a view to the Acropolis, it is graced by an 8th-floor roof garden serving creative Greek cuisine, a British-inspired bar, a gym, and a spa with an indoor heated swimming pool. All rooms and suites — including a Presidential Suite with a private balcony and pool — are great examples of neoclassical interior design.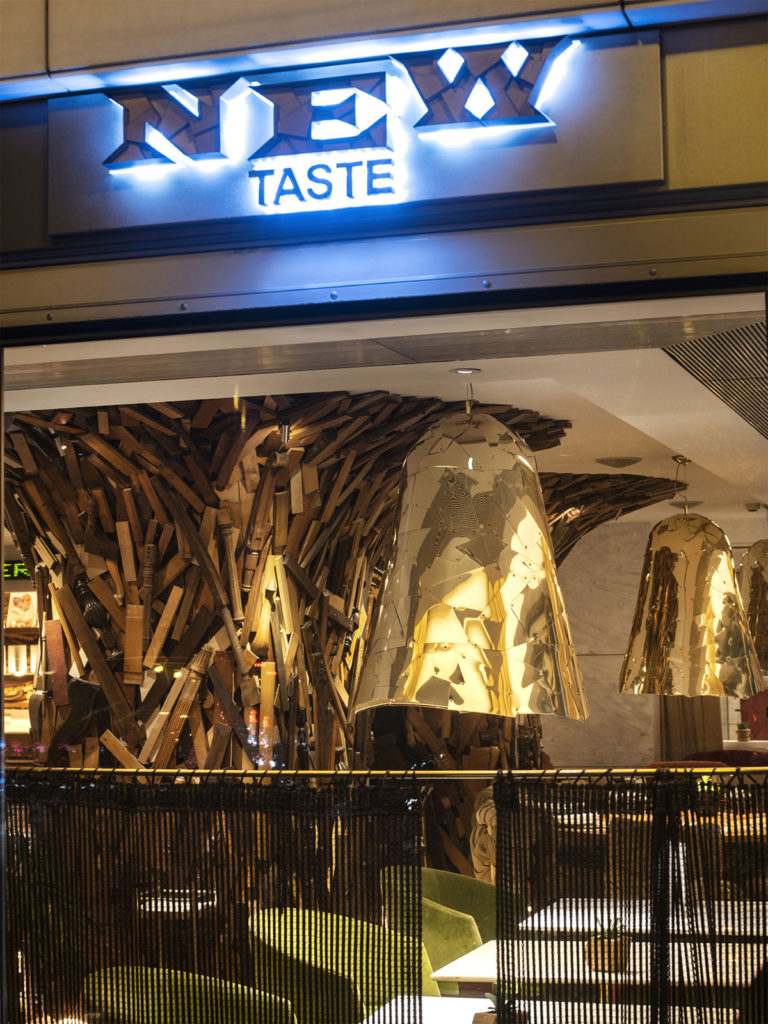 New Hotel. As part of YES! Hotels group owned by internationally acclaimed contemporary art collector Dakis Joannou, this urban design hotel is the first attempt of award-winning designer brothers Fernando and Humberto Campana at redefining luxury in accommodation. A total makeover of the former Olympic Palace Hotel (1958), it includes custom furniture, art, and decorative installations that cast a clear contrast on the plain exterior of this 79-room establishment. Greek folk stands as a vibrant source of inspiration for many details. At walking distance from Syntagma Square, Acropolis, and the old neighborhood of Plaka, it also proves to be a very sophisticated Acropolis-view venue for a gourmet meal at the New Taste restaurant or a spa treatment. The library at the Art Lounge on the 7th floor provides guests with a variety of 2,000 art books to borrow from during their stay.
Athenaeum Intercontinental. Located on the same Avenue and area as the Grand Hyatt Athens – a brief taxi drive away from Syntagma Square – this established modern luxury 553-room hotel offers compelling options for the finest dining and entertainment, including the French-inspired Première restaurant. It also takes pride in a 24-hour gym and an internationally recognized spa with organic-ingredient-based beauty treatments. With understated glamour interiors, this timeless hotel has hosted a long list of VIPs throughout the years.
Southern Suburbs (Athens Riviera)
The long coastal area on the Saronic Gulf is dubbed by local media as the "Athens Riviera." Thankfully, not far from downtown Athens!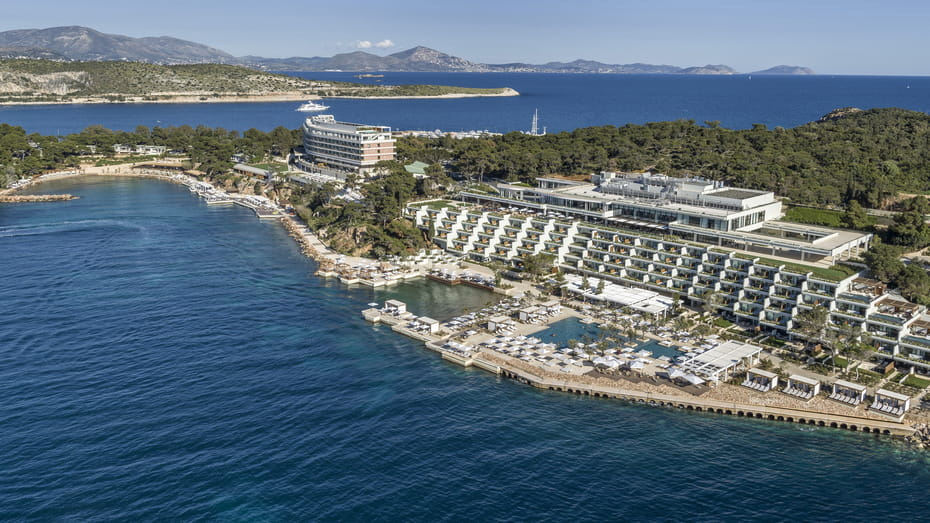 Four Seasons Astir Palace. With its first buildings raised on the Astir peninsula in 1961, this luxury accommodation complex consisting of the cosmopolitan Nafsika Hotel, the laidback Arion Hotel, and the iconic seafront bungalows recently received a total makeover that perfectly meets the Four Seasons standards of high-end hospitality. On sunny days, enjoy 3 private beaches, 3 tennis courts, one basketball court, jogging trails across the 75-acre property, and non-motorized water sports. On rainy or cold days, check out the spa with 10 treatment rooms, the stylish, high-end boutiques for shopping, the 8 restaurants and bars (including Nobu's Matsuhisa for sushi), a cigar lounge, and the indoor pool at Arion, just a 30-minute drive from downtown Athens. A helipad, access for boats, and other upscale services are destined to excite even the most demanding guests. Since the 60s, celebrities and leaders such as Brigitte Bardot, Frank Sinatra, Rudolf Nureyev, Richard Nixon, Mikhail Gorbachev, Francois Mitterrand, Aristotle Onassis, Jackie Kennedy, Sean Connery, Anthony Quinn, Lady Gaga, and Barack Obama stayed there at least once. The same personalities, or of similar magnitude, also stayed at Grande Bretagne, Hilton Athens, and King George.
The Margi. This luxe 88-room seaside boutique hotel and SLH member – located a 30-minute drive from downtown Athens is a family-run business that carries the founder Dr. Stavridis' vision on both hospitality and the 'Athenian Riviera'. The accommodation featuring various types of rooms, suites, and a villa is characterized by profound finesse. With a recently created indoor pool, a gym, a 3-cabin spa, and an organic farm that supplies its restaurants with healthy ingredients, the dreamy Mediterranean/ethnic-style resort is private heaven.
Northern Suburbs
Northern suburbs of Athens are often richly forested and not so densely built, as a few decades ago, they used to be vacation retreats for Athenians, sprinkled with mansions and maximum-3-floor buildings. These suburbs are still quieter than downtown locations, yet spiced up with elegant places for entertainment, including restaurants, bars, boutiques, and more. You must still consider that you will be a 30-to-60-minute drive from downtown.
Semiramis. Like New Hotel, this pop-art-inspired 51-room boutique hotel is part of Yes! Hotels group owned by contemporary art patron Dakis Joannou. Created in collaboration with famed industrial designer Karim Rashid, it features curvaceous shapes in lollipop colors. Bold glass partitions, concrete with rubber floors, ceramic tiles, and metal make up a super playful setting. Serving great sushi at the Freud Oriental restaurant and gourmet Mediterranean dishes with local ingredients at the Lounge, it is surely a fashionable dining destination. In winter, you can also enjoy the Gym Club with a view of the Miami-style swimming pool.
Theoxenia Palace. A classic hotel near Semiramis in the very chic Northern suburb of Kifisia offers its guests luxury accommodation and amenities such as an indoor swimming pool with a carefully curated spa, a gym, a gourmet restaurant, and a stylish bar.
Life Gallery Athens. In a very serene pine-forest location, this minimalist glass & steel building features an eclectic mix of deluxe rooms, art studios, and a junior suite. The modern boutique hotel is graced with various amenities including an awarded restaurant, a bar, a small gym, and a Spa with an indoor jacuzzi.
SAY Hotel. This brand-new accommodation option offers high-level hospitality services and eclectic aesthetics appealing to a discerning clientele. Located in the northern suburb of Kifissia on Kefalari square, it combines luxurious elements from the area's manorial past with the current sophisticated nightlife and high-end shopping scene. Each room has a distinct character shaped by Art Deco details, curated artworks, intriguing interior design, and bespoke furnishings. The hotel's Nobilis Restaurant, Garden Brasserie, and Roof Top Bar epitomize an upscale travel experience mixing heritage with modernity.