Finest Dining on a Winter Trip to Athens
A winter vacation in Athens, the vibrant and versatile capital of Greece, sounds like an unconventional choice. Greece is often associated with summer fun on the islands. Having said that, over the last few years, a gradually increasing number of visitors is noticeable downtown during the winter months. Temperature from late November to February normally ranges from 7 °C to 18°C (45 °F to 65°F); always a little lower in the northern suburbs of this quite spread-out city where building height rarely exceeds 10 floors. Humidity is higher along the city's seaside area, which is also known as the 'Athens Riviera'. The historical center, which includes the Acropolis ('acro' means edge and 'polis' means city) – the hill where the venerated Parthenon temple is located – is not a seaside area. As expected, downtown Athens is filled with museums, embassies, and other important buildings, as well as endless dining options, basically because food (and coffee) is a huge source of pleasure for the Greek people. The majority of the restaurants are not eligible for the fine dining category, so for the luxury-seekers, we need here to point at the gourmet ones. Any casual, traditional Greek cuisine restaurant is described as a 'taverna'. Chefs in Greece have direct access to the finest quality locally produced ingredients – veggies, seafood, meat, and other delicacies – which is definitely to their advantage flavor-wise. Sommeliers pair these signature dishes with a long list of highly compelling Greek wine labels, which are often a result of small-scale production in marvelous estates across the country. For top-tier gourmet restaurants in Athens, prices per person max out at 300 euro/330 USD for a full dinner that would cost double or more at a same-level restaurant in New York, London, Paris, or other major cities. Most often, the starting price for such a special dinner or lunch is 70 euro/80 USD per person. Restaurants stay until late in Athens, so if your flight arrives late, you always have the chance to enjoy gourmet a little after 10 pm or more.
Spondi. Since 2001, this one-Michelin-Star French gastronomy restaurant has been collecting awards and accolades. In a quiet downtown Athenian neighborhood, chef Arnaud Bignon modernizes classical recipes often via molecular kitchen techniques. Ask for a table in the vaulted cellar of this neoclassical building, especially if you opt for a romantic date. It serves only dinner, closing every day at 11.15 pm.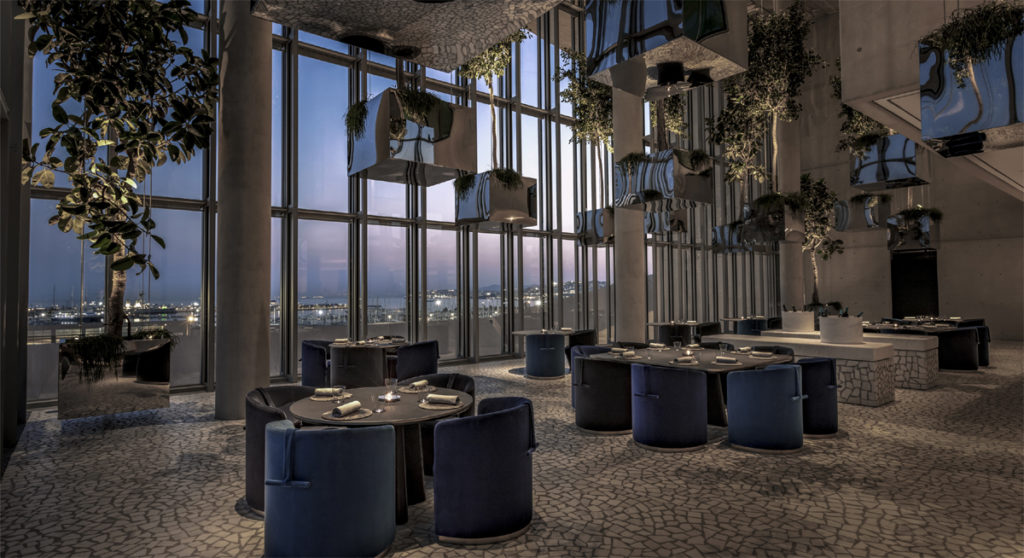 Delta. This 2-Michelin-Star restaurant opened in July 2021 by Dipnosofistirion Catering at the Stavros Niarchos Foundation Cultural Center and has already hosted world leaders and other exceptional guests in its opulent, modern interiors by Kois Associated architects that feature one of the largest bars in the world made of cast bronze and more Greek art in conjunction with the ARTWORKS sustainability program. Minimalistic perfection, utilization of local raw materials, and emphasis on small-scale producers are the 3 pillars of its Haute Cuisine offerings. Each menu consists of 17 courses, created by the charismatic George Papazacharias and curated by the talented Thanos Feskos and his team. Combined with international, pioneering techniques, such as fermentation and Scandinavian preservation, the result is a game-changer in people's perception of taste. Aris Sklavenitis and Tilemahos Papandreas, both award-winning and top of their class sommeliers, have curated an integrated wine list that will elevate the gastronomic pairing to the highest point of delight. It includes iconic wineries, legendary terroirs, rare varieties, exclusive imports, aging cellars, and 2 wine cellars for a private mystical experience. At the bar, the focus is turned on the contemporary local distillery, with new Greek brandies, liqueurs, and aged tsipouro accompanying top international distillates (whiskey, rum, tequila, vodka, gin, etc,). It leaves a unique sensorial fingerprint. Indicatively, the Omnivore menu of 12 stages comes at 130 euro/128 USD and wine pairing at 100 euro/ 98 USD per person.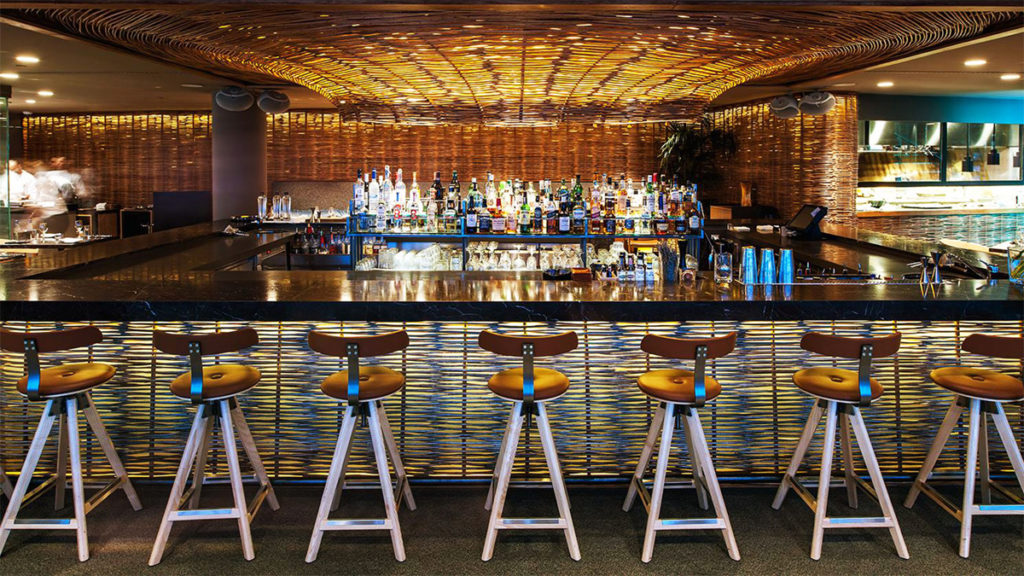 Hytra. Get a real scoop on modernized heritage in Greek gastronomy at this 1-Michelin-Star multi-awarded restaurant located at the perfect-view 6th & 7th floor of the Onassis Foundation called Stegi, a cultural center originally envisioned by international business magnate Aristotle Onassis, and materialized after his death following his instructions. The roomy minimalist venue is graced with an eye-catching bar for memorable cocktails.
Varoulko Seaside. Holding one Michelin star consistently since 1993, this seaside seafood gourmet restaurant founded by acclaimed Greek chef Lefteris Lazarou is a brief taxi drive away from downtown Athens, located right at the Mikrolimano marina, where small-to-medium-size yachts are anchored.  Traditional Greek recipes — an array of spectacular appetizers — are receiving a super-creative modern gourmet twist. On sunny winter days, it totally feels like summer! And when the spring/summer season arrives, feel free to enjoy their wonderful rooftop terrace.
Botrini's. With origins from Italy and the Greek island of Corfu, this acclaimed chef trained in the molecular kitchen is the gastronomy mastermind behind his namesake Athenian restaurant that has been holding one Michelin star since 2014. Exciting Mediterranean-inspired gourmet treats are served in an elegantly simple space. It is totally worth the relatively brief taxi drive from downtown to the northern suburbs.
Matsuhisa Athens. One of the 40 global locations for creative Japanese cuisine by legendary chef Nobu Matsuhisa is this spacious seaside restaurant decorated by the Rockwell Group from New York. The sunset-view indoor dining space – with equally impressive outdoors in the summer – is totally worth the 30-minute drive from downtown. Nobu trusts acclaimed Greek Executive Chef Tony Vratsanos and Head Chef Thomas Kourakos for the reinterpretation of certain iconic dishes. The first-time Omakase menu is currently available for 180 euros /177 USD. Additionally, the Umi Bar will get you pampered with Athens' finest Martinis and other cocktails crafted by Matsuhisa's bartenders and accompanied by delicious Nobu tapas.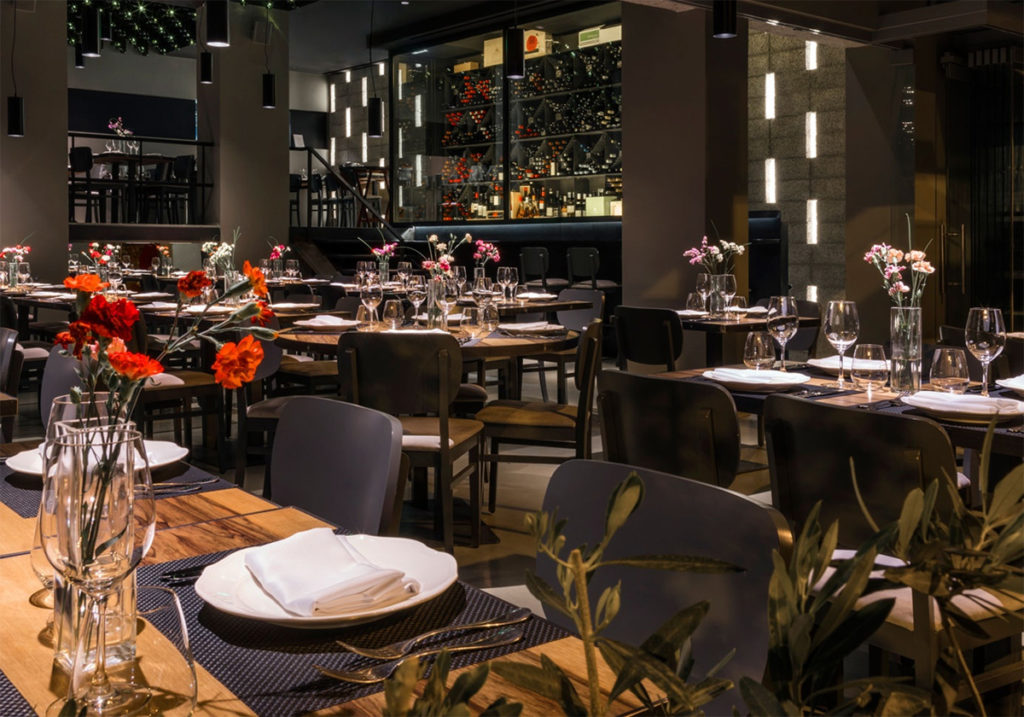 Vassilenas. This luxe 60s-inspired minimalist space is the evolution of a traditional Greek 'taverna' from the 20s, its gourmet reiteration. Creative and innovative recipes take seafood to the next level. Its 100-year culinary journey from Piraeus to downtown Athens – among other prominent customers Winston Churchill dined once there – blends with the cosmopolitan story of the former Hilton hotel across the street. The tasting menu is served with excellent wine pairing at 75 euros /74 USD per person.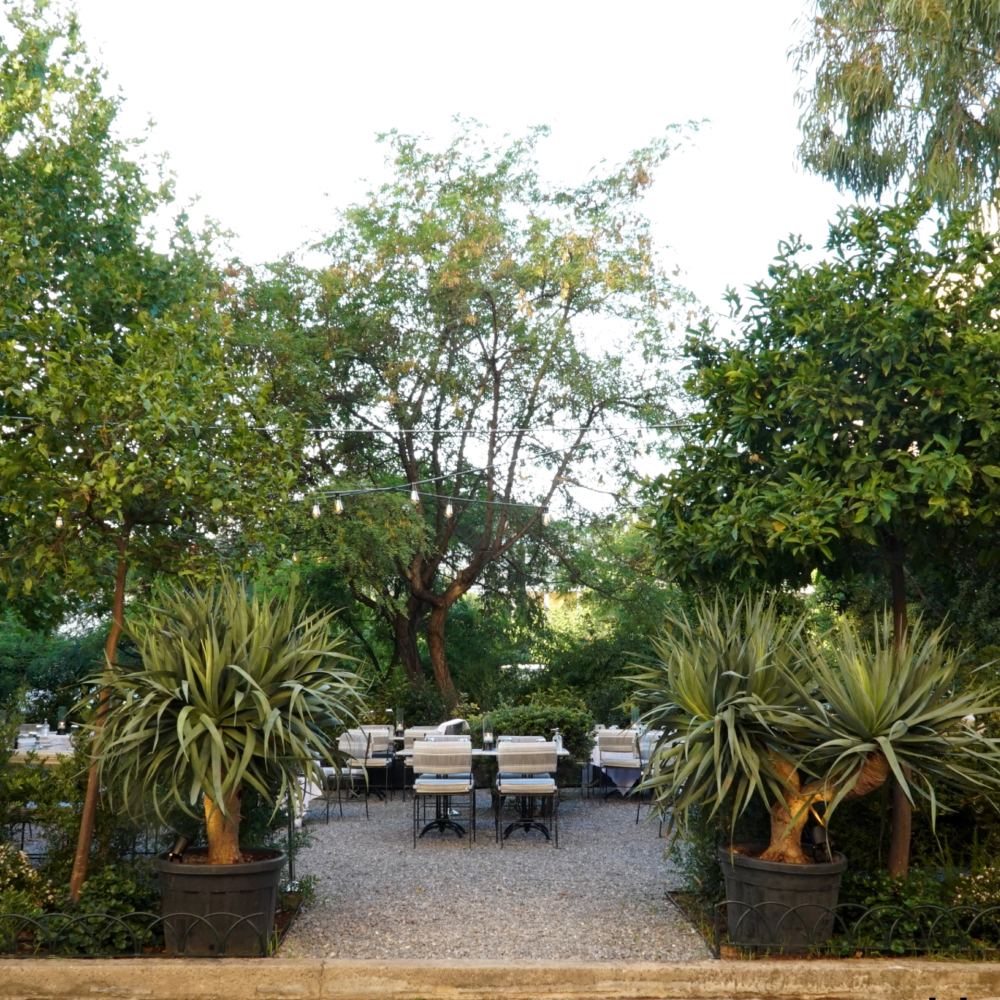 Vezene. Tap this Greek-inspired bistro owned by Greek-American chef Ari Vezene to experience his unique touch on traditional cuisine. Equipped with a wood-fired kitchen, it serves sustainable meat, local seafood, and several other creative dishes made with the freshest natural ingredients and old-school techniques that have a raw, minimalistic edge. It is all about culinary honesty and intimacy. An extensive selection of fine spirits and wines from Greece and around the world accompanies your meal, along with the possibility of a cocktail menu. Dressed in wood, glass, and leather, the sand-hued space is designed with the primary objective to portray informal elegance. It features an indoor dining area and an outdoor all-glass terrace staged on top of a secret greenhouse under its glass floor, plus a garden across the street. A flock of gold-tone butterflies travels through the space giving it an artistic aura. Architectural lighting was designed by the eclectic Greek studio OKAPI with the sole purpose of seamlessly bringing the Athenian nightscape into the dining room. The restaurant is located in the urban gardens of Madrid Park, next to Vassilenas, across from the National Gallery, in a quiet neighborhood near Kolonaki. Catering is also an option.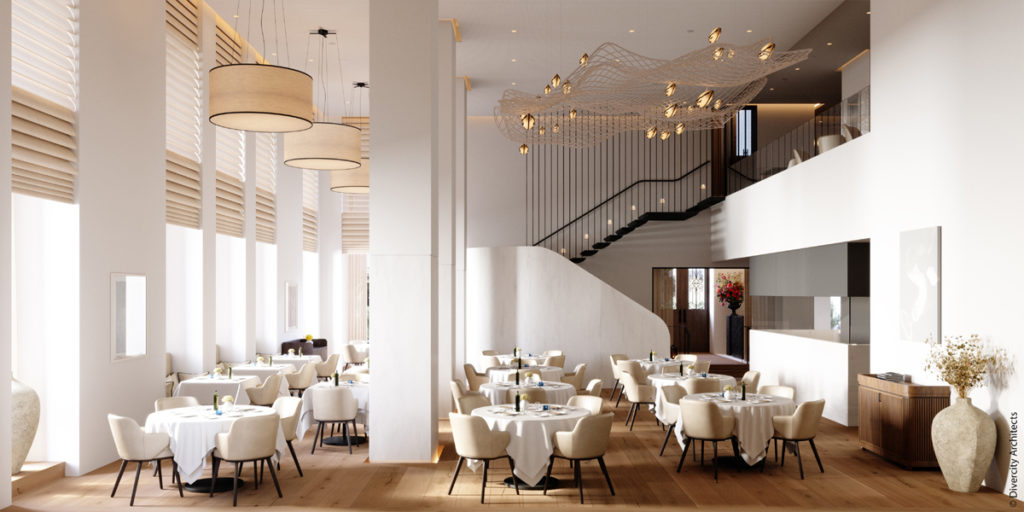 Estiatorio Milos Athens. Greek Chef Costas Spiliadis opened his first Milos restaurant in Montreal back in 1979, followed by other successful locations: New York Midtown (1997), Athens (2004), Las Vegas (2010), Miami (2012), London (2015), and New York Hudson Yards (2019). As you may already know, the seafood-based menu is based on clarity, simplicity, and the finest quality of ingredients. It is a quintessential Mediterranean culinary hotspot relocated in 2021 from the former Athens Hilton Hotel to the brand's first-ever 5-star gastronomy hotel Xenodocheio Milos at the heart of Athens' historical center.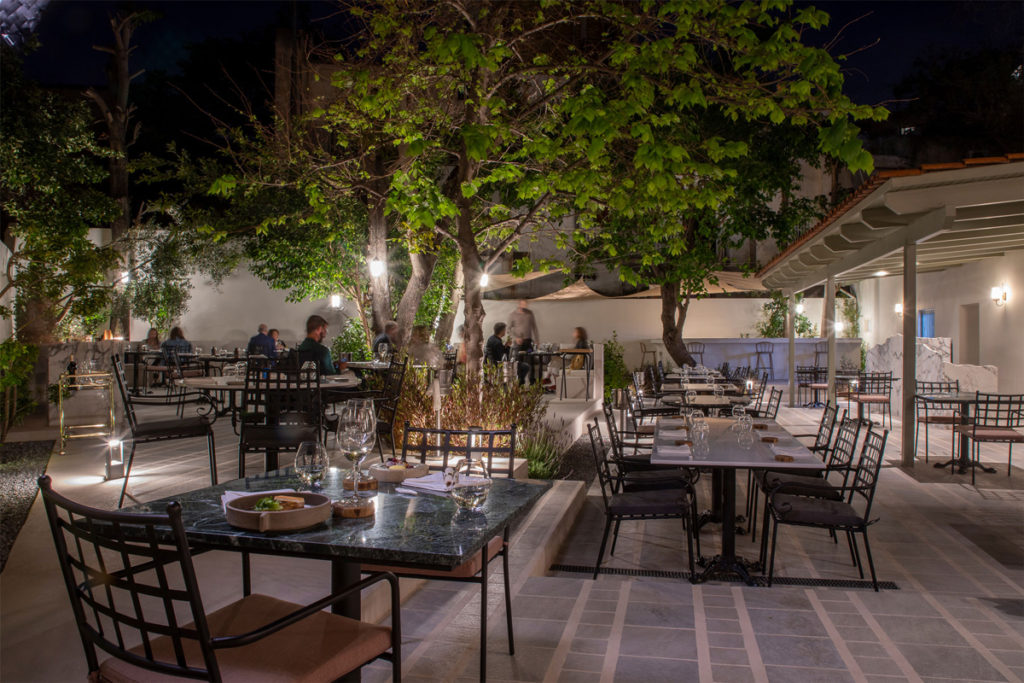 CTC Urban Gastronomy. The acronym doesn't stand for but sounds like the Greek word 'sítisi', which translates as 'feeding'. Via molecular kitchen techniques, chef Alex Tsiotinis who has worked alongside the likes of Alain Passard, Hélène Darroze, Eric Frechon, and Pascal Barbot, goes well beyond the essentials, introducing his customers to a maze of playful dishes. This one-Michelin-star restaurant feels homey, private, and elegant. It recently moved to a beautiful neoclassical building in Kerameikos, one of the oldest neighborhoods of Athens. Weather-permitting, and along with fabulous interiors, its stylish backyard with sparse seating recreates the experience of quintessential Athenian outdoor dining. The Blind Taste Menu keeps a strong element of surprise while introducing you to modern Greek gastronomy. It's a mesmerizing 11-course culinary "voyage" full of surprises. The new space which has been designed to capture all your senses will introduce you to the history, culture, and traditions of the lavish Greek cuisine translated into the most creative and sophisticated culinary language. The finest local ingredients come into play along with excellent wine pairing. It makes for a memorable night out. Customization based on food restrictions or preferences with prior 48-hour notice and private dining are among your options.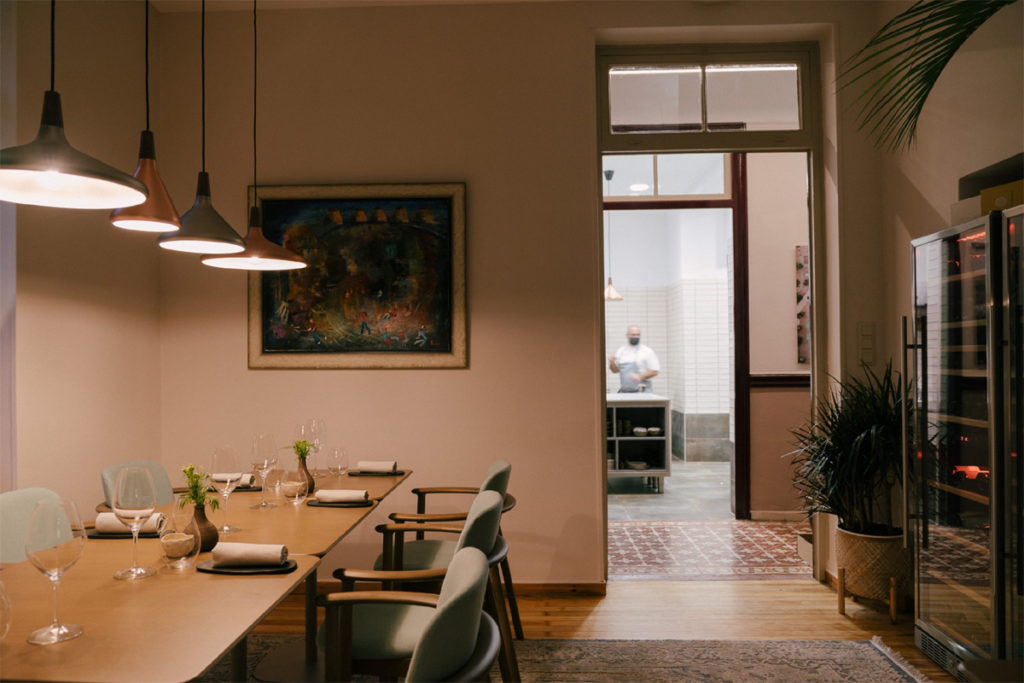 Soil. Located in Pangrati, a neighborhood at the heart of Athens inside a two-floor neoclassical building, constructed in 1925 and renovated in 2021, this restaurant got its first-ever Michelin star in 2022. Greek Chef Tasos Mantis maintains a strong bond with nature growing the organic herbs, edible flowers, and vegetables he cooks at his little farm in Alepochori village, an hour away from Athens. His farm-to-table menu is served on ceramic plates specially hand-made for each of his dishes. Through his upbringing and work experience at internationally acclaimed restaurants, he has developed his own sustainable gastronomy formulas, a holistic approach to Greek gourmet focusing on creativity, top-quality ingredients, and balanced nutrition. The restaurant's earthy philosophy is reflected in sophisticated, modern interiors and a hidden private garden for the warmer months. An open kitchen and a Chef's table on the ground floor offer a unique dining experience.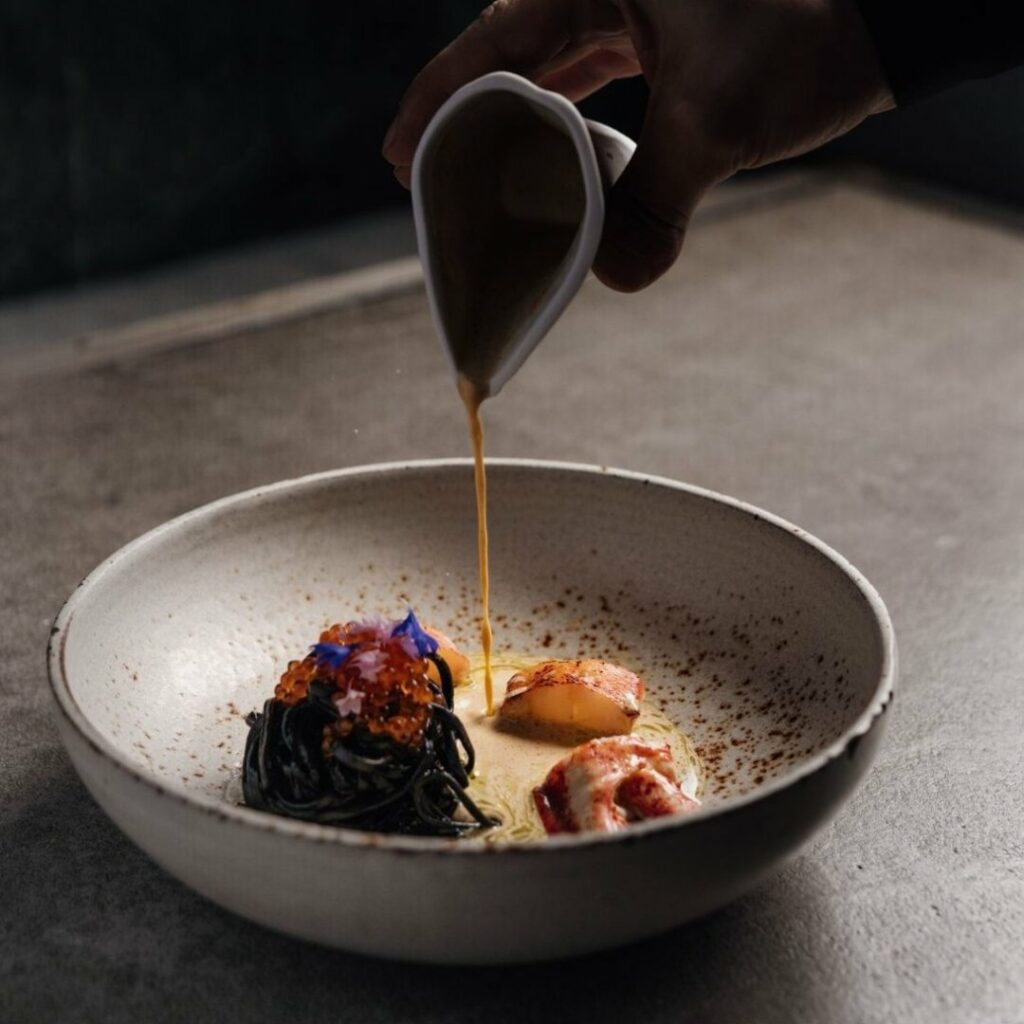 The Zillers Roof Garden. In 2022, this restaurant also received its first Michelin star! The roof garden of the elegant The Zillers boutique hotel, located across from the Athens Cathedral with an Acropolis view, is a place of modern gastronomy and culinary innovation. Executive Chef Pavlos Kiriakis creates inspiring menus showcasing Greek flavors with exciting international twists. Hotel guests and visitors are spoiled with the ultimate Mediterranean-style gourmet experience that begins in the morning as brunch and concludes with mouthwatering cuisine and specialty cocktails in the evening. If you need to pick, opt for a memorable dinner.
Papadakis. Greek celebrity chef Argiro Barbarigou has cooked at her family restaurant 'Papadakis' for local A-listers but also international ones such as Carla Bruni and Jean Paul Gaultier. Her seafood-based menu is a modernized version of the seaside Greek kitchen – her family business originating from the Cycladic island of Paros. The small neoclassic building – with a minimalist and art-decorated interior – is at the foothills of Mount Lycabettus, in the fashionable & upscale downtown district of Kolonaki.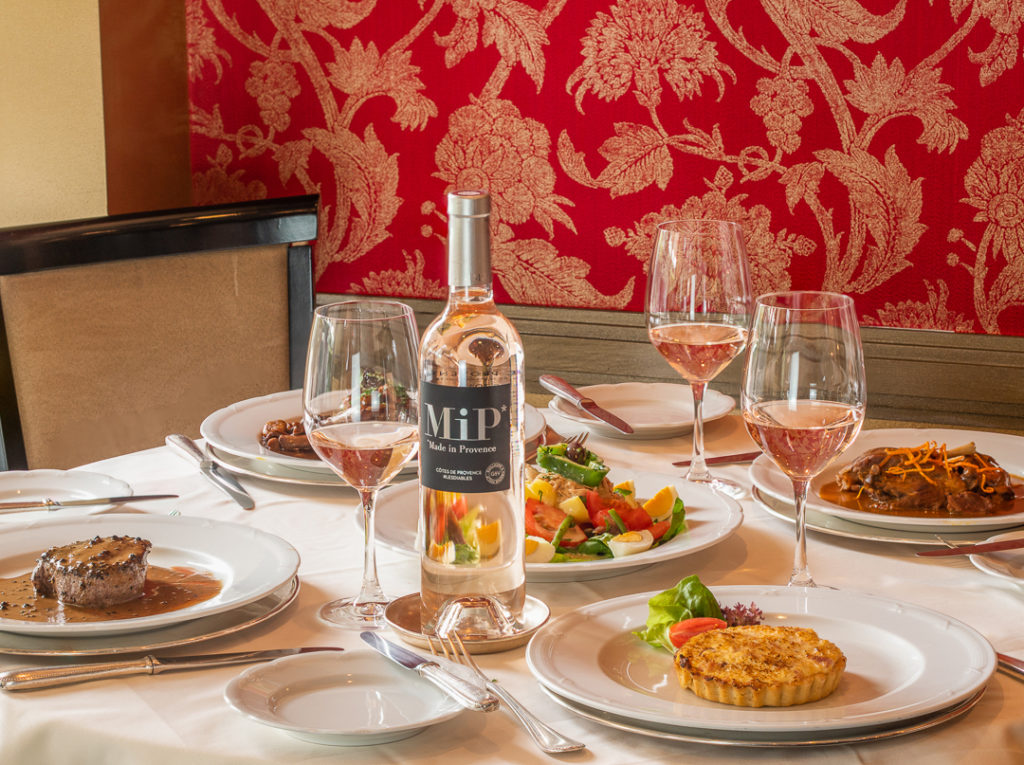 L' Abreuvoir. An old-school Athenian restaurant – known as the first gastronomic restaurant in Greece – with loyal affluent and prominent clients is also located in the chic historic district of Kolonaki, serving signature French cuisine since 1965 in its equally classic interiors. Through the decades it has hosted Greek and international artists, actors, politicians, intellectuals, businessmen, and even royalty. Its next generation continues to serve the same classic specialties in its lightly renovated interiors.
Spiros & Vasilis. Walking distance from the upscale area of Kolonaki, behind the US Embassy, another classic French restaurant is prominent in the Athenian culinary scene for more than 40 years. 
Balthazar. This charming small-scale mansion, built in 1897, is a fun place for cocktails and an upbeat gourmet restaurant. Inspired by tradition but excited to employ modern gourmet techniques, this culinary team delivers a menu designed by acclaimed chef Christoforos Peskias who makes us see the future through elegant Mediterranean cuisine options, as well as sushi. The well-lit indoor space is surrounded by its dreamy Winter Garden equipped with carpets, fireplaces, and outdoor heating so that it welcomes you on a year-round basis.
Aleria. Richly decorated and located in another old Athenian neighborhood called Metaxourgio – some will call this area charmingly grungy – this opulent neoclassical building is a culinary destination. From the whimsical recipe of Tartare 'Giouvarlaki' and his own version of 'Gemista' to the modern 'Moussaka,' chef Gikas Xenakis captures the Greek culinary tradition and the diversity of Greek countryside with his distinctive, creative style. Try the Earth & Sea Menu, it's delicious!
Kuzina. If your goal is to eat gourmet at the heart of Ancient Athens – with a view of the Acropolis in the summer and proximity to sightseeing in the winter – this spacious neoclassical building located in the historical center, cosmopolitan Greek chef Aris Tsanaklidis will make your dreams come true. Educated at the Culinary Institute of America with career milestones in New York, Los Angeles, Washington, Japan, Hong Kong, Mexico, and the Virgin Islands, he maintains a creative approach to Greek specialties.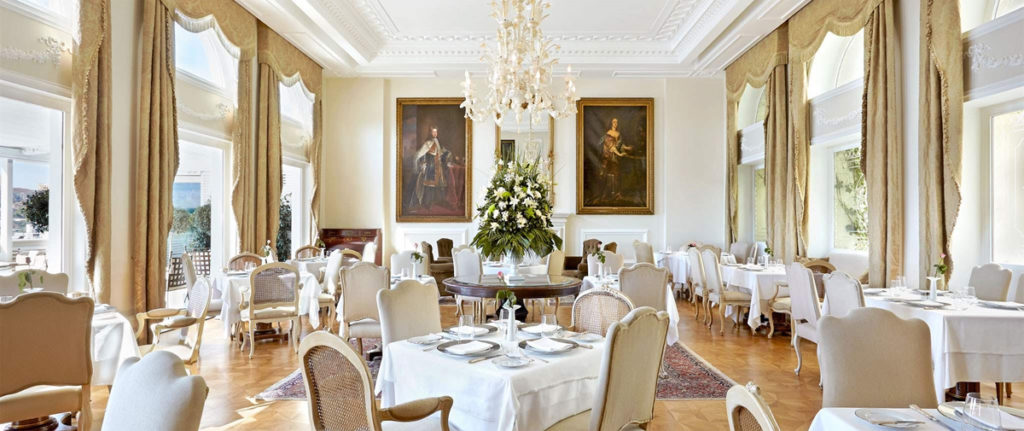 Tudor Hall @ King George Hotel. For an unapologetically posh formal dinner, book at this multi-awarded hotel restaurant and dress up to fit its classic allure. King George and adjacent Grande Bretagne are the most prestigious hotels of Athens – visited throughout the decades by world leaders and superstars. Inside this architectural gem, this 7th-floor restaurant with a quintessential Athenian view is a feast for all senses.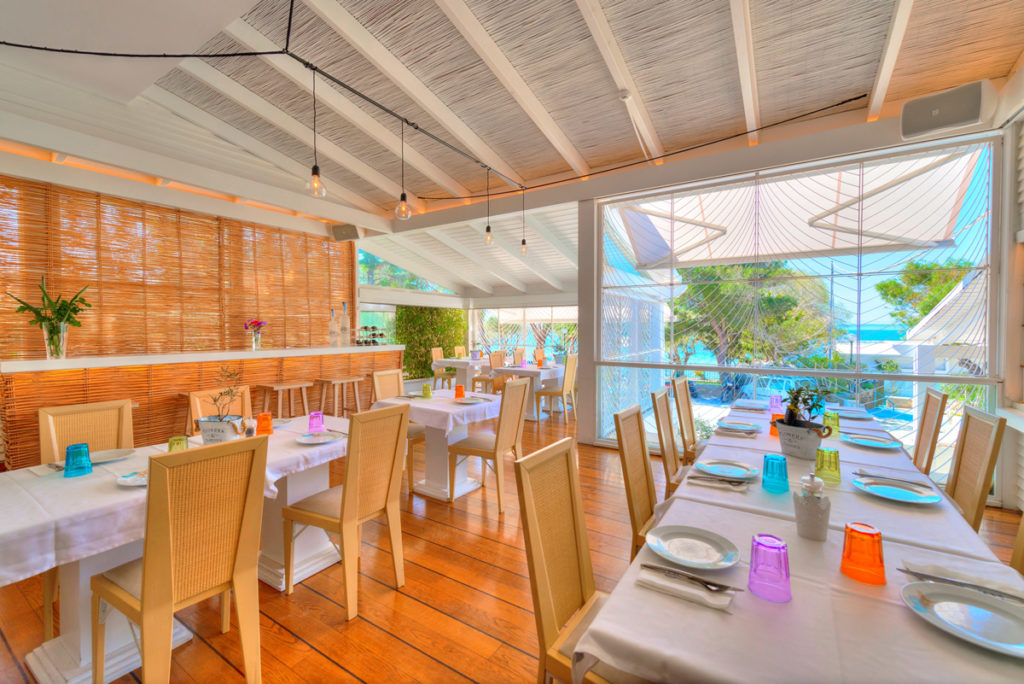 Garbi. Summer never ends in this elegant seafood restaurant with modern interiors and a direct view of the beach. Mild gourmet touches on traditional island recipes are a pure delight. All you need to do is a 30-minute taxi drive South of downtown.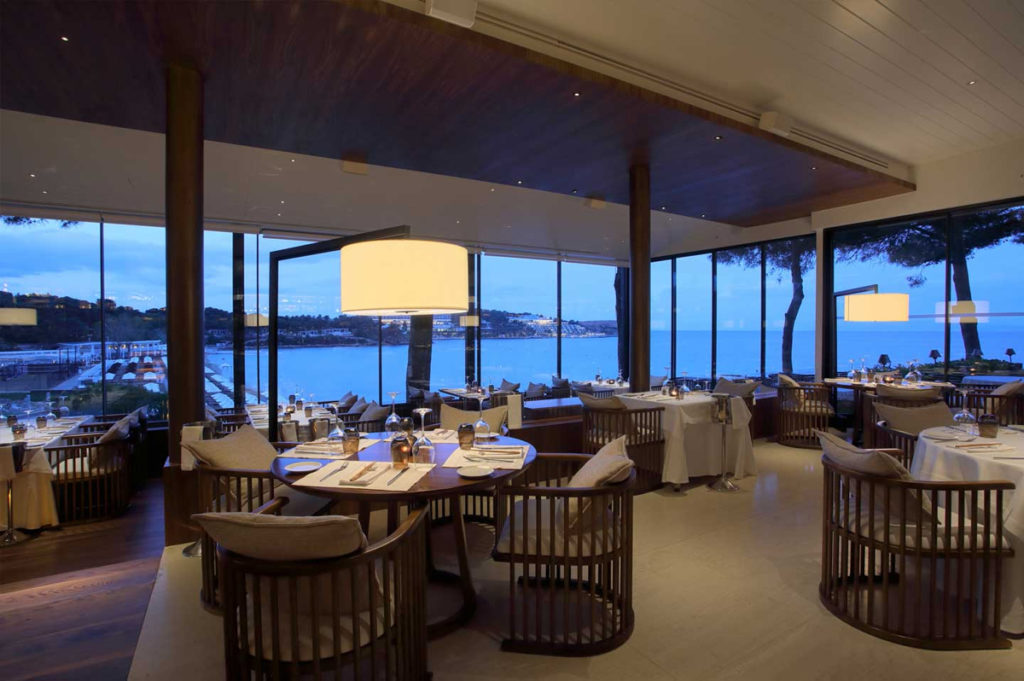 Ithaki. Occupying the best sea-view part of the so-called Athenian Riviera – pretty much where Four Seasons Astir Hotel is located – this is the most upscale seafood restaurant in Athens, again a 30-minute drive from downtown.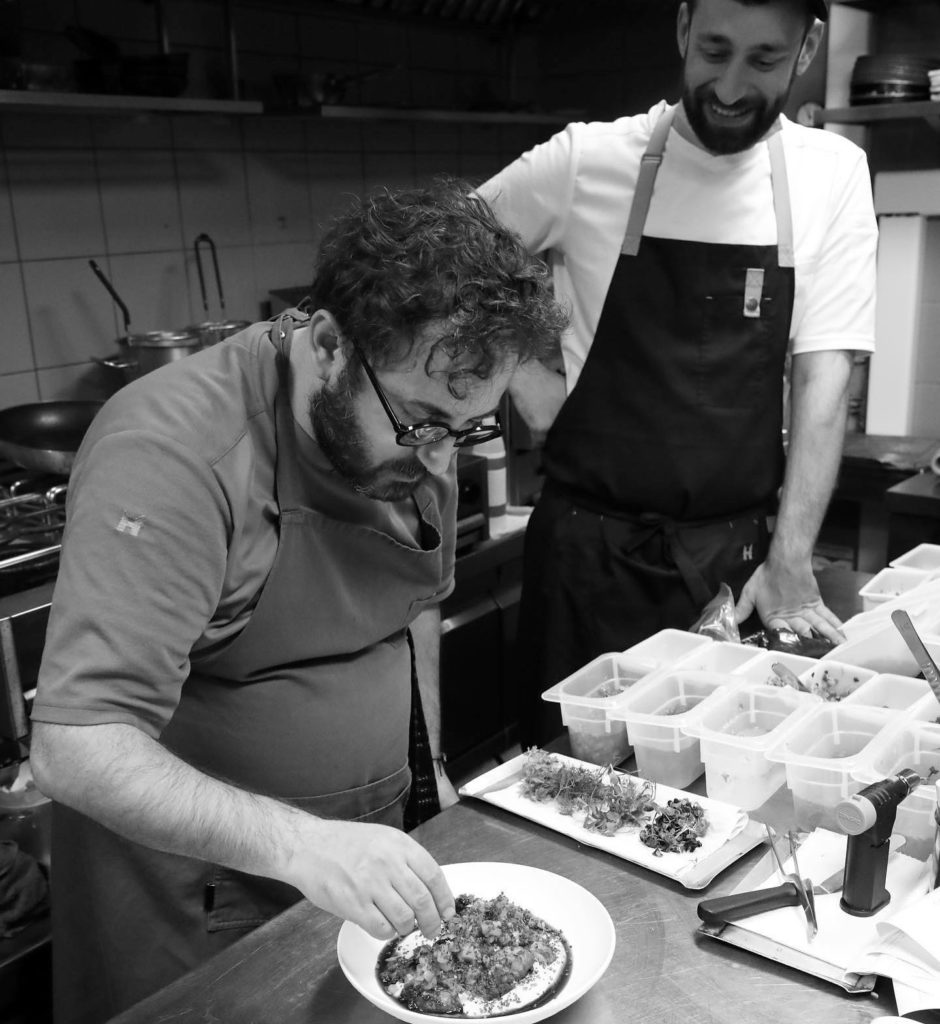 Feedέλ Urban Gastronomy. With a view of a small cute garden in a cobblestone pedestrian area in downtown Athens, this gourmet restaurant offers playful dishes and whimsical cocktails in a tiny modern space.  
Fuga. Set within the lush gardens of Megaron Athens Concert Hall, Fuga serves internationally-inspired ethically-sourced gastronomy in a spectacular modern space visited by artists from all over the world. Lately, they focus on the so-called Italanese cuisine which is an Italian-Japanese fusion with surrealist touch!